How to Track Referrals on WP Simple Pay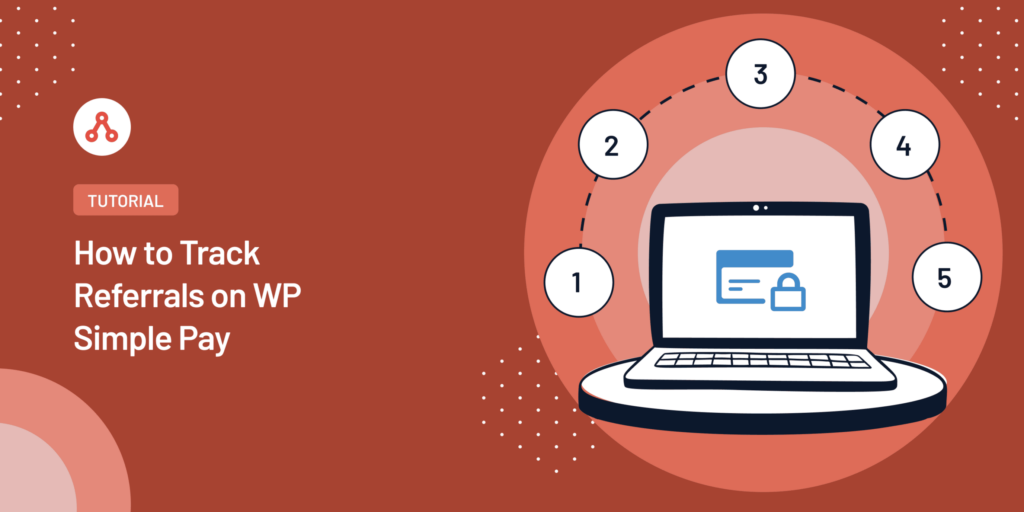 Want to track referrals on WP Simple Pay?
Affiliate marketing is a great strategy that can quickly boost your sales, and we're going to show you exactly how to do it with this expert guide.
Here's how to track referrals on WP Simple Pay.
Why Track Referrals on WP Simple Pay?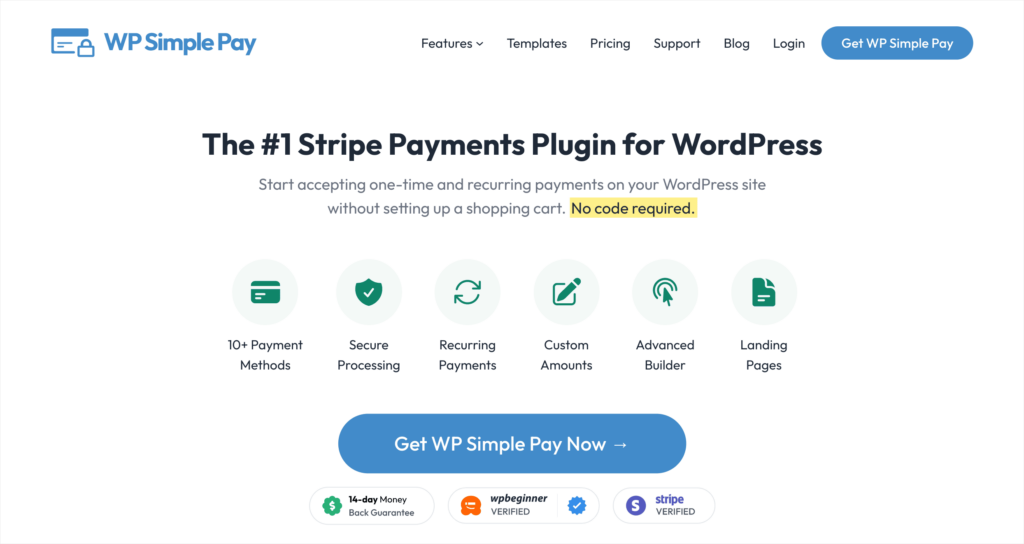 WP Simple Pay is the number 1 Stripe Payments plugin for WordPress, allowing you to take payments in the most efficient way possible.
But did you know, you can easily track referrals on all your transactions?
This can be a huge boost for your business because it gives you instant access to a whole new marketing channel. By offering affiliates a small commission on sales or leads, you can leverage the audiences of experienced marketers to grow your business.
The best part is it's easy to set up and very low risk.
You can start tracking referrals on WP Simple Pay in under 10 minutes, all for a low yearly cost. Another great benefit is that you don't have to pay affiliates until they make a sale, so it really is win-win.
No wonder that affiliate marketing is one of the top acquisition channels for US merchants!
So, let's take a look at how you can set up referral tracking for WP Simple Pay.
7 Steps to Set Up Referral Tracking on WP Simple Pay
Don't be put off by the 7 steps – you can actually get started in just 2 steps, but we've added in some extra tips to help you get going.
Here are the steps we're going to look at:
Install AffiliateWP
Use the Setup Wizard to Integrate WP Simple Pay
Edit Your Affiliate Signup Page
Accept or Reject Affiliate Applications
Affiliates Generate Affiliate Links in their Dashboards
Track Referrals and Visits with Real-Time Analytics
Pay Affiliates from your WordPress Admin
After you've completed these steps you'll be all set up to run a successful affiliate program through WP Simple Pay.
Step 1: Install AffiliateWP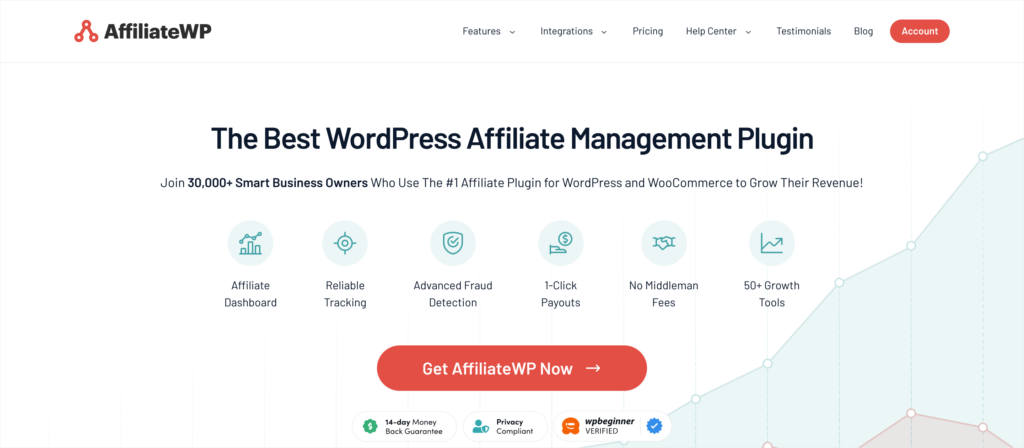 AffiliateWP is the best affiliate management plugin for WordPress.
It helps you set up a WordPress affiliate program in under 10 minutes, and it integrates with WP Simple Pay in a click. This allows you to attract top affiliates, track referrals on your payment forms, and pay out affiliate commissions.
You can run every aspect of your affiliate program from within your WordPress dashboard, and you get access to advanced management tools to make managing affiliates easy.
Throw in some powerful marketing features like Affiliate Landing Pages and Vanity Coupon Codes, and you've got the perfect platform to start an affiliate program.
Just go to the pricing page and choose the plan that best fits your needs.
Once you've completed your purchase, you can download and install the plugin using this simple guide, then you're ready to set up your program.
Step 2: Use the Setup Wizard to integrate WP Simple Pay
The great thing about AffiliateWP is that it requires no technical knowledge or coding to get set up.
All you have to do is open the setup wizard by going to Settings and scrolling to the bottom of the page before clicking Open the Setup Wizard. This will bring up the first page of the wizard where you can enter your AffiliateWP license key (found in your AffiliateWP Account).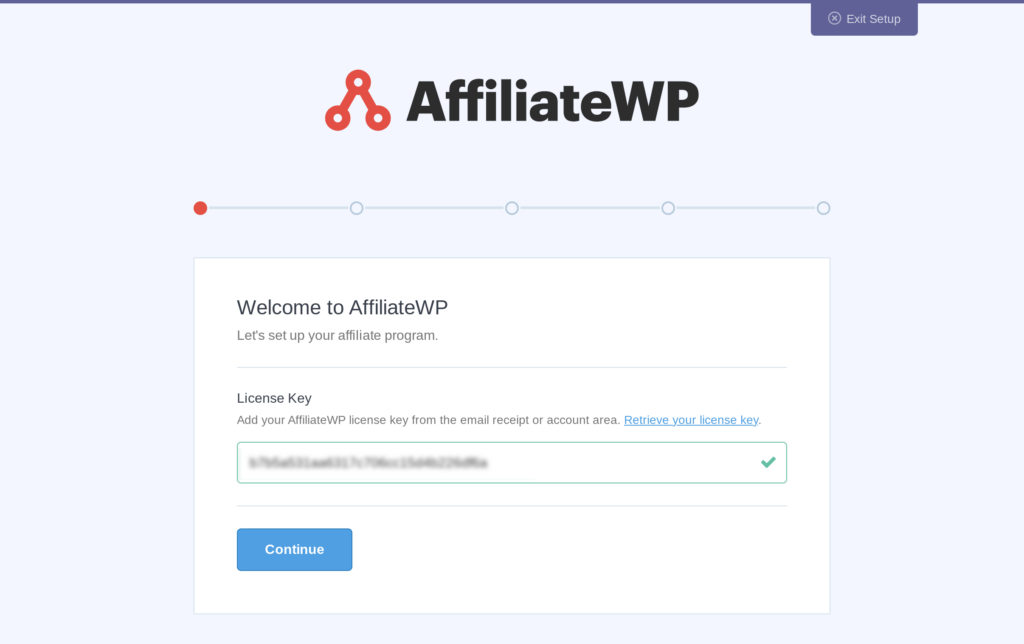 Once you've entered your license key, click Continue and then you'll get to the integration part of the setup.
Click on E-commerce Integrations from the drop-down menu and you will see Stripe (through WP Simple Pay). Check the corresponding checkbox and then click Continue. This will automatically sync AffiliateWP with WP Simple Pay so you can track referrals to all your payment forms.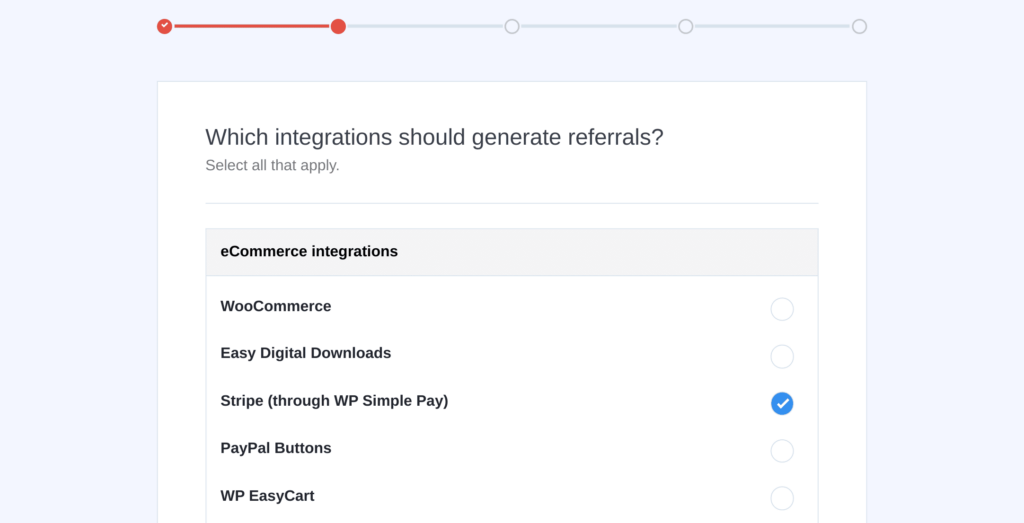 Next, you can choose your commission structure. If you're not sure how much commission to offer, then check out this quick guide on affiliate commissions, but remember, these settings can be updated at any point from your AffiliateWP Settings.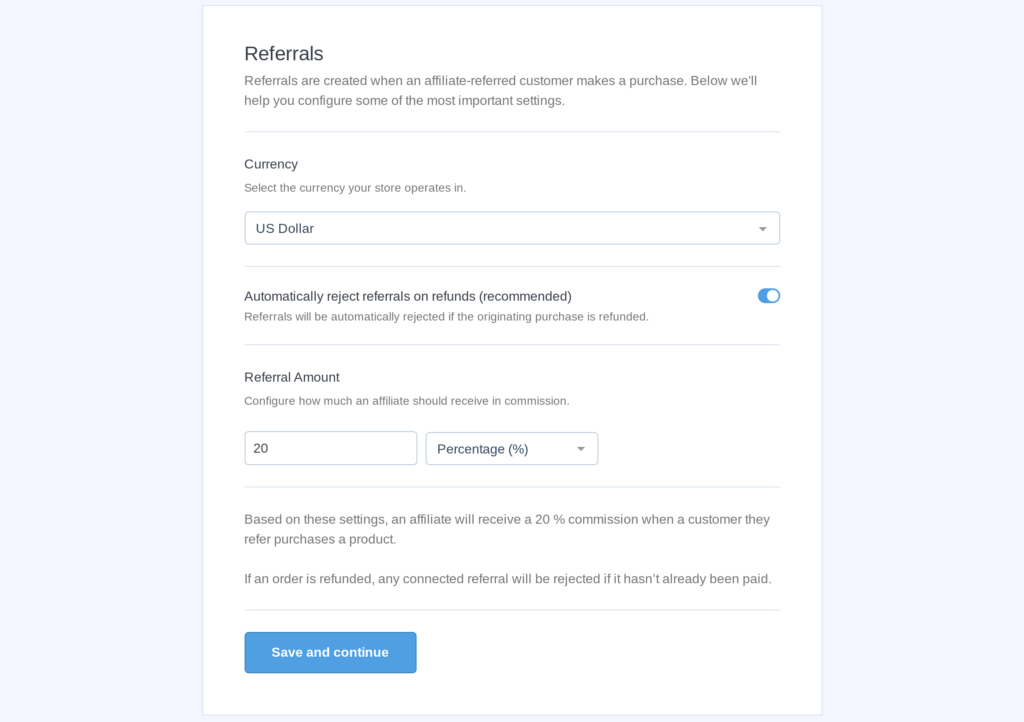 When you're happy with your commission click Continue and then you can choose your cookie expiration policy. Again if you're not sure about this then check out our handy guide on cookie durations.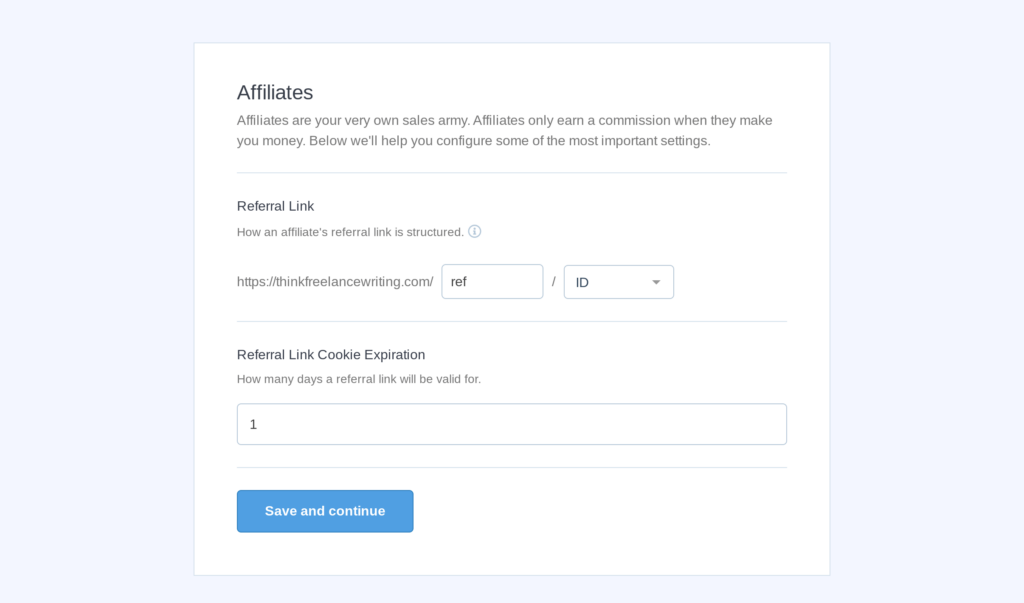 Lastly, you'll be taken to a confirmation page. All you need to do is click Finish and Exit the Setup Wizard and that's it, your referral tracking for WP Simple Pay is ready to go!
Step 3: Edit Your Signup Page
When you install AffiliateWP it will automatically create an Affiliate Area page that serves as a signup and login page for your affiliate program.
You can edit this page by going to Pages and searching for Affiliate Area. Click the Edit button and this will allow you to customize your signup page to fit your needs. Just use the WordPress blocks to edit your registration form (or our awesome WPForms integration) to make sure you're collecting all the information you need from affiliates.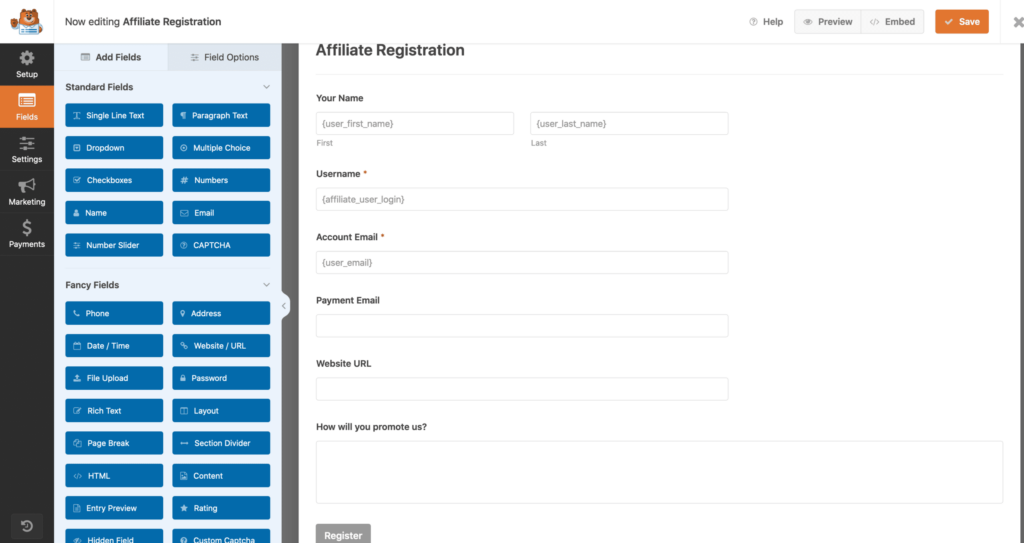 When you've got everything set up how you want it, click Publish and your page will go live just as with any other page on your site. Potential affiliates will now be able to register for your program from this page, and once approved, they can also use it to log in to their dashboards.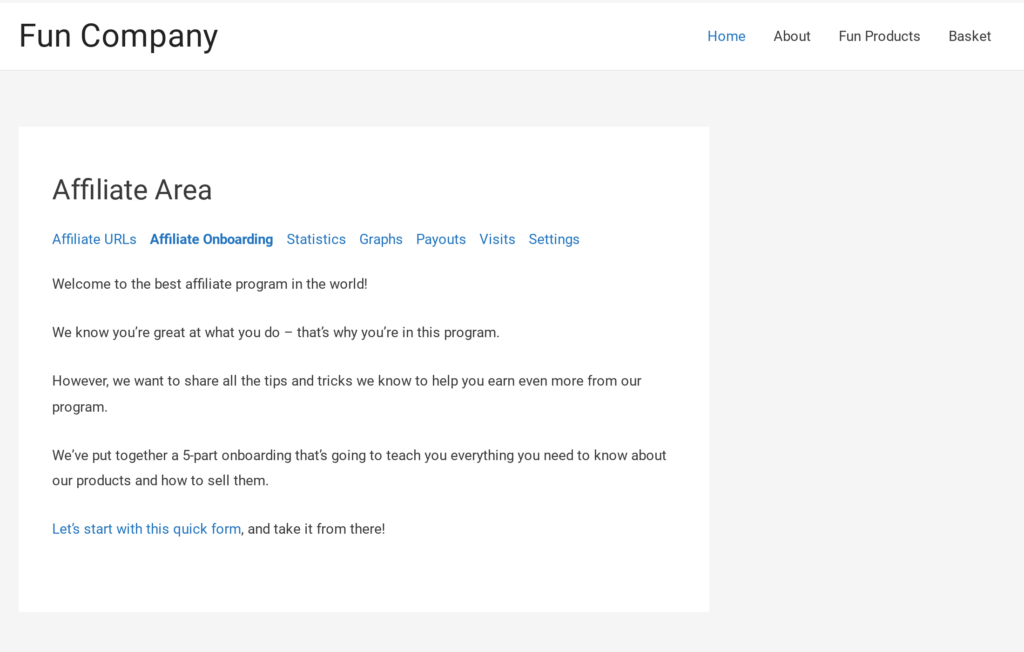 You can also use Affiliate Area Tabs to build out your affiliate dashboard and offer additional information to affiliates. Just go to the Addons page and click the toggle button next to Affiliate Area Tabs.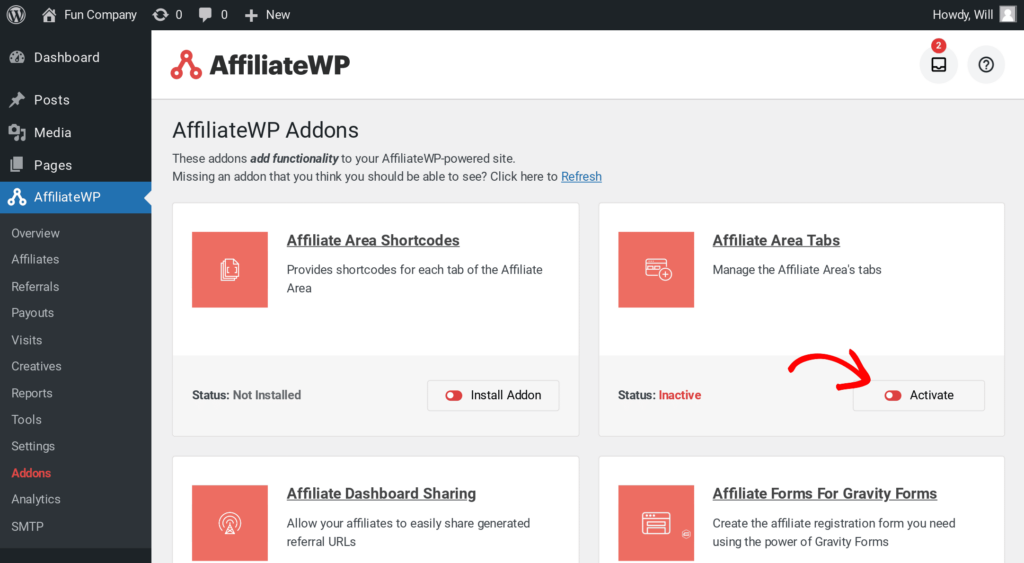 This will create a new tab in your settings where you can reorganize the dashboard tabs and add new pages as your program needs (for instance, product specs or affiliate onboarding).
Step 4: Accept or Reject Affiliate Applications
AffiliateWP requires affiliate applications to be manually approved as standard.
This is because approval is the first step in fraud prevention (we've also got some awesome tools to help you out with fraud detection). Your registration form should give you plenty of information on potential affiliates, and then you can make a more informed decision about whether they should be accepted.
Just go to the Affiliates page and click the Pending tab. You'll see all your pending applications, and you can quickly approve or reject them with a click.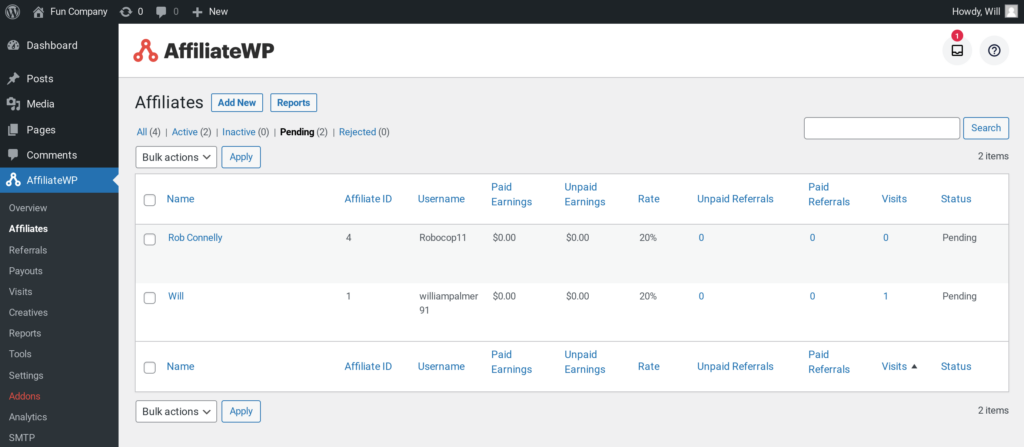 To see more information on the affiliate just click on their name and this will bring up all their registration information.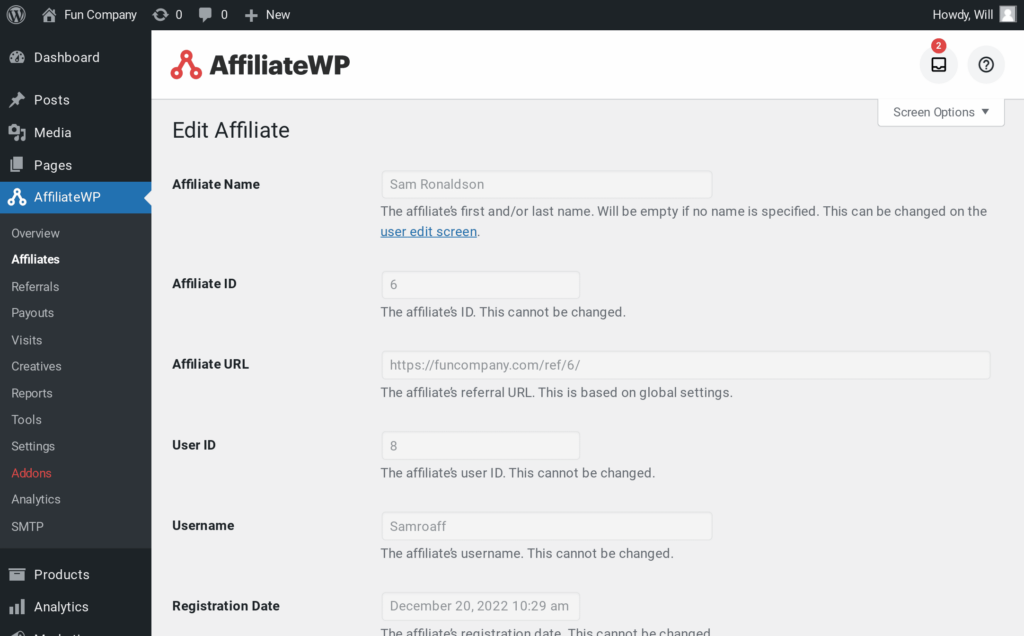 As soon as you accept the affiliate they will recieve an email notification (you can review your notifications in the Email tab of your AffiliateWP Settings) and they'll then be able to use your Affiliate Area page to log in to their affiliate dashboard.
Step 5: Affiliates Generate Affiliate Links in their Dashboard
Once approved, affiliates can log in to their affiliate dashboards from your Affiliate Area page.
From here, they can generate affiliate links, access detailed analytics, see affiliate creatives, and much more. If you set up affiliate coupon codes or other features like Affiliate QR Codes, they will also be accessible through the affiliate dashboard.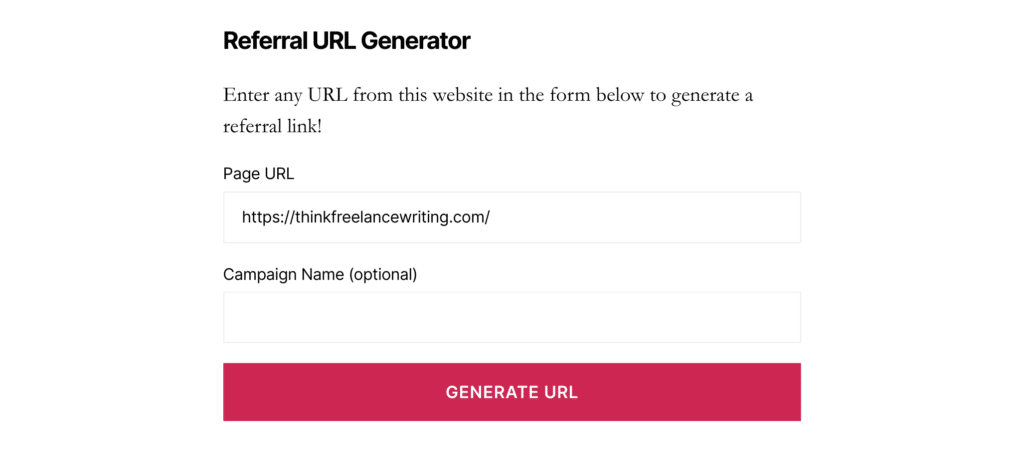 To create an affiliate link, all your affiliate has to do is copy the URL for the page they want to send traffic to and paste it into the generator. The generator will turn the URL into a trackable affiliate link the affiliate can share with their audience.
Whenever someone follows an affiliate link to your website it will show as a visit in the affiliate's analytics. If someone follows an affiliate link to your website and completes a purchase using a WP Simple Pay form or button, then it will log as a referral.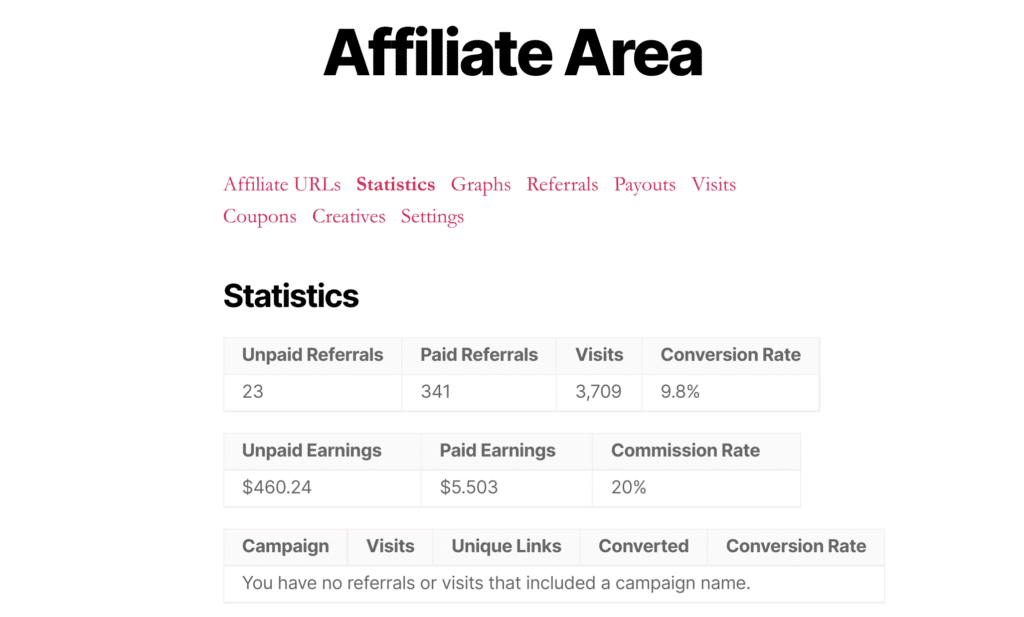 Affiliates can also use the analytics in their dashboards to keep track of performance and see how much commission they have earned.
Step 6: Track Visits and Referrals with Real-Time Analytics
You'll be able to keep track of your affiliate program performance from your Reports page.

Here you can see detailed information on your affiliates, visits, referrals, and payouts. Get a quick snapshot of affiliate performance from the Dashboard and use the tabs to dig deeper into the data.
Understanding your affiliate analytics can help you find new ways to improve performance, so it's important to check in from time to time. You'll also get a monthly program performance summary in your email and you can set up affiliate performance emails that automatically send to your affiliates.
The aim is to have an affiliate program that runs without too much manual work, but it's always worth checking in on your analytics.
Step 7: Pay Affiliates from Your WordPress Admin
AffiliateWP gives you different ways to pay your affiliates but the easiest is the Payouts Service.
This allows you to pay affiliates directly to their bank accounts without ever leaving WordPress. It syncs perfectly with AffiliateWP, and you can set up specific criteria to make affiliate payments as simple as possible.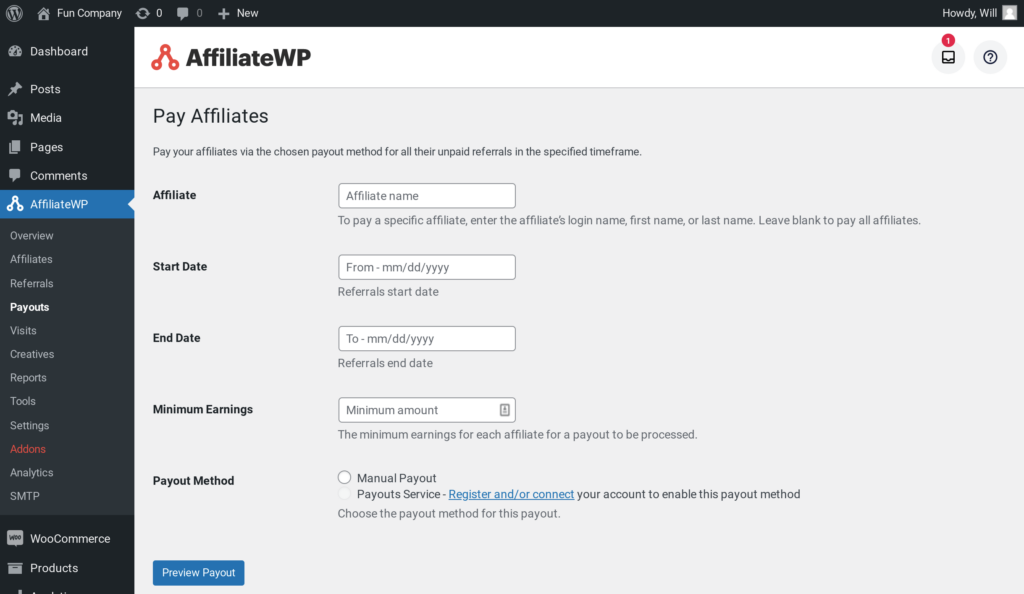 Alternatively, you can also use PayPal and Stripe mass payments to quickly pay affiliates.
Now Unleash AffiliateWP's Most Powerful Tools
We've shown you how to track referrals on WP Simple Pay, so now let's take a look at how you can maximize conversions with AffiliateWP.
One of the best features that works a treat with WP Simple Pay is Affiliate Landing Pages.
With Affiliate Landing Pages you can personalize landing pages for specific affiliates. It cuts out affiliate links altogether and means you can maximize social proof. People trust your affiliates, and content that's personalized around individual affiliates can have a big impact on conversion rates.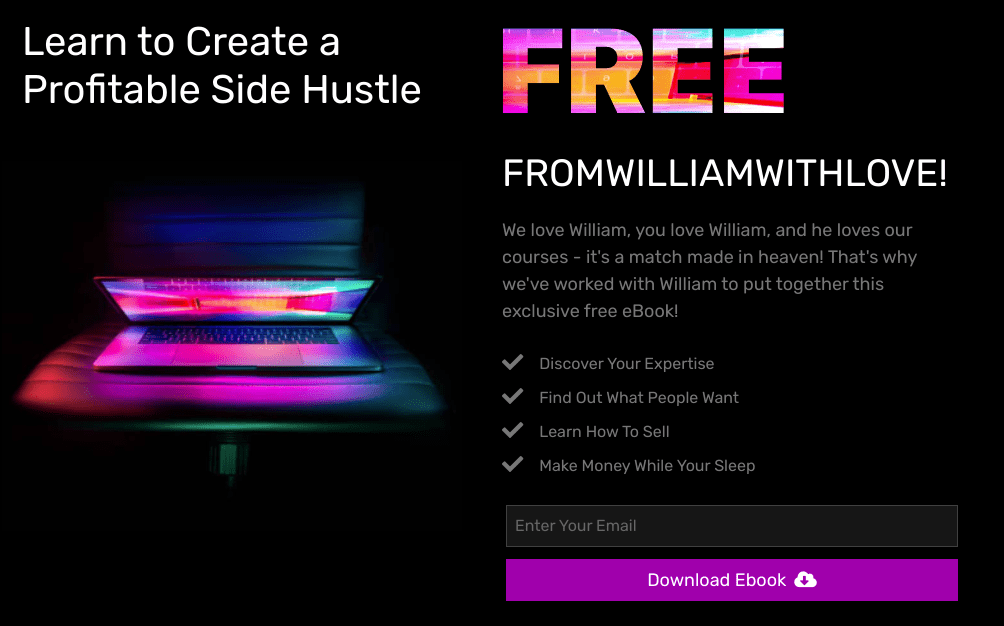 As with everything in AffiliateWP, it's super easy to set up and can all be done from your WordPress admin. So, check out Affiliate Landing Pages and start using them to increase your WP Simple Pay sales.
Tracking Referrals on WP Simple Pay is Easy
You can start tracking referrals on WP Simple Pay in under 10 minutes!
There's no technical knowledge or coding needed, and everything runs through your WordPress admin. You'll have all the tools you need to attract top affiliates and grow your sales with affiliate marketing.
Want even more tips to help you with your affiliate marketing?
We've got you covered:
Now there's only one thing left to do.
Get AffiliateWP and set up referral tracking for WP Simple Pay today!