How to Set Up Affiliate Marketing Program for Online Courses (Guide)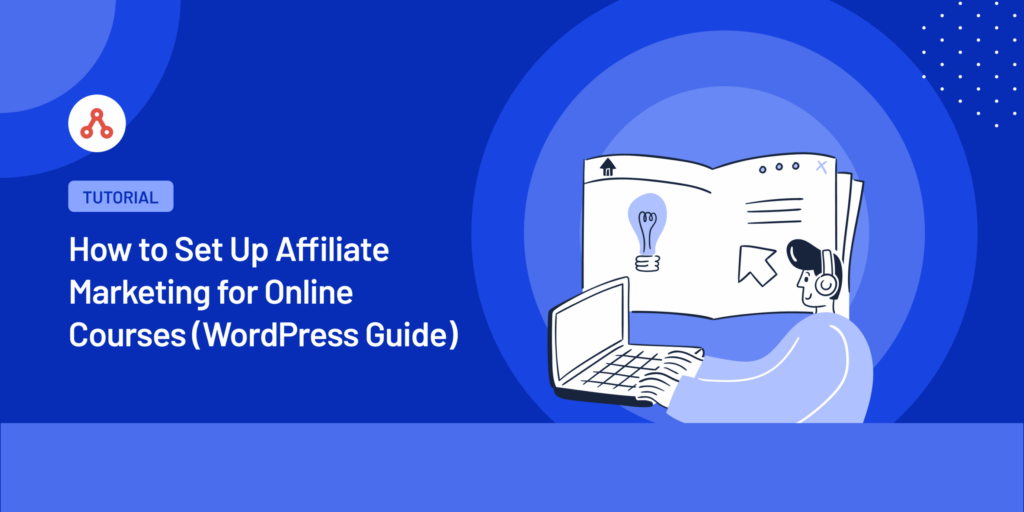 Want to set up an affiliate marketing program to sell your online courses?
You're about to discover an awesome way to grow your course sales!
Let's find out how to set up affiliate marketing for online courses.
Is Affiliate Marketing a Good Strategy to Sell More Online Courses?
Affiliate marketing is a great strategy if you sell online courses.
Digital products like online courses are ideal for affiliate marketing because they tend to have good margins built in. You don't have to create a new product each time you make a sale – you can simply sell the same course over and over again, which gives you tons of options.
One of those options is offering a commission to affiliates (bloggers, influencers, podcasters, YouTube channel owners, and more) who help you sell more courses.
The difference between this and many other forms of marketing is that it's very low risk. You're not paying for clicks, you're paying for conversions, and you don't pay out until an affiliate has made a sale.
For websites that sell online courses, this means affiliate marketing is a win-win.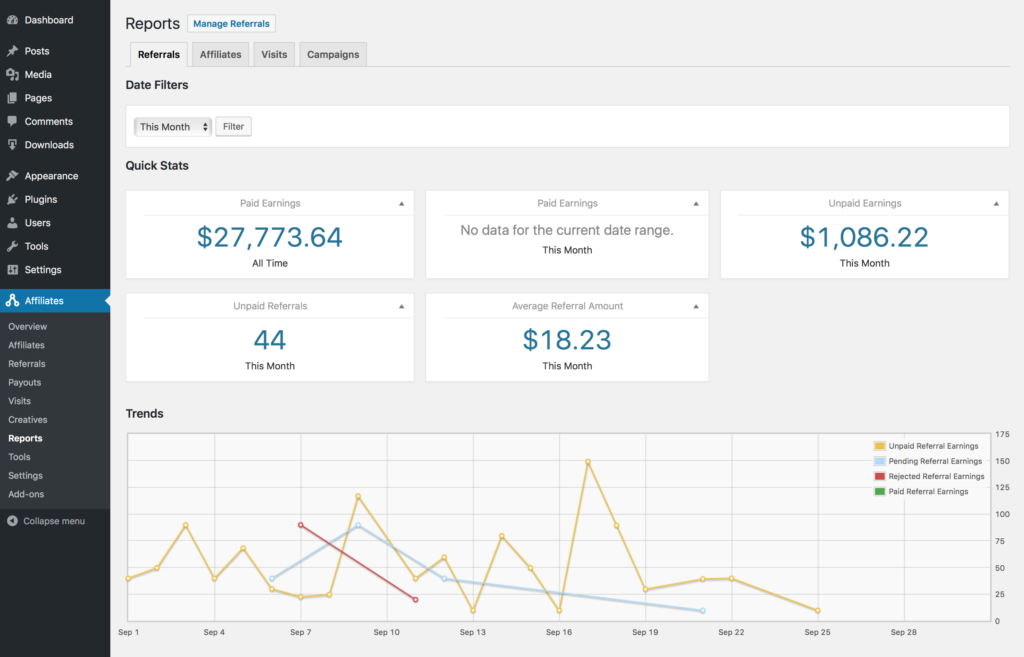 The one thing that puts people off is that setting up affiliate marketing for online courses is perceived as complicated.
We're here to tell you it's not, and we're going to show you how to set up affiliate marketing for online courses without the need for any coding or technical knowledge.
7 Steps to Set Up Affiliate Marketing for Online Courses
Ok, so we've lied a little bit in the title here.
You can set up a WordPress affiliate program to sell your courses in just 3 steps (and less than 10 minutes).
But we want to ensure you've got everything set up for success, so we've added some extra steps to help you get off to a great start. 
Here's what we're going to discuss.
Install AffiliateWP
Choose How to Deliver Your Courses
Integrate AffiliateWP with Your Chosen Plugin
Set Up Recurring Referrals
Customize the Affiliate Signup Page and Dashboard
Track Referrals with Real-Time Analytics
Pay Affiliates from Your WordPress Admin
Let's take a deeper look at these steps and help you set up affiliate marketing for online courses.
Step 1: Install AffiliateWP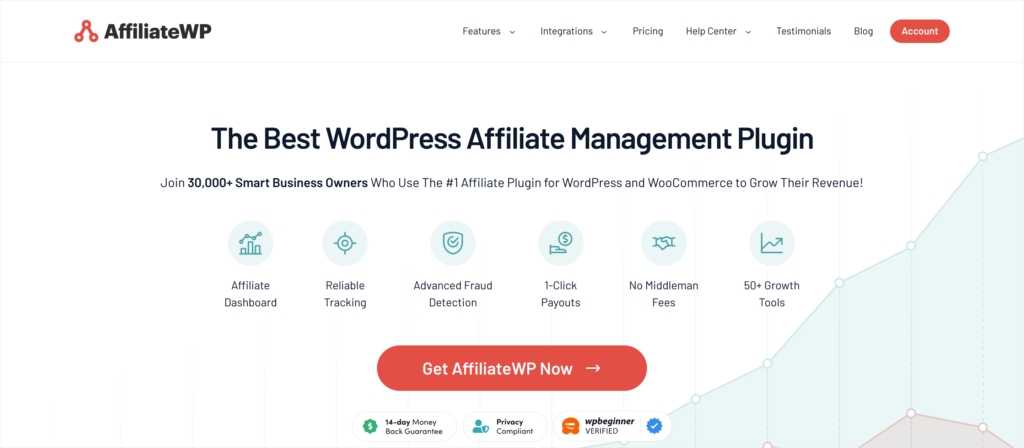 AffiliateWP is the best affiliate management plugin for WordPress.
It integrates with a ton of e-commerce carts, LMS plugins, and payment gateways to accurately track referrals on course sales (check out the full list of integrations), and it's super easy to set up, even for complete beginners.
The key thing with AffiliateWP is that it makes affiliate management simple – it's not a completely passive income, but it's not far off.
You don't want to spend all your time managing your affiliate program, and that's the case with AffiliateWP. It allows you to:
Set up an affiliate program in under 10 minutes
Host your affiliate program on your website
Automatically integrate your WordPress theme into your affiliate area
See detailed analytics within your WordPress admin
Pay affiliates without ever leaving WordPress
That's not all though!
It's also got some awesome marketing features like Affiliate Landing Pages and Vanity Coupon Codes to help boost your conversion rate. This keeps your affiliates happy and ensures you maximize your return on investment.
AffiliateWP cuts out the middleman affiliate networks like ClickBank so you don't have to pay fees that reduce your profits.
To start, go to the pricing page and choose the plan that best fits your needs. 
You can quickly download the plugin following this guide, and then you're ready to set up your affiliate program for e-learning courses.
To pay recurring referrals on subscription payments, you will need the Professional plan. 
Step 2: Choose How to Deliver Your Courses
AffiliateWP tracks referrals rather than facilitating your course sales, so you need a way of delivering your courses to the customer. 
WordPress gives you a number of great options to do this, so make sure to research your options.
If you want to sell courses as a digital download, the best option is Easy Digital Downloads, but if you want to host the courses on your site, then take a look at the best WordPress LMS plugins. The big bonus with these plugins is that you can host your courses on your own site rather than on an external course creator like Udemy or Coursera.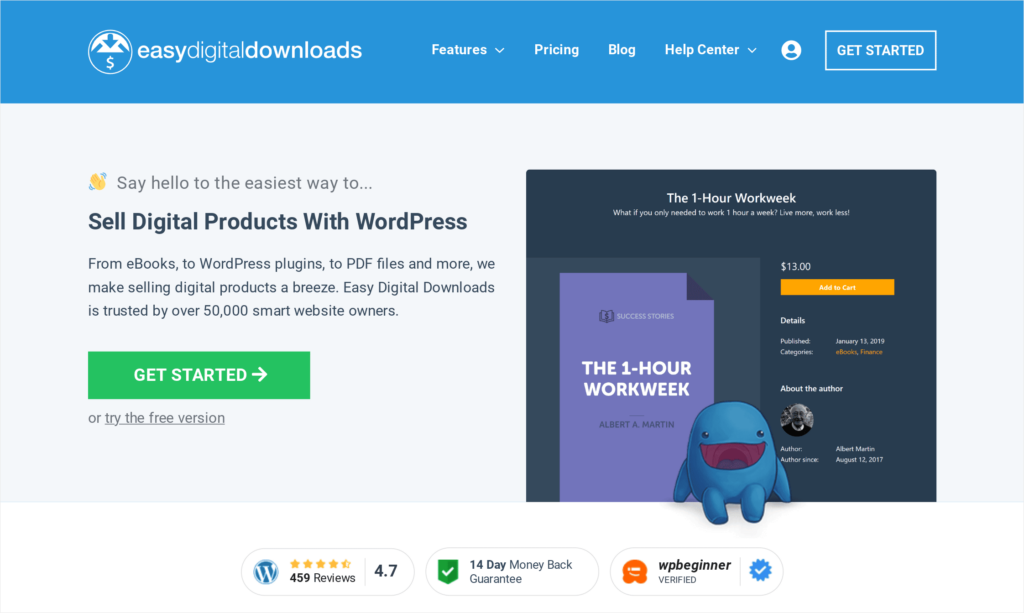 Ensure the plugin you choose is compatible with AffiliateWP so you can accurately track referrals. Here's a reminder of the compatible plugins you might use to sell courses online:
Easy Digital Downloads
WooCommerce
MemberPress
LearnDash
LifterLMS
Tutor LMS
PayPal
Stripe
As soon as you've set up your e-commerce or LMS plugin, then you can integrate it with AffiliateWP.
Step 3: Integrate AffiliateWP with Your Chosen Plugin
Because AffiliateWP is built specifically for WordPress websites it offers simple yet comprehensive 1-click integrations with the best plugins.
To set up your affiliate marketing program, all you have to do is open the setup wizard by going to Settings and scrolling to the bottom of the page then clicking Launch Setup Wizard.
On the next page, you'll be asked to enter your license key which can be found in your AffiliateWP account or confirmation email. Just copy and paste the code, then click Continue.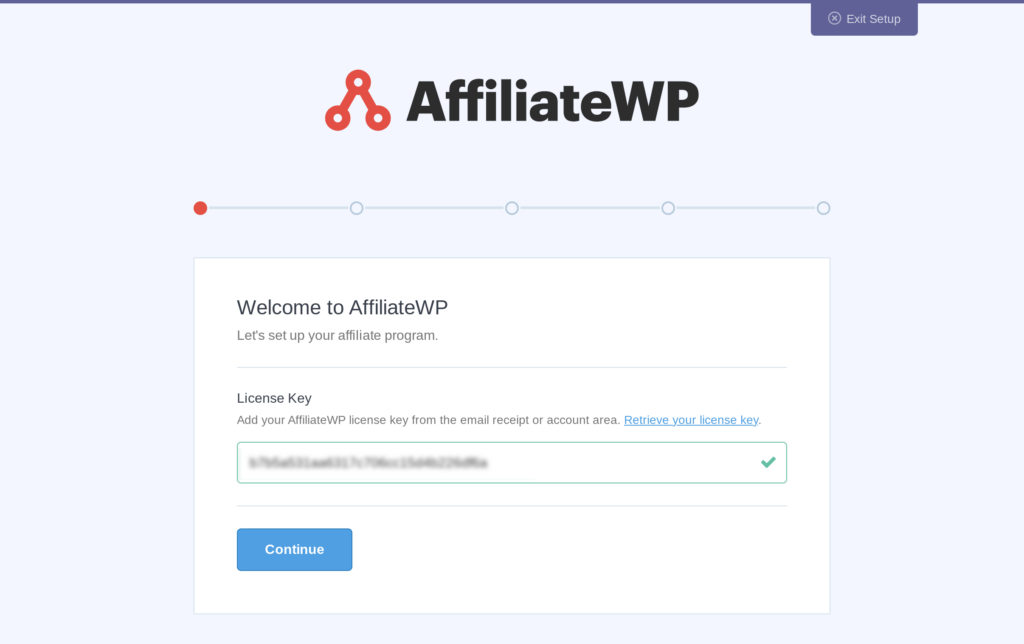 This will open up the integrations page where you can sync your e-commerce or LMS plugin. Just check the checkbox next to your plugin and click continue (Tutor LMS works slightly differently).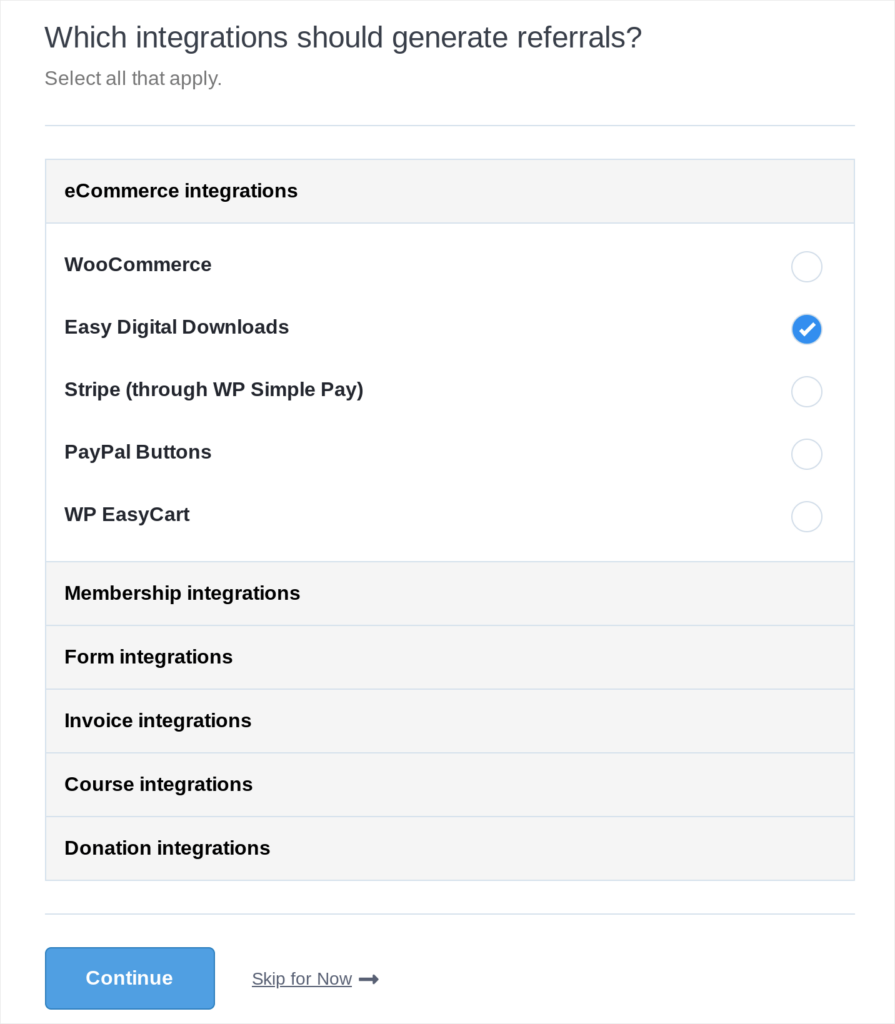 Now it's time to set your affiliate commission!
If you're not sure what commission to offer, check out our complete guide on affiliate commissions, but remember, you can always change this at a later date by going to your Settings.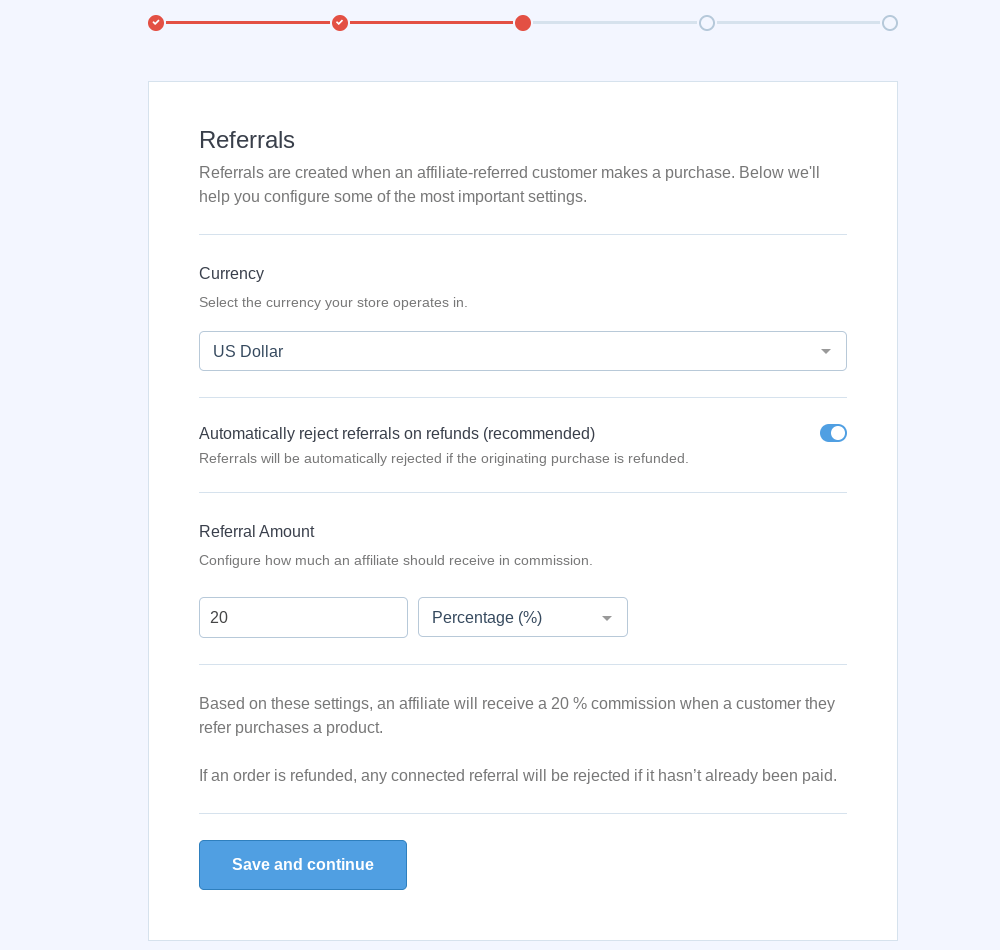 Once you're happy with your commission, click Save and Continue and you'll be taken to the next page where you can set your cookie expiration. Again, you can edit this at a later date by going to Settings so don't worry about this step too much.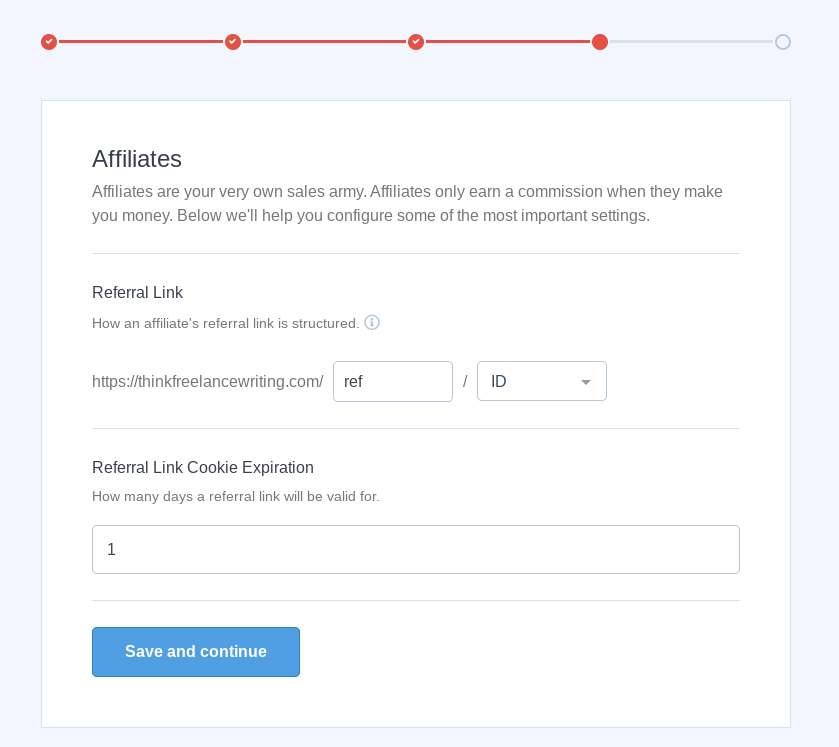 Click Save and Continue, and you'll be brought to a final confirmation page where you can click Finish the Setup and Exit the Wizard.
That's it, your affiliate program for online courses is set up!
Step 4: Set Up Recurring Referrals
If you sell your online courses on a monthly subscription basis, then you'll probably want to set up Recurring Referrals.
This is a pro addon, so you will need a Professional license to use this feature.
Recurring Referrals allows you to pay affiliates a commission each time your customer makes a subscription payment. This is a hugely popular feature for affiliates because it means they can earn reliable recurring revenues.
To enable Recurring Referrals, just go to the Addons page and click the toggle button under Recurring Referrals. This will install and activate the plugin ready for you to use.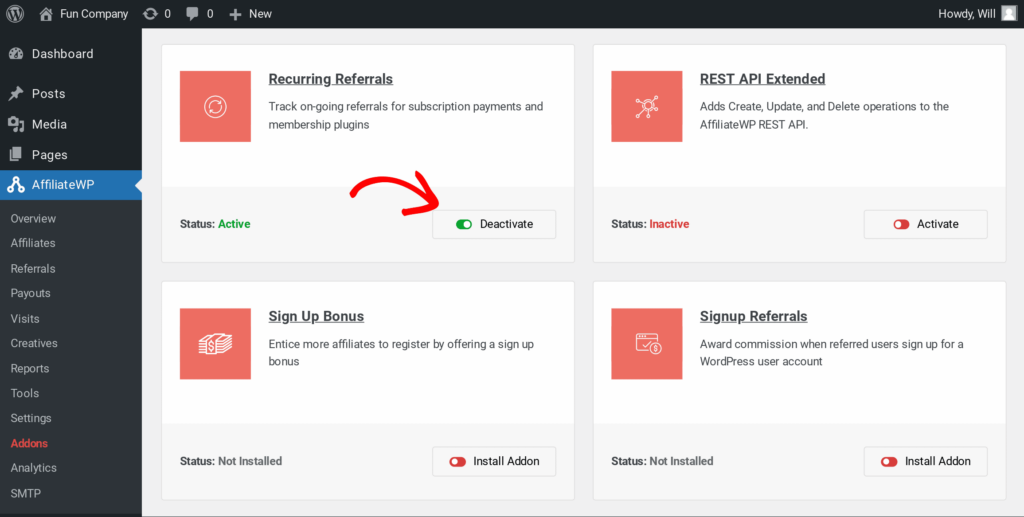 Now when you got your AffiliateWP Settings you will see a new Recurring Referrals tab. From here you can set the value of your recurring commission and choose how long to pay out recurring commissions for.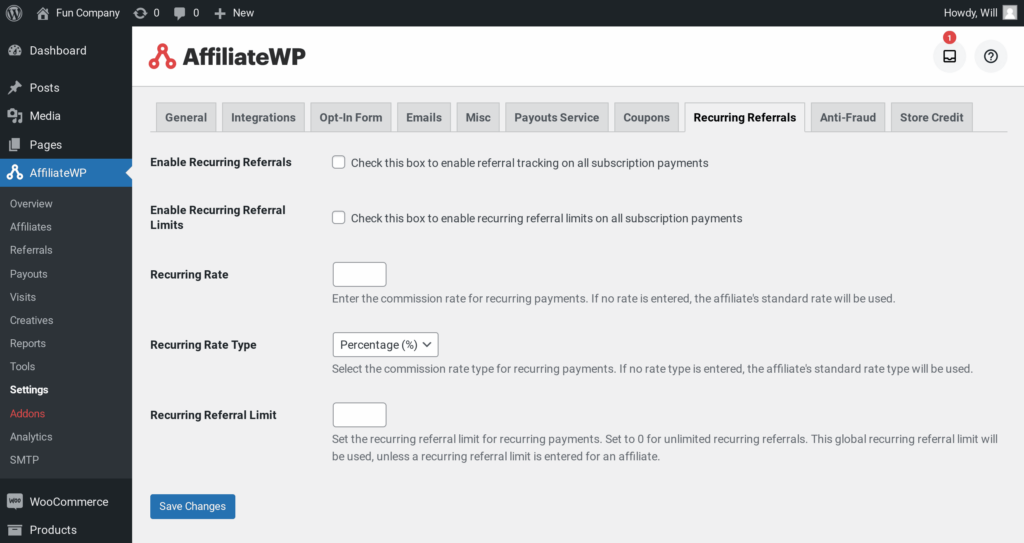 Step 5: Customize the Affiliate Signup Page and Dashboard
When you install AffiliateWP it will automatically create an Affiliate Area page. This is where affiliates can sign up from your program, and once approved, log in to their dashboard.
Both the affiliate area and affiliate dashboard are highly customizable.
To edit the Affiliate Area, just go to Pages and search "affiliate area." Click Edit to open the page, and click on the forms to interact with them. You can easily edit the rows and move them around within your form, and you can also add new blocks by clicking the + button.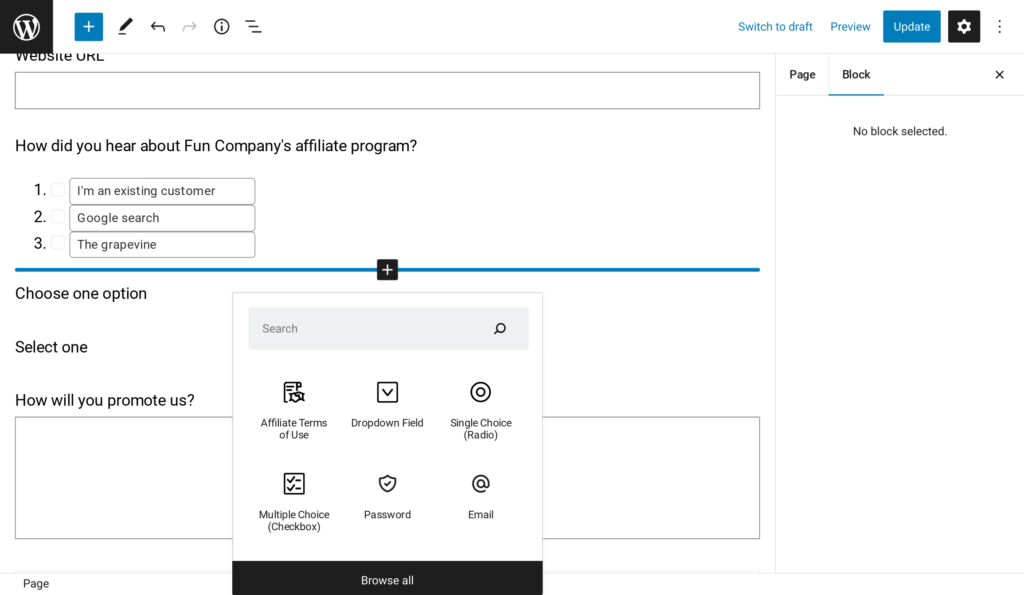 This will help you optimize your registration form and make sure you're collecting all the information you need to make an informed decision about potential affiliate partnerships.
Once an affiliate has submitted an application, you'll receive a notification in your email, and you can easily approve or reject applications in the Review section of the Affiliates page.

When you approve an affiliate application, the affiliate will receive a notification, and they can then log in to their account through the same affiliate area page. This will open up their dashboard where they can generate affiliate links, see analytics, and much more.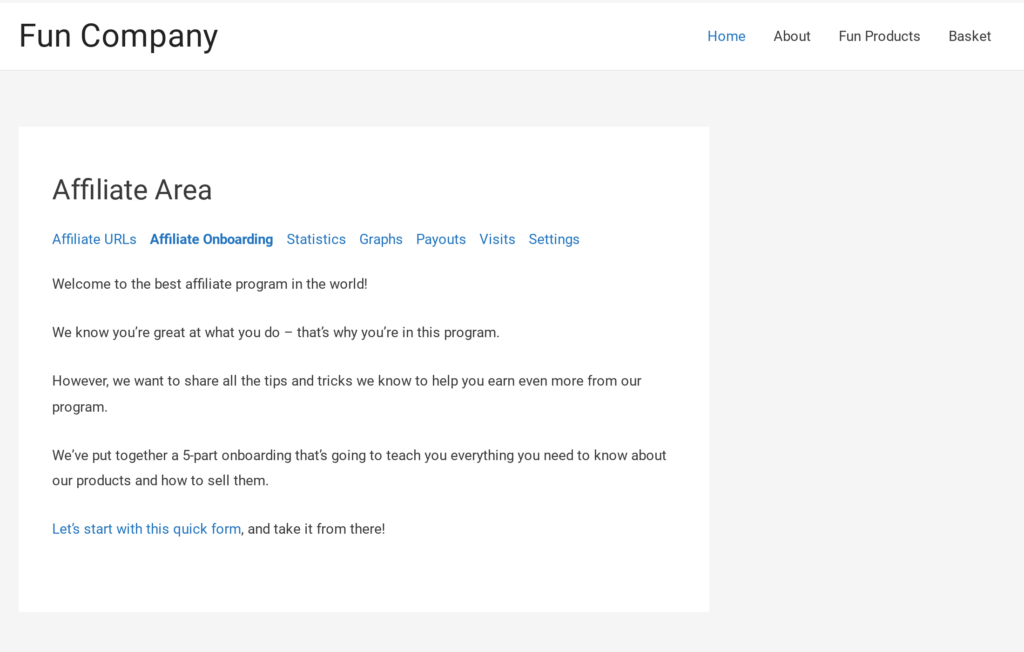 You can easily customize the affiliate dashboard and add elements like an affiliate onboarding by using the Affiliate Area Tabs addon.
Step 6: Track Referrals with Real-Time Analytics
AffiliateWP will automatically track visits and referrals to your site and you can see all the data on your Reports page. You can use this page to dig into all the data and spot trends with your affiliate program (here's a guide on some of the most important statistics).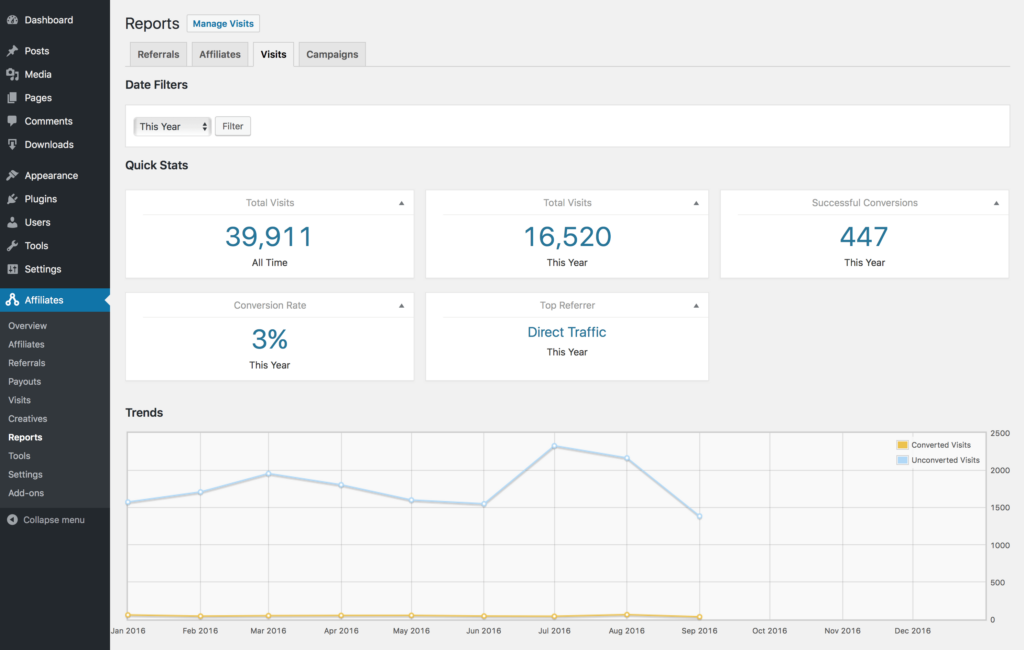 AffiliateWP is built to make affiliate management easy and save you time, but it's always worth checking in to see how your program is performing.
Another great feature that keeps you in tune with your program is performance emails which will automatically keep you updated with what's happening with your program.
Step 7: Pay Affiliates without Leaving Your WordPress Admin
The last part of the puzzle is paying your affiliates; again, AffiliateWP makes this easy.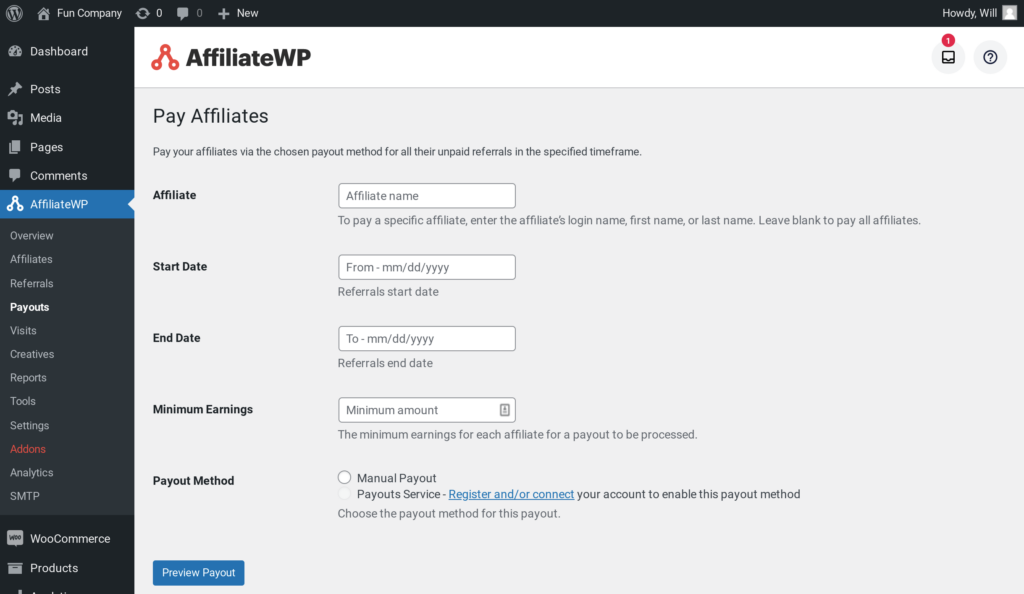 The best way to pay affiliates is with the Payouts Service. You can quickly set this up and start paying affiliates directly to their bank accounts without ever leaving your WordPress admin.
With the Payouts Service, you can make sure your affiliates get paid on time and in full with just a few clicks – essential if you're going to keep top affiliates happy!
Bonus Tips to Help You Sell More Online Courses
So we've shown you how to set up affiliate marketing for online courses, but what more can you do to boost sales?
Here are a few ideas.
Build Authority
People don't want to learn from just anyone. You've got to give them a reason to trust your expertise and invest in your knowledge.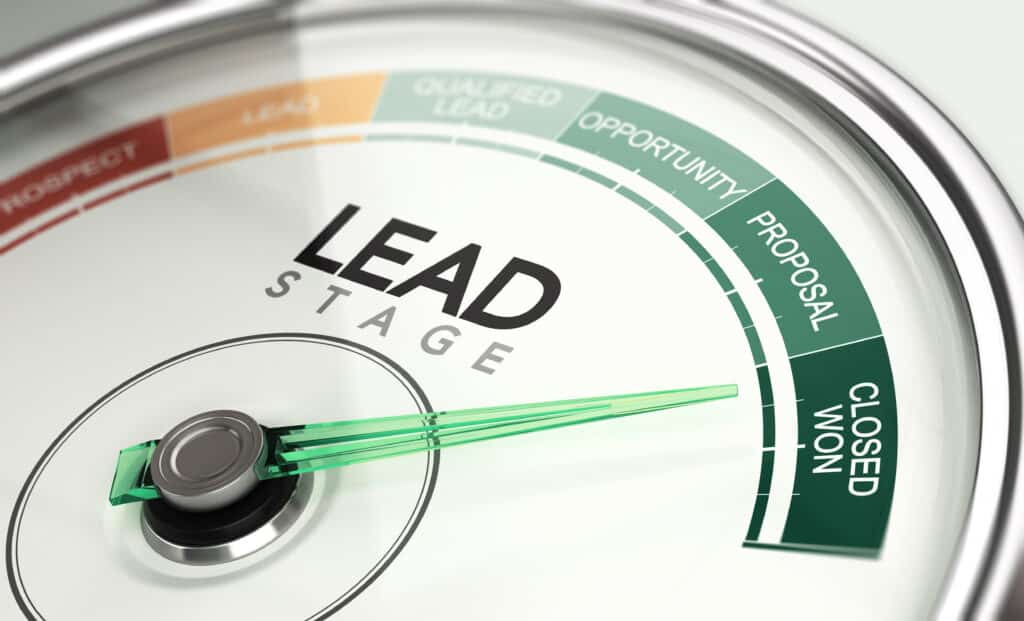 This starts from the second people first interact with your brand.
If your page shows at the top of the search engines, that's an immediate stamp of approval, so SEO and content marketing can be essential. If people click the link and land on some incredible, informative content, you're quickly building the authority needed to sell courses. 
Look at Different Sales Models
There's more than one way to sell an online course.
Sometimes selling courses individually might be the best option, but other times you might find it works best to create a subscription-based membership program.
The great thing about a subscription-based sales model is that it gives you a consistent revenue stream. As long as your cancellation rates are low, you have a clear picture of how much you will make each month, which isn't always true when you're selling courses individually.
Bonus Tip: This is where our Recurring Referrals pro-add-on can make a huge difference. It's a great way to reward affiliates and encourage them to bring you high-quality, long-term customers.
Reach Your Target Audience Where They Hang Out
One of the most essential parts of digital marketing is reaching your target audience where they hang out. 
Even among social media platforms, this can vary greatly. For instance, if you're looking to reach a professional, then you might turn to LinkedIn, but if you were selling a hip new energy drink, your audience might spend more time on Instagram or TikTok.
You've got to identify where your target audience hangs out and then build trust by engaging them with the right content formats.
Making course sales is a competitive business, and you've got to find a way to stand out from the crowd.
Optimize Your Sales Funnel
No matter what you're selling, people tend not to purchase immediately.
Buying is a process in which you carefully weigh the pros and cons before deciding, so your sales funnel has to guide people through this decision-making process. 
Attracting people to your site might be the first part of the process, but then you've got to be able to get people to take action.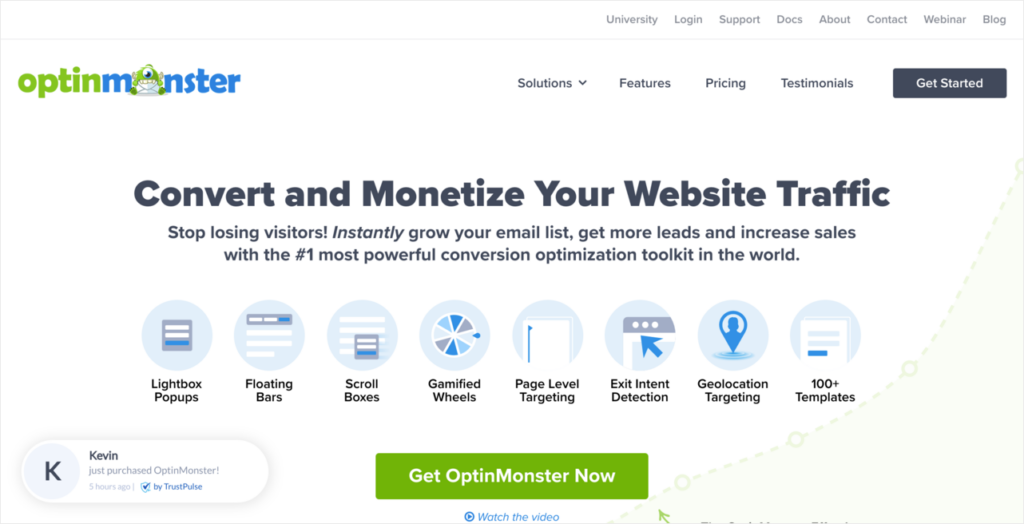 Ultimately, you want them to give you their email address so you have a point of contact and can unleash your email marketing.
The best online marketing tool for this is OptinMonster. Not only is the software a lead-creating machine, but they've also got some excellent tutorials, templates, and playbooks you can follow to make sure you're getting people to take action.
Then it's just a case of utilizing your email list, optimizing your sales page, and tweaking your pricing until you find the perfect price point.
Cross-Selling and Upselling
When someone makes the decision to purchase a product, it's a big thing. Not only is it great news for you, but it's also exciting for them.
Your job is to capitalize on that excitement!
When people decide to spend money, they become much more open to spending more money.
For example, if you've already decided to spend $150 on your ceramic mug-making course, then what's $40 to unlock the bonus pro tips? This is what upselling is all about: making the customer a sweet offer when they're already committed to spending money.
When it comes to online learning, there's so much scope to upsell and cross-sell, so make sure you're making the most of it. It doesn't just benefit you, it also means learners get access to even more knowledge.
This is a go-to marketing strategy if you want to sell more online courses.
Grow Your Affiliate Marketing for Online Sales
Once you've set up your affiliate marketing for online sales, you'll find many new strategies you can utilize. 
We want to help you get the absolute most out of your affiliate marketing, so we have more great resources. 
Now there's only one thing left to do.
Get AffiliateWP and set up affiliate marketing for online courses today!