How to Set Affiliate Marketing Cookie Duration in WordPress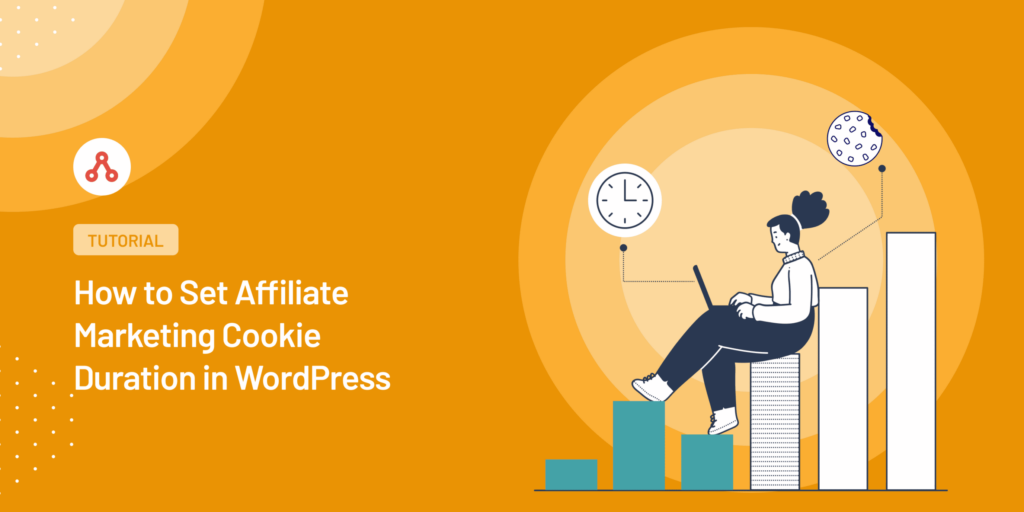 Want to set your affiliate marketing cookie duration?
Cookies are an essential part of affiliate marketing, and you need to have control over how long they last.
So, we're going to show you exactly how to manage your affiliate cookie duration in WordPress.
Things to Consider When Choosing Your Affiliate Marketing Cookie Duration
When someone clicks an affiliate link, a cookie is added to their browser that can track when that person visits the merchant site and makes a purchase.
The cookie has a limited lifespan that's decided by the affiliate program manager.
An affiliate marketing cookie duration decides how quickly a customer has to make a purchase after clicking an affiliate link for the affiliate to be entitled to a commission.
For example, if a program has a cookie expiration of 30 days, and someone clicks an affiliate link and makes a purchase after 15 days, then the affiliate is entitled to a commission. However, if the purchase is made after 30 days, then the affiliate is no longer entitled to a commission.
So, how do you decide how long your affiliate marketing cookies should last?
Well, most commonly, affiliate marketing cookies last between 1 and 30 days, but there's no set guideline. Instead, you've got to weigh up a few key pieces of information.
The first is to remember that sales rarely occur on the first touch point. People don't just land on your website and complete their purchase there and then. They go away, think about their decision and come back.
Affiliates know this, so they're going to look for an affiliate program that offers a cookie duration of at least 15-30 days.
Another key thing you need to remember though is the impact of your retargeting. If you're putting in a ton of effort into remarketing, then it's going to bring your costs up quite substantially, and might cause you to reconsider your cookie policy.
Essentially, it's got to be a decision based on your business needs, but keep in mind that cookie duration is one of the key things that attract affiliates to your program.
4 Steps to Set Your Affiliate Cookie Duration
Ok, so really, you can set your affiliate cookie duration in 2 steps, but we've got some extra little tips that are going to make your cookie policy more effective.
Let's take a look at how you can set your affiliate cookies in WordPress.
Step 1: Install AffiliateWP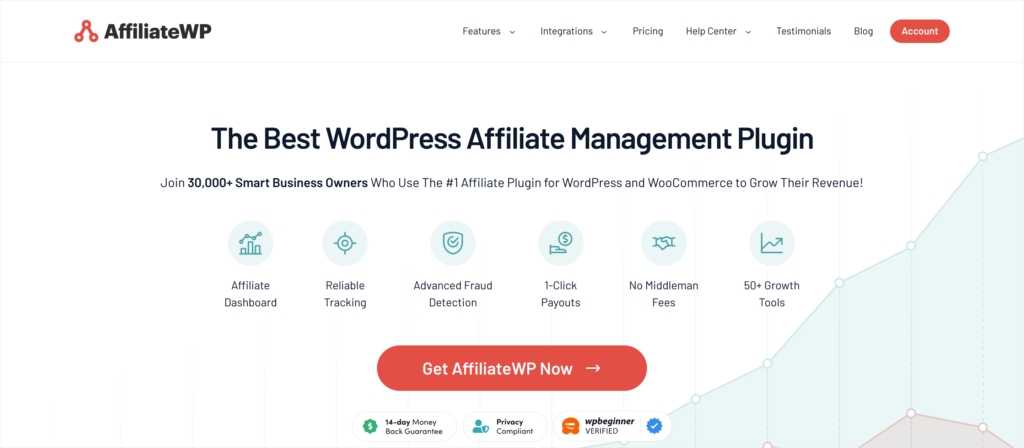 AffiliateWP is the best WordPress affiliate management plugin and it's going to give you complete control over your affiliate cookies.
Before you start tracking affiliate links, you've got to have the right software in place, and if your website runs on WordPress, that software is AffiliateWP. It's going to allow you to set up your affiliate program in under 10 minutes, and it's also got some incredibly powerful affiliate management tools.
Just head to the pricing page and choose the plan that best fits your needs.
Once you've completed your purchase, you'll be able to integrate your affiliate program with a whole host of applications in just a click by opening the setup wizard:
WooCommerce
Easy Digital Downloads
PayPal
Stripe
Restrict Content Pro
MemberPress
WPForms
And many more…
This will give you the perfect platform to grow your business through affiliate marketing, and the powerful growth tools will allow you to attract the very best affiliates.
Step 2: Edit Your Cookie Expiration
To edit your affiliate marketing cookie duration, all you have to do is open the AffiliateWP Settings page from your WordPress admin.
Here, you'll see all kinds of different options to help you customize your affiliate program, but we want to scroll down until we see the Cookie Expiration box.

Simply enter the number of days you would like your cookies to last and then click Save Changes at the bottom of the page.
That's it, you've now set your affiliate cookie duration.
Step 3: Communicate Your Affiliate Cookie Policy
Along with affiliate commissions, your cookie policy is one of the key details potential affiliates are going to be interested in. The longer your cookies last, the easier it is for an affiliate to make a sale, so they're going to be looking for clarity on this issue.
It's important you make this information readily available on your affiliate signup page and on your terms of use page. Your affiliate terms of use detail all the important information affiliates need to know, so it's the perfect place to outline your cookie policy.
You can effortlessly add an affiliate terms of use to your program using AffiliateWP's Terms of Use Generator.
Just go to the AffiliateWP Tools page and click on the Terms of Use Generator tab. This will bring up a draft terms of use where you can automatically add in your company details.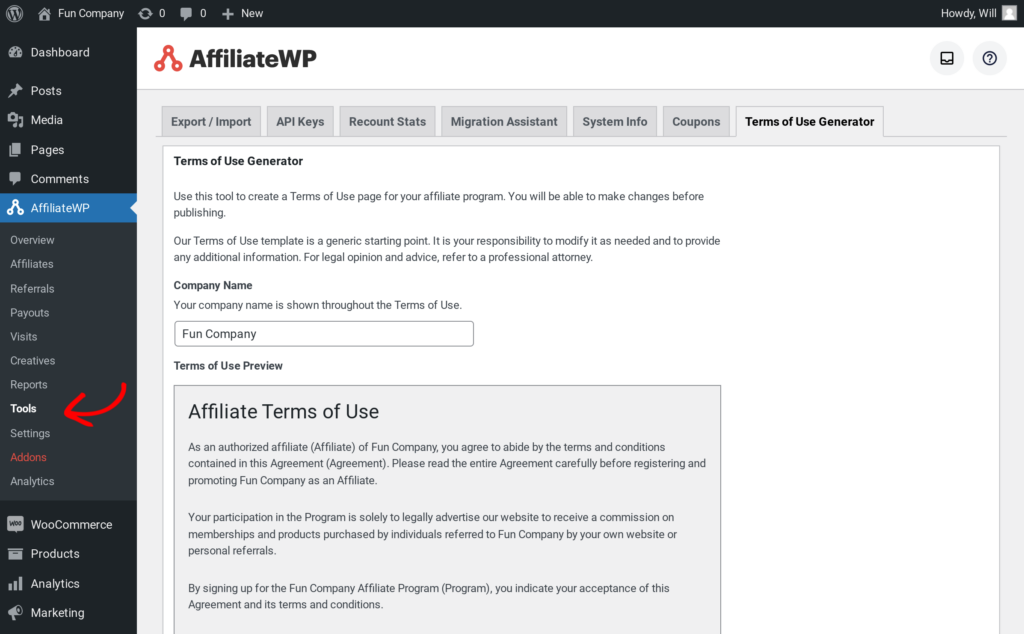 When you click Create Terms of Use Page, a new WordPress page will be drafted, ready for you to edit. Once you've decided on your cookie policy, you can then manually add a section that highlights your cookie expiration.
Step 4: Start Signing Up Affiliates
An Affiliate Area page will be created as soon as you complete the AffiliateWP setup wizard, and potential affiliates can use this page to sign up for your affiliate program.
To edit the Affiliate Area page, simply go to Pages, and search for Affiliate Area. You can use the blocks to edit your affiliate registration form and make sure you're collecting all the information you need.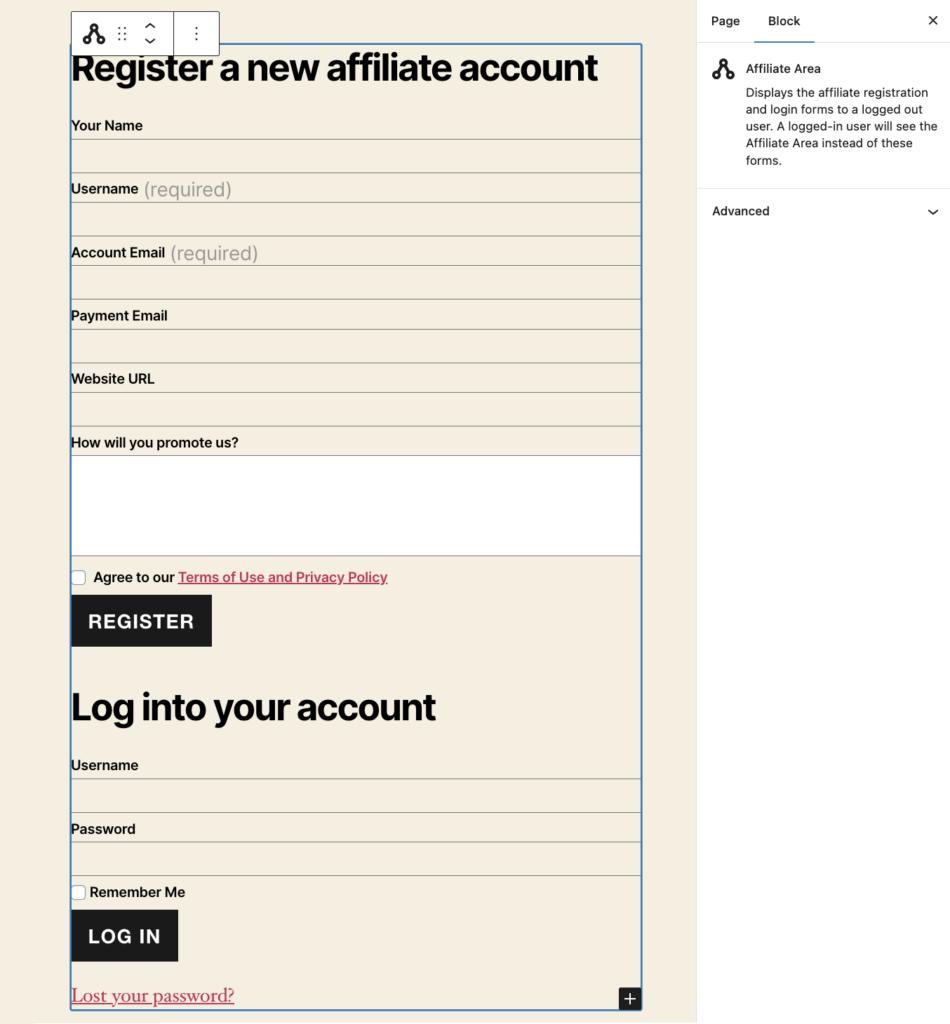 As soon as the affiliate has signed up and been approved, this page will then turn into their log-in area and affiliate dashboard. Once again, there's a lot you can do to customize this page, so make sure to build it in your brand's image and add relevant information using Affiliate Area Tabs.
Does Affiliate Marketing Use 3rd Party Cookies – I Hear They're Being Phased Out?
Let's start with a question we commonly get asked, "does affiliate marketing use third-party cookies?"
The answer is no. When you're using quality link tracking software like AffiliateWP, it relies on 1st party cookies as opposed to 3rd party cookies. So, what's the difference?
3rd party cookies are cookies that are added to your browser by websites other than the one you are currently on. For instance, you might be reading your favorite blog, and a 3rd party cookie from an advertising agency is added to your browser.
This 3rd party cookie is used to track your behavior across different websites so the advertising agency can provide you with tailored display ads.
These 3rd party cookies are being clamped down on and are routinely interrupted by privacy updates from major companies like Apple. This means that they would be very unreliable for use in affiliate link tracking.
Instead, affiliate marketing uses first-party cookies, which are cookies that are added to your browser by the website you're visiting. They're used to track your journey between the pages on the website normally for analytics purposes or to remember cookie preferences, or save a shopping cart.
These 1st party cookies don't represent the same affront to people's privacy, and they're much more reliable, making them ideal for affiliate link tracking.
So, in summary, yes, big changes are being made to cookies, but it's 3rd party cookies that are the target. 1st party cookies are still an essential part of how the internet works, and these are the cookies that form the basis of affiliate link tracking.
FAQs: Affiliate Marketing Cookies
How long does an affiliate cookie last?
An affiliate cookie lasts as long as the affiliate program manager decides it should last. Most commonly this tends to be between 1 and 30 days, although there is no limit to how long an affiliate cookie can last.
How do cookies work for affiliate links?
Affiliate links work by adding a cookie to people's browsers when they click the link. Affiliate software can then recognize the cookie in a person's browser when they land on the merchant's site and make a purchase. The affiliate software can then facilitate a commission payment to the successful affiliate.
Will cookies affect affiliate marketing?
Changes to cookies are generally focused on 3rd party cookies which aren't an important factor in affiliate marketing. Instead, affiliate marketing uses 1st party cookies which are much more reliable and allow for accurate affiliate tracking.
Now Start Your Own Affiliate Program
Now that you know everything there is to know about affiliate marketing cookies, it's time to set up your own affiliate program.
It's incredibly easy to get started, and, since you only pay affiliates when they make a sale, it's very low risk.
Want more resources to help you get started? We've got you sorted!
Now there's only one thing left to do.