How to Create a Personalized Affiliate Landing Page in WordPress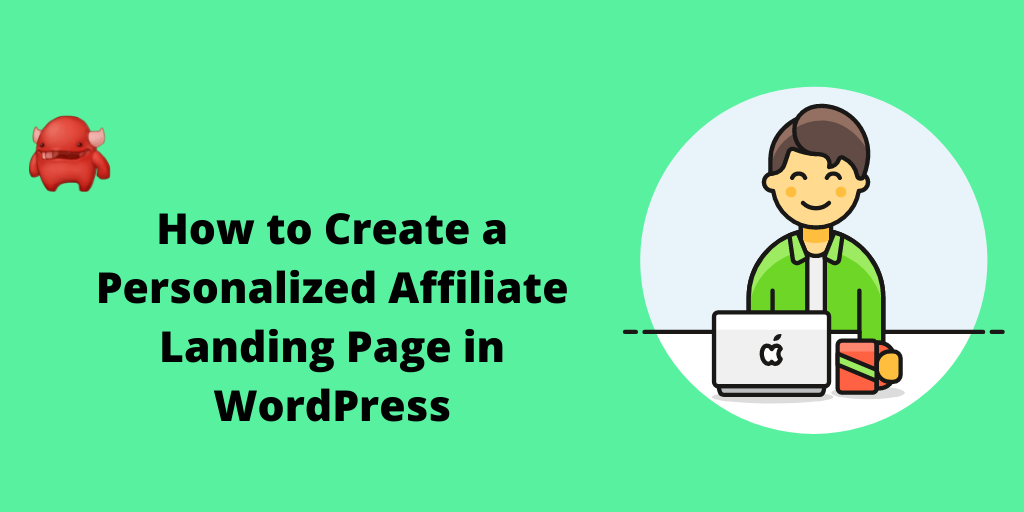 Do you want to sign up more affiliates, keep them engaged for longer, and make more sales? Then personalized affiliate landing pages are exactly what you've been looking for.
Here's everything you need to know about this explosive feature.
What is a Personalized Affiliate Landing Page?
A personalized affiliate landing page allows you to collaborate with your affiliates to create the perfect landing pages and boost conversions. It's a permanent page on your website, but it's personalized to the individual needs of individual affiliates.
Check out this example.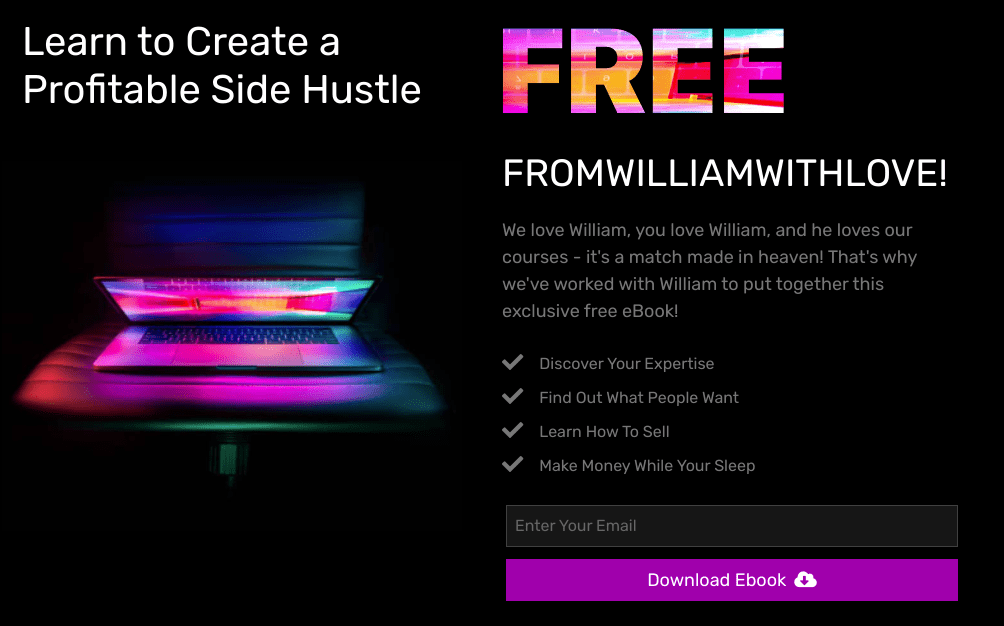 Say I'm your affiliate and you're selling courses on how to create a profitable side hustle.
I've done the hard work to build a relationship with my target audience and send you traffic, so why wouldn't you build off this? With personalized affiliate landing pages, you can do exactly that.
In this example, potential customers have landed on your website, but they're presented with copy that showcases the relationship you and I have (in this case, we're using affiliate marketing for lead generation rather than sales).
The great thing about this is that there are no affiliate links involved. Your affiliate can simply send traffic to their landing page using a normal link, and AffiliateWP will track conversions and assign commissions as normal.
Creating high-converting landing pages for each of your affiliates might seem like hard work, but there are a ton of benefits!
Why Offer a Personalized Affiliate Landing Page?
Now you've got to the fun part; personalized affiliate landing pages offer some incredible benefits.
We won't pretend like running your own affiliate marketing program isn't challenging. You've got to sign up great affiliates, keep them engaged, and convert their traffic, and this is challenging.
Personalized affiliate landing pages are powerful because they positively impact every one of these processes.
Here's how.
1. Eye-Catching Features Sell
Your affiliate program is one of many options your affiliates have.
Sure, every affiliate is going to be interested in your commission rate, but that's only a small part of the story. They're also interested in how you're going to help them maximize their earnings.
As we always say, we can offer you an 80% commission, but if we don't convert any of your traffic, then it's not going to be very helpful for you.
This is why features sell your affiliate program, and personalized affiliate landing pages are a particularly eye-catching one.
Perhaps the most common challenge affiliate program managers face is finding the right affiliates. They are out there though, you've just got to find innovative ways to showcase your value proposition, and personalized affiliate landing pages are certainly a boost to that.
Make sure to highlight these benefits on your affiliate sign-up page and talk your affiliates through how they can get the most out of features like personalized affiliate landing pages.
2. It's a Chance to Collaborate
If signing up high-quality affiliates is the first problem you run into with an affiliate program, then keeping them engaged is probably the second.
There are always shiny new offers to attract affiliates away from your program, so you've got to find new ways of keeping them on board.
It might seem like an oversimplification, but the best way to keep affiliates engaged is by engaging with them.
Invest time in your affiliate onboarding, open the conversation, and keep it going.
An even better way to do this is by showing your level of commitment to helping your affiliate succeed, and working together on a personalized landing page. It's a great opportunity to understand your affiliates on a deeper level, share knowledge, and ultimately, build a win-win relationship.
You're working with these people because they've got marketing skills you want to tap into, so working together to optimize your landing page can only be beneficial.
3. The Perfect Reward/Incentive
Affiliates understand the power of personalization. It's a staple of digital marketing, and it almost always brings higher conversions.
Creating individual landing pages for every affiliate probably isn't an option because it is more time and energy intensive. However, it's the perfect reward for affiliates who perform well and show their commitment to your program.
If you've explained the benefits well, then promising any affiliate who reaches 100 sales a personalized affiliate landing page is a huge motivator.
The thing with affiliate rewards is we become so focused on commission when there's much more you can do. Affiliates want sales, and when you promise to unlock them with personalized affiliate landing pages, it's going to provide a lot of motivation.
4. It Transfers Trust
People feel comfortable with what they know. Whether it's through social media, content marketing, SEO, email marketing, or some other marketing campaign, the customer has built a relationship with your affiliate.
Affiliate marketing works because your affiliate's audience trusts their recommendations, but it's not always enough. When you send someone to an external website (as we do in affiliate marketing), it's unfamiliar, and they've got to start building trust with a new entity.
However, when they land on a personalized affiliate landing page, they're immediately reminded of the relationship between you and your affiliate. This is powerful because it transfers trust, and this is a big part of the buying decision.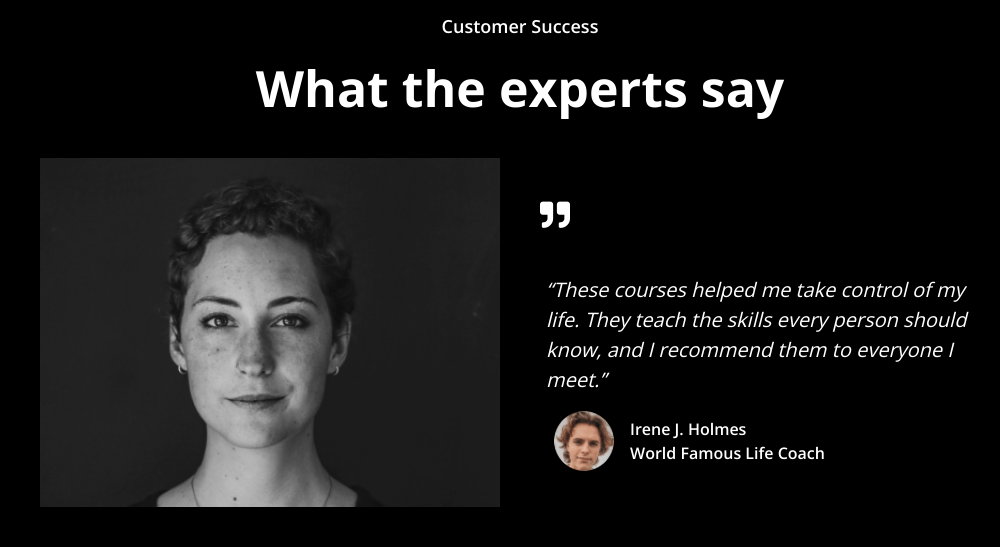 For example, rather than seeing generic social proof, people who land on your page see testimonials from the affiliate they're familiar with. Rather than using a generic coupon code, they can use a personalized coupon code that plays on the relationship they have with the affiliate.
These are all details that have a big impact on conversion rates.
5. Exclusivity Matters
Affiliate marketing doesn't always have the best reputation.
We trust people's recommendations because we believe them to be honest, but when there's money involved, this can change the equation. If anyone in the world can start marketing an affiliate product and making money, then it has the potential to get messy.
Personalized affiliate landing pages overcome this problem because they showcase the highest level of exclusivity.
They show that your affiliates aren't just pushing a product they have no knowledge of. Instead, they're working closely with a company they know and trust.
Combine this with best practices surrounding things like affiliate disclosures, and you're further increasing the trust people have in your brand, and this results in more sales.
6. Personalized Experiences Increase Conversions
Personalized experiences are proven to convert better.
We often limit this to things like salutations in emails, but your web pages can also benefit from personalization. From headings to images, copy, case studies, and CTA buttons, everything can be personalized. The question is, what do you personalize them around?
Well, if you know your visitor has been sent by a certain affiliate, surely that's a great connection to build your personalization around?
With personalized affiliate landing pages, every aspect of the page creates a personalized experience based on where the visitor has come from and the relationship they have with your affiliate. You're leveraging what you know about the visitor to offer them exactly what they want, and this is a proven e-commerce strategy.
Even your lead generation pop-ups can be tailored to fit the visitor's specific needs.
How to Set Up a Personalized Affiliate Landing Page
Setting up a personalized affiliate landing page on WordPress is actually very easy.
Just follow these simple steps (if you already use AffiliateWP, then skip to step 5).
Step 1: Complete Your AffiliateWP Purchase
Tracking affiliate referrals on WordPress starts with AffiliateWP.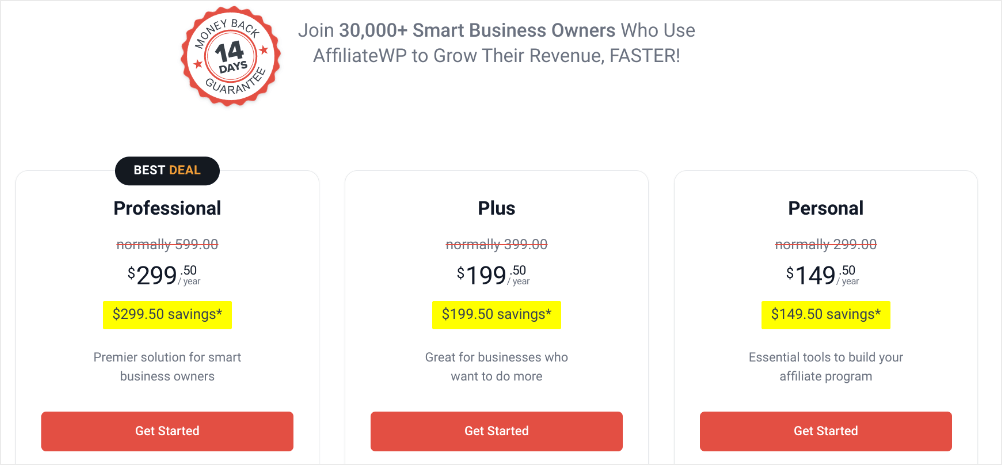 To create personalized affiliate landing pages, you'll need the Professional Plan which starts at $299.50/ year.
Once you've completed your purchase, keep an eye on your email.
Step 2: Install the AffiliateWP WordPress Plugin
You'll find a download link and license key number in your confirmation email.
Click the link to download the AffiliateWP.zip file, and head over to your WordPress admin.
In the left-hand-side-bar, hover over Plugins and select Add New.

Click Upload Plugin at the top of the page and then Choose File.
Choose the AffiliateWP.zip file you just downloaded and click Open, then Install Now.
Finally, click Activate Now.
Step 3: Activate Your License Key
Go back to your inbox and copy the license key from your email confirmation.
In your WordPress dashboard, you'll now see an Affiliates tab in the left-hand side bar. Hover over this button and click settings.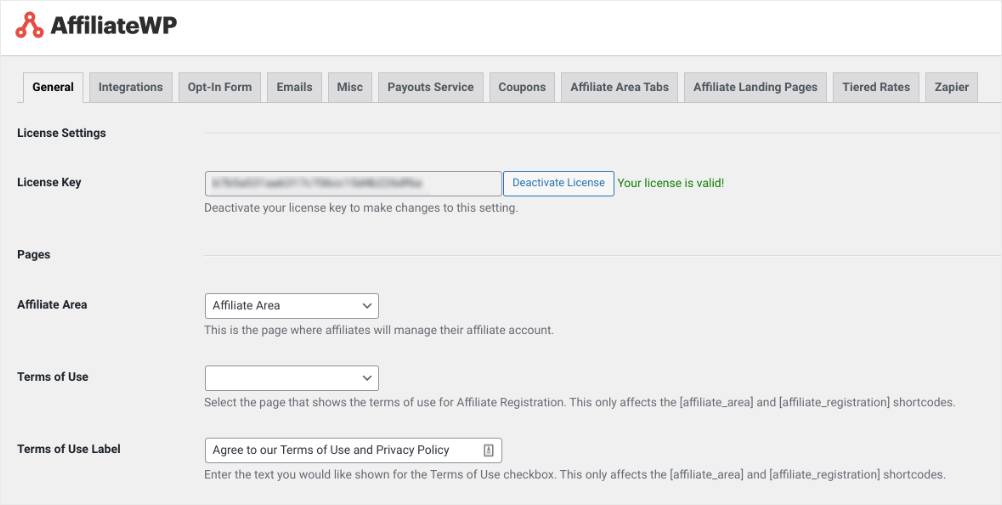 Underneath the tabs, you'll see a License Key box. Enter your license key here and click Activate.
Step 4: Integrate Your Store
Head to the Integrations tab in your AffiliateWP settings and click the integration you want to use before selecting Save Changes.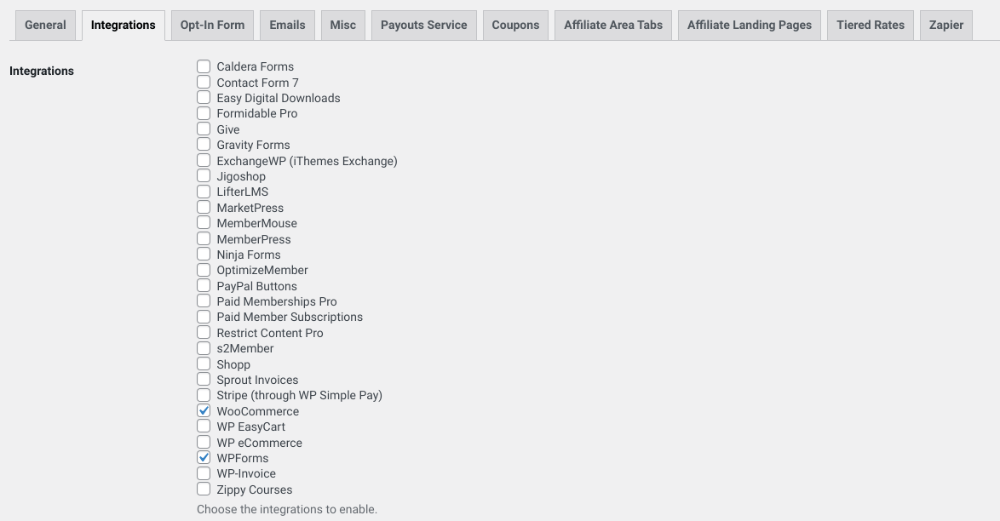 Your store is now set up and ready to track referrals.
Step 5: Download the Affiliate Landing Pages Add-On
Go to the Affiliate Landing Pages add-on and download the .zip file.
Repeat the process from step 2, but select the Affiliate Landing Pages .zip file.

Then select Affiliates > Settings > Affiliate Landing Pages and check the boxes to enable the plugin
Step 5: Create and Assign Your First Personalized Affiliate Landing Page
All you have to do is create your landing page as you ordinarily would in WordPress.
Simply hover over Pages in the left-hand side bar and click Add New.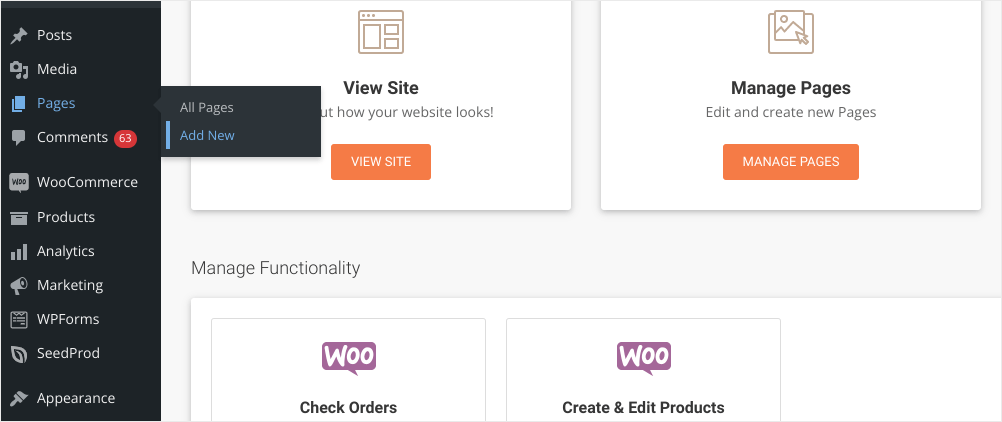 You can build out your affiliate marketing landing page with whatever theme builder you choose, and then, once it's ready, assign it to an affiliate.
To do this, select the page from your WordPress admin and click the Settings cog in the top-right corner.
This should open a list of options on the right side of your screen.
Keep scrolling until you see the Affiliate Landing Pages block where you can enter the affiliate ID of the person you want to assign the page to.
That's it, your affiliate can now start promoting the page without using affiliate links!
What is the Best Way to Build an Affiliate Landing Page?
Personalized affiliate landing pages sound great, right?
The question is, how can you build the best landing page without spending an eternity on it? You're not a developer, and you don't want to be trying to figure out HTML, and whatever else it is you might need to know.
The answer lies in SeedProd, the best WordPress landing page builder with the best landing page templates.
Start out with proven landing page templates and use the drag and drop editor to personalize your page to meet your affiliate's needs. This gives you the best of both worlds because you know you're starting with a high-performing, optimized page, but you're also able to focus on those personal touches.
SeedProd offers functionality that's hard to beat, and it also makes it easy to connect your Google Analytics so you can run some a/b testing (also known as split testing). If you want to take this a step further though and really be informed by the data, then we would recommend integrating MonsterInsights (one of our favorite marketing tools) to take your analytics to the next level.
Boost Your Conversion Rate and Keep Affiliates Happy
In e-commerce and affiliate marketing we become obsessed with things like automation, apps, and marketing strategies. However, one of the most powerful steps you can take is to boost your conversion rate.
Personalized affiliate landing pages can do exactly that.
They serve as a homepage for your affiliate, creating a link between them and you that builds trust, and creates a personalized experience.
This gives you the perfect opportunity to sell your products and increase your affiliate marketing revenue.
If you're on the Professional Plan already, then it's time to start putting this feature into action.
However, if you're new to AffiliateWP, or not on the Professional Plan yet, then now's the time to get started!