The Best Affiliate Plugins for WPForms (Compared)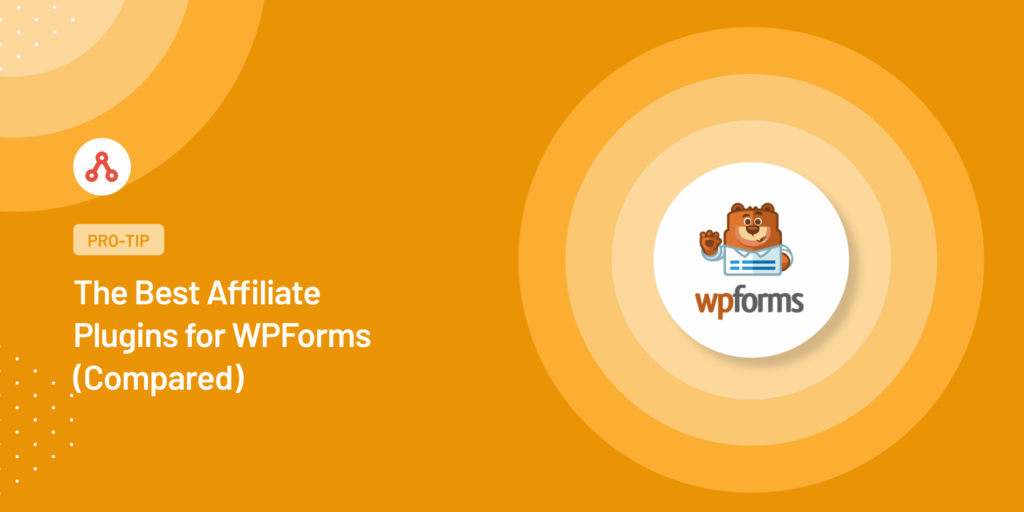 Looking for the best affiliate plugins for WPForms?
Tracking form referrals can be a great way to improve your lead generation, and WPForms is an excellent tool to do it with.
So, let's look at the best affiliate plugins for WPForms.
Why Track Referrals with WPForms?
One of the primary reasons websites use WPForms, the best WordPress form plugin, is for lead generation. It gives you some unbelievable tools to optimize your lead collection and make sure you have all the information you need to follow up with potential customers.
High performing templates
Easy to use drag and drop builder
Awesome tutorials
Email marketing ingtegrations
Stripe and PayPal payment addons
And much more…
If you're doing a great job with your WordPress site, then this can ensure you have a constant flow of new leads going into your pipeline. However, there's always room for more high-quality leads, and this is where affiliate marketing comes in.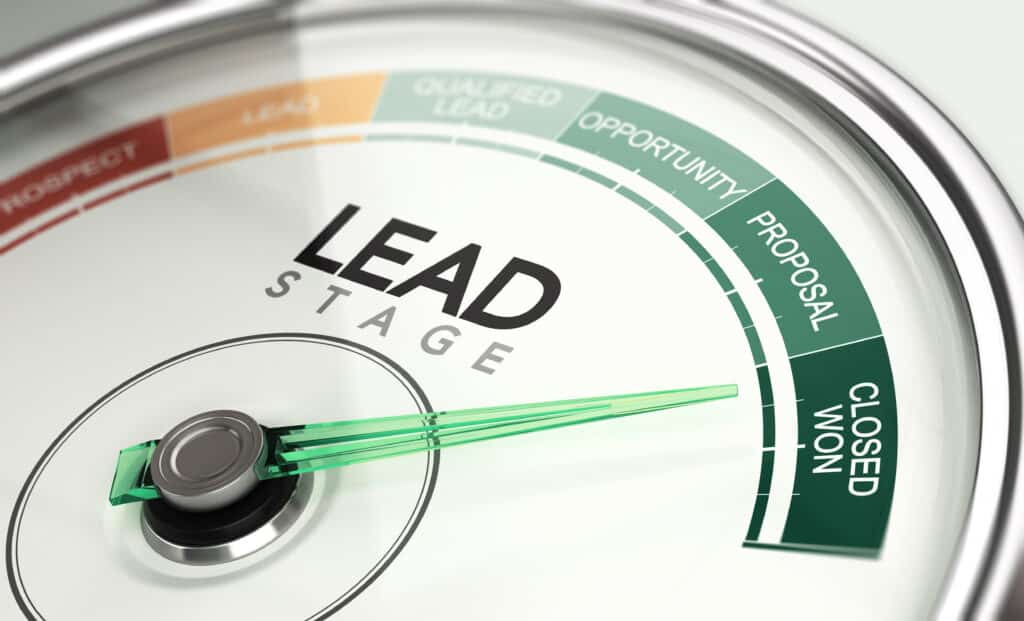 Just as you can pay to get traffic to your site (pay per click), you can also pay for leads (pay per lead). You might use a marketing agency to run your pay-per-lead campaigns, but there's also a more effective option – affiliate lead generation.
This allows you to pay affiliates a small commission whenever they send someone to your website and they fill out one of your forms.
It's a super effective marketing strategy that gives you access to the audiences of innovative affiliates around the world. WPForms is the perfect form builder for affiliate lead generation because it's great at converting qualified leads, and it's got some awesome integrations with affiliate marketing software.
So, let's look at the best affiliate plugins for WPForms.
Which are the Best Affiliate Plugins for WPForms?
You can find quite a few affiliate software that plug into WordPress as a whole, but we've looked for plugins that integrate specifically with WPForms. This will give you a much deeper integration for more reliable tracking.
Although there are only 3 main options to choose from, they all do an excellent job, so they're well worth checking out.
Here are the plugins we're going to be looking at:
AffiliateWP
EasyAffiliate
Metricks
Let's take a look at the best affiliate plugins for WPForms in more detail.
1. AffiliateWP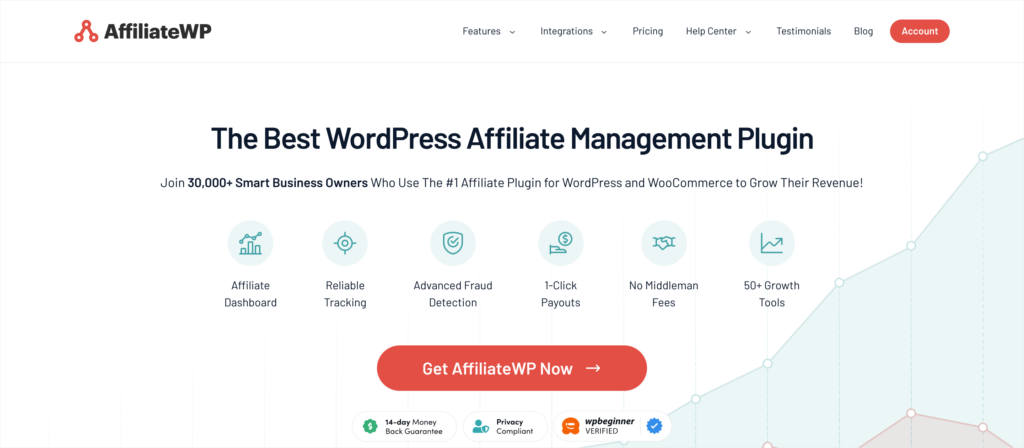 AffiliateWP is the best affiliate management plugin for WordPress and it has an extensive WPForms integration.
Apart from making it incredibly easy to set up a WordPress affiliate marketing program, the best part about AffiliateWP is that it's a sister company of WPForms. This means the two WordPress plugins offer superior compatibility, more regular updates, and the prospect of even deeper integration in the future.
Thanks to AffiliateWP's one-click integration, you can start tracking form referrals with WPForms in just a few minutes. The easy setup wizard walks you through the key steps like setting your affiliate commission rates and automatically creates your sign-up page and affiliate dashboard.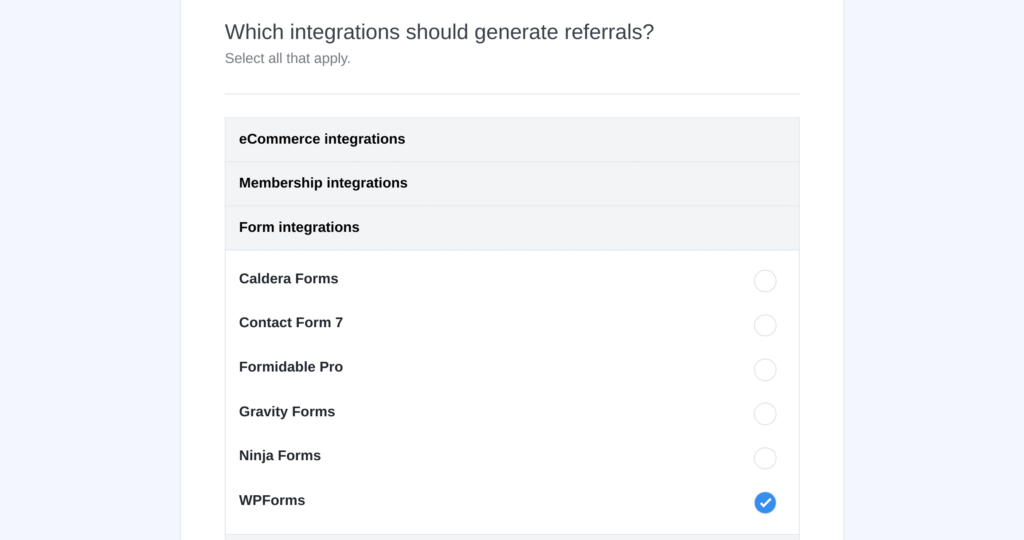 Though AffiliateWP is incredibly easy to use, it still allows for tons of customization, helping you to create an on-brand affiliate program that attracts the very best affiliates. And once affiliates have signed up for your program, they'll have access to awesome features like Affiliate Landing Pages (Pro Plan) that boost form conversions and help take your lead generation to the next level.
One of the best parts about AffiliateWP's WPForms integration is the ability to customize affiliate registration forms. Your registration form is hugely important, so you want to leverage all of WPForms best features to boost affiliate sign-ups – with this seamless integration, that's exactly what you can do.
If you're looking for the best affiliate plugin for WPFroms, then look no further than AffiliateWP.
Check out AffiliateWP's pricing!
2. EasyAffiliate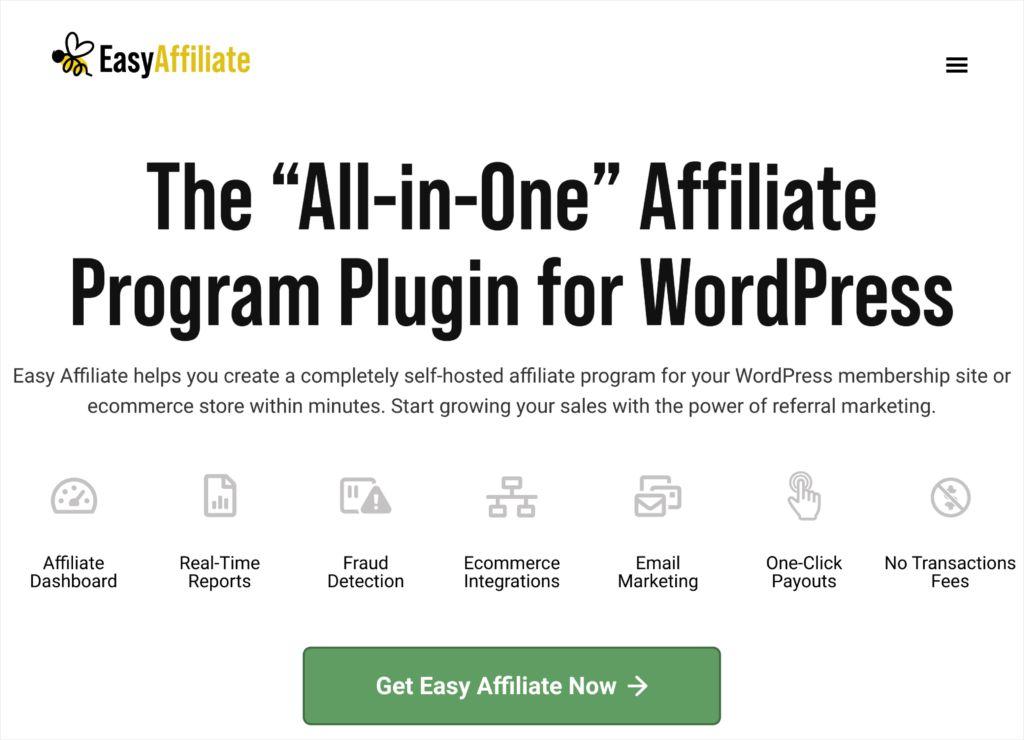 If you're looking to set up a simple WordPress affiliate program, then EasyAffiliate is an excellent option.
It might not have the depth of integrations or features that AffiliateWP does, but it's a very reliable way to track referrals on your WPForms payment forms. The WPForms integration is available on the Pro plan, which means you'll have to pay a little bit more, but this does unlock some extra features such as the Active Campaign and Tax Reports addons.
Like AffiliateWP, EasyAffiliate offers a nice setup wizard that helps you quickly set up your affiliate program, and the WPForms integration means you can start tracking referrals in no time at all.
EasyAffiliate offers very reliable referral tracking and is a solid option for WPForms.
Check out EasyAffiliate's pricing!
3. Metricks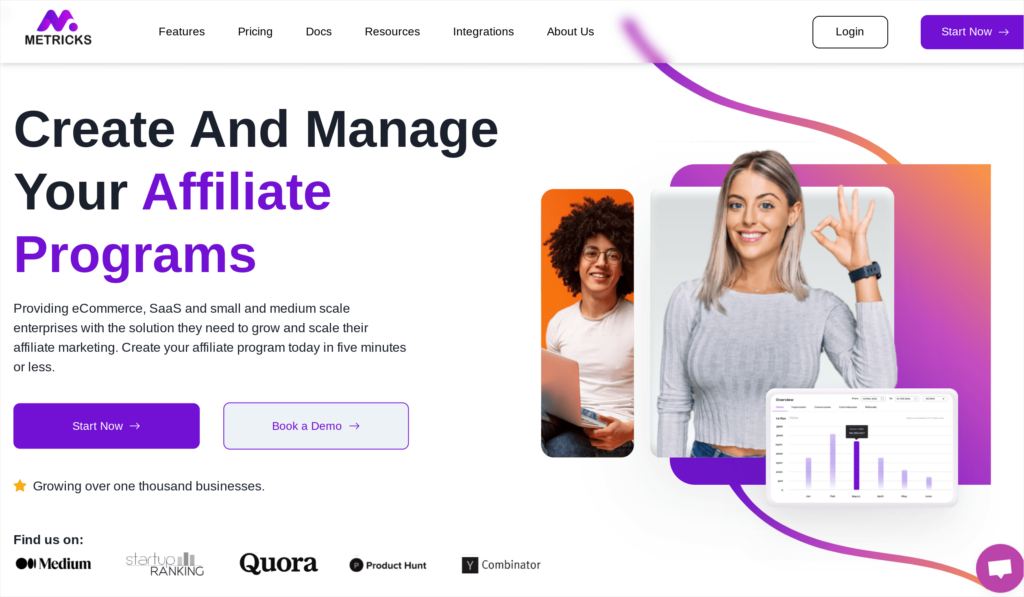 Metricks is another affiliate software that allows you to quickly create an affiliate program for WordPress.
Like AffiliateWP and EasyAffiliate it has a WPForms-specific integration, which can help you set up referral tracking for your lead generation. It's also got some nice tools such as in-app affiliate messaging, custom affiliate onboarding, and more.
The only drawback with Metricks is that it's a little bit more expensive than AffiliateWP and EasyAffiliate, so it's worth checking out the other two alternatives before committing to this one.
FAQs: Best Affiliate Plugins for WPFroms
What is the best affiliate plugin for WordPress?
The best affiliate plugin for WordPress is AffiliateWP. It makes it incredibly easy to set up a WordPress affiliate program in under 10 minutes, as well as giving you advanced growth tools to grow your business.
Is AffiliateWP free?
AffiliateWP doesn't offer a free version, but it does give you a 14-day money-back guarantee. This means you can try AffiliateWP risk-free for 2 weeks to see if it's the right fit for your business.
Is EasyAffiliate free?
EasyAffiliate is a paid affiliate plugin, but it does offer a 2-week money-back guarantee, just as with its main competitor, AffiliateWP. This allows you to try out EasyAffiliate, safe in the knowledge that if it's not a perfect fit you can get your money back.
Is lead generation affiliate marketing worth it?
Lead generation affiliate marketing is definitely worth it. It can bring a consistent stream of high-quality leads to your business, all for a very low cost.
What's the Best Affiliate Plugin for WPForms?
AffiliateWP is the best affiliate plugin for WPForms.
It allows you to start tracking referrals on forms in no time at all, helping you to quickly grow your lead generation.
It might seem daunting setting up your own affiliate program, but it's actually very easy (no coding or technical knowledge needed). We've also got some great resources to ensure you're getting the most out of your program.
Now there's only one thing left to do.
Get AffiliateWP, the best affiliate plugin for WPForms today!