Ready to unlock new sales through affiliate marketing? Find out how to set up an affiliate program with our simple guide.
We'll look at:
What is affiliate marketing?
Why set up an affiliate program?
Is affiliate marketing right for your business?
How to set up an affiliate program: 10 simple steps
How to set up an affiliate program: frequently asked questions
The basis for a thriving affiliate marketing program could be just a few minutes away.
What is Affiliate Marketing?
Recommendations have always been a big part of sales and marketing. Since the beginning of time, word of mouth has been an excellent way for people to grow their businesses.
In the past, a high-end tailor (for example) might have offered a discount to new customers who said Jim recommended them, and in turn, he'd give Jim a discount on his next order, and so on.
The internet may have taken things global and 24/7, but the idea still applies.
Affiliate marketing programs allow you to reward people who recommend your products or services by giving them a commission. The software uses cookies to track where your website visitors have come from, enabling affiliates to get paid when they refer a customer to you.
Why Set Up an Affiliate Program?
An affiliate program opens you up to a world of opportunities.
If your program is working well, then it should attract motivated affiliates with expertise in your chosen niche. This can introduce your products and services to a whole new audience, and the best part is, there's no limit to the reach of your program (depending on what affiliate software you choose).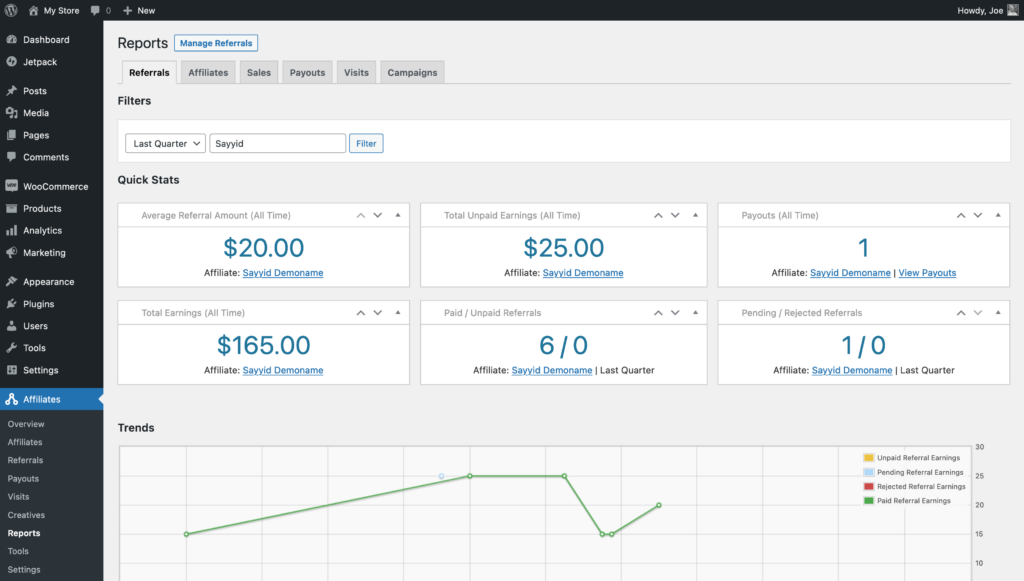 When you have an irresistible affiliate program, it's like you have an army of salespeople around the world, working to take your business to the next level. The stats behind affiliate marketing are impressive:
40% of US retailers say that affiliate marketing is their leading customer acquisition channel (Inc.)
74% of US online shoppers check multiple affiliate sites before making a purchase (CyberCash Worldwide)
Affiliate marketing is worth over $12 billion globally (BloggingX)
These are very general statistics though, and the most important question to ask is what your specific business needs from an affiliate marketing program.
Is Affiliate Marketing Right for Your Business?
Before you ask how to set up an affiliate program, you need to ask if affiliate marketing is right for your business. For many businesses, the answer will be yes, but for some, it won't be the right marketing strategy.
Q: Do You Have the Time and Resources to Achieve Your Affiliate Marketing Goals?
It's easy to create an affiliate program, but like anything, it takes time and effort to turn it into a success. Affiliate marketing is seen as a great way to build a passive income, but there's still a lot of work that goes on in the background.
Q: Are Your Products or Services Suited to Affiliate Marketing?
The main issue here is profit margins. If you're working with small profit margins, then it's going to limit your options because it will be harder to offer an attractive affiliate commission rate.
Q: Are You Willing to Give Up Some Control Over Your Brand Image?
When you set up an affiliate program, you're essentially outsourcing some elements of your marketing. The right affiliate software will give you control over who can promote your products, but you'll still be giving others a say in how your brand is promoted.
If your products are very complex or impact people's lives in a big way (medical products, legal services, counseling), then you may not want to take this risk.
How to Set Up an Affiliate Program in 10 Easy Steps
Setting up an affiliate program couldn't be easier. We probably could have fit this guide into three steps, but the thing is, we don't want you to create just any old program.
We want you to be able to set up an affiliate program that's going to inspire affiliates to sell your products, so we've thrown in some extra steps for good measure.
1. Do Your Market Research
Any business decision you make should be backed by data; setting up an affiliate program is the same.
A great place to start out is by looking at what your competitors are doing (check the footer on their home page). Find out if they're running an affiliate program, join it, and think of ways you can make yours better.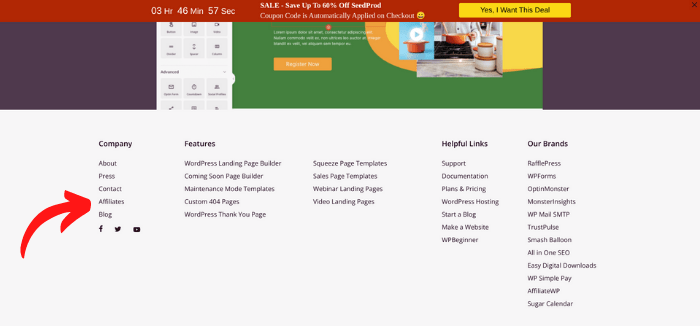 You'll be able to incorporate some of the things they do well and improve the areas where they don't do so well.
2. Evaluate Your Own Website
Even the best affiliate can't sell products without your help. You're still responsible for your product pages and checkout process, and if these elements aren't optimized, it's going to severely hold your affiliate program back.
Make sure you're evaluating each stage of your checkout process, split testing, and keeping an eye on your conversion rates.
We can talk about setting up your affiliate program in minute detail, but ultimately, if your website doesn't convert, your affiliate program won't be successful.
3. Choose Your Referral Type
This is a concept that often gets overlooked in affiliate marketing. We tend to think about setting up an affiliate program with a view to making sales, however, this isn't the only type of referral you can track.
With AffiliateWP, you can track a range of different referrals, including lead generation and data collection.
Say you have a world-beating sales team, but what they lack is leads. Through AffiliateWP's WPForms integration, you can pay a commission to affiliates who sign up leads.
With many different types of referrals to track, you have more flexibility over how you run your affiliate program.
4. Choose the Right Software/ Package
You want to find affiliate software that works with the platform your website runs on.
Since 43% of the web is built on WordPress, we're going to be looking at how to set up an affiliate program in WordPress, but the process is going to be similar no matter what platform your site runs on.
When it comes to WordPress websites, the best affiliate plugin is AffiliateWP because it's designed specifically for this platform. It also integrates with the WP plugins you use to run your business (WooCommerce, WPForms, PayPal, Stripe, Restrict Content Pro, and many more), giving you different ways to track referrals and grow your business.
Check out our pricing page, and find the package that best supports your needs.
Once you've chosen your package, you'll be given a .zip file to download and a registration key.
5. Download the AffiliateWP Plugin in WordPress
Once you've chosen the right pricing package for your program, you can easily download the AffiliateWP plugin in your WordPress dashboard.
Hover over Plugins in the left-hand menu bar, and select Add New.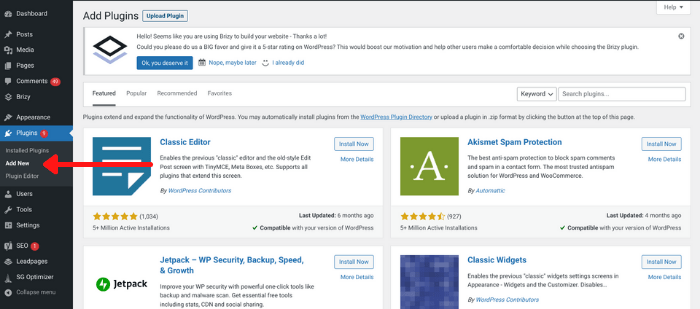 At the top of the page, you'll see a box that says Upload Plugin. Click this box and upload your AffiliateWP .zip file (you'll find this in your purchase confirmation email).
Select Activate Plugin, and then you're ready to go!
6. Activate Your License Fee
Now that you've installed the AffiliateWP plugin, it's time to activate your license.
Hover over Affiliates in the left sidebar and click Settings. In the dashboard, select the General tab.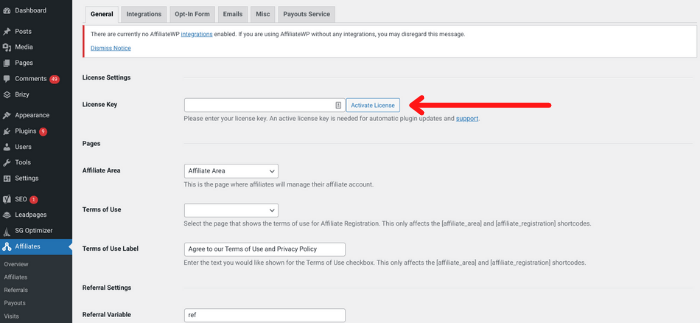 Under License Settings, you will see a box titled License Key, enter the license key you received in your purchase confirmation email and click Activate License.
Now that you've downloaded the plugin and activated your license key, you can start to edit your affiliate program and reach the perfect affiliates.
7. Select the Integration You Want to Use
AffiliateWP uses different integrations to track referrals on your site.
The most common way to connect your WordPress site is through the WooCommerce integration. This will instantly grab all your product data, allowing affiliates to generate affiliate links and promote your business.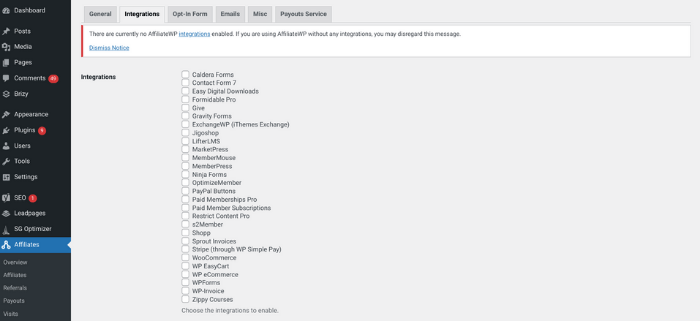 That's not the only way AffiliateWP connects to your website though, so check out the entire list by selecting the Integrations tab. Check the box next to the integration you want to use before clicking Save Changes.
8. Decide on Your Commission Structure
Your commission structure is a key element of your affiliate program. It's what's going to attract affiliates, and hopefully, inspire them to create lots of sales for you.
With some affiliate marketing software, you don't get much control over your commission structure, but with AffiliateWP, you can manage every element.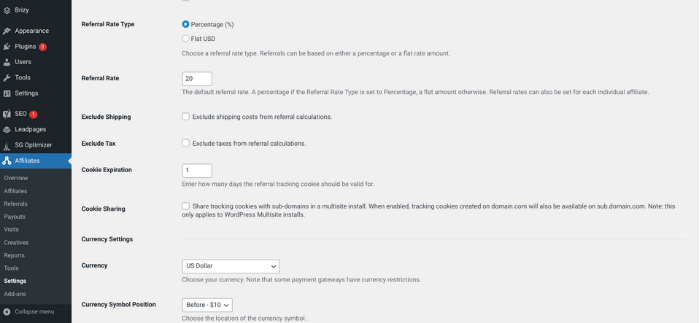 On the General tab, scroll down until you see the Referral Rate Type box. This allows you to choose between a percentage commission on each sale or a flat rate commission. Keep scrolling down and you'll see the option to set your commission rate, and adjust your cookie settings.
9. Edit Any Extra Details
Have a look at the different tabs in the AffiliateWP dashboard and find out what other parts of your affiliate program you can customize.
You'll find you can change the email settings, terms of use, require approval for new affiliate signups, and customize lots of aspects to get your affiliate program looking exactly how you want it.
10. Recruit Affiliates
You always hear us saying it's not about setting up an affiliate program, it's about what you do with it. You can figure out how to set up an affiliate program in a few minutes, but it's the extra effort you put into it that's going to make the real difference.
Lots of people create affiliate programs. Many of those programs have lots of different capabilities. The problem is, many of them sit unused because they've not been marketed properly.
Don't just set up your affiliate program, make sure you're reaching out to potential affiliates, and just as importantly, give them everything they need to succeed.
Frequently Asked Questions: How to Set Up an Affiliate Program
How do I start an affiliate program? To start an affiliate program, all you need is a website and some affiliate marketing software. Choose affiliate software that syncs with your website platform (WordPress, Shopify, Magento, etc) and follow the setup wizard to quickly link your store.
How much does it cost to start an affiliate business? If you already have a store that sells products or services, then you can create an affiliate program with software like AffiliateWP for as little as $149.50 a year.
How long does it take to set up an affiliate program? With AffiliateWP, you can set up an affiliate program in just a few minutes. Connect your store using the powerful integrations, and all your data will be synced and ready to go.
How do affiliates get paid? Affiliates get paid when the people they refer to a website make a purchase (or a conversion you choose). Affiliate software uses cookies to track where each visitor to the website comes from, and when they make a purchase, the correct affiliate receives a commission on the sale.
An Affiliate Program Brings Opportunities
An affiliate program can open your business to a world of opportunities.
It might seem like setting up the program would be the hard part, but this isn't the case. Once you've figured out how to set up an affiliate program, that's when the real work begins!
If you've got big goals for your affiliate program, then you need software that's going to offer easy setup, but also give you the tools to build relationships with your affiliates and make lots of sales.
For websites that are built on WordPress, there's no better software for this than AffiliateWP.