How to Set Up a WordPress Affiliate Program (Complete Guide)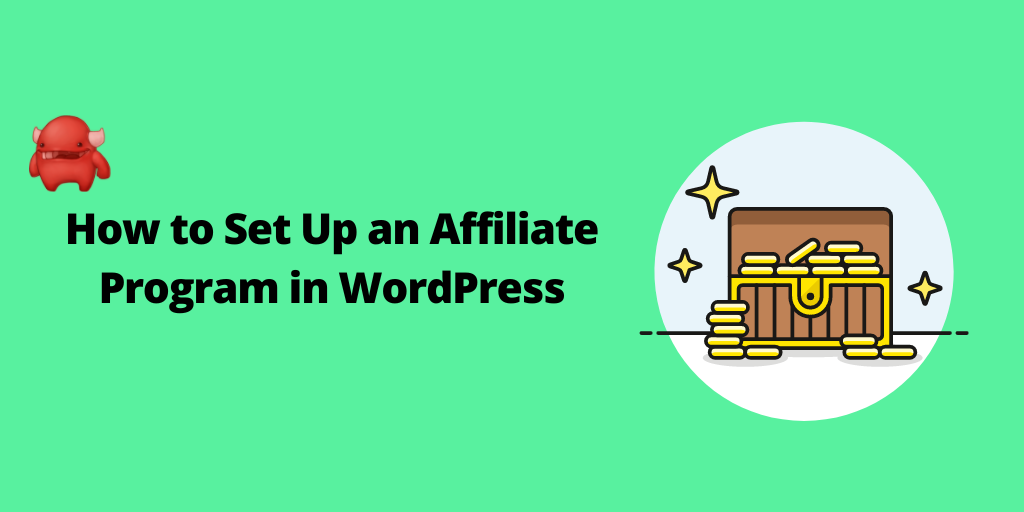 Are you wondering how to set up a WordPress affiliate program?
Over 80% of brands have an affiliate program, and the statistics certainly suggest it's time your business joined them.
We're going to take a look at the benefits of affiliate marketing and show you exactly how to create an affiliate program for a WordPress website.
How Can a WordPress Affiliate Program Benefit Your Business?
A WordPress affiliate program can bring huge benefits to your business with very few drawbacks.
The first thing to note is that it's very low risk. You don't need to make a big investment to set up an affiliate program, and you only pay affiliates when they make a sale. This means you're likely to see an almost immediate return on your marketing efforts.
So, what about the benefits?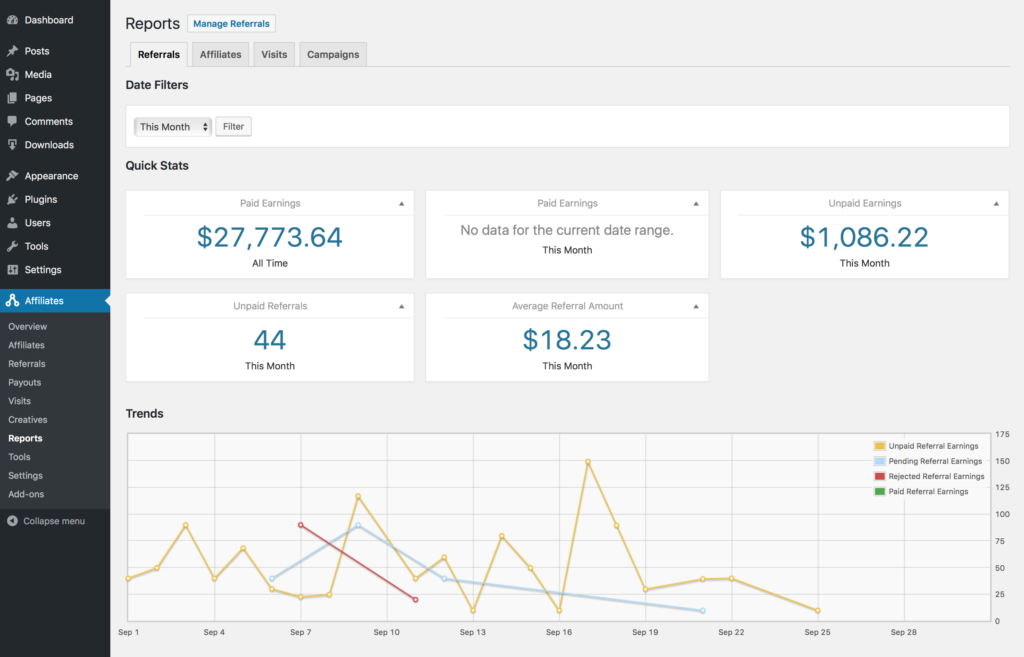 Ultimately, we all want more sales (check out this affiliate marketing playbook to boost affiliate sales), but there's a lot that happens to make this become a reality. Affiliate marketing unlocks these new sales by:
Instantly expanding your brand reach and bringing in new customers
Adding marketing expertise to your business without having to pay wages
Giving you time back to focus on the most important jobs
For small businesses, these benefits are incredibly important. When you have limited resources, you end up trying to do all things, splitting your focus from the functions that are truly important.
When you have innovative affiliate marketers taking care of large parts of the marketing side of things, it's one less thing you have to worry about.
It's clearly a successful marketing strategy because affiliate marketing is the top acquisition channel for 40% of US merchants.
Virtually any online business can run successful affiliate marketing campaigns in WordPress, so let's show you how to set up your own affiliate program!
How to Set Up an Affiliate Program in WordPress
Since over 40% of the web runs on WordPress, we're going to show you how to create an affiliate program in WordPress.
If you're not particularly technical, then this might seem a little daunting, but it's actually incredibly easy.
Here's a quick overview of what we're going to talk about:
Install AffiliateWP
Complete the setup wizard
Customize your affiliate area
Approve affiliate registrations
Manage your affiliates
Unleash affiliate growth tools
Set up affiliate payments
It really is as simple as five steps, and in a handful of minutes you can set up affiliate marketing for your website.
Step 1: Install AffiliateWP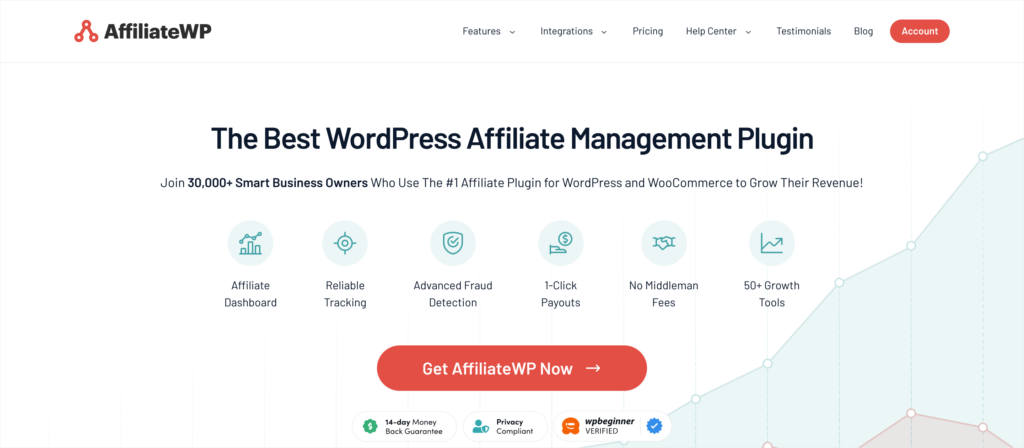 AffiliateWP is the best affiliate management plugin for WordPress.
It integrates with a wide range of WordPress plugins to sync your products, memberships, forms, and other items. This means you don't have to worry about a complicated setup, and you don't need any technical knowledge. 
The easy setup wizard will help you set up your WordPress affiliate program in under 10 minutes, and it makes affiliate management simple. You can manage everything from your WordPress admin, minimizing the time you spend running your program so you can take care of other important tasks.
Throw in some innovative growth tools like Affiliate Landing Pages, Vanity Coupon Codes, and Direct Link Tracking, and you've got the perfect platform to grow your business.
Simply head over to our pricing page, and choose the plan that best fits your business's needs.
Once you've completed your purchase, you can install the affiliate platform by going to the Plugins tab in your WordPress dashboard. If you get stuck at any point, just follow this handy step-by-step guide!
Step 2: Complete the Setup Wizard
The setup wizard makes AffiliateWP incredibly easy to set up.
Open the setup wizard by hovering over AffiliateWP in the left-hand sidebar of your WordPress dashboard and click Settings. Scroll to the bottom of the page and select Launch Setup Wizard.
First, you'll be asked to enter your license key which you can find in your confirmation email, or in your AffiliateWP account. Copy the key and paste it into the box before clicking Continue.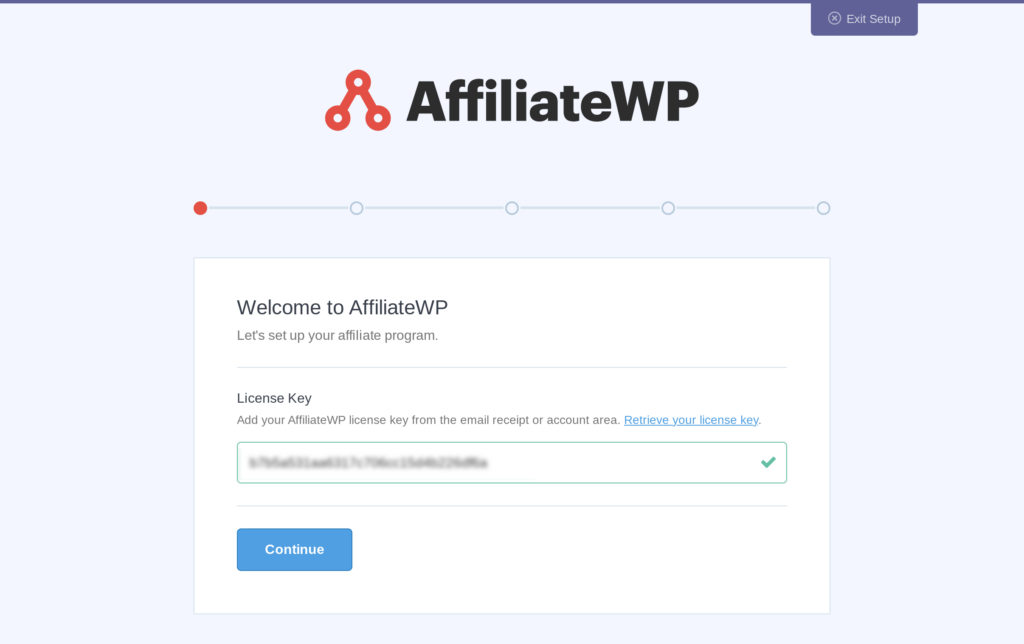 Now you've got to the best bit!
To set up your affiliate program, all you've got to do is check the box next to your chosen integration. We've got 20+ integrations including WordPress favorites like WooCommerce, Easy Digital Downloads, and MemberPress, but head over to our integrations page for the full list.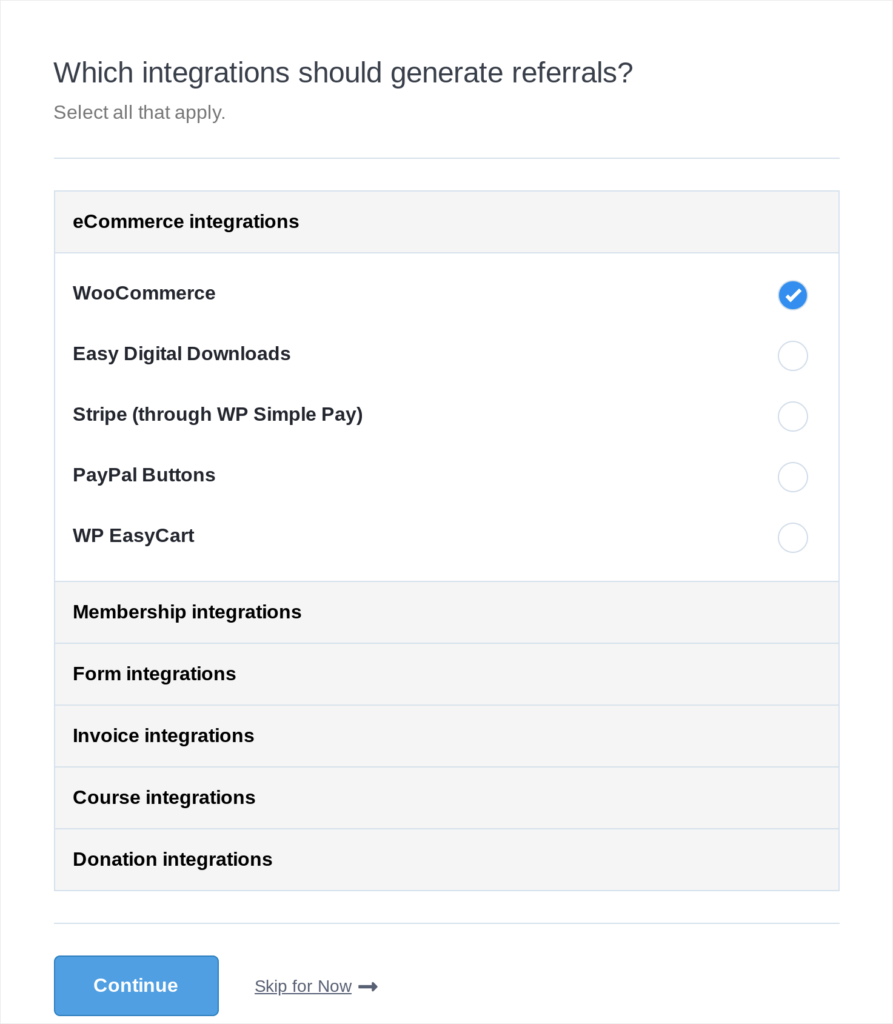 We offer the best affiliate software for WooCommerce, as well as EED, and many other WordPress favorites, so whether you sell digital or physical products, we've got you covered!
Just select your integration and click Continue.
You'll now be asked to choose a few basic settings.
On the next page, input your currency, referral type (fixed rate or percentage of total value of sale), and referral amount before clicking Continue. This will set your global affiliate commissions rate (here's a helpful guide on common commission rates) but don't worry, you can easily adjust this in the AffiliateWP Settings tab.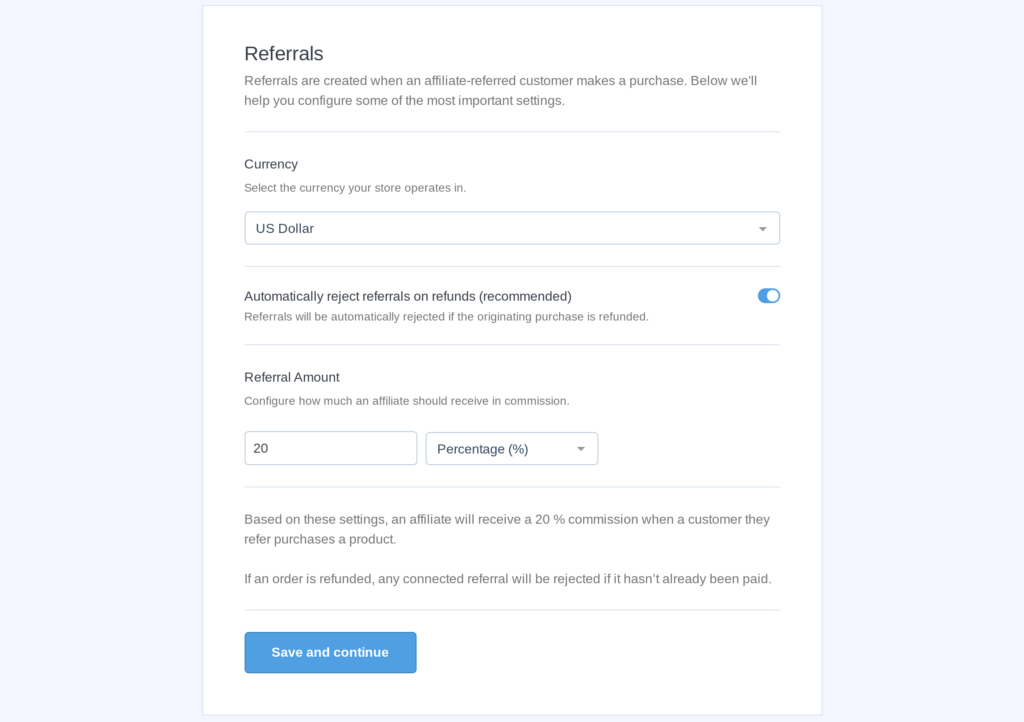 You'll then be asked to choose your link structure and cookie expiration. Again, don't worry too much about this as you can easily adjust the settings at a later date.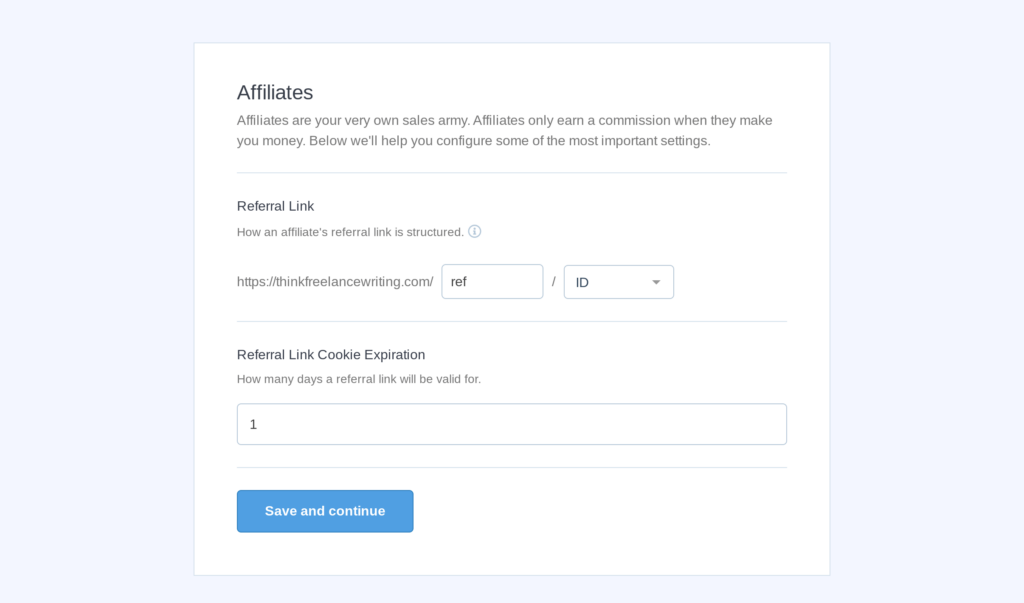 Once you're happy with your settings, click Continue and Save before finally clicking Finish Setup and Launch Wizard.
As soon as you do this, your affiliate program will be live and ready to track links!
Step 3: Customize Your Affiliate Area
When you complete the setup wizard, AffiliateWP will automatically create an Affiliate Area page on your website. As it connects through WordPress, this page will sync with your website theme and match your branding, however, it's also very customizable.
You can either use the template provided for you, or you can choose your own page to use as your affiliate signup. Just create the page as you normally would in WordPress, and then select it as your main affiliate area page by going to AffiliateWP > Settings and choosing the page you want from the Affiliate Area dropdown.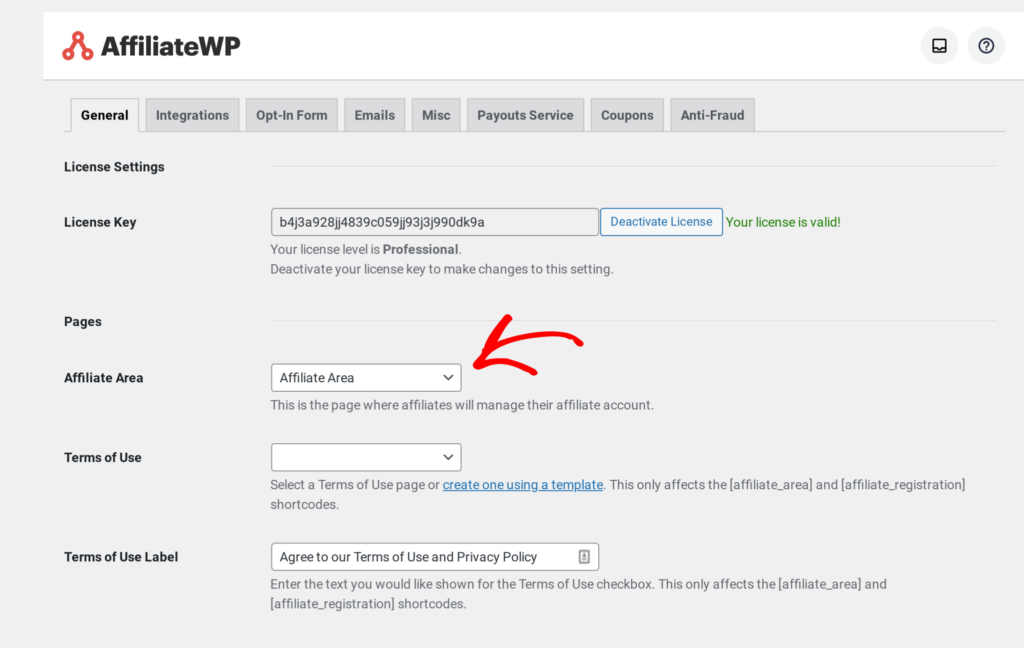 This page is where affiliates and influencers will sign up for your program and log in to their account, so the first thing you might want to do is to customize your registration form.
If you want to see more details on this, then follow our in-depth guide, but you can easily make basic changes by selecting Pages in the left-hand sidebar of your WordPress dashboard, and editing the Affiliate Area page (or whichever page you chose to use).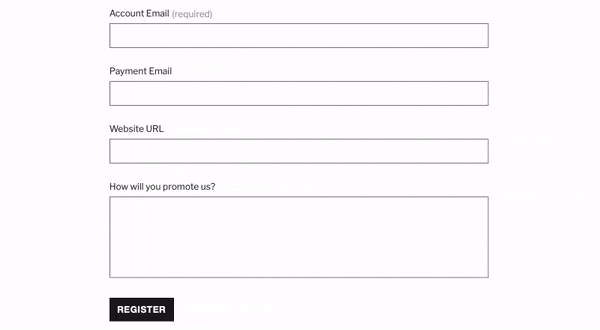 Once your affiliate has registered, they will then use this same page to log into their affiliate dashboard. From here, they'll be able to generate affiliate links, access creatives, and track clicks, sales, payouts, and other affiliate metrics.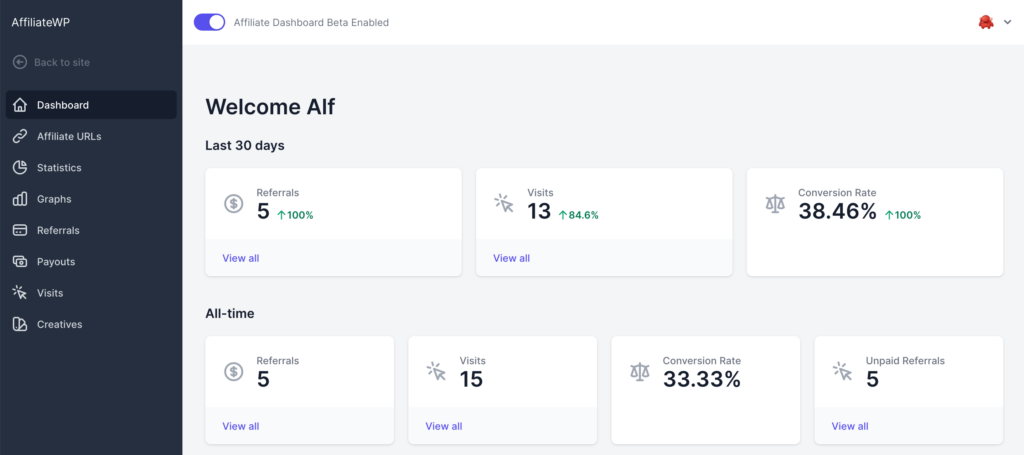 AffiliateWP gives you a powerful affiliate dashboard as standard, but it's also extremely customizable. Check out how you can personalize your dashboard with Affiliate Area tabs to help your affiliate partners get more out of your program.
Step 4: Approve Affiliate Registrations
When you set up your affiliate marketing program the default settings will require you to approve all affiliate registrations.
This might seem like extra work for you, but we highly recommend you keep this setting as it is.
Why?
Because not all people who sign up for your program are the right affiliates for your business. Manually approving affiliates is one of the first steps in affiliate fraud prevention, so it's well worth the few seconds it takes to vet your affiliates.
Make sure you're using your affiliate registration forms to collect relevant information, and then go to AffiliateWP > Affiliates to accept or reject applications.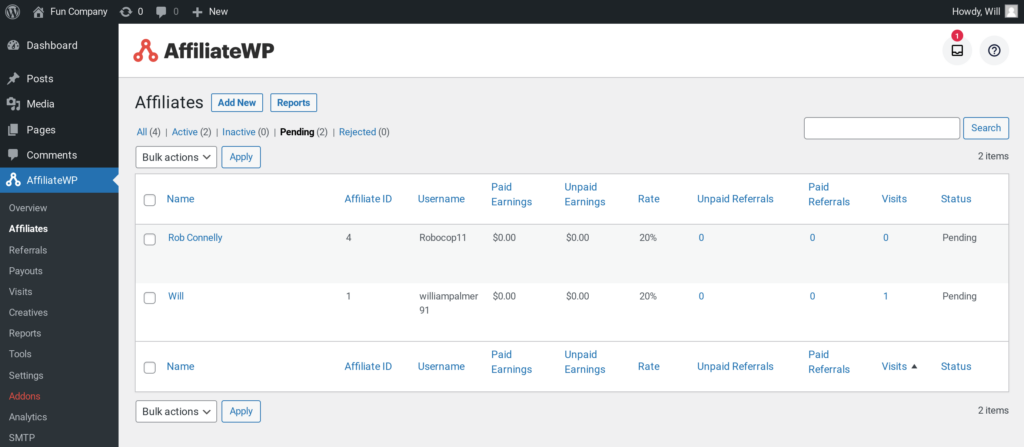 You'll automatically get an email notification whenever someone signs up to your program, and your affiliate will be notified when their application has been accepted or rejected. To change your messaging settings, just go to AffiliateWP > Settings > Emails and use the check boxes next to Email Notifications.
If you want to change your settings so that affiliate applications are automatically accepted, head to the Misc tab in your AffiliateWP settings and uncheck the Require Affiliate Approval button.
Step 5: Manage Your Affiliates
Once you've approved affiliates, you can easily manage them from your Affiliates page.
You'll be presented with real-time metrics for things like paid earnings, unpaid earnings, unpaid referrals, paid referrals, and visits, but you can dig even deeper into affiliate management by clicking the affiliate's name.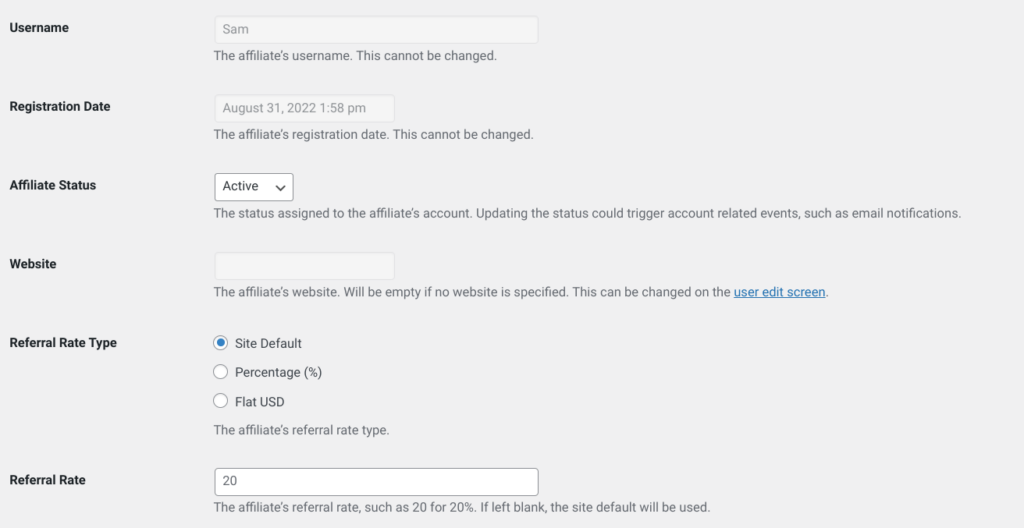 Here, you'll be able to manage your affiliates' details, set up affiliate-specific commission rates, add payment details, create personal notes, and much more.
One of the great things about setting up a WordPress affiliate program with AffiliateWP is you're in complete control, and you own all the data, something that's not true when you use an affiliate network.
Step 6: Unleash Your Affiliate Growth Tools
AffiliateWP offers some awesome growth tools to help you take your WordPress affiliate program to the next level.
Make sure to check out addons like:
You can activate these addons and many others by going to the AffiliateWP addons page in the sidebar of your WordPress admin. Explore the addons and use the toggle buttons to instantly install and activate them.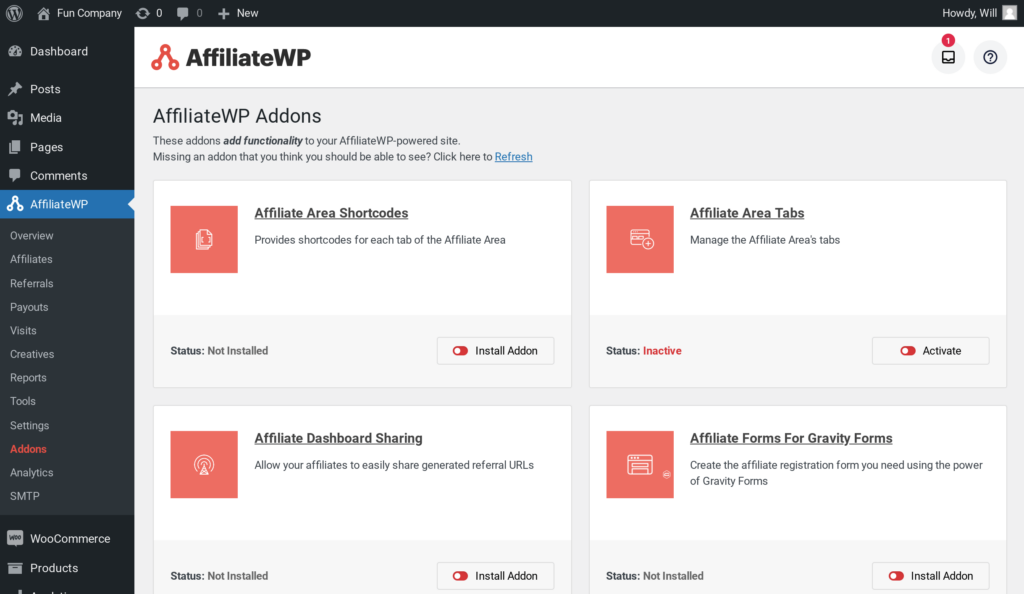 You've now got everything you need to grow your WordPress affiliate program.
Step 7: Set Up Affiliate Payouts
AffiliateWP gives you lots of flexibility over the way you pay affiliates, but we're going to show you the most efficient way to set up affiliate payments.
While we also offer ways to pay affiliates through PayPal and Stripe, the best option is to pay them directly into their bank accounts or debit or credit card. You can easily do this by signing up for our integrated payouts service.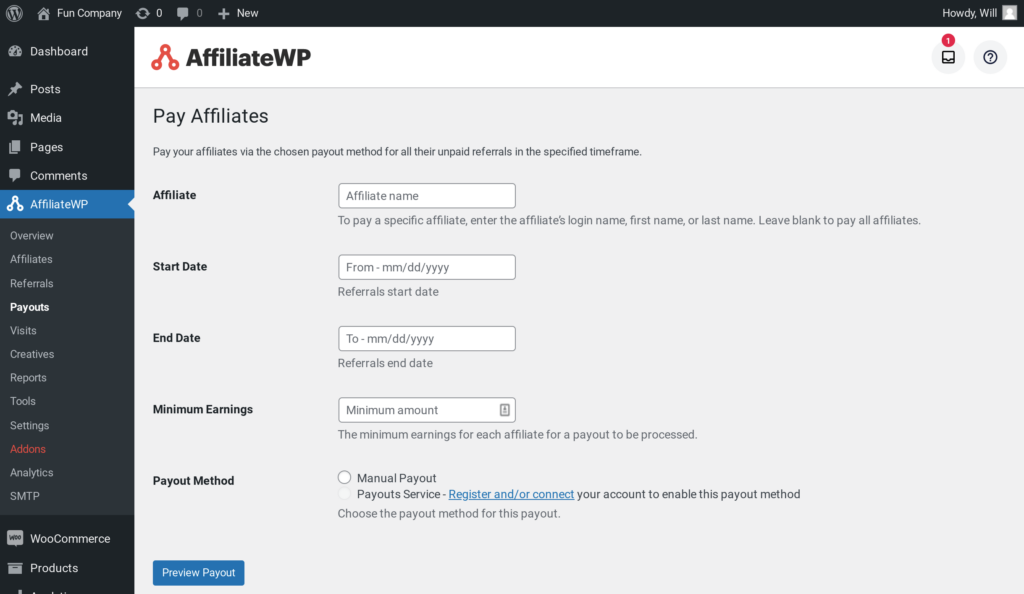 For the full tutorial on how to set up affiliate payouts check out this great article!
Or, simply head to your AffiliateWP settings and click on the Payouts Service tab. From here, click on the Connect to the Payouts Service link and fill out the form with your information. Then, go back to the Payouts Service tab and check the box next to Enable Payouts Service.
Once you're signed up for the payouts service, your new affiliates can register for direct payments straight to their bank accounts from the Settings tab of their affiliate area.
Now your affiliates are signed up for your program and have entered their payment details you're ready to grow your affiliate sales.
Now to Sign Top Affiliates for Your WordPress Affiliate Program
One of the most important parts of an affiliate marketing strategy is how you recruit affiliates.
You can set up a great referral program but what's going to make the difference is the quality of your affiliates. The great news is, no matter what niche you're in, there will be successful affiliates out there – you've just got to find them.
Potential affiliates are experts in marketing, so they're going to be pretty visible. Whether they're bloggers, SEO pros, Facebook ads experts, webinar and video content creators, or whatever marketing channels they use, they should be quite easy to find.
One of the key parts of this is not being afraid to reach out.
To get your program off the ground, you might want to do some manual outreach and start building relationships with high-quality content creators. A quick look through the search engines and social media platforms (LinkedIn is great for this), and you'll get a good idea of who you want to target.
The other thing we always stress is that you need to treat this like a sale:
Optimize your affiliate sign-up page and product landing pages
Leverage social proof to demonstrate the value of your program
Follow up with email marketing (your email list can be incredibly powerful)
Perfect your incentives through thoughtful affiliate rewards (think about how your commission structure can boost your average order value and recurring sales)
Demonstrate how you will maximize conversion rates
Perfecting these steps takes a little bit of time and effort (and takes away from this idea of a passive income), but they can give your affiliate program a big boost.
Remember that affiliates have a ton of choice about the programs they sign up for, so you've got to find ways of standing out from the crowd and building win-win partnerships.
FAQs: How to Set Up a WordPress Affiliate Program
How do I start an affiliate program? To start an affiliate program, all you need is a website and some affiliate marketing software. Choose affiliate software that syncs with your website platform (WordPress, Shopify, Magento, etc) and follow the setup wizard to quickly link your store.
How much does it cost to start an affiliate business? If you already have a store that sells products or services, then you can create an affiliate program with software like AffiliateWP for as little as $149.50 a year.
How long does it take to set up an affiliate program? With AffiliateWP, you can set up an affiliate program in just a few minutes. Connect your store using the powerful integrations, and all your data will be synced and ready to go.
How do affiliates get paid? Affiliates get paid when the people they refer to a website make a purchase (or a conversion you choose). Affiliate software uses cookies to track where each visitor to the website comes from, and when they make a purchase, the correct affiliate receives a commission on the sale.
5 Minutes to Set Up Affiliate Links in WordPress
You can set up affiliate tracking in just 5 minutes with AffiliateWP.
Sure, you might want to spend a bit of extra time customizing elements like your sign-up forms and dashboard, but with one-click integrations and a powerful out-of-the-box solution, you can set up an affiliate program in no time at all.
This makes affiliate marketing a perfect option for business owners who are looking to make an immediate impact on growth performance.
Now that we've shown you exactly how to do it, let's share a few more important resources.
Now you know what it takes to successfully set up an affiliate program.