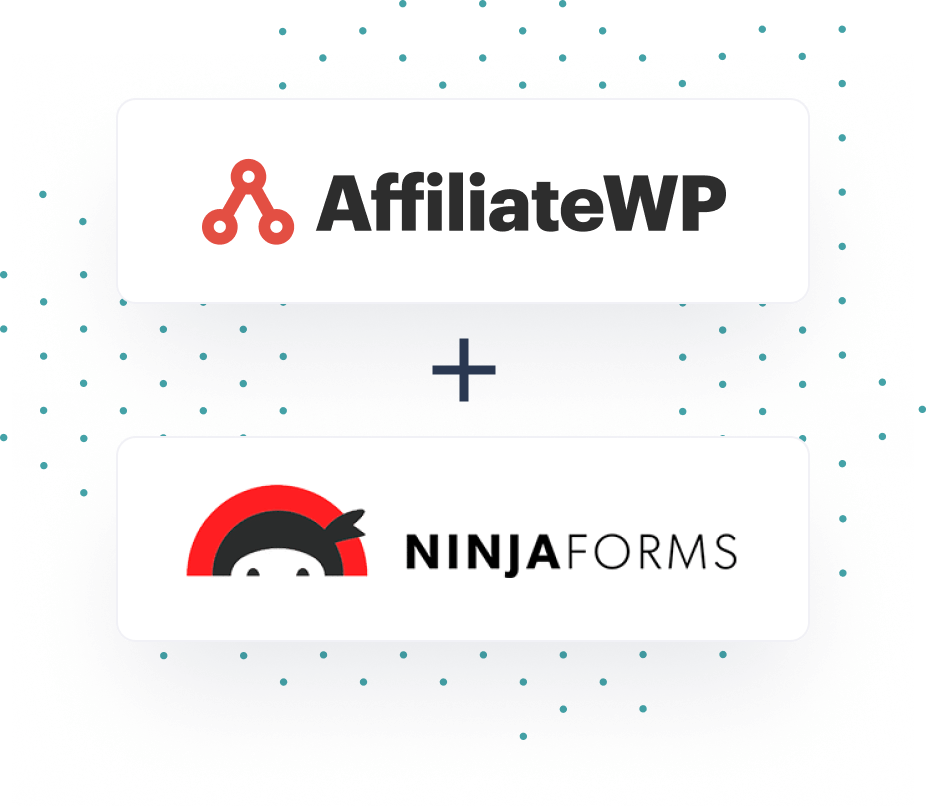 Ninja Forms Integration
Easily create a referral-generating form like payment forms or even opt-in forms and motivate your affiliates to work harder to drive more sales or leads. With our pro add-on "Affiliate Forms for Ninja Forms", you can also build a highly customizable affiliate registration form and even reward existing affiliates to recruit new ones.
Enhance Your Affiliate Program With Ninja Forms
If you always wanted to incentivize your affiliates to help you generate leads or sales, then Ninja Forms + AffiliateWP is the best choice. Take a look at a few powerful features of AffiliateWP that will help transform your website into a referral-generating machine.
Generate Referrals From Every Form: For every form you create with Ninja Forms, you'll see a checkbox for affiliate referral creation.
Monetary Referral: Reward your affiliates with a monetary commission for opt-ins.
Reject Referrals on Refund: Referrals can be rejected if a purchase made through a form built with Ninja Forms is refunded.
Supercharge Your Affiliate Program With Add-ons
AffiliateWP comes with a bunch of free as well as paid add-ons to enhance the affiliate program you created for selling your products or services.
Customizable Affiliate Form: Create a highly customizable affiliate form and start accepting affiliates for your program.
Use Ninja Forms Add-ons: Extend the features of your affiliate program with any Ninja Forms add-ons that are installed on your website.
Ninja Forms Redirect: Redirect new affiliates to the affiliate area after they've submitted the affiliate registration form.
Start Getting More Sales Today with AffiliateWP
Launch your affiliate program today and unlock a new revenue channel to grow your business faster.
Explore Our Powerful Affiliate Marketing Features
AffiliateWP is packed full of features to grow your business more quickly.
Grow Your Brand and Boost Form Submissions
AffiliateWP is the most powerful affiliate plugin for Ninja Forms. Set up your affiliate program in just a few minutes to start tracking referrals to your forms.
Get More Out of Your Marketing Budget
Build an army of affiliate marketers who work on commission. You only pay when they make a referral.
Access Professional Marketers
Gain access to highly skilled marketers with the knowledge and tools to grow your sales.
Focus on the Tasks that Will Grow your Business
Let affiliates take some of the responsibility for implementing complex marketing strategies.
Immediately Grow Your Brand Reach
Affiliates can introduce your brand to large, targeted audiences almost overnight (in a cost-effective way).
Over 80% of brands run affiliate programs.
Affiliate marketing is the top customer acquisition channel for 40% of US merchants.
More than 85% of marketers expect affiliate marketing revenue to grow.