How to Set Up Affiliate Analytics that Work for You and Your Affiliates (2023)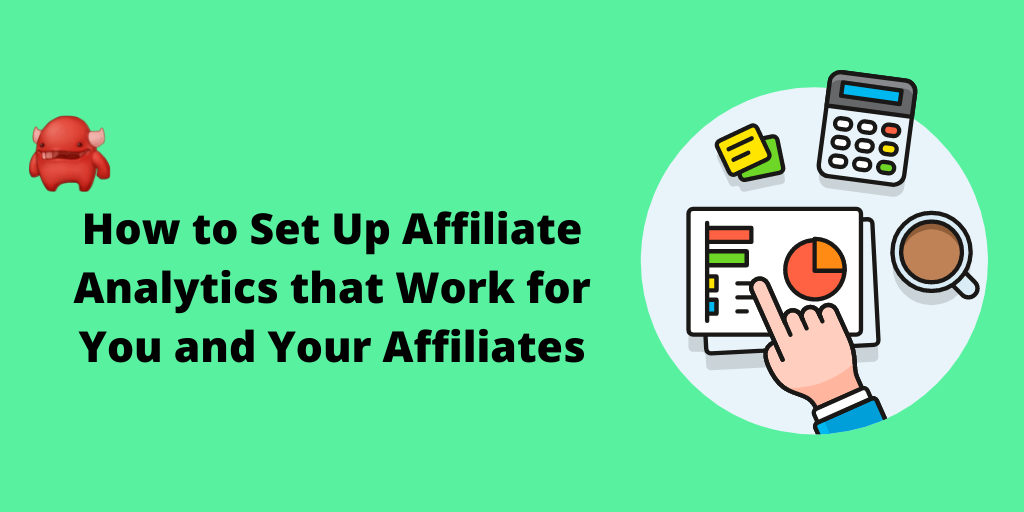 Too many program managers are using their affiliate analytics wrong.
When you start collecting the right data and tracking important KPIs, you'll find you can transform your affiliate program, and we're going to show you exactly how to do just that.
Let's take a look at the key metrics you should be tracking, and some use cases for how they can make a big difference to your affiliate income.
Why Do Affiliate Analytics Matter?
One of the great things about selling things online is that you have access to a huge amount of data. You can see what your customers looked at, follow their journey, track conversion rates on individual calls to action (CTAs), the list is endless!
The same thing goes for affiliate marketing.
Of course, the first thing we need to know is attribution: who was responsible for the sale? However, affiliate analytics run much deeper than that.
Just as making the most of your analytics tools can improve your store's performance, it can also improve your affiliate marketing program.
This goes both ways. It's no use you having access to all this data if you're not sharing it with your affiliates.
Ultimately, affiliate analytics should help your affiliates optimize their processes as well as enable you to understand the performance of your program in minute detail.
When you start using affiliate analytics to your advantage, you'll not only be able to keep more affiliates engaged with your program, but you'll also see a spike in your conversion rate.
Common Affiliate Marketing Metrics
Key performance indicators (or KPIs) are the essential measurable results of your affiliate program's activity. They will help your affiliates keep track of their performance, and they'll also help you to continue to improve your program.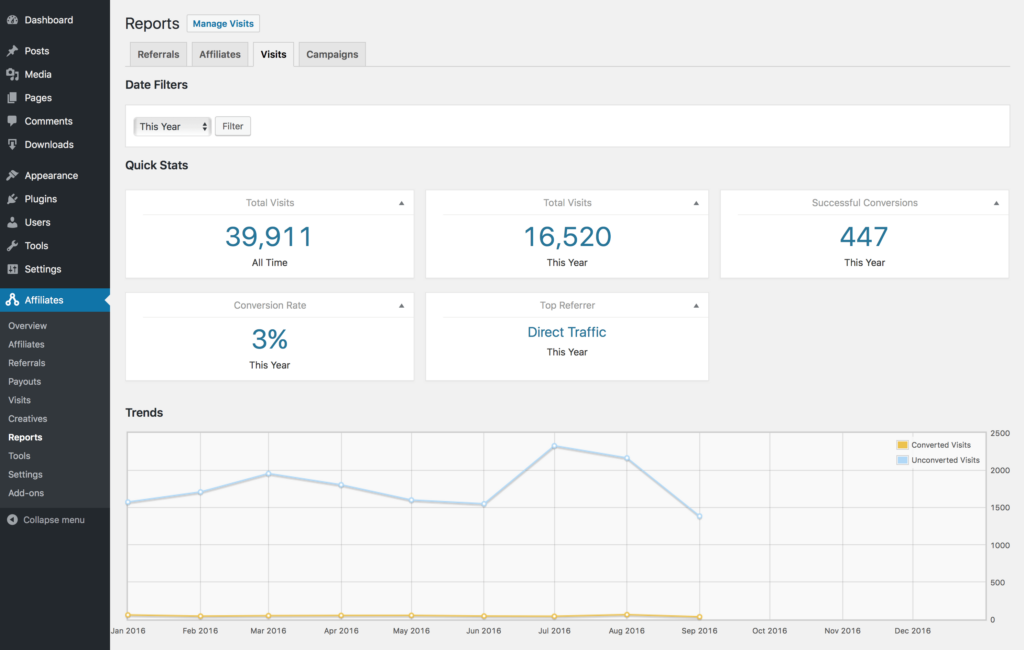 Here is a list of the most common KPIs and their definitions:
Referral: This is the ultimate goal – a sale (or lead) generated through an affiliate link.
Visits: The number of people who visit your site through affiliate links.
Unpaid Referral: Affiliate sales that haven't been paid yet.
Paid Referral: Affiliate sales that have been paid out.
Total Earnings: The total value of your affiliate sales.
Conversion Rate: The percentage of affiliate traffic resulting in sales (ideally above 10%), which provides a snapshot of the overall effectiveness of your affiliates' promotional methods.
Incremental Sales/ Revenue: Increase in sales/ revenue from new customers that have been referred by affiliates. This is a standard way to measure the overall impact of your affiliate program on your business, or the sales/ revenue you would not have received without your affiliate efforts.
Number of Sales Actions: The gross number of sales actions from your affiliate program. Like incremental revenue, this shows you the overall impact of your affiliates, but in terms of total sales.
Active Affiliate Rate: The percentage of affiliates that you consider "active" (defined by traffic, sales conversions, etc.; ideally above 10%). This lets you know how engaged your affiliates are, and how effective your program is for getting them moving.
Return On Ad Spend (ROAS): The total affiliate revenue vs. the cost of running your affiliate program, including affiliate commissions. This reveals how much you're really earning after your costs.
Average Referral Amount (AOV): The average revenue coming in from each successful transaction. This shows you the average value generated by each affiliate conversion.
Traffic Growth: The difference in traffic flow to your website from affiliates and promotions. This highlights the overall effect your program has had on your website traffic.
Whether you run your own affiliate marketing program through affiliate software, or you use an affiliate network, you've got to have access to this kind of data. If not, then you're not going to be able to plan your marketing strategies accordingly and make real-time decisions to boost your performance.
Google Analytics for Affiliate Tracking
With good affiliate tracking software, you should have access to an array of important data, but there's always more you can do. When it comes to understanding the overall data from your e-commerce store, digital marketing, and affiliate marketing, it's hard to beat Google Analytics.
As a program manager, the main benefit of Google Analytics is that it allows you to compare data. For example, you can use the source/medium report to compare the number of clicks, user visits, page views, bounce rate, demographics, and conversions between different affiliates.
You can also compare this data against traffic you get from other sources such as SEO, social media, and direct. This information is valuable because it will give you little clues as to where you can improve your performance.
Bonus Tip: The best way to get even more out of Google Analytics is with MonsterInsights. It turbocharges how you use data, and helps you identify new strategies to improve your store's performance.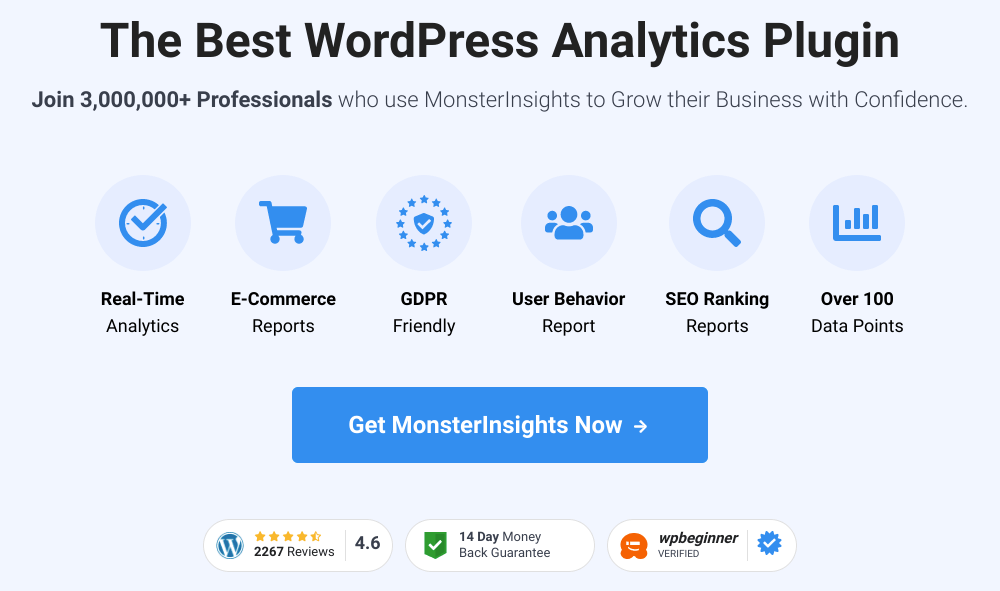 What Matters Beyond Your Affiliate Metrics?
Data is only useful if you know how to use it.
It's one thing to track affiliate sales, but you've got to be able to look deeper and turn numbers into insights.
You can spend an endless amount of time looking at these KPIs, but what really matters is the actions they lead you into. For instance, if your conversion rate is dropping, how do you solve that, if your bounce rate is too high, how are you going to improve your user experience?
Running an affiliate marketing program is complicated because you've got lots of different jobs to do. You've got to sign up innovative affiliates, give them the tools to market your products, keep them engaged, and convert the traffic they send you.
Any one of these processes can impact your conversion rate.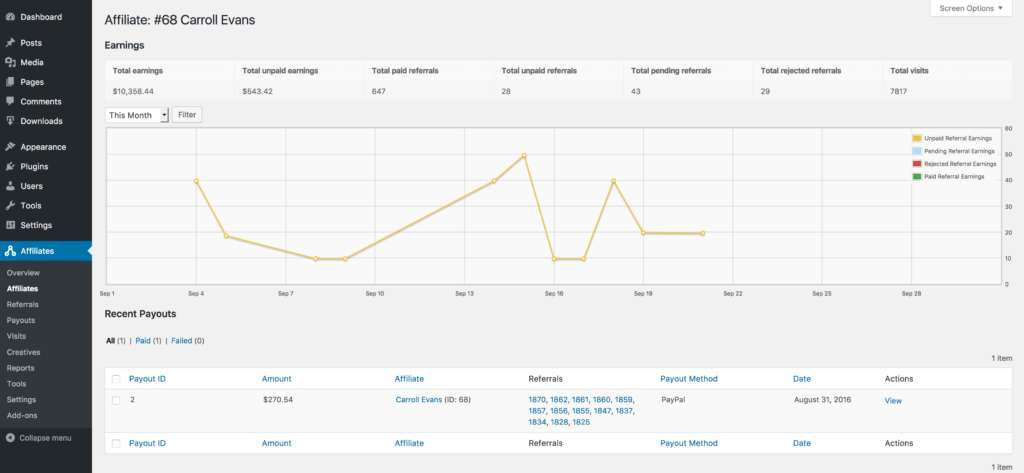 This is why your affiliate marketing software needs to give you a complete picture through its analytics. Your conversion rate might tell you you're not maximizing your sales, but all the metrics combined are going to help you isolate the problem.
There are also important clues that won't show up in your tracking reports:
Is your website accurate, stylish, and easy to navigate: will affiliate traffic be impressed and inspired to buy?
Are your affiliates in the right market niche: are they reaching the right people who will be interested in your products?
Have you created professional-quality, personalized creatives that make your promotions stand out and appeal to your target audience?
Are you in regular contact with your affiliates: do you offer competitive deals, tiered commission rates, prizes, contests, and other opportunities that incentivize them to put in the effort? Do you recognize your affiliates for growth and improvement and not just your top sellers?
Are your affiliates adequately informed to be able to confidently and effectively promote your products?
Do you give your affiliates all the affiliate marketing tools they need?
How to Reduce Dropouts with Affiliate Analytics
Something you'll commonly find when you run an affiliate marketing program is that affiliates will sign up to your program and then never interact with it.
If you could get just a small percentage of those people to engage with your program and marketing campaigns, then it could make a big difference to your earnings. Sometimes this problem slips under the radar, but with your affiliate analytics, you can start to identify the cause of a high dropout rate.
For affiliate websites that use our AffiliateWP plugin, discovering this information is easy.
Go to the Affiliates tab in your admin and click Paid Earnings to sort lowest to highest.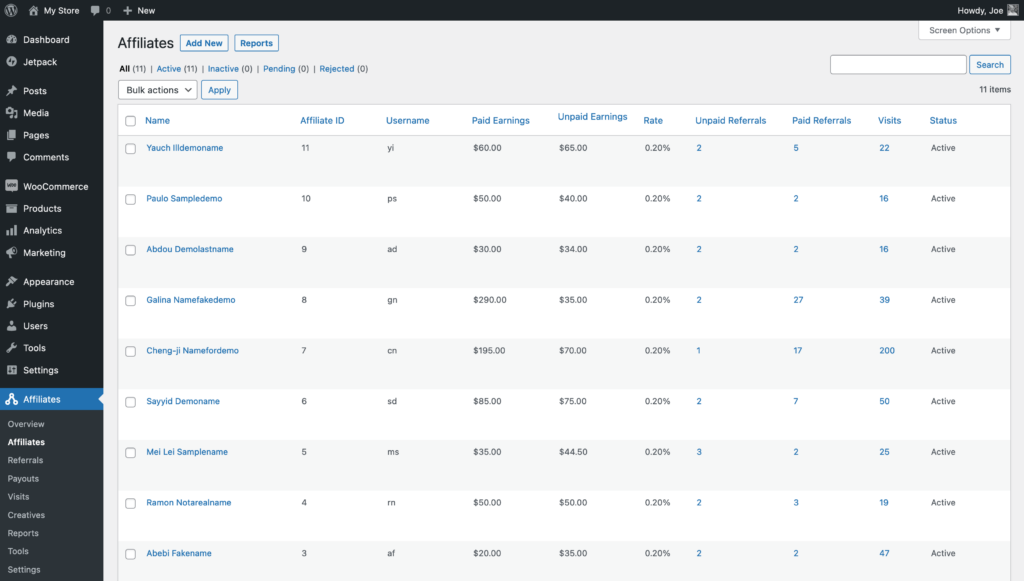 If you've got lots of affiliates with no paid earnings and no pending earnings, then it's clear there's a problem with your processes. Once you've identified this, then you know you need to focus on the early days of the relationship.
How can you help your affiliate get set up more quickly?
How can you give them a quick win?
How can you add extra incentives for them to make their first 10 sales?
How can you help cut their learning curve?
Once you've identified the problem, you'll find that AffiliateWP is packed with lots of add-ons and integrations that can help you achieve this.
For instance, you can use tiered affiliate rates to prioritize each affiliate's first few sales.
Your commission structure might look like this:
Sales 1-10: 40% commission
Sales 10+: 20% commission
Or, you can use the sign-up bonus add-on to offer a cash bonus for new sign-ups, but pay it out once the affiliate makes their 10th sale.
How to Keep Your Top Affiliates Engaged with Affiliate Analytics
We tend to be very sales-focused when it comes to affiliate campaigns and analytics. This is normal, our ultimate goal is to convert.
However, we also want to use our affiliate analytics to be proactive.
One of the best ways to spot a future drop in sales is by understanding user behavior to gauge affiliate engagement. If you can spot when affiliates are falling out of love with your program and learn how to re-engage them, then it's going to keep your sales metrics more consistent.
Remember the 80/20 rule; the chances are, a large chunk of your revenue is coming from a handful of great affiliates.
You want to ensure these people are as enthusiastic as ever, which is why you should keep track of their visits, referrals, and conversion rates.
To do this, go to your Affiliates tab and search for your top affiliate's name. The unpaid earnings metric will give you a good idea of whether they're still active, but you want to dig a little deeper. If you select Reports under the affiliate's name, you can dig deeper into their sales, visits, conversion rates, and much more. Use the drop-down menu to compare their performance over different time periods, and if you see their stats are dropping, then reach out to them.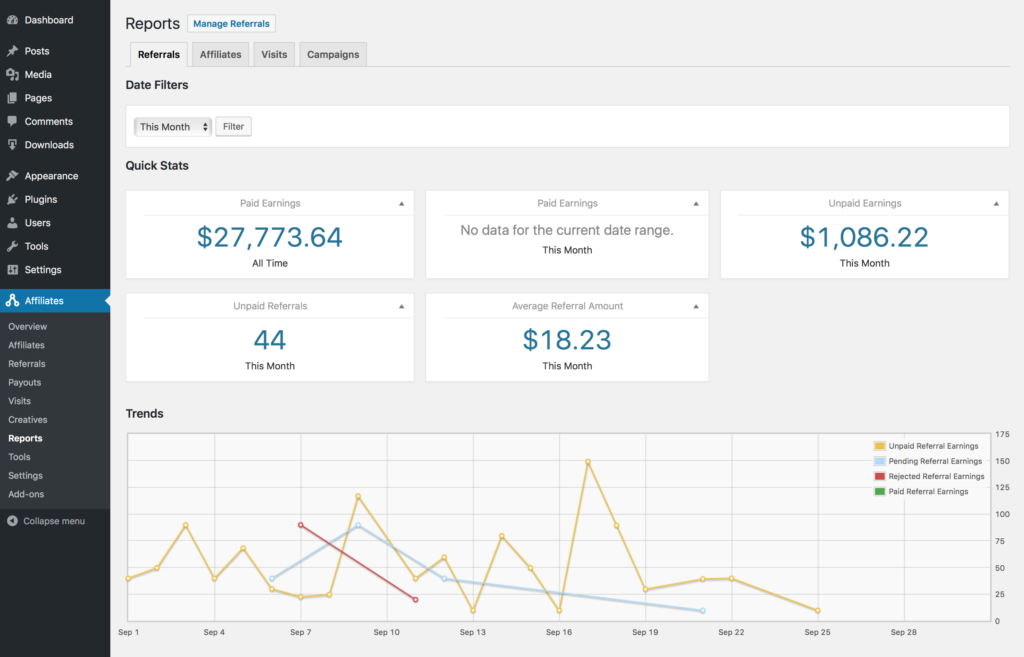 One of the best tactics you can use to re-engage these affiliates it's talking them through how to use some of your best program features. For instance, you might offer to collaborate on a personalized affiliate landing page.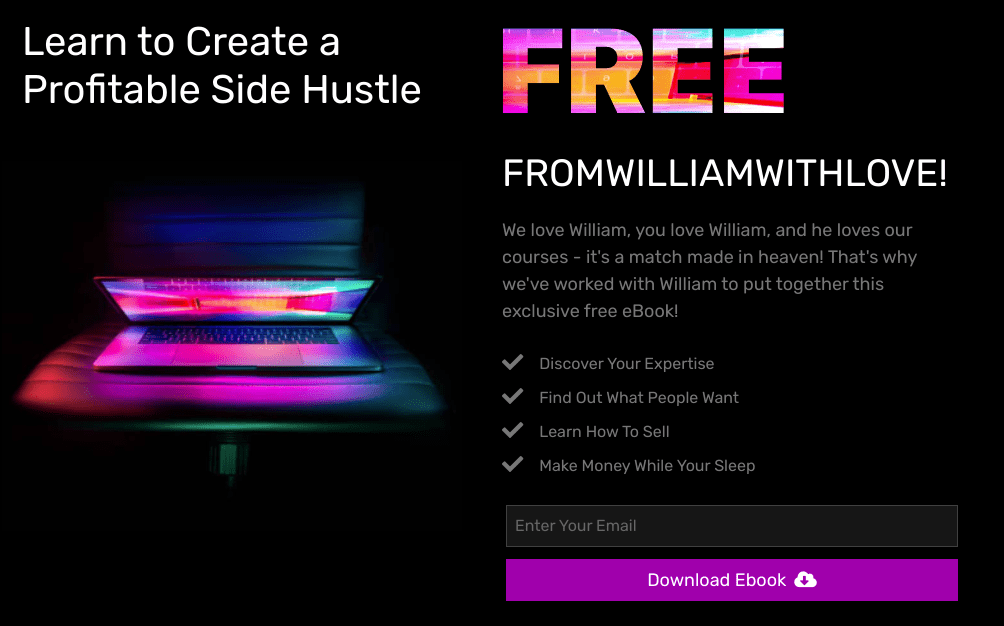 This will show your affiliate that you're committed to their success and make it easier for them to bring in sales.
How to Boost Sales with Affiliate Analytics
This one's easy to identify, but not always easy to change.
In the Payouts tab of your Reports, you'll see a box with your Total Earnings Generated, and you can compare your performance over different time periods.
If this number is dropping, then it could be a problem on your affiliates' side, or it could be a problem on your side.
What's going to give you a clue is the Conversion Rate in the Visits tab.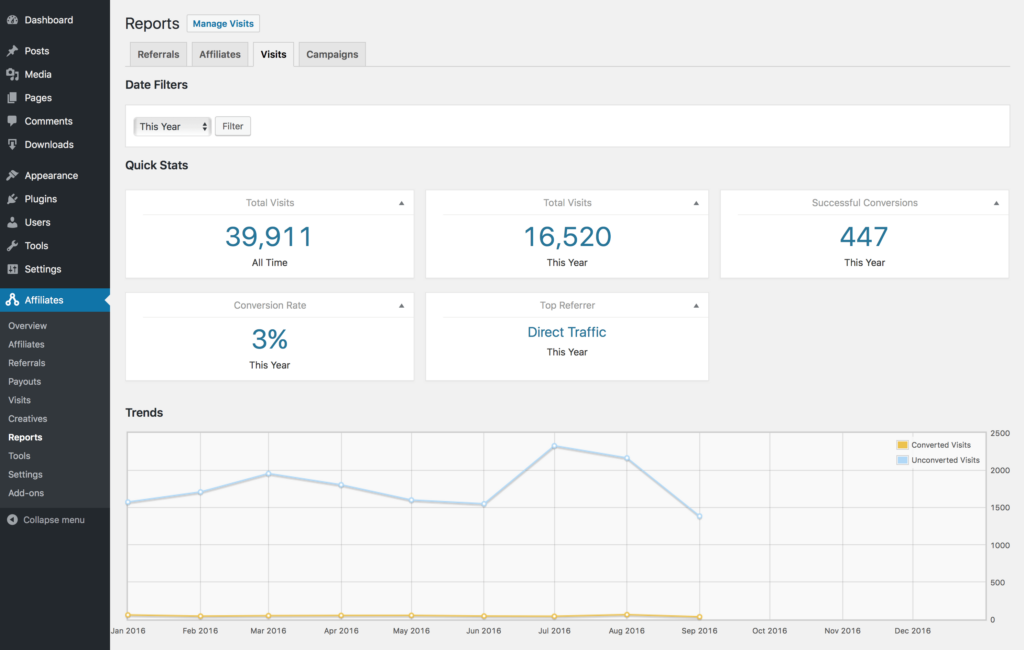 If your affiliates are sending you the same amount of traffic but you're not turning it into clicks, then you know it's probably something that needs to change on your side. The great thing is, you're in complete control of this.
A good way to double-check where the problem lies is to log into your Google Analytics account and check your conversion rate for different medium types. If your conversion rate for referrals is much lower than other mediums, then you've got to ask why that is.
Different marketing campaigns will have different conversion rates, but the difference shouldn't be too big.
If you've checked your web analytics and found this to be the case, then you might want to check out our tips on how to increase affiliate sales!
Affiliate Analytics Are Important for You and Your Affiliates
Affiliate analytics are important!
Not only do they help your affiliates do their job well, but they also help you spot problems and run your program proactively. It means you're not simply asking how many affiliate sales you've made, but why you've made that many, and how you can improve your numbers.
Of course, to get these insights, you first need powerful affiliate software that gives you access to the right metrics, and guess what?
If your website runs on WordPress, then you're in exactly the right place.