How to Create an Affiliate Program with PayPal (Guide)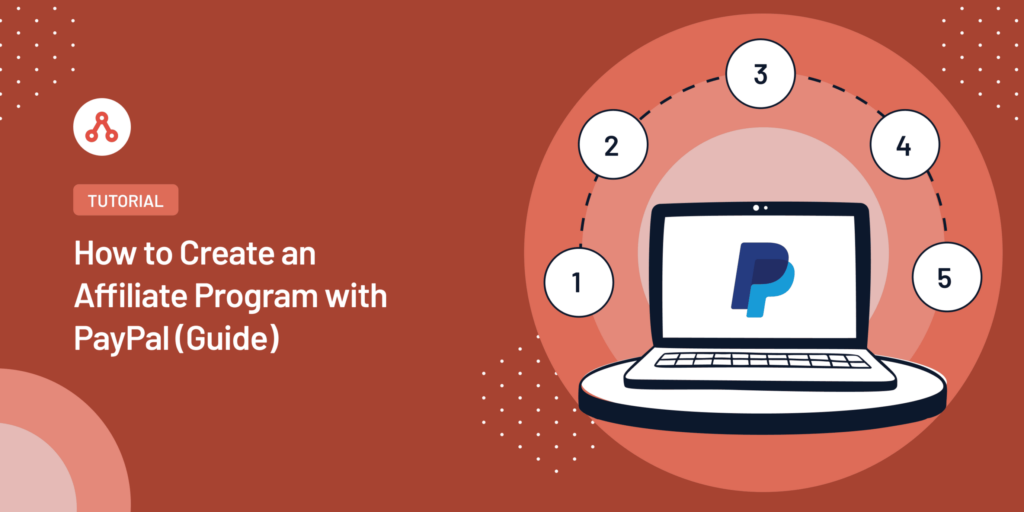 Want to know how to create an affiliate program with PayPal?
It's actually very straightforward to do and it can have big results for your business.
So, let's take a look at how to create an affiliate program with PayPal.
Why Create a PayPal Affiliate Program?
Simply put, a PayPal affiliate program can help grow your brand and boost sales.
It allows you to access targeted audiences and utilize the expertise of top marketers to sell your products, and perhaps the best part is, it's low-risk. You don't have to pay an affiliate until they've made a sale, and with the right affiliate tracking software, running an affiliate program is actually quite simple.
PayPal Buttons offer a super simple way to take online payments on your website, and you can use them to track affiliate referrals. We're going to show you exactly how to do this without the need for any coding or technical knowledge.
So, let's take a look at how to create an affiliate program with PayPal.
5 Steps to Create an Affiliate Program with PayPal
Great news – you can actually set up an affiliate program for PayPal in just 2 steps, but since we want you to be incredibly successful with affiliate marketing, we're adding in some bonus tips.
Here's what we're going to talk about:
Installing AffiliateWP
Using the 1-click PayPal integration
Signing up top affiliates
Tracking PayPal referrals
Paying affiliates
Once you've completed this guide, you'll be ready to create a thriving affiliate program with PayPal.
Step 1: Install AffiliateWP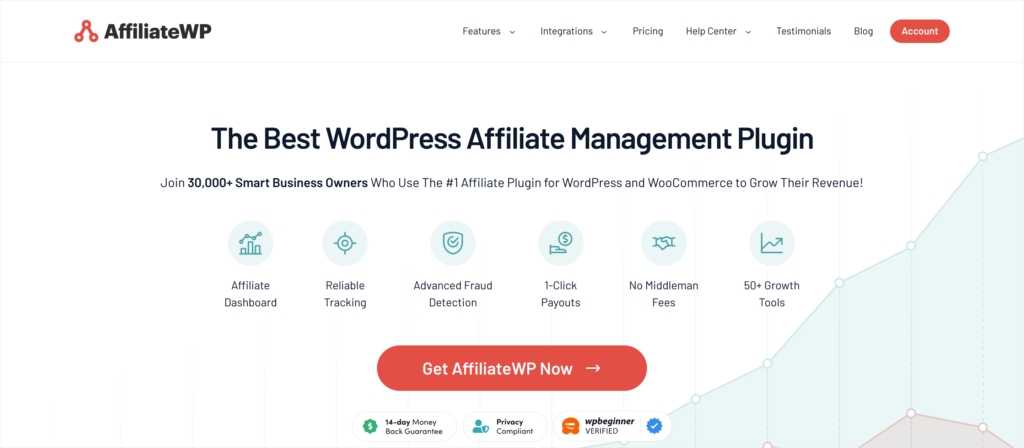 AffiliateWP is the best affiliate management plugin for WordPress, so if your site runs on this platform, then you're in luck (if your online store runs on another platform like Shopify, then check out this guide on the best affiliate plugins for PayPal).
If affiliate marketing is to be a successful strategy for your business, then it's got to make your life hassle-free, and that's exactly what AffiliateWP does. Not only does it integrate with your PayPal account with a click, but it also makes affiliate management a doddle.
Its powerful tools help you:
Effortlessly create a high-converting affiliate signup page
Accept and reject affiliate applications with a click
Provide affiliates with the perfect affiliate dashboard (templates, hooks, and API make the dashboard endlessly customizable)
Generate affiliate links, coupons, and landing pages
Track visits, referrals, and payouts with real-time analytics
Pay affiliates from your WordPress dashboard
Just head to the pricing page and choose the plan that best fits your needs and then you can download the plugin. If you have any problems at any point, then check out this handy tutorial.
If you want to track referrals on subscription payments, then you will need a Pro license to access Recurring Referrals.
Step 2: Open the Setup Wizard and Use the 1-Click PayPal Integration
AffiliateWP helps you get your WordPress affiliate program set up in under 10 minutes thanks to its range of 1-click integrations and easy setup wizard.
To open the setup wizard, just go to your AffiliateWP Settings and scroll to the bottom of the page. Now click the Launch Setup Wizard button, and you can begin the setup process.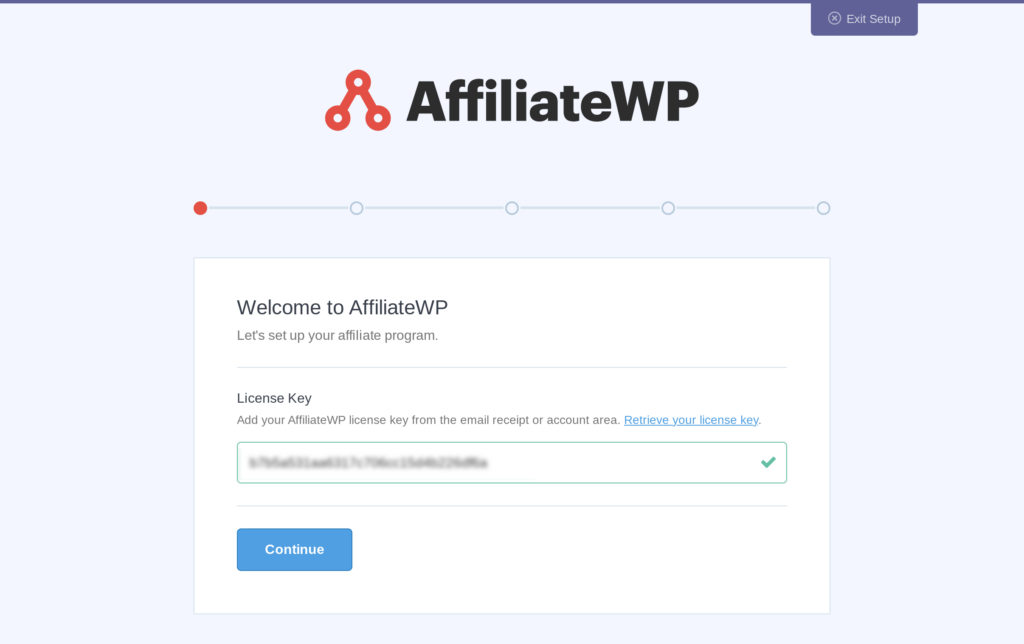 Copy your license key from your account, and paste it into the box before clicking Continue.
On the next page, you will see PayPal Buttons listed under the e-commerce integrations. Check the corresponding checkbox and then click Continue.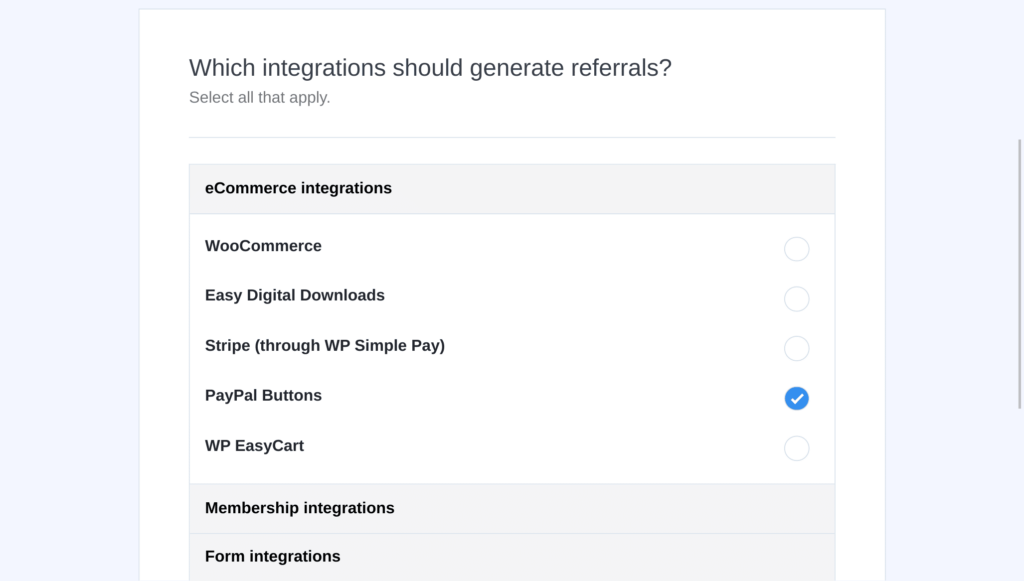 As soon as you click Continue, AffiliateWP will be ready to start tracking referrals on your PayPal transactions, but there are a few more useful steps you can take first.
Next, you can set your affiliate commission and referral type. If you're not sure how much commission to offer, then check out this quick guide, but remember, you can always edit this at a later date in your settings. Once you're happy with your commission, click Save and Continue.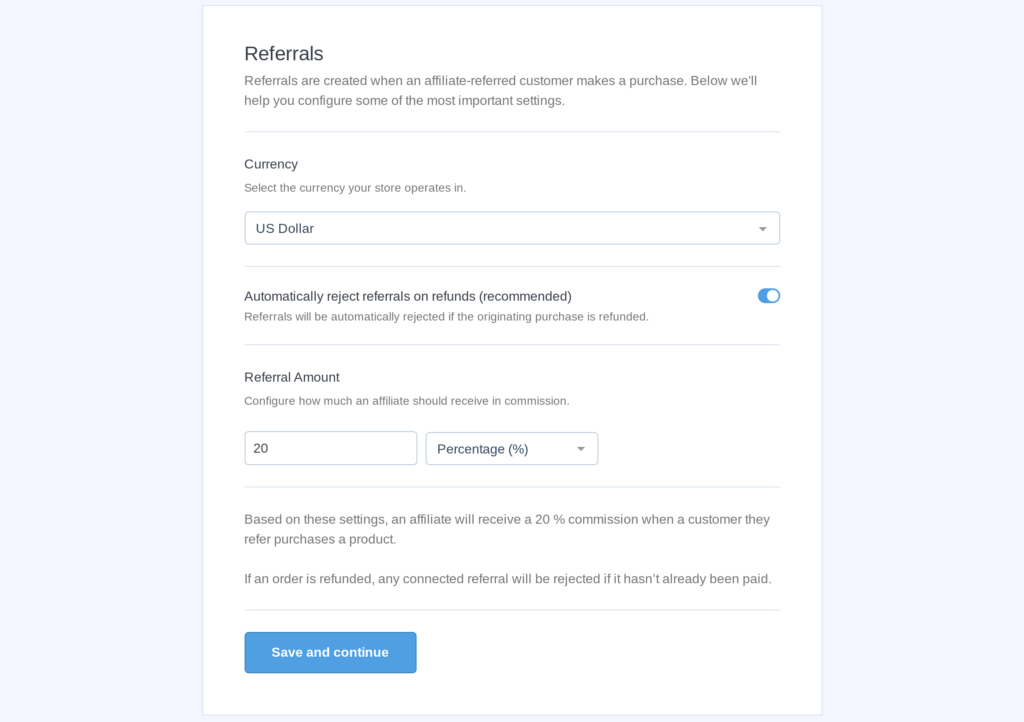 The last step is to set your cookie expiration, but again, this can easily be edited at a later date. Click Save and Continue, and then you will be brought to a final confirmation page. Just click Finish the Setup and Exit the Wizard and then you're good to go!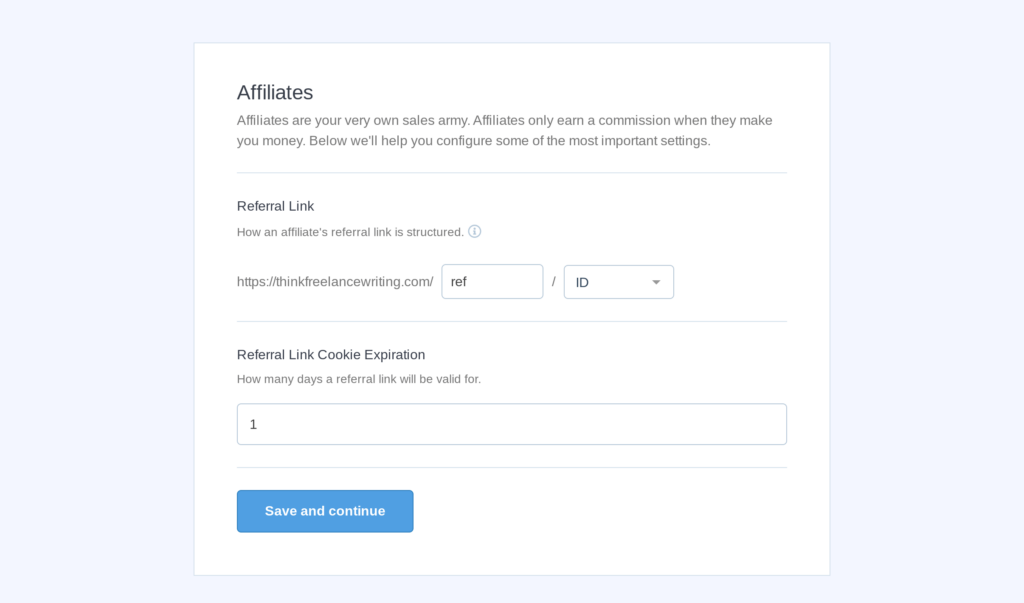 That's it, you've now created an affiliate program with PayPal, but there are a few more details you might want to know about.
Step 3: Sign Up Top Affiliates
When you install AffiliateWP it will automatically create an Affiliate Area page. You can find this by going to Pages and searching for Affiliate Area. You can easily edit this page using WordPress blocks, and make sure it's set up to sign top affiliates.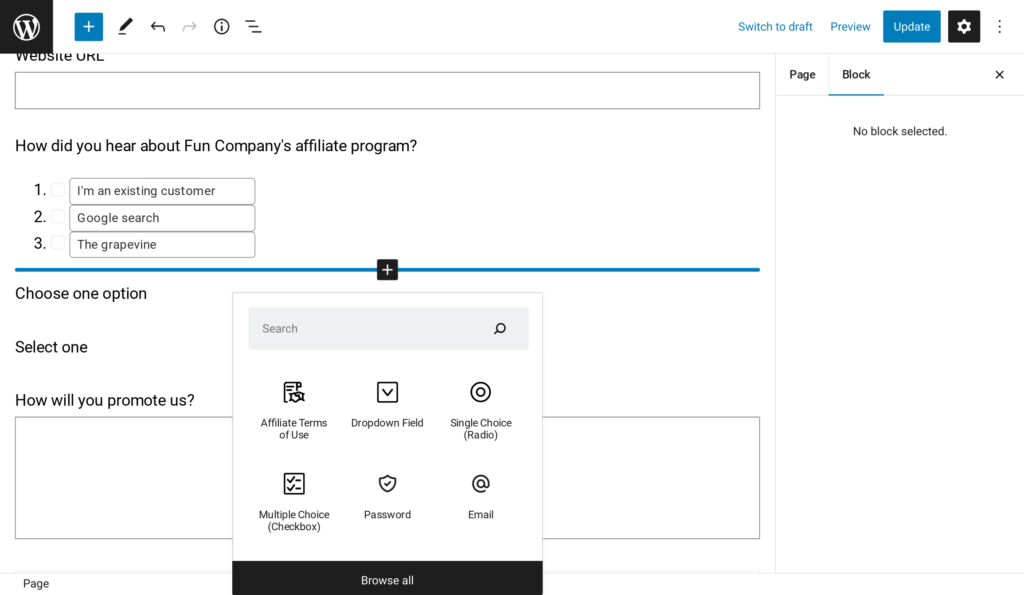 Once an affiliate has completed the registration form, you can easily approve or reject it by going to the Affiliates page and hovering over the affiliate's name. As soon as you accept the application, the affiliate will receive a notification and be able to log in using the Affiliate Area page.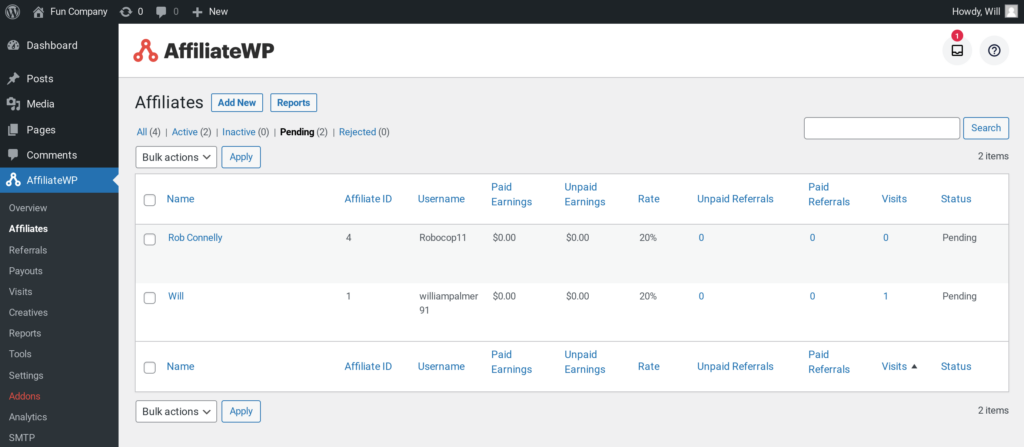 When affiliates log in, they'll be brought to their affiliate dashboard where they can create referral links, access onboarding materials, see detailed analytics, and much more.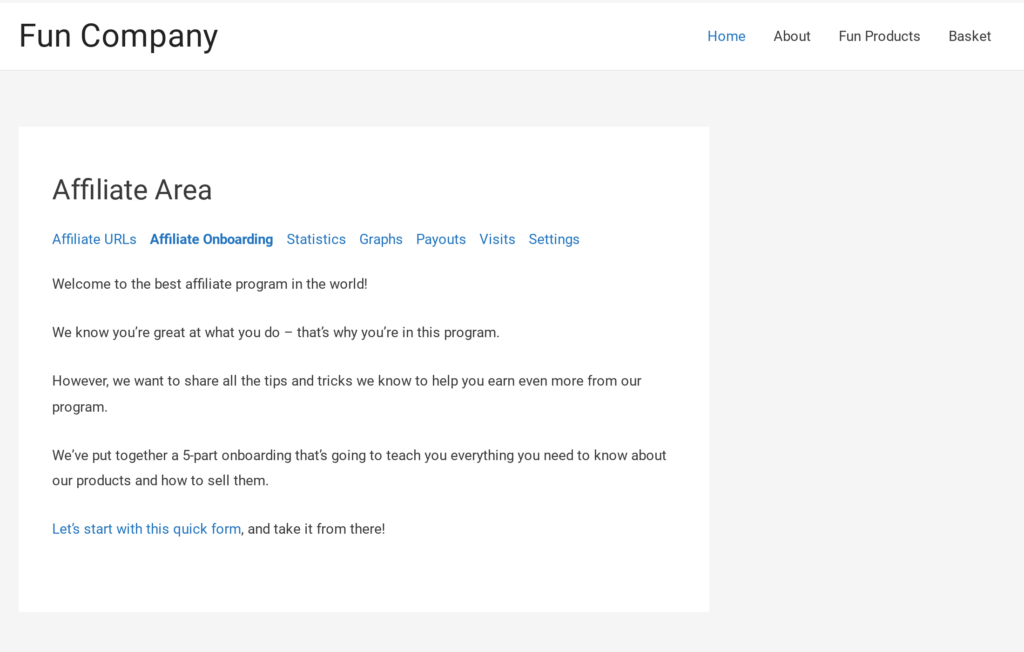 AffiliateWP gives you everything you need to sign up top affiliates, but we've also got extra tips that can help you out.
Step 4: Track PayPal Referrals with Real-Time Analytics
You can quickly see how your PayPal affiliate program is performing by going to your Overview page, but you can also dig deeper into the analytics and see data for visits, referrals, and payouts.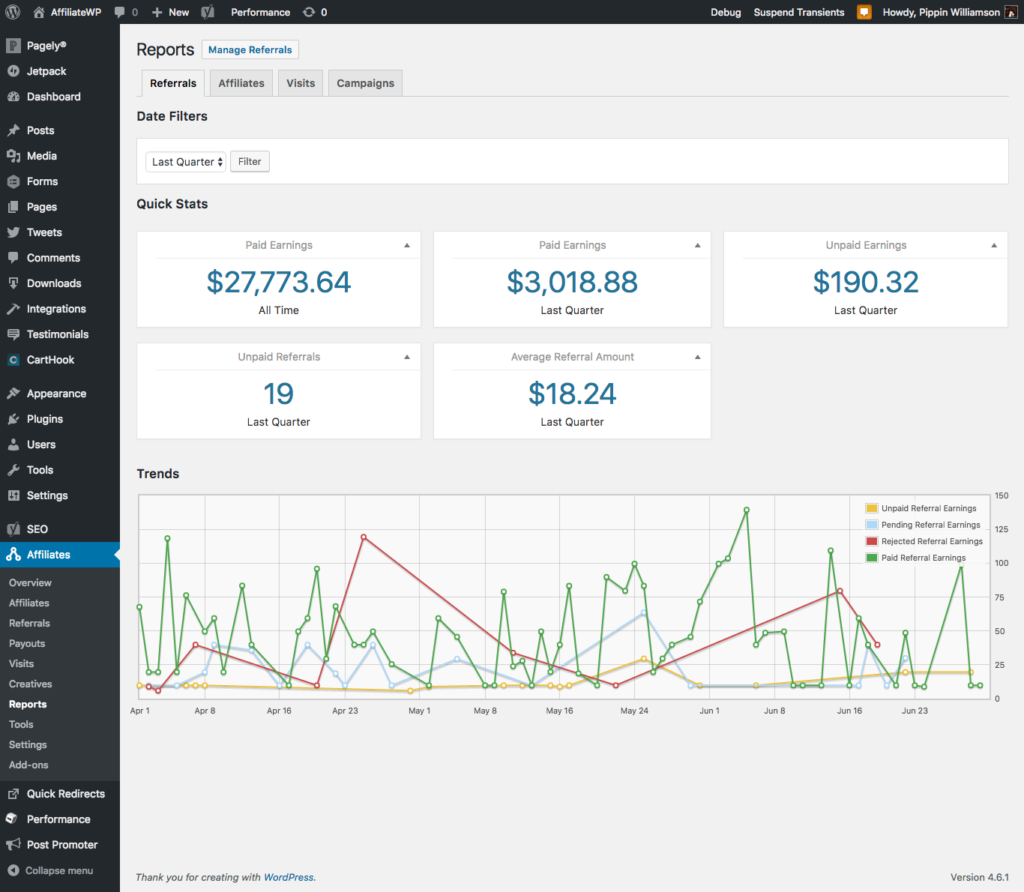 When someone follows an affiliate link to your website, this will show on the Visits page, and when they make a purchase using a PayPal button, it will then show on the Referrals page. AffiliateWP will automatically work out how much commission the affiliate is due based on your commission rate and the value of the sale, and then you're ready to initiate an affiliate payout.
Step 5: Pay Your Affiliates
If you're going to keep your affiliates happy and ensure they continue to promote your products on their blogs, social media, email marketing, and more digital marketing strategies, then you've got to make sure they get regular payments.
Luckily, AffiliateWP makes this super easy thanks to a range of payment methods.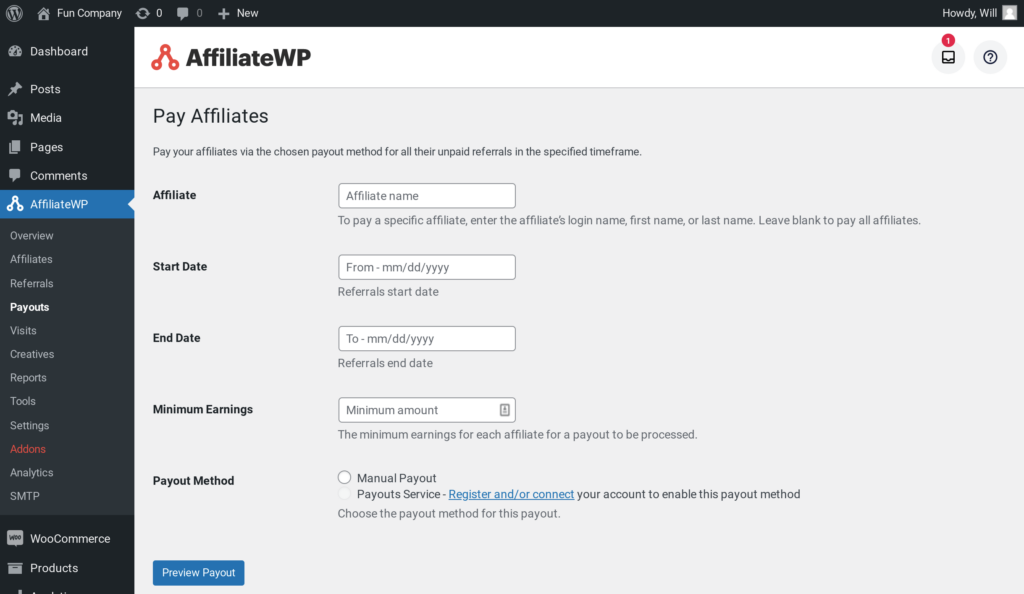 The easiest way to pay affiliates is with the Integrated Payouts Service which lets you pay affiliates directly to their bank accounts in a range of currencies, without leaving WordPress. Alternatively, you can pay affiliates directly to their PayPal accounts without leaving your WordPress using PayPal Payouts.
Either way, you can make monthly payments to all your affiliates without having to worry about how much each person has earned because AffiliateWP sorts everything for you.
Next, Set Up Recurring Referrals
If you're using PayPal Buttons to collect subscription payments, then you'll want to set up Recurring Referrals.
This allows affiliates to earn a commission on every subscription payment a customer makes, and it's hugely popular. It's also great for your small business because it incentivizes affiliates to send you long-term customers with a high lifetime value.
To set up Recurring Referrals, simply go to the Addons page and toggle the button next to Recurring Referrals. This will create a Recurring Referrals tab in your Settings where you can edit key information like your recurring rate and recurring referral limit.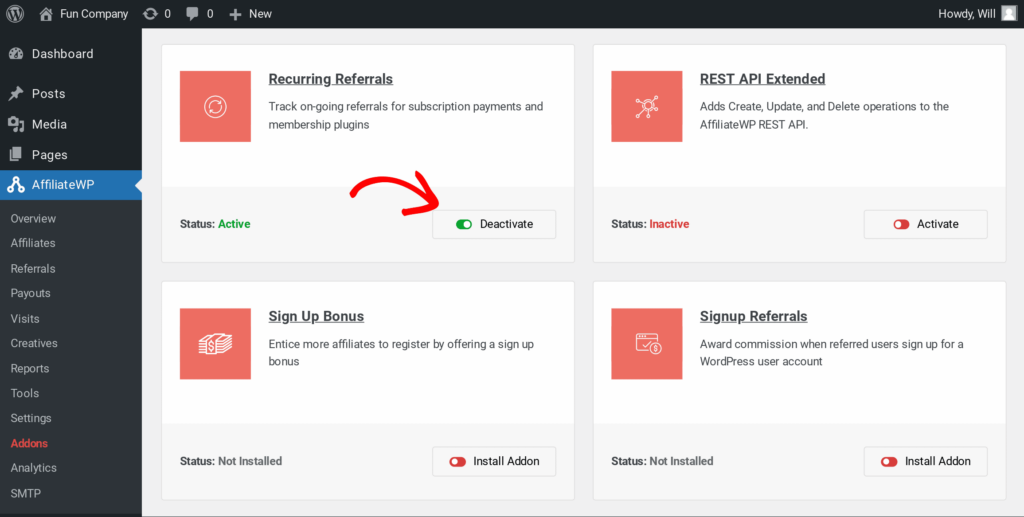 This is just one of the advanced growth tools AffiliateWP offers, so make sure to explore them all and set up the ones that are relevant to your PayPal affiliate program.
So, You Know How to Create an Affiliate Program with PayPal
Setting up your own affiliate program might seem a little bit daunting, but now you see it's actually quite straightforward.
However, creating a referral program with PayPal is only the first step – you've now got to grow it.
And guess what?
We've got more resources to help you out:
Now there's only one thing left to do.
Get AffiliateWP and create your PayPal affiliate program today!