How to Set Up Affiliate Fraud Protection for WordPress (2023)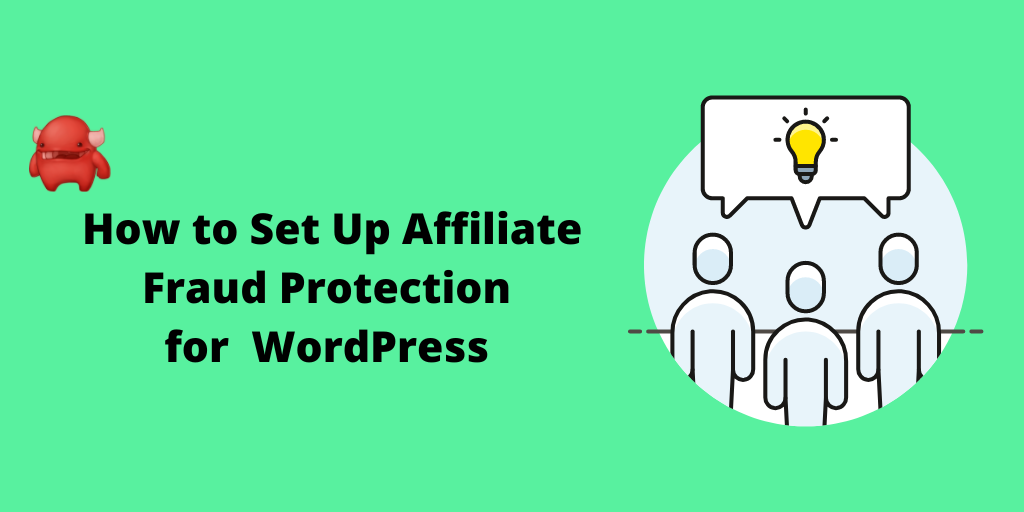 Are you worried about the effect affiliate fraud can have on your affiliate marketing program?
If the answer is yes, then you need to set up affiliate fraud protection for your WordPress affiliate program.
This simple, step-by-step guide is going to help you set up comprehensive fraud protection so you can grow your affiliate program with confidence.
Here's how to set up affiliate fraud protection for WordPress.
Affiliate Marketing Fraud Costs Over $1 Billion a Year
Affiliate marketing fraud is a problem.
Like anything on the internet, there are great upsides to affiliate marketing, but there are also some risks.
It's a similar story in digital advertising, where PPC advertising suffers from click fraud and other types of ad fraud. And like the rest of your online security, it pays to be aware of the risks and protect against them.
Just as choosing a strong password can help protect your online accounts, you can take some simple steps to make your affiliate program safer.
Although affiliate fraud costs businesses over $1 billion a year, it shouldn't put you off running your own affiliate program. On the flipside, affiliate marketing is the top acquisition channel for 40% of US merchants, so you shouldn't be deterred.
Fortunately, there are some simple ways to set up affiliate fraud protection for a WordPress affiliate program.
How to Set Up Affiliate Fraud Protection on WordPress
An affiliate marketing program can help your business maximize its marketing budget, and leverage the knowledge of marketing experts to grow sales.
But what about affiliate fraud?
How do you set up affiliate fraud protection and protect your hard-earned sales?
Here's what we're going to cover:
1: Install AffiliateWP
2: Integrate Your Store
3: Require Affiliate Approval
4: Customize Your Registration Form
5: Blacklist Suspicious URLs
6: Deactivate Suspicious Affiliate Accounts
7: Upgrade to the Professional License for Even More Anti-Fraud Features
Let's get started!
Step 1: Install AffiliateWP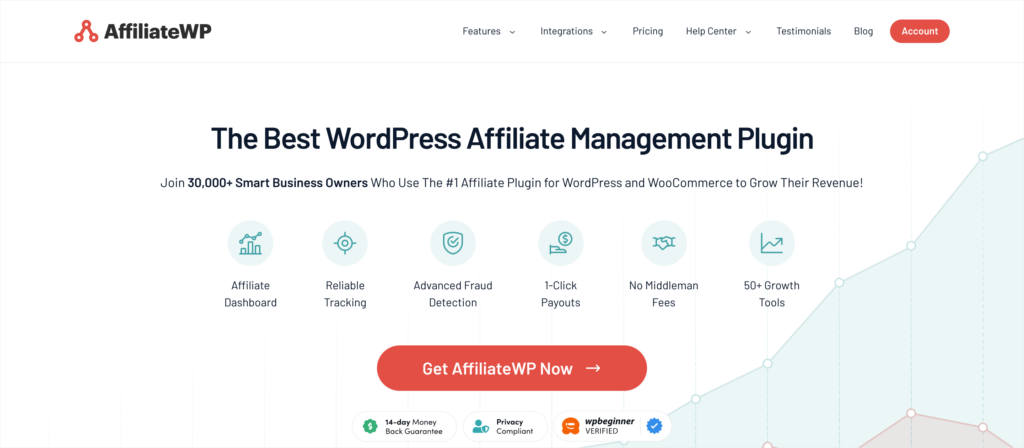 AffiliateWP is the best WordPress affiliate management plugin. It allows you to effortlessly set up an affiliate marketing program and offers powerful functionality to help you grow your sales.
It also offers powerful affiliate fraud protection as standard, putting you in complete control of who takes part in your affiliate program.
Set up your affiliate marketing program in just a few steps by heading to our pricing page.
Once you've completed your purchase, you'll receive an email in your inbox with a download link and your license key.
Click the download link to download the AffiliateWP.zip file and head back to your dashboard.
Hover over Plugins in the left-hand sidebar and click Add New.

On the next screen, you'll see an Upload Plugin button near the top of the page. Click this button and choose the AffiliateWP.zip file you just downloaded, then click Open > Install Now > Activate Plugin.
You're now ready to customize your program and set up affiliate fraud protection.
Step 2: Integrate Your Store
The next step is to integrate AffiliateWP with your e-commerce plugin, membership software, form builder, or one of our many integrations.
Just head to your AffiliateWP settings by hovering over AffiliateWP in the left-hand sidebar of your WordPress dashboard, and click settings.
Select Open Setup Wizard at the bottom of the page, and copy your license key from your confirmation email into the first screen.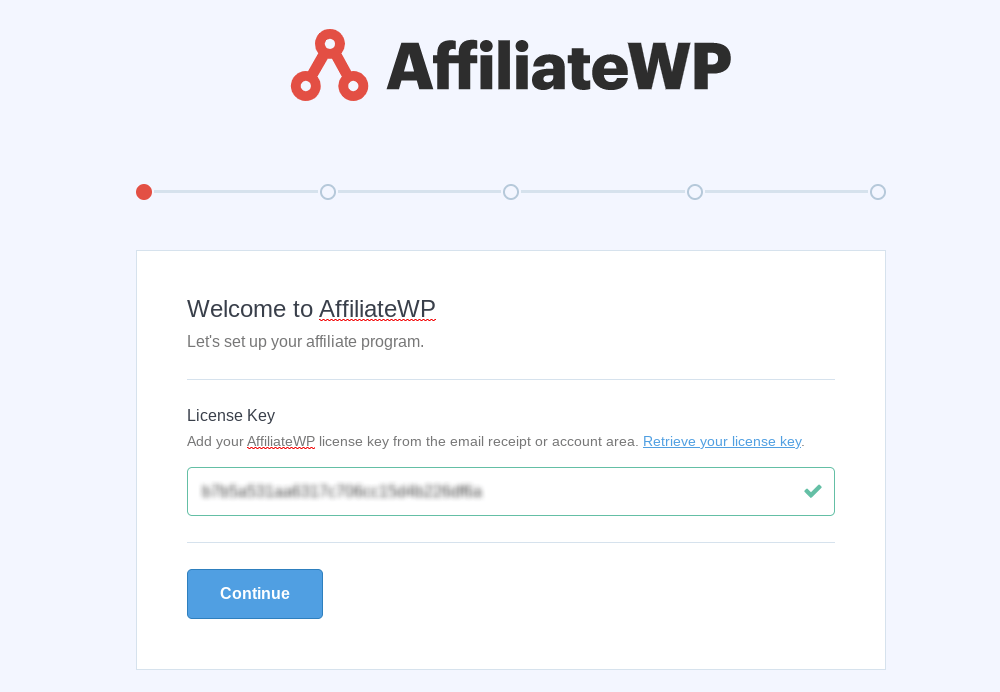 Once you've activated your license, follow the steps through to integrate your store, set your commission and cookie policy, and edit your referral link structure.
In just a few clicks, your affiliate program will be ready to go live.
Step 3: Require Affiliate Approval
This isn't really a step because AffiliateWP requires affiliate approval as standard.
You can change this setting in the Misc tab of your AffiliateWP settings, but as this is the first step in protecting against fraudulent activity, we highly recommend you keep it on.

What this means is whenever an affiliate completes your registration form, their application will be shown as pending, and it will need to be approved before they can start promoting your business.
You can quickly accept or reject pending affiliates by choosing the Affiliates tab from the left-hand sidebar and clicking Pending. Approve and reject applications in one click and set up your first line of affiliate fraud protection to spot fraudulent affiliates.
Step 4: Customize Your Affiliate Registration Form
So, how do you decide if an affiliate might be a fraud?
Well, to make affiliate fraud profitable bots and unscrupulous people need to sign up for a lot of affiliate programs. They want the signup process to be as basic as possible and to be accepted automatically.
Another way you can set up affiliate fraud protection is by customizing your affiliate registration form.
AffiliateWP allows you to do this with its built-in form customization.
Head to AffiliateWP > Settings and scroll until you see Required Affiliate Registration Fields.
You want to use this form to get a good feel for who the affiliate is and how they're going to promote your business, so we recommend you add the Website URL, Payment Email, and How Will You Promote Us fields. This will allow you to do your research on your potential affiliate (check out their website, social media profiles like LinkedIn, etc.).

This will give you a much better picture of who you are dealing with.
Another way you can optimize your form is to go to the Misc tab in your AffiliateWP settings and add reCAPTCHA to your form. Just click the check box to enable reCAPTCHA and add your reCAPTCHA key. This will help to stop bots from automatically filling out your forms.
Step 5: Blacklist Suspicious URLs
You can keep an eye on what URLs are sending you affiliate traffic by clicking on the Visits tab from the AffiliateWP dashboard.
This will bring up a list of all the affiliate traffic you've had, what page they landed on, and what affiliate site they came from.
If you see a large amount of traffic from a suspicious-looking URL, then you can easily add it to a URL blacklist by going to AffiliateWP > Settings > Misc and pasting the URL into the Referral URL Blacklist box.

When you blacklist a URL, it won't be able to create referrals, mess up your metrics, or earn commissions.
Step 6: Deactivate Affiliate Accounts
If certain affiliates break the terms and conditions of your affiliate program, then you can quickly deactivate them from your program.
Go to your Affiliates tab, and under the name of each affiliate, you will see an option to deactivate them.

Not only is this a useful option if you suspect someone is trying to scam you, but it's also a way of protecting your brand from poor digital marketing practices. If an affiliate isn't living up to your terms and conditions, then you're within your rights to deactivate them, and AffiliateWP makes this simple.
Step 7: Upgrade to the Professional License for Even More Anti-Fraud Features
Professional license holders will have additional controls they can use to protect their programs against affiliate fraud.
When you activate the professional license, you will see an Anti-Fraud tab in your settings with additional functionality.
You'll see options to:
Allow, flag, or reject self-referrals: this is when affiliates use their own affiliate links to get a discount on your products
Allow, flag, or reject none-approved sites: when affiliates sign up for your program they enter their website(s) URL, any visits or referrals coming from none-approved sites can be flagged or automatically rejected
Allow or flag unusual conversion rates: you can set parameters for expected conversion rates and if an affiliate is outside of this range, then visits and referrals will be flagged.
All of these settings will flag on your reports page, making it easy to spot potential affiliate fraud.
See all of the Professional Plan's features!
Now to Set Up Your Affiliate Terms and Conditions
AffiliateWP's advanced link tracking provides smart affiliate fraud detection, and with these added steps you can have confidence that your affiliate program is safe.
You should now be free to grow your affiliate program without worrying about things like spamming, cookie stuffing, and spoofing, but there's another great step you can take to protect yourself: your affiliate terms and conditions.
Creating strong affiliate terms and conditions not only helps protect your company's name, but it enables it to grow more quickly. By setting out clear rules and expectations, you're more likely to sign legitimate affiliates and keep them engaged with your program.
You've set up your affiliate fraud prevention tools to filter out the fraudsters, and your terms and conditions are there to reinforce this. Use them to focus on the top affiliates you really want in your program.
Affiliate Fraud Protection FAQs
What are some ways to protect your business from affiliate fraud? Some ways to protect your business from affiliate fraud are to customize your registration forms, require affiliate approval, blacklist URLs with suspicious activity, and deactivate suspicious affiliates, all of which are easy to do with AffiliateWP.
What are the benefits of affiliate fraud protection? The benefits of affiliate fraud protection are a greater return on your investment. Affiliate fraud cuts into your revenues, stopping your business and its affiliate program from growing more quickly.
What are the consequences of affiliate fraud? The consequences of affiliate fraud are that merchants lose money and become disillusioned with affiliate marketing. Good affiliate fraud protection is vital because affiliate marketing is such an efficient way to grow a business.
How is affiliate fraud committed? Scammers commit affiliate fraud by faking a conversion, duplicate content, click stuffing, using stolen credit cards and initiating chargebacks, and more. The different types of affiliate fraud mean you need comprehensive affiliate fraud protection.
You're Ready to Grow Your Affiliate Program
Once you've followed these steps, you're ready to grow your affiliate program with confidence.
It's important to set up affiliate fraud protection for your program because otherwise, it can cut into your profitability. However, with AffiliateWP's real-time link tracking and smart fraud protection, you can simply focus on optimizing your marketing strategy and improving conversion rates.
It's time to take the first step today.