How to Track Affiliate Performance with Monthly Email Summaries
Trying to figure out how to effectively track affiliate performance?
Monthly email summaries are a great way to get a clear picture of how your affiliate program and its affiliates are performing, and we're going to show you how to set them up.
Here's how to track affiliate performance with monthly email summaries.
Understanding Affiliate Performance is Crucial for You and Your Affiliates
People talk a lot about passive income when it comes to affiliate marketing.
Yes, it's possible to create a relatively passive income with affiliate marketing, but you're always going to be more successful if you put the extra time and effort in. For this reason, it's vital that both affiliate managers and affiliates have an easy way to track performance.
A great way to do this is with monthly affiliate email summaries.
These will allow affiliate managers to keep track of program performance, and affiliates to keep on top of their own individual results.
We want you to be able to maximize your performance marketing results, so we're going to show you how to set up monthly email summaries, and give you some useful bonus tips.
Track Affiliate Performance with Email Summaries
Let's make it as convenient as possible for you and your affiliates (or influencers) to track performance with monthly email summaries.
Here are the steps we're going to look at:
Install AffiliateWP
Automatically receive monthly program performance emails
Set up monthly affiliate performance summaries for your affiliates
Dig deeper into affiliate performance with real-time analytics
Follow these simple steps, and in just a few minutes you can start tracking affiliate performance more efficiently.
Step 1: Install AffiliateWP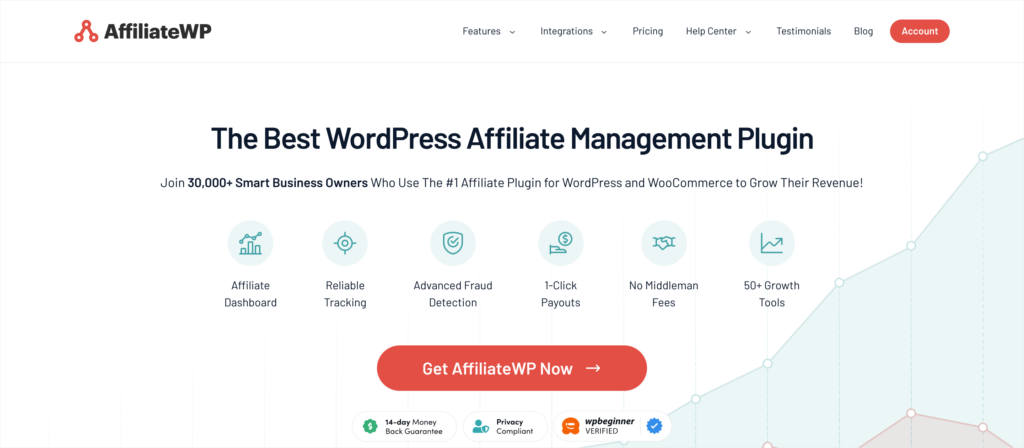 AffiliateWP is the best affiliate management plugin for WordPress.
It's going to help you set up your own affiliate program (where you're in control, rather than relying on an affiliate network) in under 10 minutes, and it offers great features to enable you to manage affiliates effectively.
Simply head to the pricing page and choose the plan that best fits your needs.
Once you've downloaded the plugin (here's a quick tutorial), you can then activate your affiliate link tracking using the setup wizard.
Just go to the AffiliateWP settings, scroll to the bottom of the page, and click, Launch Setup Wizard.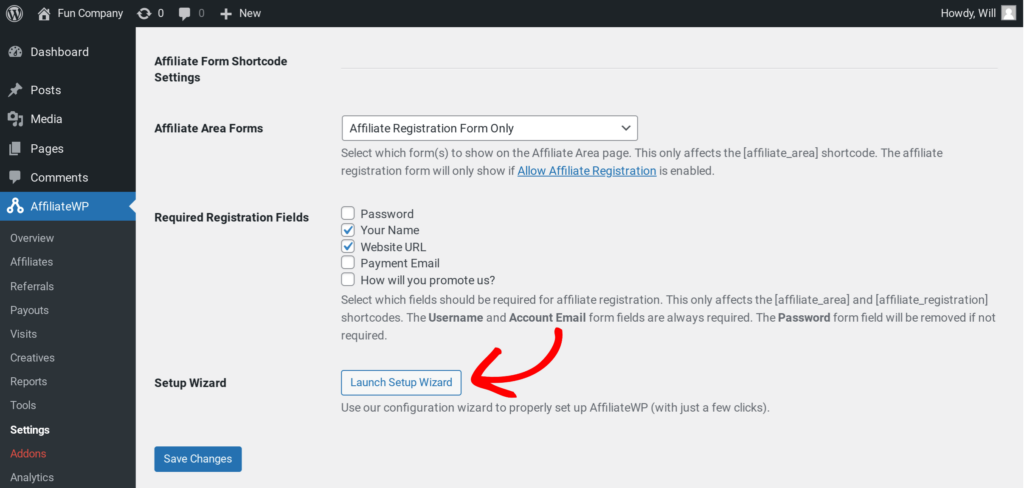 Now, you'll be able to sync your products, courses, memberships, forms, and email marketing using the 1 click integrations, and set your commission structure. Follow the steps all the way through, and in just a few minutes, your affiliate program will be up and running.
Step 2: Automatically Receive Monthly Program Performance Summaries
We want you to have a clear picture of how your affiliate marketing channels are performing which is why we automatically send out monthly performance email summaries.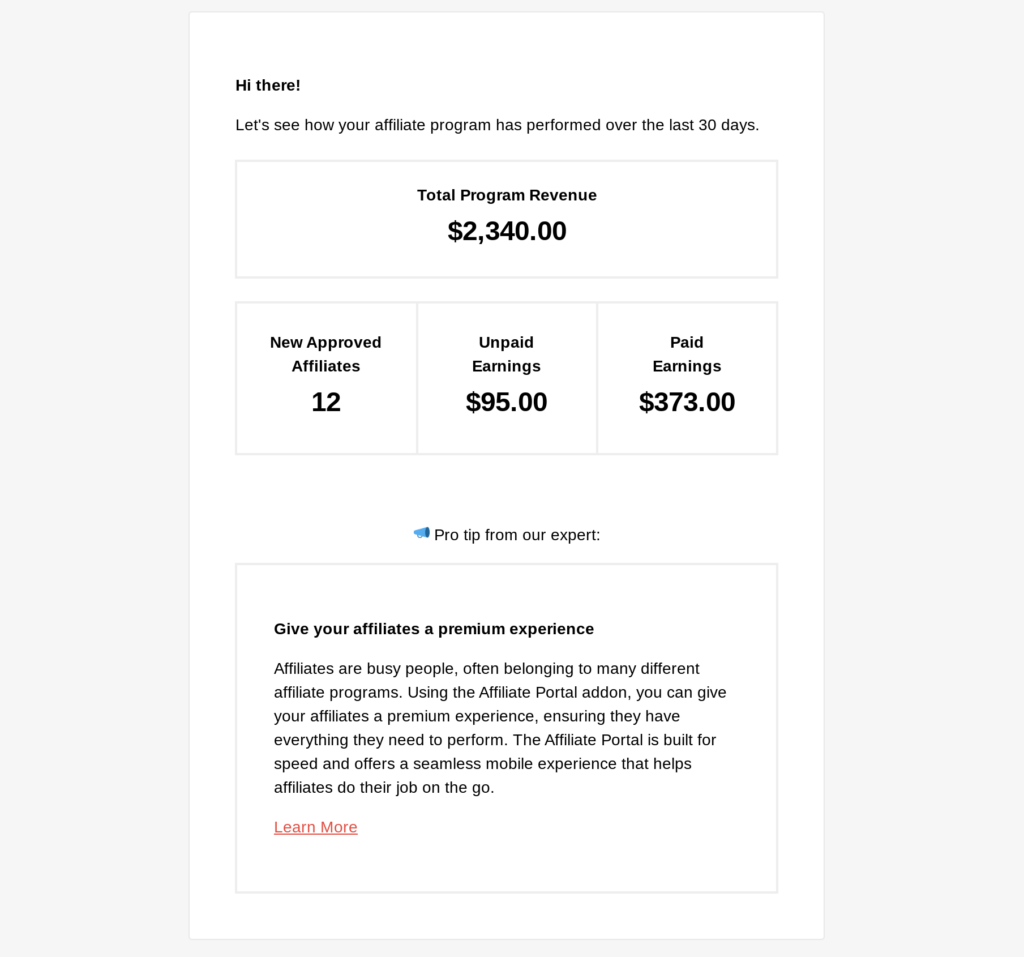 Every 30 days, you'll receive an email detailing key metrics like:
Total program revenue
Number of new approved affiliates
Unpaid earnings
Paid earnings
Helpful tips to improve your program
Though you'll be able to dig much deeper into these numbers (as we will show you in step 4), it's useful to have this macro picture of your affiliate program performance.
Step 3: Set Up Monthly Affiliate Performance Summaries for Your Affiliates
It's not just program managers who need to keep track of affiliate performance.
Your active affiliates need to be able to see how their marketing strategies are performing and optimize their processes. Of course, detailed affiliate reports are crucial for this, but a monthly affiliate performance summary can also be very helpful.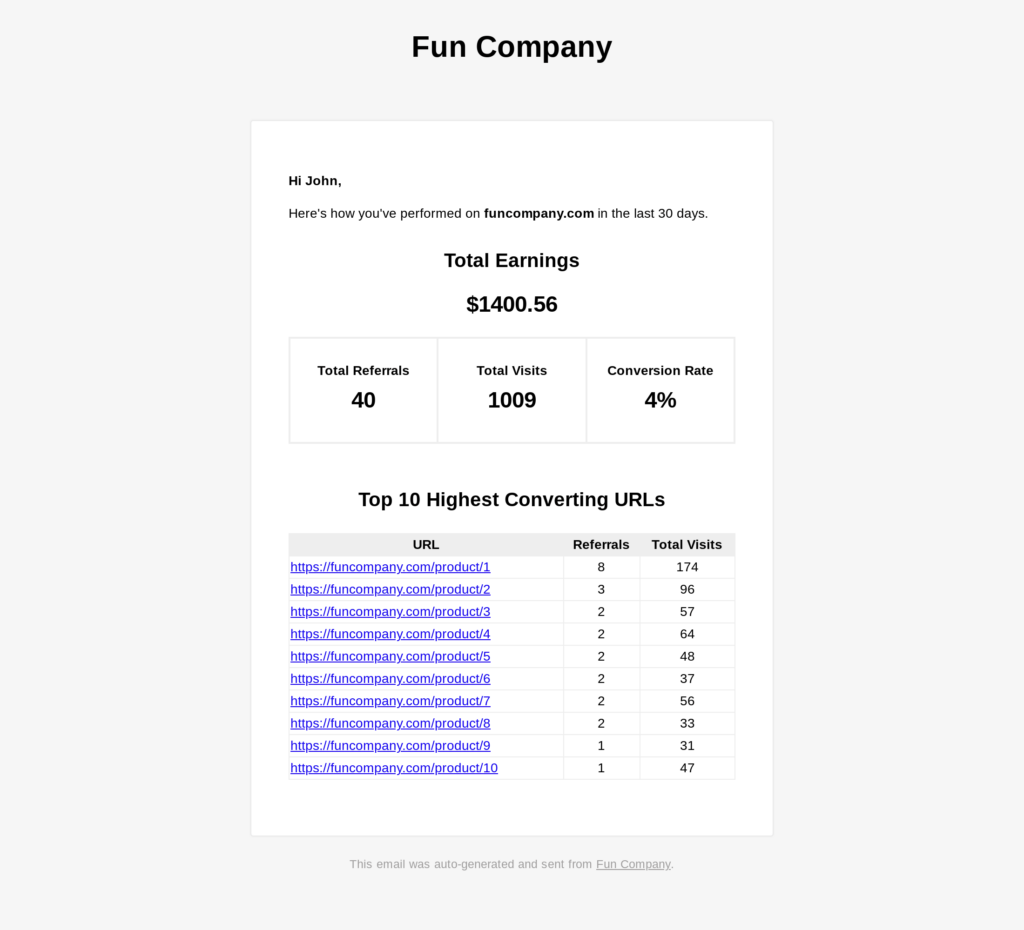 You can easily set this up by going to your AffiliateWP settings and clicking the Emails tab. Scroll down until you see Affiliate Email Summaries, check the check box, and then click Save Changes.

Affiliate email summaries run through WP Mail SMTP, a free plugin that helps you manage WordPress emails, so if you don't already have it set up, you'll be prompted to do so.
Just click the Install and setup WP Mail SMTP notification at the top of the page and follow the steps through.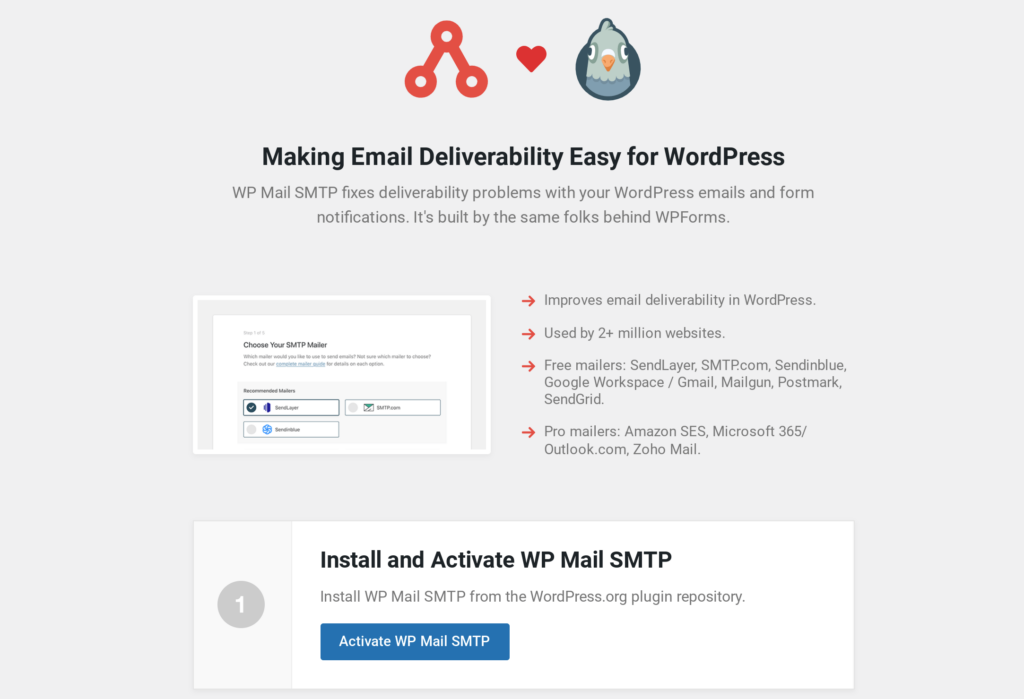 Click the Install button, and WP Mail SMTP will automatically install and activate. Then, all you have to do is click Open Setup Wizard. This will allow you to quickly link your email service provider (we recommend SendLayer) and start sending affiliate email summaries.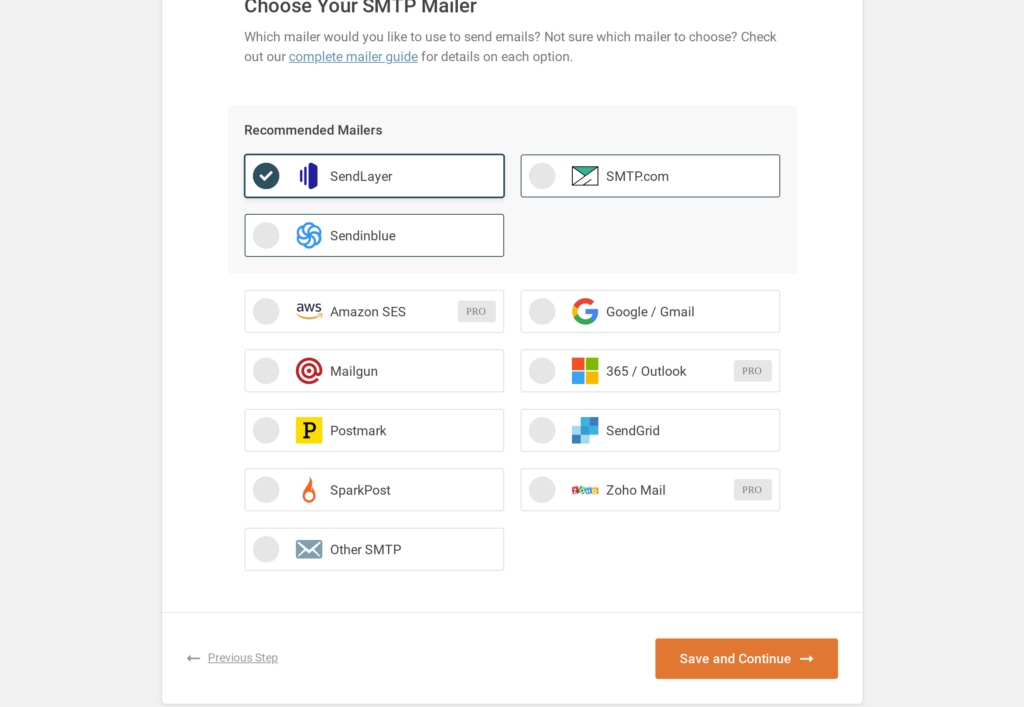 Once set up, monthly affiliate performance email summaries will show an affiliate's key performance indicators (KPIs), including:
Total earnings
Total number of referrals
Total visits (number of clicks)
Conversion rate
Top 10 highest converting URLs
Affiliate email summaries don't just benefit your affiliates though. They're also extremely beneficial for affiliate program managers:
They help keep affiliates engaged with your program
They remind affiliates to update content
They help affiliates to concentrate on your top-converting offers
Email summaries are easy to set up, and they can make a big difference to affiliate performance.
Step 4. Dig Deeper into Affiliate Performance with Real-Time Analytics
Monthly email summaries give you a great snapshot of affiliate performance, but with AffiliateWP, you can dig deeper thanks to real-time analytics.
You can easily see detailed data for visits, referral attribution, campaigns, and payouts, helping you to see the underlying trends of affiliate performance. This is essential when you're looking to optimize your affiliate program.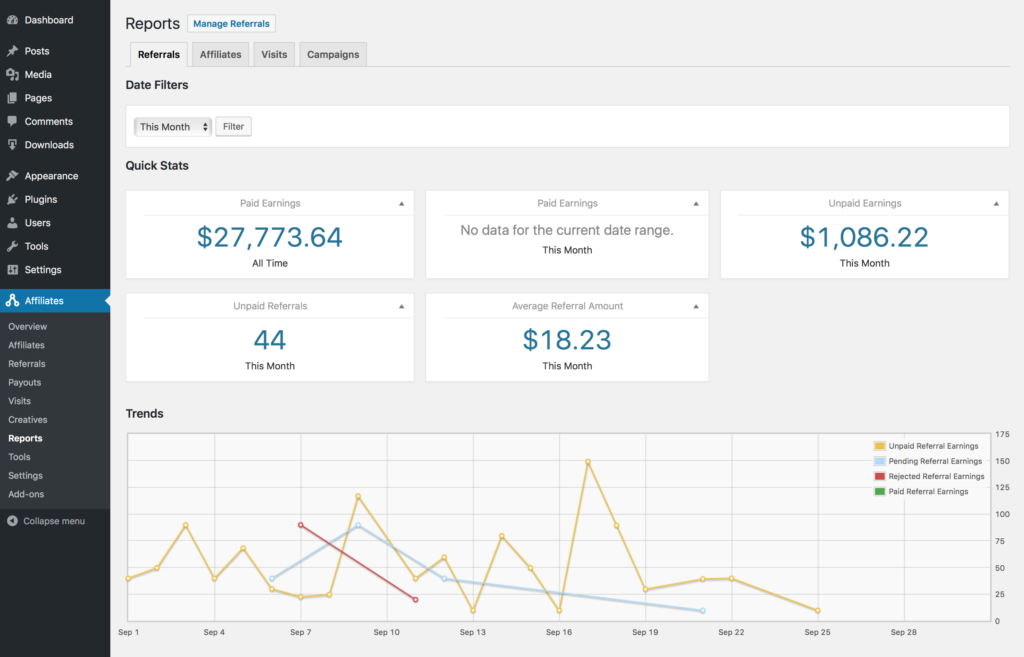 Affiliates also benefit from in-depth analytics that are accessed through the affiliate dashboard. They'll be able to measure their digital marketing campaigns and find new performance optimization strategies.
Analytics help you see what's working and what's not with your affiliate marketing program so you can quickly make changes and continue to grow your e-commerce sales.
Now, Empower Affiliates to Make More Sales
Innovative affiliates (bloggers, social media pros, SEO experts, and more) will constantly find ways to improve their performance, but there's a lot you can do to help them with this.
Here's where AffiliateWP's powerful conversion-focused marketing tools come in.
Features like Affiliate Portal, Vanity Coupon Codes, and Affiliate Landing Pages are designed to enhance the hard work your affiliate partners are putting in. They're there to make the small difference in conversion rates that make a big difference to your affiliates and your earnings.
For instance, if an affiliate sends you 1000 visitors a month at a conversion rate of 1% with an average commission of $20 – that's $200 a month in earnings. However, a personalized affiliate landing page can convert more new customers, as well as increase average order value (AOV), and perhaps push those earnings up to $400 or $500 a month.
These tools grow affiliate sales and help to make your monthly summaries look even better, making your affiliate program work better for everyone.
Affiliate Performance Matters, Keep On Top of It
Maximizing affiliate performance is an essential part of running an affiliate program, and monthly email summaries are a great way to do this.
With AffiliateWP, they're easy to set up, and you also benefit from advanced affiliate analytics to help you keep track of your marketing efforts.
But what about other ways to grow your affiliate channels?
We've got some resources to help with that too:
Now there's only one thing left to do.