[New] Skyrocket Your Affiliate Registration Form Conversions with WPForms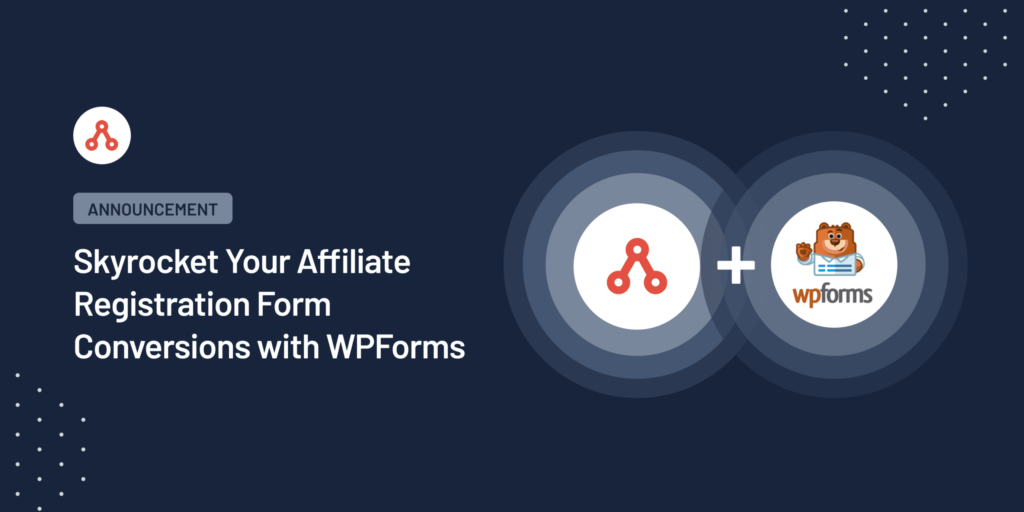 Want to know how customizing affiliate registration forms with WPForms can have a massive impact on your affiliate program?
We've released AffiliateWP 2.11.0 and its extensive integration with WPForms is going to change the way you approach affiliate registration.
Let's take a look at all the juicy details.
Unleash the Power of WPForms, the Best WordPress Form Builder to Revolutionize Your Affiliate Registration Forms
From version 2.11.0, all AffiliateWP customers will be able to effortlessly build affiliate registration forms with WPForms.
We've integrated with both WPForms Lite (free version) and WPForms Pro to give you a seamless experience when creating affiliate registration forms. This opens up a whole world of new possibilities that only the best dedicated form builder can offer.
Create and edit affiliate registration forms in minutes
Embed affiliate registration forms on your pages in just a few clicks
Add advanced fields to collect specific information (WPForms paid plans)
Utilize advanced spam protection features (WPForms paid plans)
Integrate with your email marketing and CRM software (WPForms paid plans)
We want AffiliateWP to integrate with the best WordPress plugins and for form builders, this means WPForms.
High-Converting Affiliate Registration Forms in 3-Steps (+ Affiliate Registration Template)
Over 5 million professionals use WPForms to create smarter forms and surveys, and now you can do the same with your affiliate registration (here's a handy guide you can follow). WPForms Lite is a completely free plugin that's incredibly easy to use and can significantly boost your conversion rate, and we've made things even easier by giving you an affiliate registration template to use. 

Just install the WPForms plugin and add a new form.
If you want to save even more time, then you'll see the Affiliate Registration Form under custom templates, and you can use this as your starting point. Use the drag-and-drop builder to get your form looking exactly how you want it and then click save.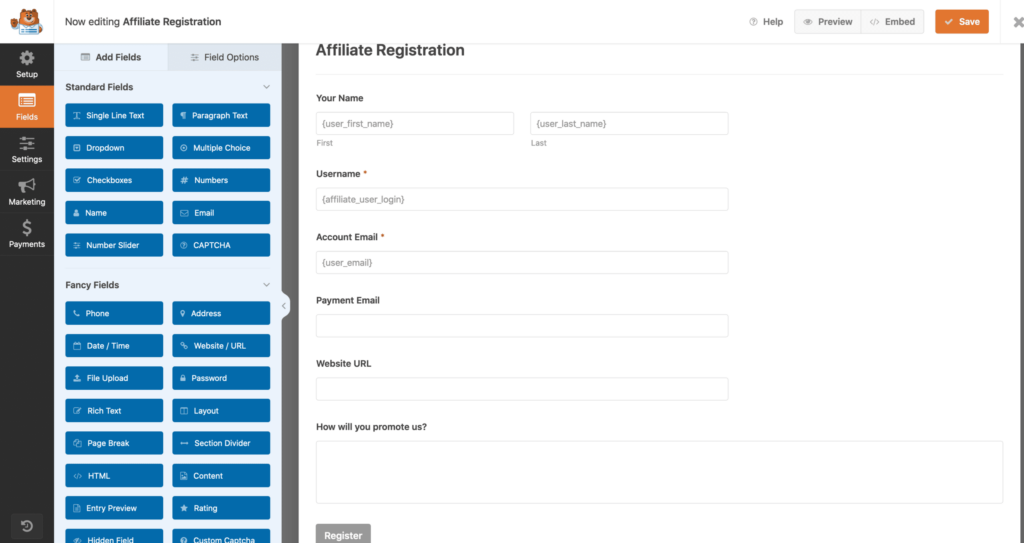 To add your new registration form to your signup page, simply click the Embed button and choose your affiliate registration page.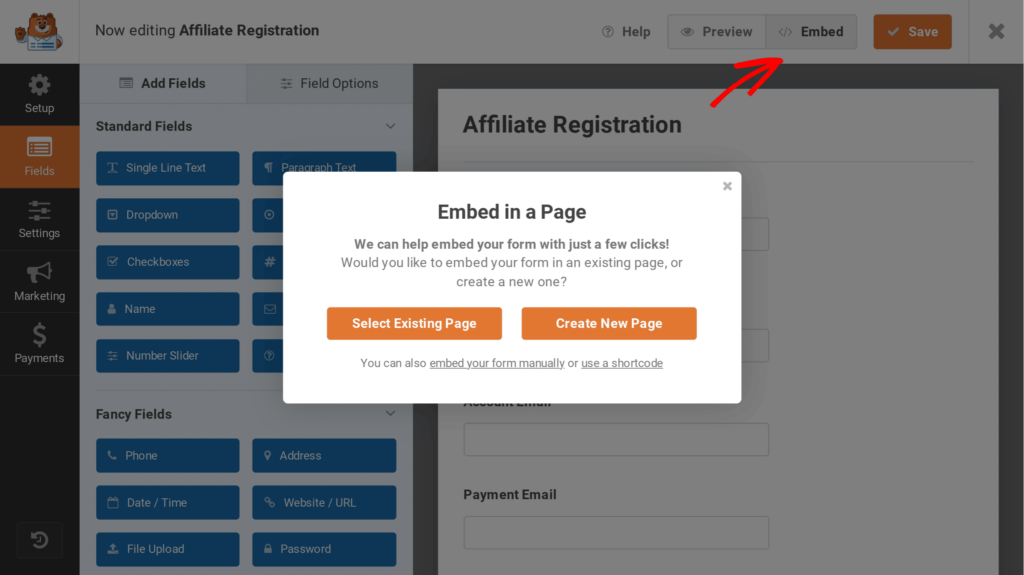 We've also got some great perks for WPForms Pro customers that we will get to in a minute!
If you're using the Affiliate Area page that's automatically generated by AffiliateWP, we recommend replacing the existing Affiliate Registration block with a WPForms block and selecting your new registration form.
Manage Registration Form Settings with a New AffiliateWP Sidebar Section
To make it simple to set up an affiliate registration form we've added a new AffiliateWP section to the Settings tab within the WPForms form builder.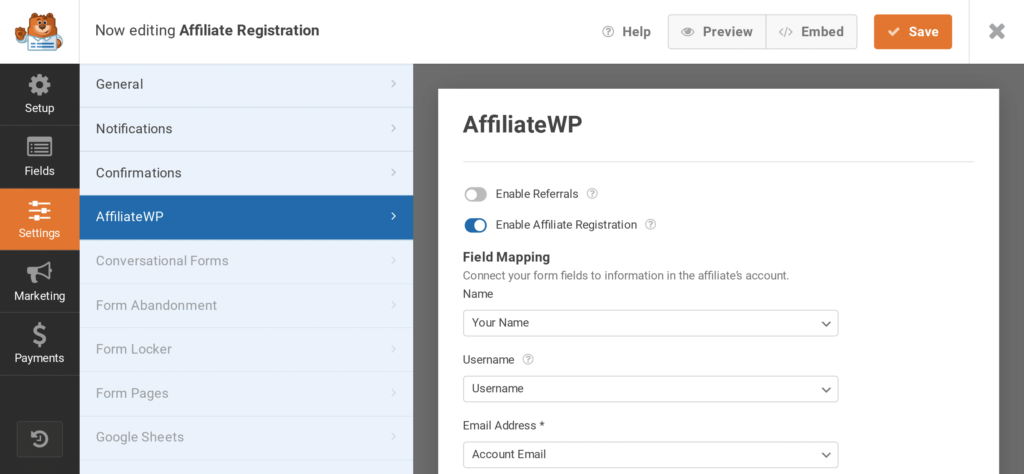 You can use this section to map fields and ensure the information your affiliates submit gets seamlessly transferred over to AffiliateWP. All affiliate information contained in the form will be available from the Edit Affiliate page as soon an affiliate submits a registration.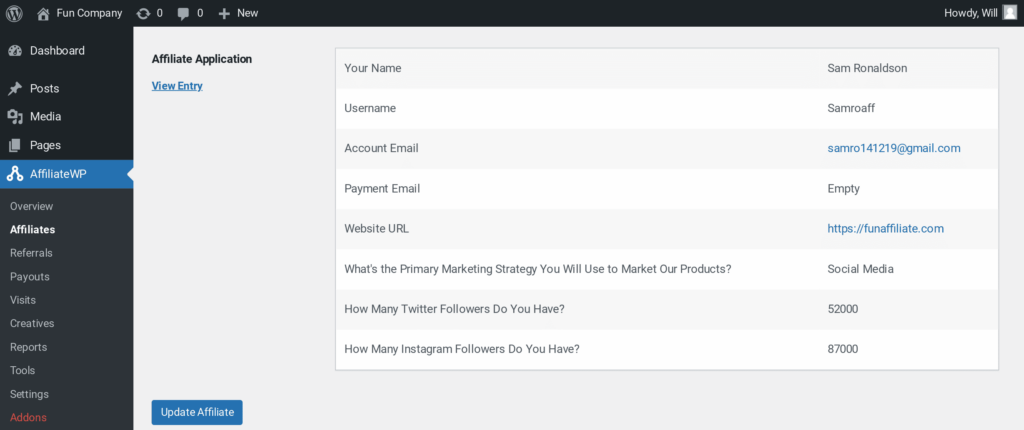 If you're looking to enable referrals on your forms, you'll also find this option under the new AffiliateWP section.
Access Registration Details from the Edit Affiliate Screen
AffiliateWP will automatically sync WPForms submissions to the Edit Affiliate screen. If you have the Require Approval setting enabled then affiliate details will also be available on the Review Affiliate page where you can quickly approve or reject applications.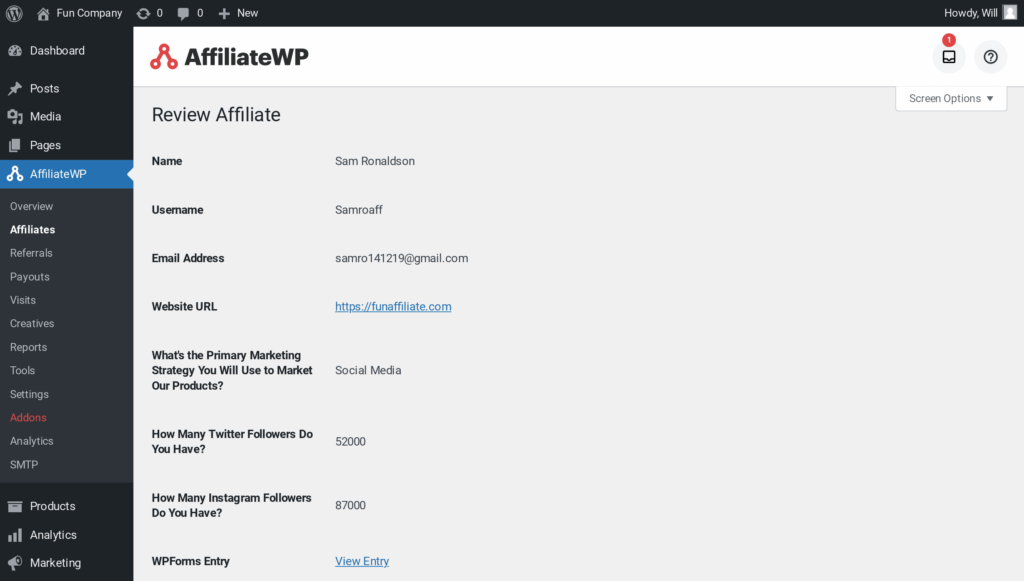 We know that affiliate approval can be a time-consuming process.
It's one area where it pays to do things manually (it's a key step in fraud prevention), but it should also be as time efficient as possible for you. WPForms is going to make a huge difference when it comes to affiliate approval by helping you collect more detailed information, and we're going to give you easy access to all those details.
As an added bonus for WPForms Pro customers, any changes to the submitted form entry will update the affiliate's information on the Edit Affiliate and Review Affiliate screens.
Take Your Forms to the Next Level with WPForms Pro
WPForms Lite is perfect for editing forms and collecting information, but you can take things to a whole new level with the paid plans.
AffiliateWP customers on all plans will be able to leverage some of the most impressive WPForms Pro features to improve automation and maximize conversion rates.
Advanced Spam Protection
Spam affiliate signups are incredibly annoying!
They make it more difficult to filter through legitimate affiliate applications and cost you time and money. That's why WPForms Pro's hCaptcha (also available on Lite), reCAPTCHA (also available on Lite), Custom Captcha, keyword filter, and country filter are such powerful tools.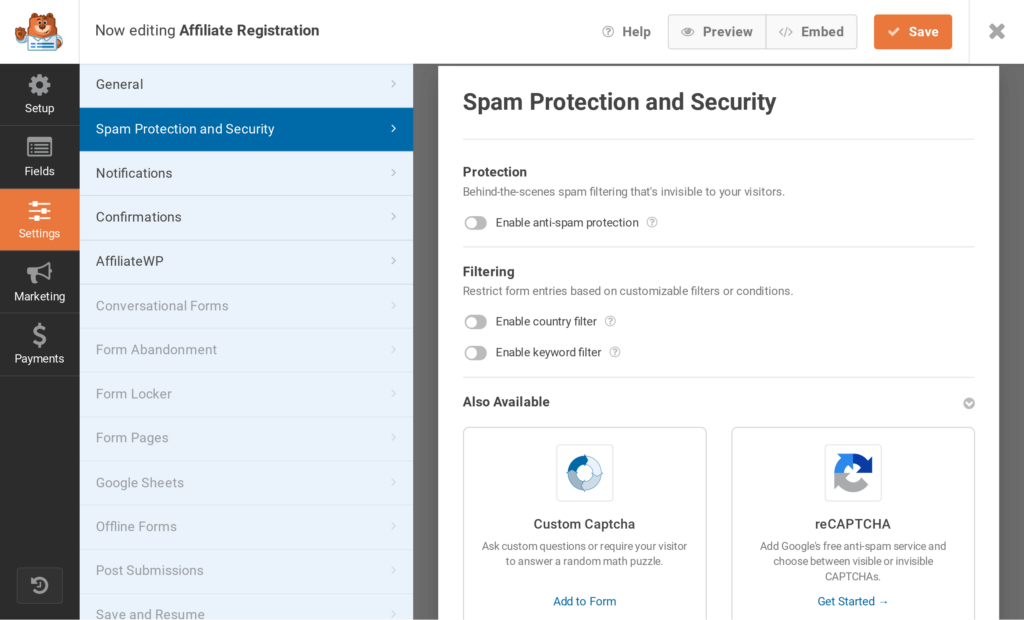 Advanced spam protection will help protect against affiliate fraud as well as save you time on affiliate management.
Conditional Logic
Conditional logic shows or hides fields based on a user's responses to previous questions.
Let's imagine you have a dropdown field asking "what primary marketing strategy will you use to promote our products?"
If someone answers "social media," then you would want to ask some follow-up questions, perhaps about the size of their following on each platform. You could use conditional logic to ask follow-up questions only to people who chose social media as their primary marketing strategy. By asking questions like "how many Twitter followers do you have" only to those people who chose social media as their primary marketing strategy you ensure you're always asking relevant questions.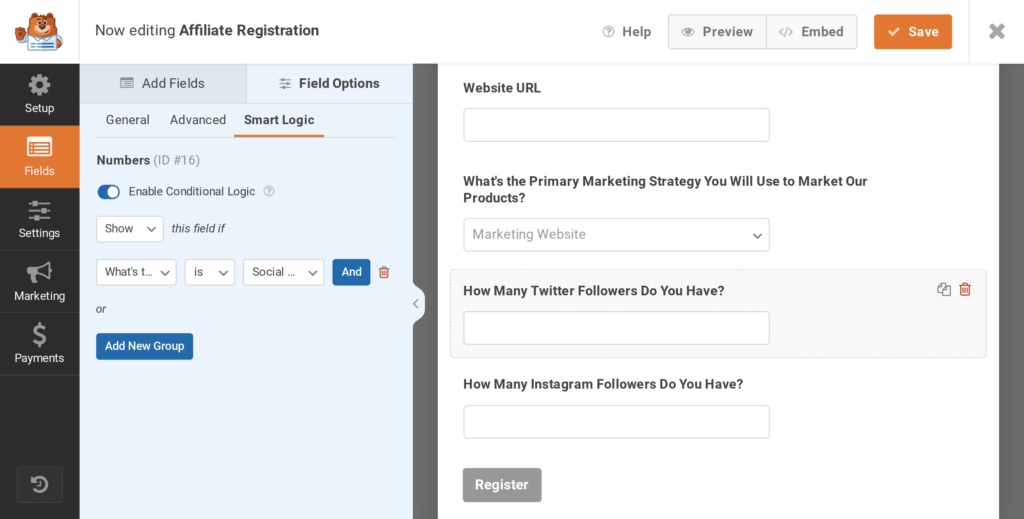 Conditional logic is just another WPForms feature that will make your affiliate registration forms easier to complete while also collecting more useful information.
Easy Entry Management
With WPForms Pro and AffiliateWP you can quickly edit affiliate form responses from the WPForms Entry screen and this information will automatically update in the Edit Affiliate and Review Affiliate screens.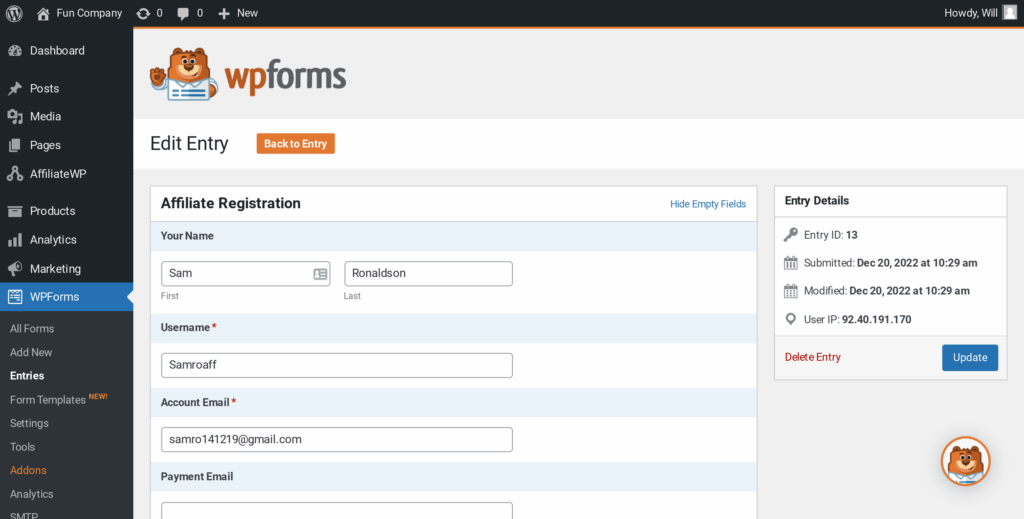 Affiliates may update certain details over time, and the extra flexibility of entry management helps you stay on top of affiliate management. Essentially, we're taking all the ease of use of WPForms Pro and applying it to affiliate management.
Integrations with Major Email Marketing and CRM Software
WPForms Pro makes it incredibly easy to integrate your affiliate registration forms with a wide range of email marketing and CRM software.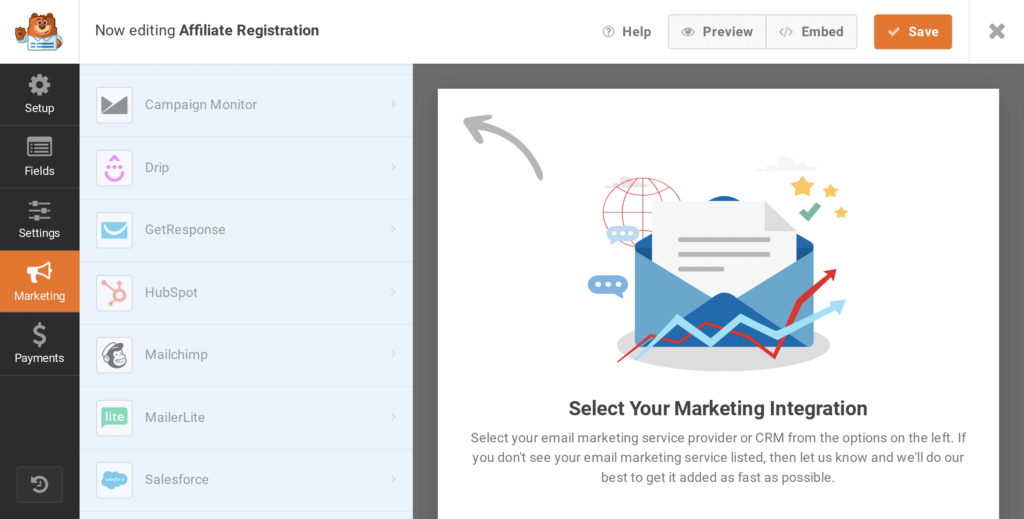 This allows you to automatically add affiliates to your email newsletter or set them up in a CRM software like Salesforce so you can manage aspects like invoicing.
We already offer different ways to integrate with email marketing and CRM software, but none come close to making it as easy and efficient as the new WPForms integration.
And of course, these extra features are all designed to increase your conversion rate to grow your affiliate program. A small change in your form conversion rate can mean you bring in the high-quality affiliates you need to boost revenue drastically.
Quicker Setup, Easier Affiliate Management
Setting up an affiliate program doesn't have to be complicated.
Affiliate marketing is a marketing strategy that can benefit virtually every e-commerce store and membership website, and we want to make it as accessible as possible. The way to do that is through a simple, quick setup and effective affiliate management tools.
That's why we're constantly bringing out new features like customizable WordPress affiliate forms.
And guess what?
We're going to keep innovating and keep making affiliate management even simpler, so watch out for more great updates!
Not using AffiliateWP yet?