A Complete Guide to Setting Affiliate Commission Rates (2023)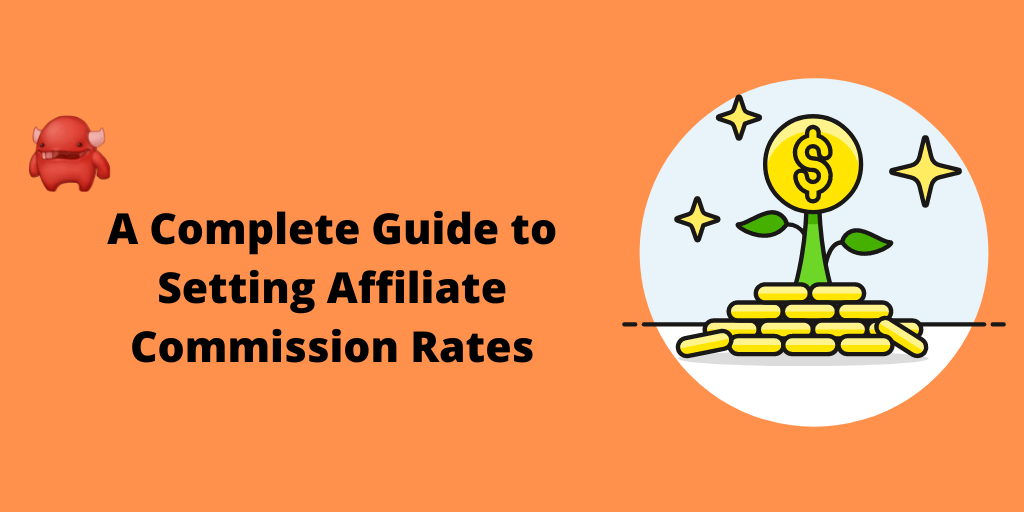 Want to know everything there is to know about affiliate commission rates?
Of course you do! Whether you're an affiliate manager or an affiliate, commission rates are one of the first things you need to know.
So, we've looked at everything you should know about affiliate commissions (affiliate fees) and broken it down into useful categories:
Some of the sections are aimed primarily at affiliate program managers, but this article should also give affiliates a good idea of the value of their work.
Use the links above to scroll to the section that applies to you, and get a complete understanding of affiliate commission rates.
How to Set Affiliate Commission Rates in WordPress
Let's quickly look at how you can set affiliate commission rates in WordPress.
It's incredibly easy, and you can have everything set up in under 10 minutes.
Step 1: Install AffiliateWP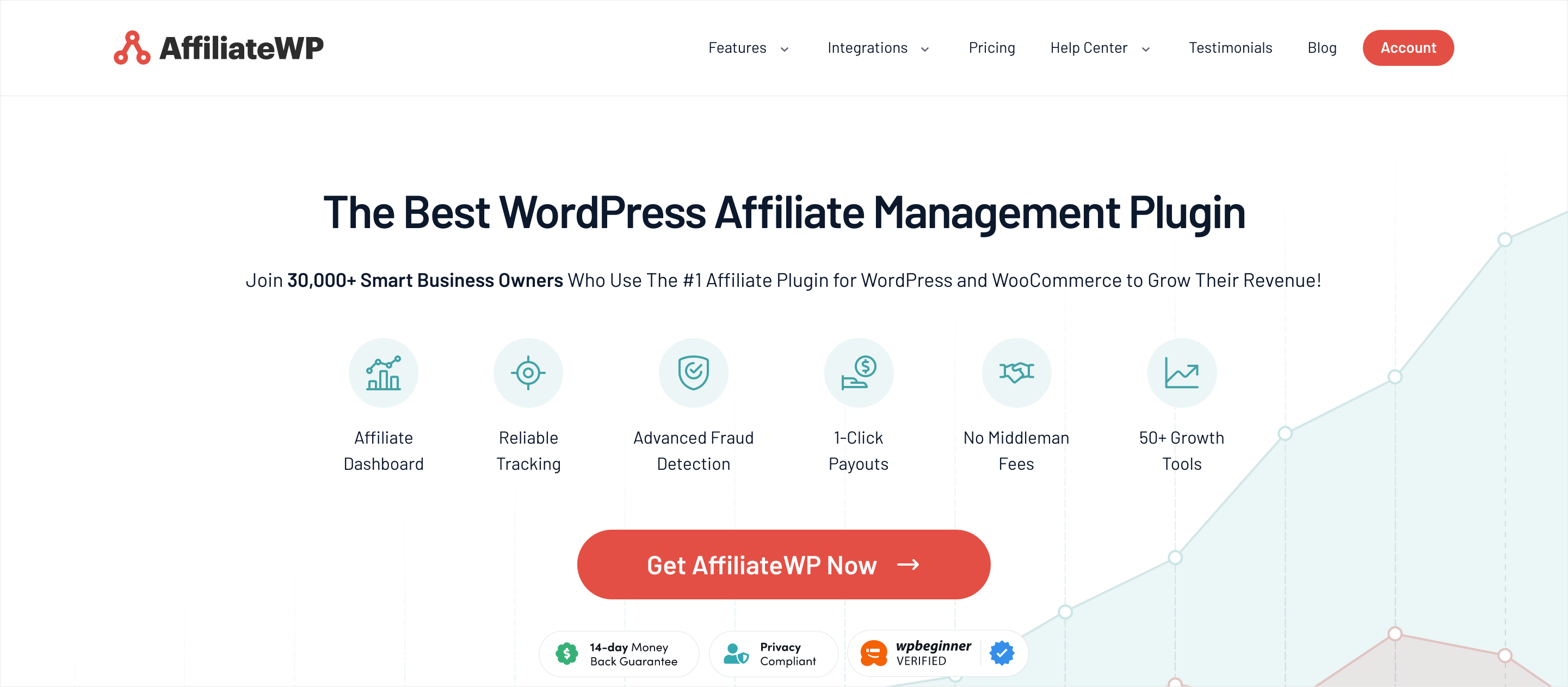 AffiliateWP is the best affiliate management plugin for WordPress.
It's the easiest way to track affiliate links and manage your commission structure, making it incredibly easy to set up a WordPress affiliate program.
The easy setup wizard means there's no need for coding or technical knowledge, and you'll get powerful tools that make affiliate management easy. Throw in some innovative marketing features, and you've got the perfect platform to grow an affiliate program.
You'll be able to implement all the commission types we'll discuss in this article and have complete control over the rates you set.
Percentage rate commissions
Flat fee commissions
Product-specific commissions
Affiliate-specific commission
Tiered commissions rates
Recurring referrals
Lifetime commissions
Head to the pricing page and choose the plan that best fits your needs (for some of the advanced features, you will need the Professional plan).
AffiliateWP is incredibly easy to install, but if you have any problems, then follow this handy document.
Step 2: Complete the Setup Wizard
One of the great things about AffiliateWP is how easy the setup wizard makes it to get started.
Just head to your AffiliateWP settings and click the Launch Setup Wizard button at the bottom of the page, and it will walk you through each step.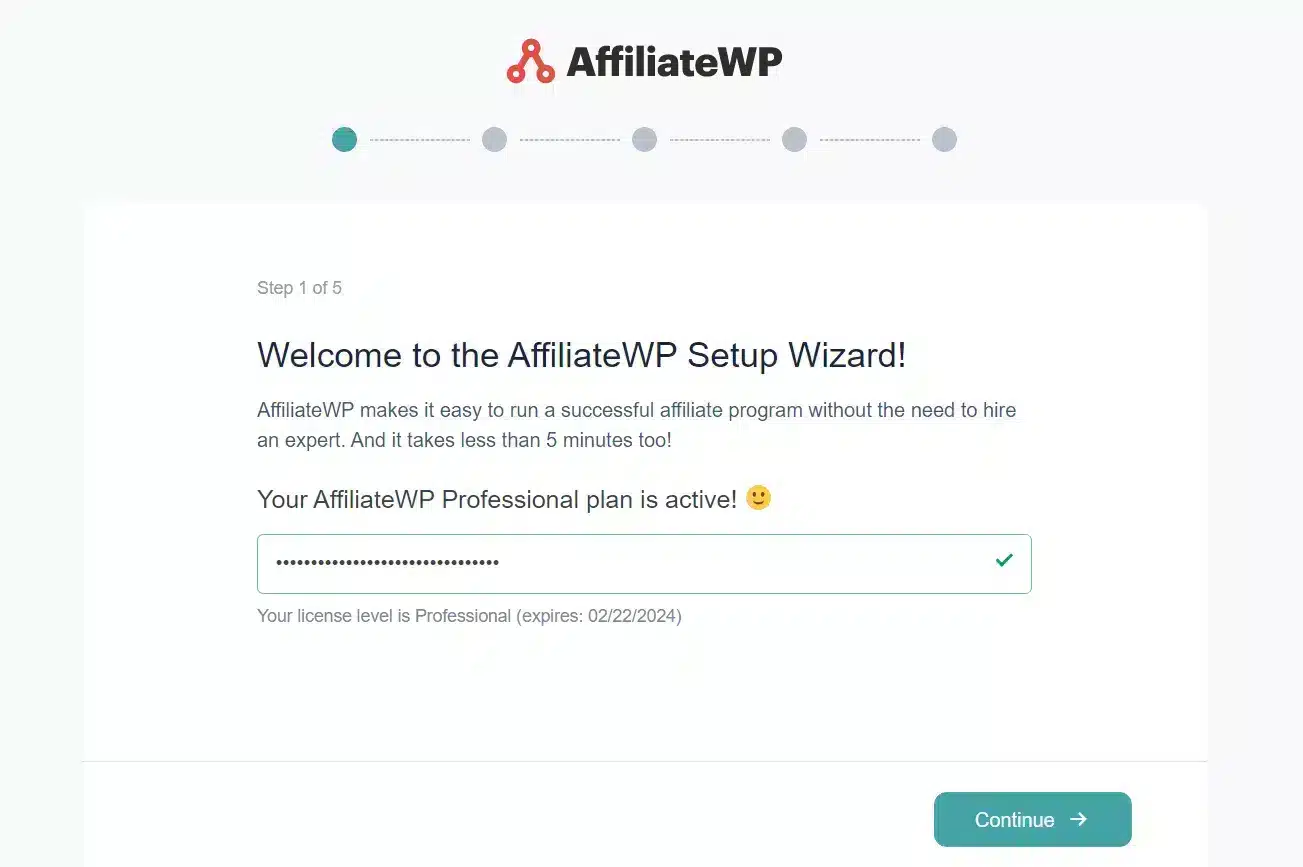 Start by pasting your license key (found in your AffiliateWP account, or confirmation email), and then click Continue.
Now we get to the fun part!
The setup wizard will also guide you through integrating AffiliateWP with your preferred e-commerce or membership plugin, such as WooCommerce, Easy Digital Downloads, or MemberPress.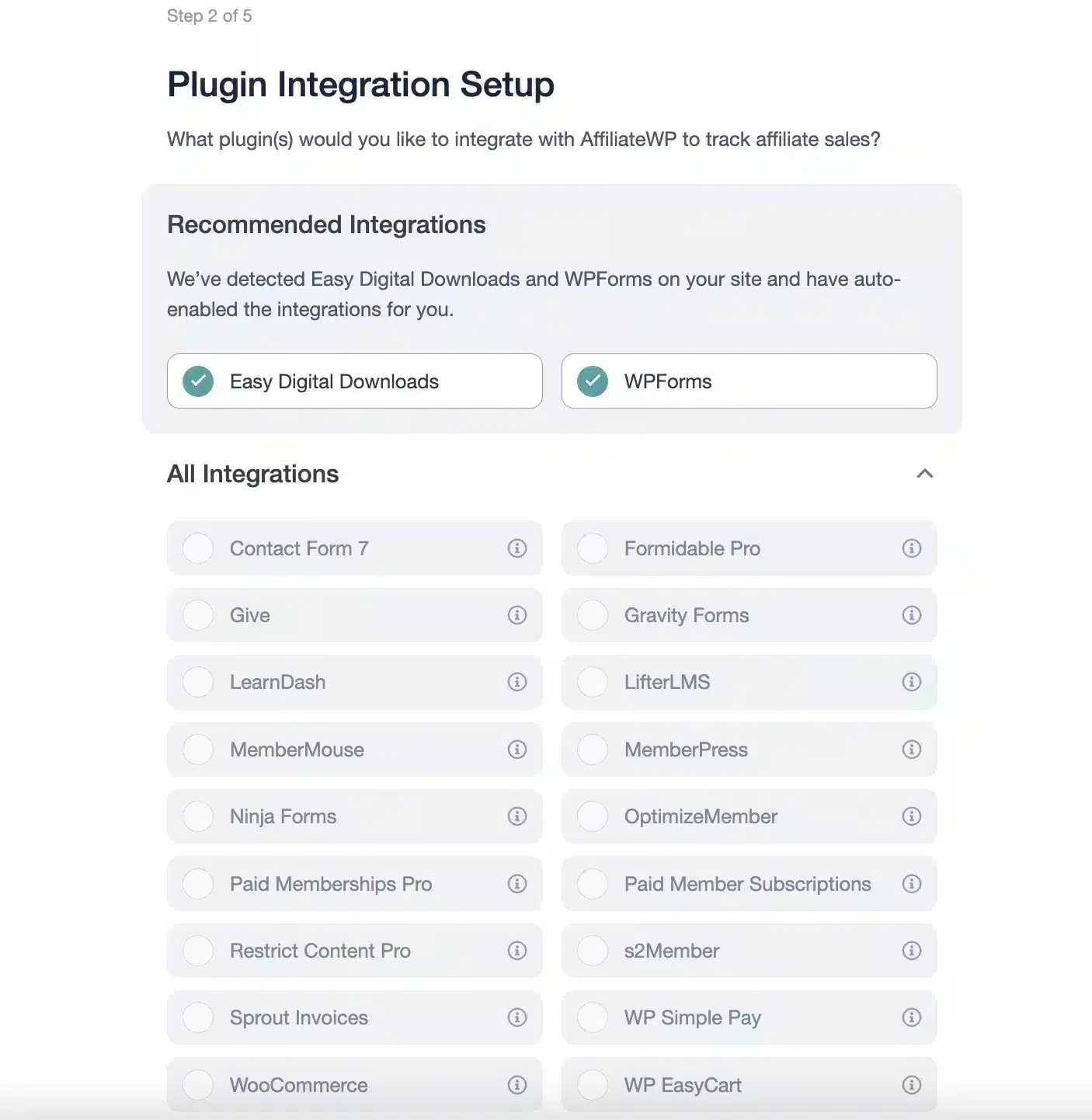 After that, you'll need to choose your preferred payout settings. You can pay your affiliates through the AffiliateWP payout service, use PayPal, or handle payments manually.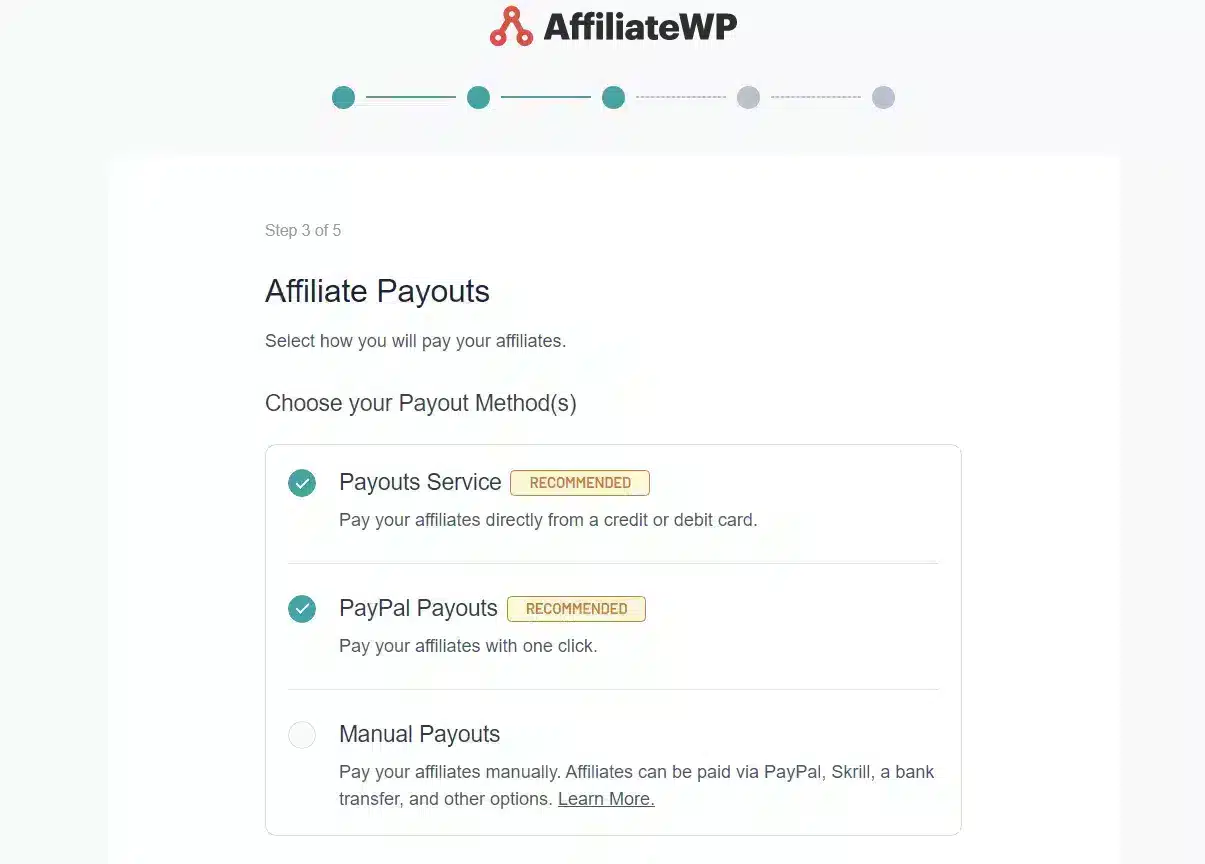 Next, you'll configure basic settings like currency, referral type, and referral amount. These settings establish your global affiliate commission rate, which you can adjust later in the AffiliateWP Settings tab.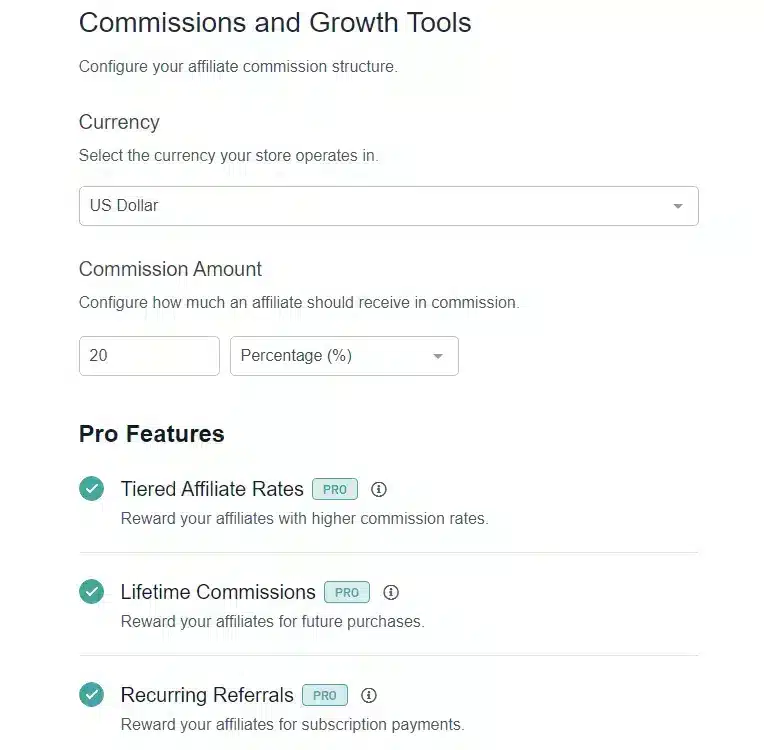 Finally, click Finish Setup and Exit to exit the Setup Wizard.
It's as simple as that.
Whenever you want to adjust your commission structure, go to AffiliateWP » Settings.
Step 3: Set Per-Affiliate Commission Rates
Not every affiliate is the same, and you might want to reward your most successful partners with a custom commission rate.
You can easily do this by going to AffiliateWP > Affiliates.

Click on the affiliate's name and you will be able to set a personalized commission rate.
Step 4: Set Per-Product Commission Rates
You can set product-specific commission rates with many of our integrations (just check your integration's documentation for more details).
We're going to use WooCommerce as an example here.
To set a per-product commission rate just go to the Edit page of the product you want to adjust and scroll to the Product Data box.
Click the AffiliateWP tab on the left-hand side and choose the percentage of flat fee options in the Affiliate Rate Type dropdown. You can then set a product-specific affiliate rate by typing your desired value into the Affiliate Rate box.
Step 5: Customize Your Commission Rates with Addons
AffiliateWP is extremely customizable, and that goes for setting commission rates as well.
We have many great paid and free add-ons to help you set your commission structure up exactly how you want it.
Go to the AffiliateWP Addons page and toggle the buttons to activate your chosen addon.
Affiliate Commission Types
Regarding affiliate commissions, the first thing people want to know is how much!
However, before we look at the big question on everyone's minds, let's look at the different types of affiliate commissions. This distinction is important because a 20% commission rate differs greatly from a $20 flat fee.
How do you choose between offering your affiliates a percentage rate, flat fee, or tiered rates?
It depends on your niche; some industries favor flat rates, while others work strictly with percentage rates. This is where it helps to be aware of your market and competitors!
Percentage Rate Commission
One of the most common types of affiliate commissions, percentage rates give affiliates a set percentage of each sale or a percentage of the customer's total order.
This can be especially motivating for big-ticket items, premium products, and popular products, even if the percentage is low.
For example, if I'm selling a car for $10,000, I might offer my affiliates a 5% commission, which would work out at $500.
Flat Rate Commission
A set, specific one-off fee per order, or per item sold. You might use flat rates to entice new affiliates less familiar with traditional affiliate practices or reward affiliates for new affiliate referrals.
This option is sometimes popular because it's simple, and gives affiliates more certainty.
They know precisely what they're going to get for doing their work. 
In this case, you might offer a $500 flat fee for anyone who helps you to sell your car. This way, even if the seller is negotiated down, the affiliate is still guaranteed the $500.
Tiered Commission Rates
Many affiliate marketing programs use tiered commission rates to motivate affiliates. This allows affiliates to earn more commission the more sales they make. A typical tiered commission structure might look like this:
Sales 1-25: 10% commission
Sales 26-50: 12% commission
Sales 51-75: 15% commission
Sales 75+: 18% commission
If you plan to offer tiered rates, you'll want to consider this when calculating your base rate, so that you leave room to grow without committing to rates you simply can't afford.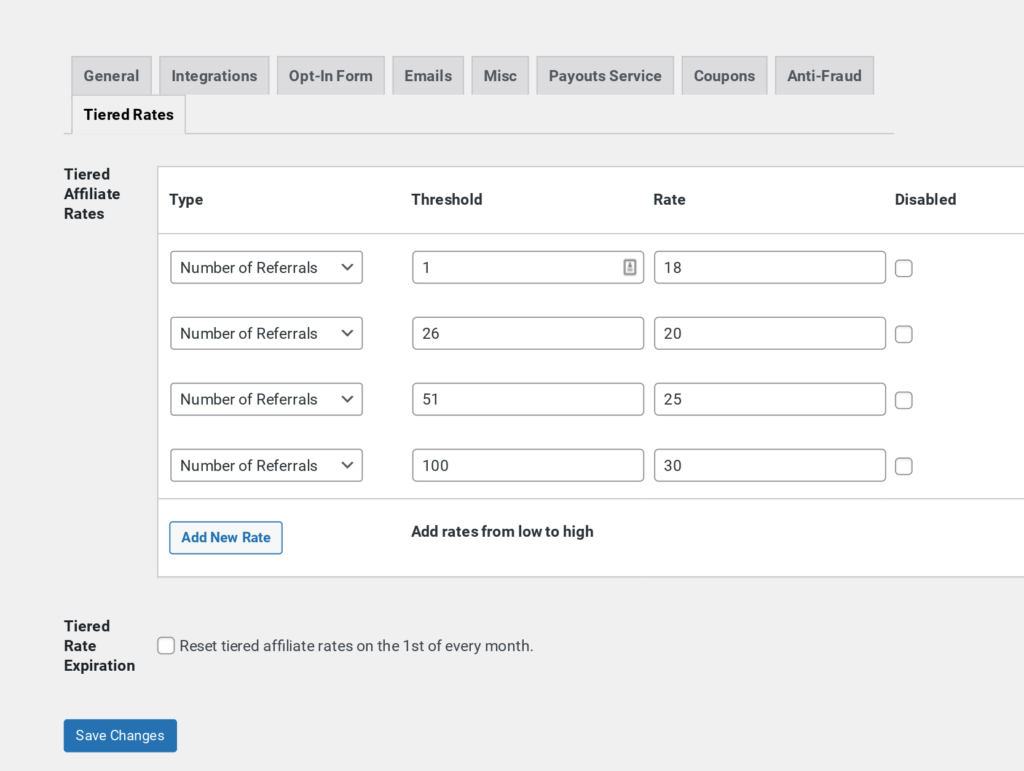 Back to our car dealership, and this might mean affiliates get 5% on their first 10 sales, 6% on sales 11-50, and 7% on sales 50+.
What is a Typical Affiliate Commission?
When you're trying to create your affiliate commission, do you want to know what everyone else is doing right?
Affiliate marketing is used in such a wide range of industries that it's hard to point to benchmarks. With this in mind, the average affiliate commission rate is said to be between 5-30%.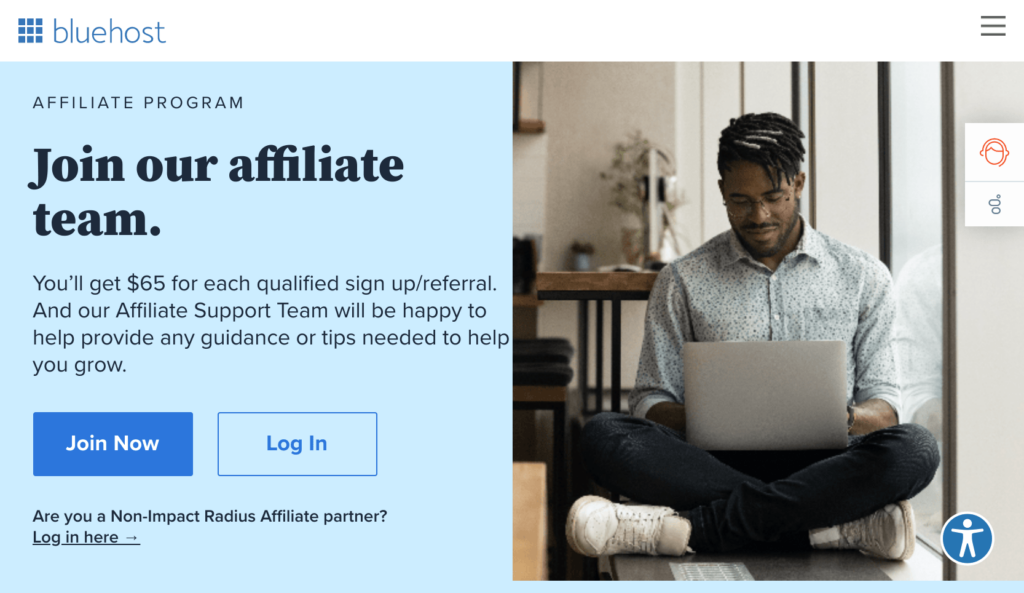 We know, that's a bit broad!
The point is, there's no easy answer to choosing your commission, instead, you've got to look at your business, your customers, and your competitors to come up with an answer that works for your affiliate program.
Guess what?
We're going to show you exactly how to do it.
6 Steps for Setting Your Affiliate Program Commission Rates
If affiliate marketing is to become a big part of your marketing efforts, then you've got to get your commission structure right.
The only way affiliate marketing is successful is if it works for both you and your affiliate partners. Commission isn't the only element in this equation, but it's certainly important. 
Here's a step-by-step guide you should follow to choose the perfect commission rates that will help grow affiliate sales.
Note for affiliates: This section might also be useful for you – it can help you figure out your worth to an affiliate program – perfect if you ask for a custom affiliate rate.
1. What Do Your Margins Allow You to Offer?
Making thousands of affiliate sales is great, but it's all for nothing if you're not making a profit from them. You've got to be able to look at your affiliate products and know exactly what your margins are and how much you can afford to give away in commission.
Make sure you have a firm handle on your budget so that you don't end up committed to commission rates that you can't afford, or end up missing out on quality entrepreneurs because you didn't realize you could afford to pay more.
First, calculate your profit margin, then account for your business costs and expenses. If you calculate that a commission rate would take away from your profits, it's probably too high!
The best affiliate products have a good margin built-in so that there's more room to reward affiliates, which means affiliate marketing isn't right for every business.
2. Understand Your Customer
Understanding your target audience is essential to everything in digital marketing and e-commerce, so it's not surprising that it factors into your affiliate commissions.
One of the key things you want to look at is your customer lifetime value: how much do your customers spend with you throughout your relationship?
If your customer's lifetime value is $5,000, then paying out a 20% commission on a first sale of $500 suddenly looks very attractive.
Understanding your customer also helps you identify the types of affiliates and influencers you're looking to recruit:
Are they beginners or more experienced? A startup might have different expectations for its affiliate income than an established affiliate site. This might also factor into the equation if they have a good search engine presence or a big social following.
What kind of audiences do they have access to? What niches do they appeal to? Are they a review site, retailer, etc?
What platforms do they use? Are they bloggers utilizing SEO, PPC marketers, social media experts, email marketing specialists, YouTube video pros, etc?
Are they selling budget products or premium items? The types of products they market will dictate the payouts they might expect.
All of this is vital information when you're choosing your commission.
3. Look at Your Industry and Competition
Let's say you're a frontrunner on the scene of a reasonably new market – in this case, you have more flexibility in the rates you choose. However, if you're in a highly saturated market and you've got a lot of fast-moving competition, you may not get away with that; higher commission rates might be required to keep you in the game.
What if you sell super niche products?
In this case, you may have to give affiliates more per sale to attract enough people. More specialized products can get lost in the crowd, and you may need to offer better deals for affiliates if you want to reach enough potential customers.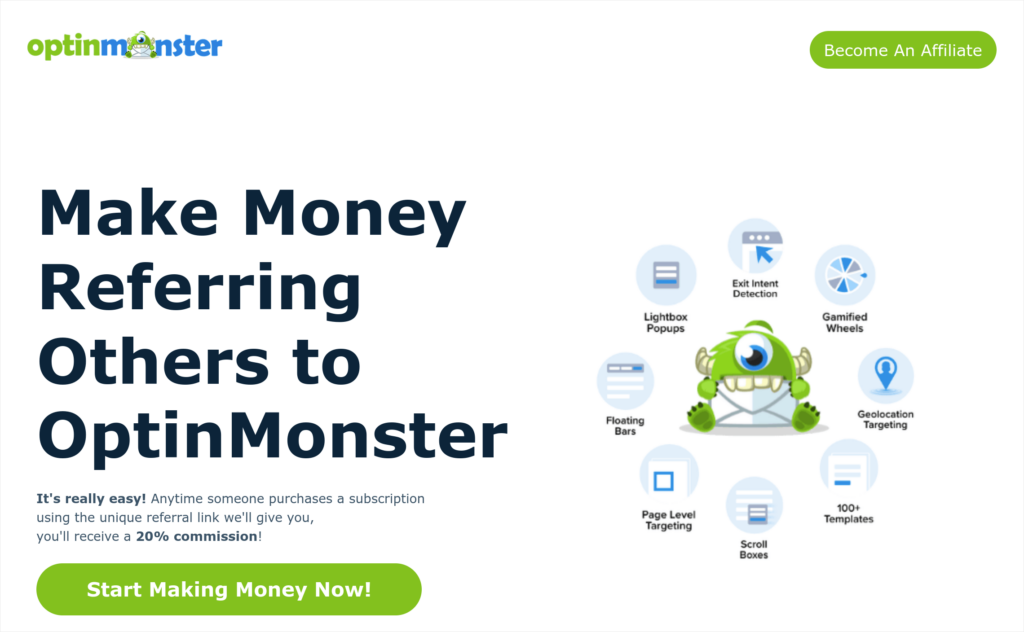 Alternately, working within certain niches might benefit you because affiliates in that niche may have fewer options, and be more willing to accept lower rates. They also might be more dedicated to the niche, and more passionate about promoting relevant products.
You also want to think about your competitors (also big affiliate networks like ClickBank, Shareasale, AmazonAffiliates, and Commission Junction to get a general idea of what affiliate managers are offering):
What commission rates are they offering?
What additional resources do they give their affiliates?
How do they recruit affiliates?
Researching this can give you a good idea of a rough strategy (and commission rate) to work with.
4. Consider Your Product Prices
If your products are higher-priced, higher-quality, life-changing, money-saving, or high-value, you may get away with lower commission rates. This can be because commission percentages on higher prices result in a higher dollar amount per sale, or because the products are so in demand that the sheer number of sales adds up nicely for your affiliates.
When it comes to online businesses and digital products (web hosting, templates, plugins, podcasts, online tutorials, webinars), commission rates tend to be on the higher end, often 50% or above, with some as high as 70-80%, or even 100% in the case of initial sales incentives or activation bonuses!
How is this possible?
Well, primarily because digital products have such a high-profit margin. With digital products, you have more room to experiment, because you likely have fewer overhead costs compared to physical products.
Compare these rates to those of physical products, which commonly pay much lower commissions due to the higher production costs.
Amazon Associates pays an average rate of between 3% and 12%, for example, and Target offers up to 8% depending on the types of products and the number of sales. However, even if these rates are lower, a high sales volume can produce more money for your affiliates in the long run.
5. Think About Additional Incentives
To make good affiliates great, consider implementing incentives that reward them for improved performance, no matter where they started. Cash bonuses and increased commission rates for improved performance give opportunities to more than just your top sellers and can help to get dormant affiliates promoting again.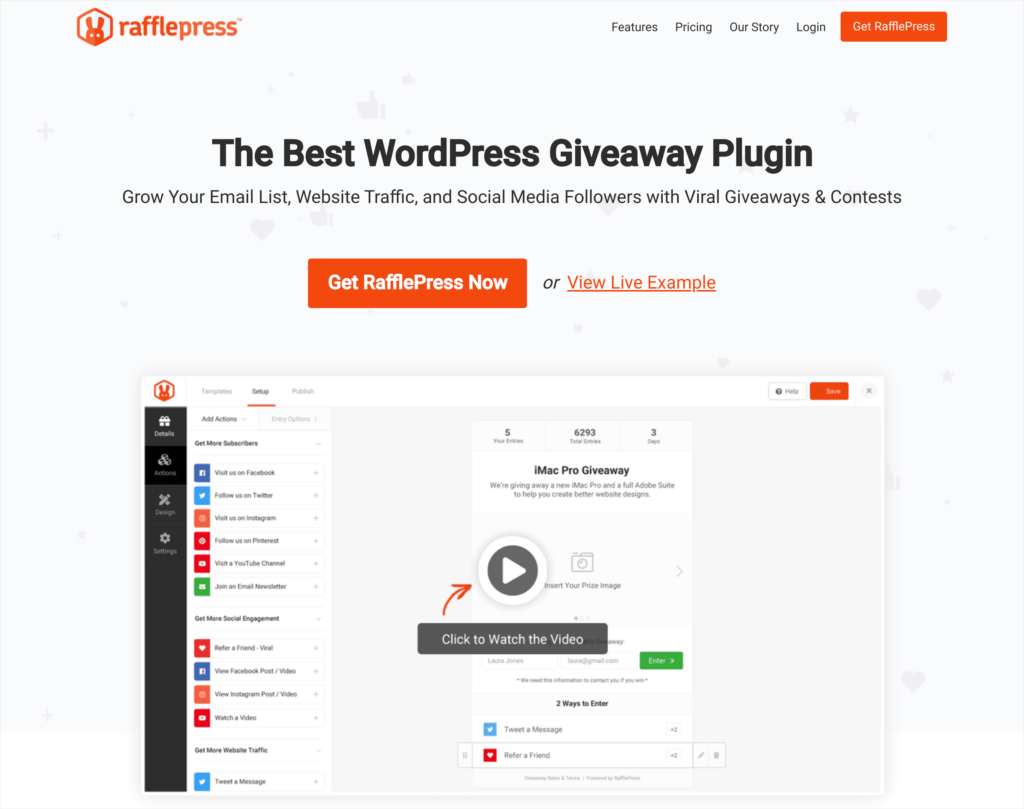 Here are some tools you should be using to incentivize affiliates further:
Lifetime Commissions: Allow affiliates to receive a recurring commission on all future purchases the customer makes.
Recurring Referrals: Ensure affiliates get a payout every time your customer renews their subscription.
Competitions and Prizes: Use RafflePress to incentivize each positive action your affiliate takes.
Leaderboards: Create a sense of competition and reward your top-performing affiliates.
Sign-Up Bonus: Offer an upfront bonus to new affiliates who sign up (you might set a minimum requirement for the number of sales before you payout).
Remember that affiliates and content creators don't just want a commission. They want to create win-win partnerships, so look beyond commission and ensure you're offering the complete package.
6. Look at it From the Affiliate's Perspective
We talk a lot about passive income in affiliate marketing, but in reality, it takes hard work on both sides. You've got to look at the work your affiliates are putting in and ask yourself how much it's worth.
When determining the affiliate commission rate that will bring the right people to your partner program, you want to think about things from a successful affiliate's point of view.
Their goal is generally monetization of their content creation.
High commissions might be eye-catching, but your affiliates need you to convert. This means they will look at your landing pages, product reviews, content, coupons, and marketing campaigns to evaluate your potential conversion rates.
If you can demonstrate you do these things well and have a successful, high-quality sales funnel, then you might be able to offer a slightly lower commission rate.
Next Step, Converting for Your Affiliates
Once your affiliates have sent you high-quality traffic it's up to you to convert.
You must work on optimizing your landing page and providing the best possible user experience.
Another great tool you can use here is Personalized Affiliate Landing Pages. They allow you to create bespoke content highlighting the relationship between you and your affiliate, leveraging social proof to your advantage.
They have a huge impact on conversion rates, and they're a great way to reward top affiliates.
FAQs Affiliate Commission Rates
How Do You Earn Affiliate Commissions?
You can earn affiliate commissions by signing up for an affiliate program. Once you become an affiliate, you can create affiliate links to promote the program's products. When one of your readers clicks the affiliate link and purchases on the merchant's site, you will earn an affiliate commission.
What is the Difference Between Affiliate and Referral?
An affiliate is a person who promotes affiliate links, whereas a referral is an action someone takes after clicking an affiliate link. You can set your affiliate software to track different referral types (sale, sign up, opt-in, and more). When a customer completes one of these actions after coming from an affiliate's website, then a referral is created, and the affiliate receives attribution.
What are the Advantages to Affiliate Commissions?
The big advantage of affiliate commissions is that you don't pay out until after you've made the sale. This makes affiliate marketing very low risk because there aren't many start-up costs. You pay affiliates when they make sales, and your commission structure can be flexible.
What is a Good Commission Rate for Affiliates?
Standard affiliate rates vary from anywhere between 5% and 25%. Affiliate commissions can be very different depending on the industry you work in, but generally, 20% is seen as a fair commission.
You Need Control Over Your Affiliate Commission Rates and Payouts
Whether you're a small business or a huge brand, you need complete control over your affiliate commission rates. Your marketing strategies change with time, and so will your commissions, so you need different tools to continue incentivizing affiliates.
Looking for more great resources to help you grow your affiliate program?
We've got you covered:
So, now you know everything there is to know about affiliate commission rates, and there's only 1 step left to take.