How to Start a Charity Affiliate Marketing Program (2023)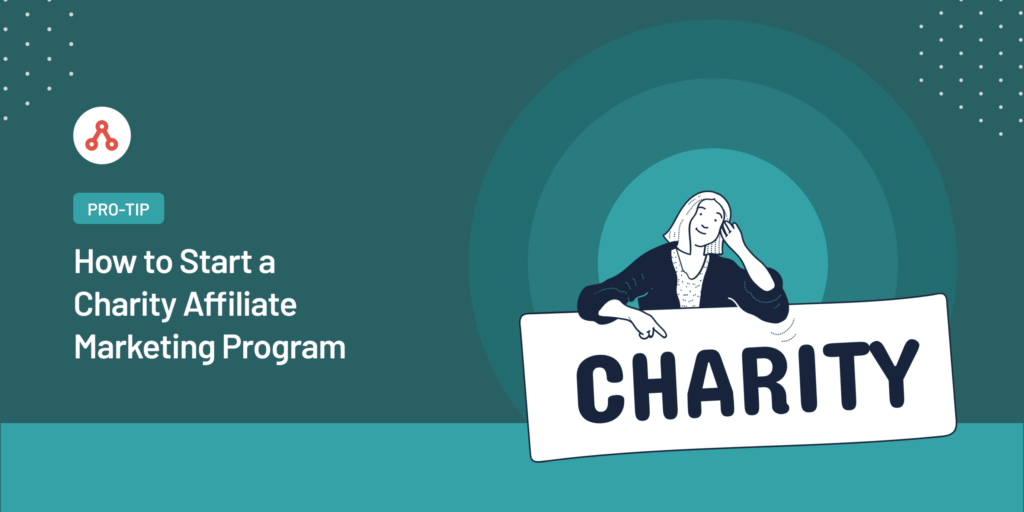 Ready to start a charity affiliate marketing program?
It's a great idea that can significantly boost your charity's donations!
So, let's take a look at how you can set up a charity affiliate marketing program.
Can Charity Affiliate Marketing Make a Difference?
Affiliate marketing is an incredibly powerful marketing strategy. It doesn't matter whether you're trying to generate leads, sell products, or attract charitable donations, there are people out there with the ability to influence your target audience, and you should be tapping into that.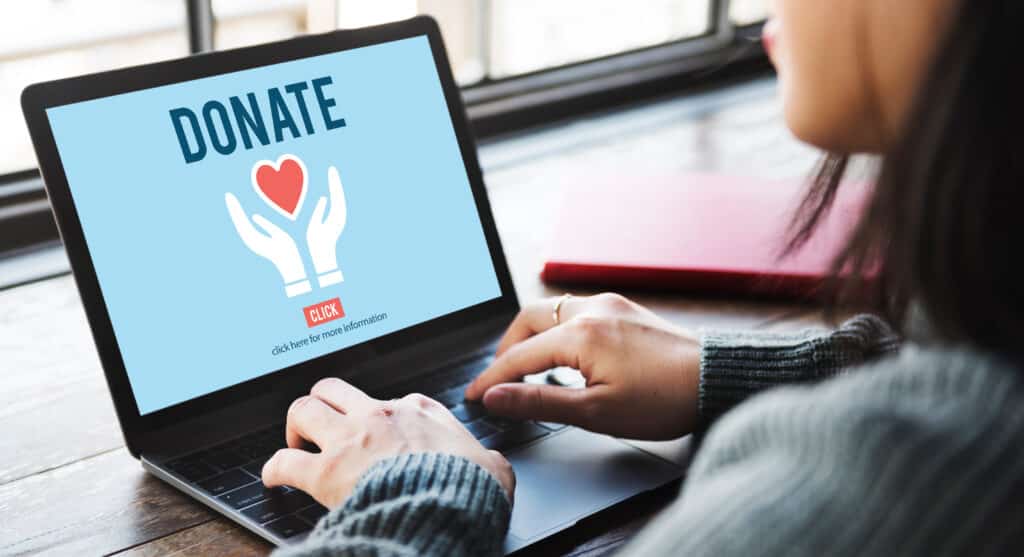 Charities around the world spend 10s of millions of dollars on advertising, so paying an affiliate to help you bring in leads is nothing new.
Unlike with other forms of advertising, though, you don't pay an affiliate until they make a conversion (in this case, someone they send to your site donates). This means setting up a charity affiliate marketing program is very low risk, and potentially extremely rewarding.
It's just one of many charity marketing strategies, but it's certainly one to explore.
Now, setting up your own charity affiliate marketing program might seem complicated, but we're here to tell you it's not. We're going to show you how to set up a thriving affiliate program for your donations, without the need for any coding or technical knowledge, all in under 10 minutes.
Set Up a Charity Affiliate Marketing Program with These Simple Steps
You can actually start your affiliate marketing program in just 2 steps, but we're going to throw in some bonus ones to make sure you're absolutely ready to start tracking referrals on donations.
Here are the steps we're going to look at.
Install AffiliateWP
Choose How to Accept Donations
Integrate AffiliateWP with Your Chosen Donation Platform
Edit Your Affiliate Signup Page
Track Referrals with Real-Time Analytics
Pay Affiliates
These steps are going to help you to effortlessly track referrals on charitable donations directly from your WordPress website.
Step 1: Install AffiliateWP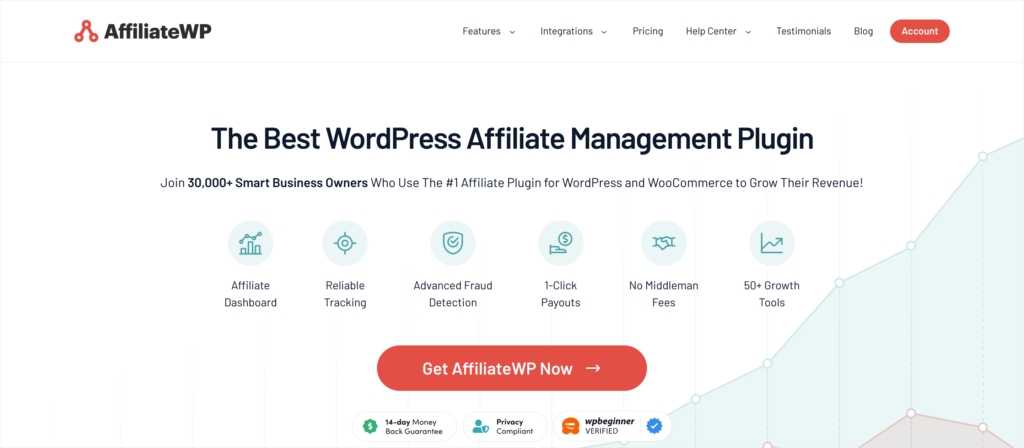 AffiliateWP is the best affiliate management plugin for WordPress.
Its easy setup wizard enables you to set up a WordPress affiliate program in under 10 minutes, and its powerful tools make affiliate management simple. Throw in some innovative growth features like Affiliate Landing Pages and Direct Link Tracking, and you've got everything you need to boost your donations.
In just a few minutes, AffiliateWP will help you set up everything you need to run a charity affiliate program:
Affiliate signup page and registration form
Affiliate dashboard with URL generator
Easy affiliate management interface
Analytics to track performance
Payouts service to facilitate payouts
Simply head to the pricing page and choose the plan that best fits your needs.
You can quickly download the plugin and then you're ready to start setting up your charity affiliate program. If you get stuck at any point, just follow this simple guide!
Step 2: Choose How to Accept Donations
Now that you've got powerful referral tracking installed, it's time to choose how you're going to accept donations. AffiliateWP integrates with 3 different plugins to give you multiple options for how you do this.
PayPal and Stripe are widely used payment gateways that allow you to set up donations, and, GiveWP is a WordPress plugin that's completely dedicated to donations.
They're all easy to set up and will allow you to create donation buttons and forms for both one-off and subscription payments.
Take a look at each option and decide which one works best for you. You can quickly get started, and you'll find you can set up donation buttons and forms in just a few minutes using the helpful documentation:
These guides will help you get your donation process set up, and then we can look at how to track referrals.
Step 3: Integrate AffiliateWP with Your Chosen Donation Platform
Whichever donation platform you've chosen, you'll be able to integrate it with AffiliateWP in a click using the setup wizard.
Head to the AffiliateWP Settings page and scroll to the bottom before clicking Launch Setup Wizard.
The first step of the setup wizard is to insert your license key which you can find in your AffiliateWP account or confirmation email. Copy the code and paste it into the box and then click Continue.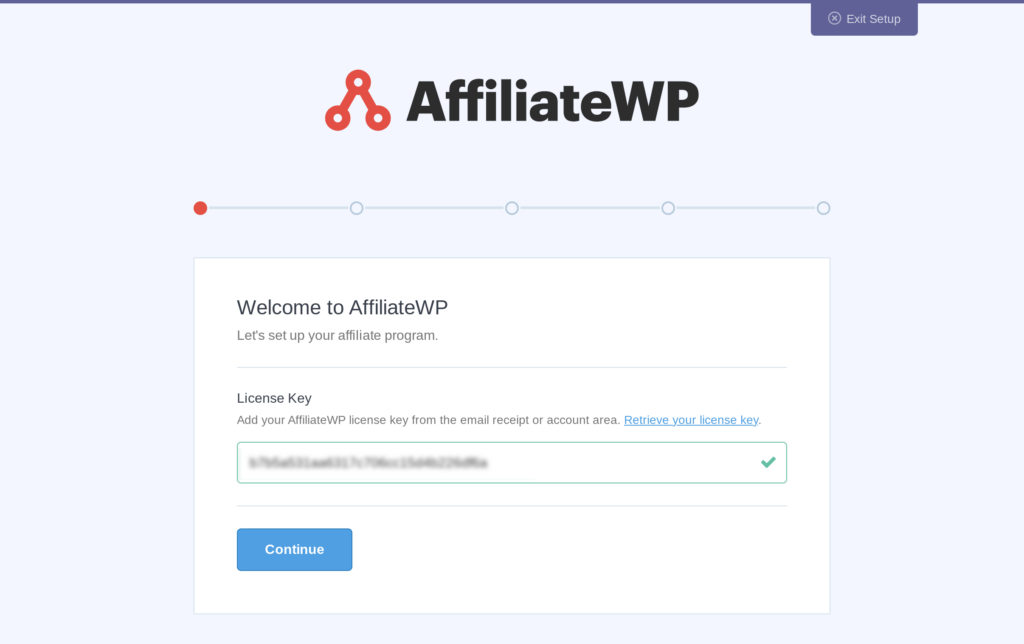 On the next page you will see a list of integrations. PayPal and Stripe (which integrates through WP Simple Pay – see how this works in this guide) are listed under eCommerce plugins and GiveWP is listed under Donations.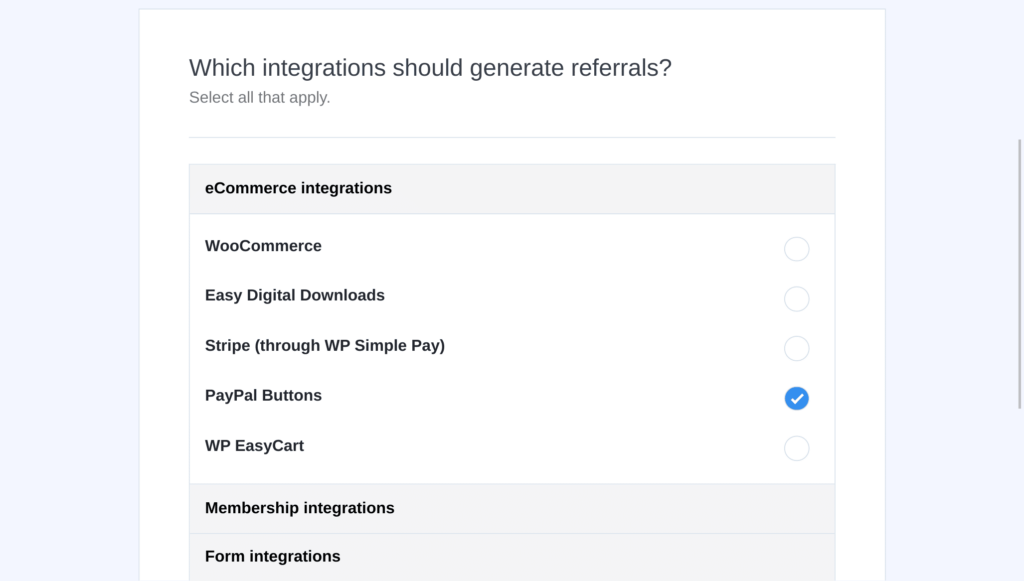 Check the checkbox next to your chosen integration and click Continue.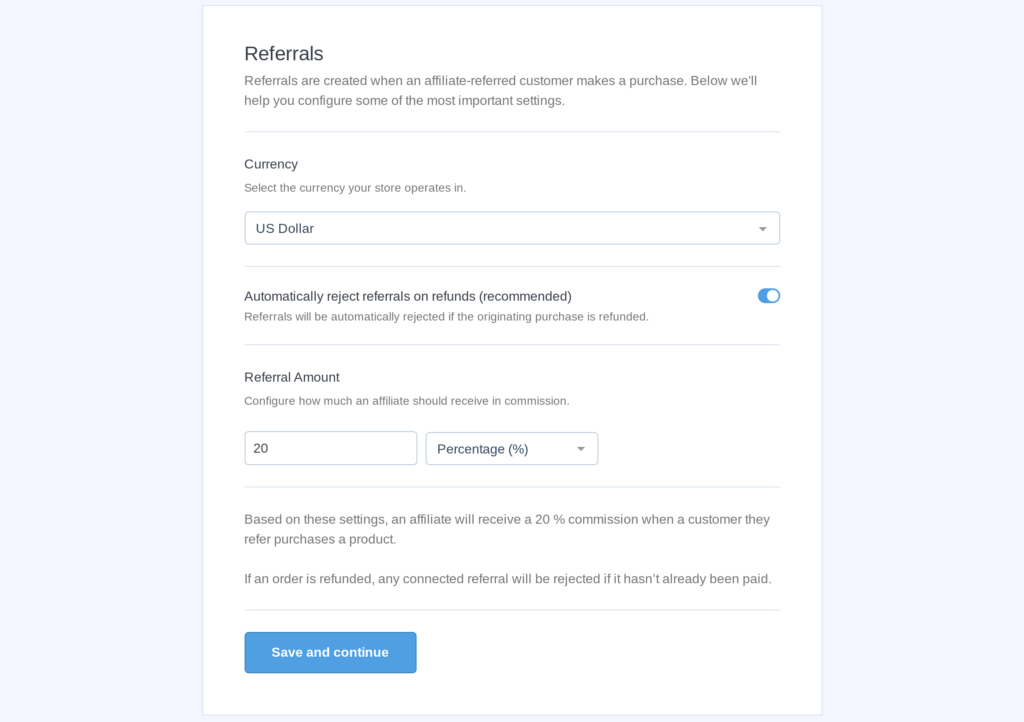 Now you'll be asked to choose your affiliate commission structure (check out this ultimate guide on affiliate commissions for inspiration). Choose your currency, commission value, and referral type (percentage or flat fee). Don't worry, you can always change these details at a later date from your AffiliateWP Settings.
Click Save and Continue to head to the next page.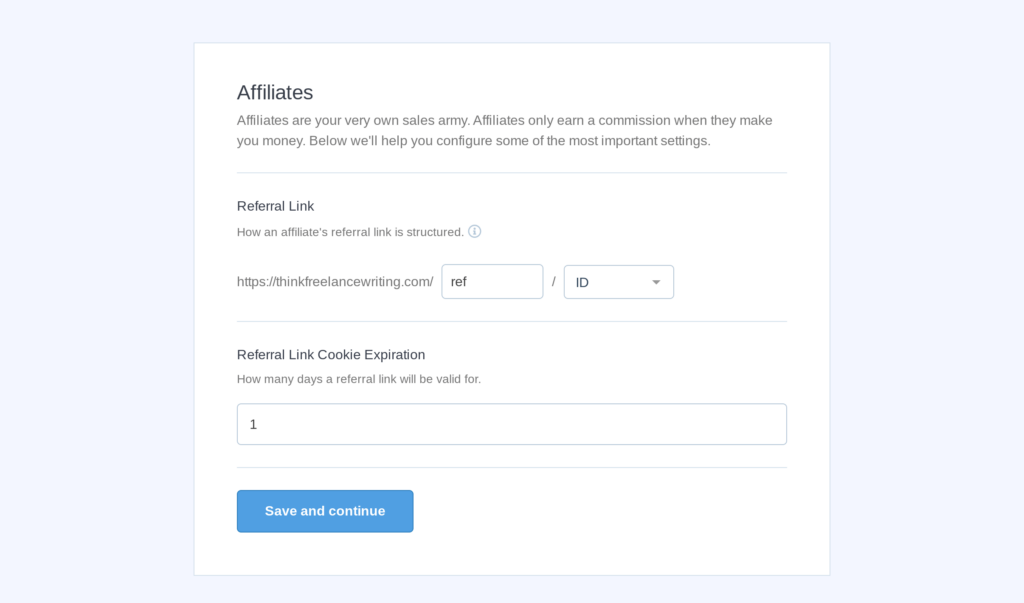 The last step is to choose how long your cookies should last – we've got another great guide to help you with this, so check it out. Once again, you can always edit this in the future by going to your Settings.
That's it, just click Save and Continue and you'll be brought to a confirmation page where you can click Finish the Setup and Exit the Wizard.
Step 4: Edit Your Affiliate Signup Page
Once you've got your referral tracking set up, the next step is to start signing up top affiliates.
When you complete the setup wizard, AffiliateWP will automatically create an Affiliate Area page for you. This is an editable WordPress page that serves as your signup and login page.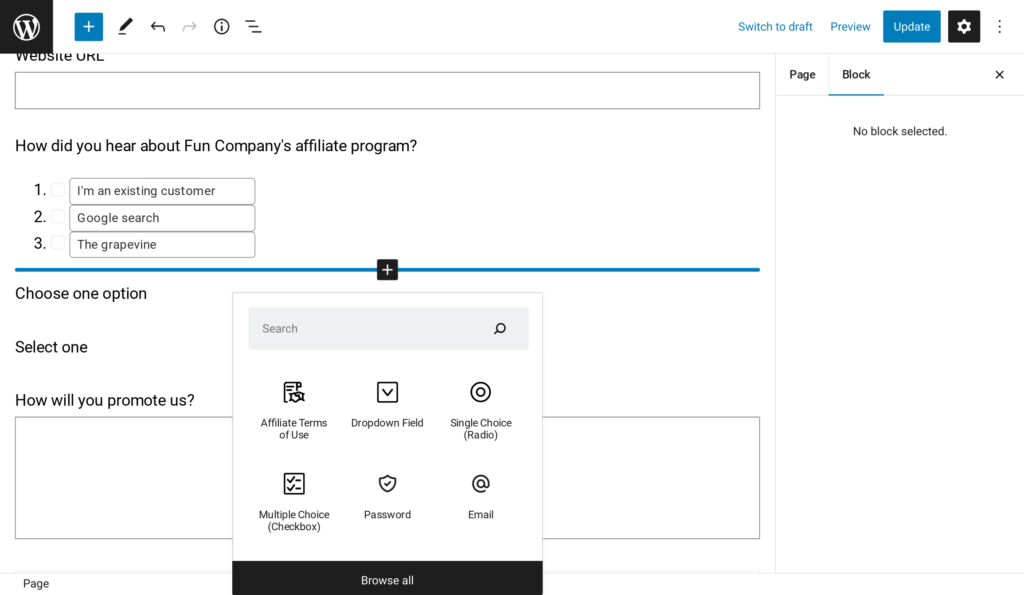 You can easily edit your signup forms using the registration blocks (or our free WPForms Integration) and make sure this page is perfectly set up to convert top affiliates. Once an affiliate completes a registration form, you'll be able to approve or reject the application from your Affiliates page, and a notification will be sent out informing the affiliate of your decision.
Approved affiliates will then be able to log into their affiliate dashboard from the Affiliate Area page.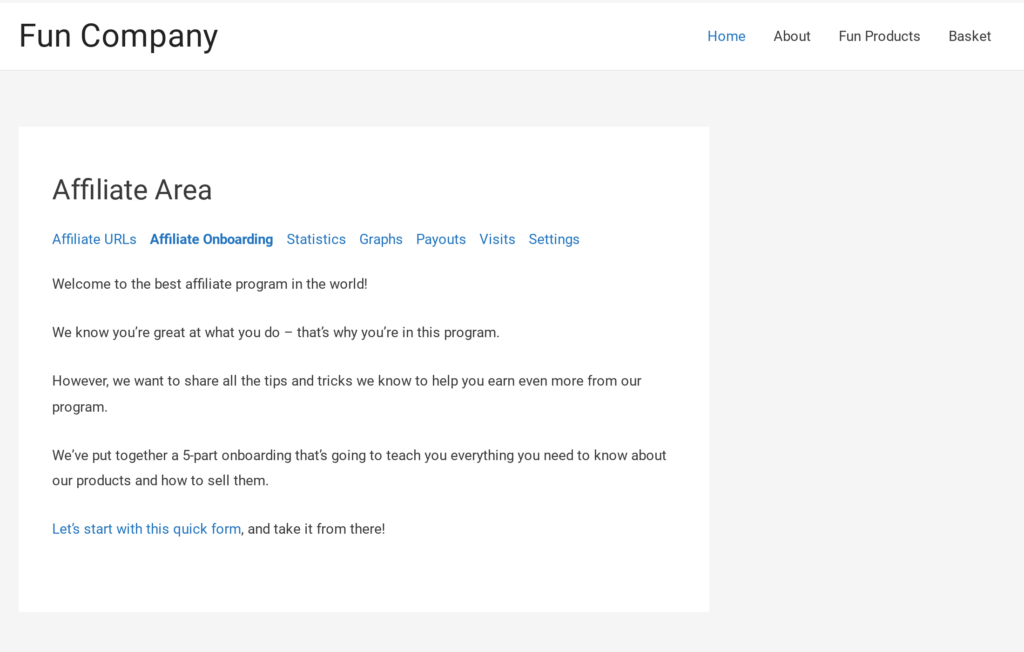 The Affiliate Dashboard automatically syncs with your WordPress theme, and you can easily customize it using Affiliate Area Tabs. This will enable you to create new tabs with helpful information about affiliate onboarding, and information about the causes you support with donations.
Step 5: Track Referrals on Donations with Real-Time Analytics
AffiliateWP gives you advanced real-time analytics to help you maximize your donations.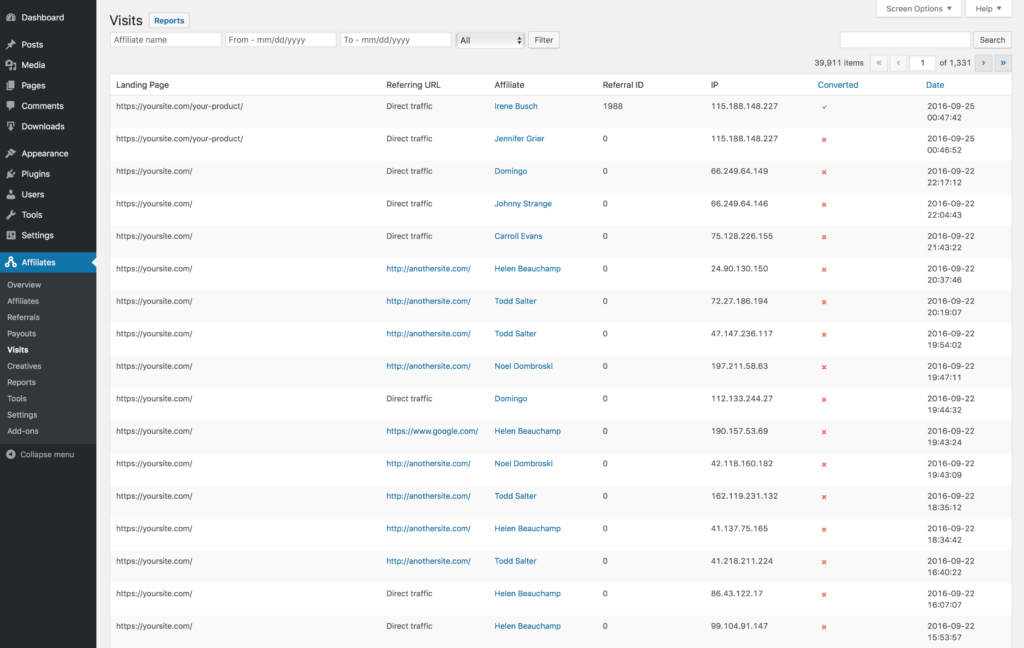 Whenever someone clicks an affiliate link and lands on your website, it will be tracked on the Visits page. If that person goes on to make a donation, then AffiliateWP will create a referral which can be found on the Referrals page. You can use these pages to dig deeper into the performance of your program or use the Reports page to dig even deeper into the performance of your charity affiliate marketing program.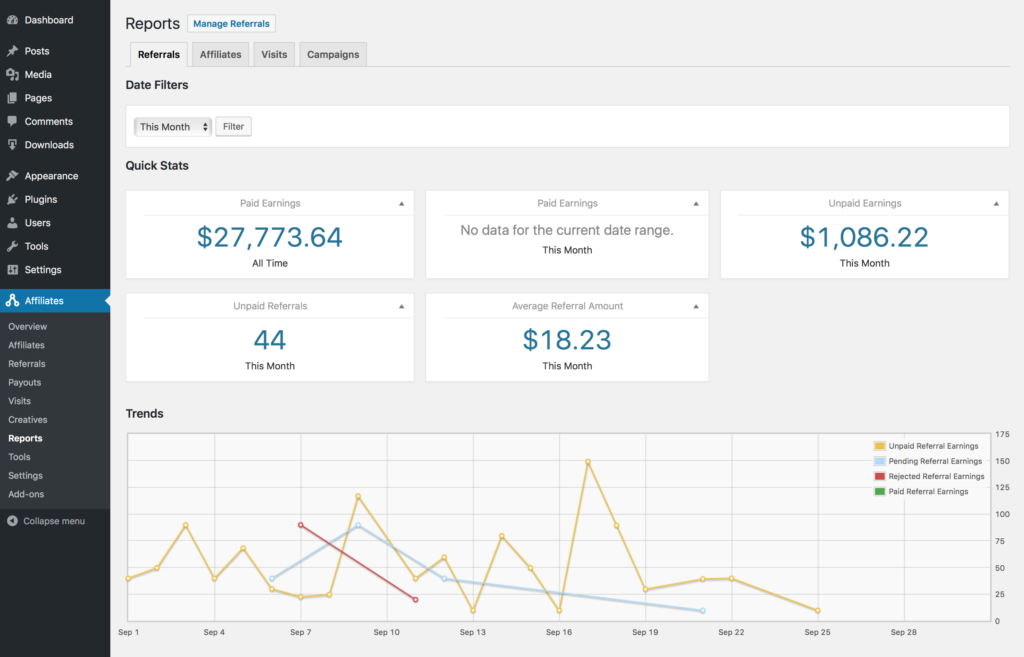 Affiliates can also access real-time analytics via their affiliate dashboard. This will show them important details about their own performance and enable them to keep track of the commission they earn.
Step 6: Pay Affiliates
Whenever somebody makes a donation on your website, the entire value of the donation will be processed as normal by your payment gateway.
AffiliateWP simply keeps track of the referrals and shows you how much affiliates have earned. You can then pay affiliates their commission directly to their bank accounts using the Payouts Service (or through PayPal and Stripe).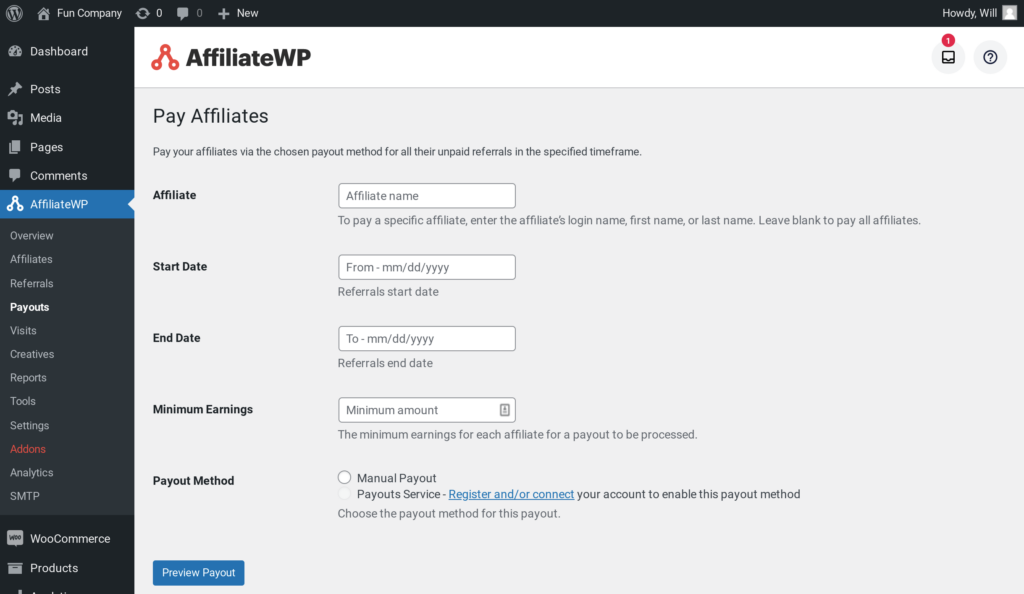 Just set up the Payouts Service and you'll be able to pay affiliates in a few clicks without ever leaving your WordPress admin.
Now Unleash AffiliateWP's Best Features to Grow Your Charity Affiliate Marketing Program
There are lots of awesome affiliates out there who will do a great job at sending traffic to your website and getting people to donate to your chosen causes.
However, small changes in your conversion rate can make a massive difference to your returns, so you want to make sure you're using all of AffiliateWP's awesome features to the maximum.
Luckily, we've got some great resources to help.
Now there's only one thing left to do.
Get AffiliateWP and set up your charity affiliate marketing program today!