13+ Ways to Get More Affiliates for Your Affiliate Program in 2023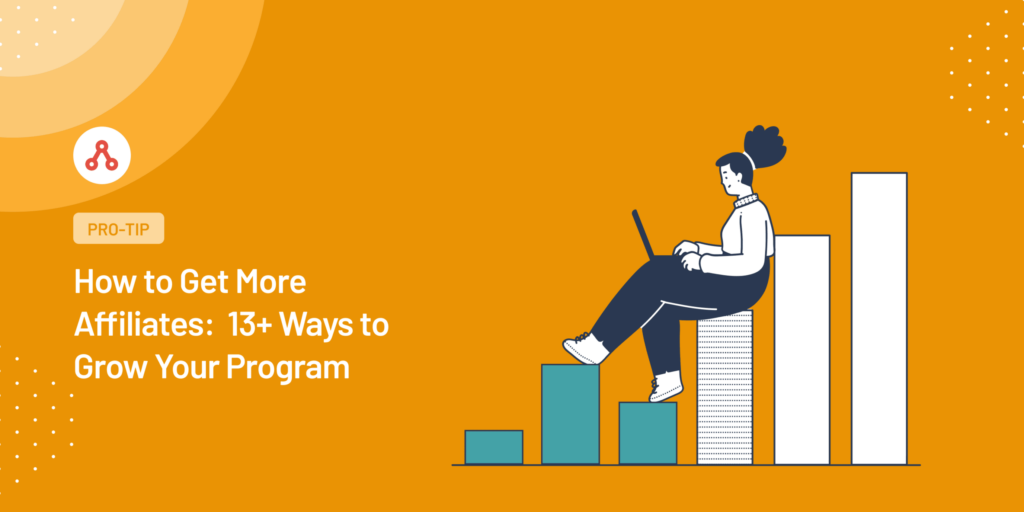 Want to know how to get more affiliates to grow your affiliate program?
It's easy to get into affiliate marketing, but finding quality affiliates who can help you achieve your goals is more difficult. But not impossible!
This expert guide will show you how to find affiliates and get them into your program. These proven techniques are used by many of our 30,000+ affiliate program managers to attract the top affiliates in their industries and grow revenues quickly.
Here's how you can get more affiliates.
Finding Affiliates is About Quality as Well as Quantity
Understanding how to get new affiliates is a vital element of running your own affiliate program. However, it's extremely important that there's also a focus on quality.
It's easy to be persuaded to join an affiliate network with the promise of access to thousands of affiliates, but it's not easy. Only a small percentage of those affiliates can make a difference to your business, and it's your responsibility to find them and make them an offer they can't refuse.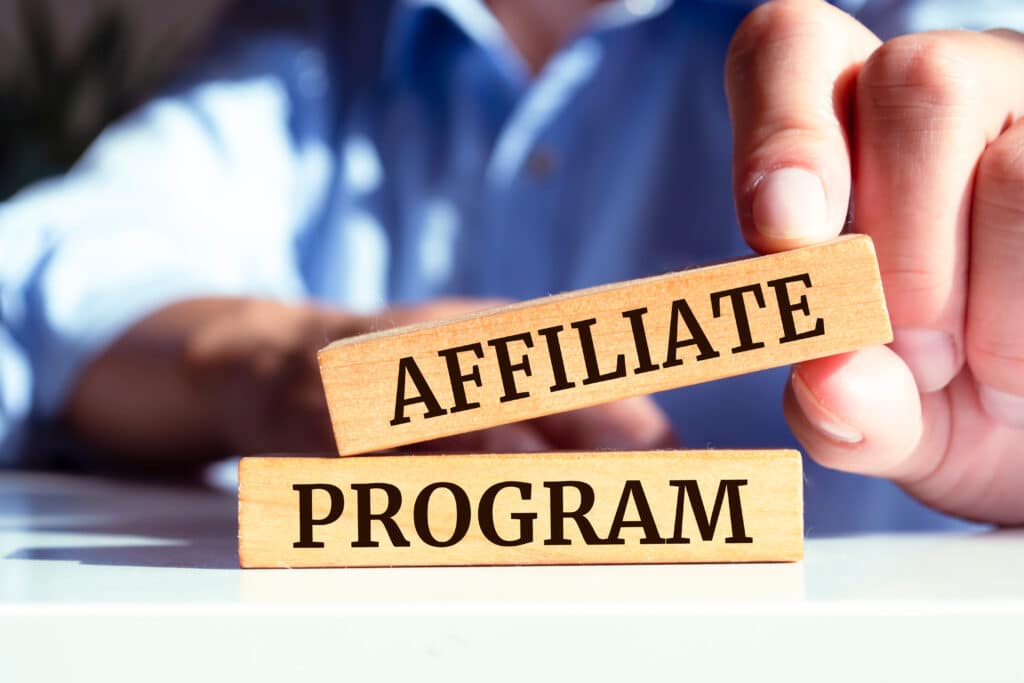 The difficulty is, it's very difficult to stand out on the affiliate networks. There's limited customizability and you're competing with tens of thousands of other offers.
So, we're going to show you the best way to get affiliates.
These tips will help you stand out from your competitors and make sure you're attracting affiliates who are actually going to put effort into promoting your products.
Here's your guide on how to get affiliates who'll move the needle for your affiliate program.
How to Get More Affiliates And Grow Your Affiliate Program
Every affiliate manager wants to know how to get affiliates – it's an essential element of running an affiliate program.
The important thing is that you don't wait for affiliates to come to you. You've got to be proactive, and these 13+ tips are going to help you do that.
Here are the strategies we're going to look at:
Let's find out how you can get affiliates to your program.
1. Install AffiliateWP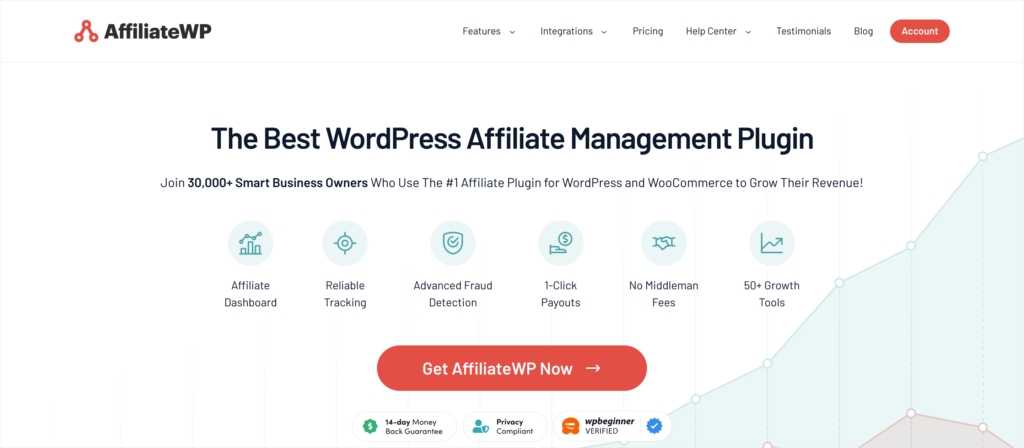 AffiliateWP is the best affiliate management plugin for WordPress.
It's going to help you to set up your own WordPress affiliate program in under 10 minutes, and most importantly, it's a huge draw for affiliates.
One of AffiliateWP's strongest selling points is its customizability. Although it's incredibly easy to set up, it gives you customization options that other affiliate software just can't compete with.
When you build a new affiliate program with AffiliateWP, you're not just another affiliate offer on a marketplace of thousands of products – everything is targeted toward selling your products.
The easy setup wizard will walk you through every step of the process, and you can have your program up and running in under 10 minutes. You'll have your own customizable signup page, and you can create your own registration forms using WordPress blocks, or our WPForms, Ninja Forms, or Formidable Forms integrations.
You'll also have access to proven affiliate marketing tools that boost conversions to attract top affiliates – making sure you have lots of affiliate success stories to showcase on your signup page.
If you want to know how to get more affiliates, then this is the place to start.
2. Customize Your Affiliate Signup Page
Treat the process of getting affiliates like any other conversion event on your website. It's not easy to get people to take action, so everything on your signup page has to be optimized for maximum success.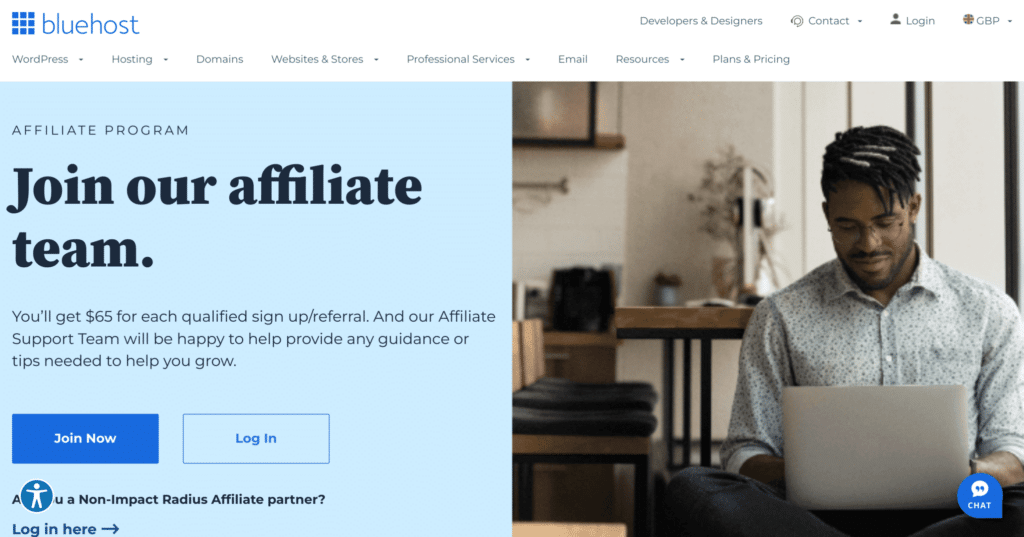 You need to take all the tactics you use to sell products online (or generate leads) and use them to sign up new affiliates. For example, your affiliate signup page needs to:
Load quickly
Be responsive
Look professional
Use calls to action
Utilize social proof
Collect leads
Make a clear value proposition
When you run your own affiliate program through software like AffiliateWP you have a big advantage because you're in control. You can utilize your marketing skills to get more affiliates, but you've got to make use of the customization options.
3. Optimize Your Affiliate Signup Forms
It's amazing what a difference a good form can make, which is why AffiliateWP gives you lots of different ways to customize your affiliate registration forms.
Getting your affiliate registration forms right can be tricky because you've got to strike a balance. On the one hand, you need to collect important information about the potential affiliate, but on the other hand, you want to make it easy for them to register.
This is where features like WPForms' conversational forms and lead forms make a massive difference. They guide people through the forms in a way that maximizes conversions.
80% of your revenue will likely come from 20% of your affiliates, which means missing out on a great affiliate because you don't have the right form technology can be a killer.
If you're going to get more affiliates, then you've got to have a good affiliate form, and there's no better way to do this than with WPForms and AffiliateWP.
4. Be Creative with Your Affiliate Commissions
One of the first things affiliates are going to look for when they land on your affiliate program page is the commission. Naturally, bigger commissions are going to be more appealing to top affiliates, but there's more to it than that.
Think beyond the basic commission to find ways to incentivize and reward affiliates.
For instance, you can create tiered commission rates so that the more an affiliate sells, the more they earn. Or, if you sell subscription products, you can offer a Recurring Referral so that affiliates get paid every time the customer renews.
Top affiliates love these little extras because they reward performance, and they allow you to offer a greater incentive without breaking the bank.
5. Showcase Affiliate Success Stories
People want to know that other affiliates have joined your program and had success.
Make sure you're using your affiliate success stories as social proof to show what it's possible to achieve. If you've got some high-performing affiliates, then they'll be more than happy to give you a testimonial if you ask.

If you're starting a new affiliate program you can still use social proof!
Affiliates need to know that your products sell and that your customers love them, so customer reviews and testimonials are also useful.
If you're looking for an amazing tool to showcase social proof, then take a look at TrustPulse. It gives live sales notifications and can even be set up to show a notification when someone joins your affiliate program.
When potential affiliates see that other people are signing up for your program they'll have a greater incentive to join as well.
6. Invest in Your Own Website
Affiliates are relying on you to make sales. They can do the greatest marketing in the world, but if your website doesn't convert, they're not going to get paid.
A high-quality affiliate is going to take a hard look at your website and ask themselves how likely it is to convert. If it doesn't seem likely to convert, then even a huge commission isn't going to seem worthwhile.
If your sales funnel performs well and your affiliates are getting great conversion rates, then go ahead and highlight it on your signup page.
7. Go the Extra Mile with Manual Outreach
It's not that easy to make affiliate sales. You've got to have access to the right audience and be a great marketer.
These people are out there, but they're not necessarily out there searching for your affiliate program. They might not even be doing affiliate marketing.
But you can still find them!
You understand your industry as well as anyone, so with a bit of manual email outreach, you're going to find some promising leads.
A personal message to a potential affiliate is the most powerful tool you have. It's about creating connections, and that's where you find the best affiliates.
Open the conversation and then make a great case as to why an affiliate relationship can benefit both of you.
It's easy to overcomplicate things when thinking about how to get affiliates, but sometimes the most simple methods are the best.
8. Convert Your Customers into Affiliates
One group that often gets forgotten when talking about how to find affiliates is your own customers.
Your biggest fans can often be your best salespeople.
Why?
Because they understand your brand, they understand your products, and they love them. Enthusiasm sells, and personal recommendations are one of the most persuasive selling tools.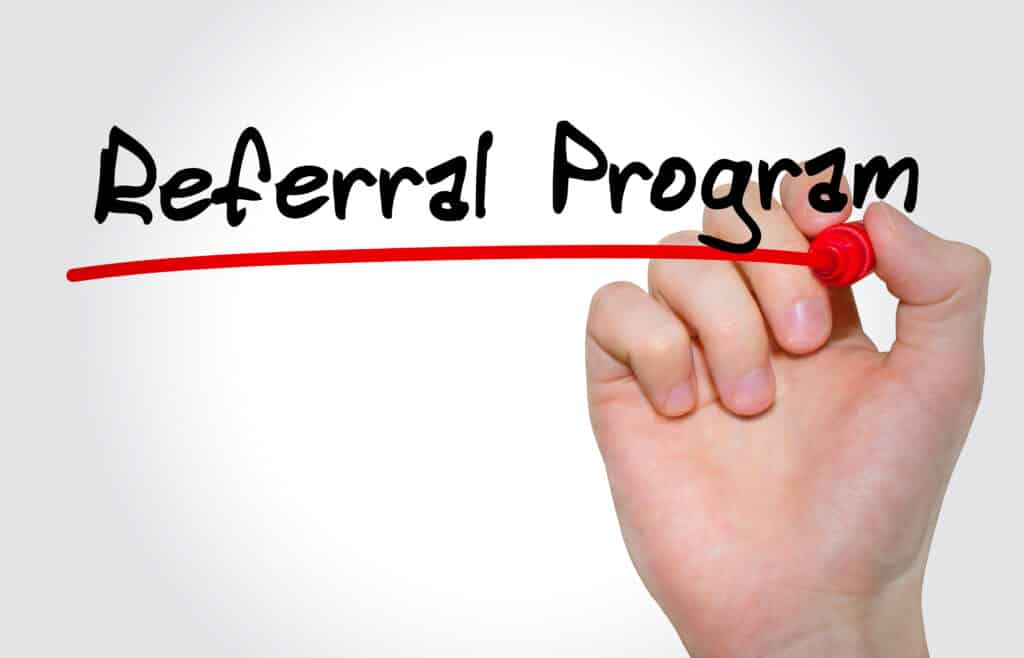 With software like AffiliateWP, you can automatically enroll your users as affiliates which makes this extremely easy. You've already got a relationship with these people so it's just a case of making them aware that they can earn money (or store credit) when they recommend your products.
9. Join Affiliate Communities
Affiliate marketers can be a close-knit bunch.
There are lots of places where they go to share tips and discuss their profession. When you join these communities, you'll learn a lot more about what affiliates are looking for and how they find new affiliate programs.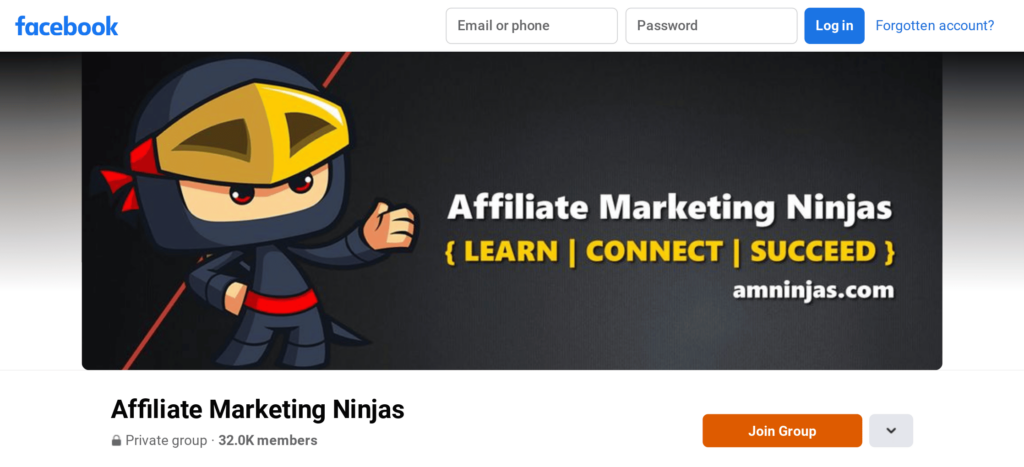 Not only is this an opportunity to create new connections, but it can also inform how you run your program.
You don't just want people to sign up for your program, you want them to stick with you and bring in consistent sales. If you're going to do this, then you've got to understand how to set up a program that works for its affiliates.
10. Collect Emails and Leverage Email Marketing
Don't just focus on the conversion, make sure you're also generating leads. People might not sign up for your program on their first visit, but at least if you have their email you can continue your recruitment.
Treat it like cart abandonment and put potential affiliates into a targeted email series. Not only will this boost your conversion rate, but it's also going to show that you take your affiliate program seriously, something any affiliate wants to see.
11. Leverage Your Social Media
Something you'll often hear about in digital marketing is reaching people where they hang out.
In today's world, that means social media for over four billion of us. That is a lot of people, and there are going to be a lot of affiliate marketers on there.
If you've got an active social media presence, then this is a great platform to highlight your affiliate program. It's one of those things, where if people don't know, then they're not going to sign up.
These people have taken the time to follow your business, so there's a good chance your affiliate program might interest them.
12. Network within Your Industry
It's easy to look at the influence of social media in society and think that networking (the physical kind) is dead.
When talking about how to get affiliates though, who you know is important.
As good as digital connections are, there are few things as powerful as a human connection, and it's certainly true when you're looking at how to get more affiliates.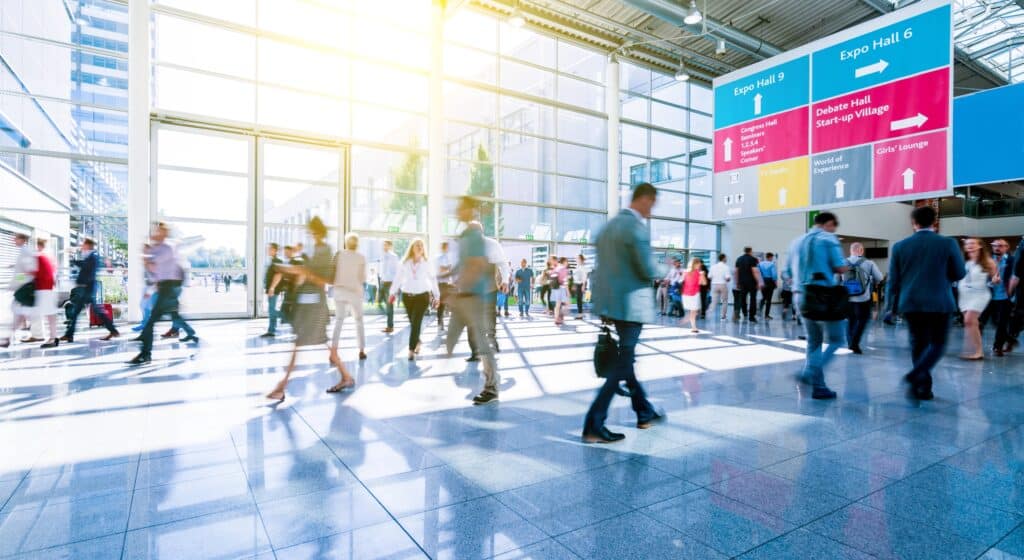 Those people you meet at tradeshows, conferences, and other events are great connections. Generally, these are people who already have a presence in your industry, so they might be ideal affiliates. You don't know until you ask, so make sure you're building your network and getting to know people in your niche.
13. Use Your Email Signature
If growing your affiliate program is a top priority for you, then you'll want to make the most of every marketing opportunity you get.
Another option you have is to use your email signature to make people aware of your affiliate program.
Think about how many emails you send out each day! Some of those people might see a link to your affiliate program in your email signature and think "wow, that's exactly what I've been looking for!"
14. Ensure Quick Payments
Nobody wants to be chasing up payments or waiting months to receive the commission they're due.
There are plenty of sub-standard affiliate programs out there, so clearly identify what makes yours different. Detail how you ensure affiliates get regular, prompt payment, and follow through with your promises.
When you use AffiliateWP, you benefit from our integrated payouts service, which helps automate your affiliate payouts. This allows you to make regular payments without the hassle.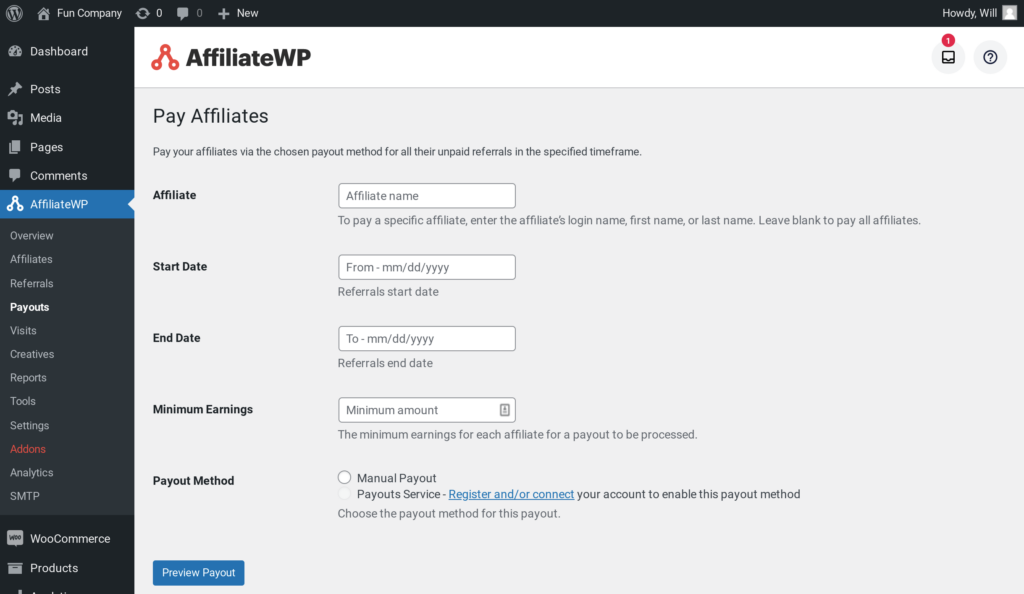 You want affiliates who are going to invest time and energy into marketing your products, and it's only right they receive prompt payment for their referrals.
The easier you can make this, the more it's going to help you get affiliates to signup.
Now Ensure Your Affiliates Stay in Your Program for Longer
Knowing how to get affiliates into your program is one thing, keeping them there is another! Affiliate marketing is a competitive world and it's easy for your affiliates to disengage with your offers.
The easiest way to stop this from happening is by making consistent sales, keeping up communication, and showing you're always working to make your program better.
To do this, you'll need affiliate software with:
If your website runs on WordPress then the best way to do this is with AffiliateWP.
Check out AffiliateWP's pricing!
FAQs: Get More Affiliates
How do I get started with affiliates?
To get started with affiliates you first have to get them to sign up for your program. The first steps are to make sure your affiliate signup page is optimized and create a high-converting affiliate registration form.
Can beginners do affiliate marketing?
Anybody can do affiliate marketing. In fact, your customers can become some of your best affiliates and they might have no prior experience. Beginners can easily get set up in your affiliate marketing program and start promoting your products without the need for any technical knowledge.
How do affiliates get paid?
Affiliates get paid through your affiliate software. The software tracks referrals so affiliates know exactly how much commission they have earned. You can then facilitate affiliate payouts whenever you like to make sure affiliates get paid on time.
Now You Know How to Get More Affiliates
Now you've got some great tips on how to get more affiliates, the only thing left to do is put them into practice.
Once you've got your processes set up and you become consistent, you will find you get a steady stream of new affiliates.
And when you do, we've got even more great resources to help you.
It's time to take the first step to get more affiliates.