How to Set Up Direct Link Tracking for an Affiliate Program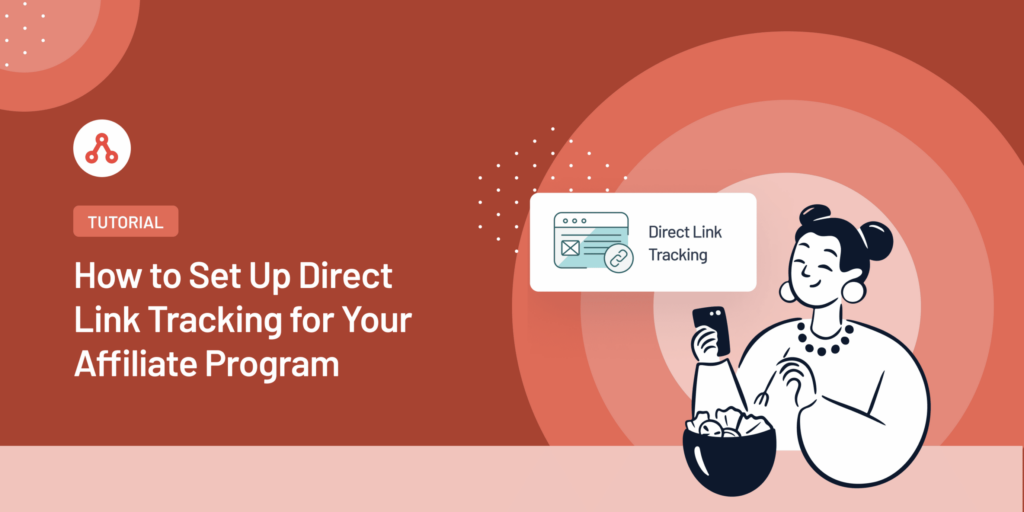 Looking to set up direct link tracking for your affiliate program?
Affiliate links are great, but they can put people off from clicking through to your product offers. We're going to show you how to overcome this problem with direct link tracking.
Here's how you can quickly set up direct link tracking in WordPress.
How Direct Link Tracking Boosts Click-Through Rates (CTR)
Many modern consumers are fairly internet savvy.
They preview links to see where they go and are generally on the lookout for things that don't look quite right. During this process, they will spot when they're asked to follow an affiliate link.
Now, in the vast majority of cases, there's nothing wrong with this.
But, affiliate marketing doesn't always have the best reputation, and this can put people off. People don't want to feel like they're being unwittingly sold something (which is where affiliate disclosures come in), and the ugly affiliate link does nothing to help people feel at ease.
Clean URLs look legitimate, whereas more complicated URLs raise red flags.
Which brings us to direct link tracking – a way you can eliminate the need for affiliate links altogether. They're an excellent way to boost click-throughs and increase confidence!
Your affiliates should still be using affiliate disclosures, so it's not a case of tricking users, but instead, creating a cleaner experience.
Let's take a look at how you can set up direct link tracking for your affiliate program.
How to Effortlessly Set Up Direct Link Tracking (No Coding Needed)
We're going to walk you through the steps needed to set up direct link tracking.
They're incredibly easy and require no coding or special technical knowledge. Here's an outline of the steps:
Install AffiliateWP
Install and activate the Direct Link Tracking addon
Set your direct link tracking settings
Set your per-affiliate direct link tracking settings (optional)
Affiliates enter their chosen domains in their affiliate dashboard
Accept or reject affiliate domains
Sit back and let AffiliateWP take care of all the tracking
You can realistically get all of this set up in under 20 minutes!
So, let's get started and find out how to set up direct link tracking.
Step 1: Install AffiliateWP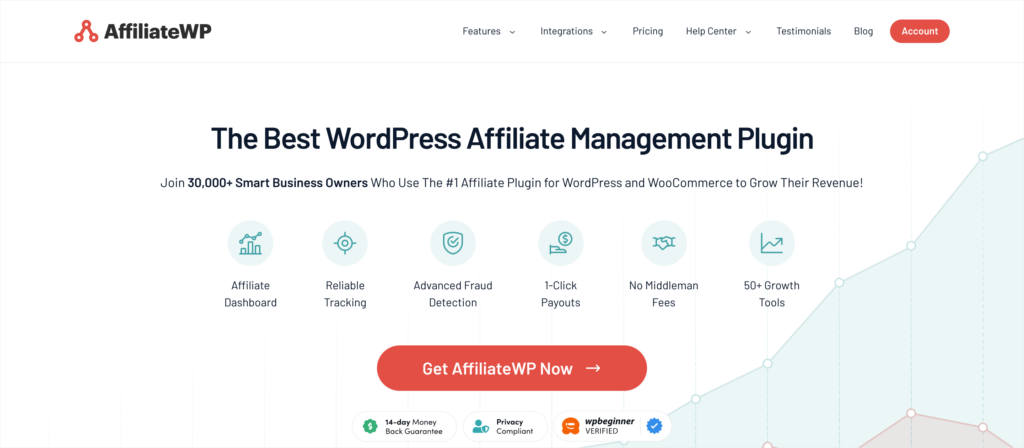 AffiliateWP is the best affiliate management plugin for WordPress.
Its setup wizard makes it incredibly easy to sync your products, courses, and forms and set up your own affiliate program in minutes. It's also got powerful affiliate management tools and innovative features that help you grow your program quickly (direct link tracking being a perfect example!).
As Direct Link Tracking is a pro-addon, you'll need to head to the pricing page and choose the Professional plan.
Once you've completed your purchase, you can then get started with the fun part – bringing your affiliate program to life. To do this, just head to the AffiliateWP settings page, and click the Launch Setup Wizard button.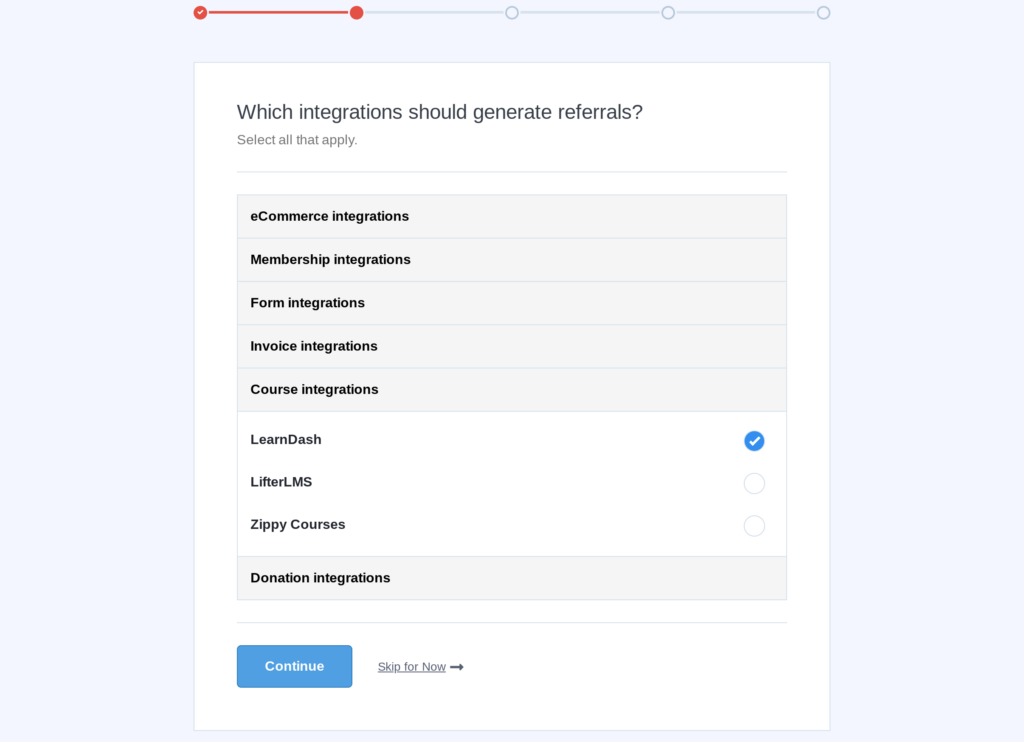 The setup wizard will help you integrate your product in a click (check out our 1-click integrations), and set your global commission rates as well as cookie expiration.
As soon as you finish the setup wizard, your affiliate program will be up and running, ready to track links!
Note: If you get stuck at any point, then be sure to check out our handy documentation.
Step 2: Install and Activate the Direct Link Tracking Addon
As a Professional license holder, you'll have access to all of AffiliateWP's innovative features.
To explore each of the addons, navigate to the AffiliateWP addons page from your WordPress dashboard. Here you can install and activate each addon with the click of a button, making it super easy to manage your features.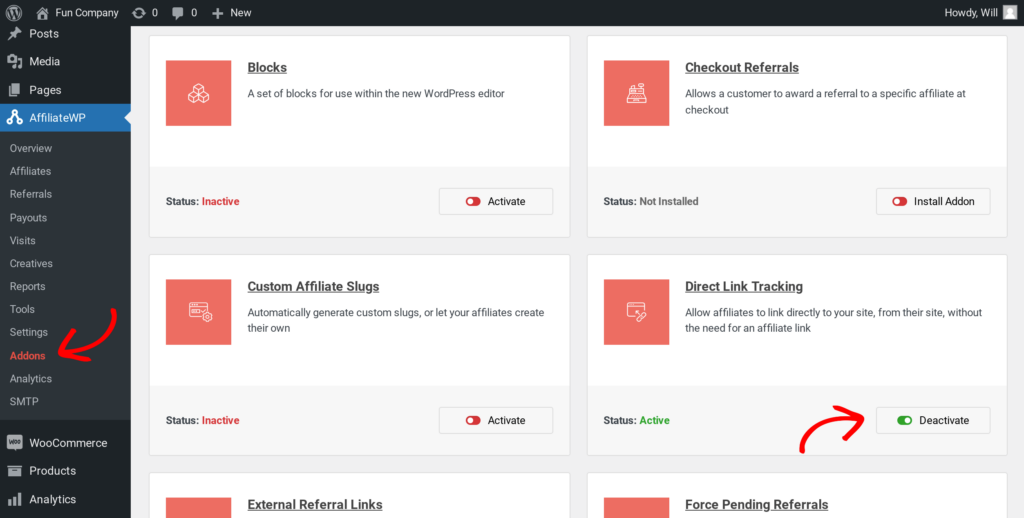 Scroll down until you find the Direct Link Tracking addon and click the toggle button to install and activate. The status will change to Active and the toggle button will turn green, so you know that direct link tracking is now ready to be set up.
Step 3: Set Your Direct Link Tracking Settings
You don't want affiliates receiving attribution when someone is referred to you from any old website, so you've got to make sure direct link tracking is properly set up.
To do this, head to your AffiliateWP settings and click on the Direct Link Tracking tab at the top.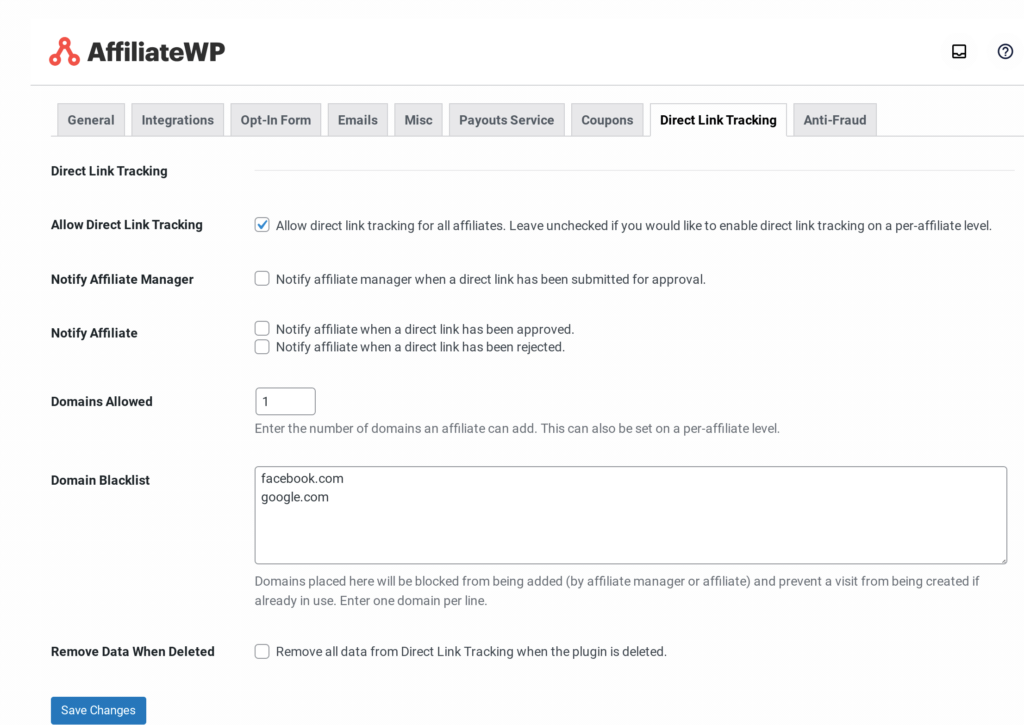 First, you'll want to decide on a few settings. How many URLs should each affiliate be allowed for direct link tracking, and are there any domains you want to blacklist?
Once you've decided on these settings, you can then edit your notification settings and activate direct link tracking by clicking the check box next to Allow Direct Link Tracking.
Click the Save Changes button, and your direct link tracking is ready to go.
Step 4: Set Per-Affiliate Direct Link Tracking Settings (Optional)
You may not want to offer direct link tracking to all your affiliates as it does take a little bit of monitoring. You need to approve URLs because you want to make sure affiliates actually own the websites they're using for their direct affiliate link tracking.
A great way to streamline this process is to only offer direct link tracking to your most successful, trusted affiliates.
To start with you need to make sure the Allow Direct Link Tracking option isn't enabled in your global settings.
Then, you can easily offer direct link tracking on a per-affiliate basis by editing the individual affiliate's details from the Affiliates page. Click on the affiliate's name and scroll until you see the direct link tracking option. Check the box next to Allow Direct Link Tracking, and more options will appear.

Edit the individual settings for this affiliate, and click Update Affiliate.
This affiliate will now be able to access direct link tracking from their affiliate dashboard, but it won't be available to the rest of your affiliates.
Step 5: Affiliates Enter their Domains in their Affiliate Dashboards
Once you've enabled direct link tracking, affiliates will see a new Direct Link Tracking tab in their affiliate dashboard. Affiliates can navigate to the tab and enter their domains in the box and submit them for approval.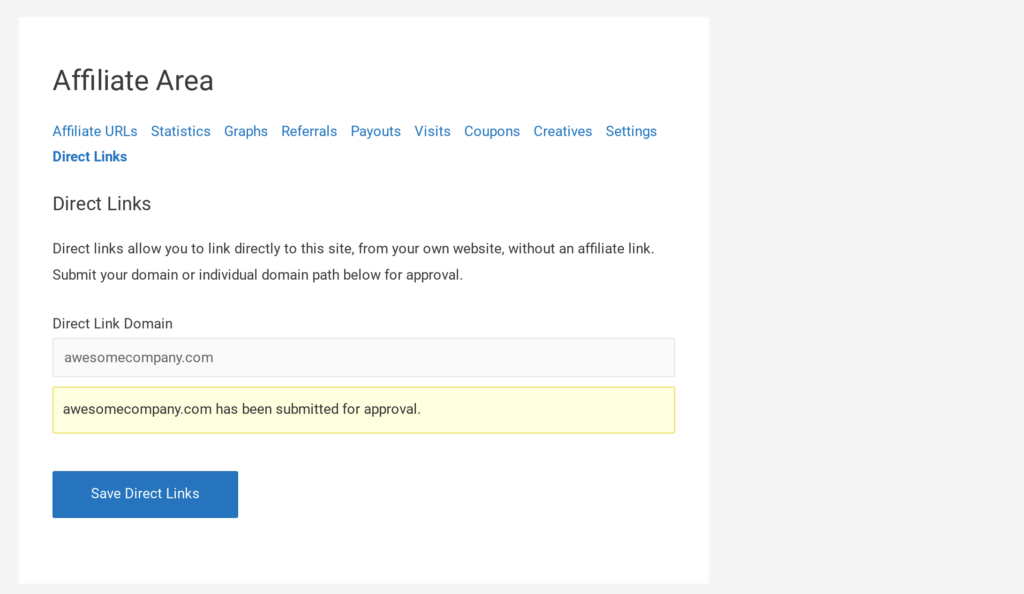 Direct link tracking automatically requires approval, so the affiliate will have to wait until you've accepted their domain before using the feature.
Step 6: Accept or Reject Affiliate Domains
When affiliates submit their domains for use with direct link tracking, the request will show up on the AffiliateWP Direct Link Tracking page.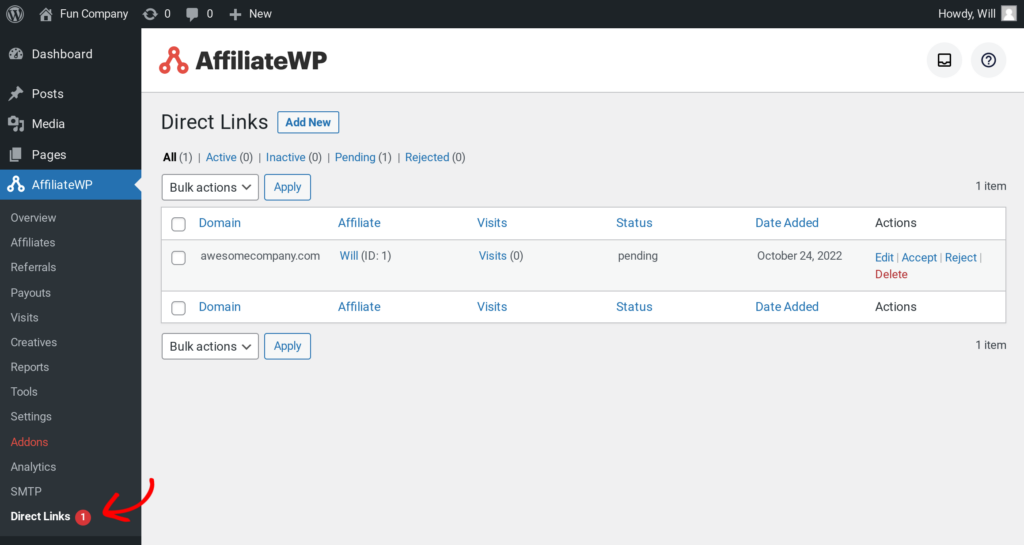 If you've set up notifications, then you'll receive an email whenever an affiliate requests a domain, making it easy to check in and approve or reject the request. All your direct link tracking requests will be visible on the page, and you can easily edit, accept, or reject the request with the click of a button.
Once you've approved a request, your affiliate can then start sending traffic from that domain to your website without the need for affiliate links.
Step 7: Sit Back and Let AffiliateWP Take Care of the Tracking
When you enable direct link tracking, AffiliateWP is able to recognize the URLs of the referring website and match them to the domains associated with individual affiliates.
This means you get accurate affiliate tracking without the need for affiliate links.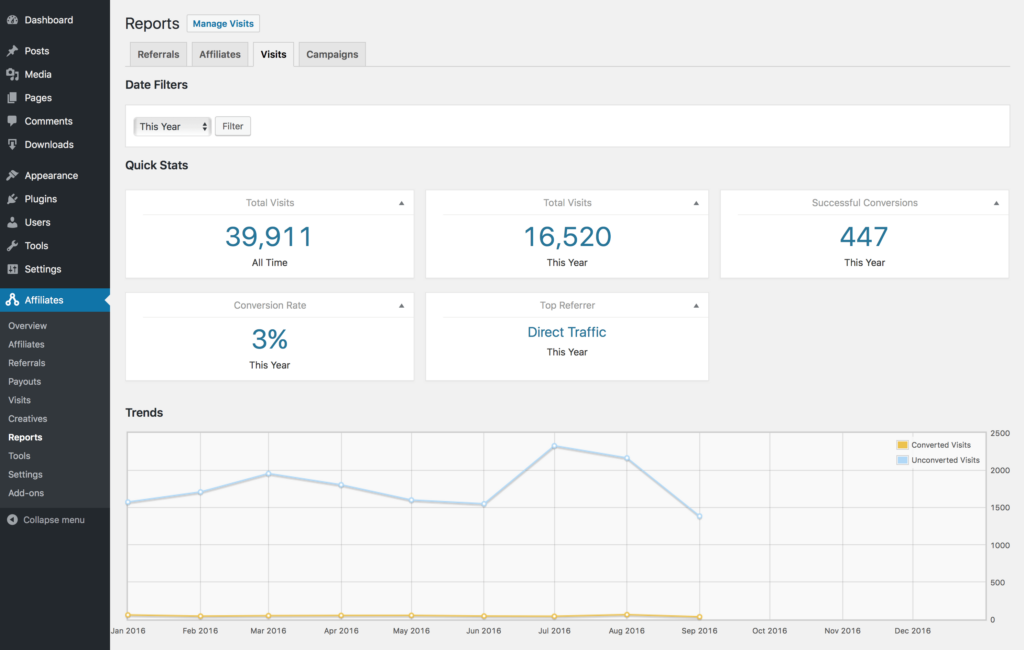 There's nothing more you have to do!
Just sit back and relax while AffiliateWP takes care of everything for you.
You'll be able to see detailed data from your Reports page, and if you've set up the Integrated Payouts Service, you can even pay affiliates without leaving WordPress!
Next, Boost Your Conversion Rates with Personalized Affiliate Landing Pages
If you're looking for more ways to boost affiliate CTR, then it's well worth looking at personalized affiliate landing pages.
They're another way to eliminate affiliate links, but they're also a huge conversion rate booster!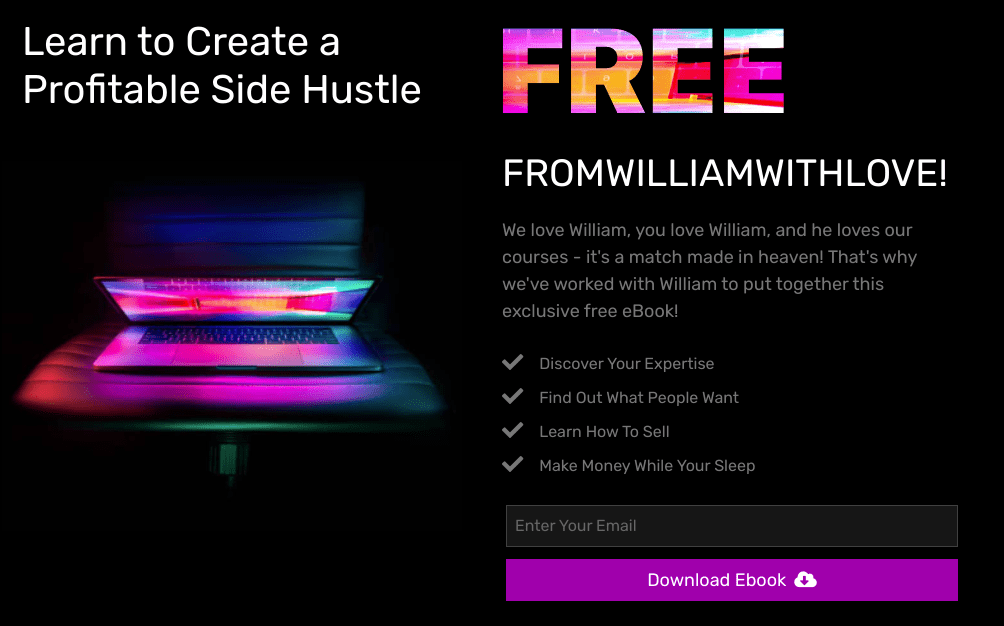 By creating landing pages that are personalized to individual affiliates, you create a much more streamlined customer journey. Customers are reminded about the relationship your business has with the affiliate they trust, and this can have a big impact on their willingness to make a purchase.
Affiliate Landing Pages are available to everyone with a Professional plan, so make sure you're using this awesome feature!
Getting Rid of Affiliate Links is Easy with AffiliateWP
AffiliateWP makes it incredibly easy to set up direct link tracking and eliminate the need for affiliate links!
In just a few minutes, you can get everything set up, and give your affiliates an instant boost in their conversion rates.
So, what else can you do with AffiliateWP?
We've got some more great resources to help you out:
Now there's only one thing left to do.