How to Pay Affiliates in WordPress (The Easy Way)
Trying to figure out how to pay affiliates in WordPress?
You can quickly pay affiliates without leaving your WP dashboard, and we're going to show you exactly how to do it.
Here's how you can pay affiliates in WordPress.
What You Need to Know About Paying Affiliates
Affiliate payments are an essential part of your affiliate program, and they can be one of the most time-consuming aspects.
Unfortunately, if you make a mistake with your affiliate payments, it can be a huge problem for your program!
Success is built on trust, and if affiliates aren't certain they'll get paid on time and in full, then they're much less likely to promote your products. This is why it's important you have a consistent affiliate marketing payment model your affiliates can rely on.
Affiliate commissions are also an area where you can stand out from the competition.
Once you've got a good affiliate payment system set up, then you can start to use innovative rewards (more on this later) to attract top affiliates and incentivize sales.
Ultimately, affiliate payments have to be both convenient and rewarding, so how can you achieve this?
Here's how to pay affiliates in WordPress and grow your affiliate program without the hassle.
How to Pay Affiliates in WordPress
Before you can pay affiliates in WordPress, you've got to be able to track referral links. To do this, you need the right affiliate marketing software.
We're going to show you how to set up your affiliate marketing program (this will take about 5 minutes), and then talk you through how to pay affiliates in WordPress.
We'll break it down into a simple step-by-step guide, but if you get stuck at any point, then check out our helpful tutorials.
Here's a preview of what we're going to talk about:
Install AffiliateWP
Complete the setup wizard
Allow affiliates to sign up
Keep track of your data
Sign up for the integrated payouts service
Pay affiliates
Once we've got your affiliate payments process set up, then we'll talk about some cool things you can do with your commissions.
Let's get started and look at how to pay affiliates in WordPress.
Step 1: Install AffiliateWP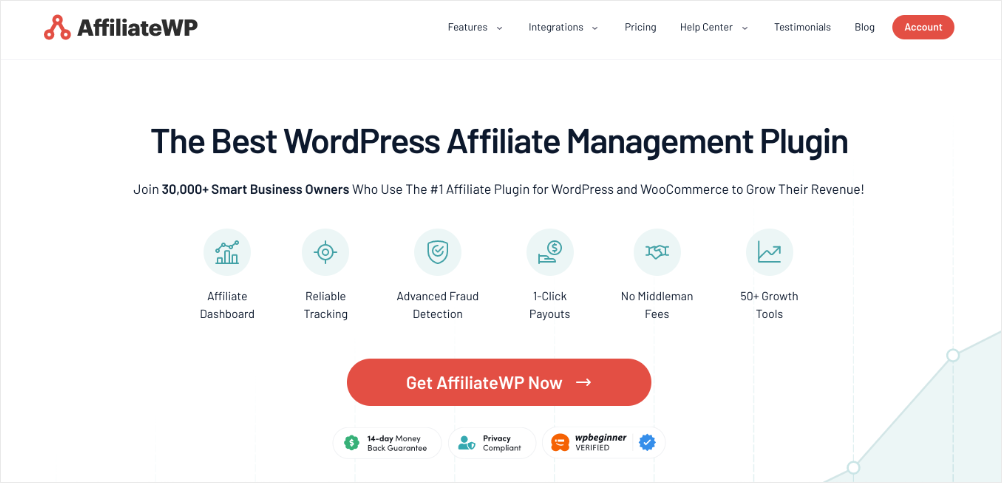 The best way to track referrals and pay affiliates in WordPress is with AffiliateWP.
It's known as the best WordPress affiliate management plugin, and as well as offering awesome growth tools, it's going to save you a lot of time when paying your affiliates. What's more, it enables you to make affiliate payouts through your preferred payment method.
Check out the pricing page to find the plan that best fits your needs.
Once you've completed your purchase, you can easily upload the software by going to the Plugins tab in your WordPress dashboard. If you have any problems with this step, then follow our step-by-step guide.
Step 2: Complete the Setup Wizard
One of the best features of AffiliateWP is that it's incredibly simple to integrate with your store.
Simply open the setup wizard by selecting Settings in the AffiliateWP tab of your WordPress dashboard.
Scroll to the bottom of the page and click the Launch Setup Wizard button.
The first step asks you to enter your license key which can be found in your confirmation email or your AffiliateWP account. Simply copy the code and paste it into the box before clicking Continue.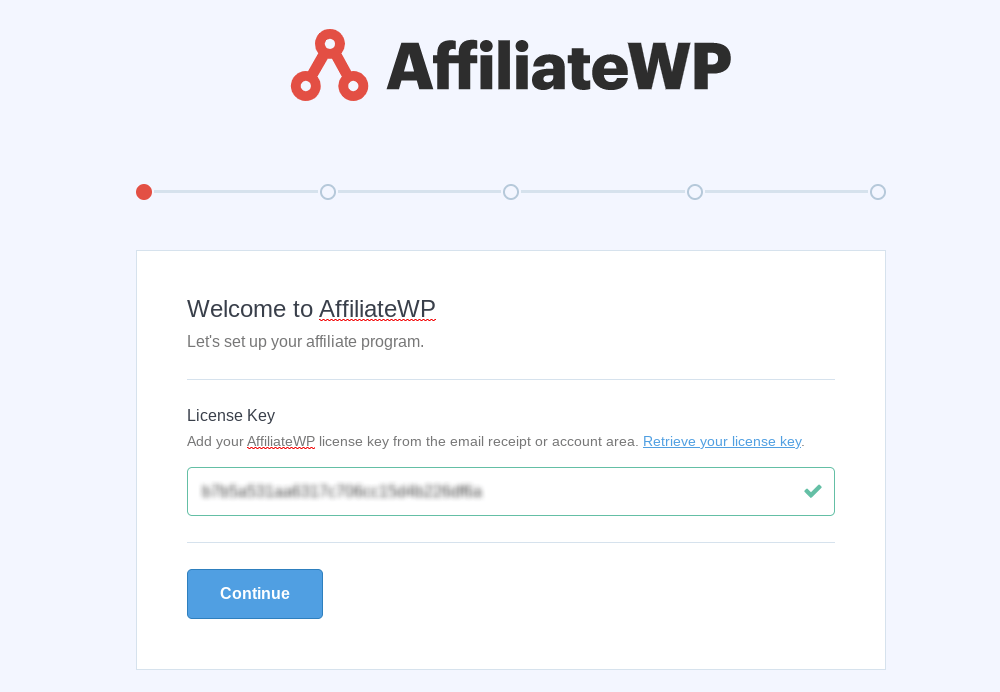 Next comes the magic.
Select the WordPress plugin you use to run your e-commerce store, membership program, or form builder to integrate it with AffiliateWP in just a click. We have seamless integrations with:
WooCommerce
Easy Digital Downloads
PayPal
Stripe
WPForms
MemberPress
and many more…
Just mark the checkbox next to your chosen plugin and click Continue.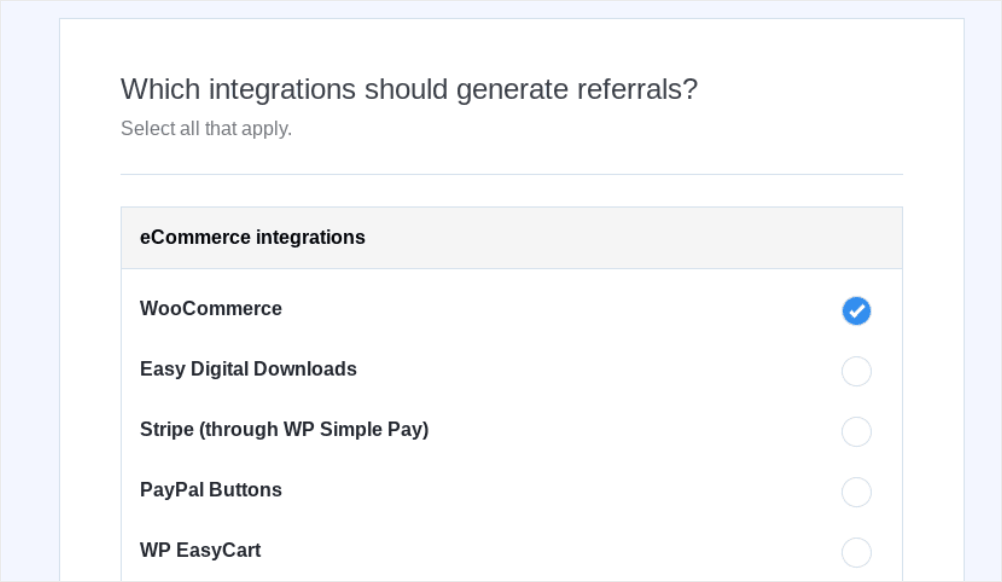 Next, you'll be able to choose your commission structure (the whole reason we're here). Choose your currency, referral type (percentage or flat fee), and commission rate.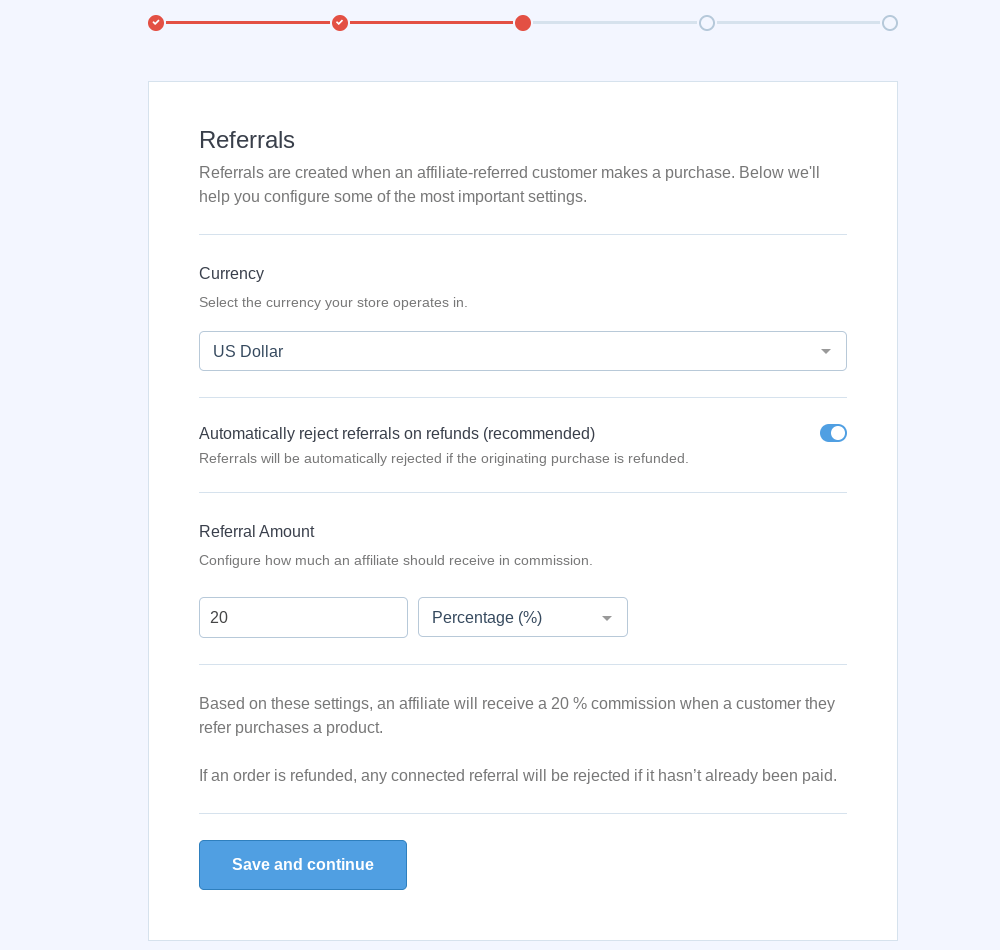 This will set a global commission on all sales, but you can easily adjust this later by returning to your AffiliateWP settings. You can also set affiliate and product-specific rates, which we will talk about a little bit later.
Once you've decided on your commission structure, click Continue.
The next step is to set your referral link structure and choose how long you want your cookies to last.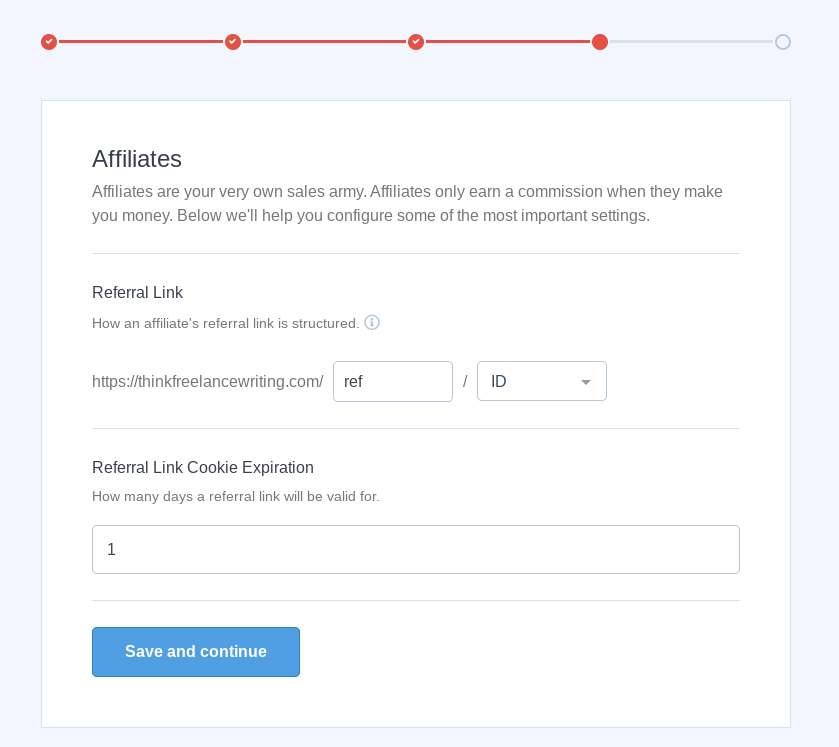 Hit Save and Continue before closing the wizard by clicking Finish the Setup and Exit Wizard.
Your affiliate program is now up and running and ready to track referrals!
Step 3: Allow Affiliates to Sign Up
When you complete the setup wizard, AffiliateWP will create an Affiliate Area page on your site where affiliates can sign up and log in to their accounts.
You can either use the editable template or create your own landing page.
All you have to do is go to AffiliateWP > Settings and choose the page you want to use from the Affiliate Area drop-down menu. You'll then be able to build a WordPress page and add an affiliate registration form using the blocks.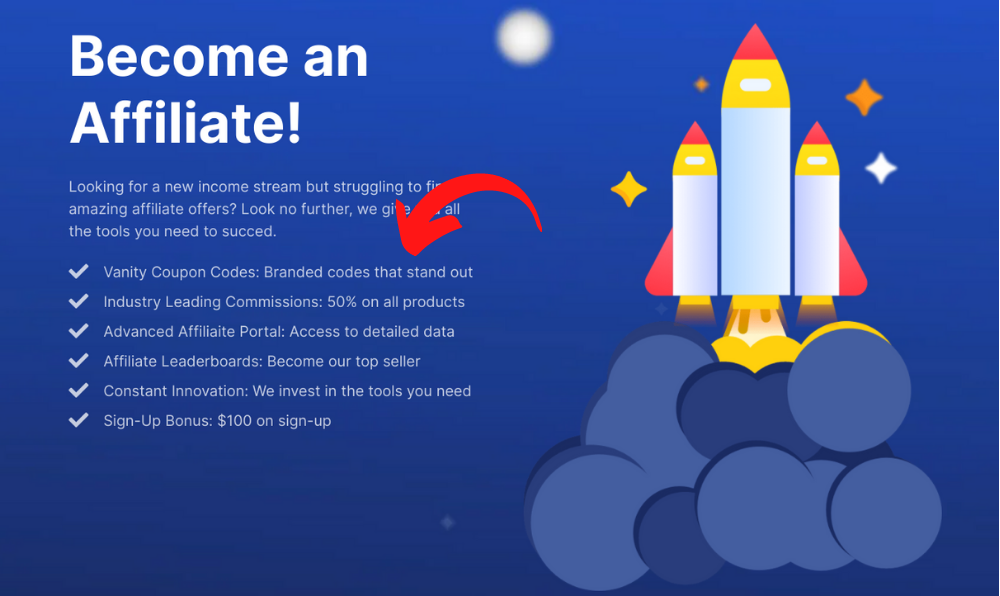 Bloggers, influencers, and other potential affiliates will be able to go to your Affiliate Area page and register for your program.
You'll receive a notification whenever an affiliate applies to be part of your program, and you can quickly approve or reject their application by going to AffiliateWP > Affiliates.
As soon as you accept the affiliate, they can start generating affiliate links, creating referrals, and tracking performance in their affiliate dashboard.
Step 4: Keep Track of Your Data
One of the keys to creating a thriving affiliate marketing program is learning from your data.
This is why AffiliateWP gives you access to in-depth, real-time data in your Reports tab.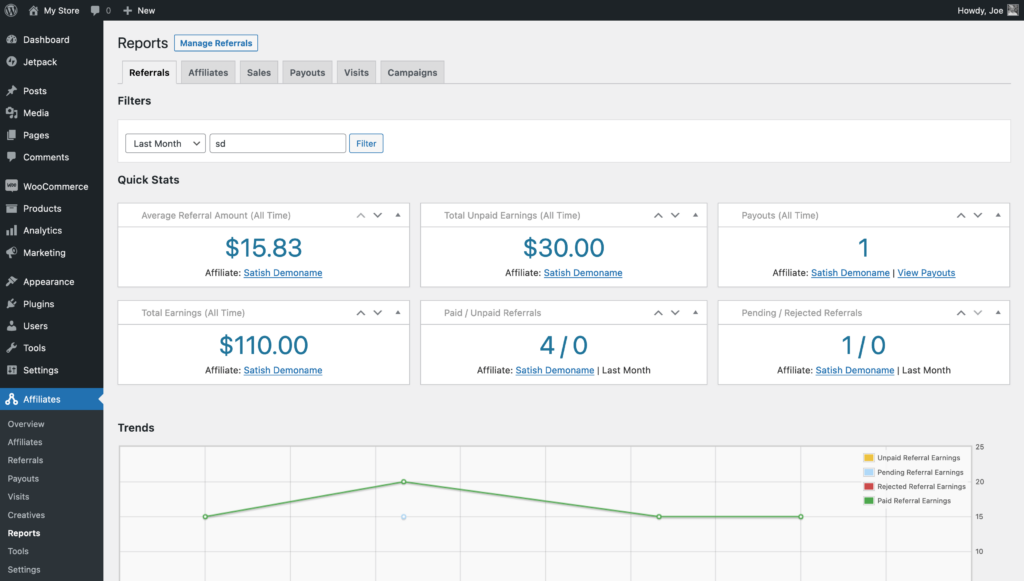 Here you can see how many affiliate clicks you're getting to your site, the number of sales being made, your conversion rate, and much more. This is going to help you keep track of what's going on and make it that much easier to pay your affiliate partners.
Step 5: Sign Up for the Integrated Payouts Service
The easiest way to pay affiliates on WordPress is with AffiliateWP's integrated payment service.
It allows you to pay all your affiliates in 1 click, directly into their bank accounts or debit cards via bank transfer.
Just register your site for the payouts service by going to AffiliateWP > Settings > Payouts Service and clicking Connect to the Payouts Service. Fill out the registration form with your business details and click Connect Site.

You'll then be returned to the Payouts Service tab, where you should click the Enable Payouts Service box.
We also recommend adding a custom message to the Registration Form Description and Payouts Service Notice boxes. These can be used to show affiliates how to sign up for direct wire transfers.
All your affiliates need to do is click on the Settings tab in their Affiliate Area and fill out the registration form.
Note: We also offer functionality to mass pay affiliates directly to their Stripe or PayPal accounts, and other payment gateway providers.
Step 6: Pay Affiliates
To pay affiliates, all you have to do is go to your AffiliateWP Referrals tab and click Pay Affiliates.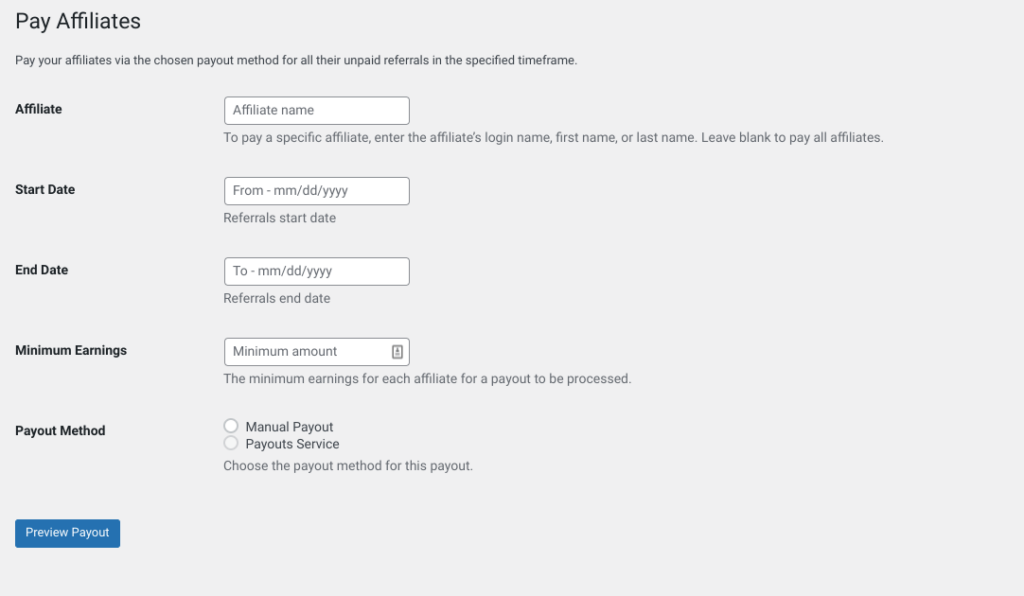 This will open up a new screen where you can choose the parameters you want to use to pay affiliates.
Affiliates: Choose a single affiliate to pay or leave blank to use mass payment
Start Date: Define the earliest referral date to include in the payout
End Date: Define the latest referral date to pay out on transactions for a specific date range
Minimum Earnings: Specify the minimum amount of unpaid earnings an affiliate must have in order to be included in the payout.
Payout Method: Select how the affiliates will be paid. Choose Payouts Service.
You can then click Preview Payouts to see a summary of your payout criteria and which affiliates will be paid.
If you're happy with the summary, then click Submit Payout to complete the payment process.
You'll be brought to an affiliate invoice, and as soon as it's paid, your payments will start to be dispersed to affiliates.
Note: You can also select Manual Payout to download a CSV to use with other payment options.
Get Creative with Your Affiliate Commissions
Affiliate commissions are hugely important to attract top affiliates and keep them engaged with your program.
On the flip side, they also cut into your profits!
One of the nice things about AffiliateWP is we don't charge an affiliate fee on referrals (affiliate networks will often charge fees on your sales), which gives you a little more room to offer a good commission.
The other great thing you have with AffiliateWP is flexibility. There are lots of different tools to help you tailor your commission to fit your needs.
Here are just some of the cool things you can do:
Offer personalized commissions to specific affiliates.
Set commission rates on a product-by-product basis.
Create commission tiers so the more an affiliate sells, the more they earn.
Offer lifetime commissions so an affiliate gets a commission for every future purchase a customer makes.
Set recurring referrals so an affiliate receives a commission every time a customer renews their subscription.
One of the main questions people have is "how much should you pay affiliates?"
The answer is it varies a lot based on what you're selling and what you can afford. On average it works out somewhere between 5% and 30%, which as you can see is pretty vague.
What tools such as tiered commission rates allow you to do is create a commission structure that works for your specific business and its affiliates. This might mean you can motivate affiliates even more without having to increase your commissions.
FAQs: How to Pay Affiliates
How much should you pay affiliates? The average affiliate commission is between 5% and 30%, but it really depends on your profit margins. It will also vary based on the different types of affiliate programs (sales, lead, opt-in, pay-per-click etc). You need to offer a good incentive to your affiliates, but at the same time, you need to make money from your sales.
How do I pay an affiliate without PayPal? You can pay an affiliate without PayPal payouts using AffiliateWP's integrated payouts service. This enables you to pay all your affiliates in WordPress with just a few clicks.
How do you pay affiliates in other countries? You can pay affiliates in different countries using AffiliateWP's integrated payouts service. It supports 35+ countries so you can work with affiliates around the world.
What is the best way to pay affiliates? The best way to pay affiliates is straight into their bank accounts. This makes it easy for them to access their earnings and motivates them to make more sales.
Start Paying Affiliates in WordPress
AffiliateWP allows you to pay affiliates in WordPress without the hassle.
This enables you to quickly grow an affiliate program and bring your products to a targeted new audience. We've talked you through the setup, but we've got lots more resources to help you moving forwards.
Check these out:
You've got everything you need to start an affiliate program and start paying affiliates in WordPress, so now it's time to get started.