How to Use Affiliate Marketing Lead Generation for B2B (The Right Way)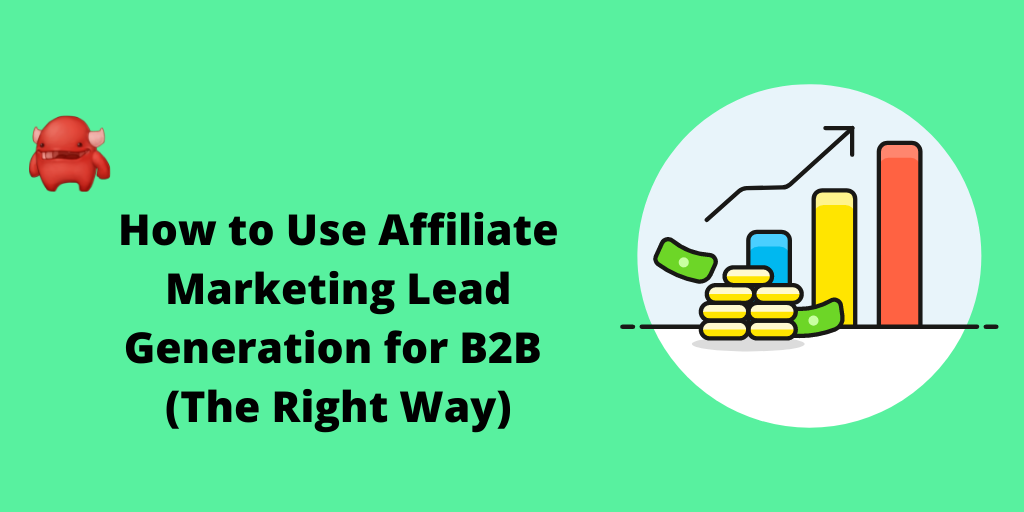 B2B marketers are always looking to create more high-quality leads. Is affiliate marketing lead generation the key ingredient they're missing?
Modern-day marketing is obsessed with automation, and what better way to automate your lead generation than by enabling an army of publishers to bring in leads for you?
Let's take a look at how business owners can use affiliate marketing lead generation to bring in a consistent stream of quality leads.
What is Affiliate Marketing Lead Generation for B2B?
We always tend to think about affiliate marketing in terms of e-commerce sales. Affiliates promote your products, send clicks to your website, and they get a commission on any sales they help generate.
Referral tracking is a much more sophisticated marketing strategy than simply monitoring sales though. It can be used to track any number of actions, one of which is lead generation.
This is an important distinction for many B2B businesses because B2B sales are slightly different from B2C. B2C sales certainly aren't a walk in the park, but B2B sales tend to be even more tricky.
To overcome this, B2B businesses tend to have their own dedicated sales teams.
Obviously, you're not going to bench these guys for affiliate marketers, but one thing they'll always need is leads. If you pivot your affiliate marketing to focus on B2B lead generation, then you get the best of both worlds:
Ability to reach a large, targeted audience
Strict control over your sales process
All you need to get started is the right software, and guess what?
We're going to show you exactly how it works.
The B2B Customer Journey
We said the B2B customer journey is more complicated than a B2C one, so let's expand on that.
When you sell directly to the customer, there are usually very few stakeholders. If you buy a t-shirt, the main question is do you like it (perhaps your significant other might have some input as well).
A company works in a very different way though, and it means there are a lot more people involved in the decision.
Let's say our business is looking to buy new computers.
The thing is, we've got salespeople, marketers, designers, accountants, customer support, and many more people to think about. Each group wants something slightly different, so we put together a committee that includes a senior representative from each department.
Ok, so you've got a committee, but wait, it's going to get more complicated. The senior decision-maker in marketing is going to delegate the research to a more junior marketer. Just like that, you've got another stakeholder.
This constant back and forth between different stakeholders makes the B2B customer journey long and complicated. It means your marketing has to be on-point, make use of the right marketing channels, and be extremely targeted with email marketing.
It's also a reason why affiliate marketing lead generation works well for B2B.
You can ensure you've got a constant flow of qualified leads, but you're leaving it to your specialists to make sure those leads make it through your sales funnel.
Affiliate Marketing and the B2B Sales Funnel
The B2B sales funnel is how you understand what actions you need to take at each point in the customer journey. It ensures that you're giving your prospects the information they need when they need it.
Affiliate marketing can be incredibly useful in the early stages of this funnel.
By piggybacking off your affiliates' audiences, you can introduce your brand to a large audience (awareness), show how your products solve a problem (interest), and generate plenty of social proof.
Even in the decision stage of the funnel, where prospects are looking to compare different products, affiliate marketing works well.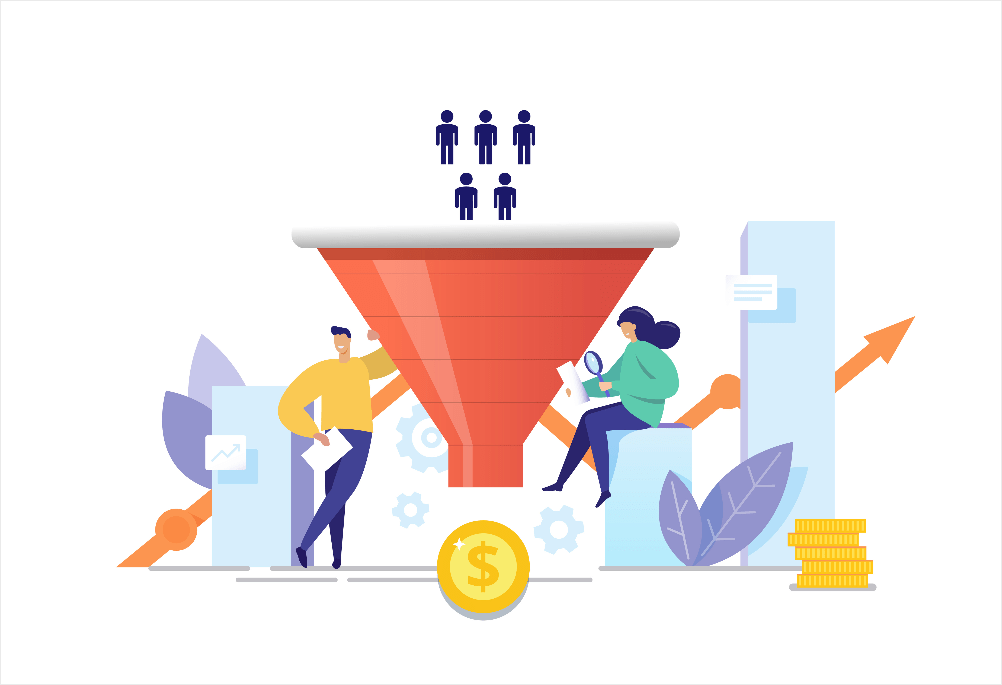 So, the question is, why would we limit our B2B affiliate marketing to lead generation?
The reason is control.
If you have a well-defined sales funnel, then you want to progress your prospects through it yourself. You've got the skills you need to take someone from awareness to purchase; all you need is a consistent flow of leads.
In this case, a lead generation affiliate program can be much more cost-effective than paying a commission on sales.
How Do I Get Affiliate Marketing Leads?
It's a great feeling when you know your sales funnel is stocked with high-quality leads.
As many small businesses will admit though, it's not easy to achieve. There are lots of different methods for finding new leads, but one you shouldn't overlook is affiliate marketing.
With the right strategy, you can run an automated lead generation program that consistently reaches your target audience.
1. Set Your Goals and KPIs
This is something you will want to borrow from your sales funnel.
You should have clear objectives and KPIs that will allow you to track your performance. Without these, it's easy for your affiliate marketing lead generation to drift.
Decide on important details such as:
What are the demographics of your target audience?
How many qualified leads do you want to bring in each month?
How will you score leads?
What constitutes success?
How many affiliates/ influencers do you want in your program?
Ideally, you want your affiliate program to fit seamlessly into your sales funnel, so make sure you've clearly set out your goals and linked them to your sales processes.
2. Set Up Link Tracking
You might think this is the tricky part, but it's actually incredibly easy.
Here's a 4 step guide you can follow to set up link tracking (yes, just 4 steps!).
All you need is a form builder, we recommend WPForms, but we also integrate with GravityForms, NinjaForms, FormidableForms, and many others (check out our integrations).
An important thing to remember with any form of affiliate marketing is that a lot of it relies on you. There's only so much your affiliates can do (send you traffic), so you've got to take care of the little details like optimizing your forms.
This is why we love WPForms: because they're always innovating to help boost your conversion rate.
3. Set Your Affiliate Program's Parameters
Not all leads are created the same. This is why lead scoring is such an important part of lead generation.
You need to use things like your affiliate terms and conditions and other documentation to educate your affiliates on what kinds of leads you're looking for. This way, everybody has a clear understanding of what constitutes a lead, and when they're entitled to be paid.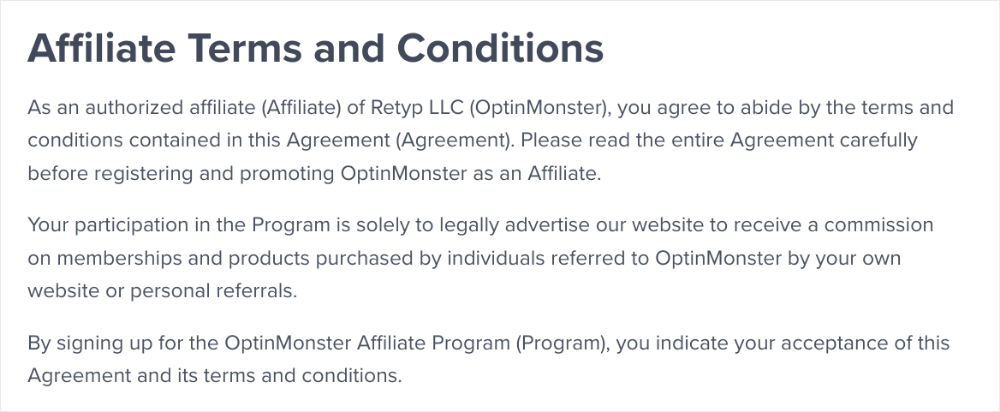 With AffiliateWP, you have complete control over what forms are eligible for an affiliate payout, and the commission rate for each lead. Make sure to use these options to reach potential customers rather than curious passers-by.
4. Optimize Your Lead Capture Process
People don't just fill out a form for no good reason. You've got to give them a good reason to hand out their precious contact details.
Again, you need to have a strategy here.
Before you launch your affiliate marketing lead generation program, make sure you've got all your assets in place. These are going to be:
Upgraded content
Free trials
Webinars
Quizzes
And more…
It's important to focus on quality here because this is like your bait. If it doesn't offer value, then people won't bite.
You've also got to think about how you showcase your upgraded content. It shouldn't be hidden away on some corner of your website; it's got to demand attention, which is why we use OptinMonster.
They're the conversion experts, offering you hundreds of templates and specialized playbooks to help you start converting immediately.
Another brilliant option for lead generation marketing campaigns is RafflePress. It allows you to create prize draws where people earn entries by completing certain actions. For example, you might enter everyone who downloads your "Beginners Guide to SEO" into a raffle to win 50% off your SEO software.
The key thing here is you've got to give people a reason to become a lead.
5. Sign-Up Affiliates
Many affiliates love a lead generation affiliate marketing program because they don't have to worry about the sale. They've simply got to get people to fill out a form.
Of course, it's likely the payout won't be as big as a commission on a purchase, but if they create enough leads, then it can be well worth their while.
It's not always simple to sign-up affiliates though.
To do so, you've got to treat it as an extension of your digital marketing and pay a lot of attention to your affiliate program landing page. Use all your marketing and sales knowledge to sell your affiliate program, otherwise, it's going to be difficult to stand out.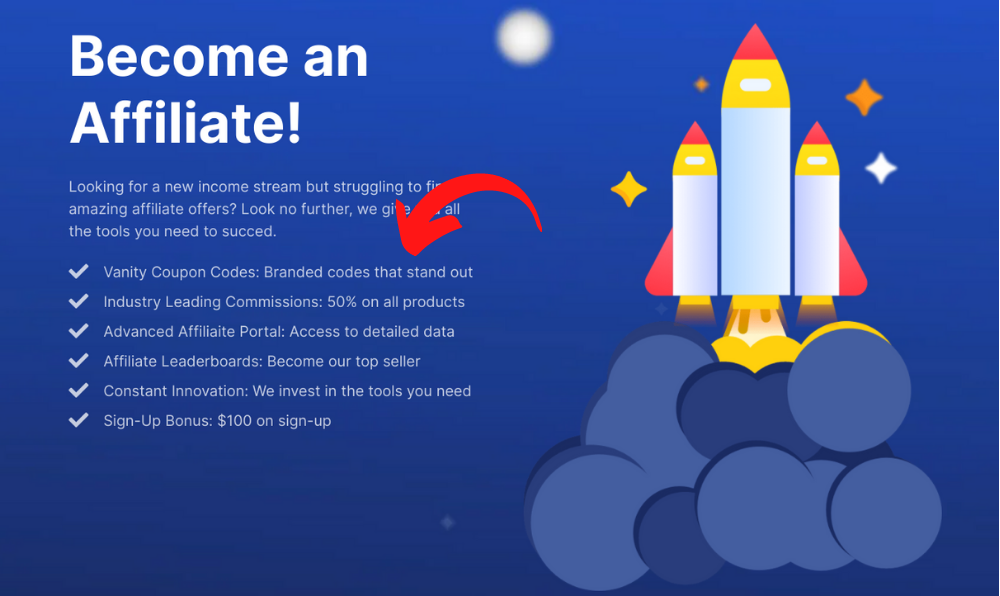 Have a clear picture of the type of affiliates you want: social media influencers (LinkedIn is an ideal option), bloggers, app owners, etc, and tailor your pitch to them.
Affiliates have a ton of choice about the program they join, just look at the huge affiliate networks. By running your own affiliate program though, you can offer so much more:
You've just got to get it in front of your target audience and showcase the great features you offer.
6. Track and Pay
If you've taken care of step one, then tracking referrals and making payments is simple.
All your referrals will show in your AffiliateWP dashboard, and with our integrated payouts service, you can easily make payments directly to your affiliates' bank accounts.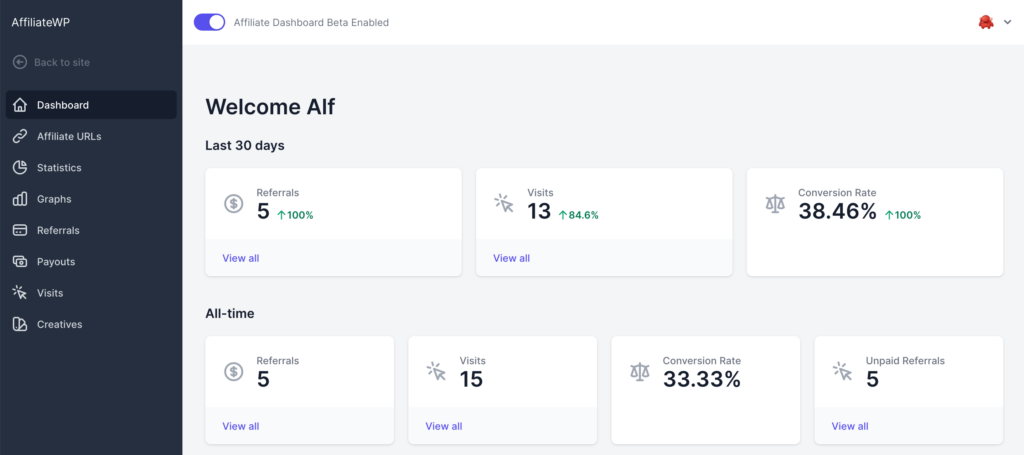 Make sure you have clear rules about what qualifies as a referral and continue to highlight them in your affiliate dashboard so that there's no confusion here. Communication is key to your affiliate relationships, so be open and honest, and it will work for everyone.
7. Hand Over to Your Sales Team
This is a key step because you don't want any leads to slip through the cracks. Your B2B sales funnel should highlight exactly what steps your team needs to take once a lead is generated, so make sure everybody is aware of the process.
Everything is in your control now, so it's up to you to optimize your performance and make sure you're creating an ROI on your affiliate marketing lead generation. Affiliates can give you all the leads you want, but if you can't convert, then it's all for nothing.
If your lead gen is on point, then you should have high-quality, engaged leads; now turn them into new customers.
FAQs: B2B Lead Generation Affiliate Program
What is a lead in affiliate marketing? A lead-in affiliate marketing is when an affiliate sends someone to your website and they show an interest in your products or services (normally by filling out a contact form). With the right affiliate software, you can decide what action someone needs to take to qualify as a lead.
How do I get affiliate marketing leads? Getting affiliate marketing leads is about building relationships with affiliates, putting the right processes in place, and incentivizing lead generation. If your affiliate management is organized and you have a clear picture of how your affiliate lead generation fits with your sales funnel, then it can ensure a steady flow of leads.
How do you generate organic leads for affiliate marketing? If you don't have a strong presence in the search engines, then you can still create organic leads by leveraging affiliate marketing. If your affiliates have a strong presence in the search engines, and on social media, then you can create leads in a more organic way than with paid advertising.
What is the difference between affiliate lead generation and lead generation? The difference is the source of your leads. In affiliate marketing, you're leveraging affiliates to send leads to you in return for a commission. In regular lead generation, you're creating the leads yourself.
Skyrocket Your B2B Lead Generation
Affiliate marketing lead generation is a perfect fit for B2Bs. It meshes neatly into the B2B sales funnel and helps to automate large parts of your lead generation.
With AffiliateWP, it couldn't be easier to set up referral tracking for your lead generation program. It's up to you to streamline your processes and attract the best affiliates, but again, we're here to help with this!
If you've got a great sales team, then all they need is leads.