How to Increase WordPress User Sign-Ups with Affiliate Marketing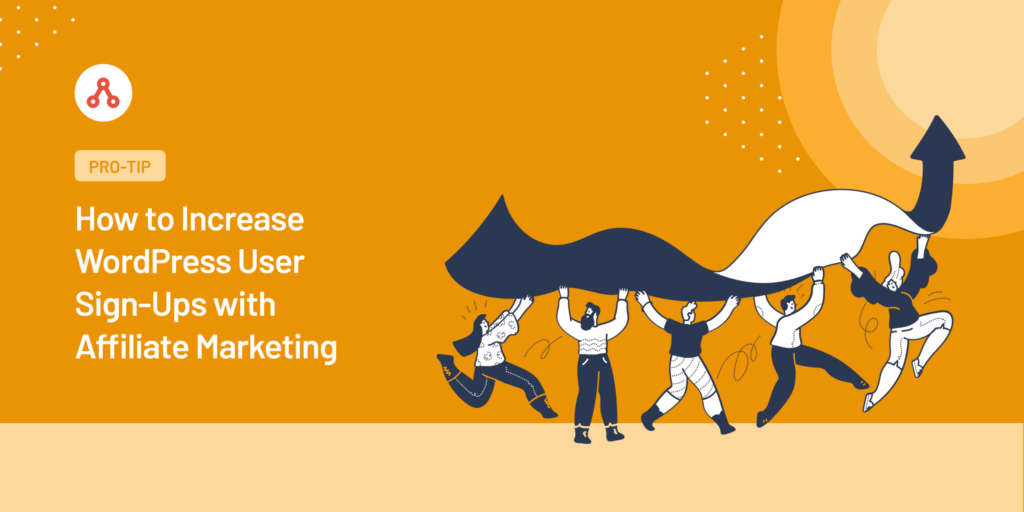 Want to get more use sign-ups on your WordPress website?
Affiliate marketing is the perfect way to get more people signing up on your site, and it's actually very easy to set up.
Let's take a look at how you can increase user sign-ups with affiliate marketing.
Why Incentivize User Sign-Ups?
We're used to incentivizing sales and opt-ins with affiliate marketing, but there are lots of other actions you can encourage.
One such action is user sign-ups.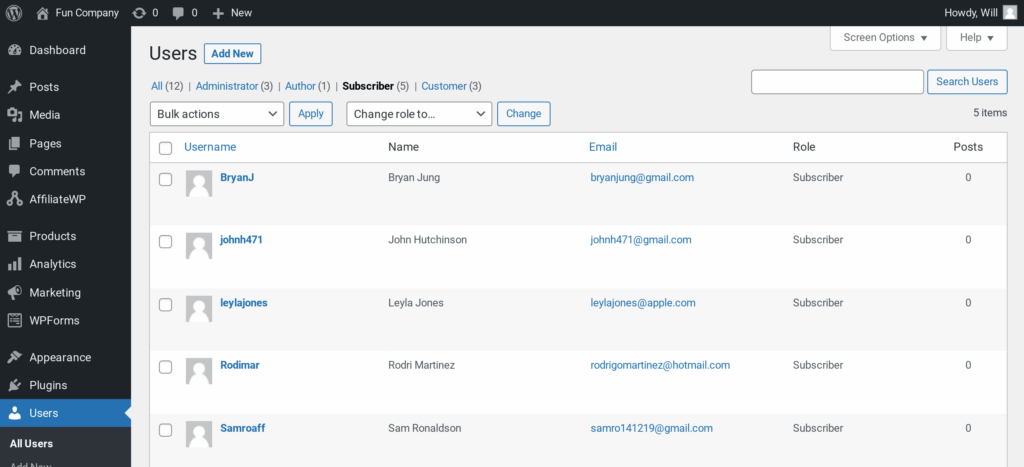 When someone creates a user account on your website it's a bit like becoming a lead, but it's even more valuable for your business. Not only are you getting their contact details so you can create more touchpoints in the future, but it's also an excellent way to showcase your products.
For instance, you might offer free teaser courses, or show some restricted content to your WordPress users. This is your "freemium" content, and it's used to gently guide the user into becoming a customer.
When someone signs up as a user on your WordPress website, it can be of great value to you!
So, why not incentivize it?
With the right affiliate software, it's absolutely possible to incentivize user sign-ups and it can be a very beneficial marketing strategy.
7 Steps to Incentivize User Sign-Ups
It might sound complicated to offer affiliates a commission on any user sign-ups they send you, but it's actually very simple.
You can start tracking sign-up referrals in just 2 steps, but we're going to give you some extra tips so that you have everything you need to succeed.
Here are the steps we're going to be looking at.
Install AffiliateWP
Activate Signup Referrals
Set Your Commission Structure and Cookie Duration
Edit Your Affiliate Area and Affiliate Registration Form
Affiliates Create Affiliate Links in their Dashboards
Track Performance with Affiliate Analytics
Make Affiliate Payouts
Let's take a look at these steps in more detail so you can start incentivizing user sign-ups in WordPress.
Step 1: Install AffiliateWP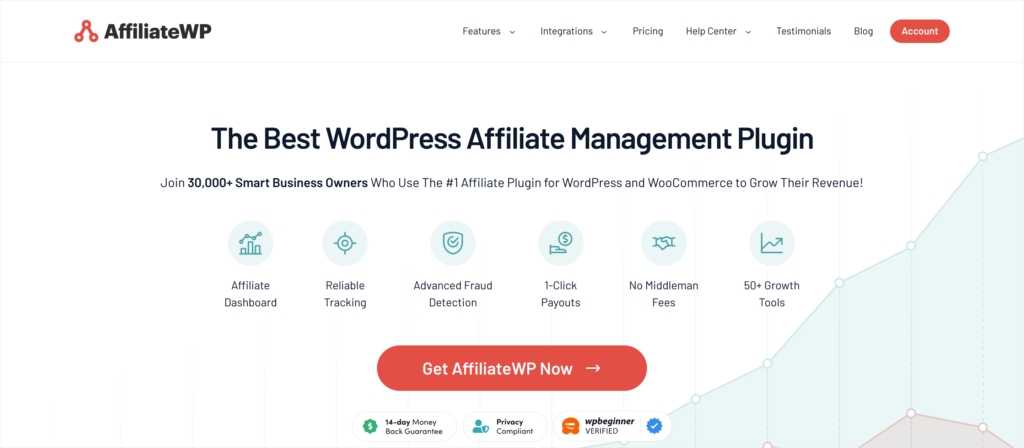 AffiliateWP is the best affiliate management plugin for WordPress. It helps you set up a WordPress affiliate program in under 10 minutes and it makes it super easy to track signup referrals.
In just a few clicks, you can effortlessly track affiliate links, and you'll have the powerful tools you need to sign up top affiliates. With built-in notifications, a customizable affiliate dashboard, and innovative growth tools, AffiliateWP has everything you need to build a thriving affiliate program.
Just go to the pricing page and choose the plan that best fits your needs (you'll need either a Plus or Professional license to use the Signup Referrals addon).
It's super easy to install the plugin using your WordPress admin, but if you have any problems, then just follow this simple guide. As soon as the plugin is installed, you'll be able to effortlessly set up your affiliate program and track user sign-ups.
Check out AffiliateWP's pricing!
Step 2: Activate Signup Referrals
AffiliateWP can track virtually any event on your website. That might be sales through WooCommerce or Easy Digital Downloads, form opt-ins through WPForms, Gravity Forms, or Ninja Forms, or much more.
If you want to add tracking capabilities beyond signup referrals, just go to Settings and check out the available integrations.
For now though, you need to go to the Addons page and scroll until you see the Signup Referrals addon. Click the toggle button underneath to install and activate the addon, and it will go live.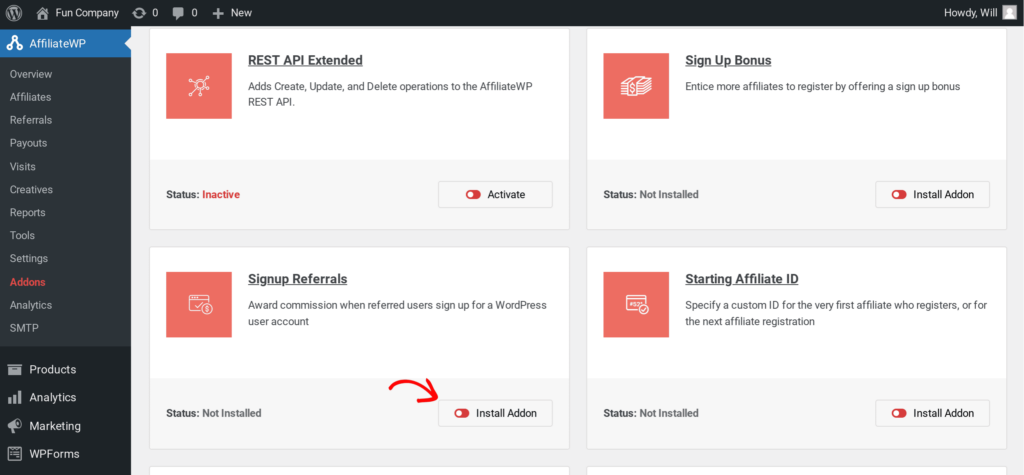 Just like that, AffiliateWP can now track user sign-ups for a range of popular WordPress plugins:
User registers as an affiliate in AffiliateWP
User registers for an account via Easy Digital Downloads
User registers for an account via WooCommerce
User registers for an account using Gravity Forms, and the User Registration add-on
User registers for an account using Ultimate Member
User registers for an account using UserPro
Now when someone signs up as a user on your site having followed an affiliate link, AffiliateWP will assign the referral to the correct affiliate so they can be paid a commission.
Step 3: Set Your Affiliate Commission and Cookie Duration
If you're going to incentivize affiliates to send you new users then you will need to offer a commission.
You can do this by going to your AffiliateWP Settings and scrolling until you reach Referral Rate Type. This option allows you to choose between a percentage commission and a flat rate. As user sign-ups don't have a value, there's nothing to pay a percentage commission on, so you will want to choose Flat Rate.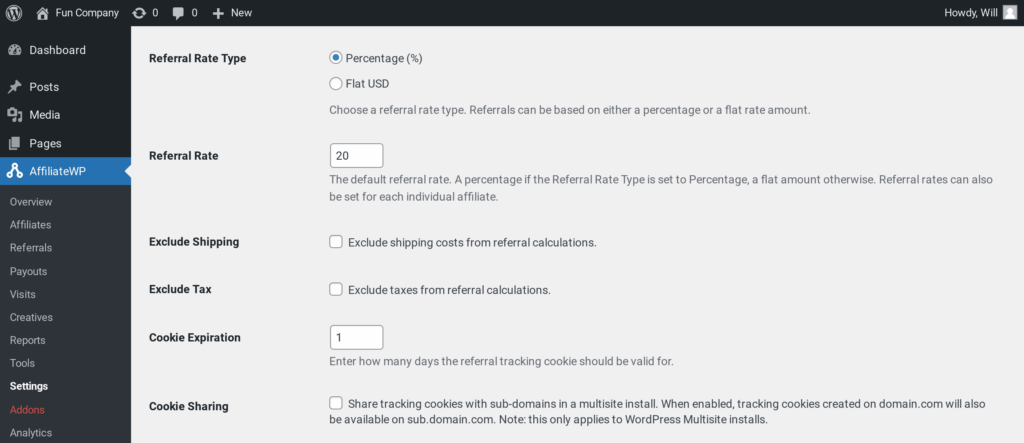 Think about how much you want to offer for each user sign-up and type the number into the Referral Rate box.
Now look for the Cookie Expiration box. This is where you set the length of time your affiliate cookies will last. Essentially, it's the amount of time a user has to complete their sign-up after clicking the affiliate link for the affiliate to be eligible for a commission.
Once these settings have been configured, you're ready to start signing up affiliates.
Step 4: Customize Your Affiliate Area and Registration Forms
When you install AffiliateWP it will automatically create an Affiliate Area page. This is where affiliates can sign up for your program, and once accepted, log in to their dashboards.
Go to Pages in your WordPress admin and use the search box to search for Affiliate Area, and then click Edit. You will be able to edit the Affiliate Area just like any other WordPress page, but the main thing you will want to concentrate on, for now, is the affiliate registration form.
AffiliateWP gives you lots of different ways to build your affiliate registration forms (including WordPress blocks, Gravity Forms, Ninja Forms) but by far the most effective is our WPForms integration.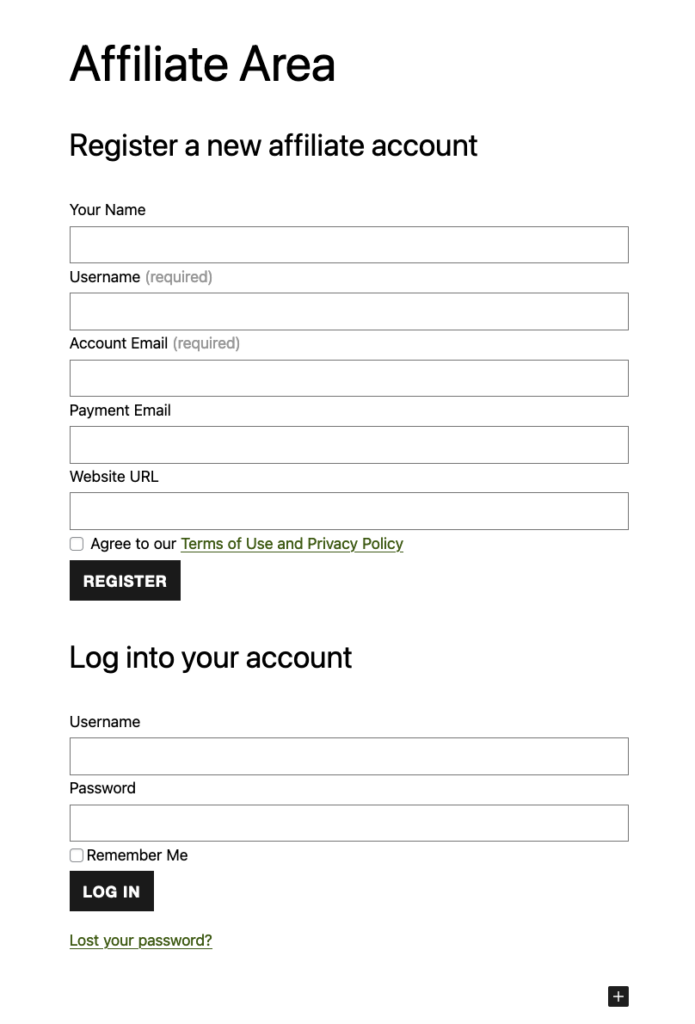 You can use the free WPForms plugin to quickly create high-converting affiliate forms, and if you have one of WPForm's paid plans, it's going to give you some amazing integration options.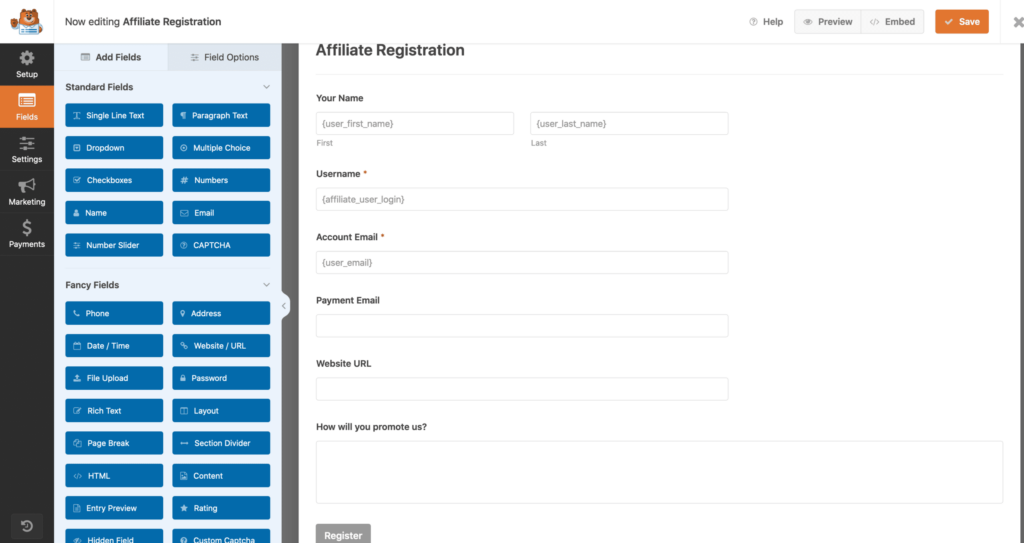 The right form is going to help you attract more high-quality affiliates, and it's going to help automate other elements of your program.
Step 5: Affiliates Create Affiliate Links in the Dashboard
Whenever someone completes your affiliate registration form you'll receive an email notification.
You'll be able to view the application by going to Affiliates and clicking the Pending tab. This will show you all your outstanding applications. Click on the name to see more details about the affiliates, and use the Accept and Reject buttons to approve or reject the affiliate.
The affiliate will then receive an email informing them of whether they've been accepted into your program. If accepted, they'll then be able to log in to their affiliate dashboard through the same Affiliate Area page they signed up on.
Once the affiliate has logged in to their affiliate area, they can generate affiliate URLs, track performance, make requests, and access all the information you provide in the affiliate dashboard.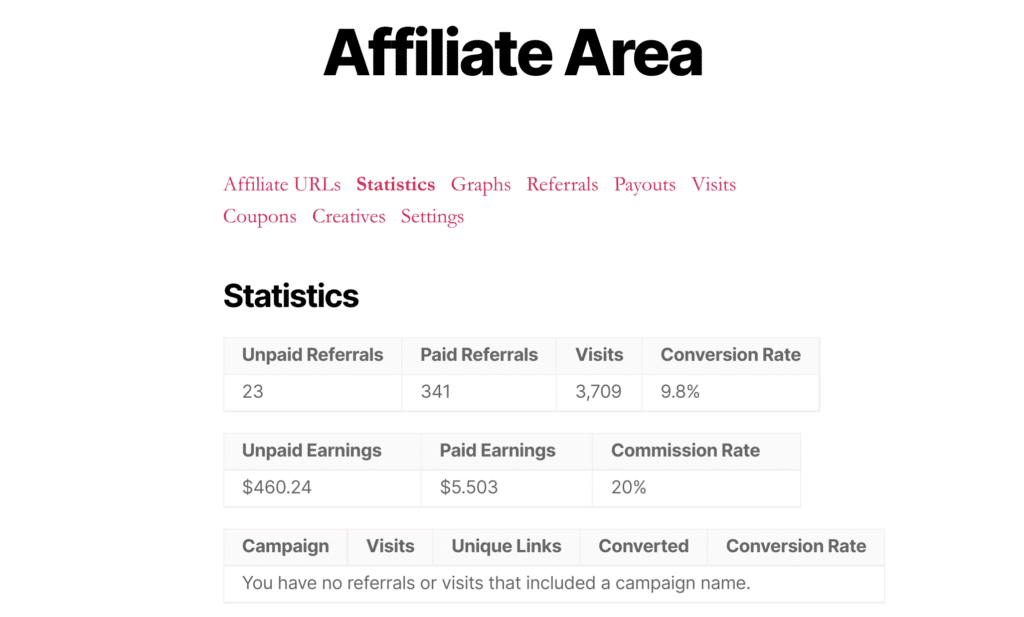 Affiliates can then promote their affiliate links to their audiences, and encourage user signups on your website.
Step 6: Track Performance with Affiliate Analytics
If you're going to incentivize user signups then you need to be able to track the results. AffiliateWP lets you do this with in-depth analytics.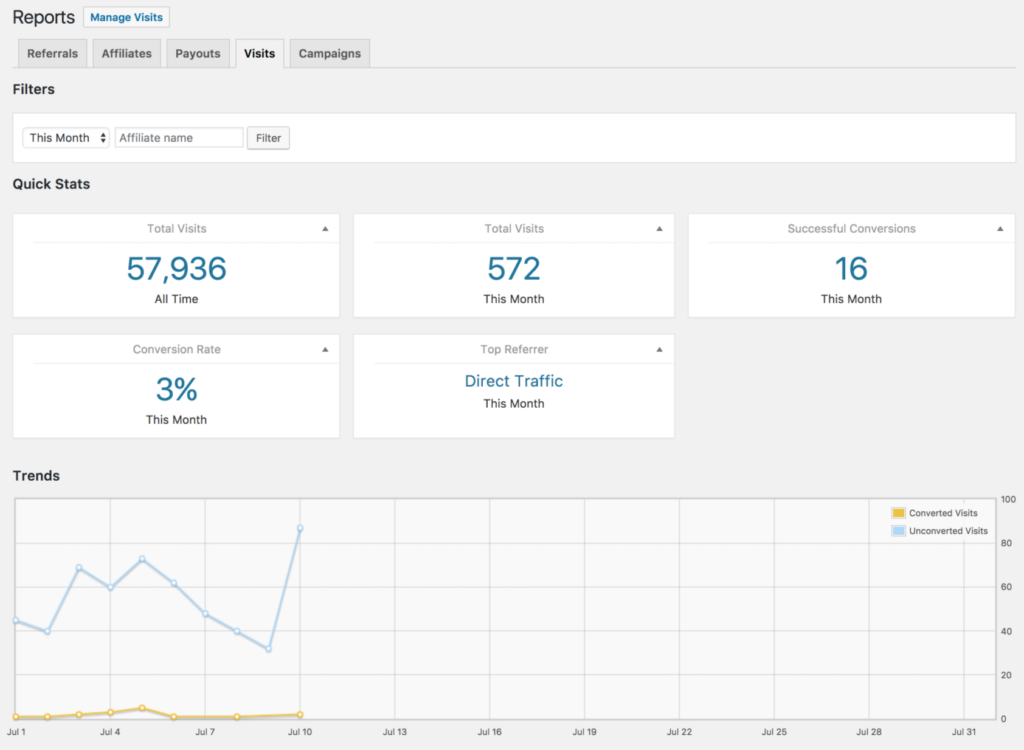 Whenever a user lands on your website after clicking an affiliate link, this will be logged as a visit, and you'll be able to see which affiliate sent you the visit. If that user then signs up for a user account on your website, then it will show as a referral.
You can see all your visits and referrals, plus even more data from the Reports page.
It will allow you to keep track of all the important details about your affiliate program, and get detailed insights into how you can improve performance.
Step 7: Make Affiliate Payouts
The last step to setting up signup referrals is making sure your affiliates get paid on time.
AffiliateWP will automatically track each affiliate's earnings, making it incredibly easy for you to make payments. You can do this through the integrated payouts service, PayPal payouts, or Stripe mass payments.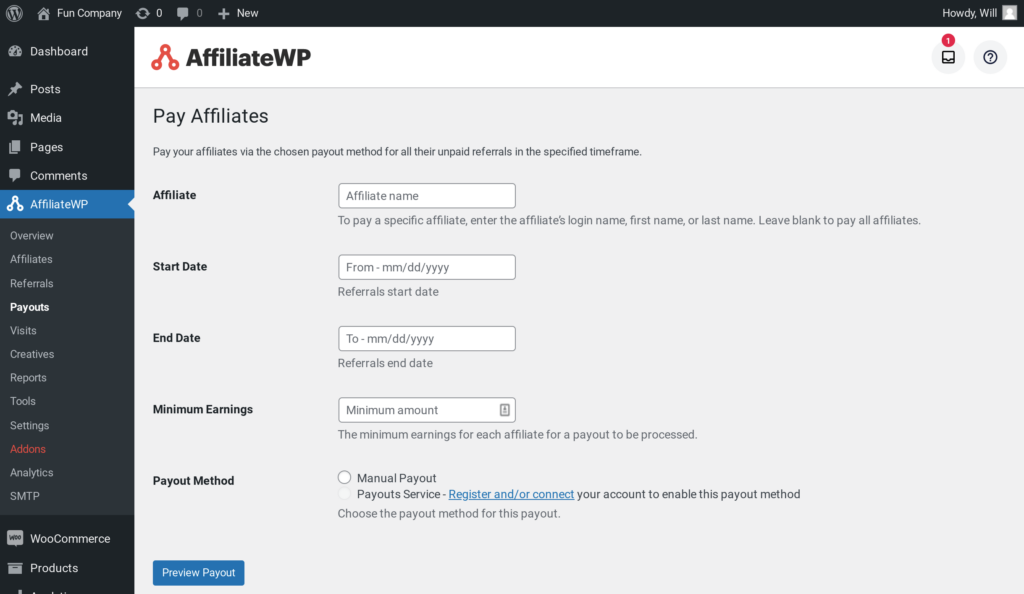 The easiest way to make your affiliate payouts is with the Integrated Payouts Service as you can pay affiliates directly to their bank accounts without ever leaving your WordPress admin.
Check out this great guide on paying affiliates in WordPress.
Next, Get Affiliates to Sign Up for Your Affiliate Program
One of the key elements of any affiliate program is knowing how to get affiliates.
Great affiliates are out there; you've just got to make sure you're finding them and standing out from the crowd. The best way to do this is by following our complete guide on How to Get Affiliates.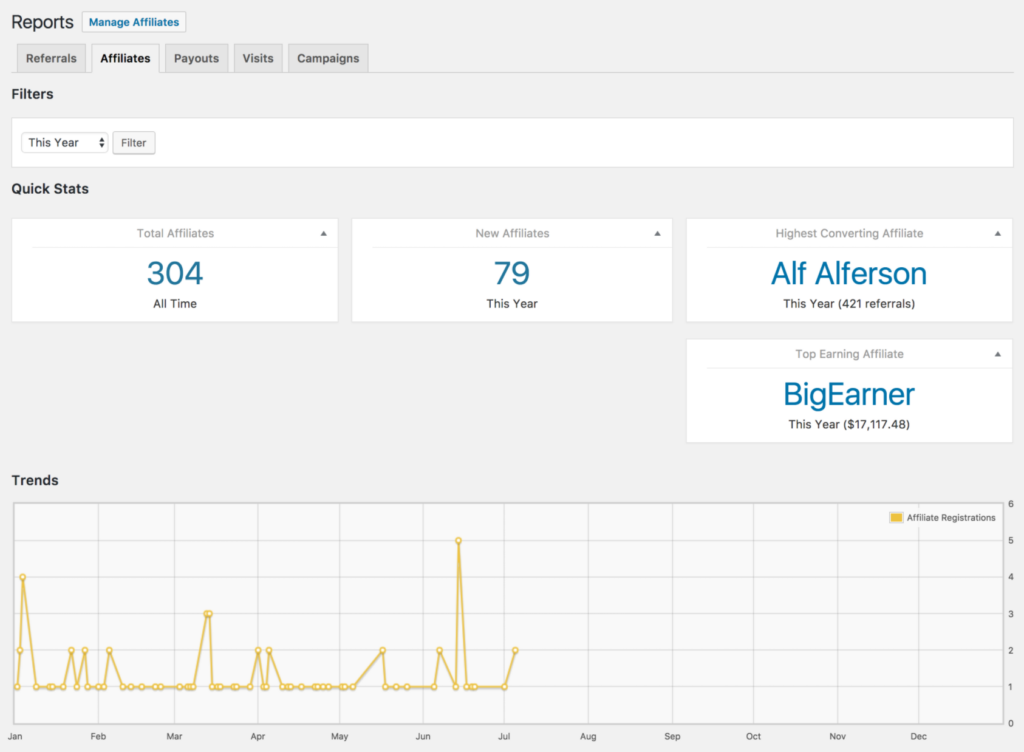 It might take a little extra effort at the beginning, but once you've got the processes in place, you're going to get a consistent stream of quality affiliates into your program.
Boost User Signups with Signup Referrals
Getting more people to sign up as users on your site can be a big plus for your business. There are a few different ways to boost user sign-ups but one of the most effective is through affiliate marketing.
Now that you know how to set up signup referrals, here are a few more useful tutorials you might want to check out:
Now there's only one thing left to do.