Everything You Need to Know About Affiliate Onboarding (Guide)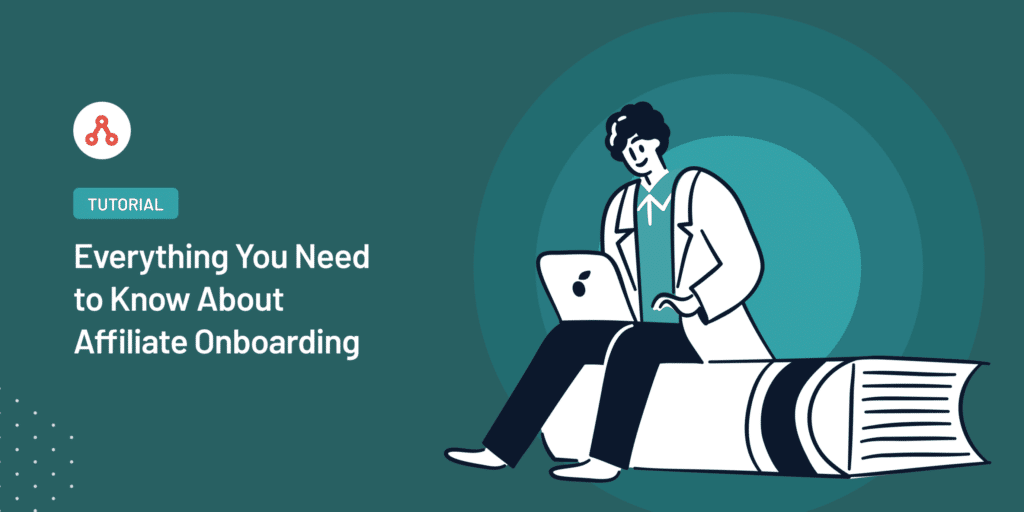 Affiliate onboarding can be the difference between consistent, valuable affiliate sales and a trickle of stop-start transactions.
Lots of people start an affiliate marketing program full of optimism but soon find that motivating affiliates to make sales isn't as easy as they expect. Sound familiar?
Well, good affiliate marketing is a process, and one of the most important parts of that process is your affiliate onboarding.
Here's everything you need to know about creating a successful onboarding process.
What is Affiliate Onboarding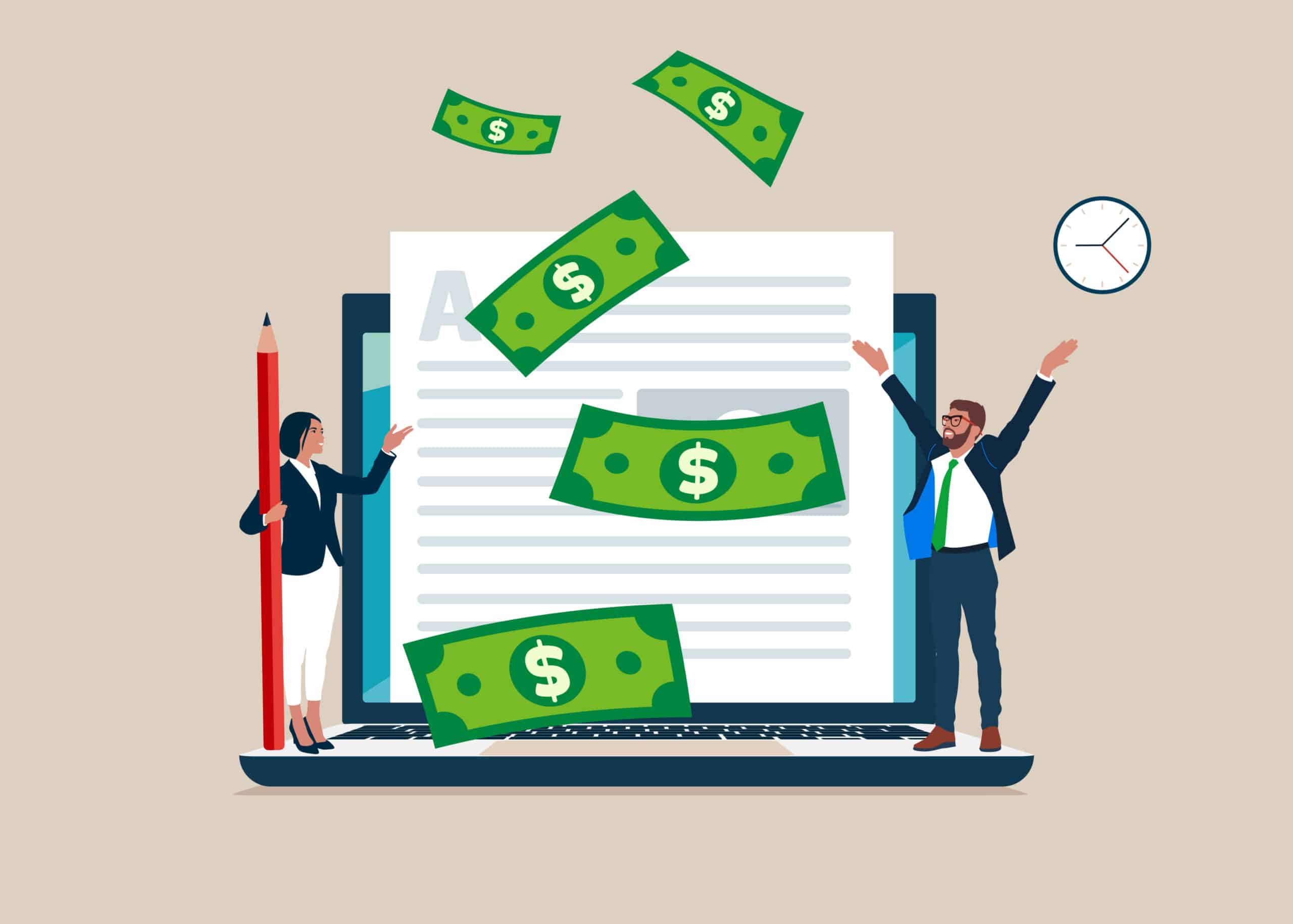 Affiliate Onboarding is a vital step in fostering a successful affiliate partnership.
It's the process of introducing new affiliates to your program, ensuring they are well-versed with your products and services, and guiding them to begin promoting effectively.
Imagine a new person coming to work with you. You would show them around, tell them what their jobs are, and make sure they have everything they need to do well. Affiliate onboarding is similar but it takes place online.
It's kind of like a virtual handshake, where you welcome new affiliates, help them get used to your brand, and show them how to promote it best.
In simple words, getting a new affiliate is like planting a seed for growth in the future. It's where you lay the groundwork for a good relationship that can lead to more sales, more money, and a successful affiliate program.
Why is Affiliate Onboarding Important
Affiliate onboarding is important because the early days of any relationship are crucial.
You're sizing each other up, wondering if the relationship will be valuable, and deciding how far you want to take things.
When it comes to affiliate programs, affiliates are spoiled for choice.
Not all of these programs offer the potential yours does, but affiliates don't know this. They're trying to make a quick decision about which affiliate program can make them money, and if you can't showcase this, then they'll likely move on to the next one quite quickly.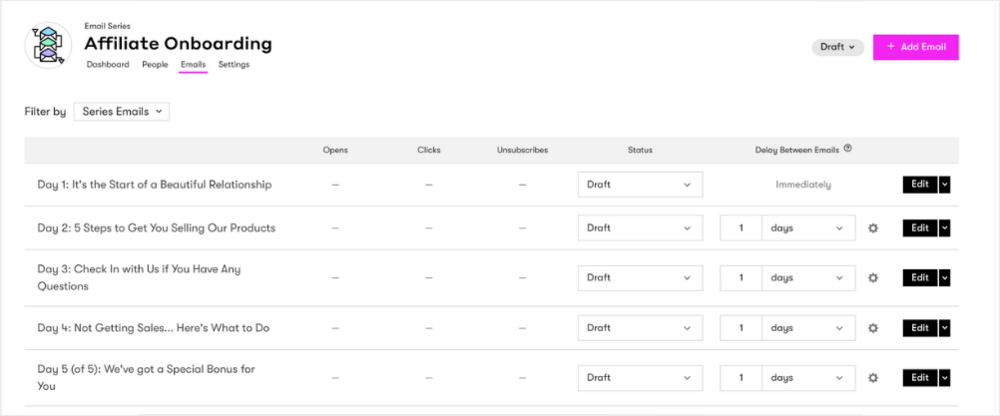 This makes your affiliate onboarding process essential because it can give affiliates assurances:
That you're invested in their success
That you'll get them sales
That you'll follow through on your promises
That you're committed to improving your program
It's a bit like when you walk into a restaurant and there's nobody there to greet you. You sit at a table looking around, hoping someone will give you a menu. Once you get the menu, you can relax a bit because you know the waiter is on it, and the chances are, you're going to get your food in the near future.
Affiliate onboarding does the same thing.
It tells your affiliates that you're there for them, and you're going to help them achieve their goals.
Effective Tips to Improve Your Affiliate Onboarding
What do you think affiliates love more than anything else?
It's probably seeing that notification when they've made a sale. Who doesn't love knowing they've just made some money?
What your affiliate onboarding should aim to do is cut the learning curve so your affiliates get that feeling of making sales more quickly. Luckily, if anyone is an expert at selling your product, it's you, so you'll have lots of helpful information to share.
Here are some proven strategies for a successful onboarding experience for your new affiliates.
1. Make Your Affiliates Feel Welcome
If you want your affiliates to thrive, they should feel welcome as a part of your team, and that all starts with onboarding.
What better way to start the relationship than with a gift?
You could give them a copy of your product, a free trial, a demo, or a branded t-shirt.
This not only helps to make sure they really understand the product they are promoting; it also helps to establish a good rapport.
You might also invite them to Facebook groups, forums, or relevant Slack teams. Or, maybe you decide to introduce them to your existing team in some creative way, such as putting a spotlight on them in your newsletter.
The bottom line is that you want to set up your onboarding process to make your affiliates feel like they are a part of something – like they just joined a cool club and they're warmly welcomed.
Remember that social proof and FOMO (fear of missing out) are powerful tools. If you can incorporate your affiliates into this happy, thriving community you've created, then it's going to give them added motivation.
Bonus Tip: RafflePress is a great way to make your affiliates feel like they're part of a team. You can set up raffles where affiliates earn entries for completing certain onboarding actions. The more they do, the greater the chance they win an exciting prize.

2. Clearly State Your Affiliate Terms and Conditions
Part of the affiliate onboarding process is setting expectations and one of the best ways to do this is with your affiliate terms and conditions. Your affiliates will have seen this information when they signed up, but it's important you continue to stress the value of this document.
You can't expect people to understand what you want from them if you make your terms and conditions incredibly complicated though.
When was the last time you enjoyed reading through a mind-numbing set of overly-complex terms and conditions? My guess is…never?
Too much technical jargon and excessive information can intimidate your affiliates and maybe even turn them off from your program entirely. Keeping this stuff simple helps you onboard your affiliates faster and leaves less room for confusion and misunderstandings.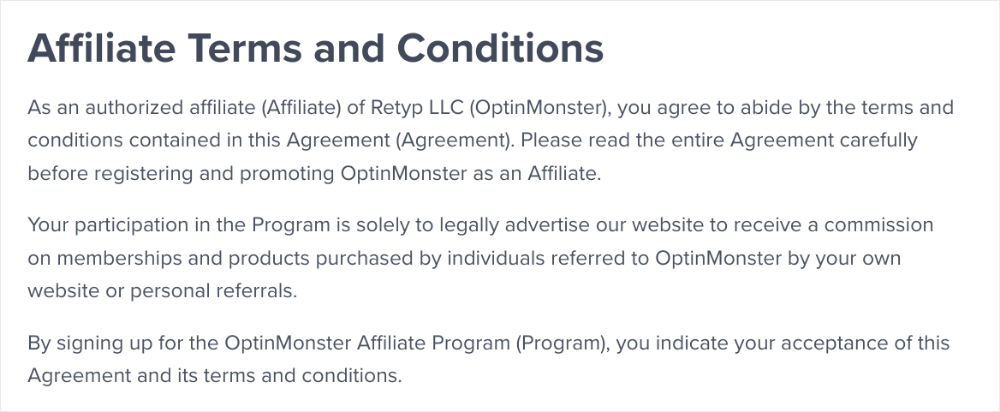 As much as possible, try to create your terms and conditions in plain English. There's no need for anything more complicated!
3. Think About Everything from the Affiliate's Perspective
When setting up your affiliate onboarding, consider all aspects from the affiliate's perspective. Think about what you would want to know or have access to if you were a new affiliate, including:
Where to find creatives
How to set up links correctly
How to choose products to promote
How to get started promoting
Who to contact
Incentives
Payment specifics
Consider creating a "getting started" guide with all of the most important information your affiliates need. This not only makes the onboarding process smoother for them; it also cuts down on the amount of support you (or your affiliate managers) need to provide.
One thing we say all the time at AffiliateWP is that it's one thing to create an affiliate program, it's another to successfully grow it. You can create a program in a few minutes, but to grow it, you need tools that give your affiliates what they need to succeed.
That's why we focus on making our affiliate area powerful and customizable. With Affiliate Area Tabs, you can create custom tabs to add all the essential information your affiliates need.
For example, consider your target market; is there any related information you want to share with your affiliates? Why not pass along those insights if you've already studied your audience?
Where do your prospects hang out online?
What topics do they want more of?
What keywords do they search for?
What competitors do they consider?
Affiliates can take that information and turn it into sales for your product, but you've got to provide them with the information first.
4. Personalize the Experience
Every affiliate is different and you want to make their affiliate onboarding experience as personalized as possible.
This starts from the moment someone applies to join your program. Recognize that not every would-be affiliate is the right fit for your business, and ensure you only accept people who are a good match.
While researching, learn as much as possible about your affiliate's business model and use this to personalize the onboarding process. With time, you'll find different ways to segment your affiliates to give them the best possible affiliate onboarding.
You might look to create different segments based on:
The platforms they use: Blog, social media, email marketing
The size of their audience: Macro vs micro-influencers
Level of experience with affiliate marketing: Someone who has been running their blog for 10-years is different from someone just starting out
Level of experience with your product: Someone who has been your customer for years is different from someone who is new to your brand
Again, you know your business best, so use this knowledge to offer your affiliates a personalized experience.
5. Help Your Affiliates Make their First Sale
Part of onboarding affiliates is actually motivating them! After all, you want them to be enthused about promoting your products, right?
Momentum is a powerful thing, and helping your affiliates make their first sale can be all it takes to catapult them into becoming thriving members of your team.
This can be as simple as guiding them to the right products for their audiences, giving them trendy creatives, or offering marketing suggestions for first-time affiliates.
If certain products convert particularly well, let them know!
You could even send your affiliates success stories to give them good examples to follow, Illustrating some promotional techniques or strategies that have worked for you or others in the past helps to provide them with a head start!
Another great way to get started with this is to create a personalized landing page for each affiliate using our affiliate landing pages pro-add-on. This is a huge sign that you're invested in the relationship and a great opportunity to collaborate with your affiliate during onboarding.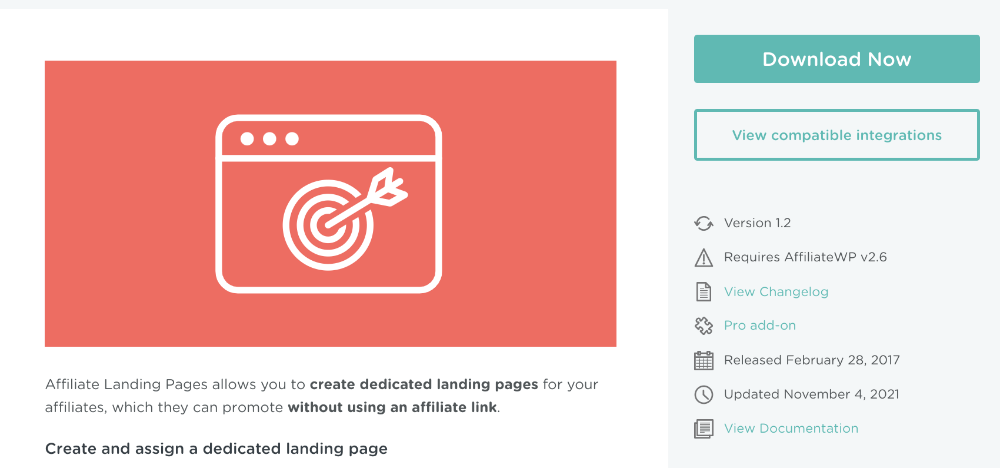 Use the affiliate onboarding to find out about your affiliates' business and work with them to build the perfect landing page that will earn sales for both of you.
6. Make Communication Easy
To get to know your affiliates and build meaningful relationships with them, it's essential to cultivate a sense of trust and transparency.
Communication should be straightforward. After all, you want your affiliates to feel comfortable investing time in your program, and you want them to stick around!
Whether you oversee everything yourself or you have an affiliate manager, make sure your affiliates know who they should talk to if they have questions or concerns, and make it as easy as possible for them to get in touch.
It might also be worth setting up an automatic follow-up one month after affiliates join to check in with them and see how they're doing.
If they haven't already, this makes it easy (and inviting) for them to respond to you with questions or concerns.
7. Simplify the Payment Process
Your affiliate onboarding is a perfect opportunity to showcase how simple and reliable your payment process is. Of course, to do this, you need a great payment process to begin with, which is why we created our integrated payouts service.
Getting paid is important for any affiliate, and when they join a bespoke, independent program, it might be something they're concerned about.
Use this time to collect all the information you need to make the payment process seamless and show that timely, consistent payments are vital to you.
When affiliates know they're going to get paid regularly and without hassle, it just offers that extra piece of motivation to go out and make sales.
8. Use Your Affiliate Onboarding to Learn
Affiliate onboarding is great because it opens a conversation and you can use it to get important insights into improving your program.
Make sure you add a survey form to your onboarding process so you can find out:
What attracted your affiliates to your program
What they love about the program
What they don't love about the program
Features they'd like to see that would help them make more sales
You don't want to take up too much of your affiliates' time, so keep forms brief and make them as easy as possible to fill out.
We love WPForms' conversational forms for this because they don't bombard people with too many questions all in one go. They allow you to ask questions more naturally, keeping your affiliates engaged and helping you to maximize the insights you get.
FAQs: Everything About Affiliate Onboarding
Why is Affiliate Onboarding Crucial for My Program?
Affiliate onboarding is the initial phase where affiliates learn about your program, products, and how to promote them. It sets the stage for a successful partnership by providing clear guidelines, expectations, and support.
What Can I Do to Make My Affiliates Feel Welcome and Motivated?
Welcoming your affiliates with a friendly greeting, a gift, or exclusive access to resources can set a positive tone for the relationship. Consider introducing them to online community spaces like Facebook groups or Slack teams, where they can connect with other affiliates.
Can I Customize My Affiliate Onboarding Process? How?
Yes, customizing your affiliate onboarding process can lead to a more engaging and productive experience for each affiliate. You might segment affiliates based on their platforms, audience size, or experience with your product or affiliate marketing in general.
Affiliate Onboarding is a Key Part of Your Program
Affiliate onboarding is about creating a connection, sharing knowledge, and highlighting the features of your program that will help your affiliates make sales.
To do this you've got to start with the right platform, and that's what AffiliateWP provides you with.
We don't want you to simply start an affiliate marketing program, we want you to grow it into a thriving revenue earner.
Your software and your affiliate onboarding will be a big part of that journey, but when you get it right, it opens up ample opportunities.