What is a Proper Affiliate Link Disclosure? Tips to Keep You Compliant in 2023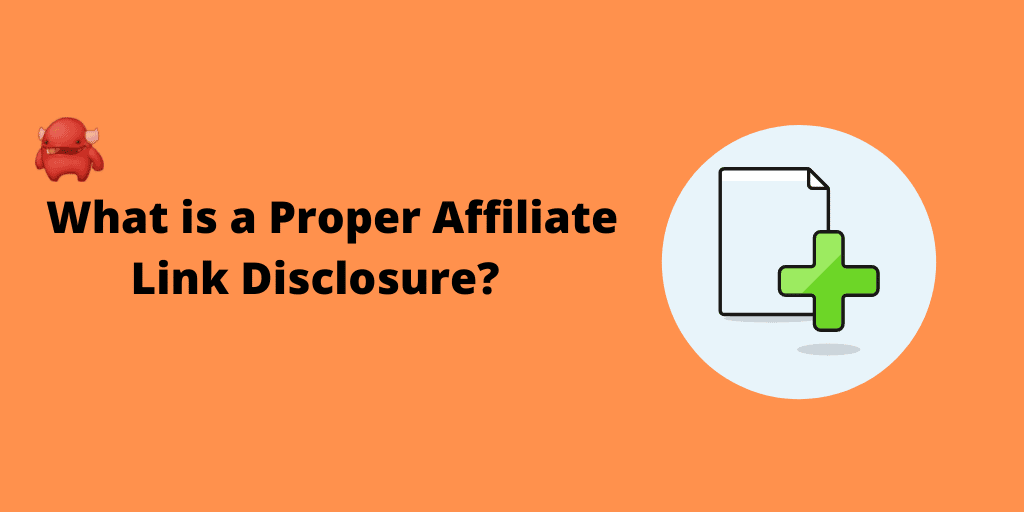 Marketing regulation isn't many people's idea of an exciting read, but we're going to change all that! Affiliate link disclosure is exciting because it's all about the reputation of your brand.
There are a lot of questionable happenings on the web, but when you build trust and offer valuable information, you can make money the right way.
This goes for both affiliates and affiliate program managers.
Follow the rules around affiliate link disclosure and the sky's the limit, fail to do so, and you can tarnish your brand and might even find the FTC knocking on your door (probably not, but maybe).
What is an Affiliate Link Disclosure?
An affiliate link disclosure is a short piece of text that highlights a relationship between your website and the websites you're linking to. Most commonly, this link will be in the form of financial compensation through an affiliate program.
Think of it as a disclaimer. It helps the reader evaluate your content because it's honest about the relationship you have with the subject you're talking about.
Essentially you're saying something along the lines of:
"We test hundreds of products each month to give you our honest, unbiased opinions. That being said, we do receive compensation when you buy a product through one of our links, so please factor that into your purchase decision."
Your affiliate disclosure won't look exactly like that, but the idea is to show there is this link between you and the website you're linking to.
This is important for building trust with your audience, but it's also a legal requirement.
Why are Affiliate Disclosures Important?
Let's start with the most important reason to use affiliate link disclosures: consumer protection.
The internet can be a little bit like the Wild West sometimes. If we wanted to, we could all create a website and start reviewing any product we want to right now. Using paid advertising we could be reaching a large audience in just a few days. All of this without any knowledge of the products we're reviewing, just the goal of making affiliate sales.
This is bad for business for everyone who uses the internet.
Consumers end up with poor-quality, biased information, and publishers and sellers end up with bad reputations.
Affiliate disclosures help to combat this by highlighting that websites have a vested interest in the links they send people to. This gives the public a more complete picture, allowing them to decide whether or not to click the link.
As the FTC says, "if you disclose your relationship to the retailer clearly and conspicuously on your site, readers can decide how much weight to give your endorsement."
Affiliate marketers understand this, but if there's nothing to enforce a fair playing field, then it's difficult to get people's buy-in, which is where the FTC's disclosure statement regulations come in.
How Do I Write an Affiliate Link Disclosure?
Don't overthink it! An affiliate disclosure needs to be easy to understand and quickly highlight a relationship between your business and the links you're using; not a literary masterpiece.
What's more important is making sure people have easy access to the affiliate link disclosure. Here are some tips to help you write an affiliate link disclosure that protects your users and keeps you compliant.
1. Make Your Affiliate Disclosure Clear
Your affiliate link disclosure is all about presenting people with clear information. Here's what the FTC's guide says:

It's important to remember that the affiliate disclosure is in your own interests, so there's no point in trying to hide it with little tricks. Be open and honest and your users will respond to this.
2. Make Your Affiliate Disclosure Accessible
You can have a perfectly worded affiliate link disclosure, but if nobody sees it, then it's of no use. Where you put your affiliate disclosure is just as important as what you put in it, and it's generally accepted that the best place for it is at the top of your blog post.
Again, the FTC provides some guidance on this:

Whatever page someone lands on, they should be aware that the content they're seeing might contain affiliate links, and the best way to do this is by highlighting it at the top of the page. Remember also that sidebars and footers don't necessarily show on mobile so they're not ideal places for affiliate disclosures.
3. Don't Be Afraid to Show Personality
An affiliate disclosure doesn't have to be boring and bland. It's your website, so give it your personality, just make sure you stay within the rules.

Every inch of your website is a marketing opportunity, so why should your affiliate link disclosures be any different? Keep it simple, but use it as an opportunity to build your relationship with the reader.
4. This Applies to Social Media Too
Social media is covered by the FTC's rules in just the same way as your blog. Any recommendations you make should be preceded by a disclosure (if you're receiving compensation).
Influencer marketing has grown exponentially in recent times, and while the FTCs regulations were updated back in 2009, there are still a lot of prominent influencers failing to disclose sponsored posts.
Obviously, the FTC can't police the entire internet, but organizations are starting to crack down on these practices.
5. Follow Program-Specific Rules
Whether you're participating in a huge affiliate program like Amazon Associates, or a small one for an individual website, they'll all have their own terms and conditions.
Some might have specific requirements for your affiliate link disclosure, so it's always worth reading through the terms and conditions carefully.
For instance, Amazon's affiliate program states:

These rules are there to protect the vendor's reputation and make sure they're complying with their obligations, but they also help you build trust and authority with your audience.
Affiliate Disclosure Examples
To help you get a feel for what your affiliate link disclosures should look like, we've picked out a variety of examples.
As you'll see, the key theme is simplicity.
Making Sense of Cents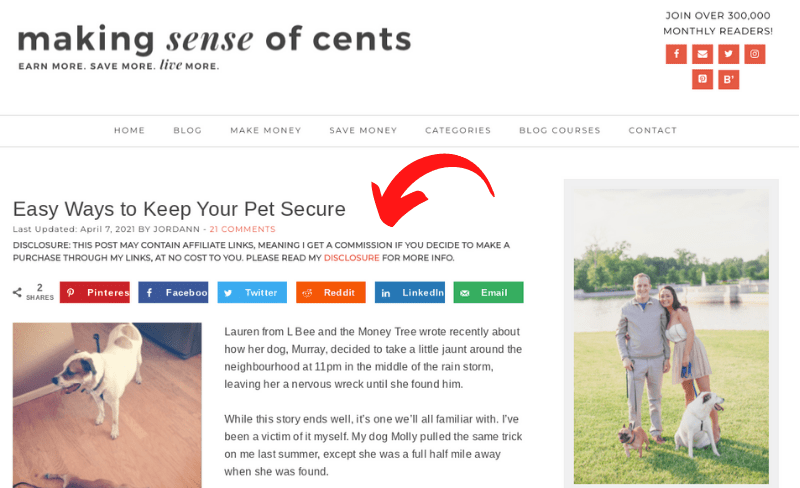 This affiliate links disclosure from Making Sense of Cents ticks the two most important boxes: clarity and prominence.
It explains what affiliate links are in simple language and because it's right under the title, it's hard to miss. It also clearly directs people to learn more about the site's affiliate policy by clicking the disclosure link.
Simple, to the point, and clear, exactly what your users need.
The Points Guy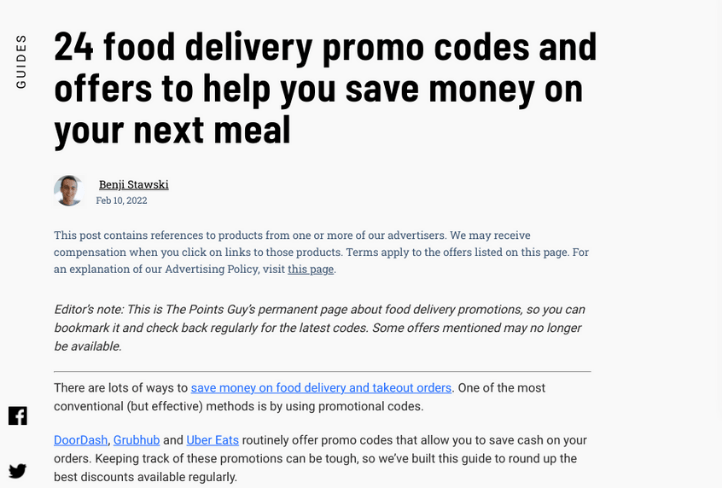 Another example of a simple, straight-up affiliate link disclosure from a successful affiliate marketing site is The Points Guy.
Again, the disclosure is right at the top of the page, easy to read, and written in simple language. It immediately makes readers aware that the publisher receives compensation when people click certain links.
Lucie's List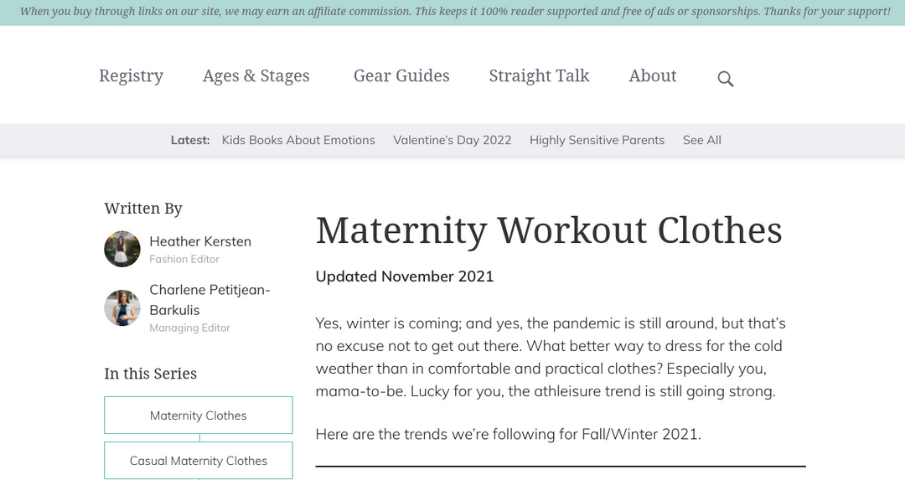 Lucie's List is a successful affiliate website that helps prepare expectant parents for parenthood.
Its affiliate link disclosure is an interesting example because it's built into a bar at the top of the theme. This just goes to show that being extremely upfront and honest by making your disclosures highly prominent can work.
We also like this one for the personal touch with the "thanks for your support" signoff.
GearLab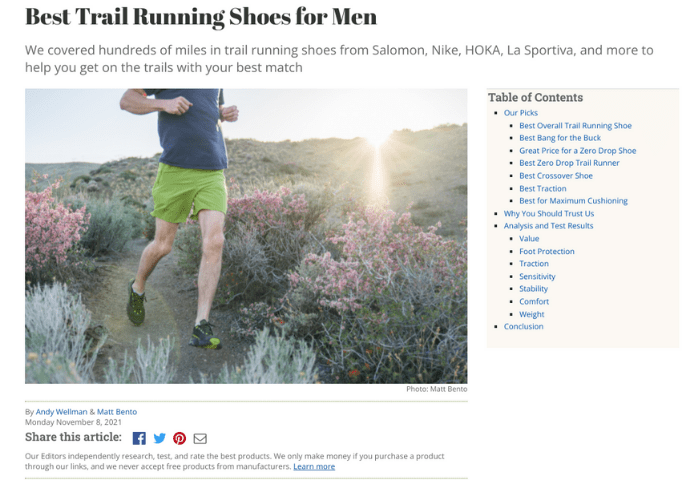 We like GearLab's affiliate disclosure because it's open and honest.
It's nicely incorporated into the theme at the top of the page, and it tells a story. Yes, they get paid when someone purchases a product through their link, but each product is independently tested, and they're not swayed by free products.
It tells the user what they need to know.
Affiliate Disclosures for Program Managers
If you run your own affiliate program, then disclosures are an important topic.
You want to work with trustworthy affiliates who have great relationships with their readers and openness about compensation is an important part of this. Like it or not, your affiliates reflect on your brand, so you need to set out rules for your affiliate program.
This will be detailed in your terms and conditions, but make sure you don't just set rules, but educate as well. Tell your affiliates why affiliate disclosures are important, give them access to the information they need, and offer suggestions.
With the right affiliate marketing software, you should have all the tools you need to build your affiliate relationships and give people access to everything they need to reflect your brand in the best possible way.
Through good communication and onboarding, you can clearly set out your expectations and make sure affiliates are following best practices on disclosures.
Affiliate Link Disclosures Make the Internet a Better Place
We all want to be able to trust the information we're reading online. Affiliate link disclosures help us do that by highlighting when publishers receive compensation for their content.
This knowledge allows users to make more informed purchasing decisions, but it also protects the reputations of publishers and merchants.
Affiliate marketing is a legitimate and important source of revenue for publishers around the world, and there's no need to try and hide the fact they receive compensation. If the content they produce is valuable, then they should be compensated for it, and affiliate marketing is a great way of making sure this happens.
For affiliate program managers clear rules on affiliate link disclosures help to protect your brand reputation so make sure this is a feature of your onboarding.
Learn more about creating an irresistible affiliate program!