9+ Tips for Building Win-Win Affiliate Partnerships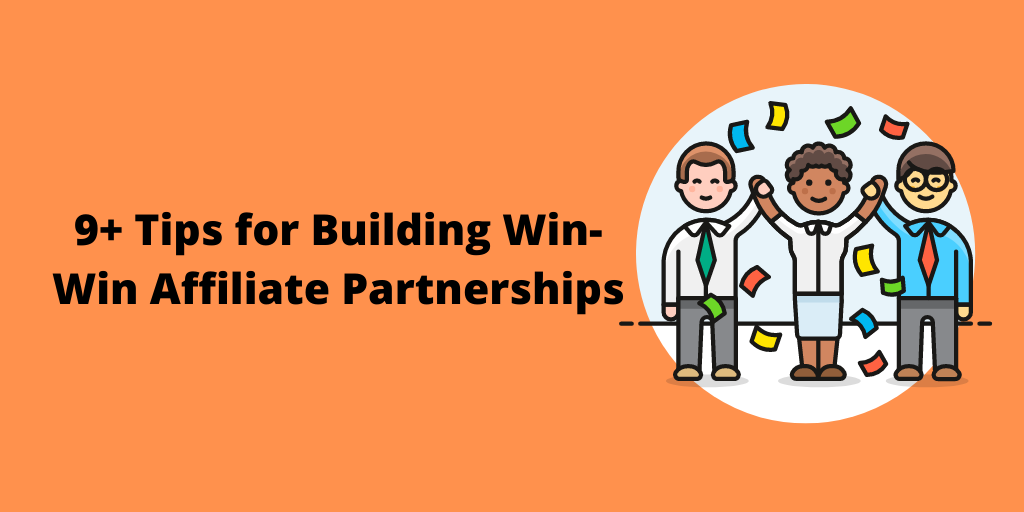 It's extremely difficult to create a thriving affiliate program without strong affiliate partnerships.
As much as affiliate marketing is about mobilizing an army of marketers scattered throughout the world, it still comes back to being able to build mutually beneficial relationships. How you communicate, the connections you build, and the time you invest in improving your affiliate partnerships will have a direct impact on your revenue column.
Here's how you can build win-win affiliate partnerships.
1. Focus on Building Trust with Affiliate Partners
If there's one thing that makes up the foundation of any strong relationship, it's trust. It can make or break a relationship, and it can either attract or dissuade high-quality affiliates.
If you want your affiliates to perform well and stay loyal, you cannot do without trust. So, how do you create it?
Be upfront and transparent.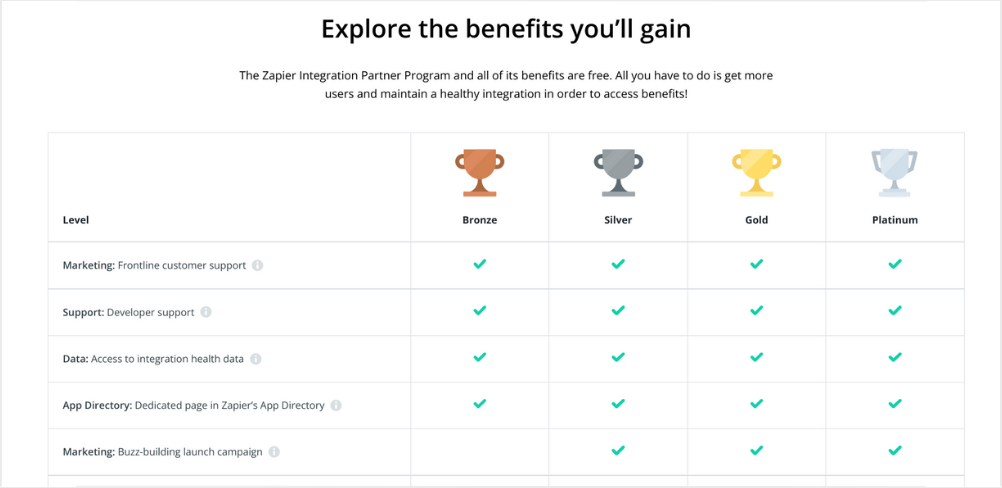 Look, there are a lot of companies vying for affiliates' attention and competition is everywhere. Everyone has something to sell and some incentive to offer, and it can be hard for affiliates to see the legitimate offers from the waste of time ones.
What sets you apart from your competitors and makes your affiliate program more attractive?
Your ability to build strong affiliate relationships that are based on trust.
Sure, it's important to have enticing affiliate commissions and other benefits, but one of the most effective things you can do to establish trust from the get-go is to be upfront and transparent.
This also removes the decision-making friction that affiliates experience as they go through the process of vetting programs for quality and legitimacy.
In short: transparency makes things a lot easier and a lot more comfortable for everyone!
Here are some things you should consider being as upfront and transparent as possible about:
Commission rates
Rewards and incentives
Affiliate expectations
Brand guidelines
Products that you want promoted
Action: Consider creating an FAQ section or affiliate info page that gives affiliates easy access to all of the information and resources they need to understand exactly what you have to offer and what they can expect if they work with you.
2. Put Yourself in Your Affiliates' Shoes
Your affiliates are in the same position as you are. They're out there trying to earn a good living and take their business to the next level.
Every extra little barrier you put in front of them (inadvertently) is going to hold them back from achieving those goals.
If you truly want to make this an affiliate partnership, then you've got to understand what your affiliate is trying to achieve and how you can help them do it. A great way to do this is by putting yourself in your affiliates' shoes.
Interact with your affiliate program landing page from the perspective of an affiliate
Sign up to your program using your affiliate sign up form
Go through your affiliate onboarding
Interact with your affiliate portal
Look at the analytics your program gives affiliates and ask if that would be enough to help you make more sales
Generate affiliate links
Sometimes we create our affiliate programs but we view them only through the eyes of an affiliate program manager and not an affiliate. If you're going to create strong affiliate partnerships, then you need to see it from both sides.
3. Nurture the Affiliate Relationship with Onboarding
The most awkward time in any relationship is generally the first few interactions.
You're sizing up the other person, evaluating whether they're trustworthy, and ultimately, whether or not the relationship offers value. The same thing goes for your affiliate relationships.
An affiliate might have come to you for many different reasons, but at the end of the day, what matters is whether they think they can make money from your affiliate program. You'll need to demonstrate this on your affiliate program landing page, but you'll also have to continue to demonstrate it in the early stages of your partnership.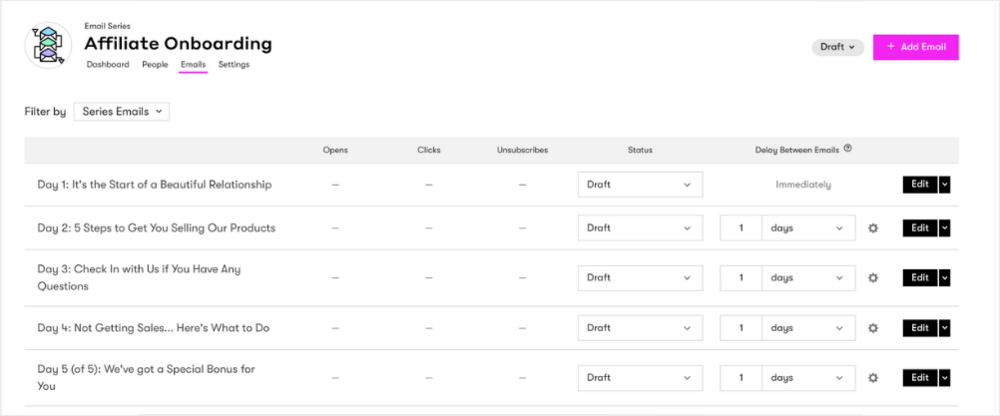 One of the best ways to do this is by showing that you're invested in your affiliate's success.
Walk them through everything they need to make their first sales. It's your product, so you're the expert, and you've got tons of knowledge to share.
Nothing builds affiliate partnerships better than making money together, so create an onboarding process that gives affiliates the best shot at making sales from day one.
4. Get to Know Your Affiliates
Whatever type of digital marketing you're undertaking, you're going to hear a lot about personalization. If you're going to build affiliate partnerships, rather than just hoping for faceless people around the world to sell your products, then you've got to get to know your affiliates.
Understanding what makes your top affiliates tick isn't just a great way to develop current affiliate relationships either. It will also help you to identify your next top affiliates and understand how to create an environment that allows your affiliate partnerships to flourish.
If you want to have a reliable affiliate base that can provide you with useful feedback and insights, then you should invest time in this step.
What does "getting to know" your affiliates entail?
Researching their brand or persona
Finding out what they like
Seeing who they follow
Seeing who follows them
Observing their personality, presentation, and tone on social platforms
Remember: People like to do business with people they know.
Get familiar. Be knowledgeable. Be helpful. Develop rapport. Show your affiliates that you're the real deal and that you don't expect your affiliate program to run on autopilot!
Try this: Take note of your affiliates' names, brands, niches, backgrounds, and interests, and catalog them into a spreadsheet. You can reference these things later in your communications, creatives, etc.
5. Treat Your Affiliate Partners as Individuals
Building strong affiliate relationships isn't only about your interaction with your affiliates. It's also about the overall experience they have as a part of your program. This is where personalization can be incredibly impactful.
Personalizing the affiliate experience makes things more engaging and – well – personal for your affiliates. Even the simplest, most basic touches like using their actual names in your communications can make a difference.
Here are a few other ways you can use personalization:
Segment your affiliates into niche-specific email lists, so they only get the most relevant communications
Send personalized newsletters and emails to different affiliate segments
Create personalized creatives, such as co-branded graphics, personalized affiliate landing pages, or pre-written content for different affiliate niches
Ultimately, you want your affiliates to feel valued. So, the more ways you can give them individual attention, recognize them, and speak to their interests, the better!
We often look at our affiliate marketing programs from a sales perspective. It's natural, the whole reason we've built an affiliate marketing program is to grow sales. Even though we're enlisting affiliates to do the marketing for us it still needs to be a focus though because our key responsibility is growing the program.
You're creating personalized content, offers, email newsletters, landing pages, and everything else to market your products to your customers. If you want to market your affiliate program, then surely you need to do the same things?
Action: Check out vanity coupon codes to give your affiliates personalized codes to market to their audience!
6. Communicate to Grow Your Affiliate Relationships
In addition to trust, what's another crucial component of relationships?
Communication.
There are a variety of reasons that staying in close contact with your affiliates is important. For one thing, people are simply busy. Sometimes, affiliates unintentionally start to drop off – and it might not have anything to do with you!
In fact, we wrote a whole post about how to get dormant affiliates promoting again.
Plus, as you develop your program over time, you'll want to keep your affiliates updated and in the know so that they are adequately prepared to promote your brand and products at all times.
In addition to making sure they are aware of your latest promotions, creatives, and other resources, this also helps to keep your program familiar and at the forefront of your affiliates' minds.
7. Recognize the Win-Win Nature of Affiliate Partnerships
If you want to develop your affiliate partnerships, then you should be doing everything you can to help them succeed. Because if they succeed, so do you!
This is one of the best things about affiliate marketing – it's based on creating win-win relationships.
Helping your affiliates help you means empowering them to be their best, supporting them, and actively contributing to their success.
This can include:
Arming them with all of the direct contact information they need if they have questions or need support
Giving them easy access to creatives, brand guidelines, and other marketing materials that help them get started promoting your products
Reaching out to them periodically to find out what's working for them (and what's not)
Rewarding them for performance and loyalty
Affiliate marketing is often characterized as a passive endeavor. You create a program, watch affiliates sign up, and the sales come in.
In reality, it doesn't work like this for the vast majority of people.
Instead, you've got to invest in helping your affiliates to succeed because that's how you succeed. As with all digital marketing, you need to be inventive, understand your audience, and be consistent!
You're creating win-win partnerships, so the more you put in, the more you get back.
Extra Tip: The passive element comes from your ability to automate, and this needs the right affiliate marketing software. You want features like vanity coupon codes, affiliate portal, and Zapier because they're going to make your processes that much more efficient.
8. Understand that Your Affiliates Are an Amazing Source of Feedback
Building on the idea that your affiliate partnerships are win-win, you'll likely find that your affiliates are more than willing to give you feedback.
This can be an amazing source of information!
Most affiliates work with a variety of different affiliate programs, so they get to see what works, what doesn't, what new features other programs are introducing, and much much more. These are actionable insights you can use to make your affiliate program more successful.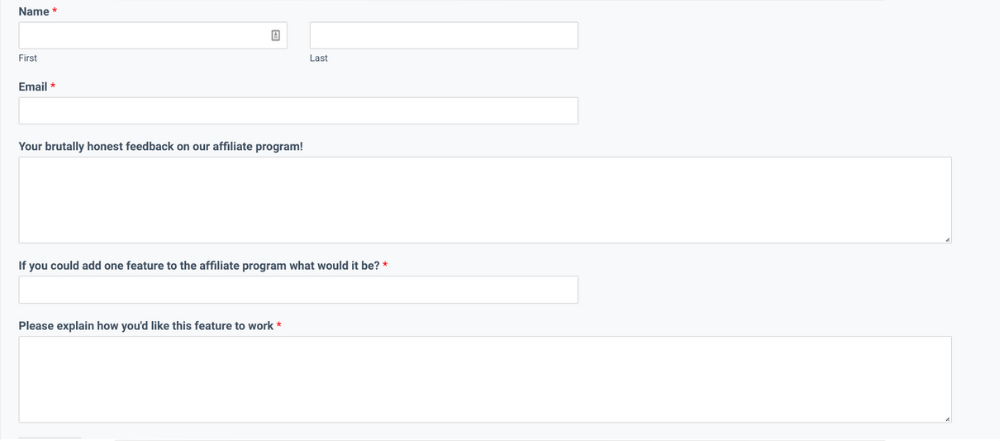 Not only does this help your program, but it's also a great way to build your affiliate relationships. People like to feel like they're listened to and that their opinions matter.
By seeking your affiliates' feedback and putting their ideas into action you show that you value their efforts and are committed to taking the program forward.
9. Stay Up-to-Date with the Affiliate Marketing Industry
Digital marketing and affiliate marketing move at a lightning-fast pace.
Some of the tactics we used just a few years ago simply don't work now, and new ideas pop up every day. Your top affiliates will likely keep a keen eye on everything that's happening in affiliate marketing, but they also need you to stay up with the latest trends.
They need you to keep developing your affiliate program and they especially need you to ensure you're doing everything you can to convert customers.
You've both got a big stake in e-commerce and affiliate marketing, so it can be a great point of discussion. Facilitate the sharing of knowledge and allow everyone to prosper.
Bonus Tip: Conversions are the Best Way to Keep an Affiliate Happy
The basic premise of affiliate marketing is that your affiliates send you traffic and you convert visitors into customers; in return, your affiliate gets a commission.
If you're converting a huge amount of the traffic your affiliates send you into customers, then they're bound to be happy.
In this affiliate partnership, your part of the bargain is converting, so you've got to make sure you're investing in this. Keep working to optimize your website and improve your conversion rate because when you do, you're going to make more sales, and your affiliates are going to make more money.
All affiliates like earning money!
See It as a Partnership and You Will Make More Sales
A partnership suggests a give and take to create mutual benefit and that's exactly what your affiliate relationships should be.
You can go down the road of trying to make your affiliate program run with minimal input but it's ultimately only going to hold you back. When your affiliates succeed, you succeed, so it's well worth taking the time to build your affiliate partnerships and invest in their growth.
As always, a big part of the equation is your affiliate software, so make sure you've got access to all of AffiliateWP's best features.