How to Use Social Proof to Increase Your Conversions (7 Ways)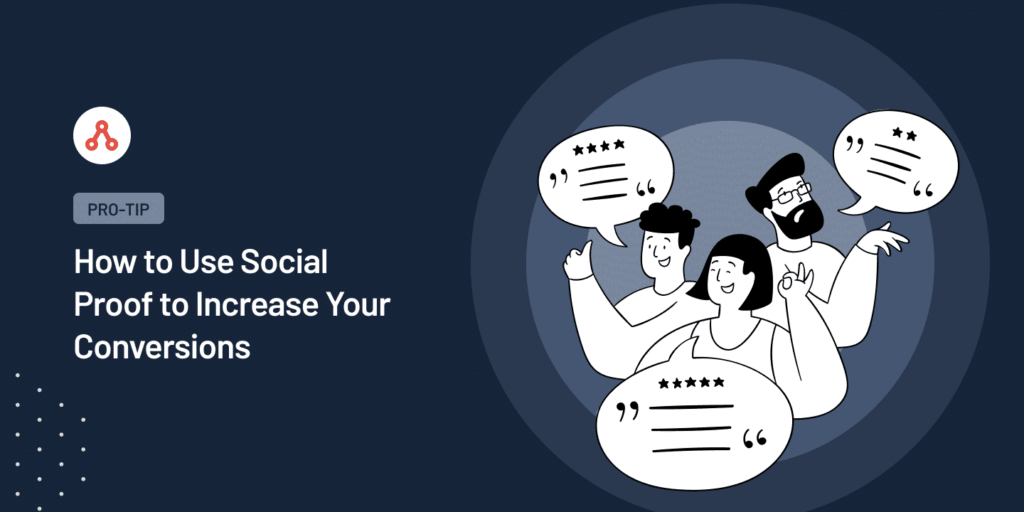 Have you ever wondered why your conversion rates aren't soaring as expected? Trust us, you're not the only one asking this question.
The secret sauce to boosting your conversion rates might be something you see every day but haven't tapped into yet: social proof.
In this post, we'll delve into social proof's power and show you how to leverage it to increase your conversions. We'll walk you through the types of social proof and actionable ways to integrate it into your website or marketing campaigns.
Ready to make your audience trust you more and click that "buy now" button?
Let's dive in!
Why is Social Proof so Important for Conversions?
A neat example can sum up the effectiveness of social proof.
You walk past two restaurants: the first is empty, and the second is full of happy-looking diners.
Which restaurant are you more likely to choose to eat in?
Whether it's a conscious or unconscious decision, we're more likely to eat in a busy restaurant.
The thinking goes if all those other people chose this restaurant, then it must be good.
Of course, the fact that people are eating in one restaurant and not the other doesn't necessarily correlate with the quality of the food, but it impacts human decision-making.
In e-commerce, people can't walk by your store and see other people buying your products, but there are plenty of other ways you can use social proof. And when you use social proof well, it can have a huge impact on your conversion rates.
Social proof is so powerful that 70% of people will trust a recommendation from someone they don't know!
Just think of the power you can have when constantly reinforcing social proof across your site and on landing pages in particular.
Purchasing decisions are complicated, but social proof continues to have a huge impact.
7 Proven Ways to Use Social Proof to Boost Conversion Rates
As a retailer, the main thing you want to know about social proof is how it can help you earn more sales.
Let's take a look and the best ways to use social proof on your website and show you how to start optimizing your conversion rates.
Here's what we're going to look at:
Live sales notifications
Social feeds
Affiliate marketing
Customer testimonials
Expert opinions
Certifications
Case studies
You might want to use some of these techniques, or you might want to use all of them – but they all can play a valuable role in boosting your conversion rates.
1. Live Sales Notifications
Live sales notifications might be the closest thing we have to our example of the busy restaurant vs. the empty restaurant.
Ask yourself this, do you want to make a purchase from a shop that's never made a sale before?
This thought makes many people nervous.
Trust is earned through consistent service, but if a store has no history, you start to envisage things going wrong.
It's straightforward to erase this worry from your potential first-time customers' minds, and it can increase your conversion rate by up to 15%.
Live sales notifications from TrustPulse, show notifications to your website visitors of recent sales you've made (as well as visitor statistics).

Now, when someone comes to your site, they're not wondering if you've ever made a sale because they can see that Tina, Rob, and Pam have all purchased in the last few hours.
The best part is that TrustPulse couldn't be easier to set up.
In just a few minutes, you can show live sales notifications to give your visitors confidence and induce that FOMO (fear of missing out) feeling that provides people with the extra push they need to make a purchase.
If there's one simple tool to help you use social proof more efficiently, it must be TrustPulse.
2. Social Feeds
With live sales notifications, we showed the power of the crowd. We see other people making a purchase, and we think, "well if it's good enough for them, then it's good enough for me."
So, what happens when the recommendation comes from a friend (a slightly different form of social proof)?
As you might expect, it becomes even more powerful – 92% of people will trust a recommendation from a peer.
You can often see this play out on Facebook, where ads tell you if your friends like the sponsored brands. Social share buttons also highlight this by encouraging your customers to share your content with friends – it's like a stamp of approval.
However, for the average e-commerce store, this is a little difficult to recreate.
What you can do is utilize the power of social media platforms to create a feeling of community and shared values.
Smash Balloon helps you build beautiful social feeds on your WordPress website. You can combine your Facebook, Instagram, Twitter, and YouTube walls to showcase powerful social proof.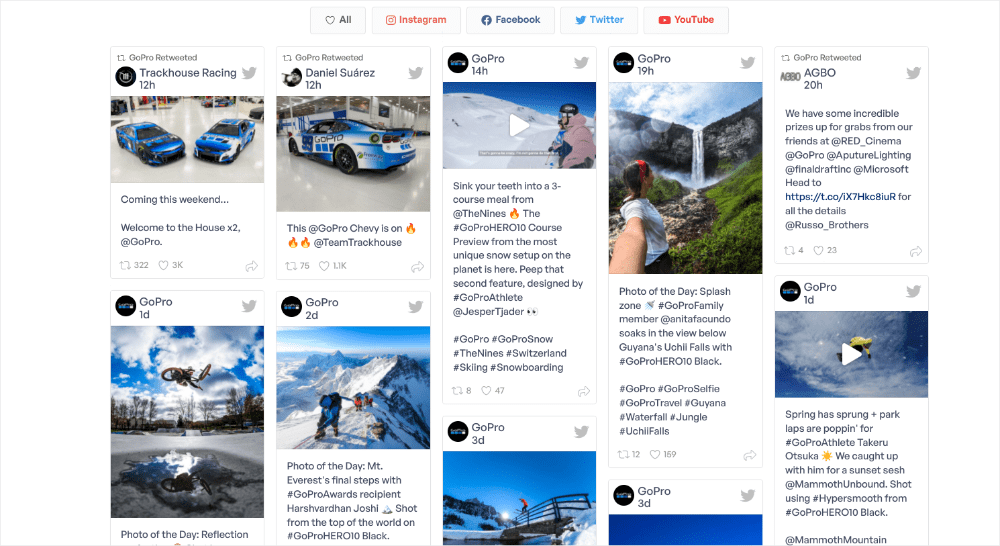 When your potential customer sees all the great things people write about you on social networks (branded hashtags can be helpful for this), it creates powerful, organic proof that your brand is the real deal.
3. Affiliate Marketing
Another group of people that we've proven to trust are celebrities.
There's a strong reason why celebrities have been used to promote products since, well, the dawn of celebrities – people trust their recommendations.
Of course, the average e-commerce store can't call up Michael Jordan and ask him to promote its products, but that shouldn't stop you from making the most of this phenomenon.
In today's world of internet access and social sharing, everyone has an opportunity to build a following and reach large audiences. Many people use this successfully through SEO, blogging, social media marketing, webinars, etc.
We might refer to this as influencer marketing today, but it works the same way as celebrity endorsements. They've built their target audience and earned the trust of their followers, and you can use this as social proof.
Affiliate marketing is the most efficient way to incentivize these people to promote your products. With AffiliateWP, it's also a lot easier to set up than you might think.
Rather than paying influencers/affiliates up front, you can offer a commission on the sales they generate, which reduces your start-up costs, and rewards success.
When industry-leading blogs and social media personalities start talking about your products glowingly, that's strong social proof.
Note: A referral program is also an excellent way to encourage user-generated content and word-of-mouth marketing.
4. Customer Reviews and Testimonials
Customer testimonials aren't revolutionary, but they certainly deserve their place on this list.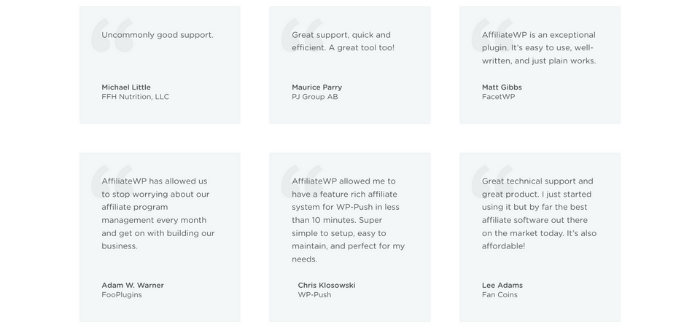 You can see user reviews on most e-commerce stores you visit, but this presents a challenge for new stores (or even when you have new products). How do you build up your depository of customer testimonials?
If you're just getting your e-commerce store off the ground, you've first got to rely on the social proof you have available, like live sales notifications. Even if you're not making lots of sales yet, the analytics notifications can give you the start you need.
Once you start seeing the sales come in and have several customers, then you must have a system for collecting online reviews and testimonials. Since these testimonials play such an important part in online sales, they've got to be a key focus.
Consider your messaging when you follow up with the customer and constantly refine your processes. You don't want to (or need to) be pushy, but it's beneficial to approach it similarly to a sale.
Understand the customer journey, and use your knowledge to help solve problems and answer questions. Doing this gives you a perfect opportunity to ask for a product review with a strong call to action.
When the positive reviews start rolling in, it will have a big impact on your online marketing campaigns.
Note: Remember as well that star ratings are incredibly powerful, so make sure to incorporate them into your social proof. This form of social proof works well on your website and review sites like Yelp (and even Amazon).
5. Expert Opinions
Let's talk about another famous social influence phenomenon.
In the Milgram experiment, an experimenter wearing a lab coat tells a teacher (subject) to administer shocks to a learner. Every subject in the study administered at least some shocks, and 65% of subjects administered the final 450-volt shock.
Long story short, we listen to people of authority.
This is a powerful type of social proof, and it's certainly something you want to consider when you think about how you influence customers.
If there is science behind your products or statistics that expert organizations back, then you want to use them. Showcase the credentials of the people within your business, and don't be afraid to reach out to industry experts for their opinions.
Let's take an example of a protein powder bodybuilders use to increase their muscle mass.
Customer testimonials might show that other people enjoyed the product and believe it contributed to improved muscle gain, but how do they know it was this product specifically that helped?
This is where expert social proof can drive home the point.
They add that extra level of authority that says, yes, this product works (it doesn't just taste great, it's not just a placebo), and here's why.
Buyer decisions are complicated, but an expert opinion can push people over the line and convince them to purchase.
6. Certifications
Social proof doesn't just speak to the quality of your products. It also speaks to the trustworthiness of your business as a whole.
Your customer base might come to your website and think your products look amazing, but they still have more questions that need to be answered:
Are your website and payment systems secure?
Do you offer good post-sale care?
Are your products backed by industry-standard warranties?
Do you take privacy seriously?
Do you offer a money-back guarantee?
You could put all this information in a long legal document at the footer of your website, but is it ever going to get read?
Instead, certificates and badges can instantly showcase this important information. Suddenly, long-winded information becomes an easy-to-consume piece of social proof.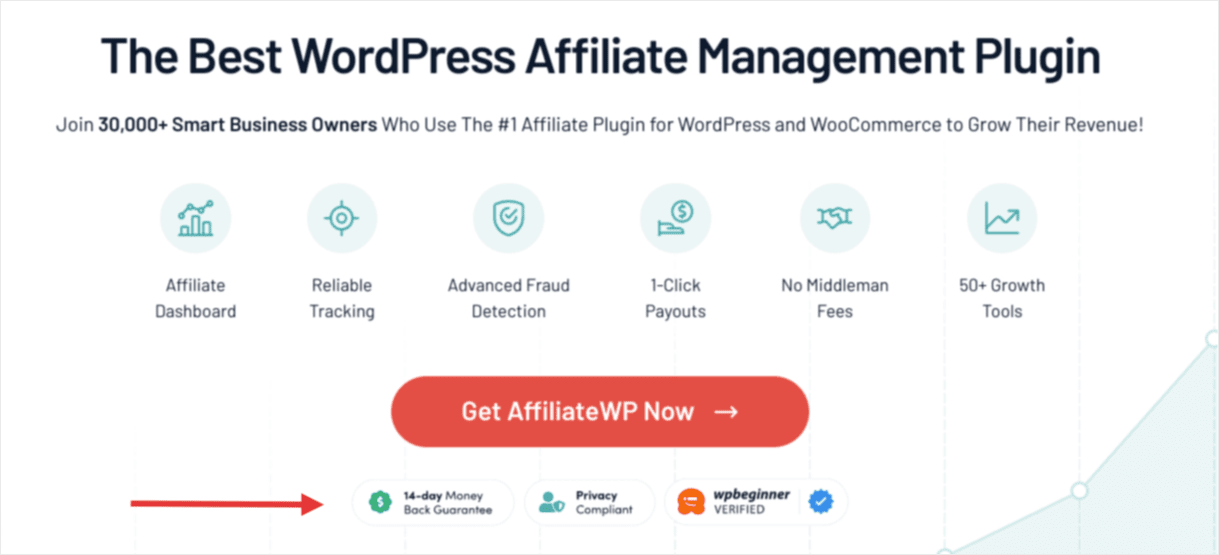 Just take a look at our home page – you'll see 3 badges stating we offer a 14-day money-back guarantee, that we're privacy compliant, and that we're verified by an industry-leading blog.
This is social proof that can build trust around the values of your brand.
7. Case Studies
Case studies follow the same idea as customer testimonials but they're much more in-depth.
Whereas a testimonial is a quick snapshot, a case study is much more benefit-focused. It doesn't just say, "This product is great," it says why it's great and how the customer used it to achieve their goals.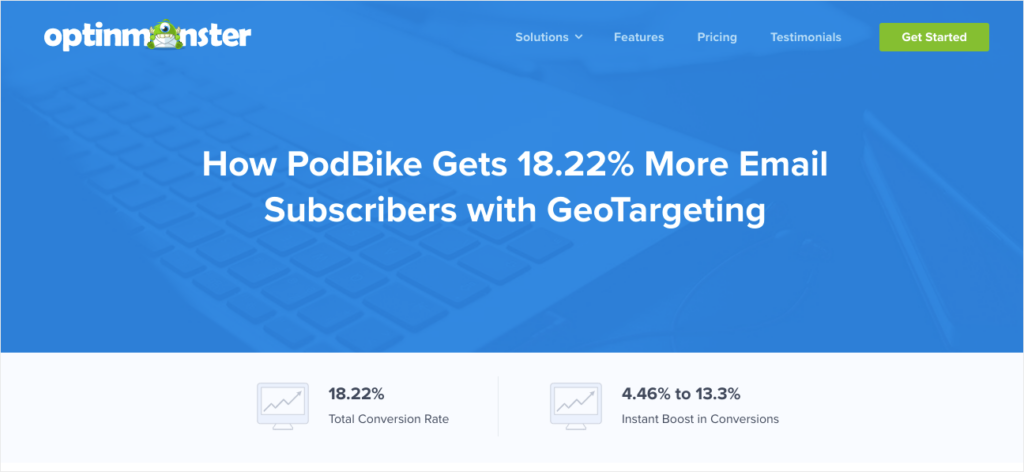 Whether you use case studies will largely depend on the types of products you sell, but it's a great option. They do take a little more effort than many of the other options on this list, but they can be well worth it.
To create a great case study, you're going to have to work with the customer and get them to answer some questions, which can be tricky. The key to finding people to do case studies on is good customer care – when satisfied customers feel like you're putting in the effort for them, they won't mind returning the favor.
Now You Need to Track Your Progress
Whenever you make changes to your digital marketing strategy, you need to be able to track the results. If you're not learning from the data, you don't know if your work is working.
The easiest way to do this if you have a WordPress website is with MonsterInsights.
It's the best WordPress analytics plugin, and it makes it incredibly easy to understand your conversion rate.
You'll be able to see the impact social proof has on your conversions and continue to optimize your approach.
You might find adding something like an expert opinion to one of your product pages dramatically boosts your conversion rate. Still, you won't know unless you're tracking it with your analytics!
All the Tools to Use Social Proof More Efficiently
Social proof works – it's incredibly important for e-commerce stores, so you'll see lots of social proof plugins for Shopify, WordPress, and all other platforms.
The great news is if you're not using it effectively yet, you have great potential to improve your conversion rates!
Want more resources to help create happy customers and boost conversion rates? We've got you covered!
We've talked about some key elements you can use to maximize social proof, and we've looked at some of the best tools. Here's a quick recap:
All that's left is to start implementing these social proof techniques and increase sales.