How to Maximize Affiliate Rewards and Boost Sales (Step-by-Step)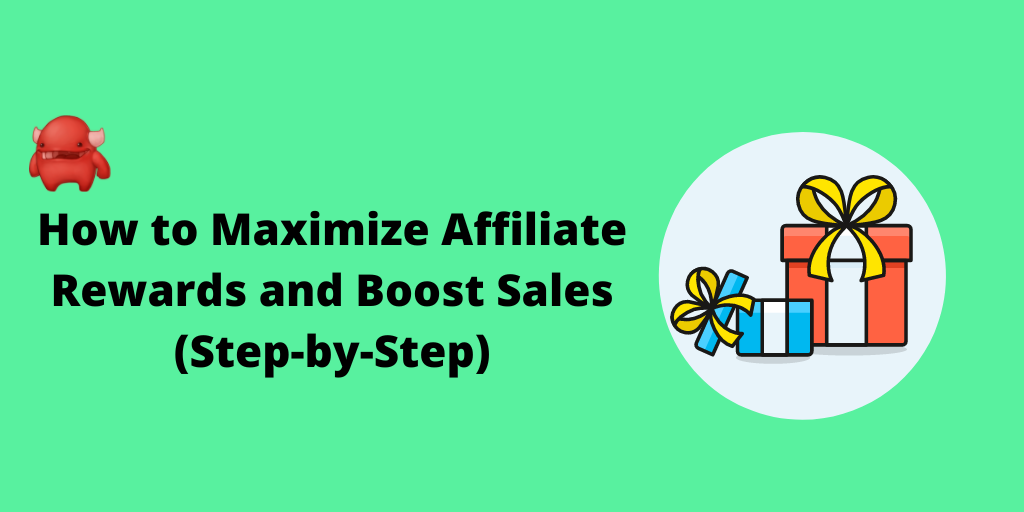 Looking for new affiliate rewards to incentivize your partners?
The right affiliate incentives can make all the difference to your program, and it's not just about commission rates.
Here's an expert guide to help you maximize your affiliate rewards and boost sales.
Affiliate Rewards are About More than Just Commission Rates
Every affiliate is going to scroll through your registration page looking to see your commission rate. Obviously, the commission (check out our in-depth guide to affiliate commissions) you offer is incredibly important but it isn't the only thing.
There's so much more you can do with affiliate rewards and they can help:
Attract the best affiliates
Add additional affiliate incentives
Keep affiliates engaged for longer
Give you a greater return on your investment
So, how can you use affiliate rewards to incentivize your affiliates and skyrocket sales?
We're going to show you how in this step-by-step guide.
How to Set Up Powerful Affiliate Rewards in WordPress
Let's take a look at how you can use affiliate incentives to grow your WordPress affiliate program.
Here are some of the steps we're going to look at:
These are all amazing ways to reward your affiliates, and you can implement them all if you wish. Or, you can pick and choose your favorites and use them to grow your sales.
1. Install AffiliateWP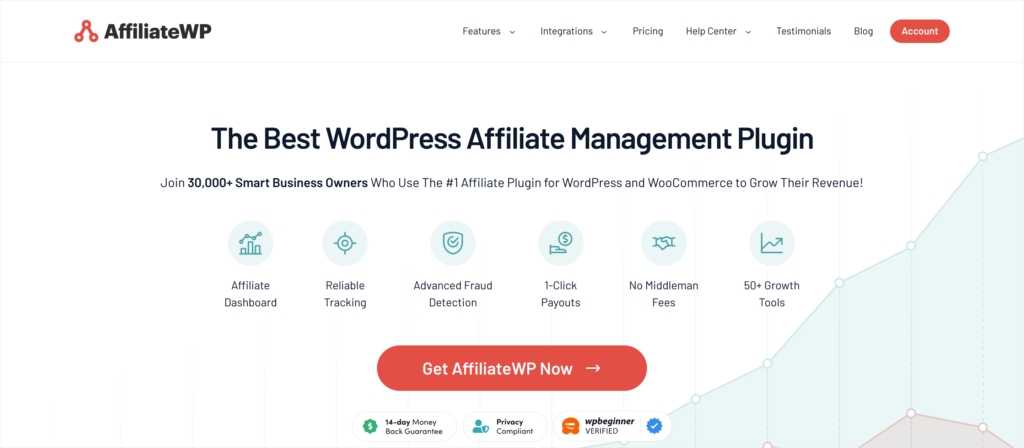 AffiliateWP is the best affiliate management plugin for WordPress, and it offers a complete set of affiliate rewards.
It recognizes that you need to be flexible with how you reward affiliates and gives you tons of different options. On top of that, it's also incredibly easy to set up (and migrate to if you're looking to upgrade your affiliate software) and has a whole suite of innovative affiliate growth tools.
Just head to the pricing page, and choose the plan that best fits your needs.
Once you've completed your purchase, follow this simple guide to install the plugin, and then open the setup wizard from your settings.
The setup wizard will guide you through the process and help you set up your WordPress affiliate program in under 10 minutes.
Now you're ready to start working on your affiliate incentives!
Note: For some of these rewards you will need a Professional AffiliateWP license.
2. Set Your Commission Structure
The setup wizard is going to ask you to enter a basic commission rate, but there's much more you can do to boost your affiliate rewards.
Setting your global commission rate is just the start – you can also choose to set specific referral rates for individual affiliates and products, plus much, much more.
Three rewards we find particularly effective are:
Tiered Commissions: Tiered commissions allow you to pay different commission rates depending on how many items an affiliate sells (e.g. sales 1-10 = 20%, sales 11-20 = 30%, sales 21+ = 35%)
Recurring Referrals: Recurring referrals give the referring affiliates a commission every time a customer makes a subscription payment.
Lifetime Commissions: Lifetime commissions entitle the referring affiliate to a commission on all future purchases from a customer.
These commission structures allow you to be flexible, spreading payments out over a longer period, and rewarding your best affiliates.
3. Send Free Products and Company Swag
Everybody wants to feel like they're part of a team.
Not only do free swag and products make affiliates feel connected with your brand, but they also help with marketing. An affiliate being able to properly review a product, or even wearing a branded t-shirt in a promotional video can make a difference.
This affiliate incentive can be a little bit challenging to manage, but we've got a way to help you out.
Our Zapier integration hooks AffiliateWP up to thousands of external applications to create automated sequences.
You can use this to create a sequence where an affiliate signs up to your program, and a UPS (or whatever company you want to use) shipping label is automatically created, and a reminder to send the package is placed in your Google Calendar.
All you've got to do then is send it!
4. Create a Sign-Up Bonus
The best affiliates will make a big commitment to your program.
They won't just throw out a link on their social media profiles and hope someone buys; they'll carefully craft the content that's going to result in sales. Affiliate sales take time though, and there's not always a quick reward.
One way to change this is with a sign-up bonus.

Of course, you don't want to hand out a bonus to everyone who signs up for your program, but you do want to find a way of offering quick rewards.
A great way to do this is with the free Sign Up Bonus addon.
Use your terms and conditions to set out your minimum requirements to earn the signup bonus (e.g. $100 in affiliate sales), and then use your minimum payouts threshold to ensure the bonus gets paid when affiliates meet their target.
This way, you're making sure only committed affiliates receive the bonus but ensuring you're rewarding them early on in the relationship.
5. Create a Personalized Affiliate Landing Page
Now we're getting into some really cool personalized affiliate rewards.
A brilliant way to reward your top affiliates is by creating a landing page that's tailored to them. Your affiliate is bound to be excited because these pages are proven to boost conversion rates.
Personalized affiliate landing pages can:
Increase social proof: Reinforce the affiliates' recommendation that the customer buys your product
Build trust: Show a legitimate relationship between your affiliate and your business
Ensure a smooth customer journey: Keep a consistent message between the affiliate's site and yours.
To set up your personalized affiliate landing page, all you need to do is download the Affiliate Landing Pages pro addon, and assign your chosen WordPress page to your affiliate.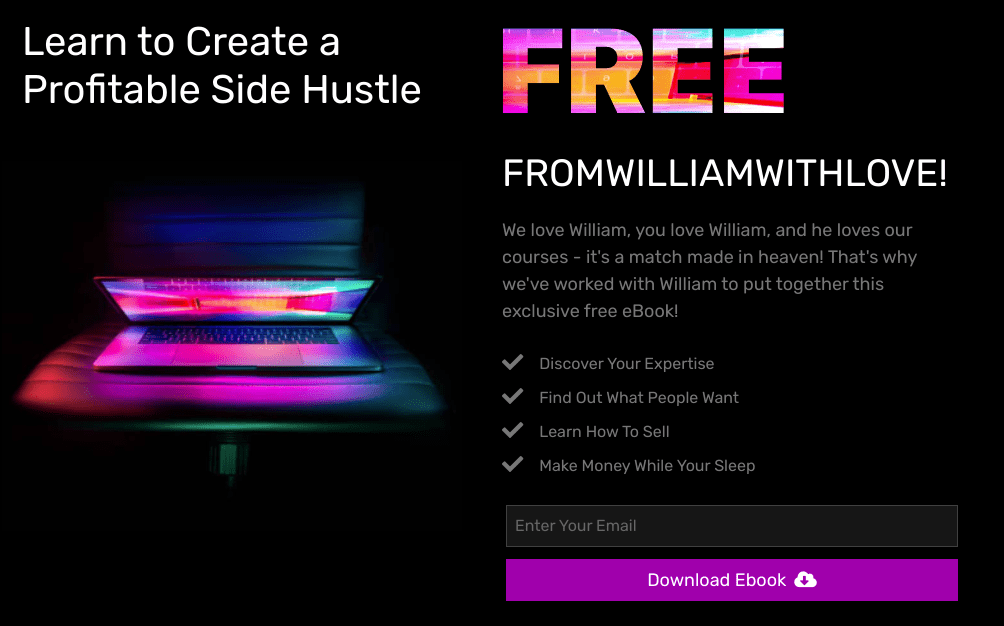 Just follow this simple how-to guide, and you can easily reward your affiliates with their own personalized landing page.
6. Add Vanity Coupon Codes
Let's build on this personalization idea!
Another great way to reward your affiliates is by allowing them to personalize their coupon codes.
Too often, affiliate coupons are boring, randomly generated codes that don't help affiliates stand out on crowded platforms. Vanity Coupon Codes change all of this.
Instead of you assigning a code to each affiliate, Vanity Coupon Codes allows your affiliates to choose their own (subject to your approval).
All you've got to do is install the Vanity Coupon Codes pro addon and assign a coupon code as normal. Your affiliate will then be able to request their own code (you still control the discount) from their affiliate dashboard.
Once you've approved the coupon code, your affiliate can then use it to showcase your promotions.
These personalized codes stand out much more on social media and in email marketing, making a big difference to conversion rates.
7. Set Up Competitions and Giveaways
A great way to make affiliate giveaways is with the RafflePress plugin for WordPress.
It's an awesome little tool that allows you to be very specific with your affiliate incentives, trading raffle entries for actions like liking a YouTube video, sharing a Facebook post, or virtually anything you choose.
Check out this great article on How to Run an Affiliate Contest, and you'll find you can build a huge amount of excitement among your affiliates.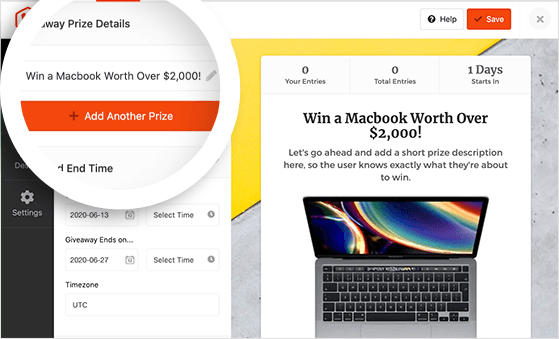 Not only are you giving them the chance of winning a fun prize, but you're also helping them make more money at the same time – that's a win-win, and obviously, you win too, so win-win-win.
8. Build in Gamification
Gamification is an extremely powerful motivational tool.
If you've ever watched someone play Candy Crush for hours on end, then you'll get the idea. By creating a system of levels, points, badges, and more, you create a rewards system that can become addictive.
You can do the exact same thing for your affiliate program with the AffiliateWP GamiPress integration.
This allows you to create a gamified rewards system that motivates affiliates and keeps them coming back to your program. It's not quite the same incentive as cold hard cash, but it's a good one nonetheless.
9. Recognize Top Achievers
Recognition is a powerful reward in itself.
People want to know they're doing a great job, and as an affiliate program manager, you can give them this confirmation.
A great way to inspire and recognize your affiliates is by creating an affiliate leaderboard.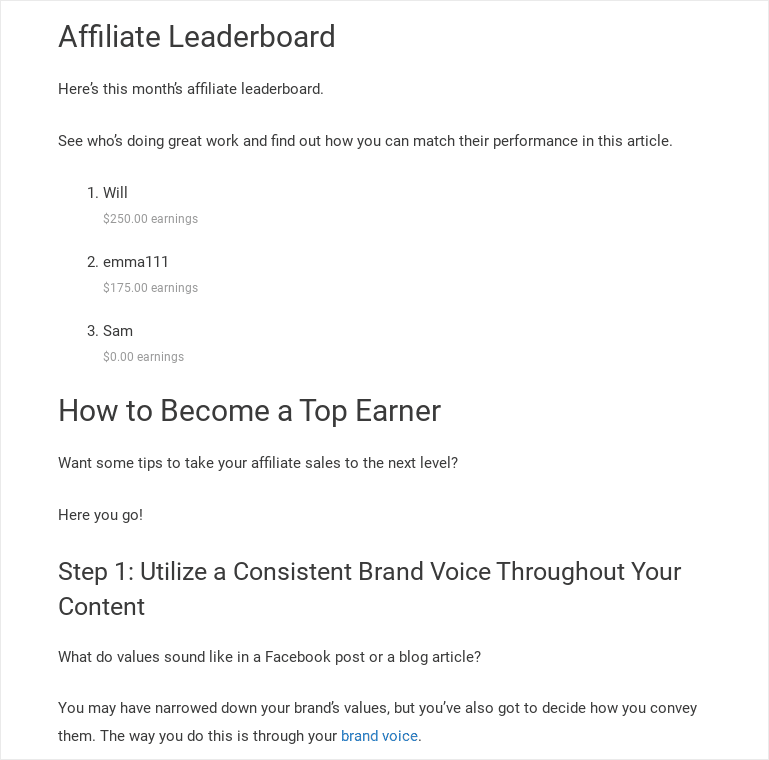 This automatically showcases the hard work of your best affiliates and gives others something to aspire to.
The Affiliate Leaderboard addon is super easy to set up and can quickly give your top affiliates the recognition they deserve.
Remember, there's always room for a personal touch as well! Reach out to your affiliates and congratulate them when they're doing great work.
Now Make it Easy to Pay Your Affiliates
You've worked out your affiliate rewards but what about when it comes to paying them?
Too many affiliate plugins make this a little bit challenging, leaving you to rely on messy PayPal or Stripe mass payments. If you're going to build a successful affiliate program, you need affiliate payments to be simple.
That's why AffiliateWP offers its integrated payouts service. This allows you to pay your affiliates in just a few clicks without ever leaving your WordPress dashboard.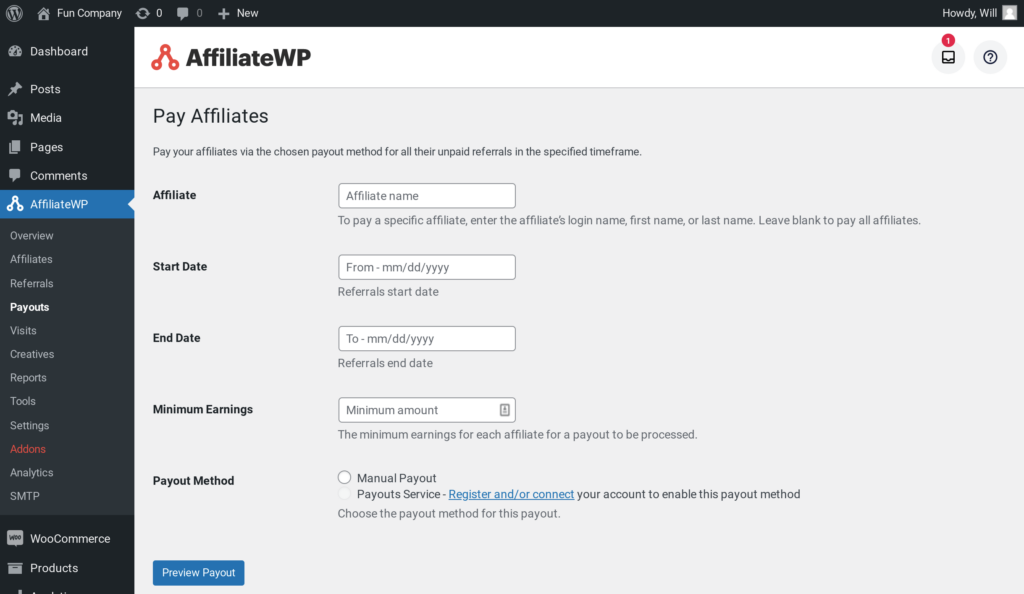 You can pay affiliates directly into their bank accounts, and make the process much more straightforward.
Make Your Affiliate Incentives Count
There are many different ways to offer affiliate incentives, which goes to show, it's not just about commission.
Hopefully, we've given you some ideas on how you can better reward your affiliates and you can use them to grow your program. Before we finish we've also got some more great resources for you though:
Now there's only one thing left to do.