How to Create a Custom Affiliate Registration Form in WordPress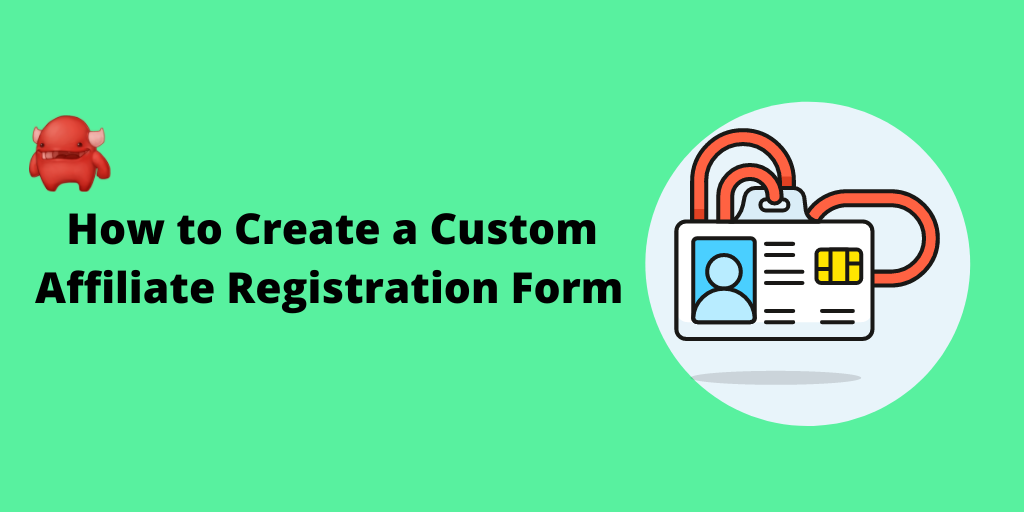 Are you looking to create a custom affiliate registration form?
If your website runs on WordPress, then it couldn't be easier to create a high-performing, custom affiliate registration form.
And the great news?
We're going to show you exactly how to do it!
Why is Your Affiliate Registration Form Important?
Along with your affiliate signup page, your registration form is one of your first points of contact with a new affiliate. It sets the tone for the rest of the relationship, so it's important to get right.
When you join a big affiliate network, you don't get a great deal of control over these kinds of things. So, this is where owning your own affiliate program starts to pay off.
We're going to show you how to create a custom affiliate registration form, and it's going to help you achieve some important goals:
Create a good first impression of your affiliate program (professional, and with lots of earning potential).
Sign up more skilled, engaged affiliates.
Cut down on affiliate fraud.
Inform your affiliate onboarding processes.
One of the most important roles of the affiliate registration form is serving as a filter. More often than not, affiliate marketing isn't about the number of affiliates. It's about quality, and your affiliate registration plays an important part in this battle.
Not only is it going to help you spot the best affiliates, but it's also going to help you screen out fraudulent affiliates who aren't committed to your program.
These sound like some pretty good reasons to create an affiliate registration form, so how can you go about it?
How to Create an Affiliate Registration Form
Setting up an affiliate marketing program and creating an affiliate form is surprisingly simple.
If your website runs on WordPress (which over 40% of the web does), then you can start tracking referrals in just a few minutes. With the right software, you'll also get a ton of customizability. This is particularly true for your affiliate sign-up page and registration form.
So, let's take a look at how to create an affiliate registration form in WordPress.
We're going to cover:
Install AffiliateWP
Edit your affiliate signup page
Add the AffiliateWP registration block
Add, reorder, and rename fields
Mark fields as required
Edit the Register button
These steps are incredibly easy to follow and allow you to create a custom affiliate registration form in no time at all.
If you get stuck at any point, then check out one of our helpful tutorials.
Step 1: Install AffiliateWP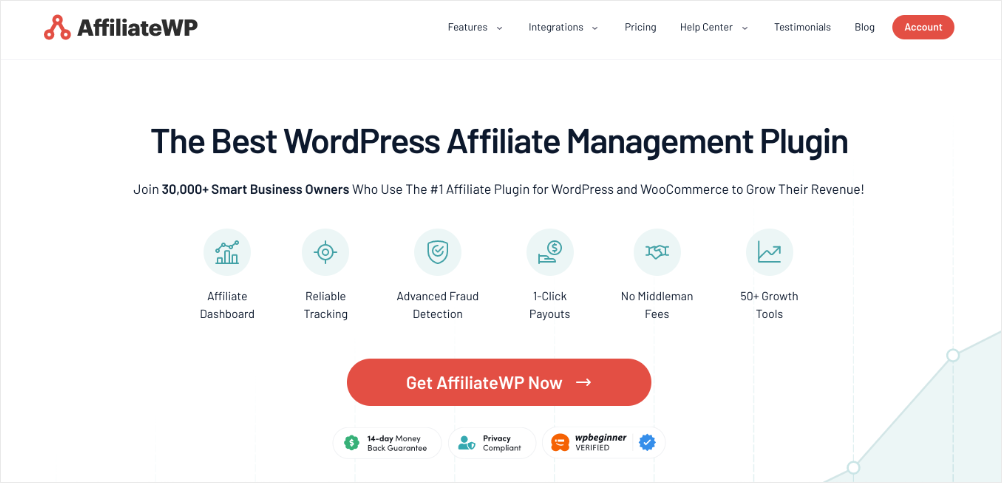 The easiest way to create a powerful affiliate registration form is with AffiliateWP.
It allows you to set up a fully-featured affiliate marketing program in WordPress, and it only takes a few minutes.
Just head to our pricing page and choose the plan that best fits your needs. If you have any problems downloading the plugin then just follow this handy guide, and it will walk you through every step.
Once you've downloaded AffiliateWP, you can open the setup wizard by hovering over AffiliateWP in the left-hand sidebar of your WordPress dashboard and clicking Settings. Scroll to the bottom of the page, and you will see a Launch Setup Wizard button – click this.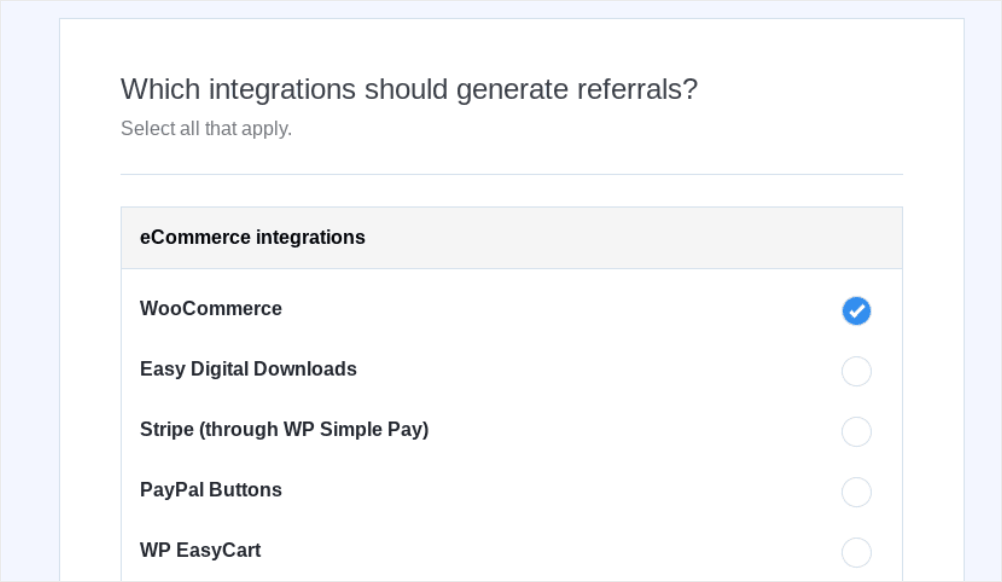 The setup wizard will allow you to integrate your e-commerce store with lots of popular WordPress plugins.
WooCommerce
Easy Digital Downloads
MemberPress
PayPal
and many more.
You can then choose your commission structure and set your cookie expiration in just a few clicks!
As soon as you've completed the setup wizard, your affiliate program will be live and ready to track referrals.
Step 2: Edit Your Affiliate Signup Page
A great affiliate registration form is no use without a good registration page.
Signing up top affiliates isn't that easy, so you need an affiliate signup page that stands out from the competition and converts.
When you launch your affiliate program, AffiliateWP will automatically create an Affiliate Area page which serves as your affiliate signup. It will also be the page where affiliates log in to their affiliate account.
You can choose to use this page as your signup page, or, you can create your own landing page in WordPress.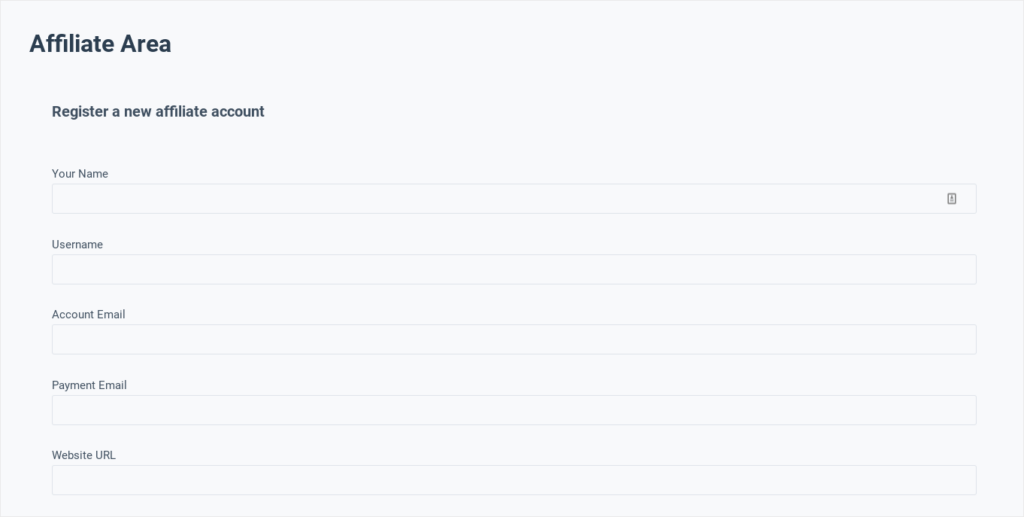 To change your Affiliate Area page, simply go to your AffiliateWP settings and select a page from the dropdown menu in the Affiliate Area tab.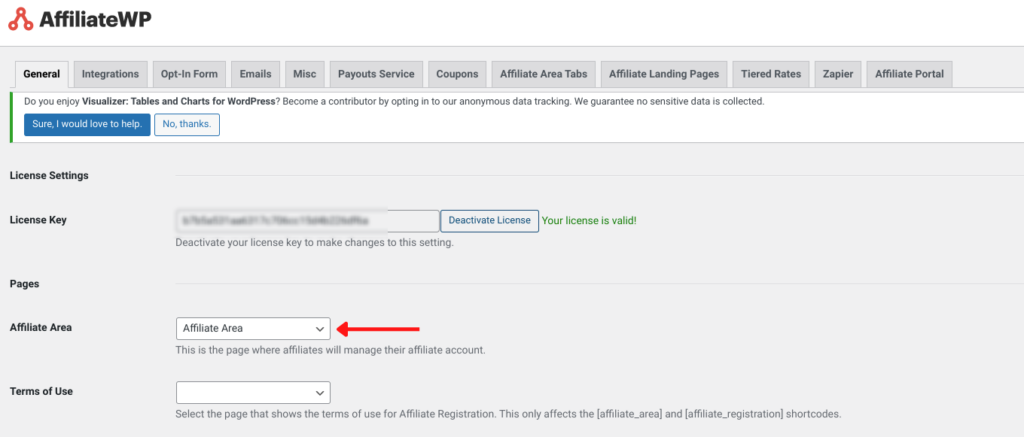 This gives you complete control over your affiliate signup page.
Step 3: Add the AffiliateWP Registration Block to Your Signup Page
If you've chosen to use the AffiliateWP Affiliate Area template page, then it will already have an affiliate registration form on it.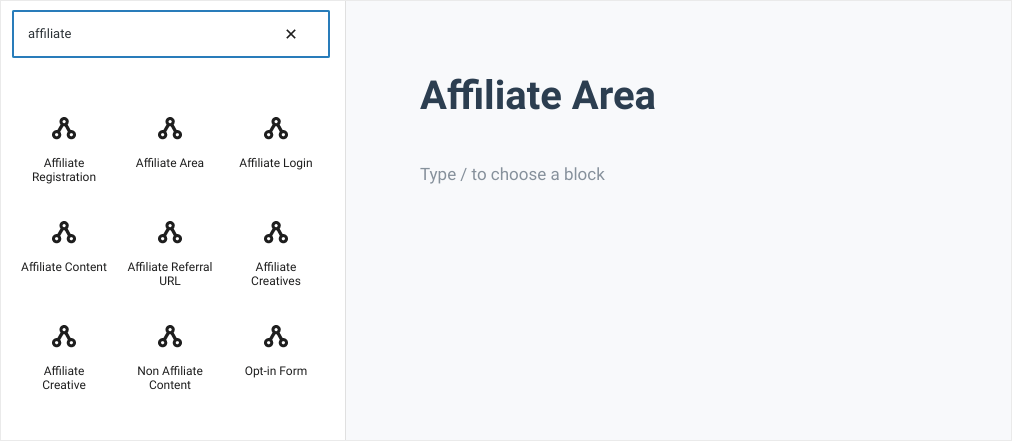 However, if you choose to create your own signup page, then you can add an affiliate registration form by typing "Affiliate" in your blocks search bar and selecting Affiliate Registration. This will add the AffiliateWP registration form template to your page, and you can begin to customize it.
If you want the page to serve as both your registration and login page (which we recommend), then the easiest way is to add the Affiliate Area block.
Step 4: Add, Rename, Reorder, and Delete Form Fields
It couldn't be easier to customize your affiliate registration form.

Add fields by clicking the Add Block button and choosing a block.
Rename a field by clicking on the text and entering your new field name.
Reorder fields by dragging them to the position you want them in.
Delete fields by clicking the Options button and clicking Remove Name.
This means you can make your registration form program-specific and ensure you're collecting the information you need from potential affiliates.
One option we highly recommend is adding the Affiliate Terms of Use Block. This will allow you to select your terms of use page (or build your own using our terms of use generator) and show it in a scroll box. This will allow affiliates to quickly read through your conditions and agree to your terms of use before submitting their application.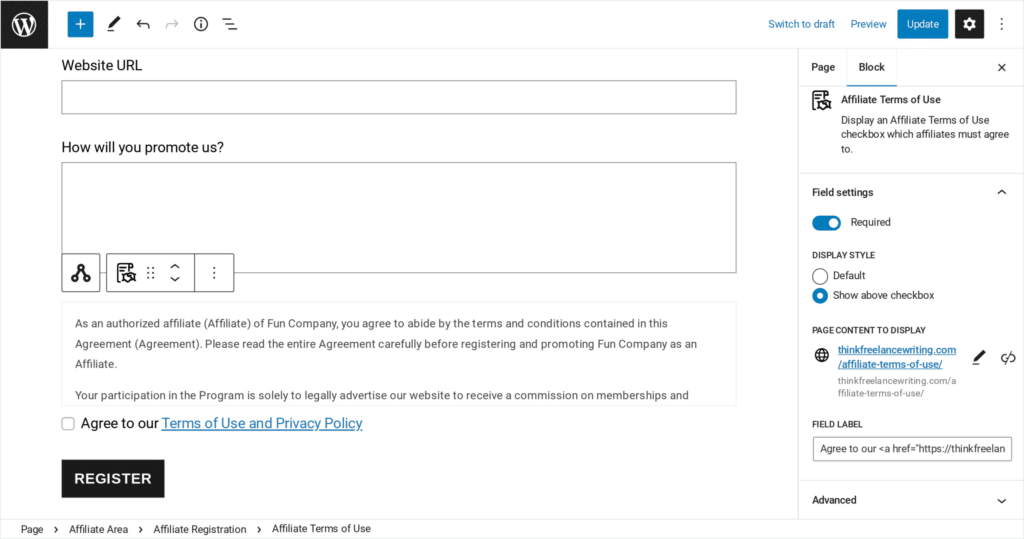 Note: You can also make basic edits to the affiliate signup form template from your AffiliateWP settings. Go to AffiliateWP > Settings > General, scroll until you see Registration Fields, and use the checkboxes to customize your default registration form.
Step 5: Mark Fields as Required
Just because you ask people for information doesn't mean they will give it to you.
You can put lots of fields on your form, but there's no guarantee people will fill them out, unless they're required. Setting a field as required means the form can't be completed unless the field has been filled out, enriching the data you get from your form.

To mark a field as required, open the block settings by clicking the settings cog in the top-right corner, and click the Block tab. When you click on a field, you will now see a box titled Field Settings.
Mark the check box next to Required to make a field mandatory.
Step 6: Edit the Register Button
The last step is to edit the Register button, and you can do this simply by highlighting the text.
Choose the call to action that's going to have maximum impact, and boost your conversion rate.
Now your application form is complete it should reflect your business better, attract high-quality affiliates, and help protect against fraud.
However, if you want to go even further, then you can integrate your form builder with our Ninja Forms or Gravity Forms pro add-ons.
Now Optimize Your Affiliate Signup Page
We like to think of your affiliate signup page in the same way we do a product page.
You're trying to sell something, and your affiliate program landing page needs to reflect this. Use all the sales techniques you use to sell your products to sell your affiliate program.
There's a ton of competition for affiliates, and you've got to stand out. The only way you're going to do this is if you have a great signup page and processes to signup top affiliates.
Check out our handy guide on building your affiliate signup page!
You've got a great affiliate registration form, and now it's time to make sure your signup page is a recruitment machine.
FAQs: How to Create an Affiliate Registration Form
What is an affiliate form?
An affiliate form allows affiliates to apply to be a part of your affiliate program. It might collect basic information like the affiliate's name, email, website URL, and information on how they intend to promote products. Form submissions will be collected in your dashboard, and you'll be able to approve the affiliate application.
What is affiliate registration?
An affiliate registration is where an affiliate signs up to an affiliate program. They will provide information about how they intend to promote the affiliate program's products, and a program manager will use this information to decide whether the affiliate should be accepted.
How do I start my affiliate marketing?
The easiest way to start an affiliate marketing program is with AffiliateWP. It allows WordPress websites to set up affiliate marketing in just a few clicks. Once your program is ready, you'll be able to work with innovative bloggers, social media influencers, and other marketers to grow your business.
How do I edit my AffiliateWP registration form?
You can edit your AffiliateWP registration form in WordPress's page builder. Just choose the Affiliate Registration block and start editing. You can also edit your notification settings by going to the emails tab in your AffiliateWP settings.
Customizability Creates Affiliate Sales
One of the reasons AffiliateWP is the best WordPress affiliate plugin is its customizability, which along with awesome functionality, helps grow sales.
The great news is it's incredibly easy to set up. We give you complete control over your program (there are no limits on affiliates, creatives, or sales), but we also make it incredibly simple to manage.
This shows through in our affiliate registration forms which you can create in just a few clicks, and easily customize.
Ready to take the next steps towards building an affiliate program? Here are some more resources:
Now, it's time for you to create your first affiliate registration form and grow your program.