10+ Best WooCommerce Affiliate Plugins (Compared)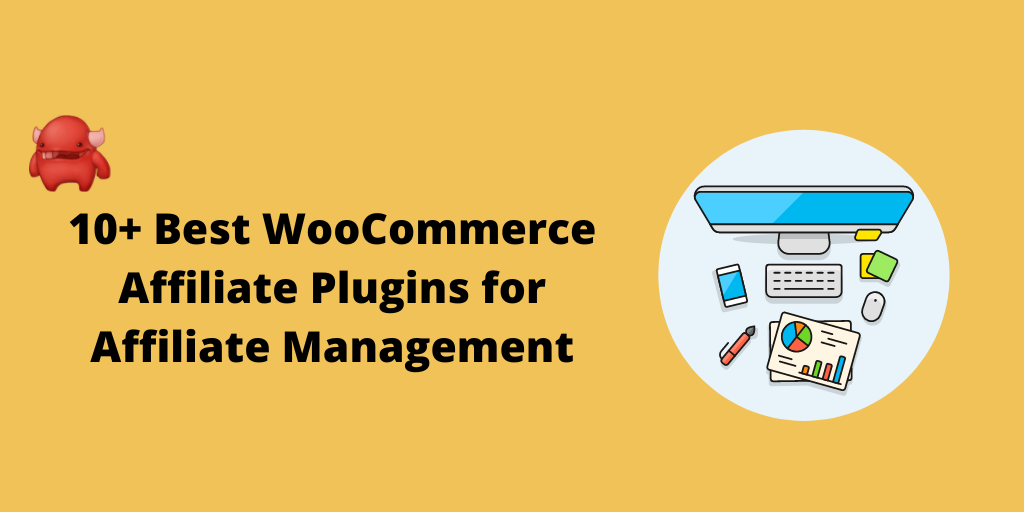 Are you looking for the best WooCommerce affiliate plugins?
If the answer is yes, then you're just a few clicks away from starting your WooCommerce affiliate program.
We take an expert look at the best options for building an affiliate program on WooCommerce and offer some simple tips you can use to skyrocket your program.
Here's a quick look at the affiliate plugins we will be comparing.
These options cater to all marketing budgets, so check them out and find the best WooCommerce affiliate plugin for your business.
What to Look for in the Best WooCommerce Affiliate Plugins
A WooCommerce affiliate plugin should save you time, boost your brand's reach, and quickly earn affiliate sales.
To do this, it's got to offer 4 key things:
Straight forward setup (no coding and no frustration).
Easy integration with your WooCommerce products.
Effortless affiliate management and automation.
Powerful affiliate growth tools to take your business to the next level.
The best WooCommerce affiliate plugins should meet all of these criteria and more, so we've put them to the test!
WooCommerce may not offer built-in affiliate marketing but with these great affiliate software, you can get your program set up in no time at all.
10 Best WooCommerce Affiliate Plugins
These plugins allow you to immediately start an affiliate program for WooCommerce and bring your brand to new audiences.
When done well, affiliate marketing can give your business an almost instant boost.
Innovative new affiliates can do wonders for your marketing, and you'll soon see affiliate sales coming in. However, it's important to remember that you get out what you put in, so make sure you've got the right WooCommerce affiliate plugin.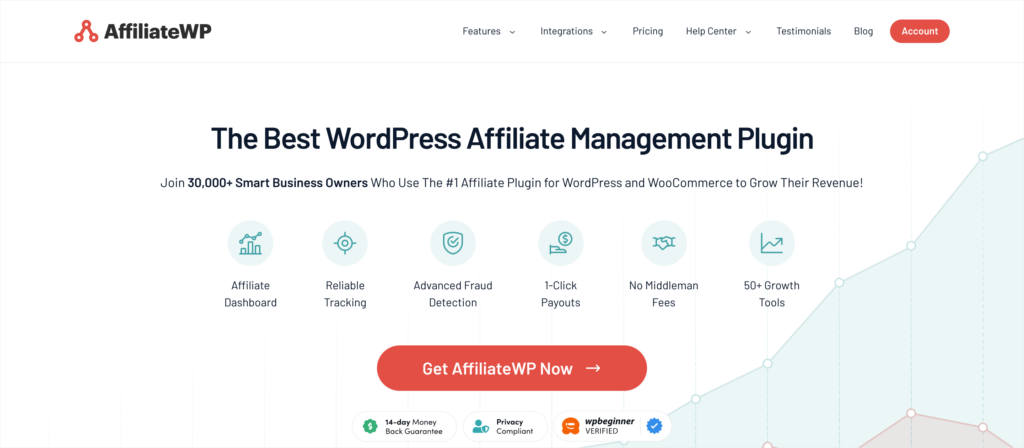 AffiliateWP is recognized as the best WordPress affiliate plugin.
If you have a WordPress website, then AffiliateWP is the only place you need to visit to set up an affiliate marketing program. It offers 1-click integrations for a host of WordPress plugins such as Easy Digital Downloads, WPForms, MemberPress, MailChimp, Stripe, and of course, WooCommerce.
Integrating your WooCommerce store with Affiliate WP couldn't be easier. Its easy setup wizard will walk you through every step of the process, and in just a few clicks, you'll be ready to start tracking referrals.
Another great feature is the Terms of Use Generator, which takes the hassle out of creating your affiliate terms and conditions. This helps you get set up even more quickly, safe in the knowledge that your business is protected.
Its ease of setup is matched by a straightforward interface that allows you to manage your own affiliate program.
Customize affiliate registration forms and other templates
Approve or reject affiliates in a click
Unlock growth with powerful add-ons
Pay affiliates directly to their bank accounts in a click
It's not just you who will love how easy AffiliateWP makes it to manage your affiliate program. Top affiliates are also going to love it because they get access to innovative marketing tools. This helps them make more conversions and grow their earnings.
Affiliate Portals
Personalized Affiliate Landing Pages
Vanity Affiliate Coupon Codes
Direct Link Tracking
Custom Affiliate Slugs
Real-time analytics
And much more…
AffiliateWP is highly customizable, allowing you to build a program that works for your business. There are no limits on how many affiliates you can sign up, how many sales you make, or how much you earn. And, with its smart commission rules, you can maximize your earnings while still offering great incentives.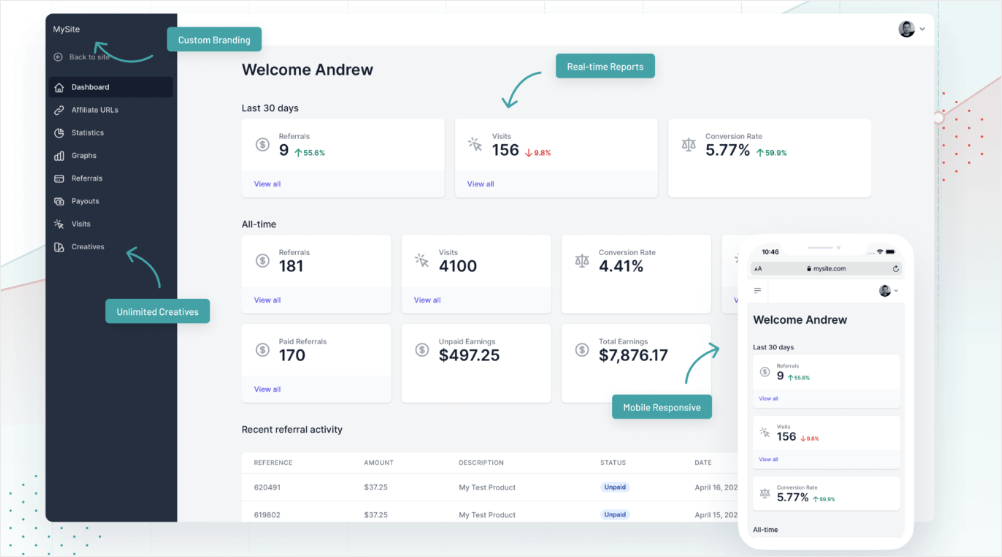 All of this without ever having to leave your WordPress dashboard.
AffiliateWP's seamless WooCommerce integration is hard to beat.
Oh, and there's a 14-day money-back guarantee, just in case!
Key Features:
Create your affiliate program in just a few clicks
Seamless integration with WooCommerce
Automated tracking and easy affiliate payouts
Detailed analytics to help maximize your sales
Innovative affiliate growth tools
World-class support
Check out AffiliateWP's pricing!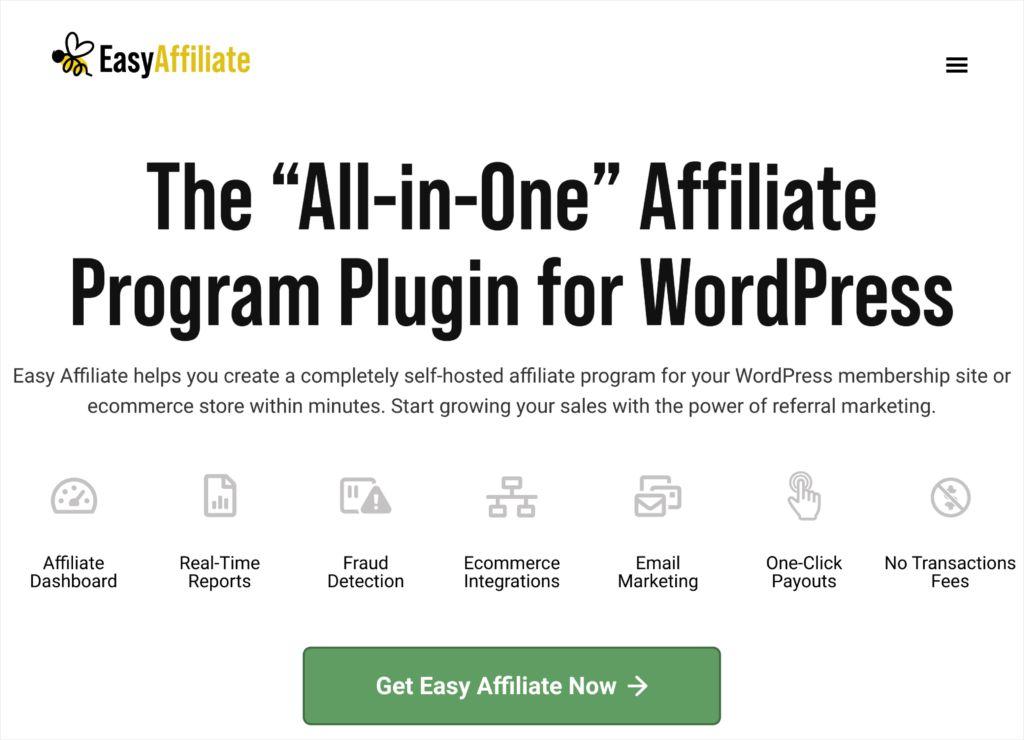 EasyAffiliate has an easy integration for WooCommerce that can set your affiliate program up in just a few minutes.
Like AffiliateWP, it's built for WordPress sites and sits seamlessly within WordPress themes. This makes it user-friendly and saves you time on affiliate management.
It has a customizable affiliate dashboard, solid fraud detection, and excellent customer support. Functionality that makes it a great option for your WooComerce affiliate program.
Key Features:
Easy WooCommerce integration
Customizable affiliate dashboard
Payment integration
Great support
Pricing:
Basic: From $99.50/ year
Plus: From $149.50/ year
Pro: From $199.50/ year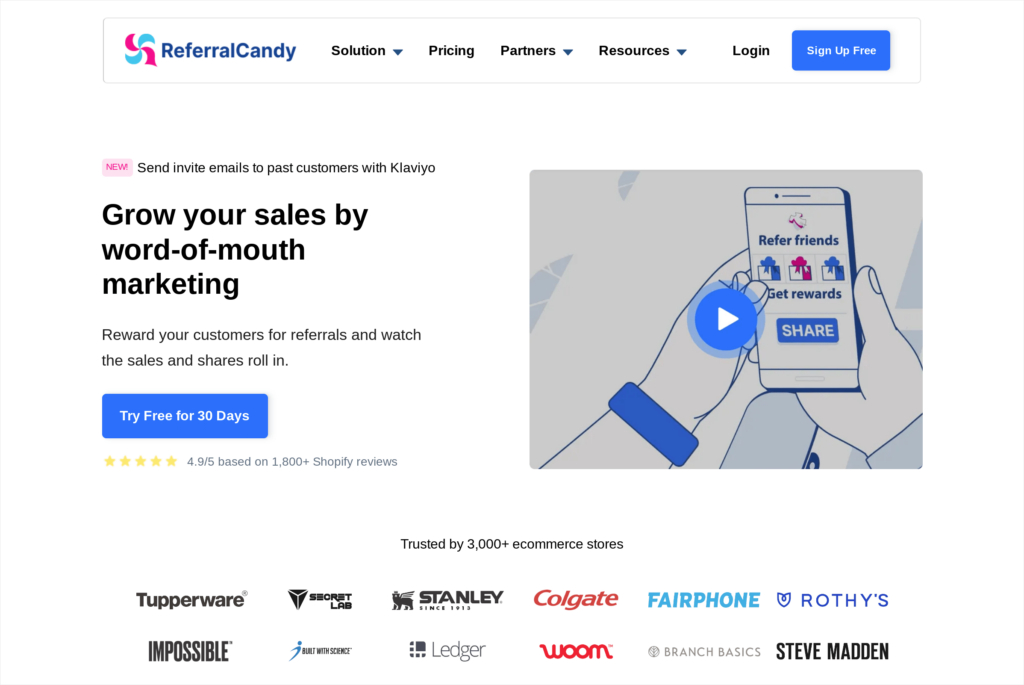 ReferralCandy integrates with many of the leading e-commerce platforms, including Shopify, BigCommerce, and WooCommerce.
While it's not dedicated to WordPress in the same way as AffiliateWP, we do find it to be one of the best affiliate marketing plugins for WooCommerce. This is particularly true if you're looking to engage your customers in word-of-mouth marketing.
It allows you to automatically reach out to customers to join your referral program. Once they're signed up, they can spread the word about how great your company is, earning a commission on any purchases their referrals make. This is a great option for turning customers into your own influencers and brand ambassadors!
Key Features:
One-click integration
Access to industry benchmarks
Customizable reward options
Live chat support
Pricing:
Premium: From $39/ month + commission
Plus: From $239/ month + commission
Enterprise: Inquire for pricing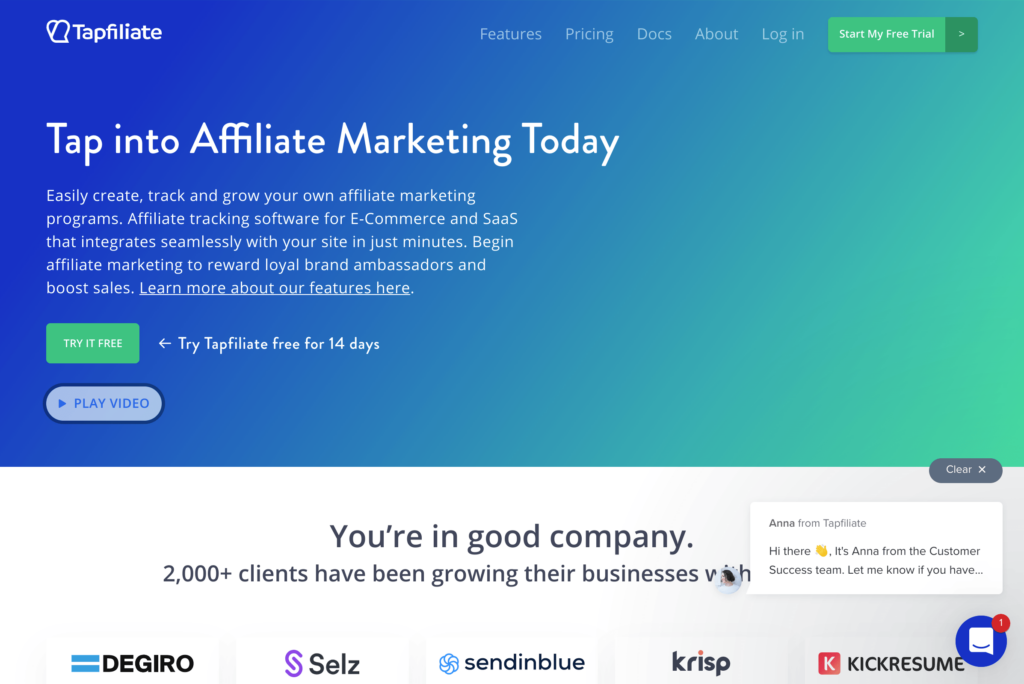 Tapfiliate offers a powerful platform to help you create an on-brand affiliate marketing program. It's built for a wide range of e-commerce platforms and payment gateways and is easy to connect to your WooCommerce store.
With an easy-to-use onboarding wizard, and plenty of room to add creatives (banners, text links, videos, and social posts), it gives you lots of tools to increase your conversion rates.
Key Features:
Easy affiliate onboarding
Shareable social media posts
Branded dashboards
37 integrations
Pricing:
Essential: From $89/ month
Pro: From $149/ month
Enterprise: Inquire for pricing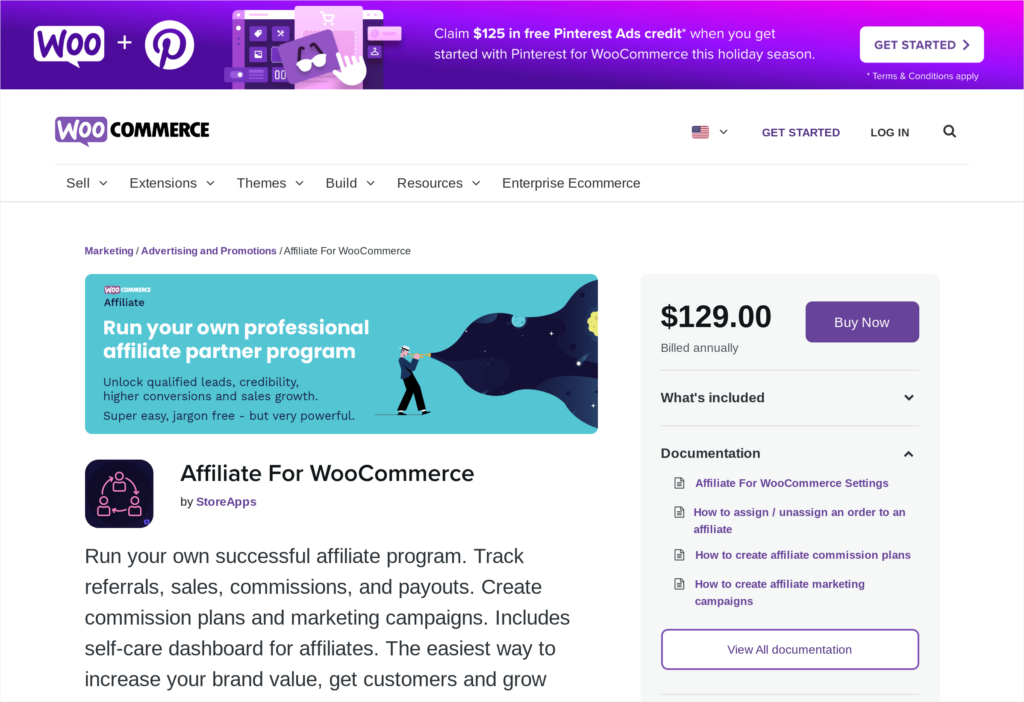 Affiliate for WooCommerce provides a simple way to set up a basic affiliate marketing program. It's another plugin that's dedicated to WooCommerce, and this makes it easy to sync all your data and set up a new program in a few clicks.
People like Affiliate for WooCommerce for its simplicity. For others though, it lacks customizability and powerful features. Many people will find they need additional features to take an affiliate marketing program to the next level.
Nonetheless, if you're looking for a simple solution, then it's one of the best WooCommerce affiliate plugins.
Key Features:
Adjustable commission rates (set different commissions for individual affiliates or products)
Tiered affiliate commissions (affiliates can get a commission on sales from affiliates they introduced to the program)
Run promotional campaigns
Easy PayPal payments
Pricing:
Regular License: From $129/ year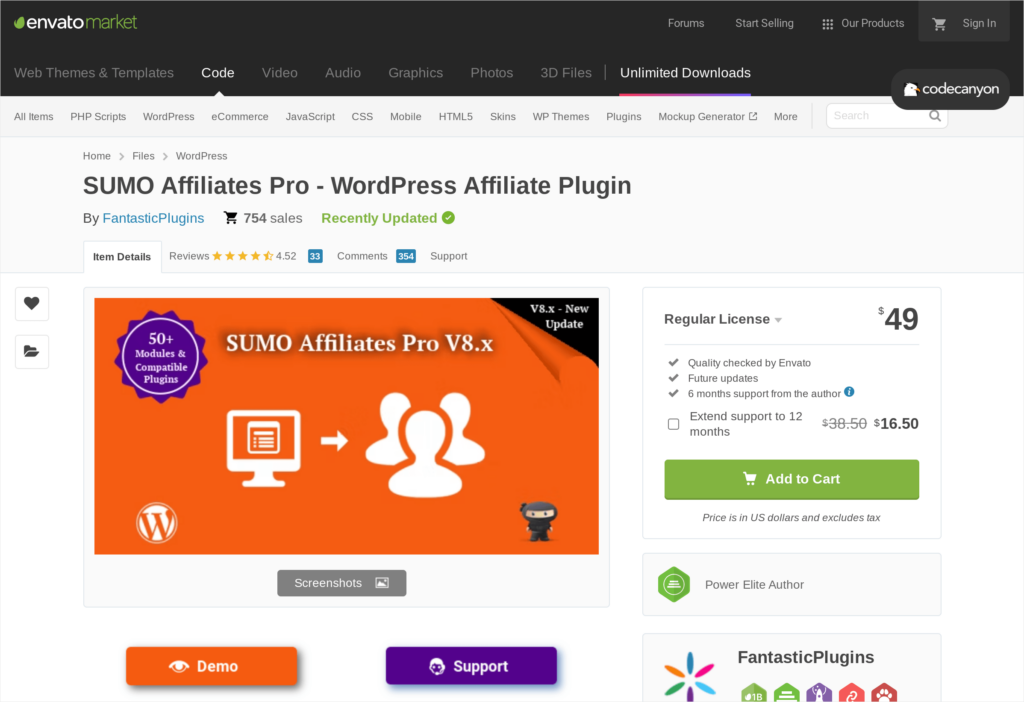 Sumo Affiliates Pro allows you to build a WooCommerce affiliate system using different modules. These include useful features like leaderboards, push notifications, and lifetime commissions.
Unfortunately, the UX can be a little clunky sometimes though.
This is another simple plugin that will allow you to build an affiliate marketing program around your WooCommerce store.
Key Features:
Customizable referral links
Affiliate banners
Affiliate leaderboards
Abandoned cart integration
Pricing:
Regular license: From $49
Extended license: From $490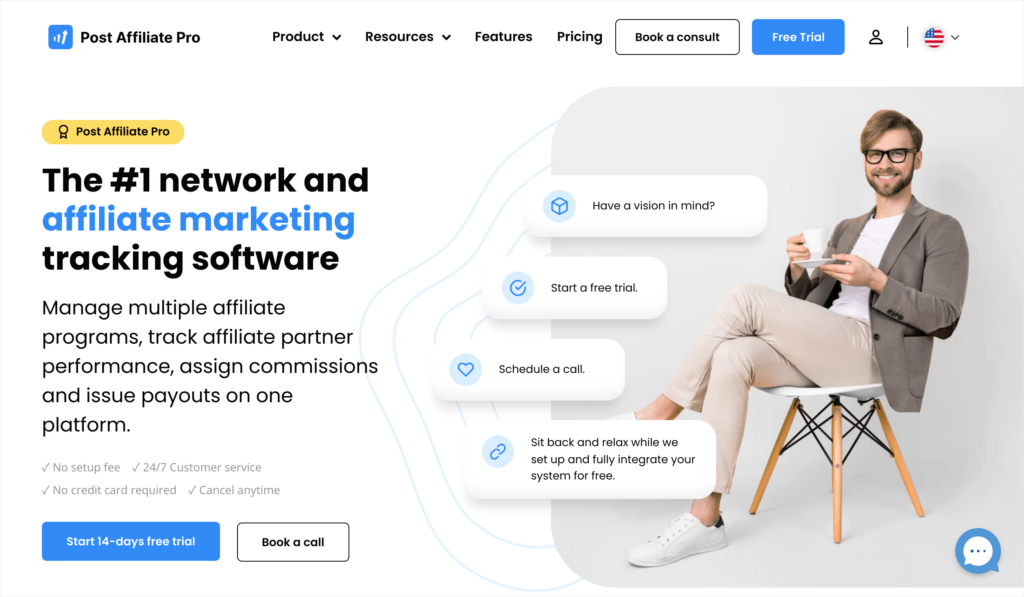 Post Affiliate Pro offers a complete affiliate marketing solution. With over 200 integrations, it connects with an endless number of e-commerce platforms, payment gateways, and WordPress plugins.
It also offers tons of features (some helpful for everyone, some very specific) to help you make your program a success.
Post Affiliate Pro's pricing structure is aimed at very large affiliate marketing programs. It has lots of different features, but they do come with a price tag.
If that's what you're looking for, then Post Affiliate Pro is one of the best WooCommerce affiliate plugins.
Key Features:
Manage multiple affiliate programs
Automated bonus system
Customizable interface
Predesigned themes
Pricing:
Pro: From $129/ month
Ultimate: From $249/ month
Network: From $599/ month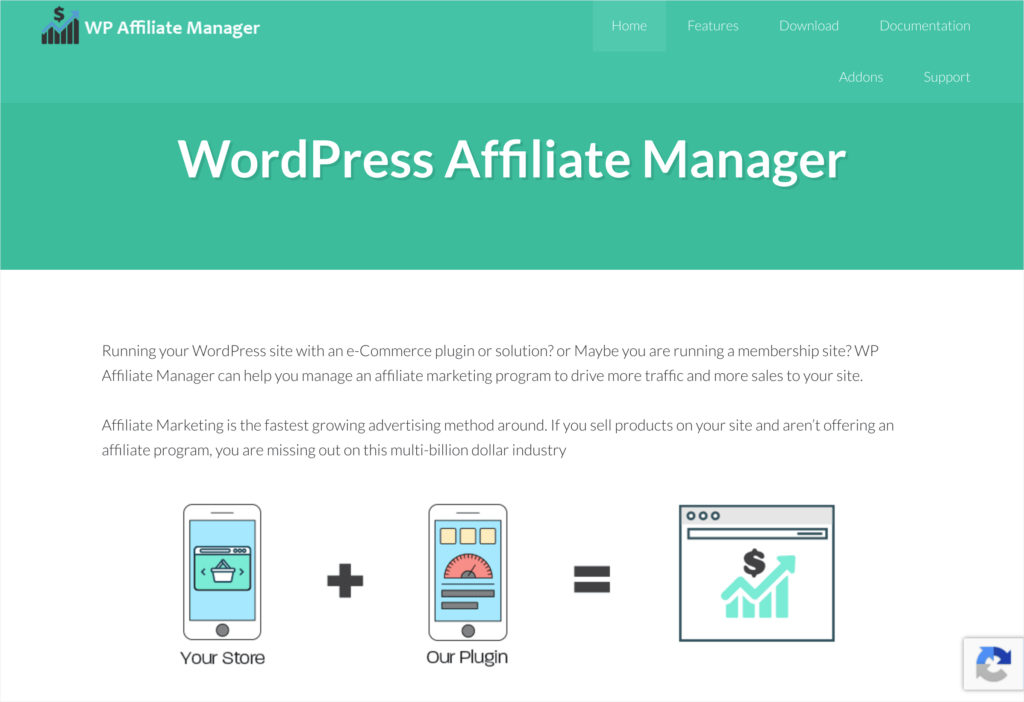 WP Affiliate Manager is another simple WordPress plugin that allows you to create a basic affiliate program.
In terms of pricing, this is one of the most cost-efficient ways to start your program, but its UX looks quite outdated and tools are a little bit limited.
Of course, it depends on what features you need. If you're looking to test the waters of affiliate marketing without investing too much, then WP Affiliate Manager is a reasonable option.
Key Features:
Simple setup with WooCommerce
Customizable affiliate registration
Unlimited creatives
Unlimited affiliate partners
Pricing:
Regular License: From $39 per site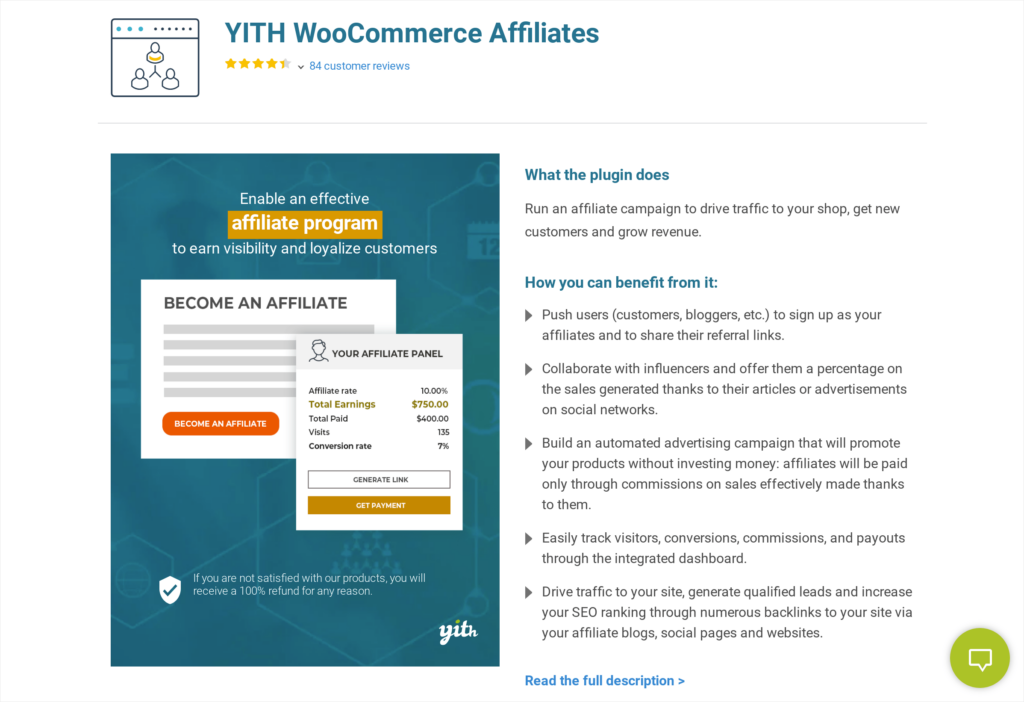 YITH WooCommerce Affiliates is another WooCommerce-specific affiliate plugin. It helps you attract affiliates, track referrals, and automate affiliate payouts.
It offers a lot of basic features in the free pricing package, but if you want to automate the process, then it's best to go with the paid option. This includes a number of useful features, although the user interface is slightly dated.
Key Features:
Easy affiliate link generation
Customizable cookies and commissions
Flexible payout options
Affiliate registration shortcodes
Pricing:
Free Version: Get the basics for free
Premium: From $99.99/ year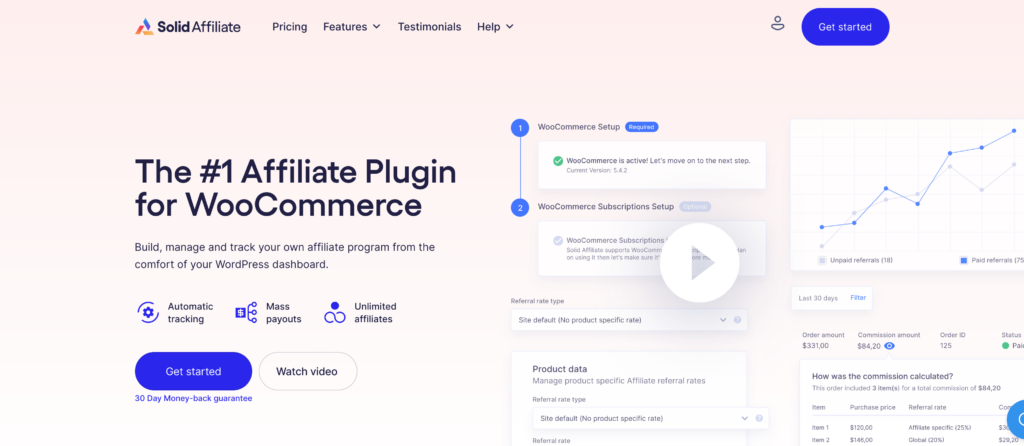 SolidAffiliate gives you all the tools you need to create a WooCommerce Affiliate program and grow your business. It offers a clean, easy-to-use interface, and as the name suggests, gives you solid affiliate link tracking capabilities.
It offers a number of different WordPress integrations to give your affiliate program the extra edge. These tools certainly make it one of the best WooCommerce affiliate plugins.
Key Features:
Easy-to-use setup wizard
Flexible configuration
Instant integration with WooCommerce
Good affiliate portal
Pricing:
Personal: From $149/ year
Expert: From $199/ year
Professional: From $299/ year
Bonus Option for Your WooCommerce Affiliate Program: Goaffpro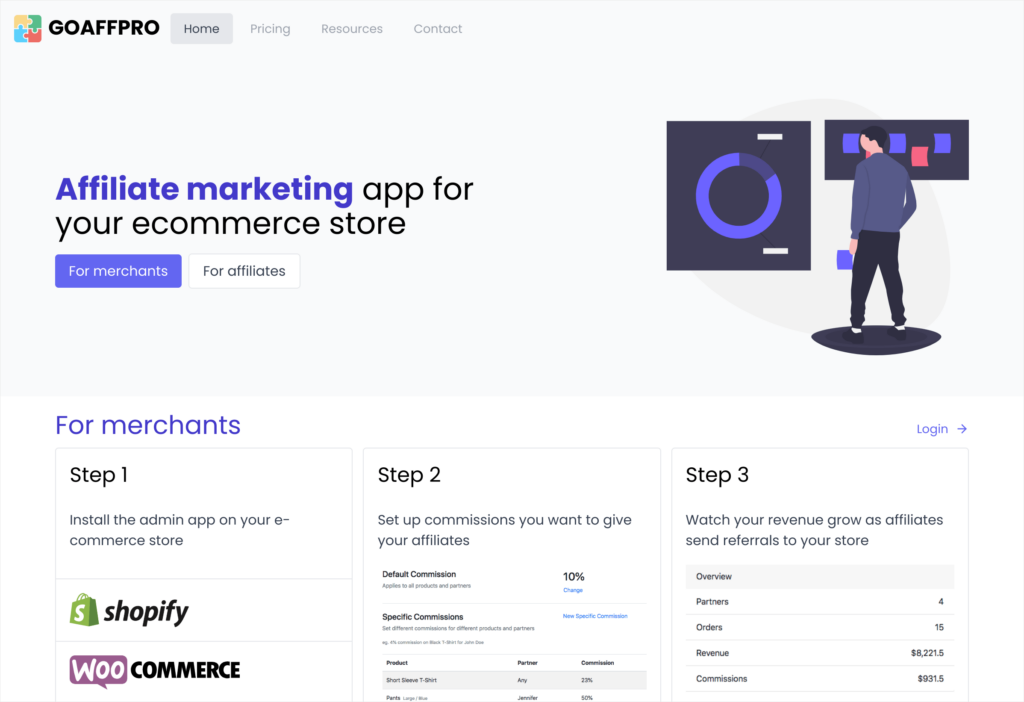 Goaffpro provides a wide range of integrations, helping online store owners on most of the major platforms (Shopify, BigCommerce, WooCommerce, Magento, SquareSpace) add affiliate capabilities to their marketing.
With automatic payouts through PayPal, Google, and Facebook login, detailed analytics, and adjustable commissions, it's a good option for many different e-commerce stores.
Key Features:
Simple WooCommerce integration
Automatic PayPal payouts
Detailed analytics
Adjustable commissions
Pricing:
Hobby: Get the basics for free
Premium: From $24/ month
Enterprise: Inquire for pricing
Note: We think we've chosen the 10 best WooCommerce affiliate plugins (plus 1 bonus option), but there are others that missed the list like Ultimate Affiliate Pro, and SliceWP.
Which is the Best WooCommerce Affiliate Plugin?
All the plugins we've talked about in this article can help you create an affiliate program for WooCommerce, however, there's one that stands out from the rest.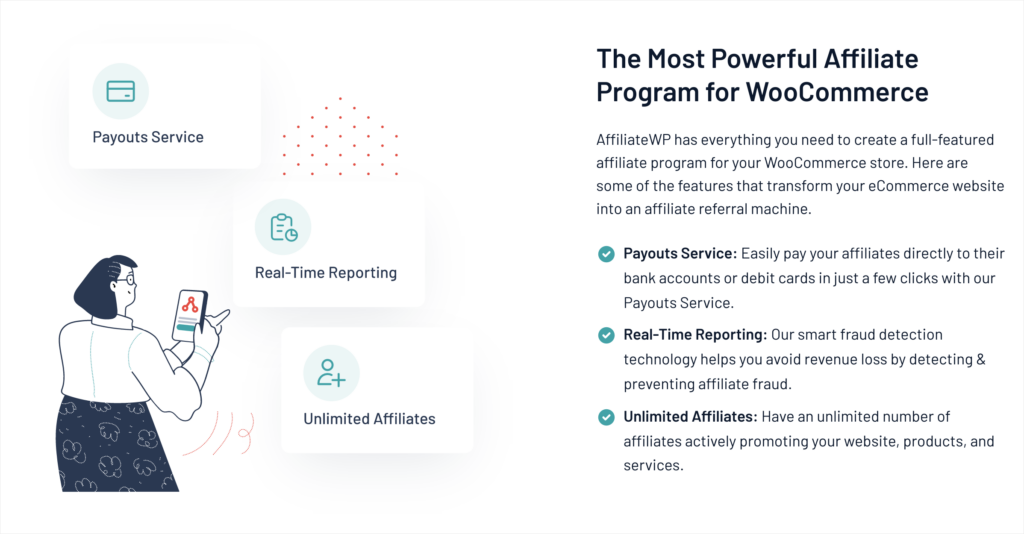 AffiliateWP is the best WooCommerce affiliate plugin if you're serious about growing your business through affiliate marketing. Not only does it make everything simple for you, but it also puts powerful tools at your fingertips.
The easy setup wizard means you can start your affiliate program in just a few clicks, and its innovative growth tools help you exceed your marketing goals.
Get started with AffiliateWP today!
FAQs: Best WooCommerce Affiliate Plugins
Here are some of the most common questions we get asked about the best WooCommerce affiliate plugins.
Does WooCommerce allow affiliate products?
WooCommerce allows affiliate products but it doesn't offer built-in affiliate link tracking. To add affiliate link tracking to WooCommerce, you'll need an external affiliate plugin like AffiliateWP.
How do I add affiliate products to Woocommerce?
WooCommerce affiliate plugins make it extremely easy to add affiliate products. Software like AffiliateWP integrates with your WooCommerce products in a click, allowing you to track referrals and grow your own affiliate program.
What is an affiliate plugin?
An affiliate plugin adds referral tracking to your online store, membership site, or lead forms. It allows you to build your own affiliate program, attract affiliates, and assign commissions when affiliates earn you sales.
Now Grow Your WooCommerce Affiliate Program
Once you've chosen the best WooCommerce affiliate plugin for your needs, then it's time to start growing your program.
Just a handful of good affiliates can make a big difference to your sales, and we've got some great resources to help you out.
Now there's just one thing left to do.
Get AffiliateWP, the best affiliate plugin for WooCommerce today!