Are you ready to set up an affiliate program for your WooCommerce store?
If the answer is yes, then you're just a few clicks away with these 10 best WooCommerce affiliate plugins.
We take a look at the best options for building an affiliate program on WooCommerce and offer some simple tips you can use to skyrocket your program.
Can I Use WooCommerce for Affiliate Links?
One of our favorite statistics to quote is the fact 42% of the web is built on WordPress. That's a huge number!
Many of those websites won't have a store, but for those that do, WooCommerce is normally the e-commerce plugin they use to add those capabilities. That means there are a ton of people running e-commerce sites through WooCommerce, in fact, the plugin has been downloaded over 160 million times, on 8.7% of all websites.
So, WooCommerce is popular, but how does it work when you're looking to set up an affiliate marketing program?
There's no built-in WooCommerce feature that allows you to track affiliate links, but there are lots of other WordPress plugins that can give you this capability by connecting directly through WooCommerce itself.
How Do I Set Up Affiliates in WooCommerce?
WooCommerce has everything you need to create a successful affiliate program, except the affiliate part.
What do we mean by that?
WooCommerce is a great e-commerce platform, which is the basis of any great affiliate program. It's just missing the extra capabilities to help you attract affiliates, give them the tools they need to make sales, and track referrals.
The great thing about WordPress is that there's a plugin in for everything, and there's a purpose-built, platform-specific plugin just for this. With the best WooCommerce affiliate plugin, you'll be able to build a top-performing affiliate program that seamlessly integrates with your store.
Once you've decided on a plugin, you'll find it only takes a few minutes to set up your affiliate marketing program (here's a handy guide).
The 10 Best WooCommerce Affiliate Plugins to Run Your Program
Running a successful affiliate marketing program isn't easy. Getting the program set up is fairly simple, but it's what you do with it when it's up and running that really matters.
You need to find affiliates who know how to sell your products, and you've got to give them the tools to make it easier.
If your affiliate marketing software doesn't give you these capabilities, then you're going to find it hard to get your program off the ground. To help you out, we've picked out the Best WooCommerce affiliate plugins (and sprinkled in some top tips too!).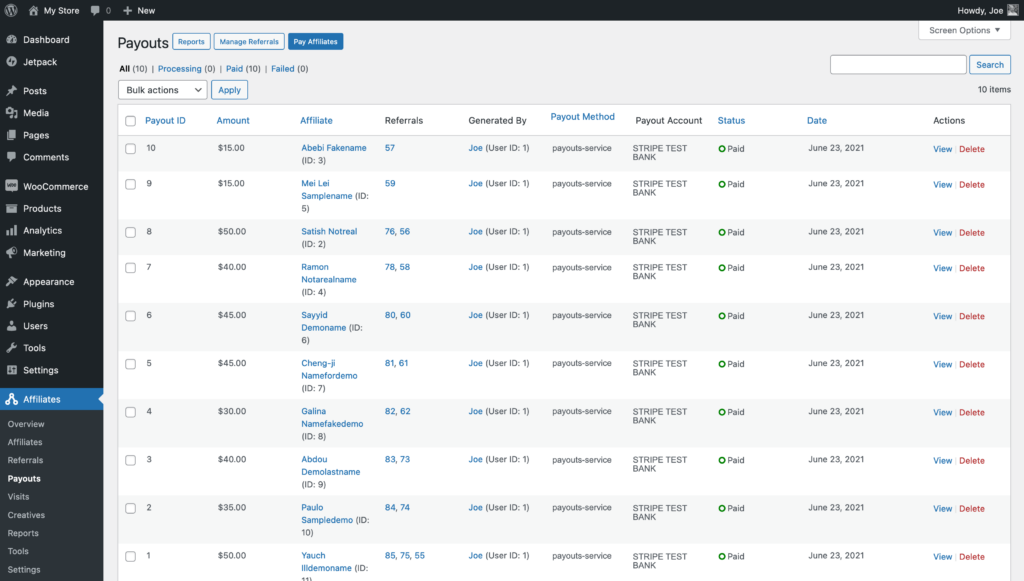 Key Features:
Seamless Integration with WooCommerce
Fits Perfectly with Your WordPress Dashboard
Create Your Affiliate Program in a Few Minutes
Automated Tracking and Affiliate Payouts
Detailed Analytics to Help Maximize Your Sales
World-Class Support
The argument for AffiliateWP being the best WooCommerce affiliate plugin is all in its concept. From the very beginning, it was designed purely for WordPress, with the goals of seamless integration and harnessing the power of plugins like WooCommerce.
When we say it's seamless, we mean you'll have a hard time telling it's not an in-built part of your WordPress theme.
What does this mean for you?
It means it's incredibly simple to set up, you can quickly automate all your processes, and you can connect with all your favorite WordPress plugins.
Setting up an affiliate program isn't the difficult part though; getting affiliate sales is. To help you with this, we've packed AffiliateWP with features that will help your program stand out:
Detailed real-time reporting
Unlimited creatives
Powerful affiliate area
Customizable emails
"Pretty" affiliate URLs
We don't believe in limiting your affiliate program, so you'll find no caps on the number of affiliates, or the number of payouts you can make on sales.
We're known for our customer support, so we're always there to help, and we're always bringing you new features to help take your affiliate program to the next level.
See all of AffiliateWP's features!
Pricing:
Personal – $149.50/ year
Plus – $199.50/ year
Professional – $299.50/ year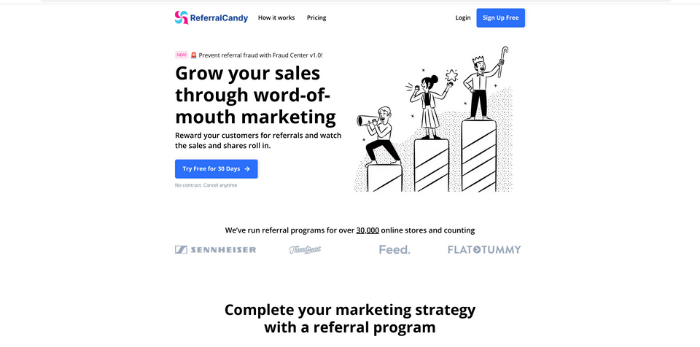 Key Features:
One-Click Integration
Access to Industry Benchmarks
Customizable Reward Options
Live Chat Support
Referral Candy integrates with many of the leading e-commerce platforms, including Shopify, BigCommerce, and WooCommerce. While it's not dedicated to the platform in the same way as AffiliateWP, we do find it to be one of the best affiliate marketing plugins for WooCommerce. This is particularly true if you're looking to engage your customers in word-of-mouth marketing.
Through its simple WooCommerce integration, ReferralCandy allows you to automatically reach out to customers to join your referral program. Once they're signed up, they can spread the word about how great your company is, earning a commission on any purchases their referrals make.
Pricing:
Premium: $49/ month + commission
Enterprise: $3,999/ month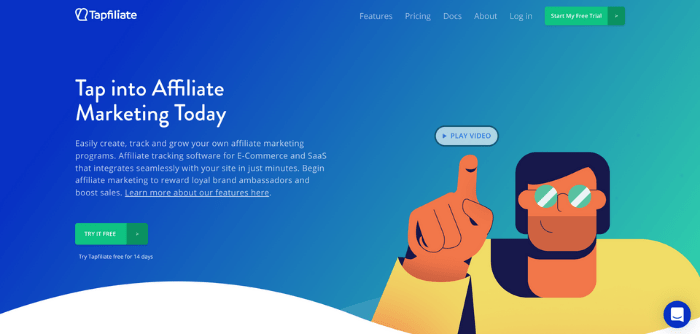 Key Features:
Easy Affiliate Onboarding
Shareable Social Media Posts
Branded Dashboards
37 Integrations
Tapfiliate offers a powerful platform to help you create an on-brand affiliate marketing program. It's built for a wide range of e-commerce platforms, and payment gateways and is easy to connect to your WooCommerce store.
With an easy-to-use onboarding wizard, and plenty of room to add creatives (banners, text links, videos, and social posts), it gives you lots of tools to help your affiliates get more out of your program.
Pricing:
Essential: $89/ month
Pro: $149/ month
Enterprise: Inquire for pricing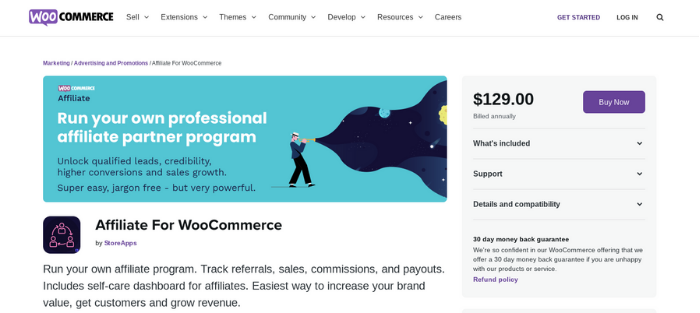 Key Features:
Adjustable Commission Plans
Tiered Affiliate Commissions (Affiliates can get a commission on sales from affiliates they introduced to the program)
Run Promotional Campaigns
Easy PayPal Payments
Affiliate for WooCommerce provides a simple way to set up a basic affiliate marketing program. It's another plugin that's dedicated to WooCommerce, and this makes it easy to sync all your data and set up a new program in a few clicks.
People like Affiliate for WooCommerce for its simplicity, but for others, it lacks the customizability and additional features needed to take an affiliate marketing program to the next level. Nonetheless, if you're looking for a simple solution, then it's one of the best WooCommerce affiliate plugins.
Pricing: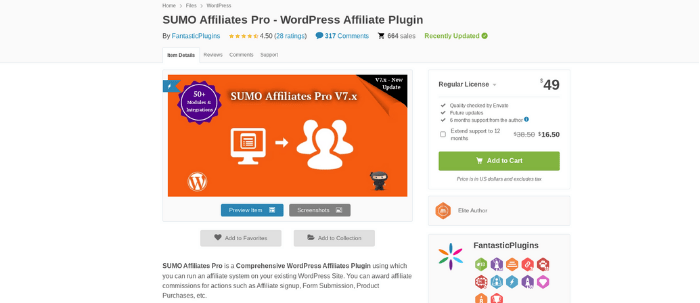 Key Features:
Customizable Referral Links
Affiliate Banners
Affiliate Leaderboards
Abandoned Cart Integration
Sumo Affiliates Pro allows you to build a comprehensive WooCommerce affiliate program using a host of different modules. It offers some useful features like leaderboards, push notifications, and lifetime commissions, but sometimes the UX can be a little clunky.
This is another simple plugin that will allow you to build an affiliate marketing program around your WooCommerce store.
Pricing:
Regular license: $49
Extended license: $490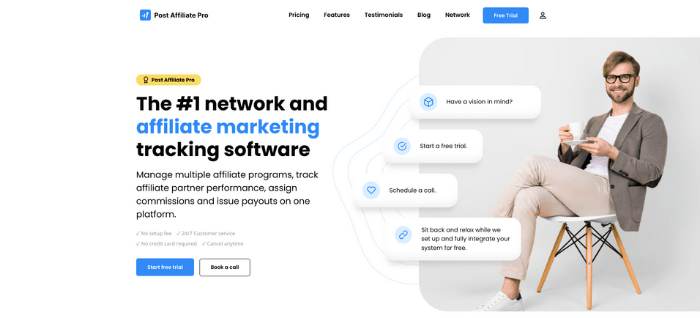 Key Features:
Manage Multiple Affiliate Programs
Automated Bonus System
Customizable Interface
Predesigned Themes
Post Affiliate Pro offers a complete affiliate marketing solution. With over 200 integrations, it connects with an endless number of e-commerce platforms, payment gateways, and WordPress plugins.
It also offers tons of features (some helpful for everyone, some very specific) to help you make your program a success. With its pricing structure, Post Affiliate Pro is clearly aimed at very large affiliate marketing programs, that need access to a lot of different features.
If that's what you're looking for then Post Affiliate Pro is one of the best WooCommerce affiliate plugins.
Pricing:
Pro: $97/ month
Ultimate: $197/ month
Network: $477/ month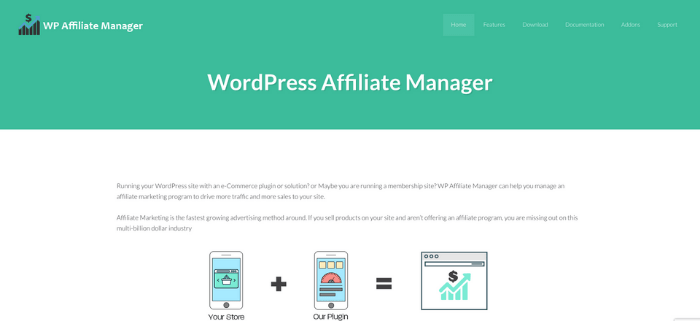 Key Features:
Simple Setup with WooCommerce
Customizable Affiliate Registration
Unlimited Creatives
Unlimited Affiliates
WP Affiliate Manager is another simple WordPress plugin that allows you to create a simple affiliate program.
In terms of pricing, this is one of the most cost-efficient ways to start your program, but its UX looks quite outdated and tools are a little bit limited. Of course, it depends on what features you need though, and if you're looking to test the waters of affiliate marketing without investing too much, then WP Affiliate Manager is a reasonable option.
Pricing:
Key Features:
Easy Affiliate Link Generation
Customizable Cookies and Commissions
Flexible Payout Options
Easy Affiliate Registration
YITH WooCommerce Affiliates is a WooCommerce-specific affiliate plugin that helps you attract affiliates, track referrals, and automate affiliate payouts.
It offers a lot of basic features in the free pricing package, but if you want to automate the process, then it's best to go with the paid option. This includes a number of useful features, although the user interface is slightly dated.
Pricing:
Free: Get the basics for free
Premium: $99.99/ year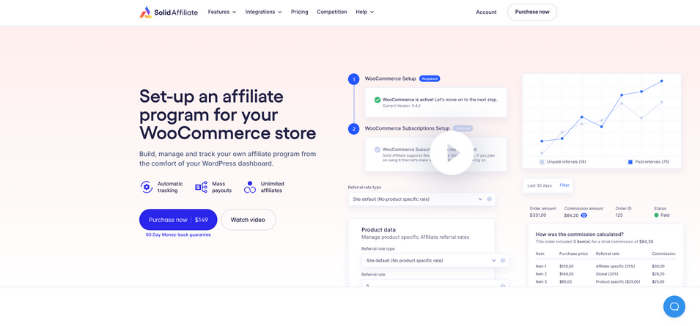 Key Features:
Easy-to-Use Setup Wizard
Flexible Configuration
Instant Integration with WooCommerce
Good Affiliate Portal
SolidAffiliate gives you all the tools you need to create a WooCommerce Affiliate program and grow your business. It offers a clean, easy-to-use interface, and as the name suggests, gives you solid affiliate link tracking capabilities.
It offers a number of different WordPress integrations to give your affiliate program the extra edge and is certainly one of the best WooCommerce affiliate plugins.
Pricing: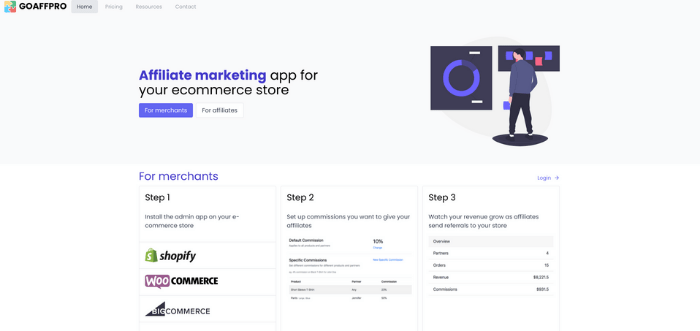 GoAffpro provides a wide range of integrations, helping store owners on most of the major platforms (Shopify, BigCommerce, WooCommerce, Magento, SquareSpace) add affiliate capabilities to their marketing.
With automatic payouts through PayPal, Google and Facebook login, detailed analytics, and adjustable commissions, it's a good option for many different e-commerce stores.
Pricing:
Free: Get the basics for free
Premium: $24/ month
Enterprise: Inquire for pricing
How to Choose the Right WooCommerce Affiliate Plugin for Your Store
We've listed a lot of options for you here, so how do you decide which is the right one for your WooCommerce store?
Here are some simple tips to help make sure you get the best WooCommerce affiliate plugin to meet your needs:
1. Think About Scale
How many affiliates do you see yourself signing up? Be wary of limits on the number of affiliates or value of sales your software allows. There are lots of great affiliates out there.
2. Decide On Your Startup Budget
You want to give your affiliate marketing program a good chance of success, but at the same time, you don't want to overcommit financially. The best affiliate marketing plugin will offer the right balance between features and price.
3. What's the Potential Value of Your Program?
Again, this relates to your budget, and it's an important question to answer. What's the potential value of your program, and what are your goals? By choosing a WooCommerce affiliate plugin with limited features, the chances are, you're limiting the potential value of your program.
4. Don't Just Build, Market
Affiliates aren't going to magically find your program. Building the program is the easy part, it's how you market it that's going to make the real difference. Look ahead and find out how your affiliate plugin will help you to reach the right affiliates.
5. What Do Your Affiliates Need?
Making affiliate sales isn't easy, otherwise, everybody would be doing it. When your affiliates win you win, so what do you need to give them to be successful? Data is key, so make sure you have a good affiliate portal with detailed analytics.
6. WordPress Plugins
Part of the reason people choose to build their websites on WordPress is because of the great plugins it offers. Make sure that your affiliate software syncs with the plugins you use to run your store, not just WooCommerce.
7. Automate Where Possible
Part of the appeal of having affiliates is that they do the marketing for you. If you're having to manage every aspect of the program manually, then it's just more work for you to do.
8. Quality Support
When you're considering any software it's always important to make sure you've got the support you need. You want someone on hand to answer your questions and help make your affiliate program a success; the best WooCommerce affiliate plugins will offer this.
Conclusion: Best WooCommerce Affiliate Plugins
WooCommerce is a great option for building an e-commerce store and setting up an affiliate marketing program. To help you do this, you will need to add a WooCommerce affiliate plugin though.
What should you look for from that plugin?
We always recommend you think about what's going to make your affiliate program great, not just the simplest way to create a program. You'll find it's easy to build a program, but it's a lot more challenging to find the right affiliates, build your affiliate relationships, and make sure you give them the tools to succeed.
There are lots of affiliate plugins for WooCommerce, but if you're looking for something that seamlessly integrates with WordPress, and is invested in helping you grow your affiliate marketing program, rather than just creating it, then we believe AffiliateWP is the best WooCommerce affiliate plugin.

Obviously we would (why make the plugin if we didn't believe it?), but take a look at our features, and find out for yourself!