Recruit Affiliates in 13 Simple Steps (Motivated, Successful Affiliates)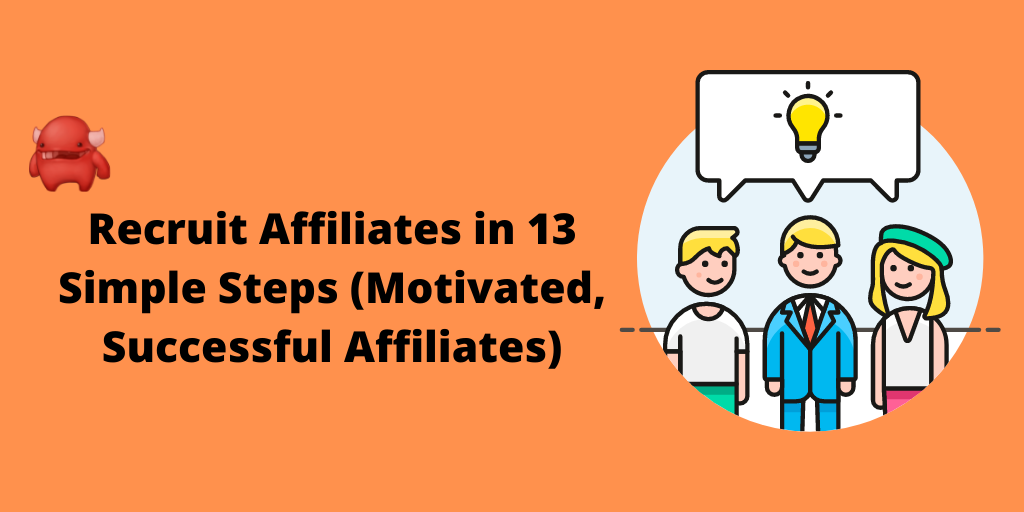 Are you trying to recruit affiliates but finding it hard?
One problem every affiliate program manager faces is how to recruit affiliates who are motivated, engaged, and successful. 
It would be great if you started your program and 100 skilled affiliates signed up the next day, but it just doesn't work that way.
The good news is, with a little skill, and the right tactics, you can recruit affiliates who will set you apart from the competition.
13 Tactics to Help You Recruit Affiliates
Finding engaged, skillful affiliates is one of the biggest pain points affiliate managers face. It's something that takes commitment, and these tactics can help.
Here are 13 tactics to help you recruit affiliates who will make a difference for your program.
1. Install AffiliateWP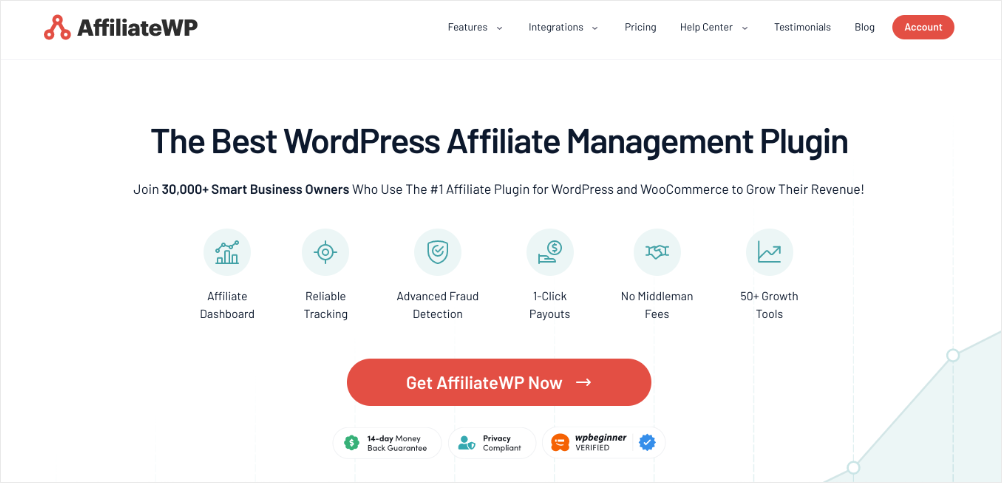 If you're going to give yourself the best chance of recruiting skillful affiliates, then you need the right software.
You've got to remember you're competing with lots of other affiliate offers, so how do you stand out from the crowd?
The answer is by giving affiliates a greater return (and no, this doesn't have to mean increasing your commissions).
What this means is finding unique ways to reward your affiliates, and most importantly, converting!
To do this, you've got to have the right tools available to you, and this is where AffiliateWP comes in. Not only does it have great affiliate management tools to help you keep your affiliates happy, but it's also got industry-leading affiliate growth tools.
Ultimately, that's the difference between free affiliate software and the best WordPress affiliate plugins like AffiliateWP. It's an investment in your business's growth, and it's going to result in more affiliates signing up for your program.
Check out our pricing page, choose the best plan for your business, and take the first step towards signing up top affiliates.
2. Optimize Your Affiliate Sign-Up Page
You've got to treat this as a sale because that's what it is. You're trying to sell your affiliate program and to do that, you need a highly optimized landing page (sign-up page).
Too often, the program sign-up page is an afterthought that's severely lacking in quality when compared to regular product pages.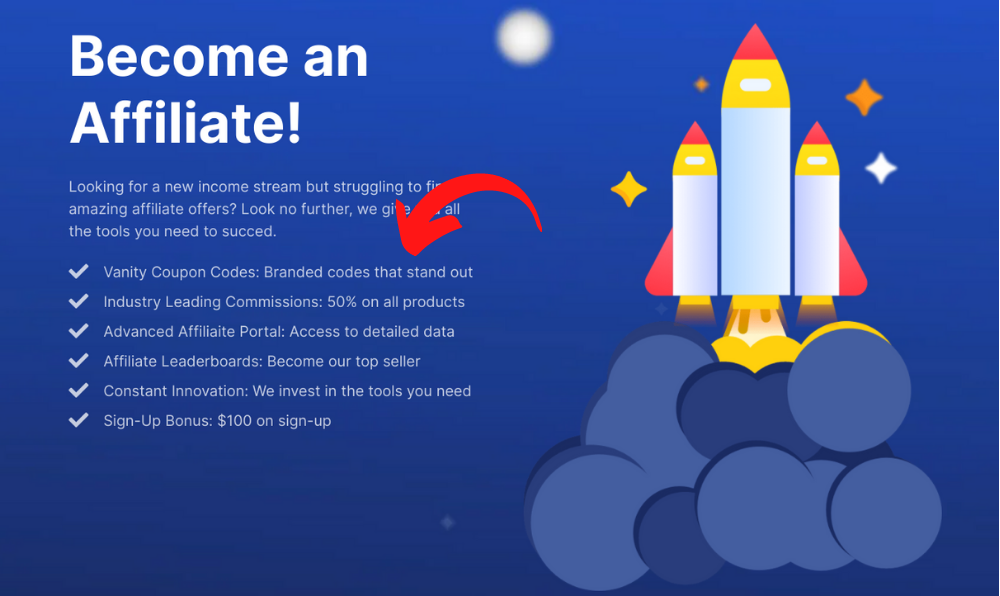 If you want to recruit affiliates that will make a difference, then this has to change.
AffiliateWP allows you to use any WordPress page as your affiliate sign-up page, so we suggest taking things to the next level with SeedProd's page builder. It has a library of highly optimized templates, and a seamless drag and drop builder allows you to customize your page exactly how you want it. 
Just go to AffiliateWP > Settings and choose the page you want to use from the Affiliate Area dropdown.
Once you turn your affiliate sign-up page into a professional-looking, highly optimized sales asset, you're going to see more affiliate applications come in.
3. Remove Barriers to Sign Up
When someone lands on your affiliate sign-up page, you don't want to put them off by making them answer a never-ending list of questions. Instead, you want to remove barriers and start the conversation. 
There's always time to get more information at a later date, but for now, you want to create a sense of excitement and get people's contact details. 
To help you with this, AffiliateWP offers customizable registration form templates.
As a good form can make a huge difference in the recruitment process, we've also created our Ninja Forms and Gravity Forms pro-add-ons. These allow you to plug into the power of your form builder to maximize signups and collect the basic information you need. 
4. Follow Up on Leads
Just as customers tend not to make a purchase the first time they land on your site, affiliates will probably need multiple touch points before they join your program.
When you recruit affiliates it's important that you take lead generation into your own hands by using a powerful conversion tool like OptinMonster. Think about implementing a lead magnet, so you can collect prospective affiliates' emails and keep the conversation going through email marketing.
As we said, it's just like making a sale, so you've got to use all the marketing tools available to you. The right follow-ups can make all the difference to your recruitment.
5. Make it Easy
Recruiting affiliates is about more than just sign-ups. It's about walking people through the onboarding process, helping them to earn their first sale, and giving them the tools they need to make regular sales.
Typically, successful affiliates are very busy people, and it's likely that they'll have plenty of opportunities falling at their feet on a regular basis. The thing is, these affiliates know what they're worth – and they know that their influence (and access to their audience) is in demand.
You've got to show them you respect their time by making the entire process easy.
Have an affiliate account with all relevant information, marketing materials, and effective affiliate creatives ready to go.
In fact, if they are already experienced with affiliate marketing, do your research to see how they go about their promotions – and cater to that. Knowing their preferred platforms, style, and methods helps you personalize the experience.
Save time for your affiliates and help cut their learning curve, and they will reward you.
6. Do Your Research 
If you've created a top-notch affiliate sign-up page, then you're in a perfect position when affiliates come to you, but what about the ones that don't? There are more than enough high-quality affiliates to go around, but sometimes, you've got to get out there and find them yourself.

The good news is these people are expert marketers; they're putting themselves out there every day (through SEO, email marketing, Google ads, Facebook Ads, Reddit, and everywhere else), so they shouldn't be hard to find. Think about the places where they're likely to interact with their target audience and start following them. 
People like to be treated as individuals, so the more you can learn about potential affiliates the better.
7. Reach Out 
One of the best ways to get new affiliates is to simply reach out. When you do this, you want to make sure it's in a targeted, personalized way.
Let's go back to our analogy that this is a sale.
Who likes receiving cold marketing materials?
Virtually nobody, but they do work if they're done well.
The same is true when recruiting affiliates, and you have a distinct advantage over cold salespeople: you're not asking for anything.
In fact, you're offering affiliates the opportunity to earn more money, and who doesn't like that?
Don't be afraid to reach out, but make sure you're respecting people's time and treating them as individuals.
8. Build Your Pitch
The same principle applies to your outreach as when affiliates come to you: it's about opening a conversation.
Say you've followed a blogger's work and found them on LinkedIn. 
It's not always the best approach to jump in and hit them with everything at once. Think tactically about how you can showcase your value proposition and build the relationship. What you want to do is create affiliate partners, and often this takes some time.
Pitching is an art form, and again, it's something you perfect over time, but it's important not to rush into things.
Take your time, make sure the affiliate is a good fit for your program, and curate the relationship.
9. Keep it Exclusive
There's a lot of competition in affiliate marketing. Every affiliate is out there searching directories trying to find the perfect affiliate product to market. 
Sometimes, having too many affiliates can be a problem, particularly if they're not bringing in the sales. The 80/20 rule often applies in affiliate program management, where 80% of your revenue comes from 20% of your affiliates, which shows the focus should be on quality, not quantity.
Exclusivity is huge; high-profile affiliates are good at what they do, and they don't want to promote something that everyone else on the scene is promoting. When you offer them something that nobody else has, even if it's just a special offer or personalized bonus it can be the defining factor that makes your affiliate marketing program stand out.
10. Showcase Your Affiliate Program Features
There are a lot of barebone affiliate programs out there.
Ultimately, the right affiliates will bring in sales with limited tools, but their conversion rate is going to be a lot higher if they have access to the right features.
And guess what?
A higher conversion rate means more money for you, and more money for your affiliates, keeping everyone happy!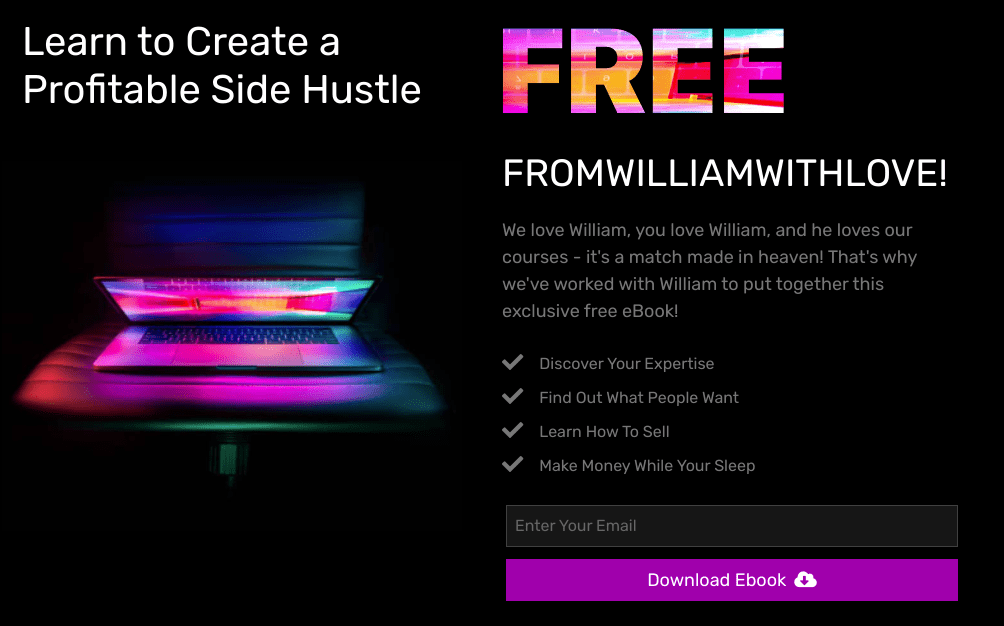 Features like an advanced Affiliate Portal and personalized Affiliate Landing Pages can make all the difference because ultimately, they make it easier for affiliates to be successful. However, it's no good just having them; you've got to market them, and then talk your affiliates through how to use them to their advantage.
11. Think Hard About Your Commission Rates
This may sound obvious, but offering better commission rates than competitors is going to help you to recruit affiliates.
It will also make a difference to the quality of affiliates you attract. Simply put, with high-profile affiliates, the competition is fierce – why would these affiliates care about your program when they have so many others to choose from?
The thing is, affiliates who have large, dedicated audiences can produce results far beyond the average affiliate. So, even with a higher commission rate, they have the capacity to bring in serious revenue that wholly justifies the better rate.
Being able to spot the right affiliates and have some flexibility with your affiliate commission is key, which is why AffiliateWP offers so many ways to adjust your commissions.
12. Supplement Commission with Non-Monetary Rewards
Of course, commission structure is important, but it isn't everything. There's also a lot you can do to recruit affiliates with non-monetary rewards.
As we always say, it doesn't matter how much commission we offer you if we can't convert your traffic into sales. Conversion rates are king in e-commerce, and there's no getting away from that even in affiliate marketing.
What you can guarantee is a variety of non-monetary affiliate rewards:
Free products
Company swag
Personalized experiences
Upgraded program features (Vanity Coupon Codes for example)
Praise and recognition
Guidance
Community
And more
These incentives can help affiliates make more referrals so they benefit more from your commission structure.
13. Utilize Social Proof
Humans are full of contradictions.
In this case, we don't want too much competition, but we do want to know that other affiliates have joined your program and are benefiting from it.
If you want people to invest time and effort into your affiliate program, then you've got to give them a good reason. There's no better way to show you offer a successful affiliate program than by showcasing how Johnny from Naperville, IL made $100,000 with your program last year (social proof).
The other thing top affiliates want to know is that you've got a product that can sell.
Again, social proof is a quick way of demonstrating this. With SmashBalloon, you can quickly create a beautiful social feed on your affiliate sign-up page and showcase all the great reviews your customers are giving you.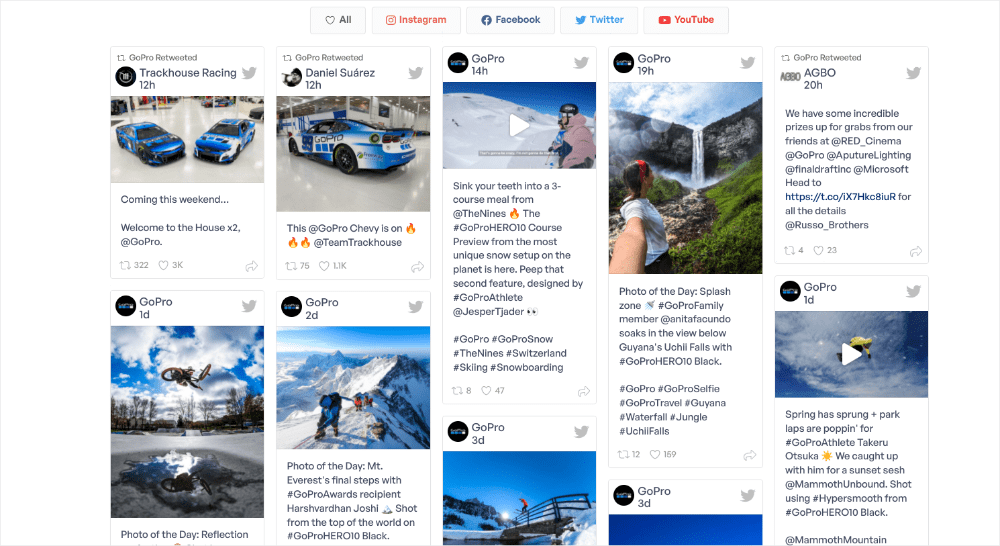 This is a simple step, but it can make all the difference when your recruit affiliates.
Bonus Tip for Recruiting Affiliates: Invest in Your Affiliate Onboarding 
OK, so this one isn't strictly to do with how you recruit affiliates, but it's still going to have a big impact.
There's no point in signing up affiliates who don't engage with your program. If your recruitment strategy ends when the affiliate signs up, then it's doomed to fail.
You need to make sure your new partners get a top user experience from day one, and the way to do this is with affiliate onboarding. Affiliate marketing truly is a partnership, and the only way to make sure it's win-win is by sharing knowledge and making the most of each other's skills.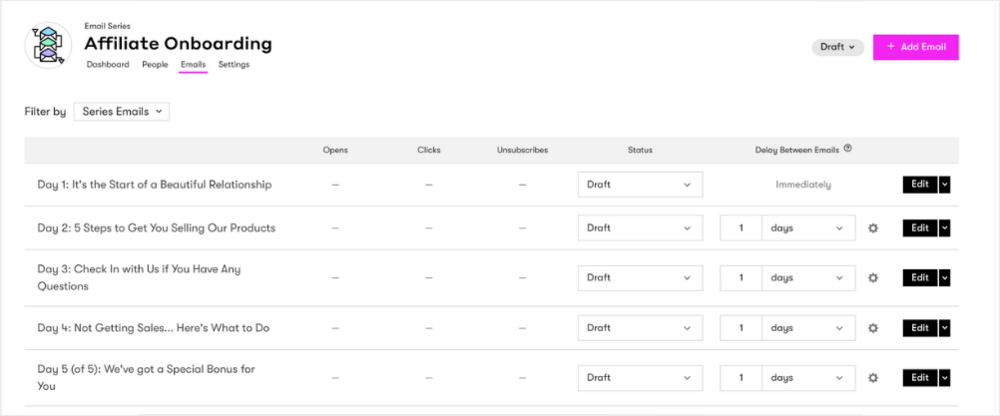 Set up a professional onboarding, and affiliates will stay with you for longer, make more sales, and give you the glowing testimonials you need to sign more top affiliates.
Extra Tip: Once the onboarding is complete, you can keep the communication channel open by sending out a regular email newsletter. 
How to Know if an Affiliate is Right for Your Program
Affiliate marketing isn't about how many affiliates you have; it's about sales. You can sign up tons of affiliates, but if they're not the right fit for your program, they're not going to have the impact you need them to.
You want to invest your time and resources into the most promising affiliates, so it's important to spot the high-potential ones from the waste of time ones. This is going to make your affiliate program a lot more efficient, so how do you go about this?
Things to Look for in an Affiliate's Application
Finding good affiliates isn't a one-size-fits-all approach, but there are some indicators that an affiliate will be a net positive for your program.
When you create your affiliate program with AffiliateWP, your default settings will mean you have to manually approve each affiliate sign-up. We highly recommend you keep these settings and run through this checklist before approving an affiliate.
They are Clearly Committed to Affiliate Marketing
They have experience in affiliate marketing, with proven results, or are actively working as an affiliate.
They Have Industry Authority
Some of the most effective affiliates are those with large followings of their own. People with a "name" or some kind of industry authority can simply produce more returns.
They are Active within their Niche:
Affiliates should be well-connected. Because the premise is to sell to their own communities, contributing to discussions, commenting, providing advice, reviews, sharing experiences, or just generally engaging with others is usually a positive indicator.
Are their social media accounts active?
Do they have a significant following?
Do they post regularly?
Do they engage with others?
How engaged are their followers?
They Have Good Communication Skills
Affiliate marketing is based on communication – and affiliate sales come from effective marketing. Look for affiliates with good writing, spelling, grammar, and interpersonal skills if you want to find people who will represent your brand in a polished and professional manner.
They are Assertive
On the whole, proactive personalities tend to get more done!
They Have a Professional Website
From tidy design and clear language to providing information that's useful to your niche audience, a quality website is a good representation of an affiliate's overall professionalism. Of course, if they're a big social media influencer with a massive following, then this point is much less relevant.
They Provide Useful Data About their Audience
This isn't a deal-breaker, but things like website stats, number of followers, and number of email subscribers can all help you understand the reach and exposure you might receive from an affiliate.
They Make it Clear how they Intend to Promote You
It makes a big difference whether they just add a link on a resources page, or they actively send emails to their list, write a review about your product (evergreen content), or use specific channels such as social media to promote your business, etc.
Red Flags to Look Out for When Recruiting Affiliates
Just as there are some positive traits to look out for when you recruit affiliates, there are also some red flags to avoid.
Not everyone in the affiliate marketing world has good intentions, and there are some telltale signs that an affiliate might not be worth your time.
Use odd-looking email addresses: This could include unusual characters, nonsense words, or first and last names that are switched or reversed.
Are not responsive or respectful in their communications: This is an indicator that they may not be able to have a mutually respectful and productive relationship with you.
Have a history of spamming people: Your brand could be tarnished if associated with spam.
Have defunct websites or social media accounts: The best affiliates will be people who are regularly active in their communities.
Come from countries that are at higher risk for fraud: While this may not be a disqualifier, it should put you on higher alert and perhaps justify more intense scrutiny.
Affiliate management isn't always easy, but with time, you'll get a good feel for recruitment.
Recruit Affiliates with AffiliateWP
As you can see from this long list, it's not always easy to recruit affiliates.
To recruit affiliates, you've got to convince them of the value of your program and get them to take action. In many ways, it's almost exactly the same process as making a sale.
You wouldn't go about selling your products without the entire range of marketing tools available to you, so you shouldn't aim to recruit affiliates without them either.
If you're going to grow your affiliate program, then you need to find the right affiliates, and to do that, you need the right affiliate software to back you up.
AffiliateWP has the tools you need to leverage these strategies, so it's time to get started today!