10 Best WordPress Affiliate Plugins for 2023
Searching for the best WordPress affiliate plugins?
By allowing others to promote your business and its offerings to their target markets, an affiliate program can be a virtually limitless source of new leads.
In this post, we'll share a comprehensive list of WordPress affiliate plugins that will help boost your business conversions.
Why Should You Use Affiliate Plugins On WordPress
Affiliate plugins on WordPress are essential for any website owner looking to create a robust and successful affiliate marketing program.
As your website grows and the number of pages and affiliate links increases, manually managing these links becomes a daunting task.
With the help of an affiliate plugin, you can easily add, save, edit, and remove affiliate links directly from your WordPress dashboard, streamlining the entire process.
Automation is another significant advantage of using affiliate plugins on WordPress. Auto-linking keywords saves you time by automatically inserting specific affiliate links into designated keywords throughout your content.
This ensures your affiliate links are consistently and strategically placed, increasing their visibility and effectiveness.
Remember that using an affiliate plugin on WordPress can help you build a loyal following of affiliates who are invested in promoting your products or services.
Despite this, it can be challenging to zero in on the most trustworthy WordPress plugins for facilitating affiliate marketing. Below is a list of the top affiliate plugins that will assist you in expanding your business and affiliate program.
Best WordPress Affiliate Plugins
Managing affiliate programs can be challenging and time-consuming when done manually. Fortunately, there are numerous resources and tools available to simplify the process. The following list highlights the best WordPress plugins for running an efficient and effective affiliate marketing program.
These plugins make it easy to insert referral links into your content and web pages and enable you to add, save, and manage affiliate links directly from the WordPress admin area.
By creating a user-friendly platform for you and your affiliates, you can attract and retain valuable partners, boosting your marketing efforts.
Let's get started!
AffiliateWP is the ultimate WordPress affiliate plugin that simplifies setting up a referral program for your store.
With seamless one-click integrations for multiple WordPress plugins, including PayPal, Stripe, MemberPress, and WooCommerce, AffiliateWP makes the entire process a breeze.
The plugin's user-friendly interface lets you easily manage your affiliate program, approve or reject affiliates with a click, and customize registration forms and templates.
Affiliates also enjoy innovative marketing tools such as Affiliate Portals, Personalized Affiliate Landing Pages, Vanity Affiliate Coupon Codes, and Real-time analytics, helping them increase conversions and earnings.
With AffiliateWP, create a highly customizable referral program without limits on affiliates, sales, or earnings.
Key Features:
Seamless WooCommerce integration
Recurring Referrals
Direct Link Tracking
Detailed analytics for maximizing sales
Advanced affiliate growth tools
Top-notch support
Pricing:
Personal: $149.50/year for the first year, $299.00/year after that (1 site, essential features)
Plus: $199.50/year for the first year, $399.00/year thereafter (3 sites, growth, and essential tools)
Professional: $299.50/year for the first year, $599.00/year thereafter (10 sites, advanced features)
MonsterInsights is an essential plugin for every business, making adding Google Analytics to your website easy.
It features affiliate link tracking and in-depth reporting on your affiliate campaigns' performance, allowing you to monitor your highest-earning pages and most profitable traffic sources.
This user-friendly plugin is compatible with other affiliate plugins and comes with powerful support to assist you when needed.
Key Features:
Compatibility with other affiliate plugins
In-depth reports
eCommerce tracking
Easy-to-understand dashboard
Powerful support
Pricing:
Plus: $99.50/ year for the first year, $199.00/ year thereafter (for small businesses and publishers)
Pro: $199.50/ year for the first year, $399.00/ year thereafter (for eCommerce sites and businesses)
Agency: $399.50/ year for the first year, $799.00/ year thereafter (for marketing and web development agencies)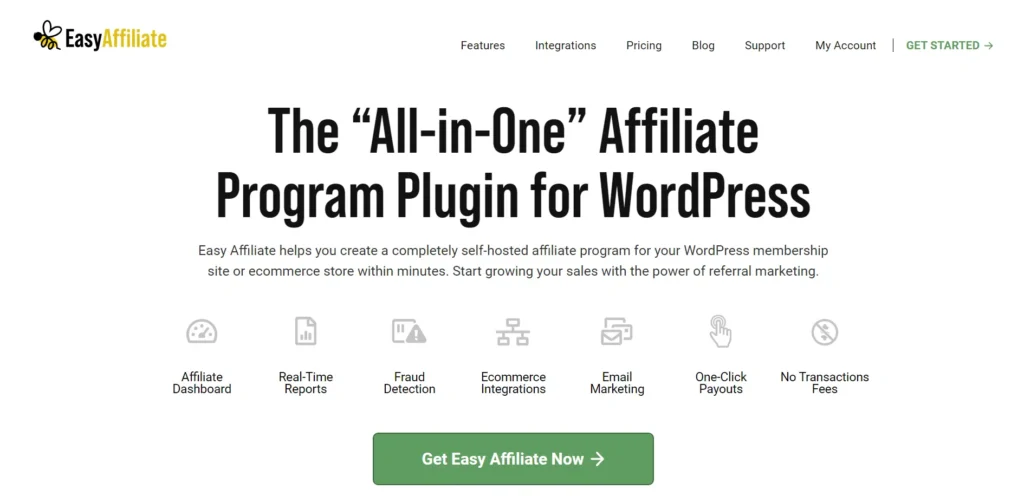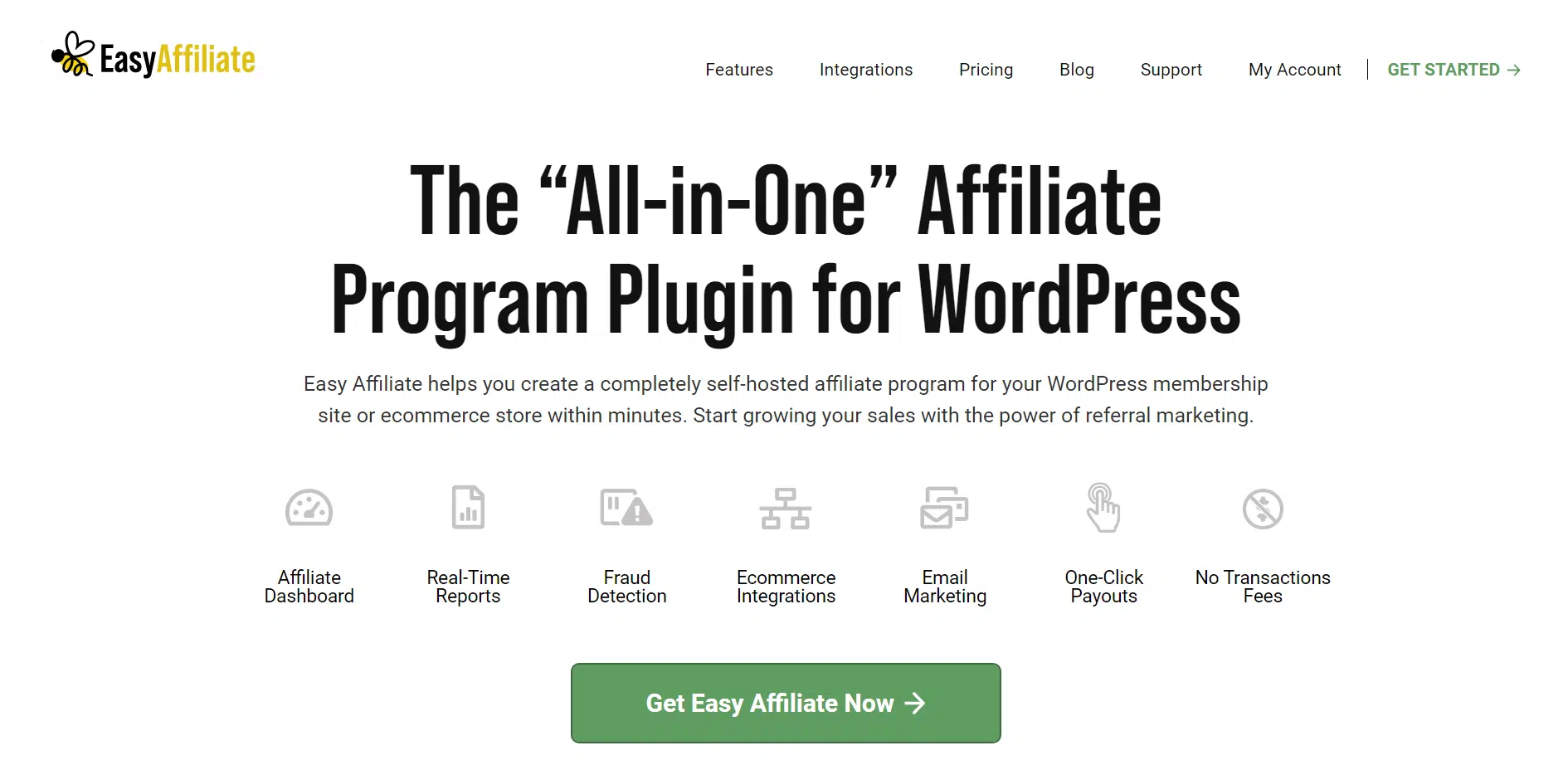 Easy Affiliate, developed by Pretty Links and MemberPress creators, is a fantastic plugin for building an in-depth affiliate program with shortened, easy-to-remember affiliate links and referral programs.
The easy-to-use dashboard lets you track outbound links and set up a fully functioning affiliate program in minutes. The plugin also offers customizable performance graphs and shopping cart integration for managing one-time and recurring payments.
Key Features:
Beginner-friendly dashboard
Instant setup
Manage affiliate links from your dashboard
Customizable performance graphs
Detailed reports
Shopping cart integration
Pricing:
Basic: $ 99.50 / year for the first year, $199/ year thereafter (use on 1 Site)
Plus: $ 149.50 / year for the first year, $299/ year thereafter (use on 3 Sites)
Pro: $ 199.50 / year for the first year, $399/ year thereafter (Use on 5 Sites)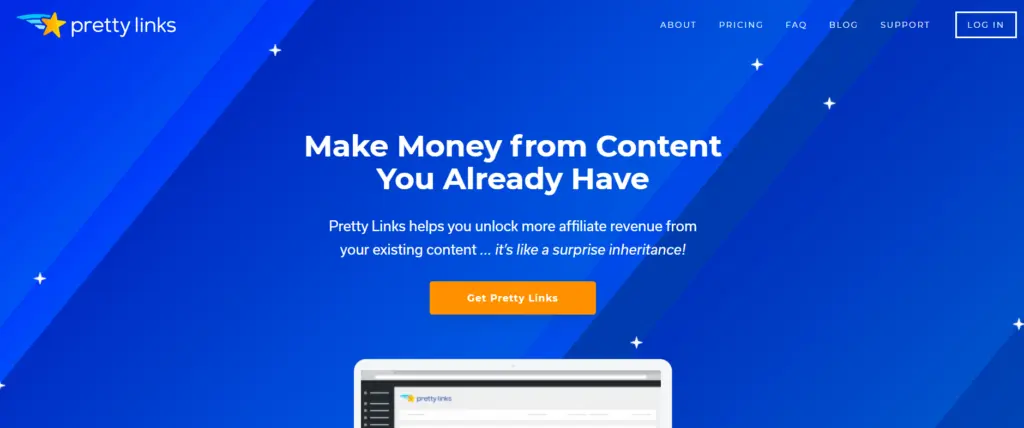 Pretty Links is the best WordPress affiliate plugin for turning long, unsightly affiliate links into short, memorable URLs.
This beginner-friendly plugin allows you to add links to your posts in minutes and is compatible with the most responsive WordPress themes.
The built-in performance metrics help you keep track of your links' progress, and the Pretty Bar tool lets you brand and advertise your links.
Automate your marketing with the auto-linking feature, automatically adding specific affiliate links to keywords.
Key Features:
Easy to use
Find and fix broken links
Advanced redirect types
Pretty Bar for branding and advertising
Auto-link keywords
Pricing:
Beginner: $ 99.50 / year for the first year, $199/ year thereafter
Marketer: $ 149.50/ year for the first year, $299/ year thereafter
Super Affiliate: $ 199.50/ year for the first year, $399/ year thereafter
Thirsty Affiliates is a powerful solution for managing your affiliates, allowing you to cloak long links and make them look great.
This popular plugin offers robust affiliate management, including tracking referral link click and campaign statistics, link categorization, and image/banner addition.
The plugin also features easy link replacement and automatic keyword-to-link conversion.
Key Features:
Comprehensive reporting
Link organization and categorization
Image/banner addition to links
Easy link replacement
Keyword-to-link automation
Pricing:
Basic: $79.50 / year for the first year, $159/ year thereafter
Plus: $129.50 / year for the first year, $259/ year thereafter
Advanced: 199.50 / year for the first year, $399/ year thereafter
AdSanity is a lightweight, user-friendly affiliate marketing tool for WordPress. It simplifies managing affiliate campaigns and ads while maintaining site speed.
Insert affiliate banners into widgets, sidebars, posts, and more efficiently and flexibly.
The plugin also features ad block detection to notify visitors to disable adblockers to enjoy your content.
Key Features:
Beginner-friendly campaign and ad management
Lightweight
Flexible ad insertion
Ad block detection
Pricing:
Basic:$59 /year
Pro: $179/ year
Lifetime: $499
EasyAzon is the perfect WordPress affiliate plugin for Amazon affiliates. It allows you to easily add Amazon affiliate links within your blog posts without needing to visit Amazon's site. The plugin also offers visual CTAs, link cloaking, and affiliate image links.
Take advantage of the link locator to determine your visitors' locations and serve them relevant products and content.
Key Features:
Visual CTAs with Amazon.com buy buttons
Automatic link cloaking
Affiliate image links
Geolocation link locator
Pricing:
Ultimate Affiliate Pro is an excellent choice if you're looking for a WordPress affiliate management plugin with premium features on a tight budget.
Seamlessly integrate the plugin with WooCommerce, Stripe, PayPal, EasyDigitalDownloads, BuddyPress, and more.
Enjoy access to a support center, comprehensive online documentation, and video tutorials. Customize your currency for a more personalized experience.
Key Features:
Integrations with popular platforms
Robust support
Unlimited affiliates
Multi-level marketing
Custom currency option
Pricing:
Lifetime: $69 (6 months support)
Affiliates Manager is a great free WordPress plugin for creating an affiliate program. Manage, track, and pay your affiliate partners directly on your WordPress site.
The plugin also offers an affiliate portal and real-time tracking for you and your affiliates.
Key Features:
Easy-to-use affiliate management
Affiliate portal
Real-time tracking
Pricing: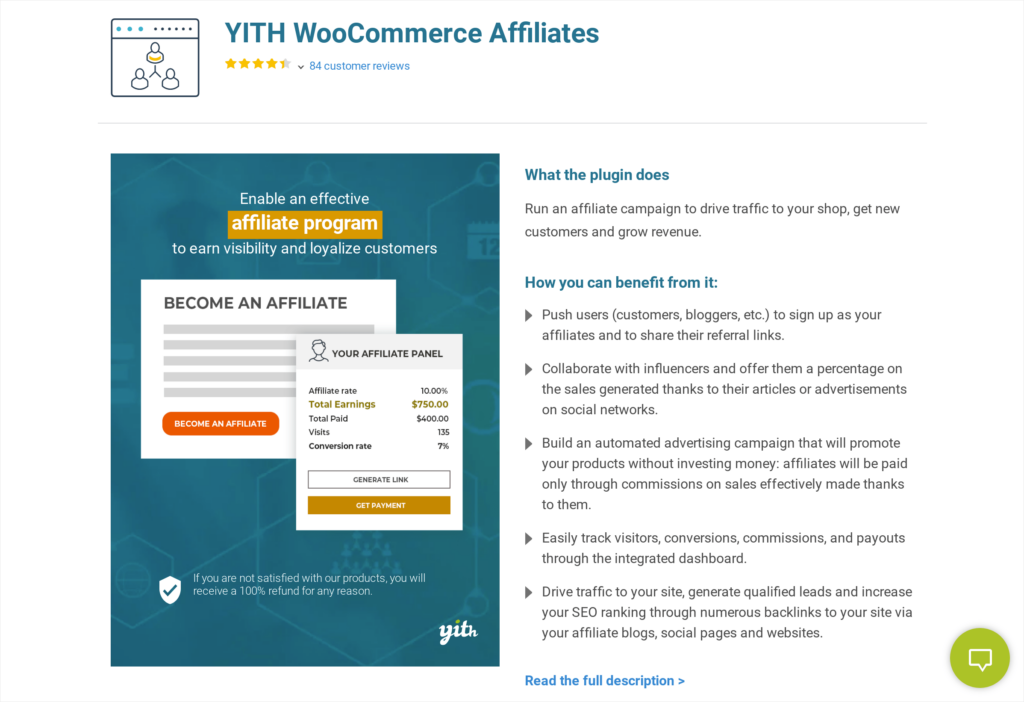 YITH WooCommerce Affiliates is a popular free WordPress plugin for eCommerce affiliate marketing. This plugin allows WooCommerce shop owners to create affiliate profiles and customize commissions.
Adjust cookie storage times, provide affiliates with their own dashboard, and automatically calculate refunds and affiliate commissions based on those refunds.
Key Features:
Adjustable cookie storage times
Affiliate dashboard
Easily track visitors
Ban affiliates
Prorated commissions
Pricing:
Free: Basic features
Paid: $ 129.99/ year (1 year of update and support)
FAQs: Best Affiliate Plugins For WordPress
How Do I Choose the Best Word Press Affiliate Plugin for My Website?
When selecting the right WordPress affiliate plugin for your website, it's crucial to consider factors such as ease of use, integrations, reporting, automation, and pricing. Assess your needs and compare the available options to determine the best fit.
Can I Use Multiple Affiliate Plugins on My Website?
While using multiple affiliate plugins is technically possible, it may lead to conflicts and compatibility issues. Choosing a single, comprehensive plugin that addresses your needs is recommended.
Are There Free Word Press Affiliate Plugins Available?
Some free affiliate plugins are available, such as Affiliates Manager and YITH WooCommerce Affiliates. However, premium plugins usually offer more advanced features and better support.
Ready to Skyrocket Your Affiliate Program with AffiliateWP?
Among the top WordPress affiliate plugins we've discussed, AffiliateWP stands out as a powerful and user-friendly solution to elevate your affiliate program and boost your passive income potential.
By implementing AffiliateWP, you can streamline your referral program, making it easy for you and your affiliates to grow your online presence.AffiliateWP offers seamless WooCommerce integration, recurring referrals, direct link tracking, detailed analytics, and advanced affiliate growth tools.
With top-notch support and a range of pricing plans, you can tailor the plugin to your needs.
Don't forget to check out these additional resources for further insights and guidance:
Why wait?
Get started today with AffiliateWP and experience the benefits of a successful affiliate program for WordPress.