Make sure your affiliate marketing is getting maximum results with minimum input by automating your affiliate program.
When you sign up an affiliate, it's in the expectation that they're going to help you make sales. You're rewarding experts for promoting your products, so you can get on with the other tasks you need to take care of to run your business.
But what if your affiliate program is creating even more work for you, without even bringing in big sales? If you can't automate your affiliate program, then it's only going to result in more and more "busy work" for you, and that's the last thing you need.
Instead, you can join 30,000+ smart business owners in automating their affiliate program with AffiliateWP.
What is Affiliate Marketing Automation?
You can approach affiliate marketing automation from two sides: the affiliates, and the program managers. Both sides need a level of automation to get the most out of their hard work, but much of this starts with the affiliate program itself.
If the program manager hasn't invested in the right software, then it's going to make it very difficult for everyone to automate processes and streamline their operations. This is why it's important for businesses looking at running an affiliate program on WordPress to do their research.
Most businesses get into affiliate marketing because it's seen as a hands-off way to make sales. The problem is, many of them find this isn't true, and there's actually a lot of manual work they have to take care of.
Affiliate marketing automation is there to take some of the stress out of affiliate marketing, for both program managers and the affiliates. It allows businesses to find the best affiliates, easily onboard them, share knowledge, and make timely payouts.
When you take care of these four aspects, then you're going to have a very smooth affiliate program.
What Elements of Your Affiliate Program Should You Automate?
You can break your affiliate program down into four key areas:
All of these elements take time, but many of them can be automated, allowing you to focus on the most important jobs. With the right integrations, you can easily automate many tasks within these four areas, allowing your program to run with minimal input.
As we always say, affiliate marketing isn't something where you create a program and sales magically come in. It takes creativity, hard work, and consistency, but it's a whole lot easier when you've got the right automation set up.
So, how can you automate an affiliate program, and create a successful revenue earner that requires little oversight?
Well, it starts with your affiliate marketing software, and for WordPress, the best place to start is with AffiliateWP.
Automate Your Affiliate Program in 7 Steps with AffiliateWP
If you're looking to automate your affiliate program, then it's likely you already have a website set up, complete with a store, and well-established products. The first part of the automation is how your affiliate program syncs with your existing setup.
You don't want to spend your time manually adding products and pushing them across from your store. You need something that seamlessly integrates with WordPress (and WooCommerce), automatically syncing with your store so you can focus on the more important task of finding the best affiliates.
Step 1: Install the AffiliateWP Plugin
Head over to our pricing page and find the plan that works best for you.
Personal: Gives you the essential tools to run an affiliate program on one site
Plus: Additional, powerful tools for businesses looking to expand their affiliate program
Professional: A premier solution for smart business owners for use on up to 10 sites
Once you've decided on the right plan for your business and have completed your purchase, you'll receive a confirmation email with some important details.
Click the link to download the AffiliateWP.zip file.
Head over to your WordPress website and hover over the Plugins button in the left-hand sidebar, and select Add New. At the top of the page, you'll see a tab titled Upload Plugin, select this option.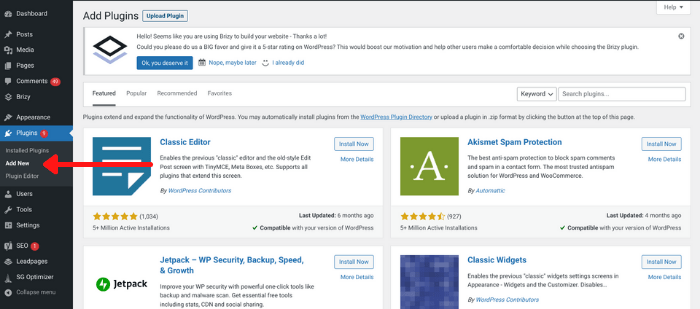 In the Upload Plugin box, click Choose File and select the AffiliateWP.zip file you downloaded earlier and click Open. The plugin will start to download, once it's finished, click Activate Plugin.
Step 2: Add Your License Key
The second piece of important information contained in your confirmation email is your license key. Select copy on this code, and head back to your dashboard.
In the left-hand sidebar, hover over Affiliates, and select Settings. Near the top of the page, you will see a box titled License Key. Paste your license key into this box and click Activate License.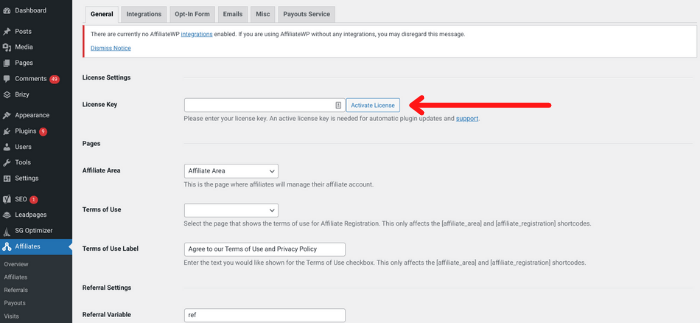 Your AffiliateWP plugin is now active, and you're ready to start setting up your automation. 
Step 3: Choose Your Commission Structure and Cookie Policy
One thing you want to be able to have control over is your commission structure and cookie policy. AffiliateWP allows you to choose between a percentage-based or flat-rate payment, and it also enables you to choose how long your cookies last.
On the Settings tab in the AffiliateWP dashboard, scroll down until you see Referral Rate Type. This will enable you to choose the type of commission structure you'll use, and below, you can set your referral rate (you can adjust this for individual affiliates).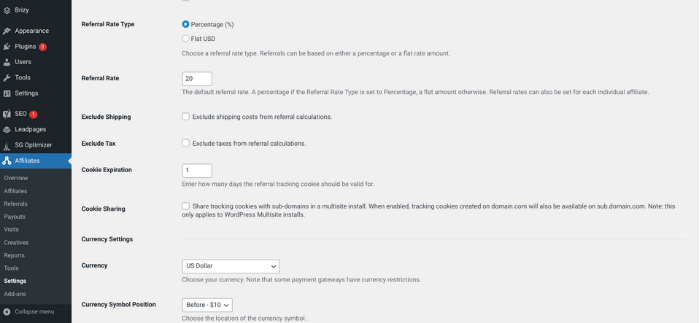 Keep scrolling down until you see Cookie Expiration, and here you can choose how long your cookies last (essentially, how quickly a customer has to make a purchase after being referred by an affiliate for it to count as a referral).
Step 4: Decide On Your Email Notification Settings
Communication is one of the most important parts of managing a successful affiliate marketing program. As this is something that can take up a lot of your time, it makes sense to automate the process as much as possible.
You can start to do this by editing your email notification settings in your AffiliateWP dashboard. At the top of the page, click the Emails tab, and you'll see lots of settings you can edit.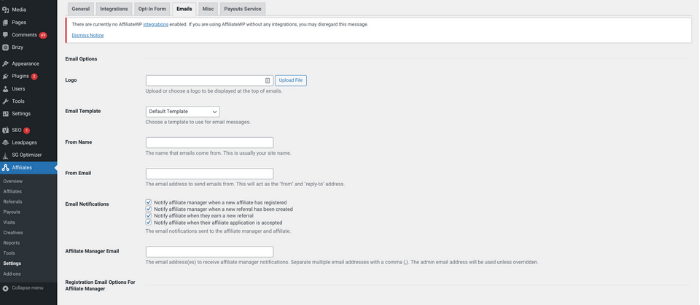 We'll go into your email communications in more detail a little further on in the article, but these basic notifications are an important first communication with your affiliates, so make sure you make the most of them.
Step 5: Edit Your Approval Settings
Approving new affiliates is something that can take up a fair bit of your time, especially if your affiliate program really takes off. While this is an area where you might want to think about automation, it's also something that's worth keeping a close eye on.
You've got to think about protecting your brand image, so it is important you work with the right affiliates. Often it's quality over quantity that makes the big difference to your success.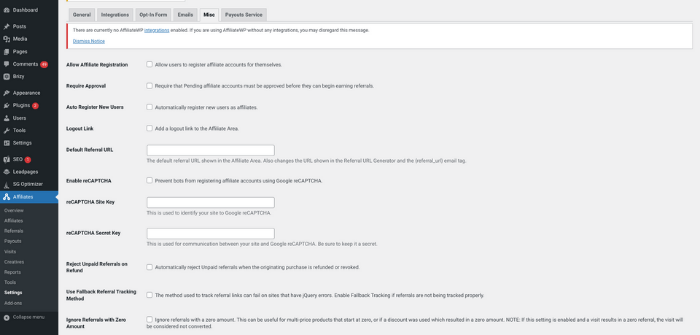 AffiliateWP allows you to decide how you want to deal with affiliate signups in the Misc tab in your dashboard. You can choose to require approval, or simply allow affiliates to sign up on their own.
Step 6: Automate Your Payouts
When we think of how to automate an affiliate program, most of us probably tend to think about the payouts.
The more your affiliate program grows (and at AffiliateWP that's what we're here to help you achieve), the more tricky it is to keep track of payments. Luckily, we make this easy by allowing you to pay your affiliates from a credit or debit card directly into their bank account.
From your Referrals tab, you can easily check each referral and approve or reject it in one click (there's also a bulk option), and then, on your Payouts page, you can click Pay Affiliates to immediately make a payment.
All of this means you approve referrals and pay affiliates without ever leaving your AffiliateWP dashboard.
To set up payouts, go to the Payouts Service tab in your AffiliateWP settings and click Enable the Payouts Service.
Step 7: Enable Integrations (This is Where the Real Magic Happens)
One of the reasons people love WordPress is because of the great plugins it offers. Because AffiliateWP is designed specifically for WordPress, it follows the same idea: it offers limitless potential because of its integrations.
This is particularly true when it comes to automating your affiliate program.
Go to your AffiliateWP settings, and select the Integrations tab. Here you'll see a list of integrations that will allow you to immediately sync your affiliate program to your website. For example, with the WooCommerce integration, you can immediately sync your products, ready for affiliates to sell them.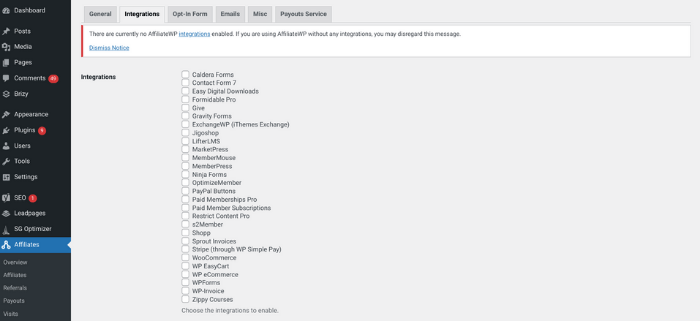 Also, remember that AffiliateWP comes with some powerful add-ons, so check out our add-ons page. With extra features such as leaderboards and order details for affiliates, you can automate different aspects of your program, making life easier for you and your affiliates.
Check out the pro add-ons and 3rd-party add-ons as well, as integrations with software like Zapier can bring a limitless number of automations to your process.
Examples of Affiliate Program Automation
Here are some examples of how you can automate your affiliate program with AffiliateWP.
Affiliate Signups
Import signup forms from your form builder (WPForms, NinjaForms, Gravity Forms, and more)
When a potential affiliate signs up, an automated email is sent to your account
Easily accept or deny the affiliate (you can automatically approve all affiliates, but we don't recommend this)
The affiliate is automatically onboarded using our onboarding wizard
Creatives are automatically shared in the affiliate's dashboard
The affiliate can automatically generate affiliate links with our referral link generator
Affiliate Relations
An affiliate signs up through your signup form (we like to use WPForms for this, but we have different integrations to choose from)
You include an affiliate newsletter opt-in box on your form
The affiliate signs up to your email communications and is added to your affiliates segment (we have third party ad-ons from Active Campaign, GetResponse and MailChimp, but using your form builder you should be able to connect to your preferred email platform)
You create an email sequence sharing knowledge and tips to help your affiliates make sales
Use the leaderboard add-on to motivate your affiliates to make more sales
Each month, your top earners can be sent a gift in the mail using Zapier to connect with shipping services
Payouts
Affiliates are automatically synced to your affiliate dashboard where you can view important data
As soon as a referral is created, it's logged in your referrals dashboard, ready to be approved
Once the referral has been approved, you can set up automatic payments through the payouts service.
View your payment history in the payment dashboard
Automate Your Affiliate Program in Just 7 Steps
Getting the perfect automation for your affiliate program is something that will have to be perfected over time. There are so many different aspects you can automate, so it's important to run tests and find what works best for you.
If your goal is to automate your affiliate program, then the key element is your software and initial setup. With AffiliateWP, you can create basic automations in just seven steps, and also set the platform for further integrations.
With our wide range of integrations and add-ons, it's possible to take your affiliate program automation to a whole new level, benefiting your affiliates and bottom line.