How to Easily Automate Affiliate Programs in WordPress: Step-by-Step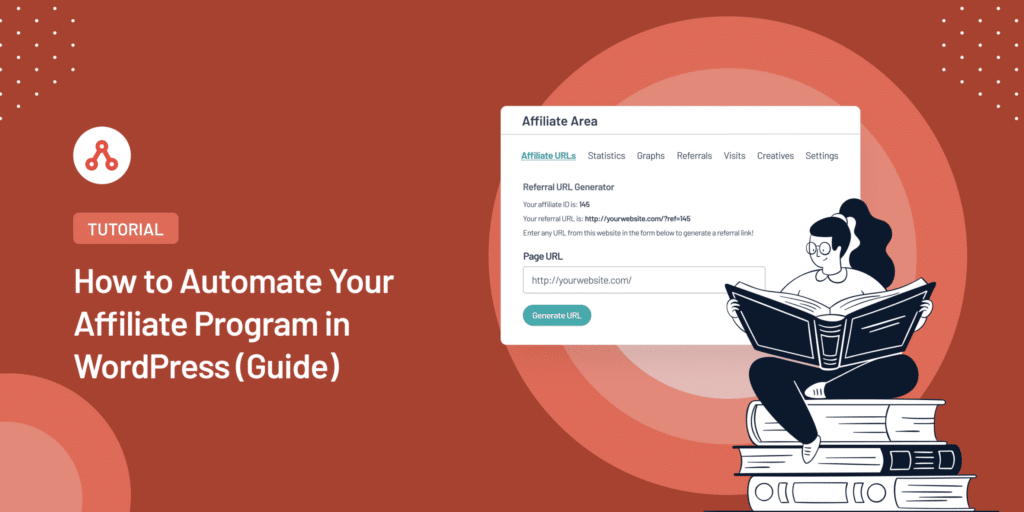 Do you need to automate your affiliate program?
To maximize the benefits of affiliate marketing, there are specific tasks we need to be able to automate. Your time is precious, and these tips will ensure you're using it more efficiently. 
Here's how you can automate your affiliate program.
Automating Your Affiliate Program: A Balance to Strike
We'd all love our affiliate programs to run on autopilot and earn us massive passive incomes.
Automation can help you achieve that dream, but there's a catch. Successful affiliate program managers are very active with their programs, and there's certainly a balance to be found. 
That being said, you want to spend your time maximizing your affiliate marketing strategies, not taking care of day-to-day housekeeping. You need affiliate software that automates the basics and makes your life easy.
One of the reasons small business owners start affiliate marketing is because it frees up time. It allows you to recruit skilled affiliates to take care of large parts of your digital marketing so you can focus on other important tasks.
If that time is just spent managing your affiliate program, it's all for nothing. 
So, it's essential that you automate your affiliate program, and we will show you the areas where it pays to let technology take the strain. 
How to Automate Your Affiliate Marketing Program
A successful affiliate program will still require some oversight on your part, but automation can make your life a lot easier. 
We will walk you through 8 areas where you can take steps toward automating your affiliate program. 
Affiliate tracking and fraud protection
Link generation
Fraud prevention
Affiliate onboarding
Maintaining affiliate relations
Affiliate lead generation
Social media posts
Affiliate payouts
You'll find that when you automate these processes, you have a lot more time to focus on the big picture issue – bringing in more sales!
If you already use AffiliateWP, you can skip to step 2 now. Likewise, if you use another affiliate marketing platform, it's still worth reading to discover different ways to automate your affiliate marketing program.
Step 1: Install AffiliateWP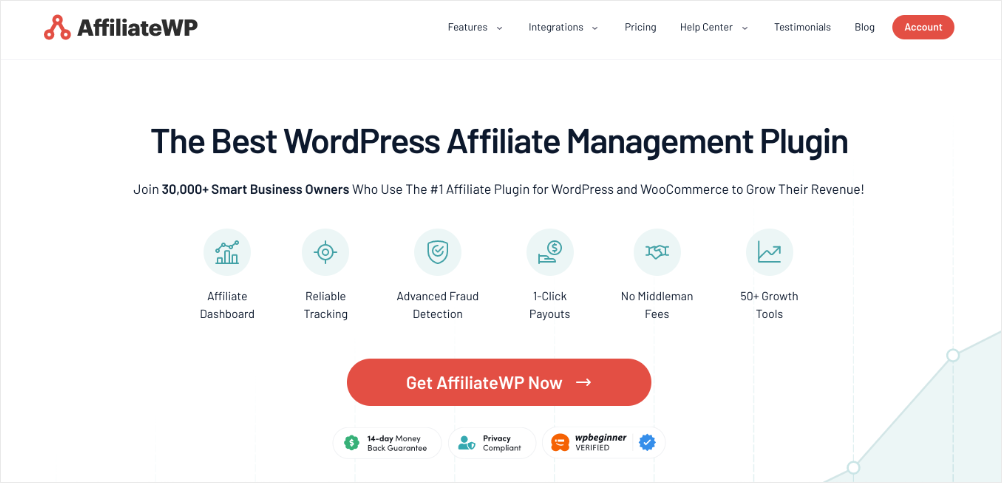 Automating your affiliate program all starts with having the right software.
If your website runs on WordPress, then the best affiliate management plugin is AffiliateWP.
Why?
Because it offers one-click integrations with the e-commerce, membership, and form WordPress plugins you use (WooCommerce, Easy Digital Downloads, MemberPress, and many more), and has innovative affiliate management tools.
When you complete the setup wizard, AffiliateWP will automatically start tracking affiliate links and protecting you from affiliate fraud. You don't have to do anything at all, as the 4-step setup wizard will do everything for you. 
Just choose the pricing plan that best suits your needs, and follow this detailed guide on how to set up a successful affiliate marketing program. Whether you're a pro or a WordPress beginner, it will only take a few minutes. 
Step 2: Automate Affiliate Link Generation
You want to make it as easy for affiliates to generate affiliate links to your products as possible. 
When you complete AffiliateWP's setup wizard, your website will automatically create an Affiliate Area page. This page will replicate your theme and allow affiliates to sign up for your program. 
Once you've approved the affiliate, they can log in to their affiliate dashboard through the same Affiliate Area page. 
When they log in, an affiliate link generator will automatically appear along with their analytics (real-time metrics), affiliate coupon codes, and affiliate creatives.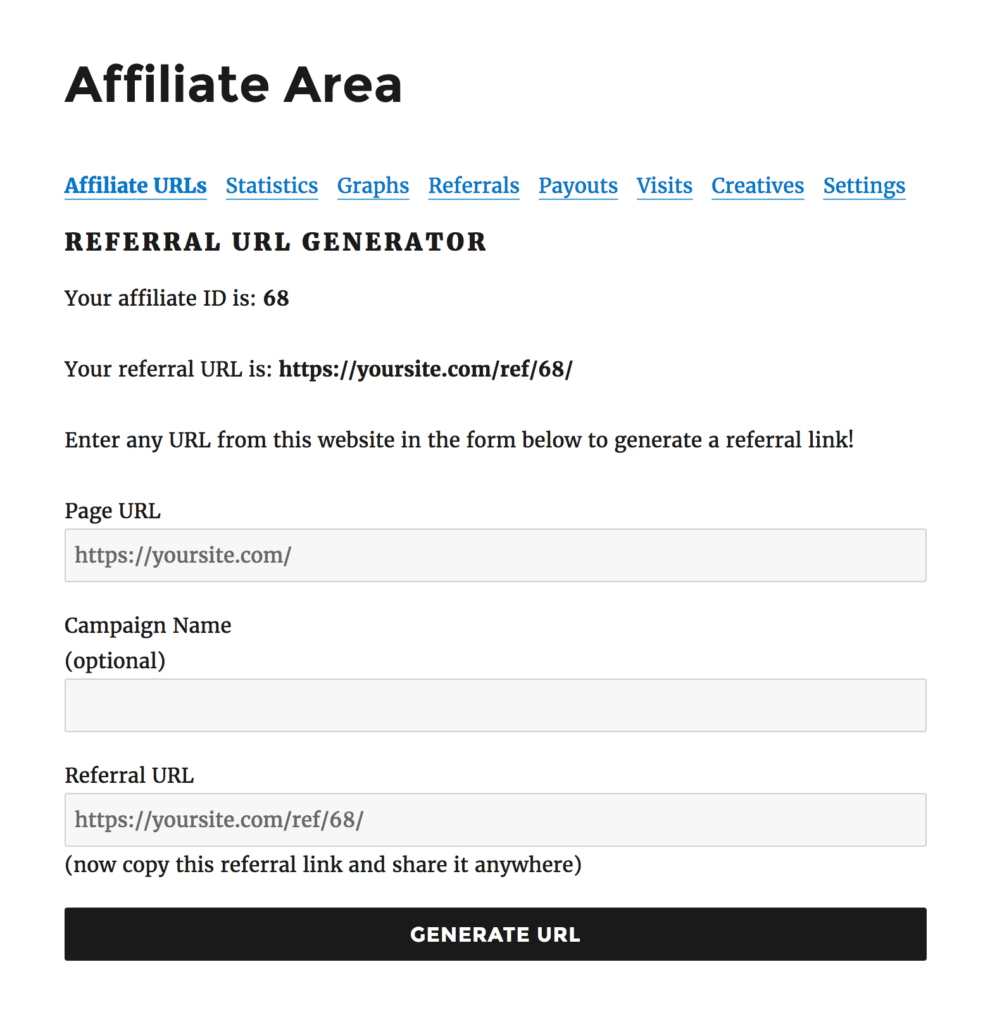 All they have to do is paste a URL for one of the pages on your website into the generator, and it will automatically turn it into their unique affiliate link. 
But wait!
Let's take things a step further and remove affiliate links altogether for completely automated affiliate marketing.
If you have a Professional AffiliateWP license, you can track referrals through Direct Link Tracking. Affiliates have to enter their website URL when they sign up, and AffiliateWP takes care of the attribution. 
This way, affiliates don't need to log in to their account and create affiliate links constantly, they can link directly to your site, and AffiliateWP takes care of the rest. 
To activate Direct Link Tracking, go to your AffiliateWP addons page and toggle the install button. This will automatically download and install the plugin so you can eliminate the use of affiliate links.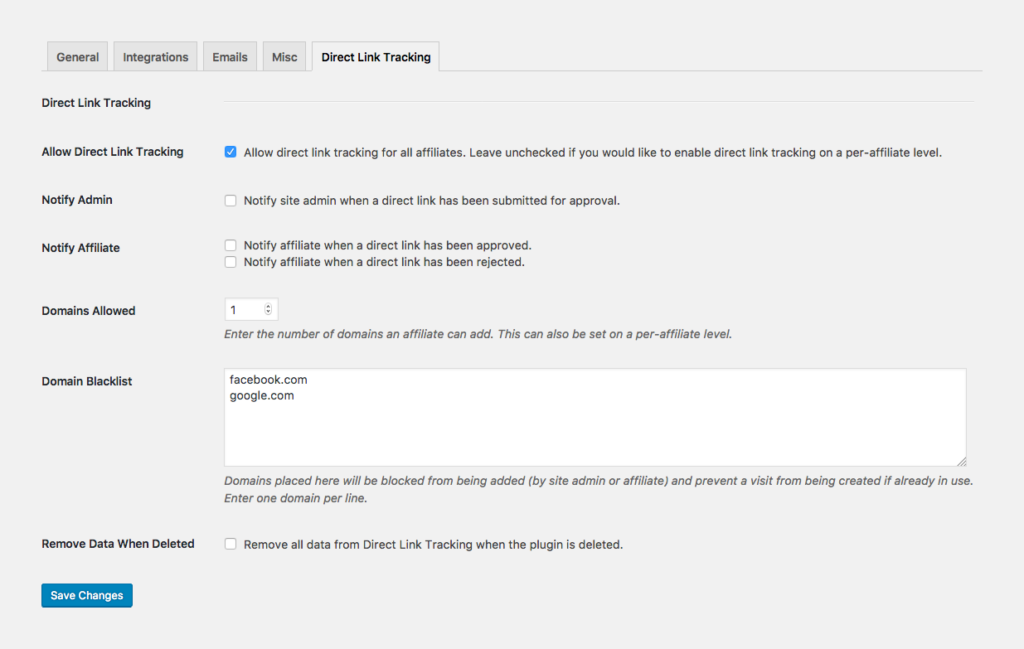 Once the add-on is activated, a Direct Link Tracking tab will appear in your AffiliateWP settings. Simply check the box next to Allow Direct Affiliate Link Tracking, and affiliates can enter their URL from the affiliate area. 
Step 3: Automate Fraud Prevention
The last thing you want to do is pay out for fraudulent affiliate transactions, which is why AffiliateWP offers comprehensive fraud prevention.
The Fraud Prevention pro addon will boost your security and help automate your affiliate program. Go to the addon page and toggle the download button next to Fraud Prevention. This will create a new Anti-Fraud tab in your settings with some awesome new features.

Head to the Anti-Fraud tab, and you'll see advanced options to automatically flag potential fraud based on self-referrals, referring URLs, and conversion rates.
This makes fraud prevention much more automated and means you can run your affiliate program with peace of mind.
Step 4: Automate Affiliate Onboarding
Affiliate onboarding is a part of affiliate marketing campaigns that is sometimes underestimated. 
You might sign up successful affiliates, but they must still learn about your products. Nobody knows more about this subject than you, so you must share this knowledge with an effective affiliate onboarding. 
With AffiliateWP, you can build your affiliate onboarding process and use it to improve the performance of your affiliates. 
To automate this part of your referral program, you only need to download the Affiliate Area Tabs add-on (here's a quick tutorial). 
This allows you to customize your affiliate dashboard and add your personalized tabs, which are perfect for onboarding. Once you've downloaded the plug-in, you'll see a new tab in your AffiliateWP settings titled Affiliate Area Tabs – click the button to start editing your affiliate dashboard.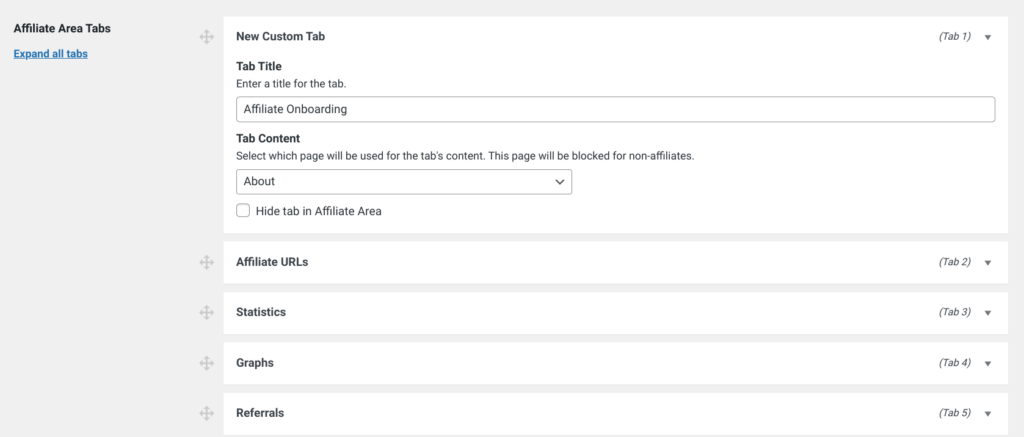 You'll see you can easily reorder and add new tabs to maximize the effectiveness of your affiliate dashboard. Click the Add New Tab button at the bottom of the page, and you'll be able to select any WordPress page to display in your affiliate dashboard.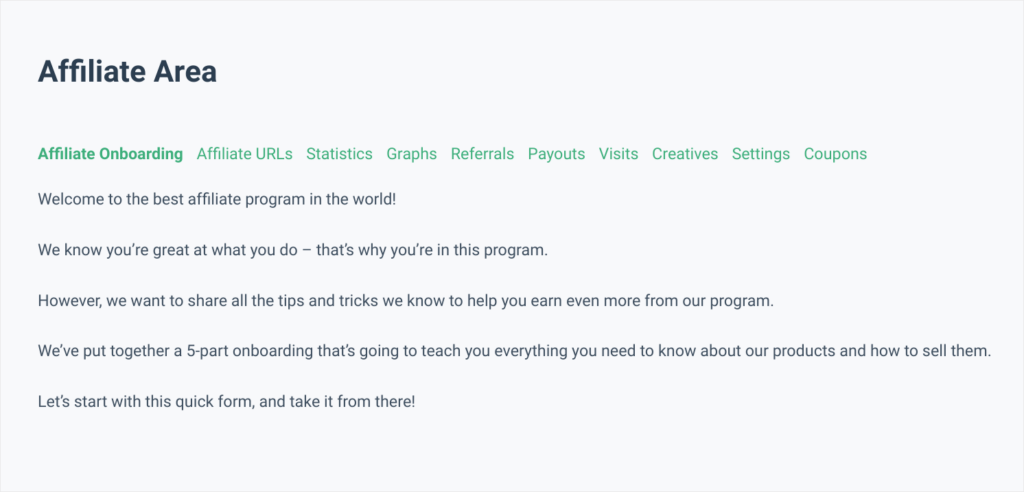 With Affiliate Tabs, you can completely automate your affiliate onboarding.
It allows you to share knowledge and creatives, and collect information through your chosen form provider.
Bonus Tip: Try and keep your onboarding as interactive as possible and open the conversation. We love to use WPForm's conversational forms to guide affiliates through the journey and build the relationship. 
Step 5: Automate Affiliate Relationships
OK, this one is a bit of an oxymoron – you can't automate a good relationship because it needs back and forth between both parties.
However, you can use affiliate marketing automation to get the conversation started and maintain communication occasionally.
We've automated the most basic parts of this for you by setting up a variety of notifications (you can edit these by going to AffiliateWP > Settings > Emails), but you can take this a step further by integrating AffiliateWP with your email platform. 
AffiliateWP integrates with various email service providers through add-ons, hooks, and APIs, but perhaps the easiest way to add affiliates to your email list is through your onboarding forms. 
The information you learn about your affiliates will help you segment your audience and send relevant, helpful content. 
It's amazing what a good affiliate newsletter can achieve:
Attract new affiliates
Keep successful affiliates engaged with your program
Grow affiliate sales
And more…
Don't think that you're bugging your affiliates.
Remember that, ultimately, affiliates want sales as much as you do, so any way you help them achieve this is beneficial. Share your best affiliate sales tips, product knowledge, and affiliate offers to make sure your program is a win-win for both you and your affiliates. 
Step 6: Automate Affiliate Lead Generation
Affiliate marketing can benefit online businesses in lots of different ways.
It brings in new customers, expands social media reach, improves SEO, and has many other positives. One that is often overlooked, though is lead generation.
Affiliate lead generation is incredibly effective, and AffiliateWP makes it supremely easy.
All you have to do is integrate your form builder with AffiliateWP by opening the setup wizard. Choose the forms you want to pay a commission on, and let your affiliates know about the new incentive.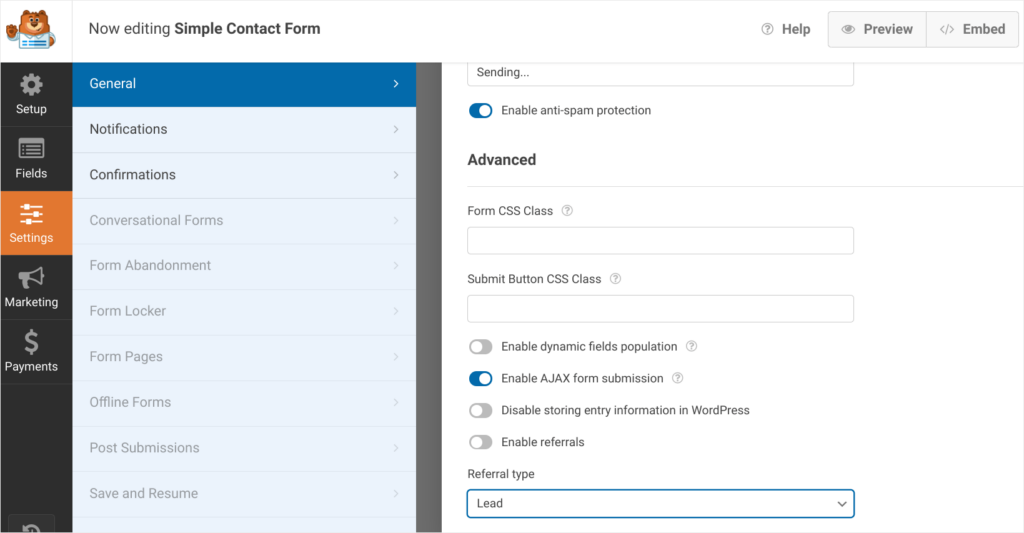 This is a great option for businesses with good sales teams as it ensures a constant stream of new leads.
Many affiliates love this model because they don't have to wait for the sale to be made. They might get lower affiliate commissions, but the payout is more immediate, helping them to build their revenues.
Automating your lead generation through affiliate marketing can be a great way to streamline your marketing efforts.
Step 7: Automate Social Media Posts
Make it possible for your affiliates to share your products on social media platforms. 
You can easily optimize this process by adding the Affiliate Dashboard Sharing add-on to your program. This adds social sharing buttons to your affiliate link generator to encourage your affiliates to grow social exposure. 
When an affiliate clicks the share button, they'll be redirected to their social media profile, where they can post an editable template with their affiliate link. 
It might seem like a small detail, but it's amazing the difference automation tools like Affiliate Dashboard Sharing can make.
Step 8: Automate Affiliate Payouts
When automating your affiliate program, this is one area where you want things to be as straightforward as possible. 
While your program remains small, it might be possible to export CSV files and pay your affiliates through PayPal or Stripe, but this can become a nightmare as it grows. What you want is an integrated payouts service that lets you pay affiliates in just a few clicks. 

Here's the good news.
You can quickly set this up by opening the Payouts Service tab in your AffiliateWP settings. Once you've imputed your business details, you can pay affiliates directly to their bank accounts in just a few clicks. 
You won't have to leave your WordPress site as you would if you used an affiliate network or SaaS software.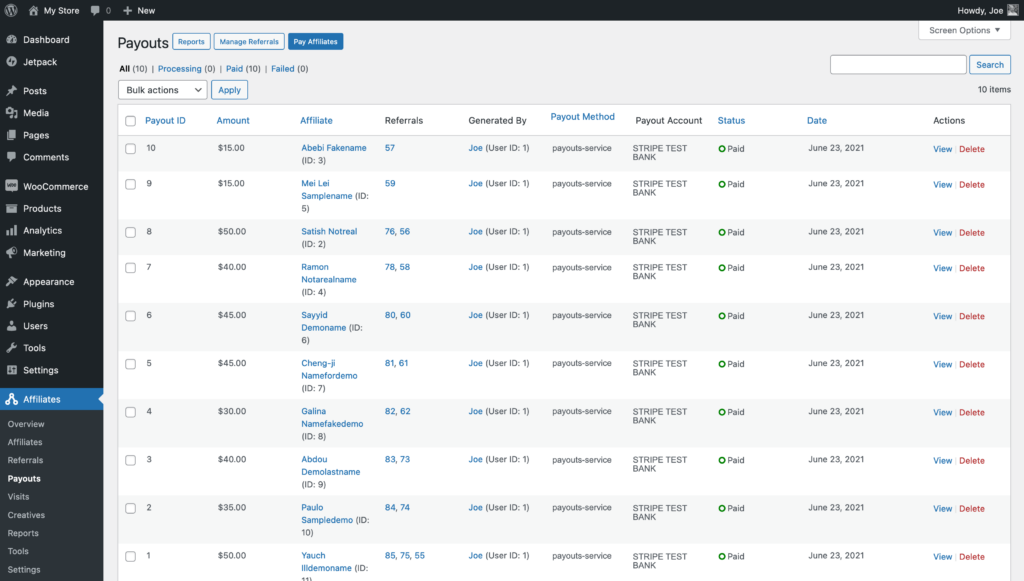 Again, this is something where you want some manual control as part of affiliate fraud. It's good practice to check over your payments and ensure they're legitimate, but it must be a simple process. 
With AffiliateWP's payout service, you can set smart payout rules and ensure all your affiliates get paid accurately and on time with minimal hassle. 
Your Imagination Is the Only Limit with Zapier
We've discussed some very specific, practical ways to automate affiliate marketing with AffiliateWP. Ultimately, there is no limit to what you can do though, because of our Zapier integration. 
If you're unfamiliar with Zapier, it's a product that enables users to integrate a whole host of apps, setting off complex sequences. 
For example, you might set up a sequence that looks something like this:
A new affiliate signs up in AffiliateWP
A reminder is created in your Google Calendar to follow up in 1 week
A meeting request is sent to the affiliate via your email provider
After the meeting, a shipping order is created to send out a free product for your affiliate to try
Your sequences, or "zaps" as Zapier calls them, can be as simple or complicated as you like.
This gives you incredible functionality to automate your affiliate program and make it into the passive income earner you dream of.
FAQs: How to Automate Your Affiliate Program
Can you automate affiliate marketing?
Yes, you can automate affiliate marketing. You will still need manual oversight, but with the right software, you can track affiliate referrals, manage affiliate relationships, pay affiliates, and much more, without minimal manual intervention. This allows you to focus on other tasks required to grow your business.
How do you automate affiliate links?
You can automate affiliate links with good affiliate marketing software. An affiliate URL generator allows affiliates to take a URL from your website and turn it into an affiliate link with a click. The software can then track referrals from that affiliate link and assign payments for successful referrals.
What is the best way to automate affiliate marketing?
The best way to automate your affiliate marketing is to focus on the most important aspects of your program. You can quickly automate your affiliate program in key areas like link generation, affiliate onboarding, lead generation, affiliate payouts, and more.
You Need to Automate Affiliate Marketing
If your affiliate program is going to scale, it needs some level of automation. 
You can't manually check transactions and mess around with spreadsheets because your time is valuable. This is where the right affiliate marketing software will more than cover its investment (as well as through affiliate marketing tools that grow sales). 
Looking for even more ways to build a fantastic affiliate program?
We've got you covered:
We've shown you how to automate an affiliate program; now it's time to get the software that allows you to do it. 
Get started with AffiliateWP and automate your affiliate program!