How to Retain High Quality Affiliates (Proven Strategies)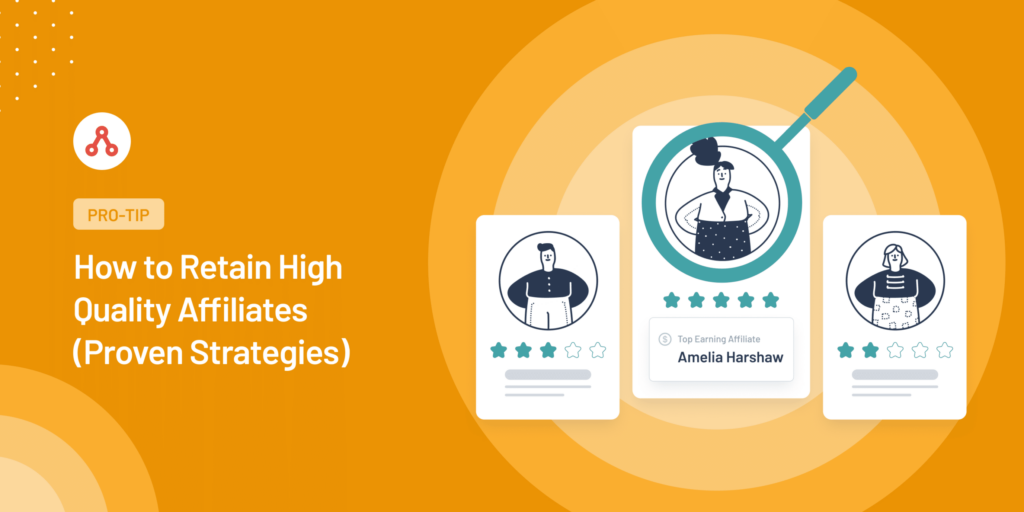 Are you looking for effective strategies to keep your affiliates engaged and loyal to your marketing program?
Enhancing affiliate retention is crucial for your online business's sustainable growth and success.
Let's understand how to boost affiliate retention and build long-lasting relationships with your affiliates.
What is Affiliate Retention?
Affiliate retention refers to maintaining and nurturing relationships with your existing affiliates to keep them engaged, loyal, and actively promoting your products or services over time.
In affiliate marketing, retaining affiliates is just as important as acquiring new ones, as it ensures your affiliate program's long-term success and sustainability.
Focusing on keeping affiliates helps keep the cost of getting new ones down. Affiliates who are happy and committed are more likely to bring in consistent income, promote your brand well, and help your online business grow as a whole.
There are many ways for affiliate marketers to keep affiliates coming back.
Here, we'll take a look at some strategies that have been shown to increase affiliate programs ability to retain affiliates. But before we get there, let's have a look at why affiliate retention is an important metric to determine the success of your affiliate program and business.
Why is Affiliate Retention Important? (Benefits)
Retaining your affiliates strengthens your marketing efforts and ensures long-term growth and profitability for your online business.
Here's why affiliate retention is so important in affiliate marketing:
Higher lifetime value: Loyal affiliates are more likely to generate consistent revenue for your business. By maintaining strong relationships with them, you can increase their lifetime value and enjoy a higher return on investment.
Reduced marketing costs: Acquiring new affiliates can be expensive and time-consuming. By focusing on affiliate retention, you can minimize your marketing costs and use your resources to other critical aspects of your business.
Improved brand reputation: Satisfied affiliates are more likely to promote your products and services with enthusiasm. This positive word-of-mouth marketing can boost your brand's reputation and even help you attract new affiliates.
Better conversion rates: Affiliates loyal to your program will have a deeper understanding of your products and services. They can better communicate the benefits to potential customers, leading to higher conversion rates and increased revenue.
Now that we've looked at how important it is to keep affiliates, let's understand what you can do to increase affiliate retention and improve the overall performance of your affiliate marketing.
6 Strategies to Boost Affiliate Retention for Affiliate Marketing
In this section, we'll look at the best and effective strategies that will not only help you build stronger relationships with your affiliates but also help your online business succeed in the long run.
Each strategy will be explained in detail, including its benefits and real-world uses, as well as how AffiliateWP can help you use these strategies easily.
So, let's get right to it
1. Leverage Real-Time Reporting and Analytics
Understanding the performance of your affiliates is crucial for making data-driven decisions that foster affiliate retention.
By utilizing real-time reporting and analytics, you can identify trends, patterns, and areas for improvement in your marketing campaigns.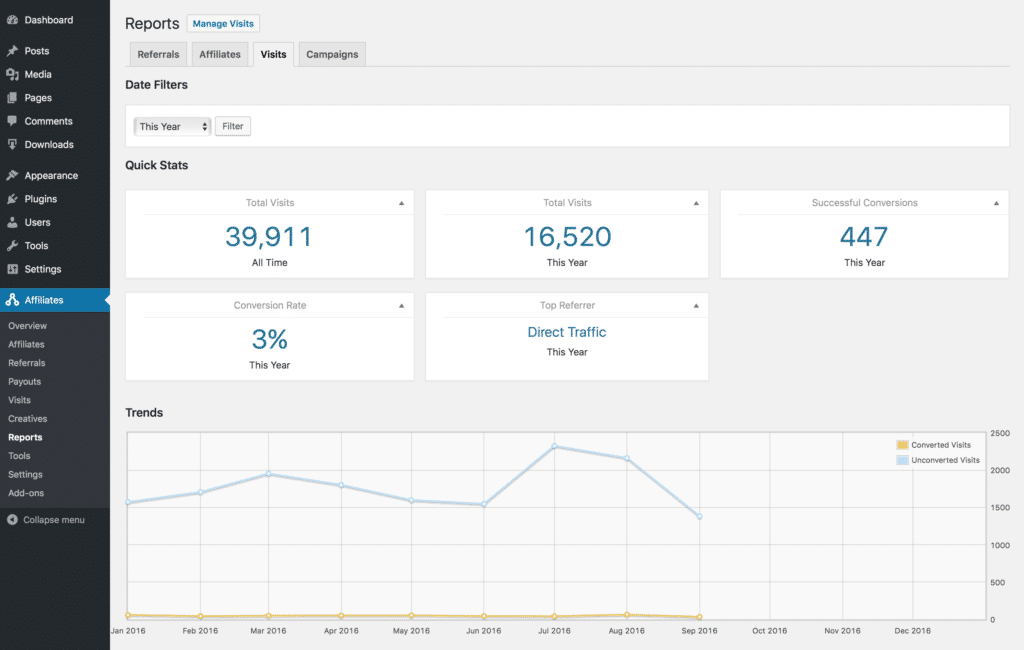 With AffiliateWP, you can access detailed reports and monitor your affiliates' performance, such as their referral rates, earnings, and conversion rates.
By analyzing this data, you can make informed decisions on how to optimize your program, offer targeted incentives, and better support your affiliates, ultimately leading to increased loyalty and retention.
2. Offer Life-Time Incentives and Rewards
A key aspect of retaining affiliates and ensuring their long-term commitment to your program is offering personalized incentives and rewards.
This encourages them to go above and beyond in promoting your products or services.
AffiliateWP enables you to design flexible commission structures, set performance-based rewards, and even offer tiered commission rates.
With AffiliateWP, you can offer cash rewards and even higher commission rates to your best-performing affiliates.
For instance, you could offer a $50 cash bonus when they reach their first 100 successful conversions or $100 upon achieving $5,000 in earnings. You can configure unlimited bonuses with different prerequisites to create multiple levels that affiliates can work towards.

You can also use a tiered commission rates system in AffiliateWP, where high-performing affiliates receive a larger percentage of each sale they generate.
Or, you can further motivate your affiliates by offering lifetime commissions using AffiliateWP's Lifetime Commissions add-on.
This add-on links a customer to an affiliate for life, allowing the affiliate to receive a commission on all future purchases made by the customer.

This is a huge incentive for affiliates and can significantly increase their motivation to promote your products and services.
Regardless of the bonus model you choose, offering personalized incentives can significantly boost your affiliates' motivation and drive.
3. Provide Exceptional Support and Resources
Affiliates need the right tools and resources to succeed in promoting your products and services.
By offering high-quality support, you can improve their satisfaction, performance, and ultimately, their loyalty to your program.
By ensuring that your affiliates have access to comprehensive guides, tutorials, and prompt assistance, you can foster a sense of trust and reliability, which is crucial for maintaining long-term relationships and boosting affiliate retention.
4. Utilize Advanced Tracking and Referral Tools
Accurate and reliable tracking is essential for the success of your affiliate marketing program.
By ensuring that your affiliates are properly credited for their referrals, you can strengthen their trust in your program and improve affiliate retention.
AffiliateWP offers advanced tracking features such as cookie tracking and customizable referral links, giving affiliates the confidence that their efforts are being recognized and rewarded.
By implementing these tracking tools, you can minimize disputes and discrepancies, leading to a more transparent and harmonious relationship between you and your affiliates.
5. Encourage Collaboration and Networking Among Affiliates
Fostering a sense of community and collaboration among your affiliates can significantly impact affiliate retention.
By providing networking opportunities, you can facilitate the exchange of ideas, knowledge, and best practices among your affiliates, ultimately improving their performance and satisfaction.
Encouraging this sense of camaraderie can lead to increased loyalty, higher retention rates, and a more successful affiliate marketing program overall.
6. Create Trust with Testimonials and Case Studies
Social proof is a powerful tool in retaining affiliates by building trust and credibility for your program.
Sharing positive experiences, testimonials, and success stories on social channels can significantly influence an affiliate's perception of your brand, encouraging them to remain engaged and committed.
Here are some ways to use social proof to retain affiliates:
Gather Testimonials: Collect genuine testimonials from your top-performing affiliates, highlighting their experiences and success with your program.
Share Success Stories: Showcase the accomplishments and growth of your affiliates through detailed success stories to provide evidence of the benefits of joining and staying active in your affiliate program.
Encourage Affiliates to Share Experiences: Motivate your affiliates to share their positive experiences with your program on their own social media channels, blogs, or websites.
Highlight Top Performers: Regularly recognize and celebrate your top-performing affiliates, showcasing their achievements and progress.
Utilize Social Media Channels: Leverage popular social media platforms to share testimonials, success stories, and top-performer highlights and increase your program's visibility and attract potential affiliates.
FAQ: How to Retain High Quality Affiliates
How Important Is Communication in Retaining Affiliates?
Communication is crucial for maintaining a strong relationship with your affiliates. Regular updates, prompt responses to queries, and personalized feedback help build trust and loyalty, ensuring that affiliates remain engaged and committed to your program.
How Can I Help My Affiliates Succeed and Stay Engaged with My Program?
Offer comprehensive support and resources, such as marketing materials, product information, training, and tips for successful promotion. Also, encourage affiliates to share their experiences and success stories to build a sense of community and motivation.
Now You Know How to Build a Loyal Affiliate Base For Your Affiliate Program
Now that you've discovered the essential strategies for retaining high-quality affiliates, you can see how building a loyal affiliate base can significantly contribute to the success of your affiliate program.
Remember, creating an enticing affiliate program is just the beginning – nurturing and expanding it is what truly sets you apart from the competition.
Don't worry; we've got your back with even more resources to help you excel:
With these valuable resources at your fingertips, there's only one thing left for you to do.
Don't wait any longer! Get AffiliateWP now and experience unparalleled success with your affiliate program like never before.