13 Ideas to Create a Low Maintenance Affiliate Program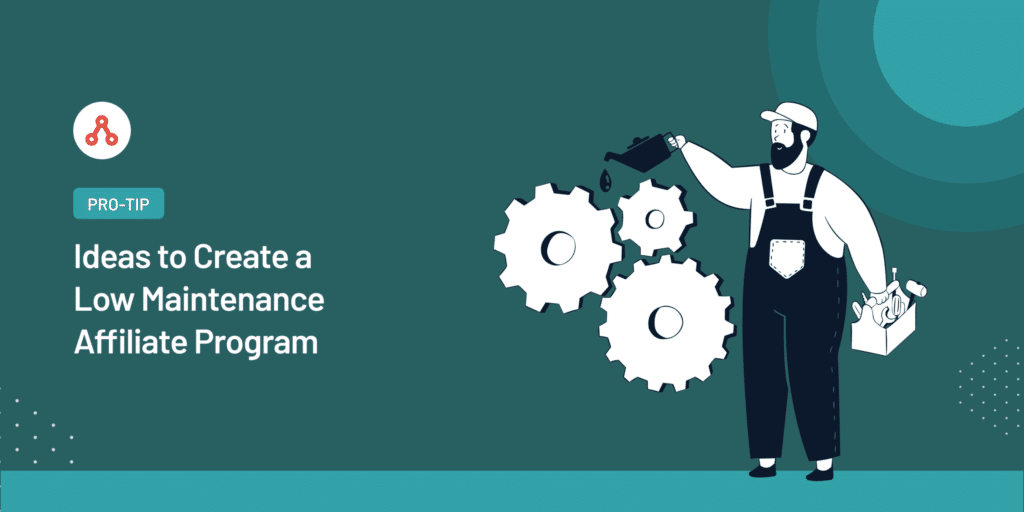 Want a low maintenance affiliate program that's easy to set up and runs like clockwork?
It's absolutely possible to achieve this, but you've got to put solid processes in place that set you up for success.
Here are some expert ideas to help you create a low maintenance affiliate program.
Can a Low Maintenance Affiliate Program Be a Successful One?
Yes!
In fact, some of the most successful affiliate programs are very low maintenance.
There are some basic functions all affiliate programs need to do well, but with the right affiliate software, it's possible to put processes in place that require minimal oversight. When you successfully implement these processes, your affiliate program can become a huge revenue generator while requiring minimal effort.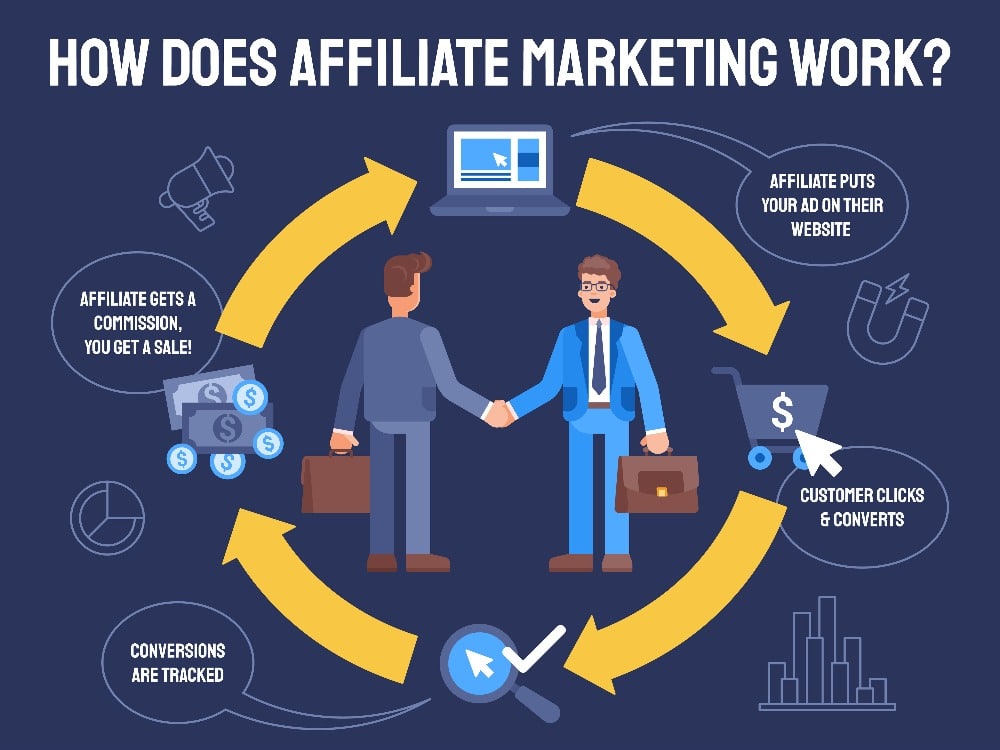 So, low-maintenance, high levels of success, sounds amazing right?
We're going to show you how you can set up a low-maintenance affiliate program and give you some ideas on how to run it. They're going to require a little hard work up front, but it's going to be well worth it in the end.
How to Ensure Your Affiliate Program Is Easy to Run
If you're thinking about setting up an affiliate program, then you don't want it to eat up all your time. You've got a business to run, and your affiliate program should complement your efforts, not distract you from other important tasks.
With that in mind, let's look at how you can ensure your affiliate program is easy to run.
1. Install AffiliateWP for Maximum Customizability and Automation
Your affiliate program will not be low maintenance if it doesn't run on the right software.
There are lots of affiliate software where all you get is basic affiliate link tracking, and that's fine for certain purposes. However, the basics won't help you create an affiliate program that runs on autopilot (or as close as possible to autopilot).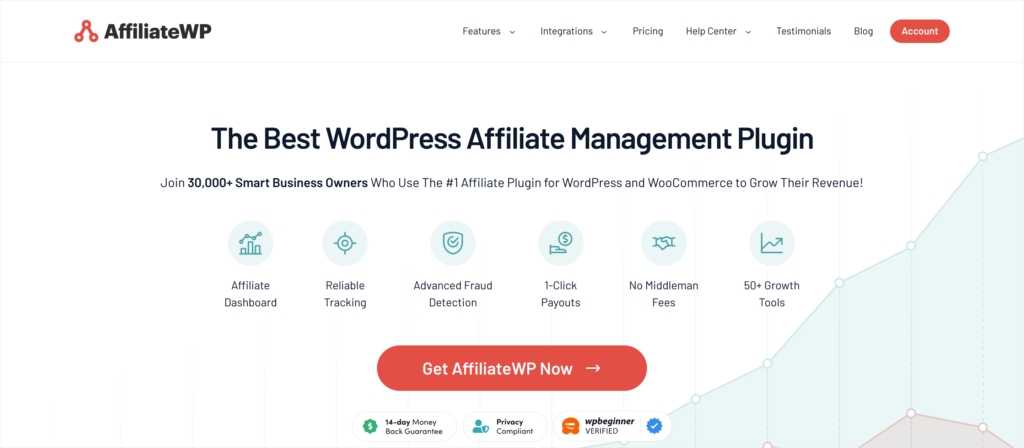 If your website runs on WordPress, then the best affiliate software to create a low maintenance affiliate program is AffiliateWP.
Why?
Because it's easy to set up, extremely customizable, and has a wide-range of integrations. These features mean you can build your program to minimize the need for regular affiliate management tasks.
All the ideas we're going to talk about from here on are possible because of AffiliateWP's advanced features, and you just don't get many of them with other software.
So, step 1 is to choose the AffiliateWP plan that best fits your needs, and complete the setup using the setup wizard. This will take you just 5 minutes, and then you're ready to ensure your program will require minimal oversight going forwards.
2. Use Your Terms and Conditions to Set Expectations
In the excitement of setting up your affiliate program, considering your terms and conditions isn't the most appealing thing. Which is why AffiliateWP gives you an affiliate terms and conditions generator to make things easy.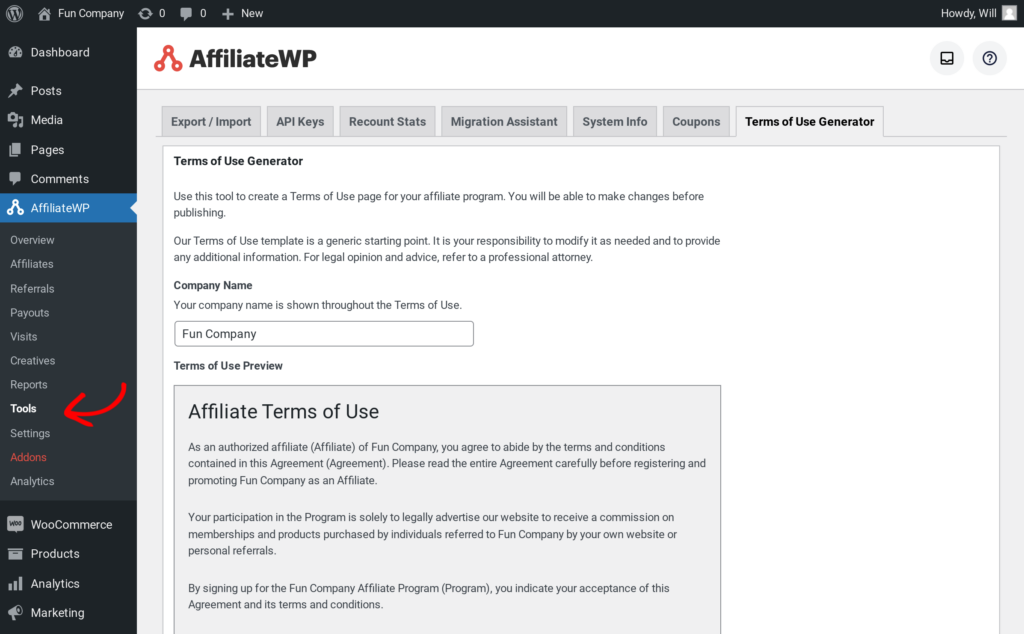 Your affiliate terms and conditions are important because they set expectations. They clearly state important details like what qualifies as a referral, your cookie duration, and payment policies.
Not everyone is going to read your terms and conditions, but at least they're there should any drama arise.
Make this one of your first steps and spend a little extra time to make sure you protect your affiliate program from the very beginning.
3. Focus on Your Affiliate Signup Page and Registration Form
Your ability to sign up top affiliates is going to make or break your program, so your affiliate signup page is incredibly important.
It's not just about finding good affiliates, it's about finding the right affiliates for your brand. To do this, your affiliate signup page has to be customizable and help filter out the not so good affiliates.
You might think here that automatically approving affiliates is the best option for a low maintenance affiliate program, but it's actually not. In fact, manually approving affiliates is going to be much more effective.
80% of your affiliate revenue will come from 20% of your affiliates.
This means you want to focus your resources on the very best affiliates. If you're letting anybody into your program, not only are you going to get a ton of spam, but you're also going to waste precious resources on a lot of sub-part affiliates.
Here's where your affiliate registration form comes in.
You want to it to maximize sign-ups while filtering out spam and collecting detailed information. It's a tricky balance to strike, which is why AffiliateWP harnesses the power of the best WordPress form builder – WPForms.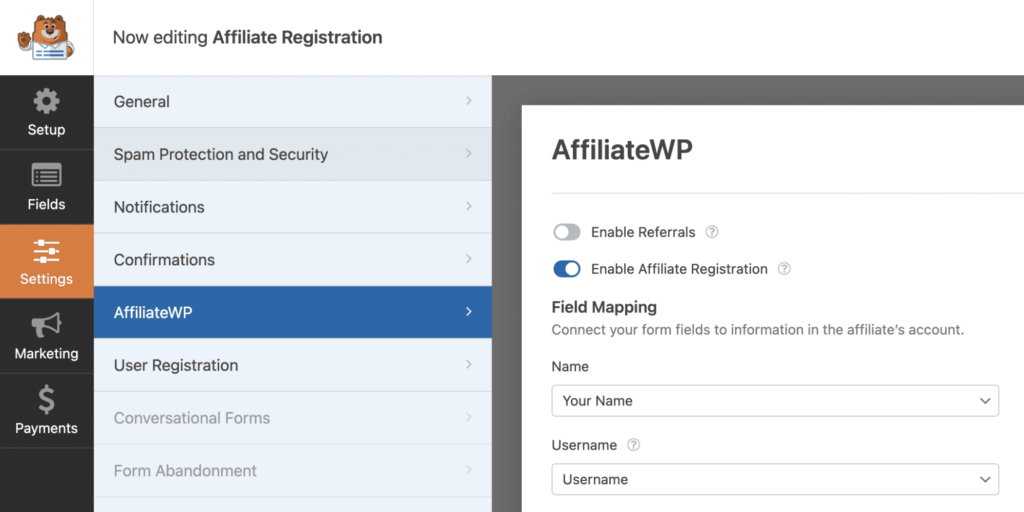 We highly recommend you use WPForms advanced tools like Lead Forms and Spam Protection to optimize your registration process. These tools make your life so much easier in the end, as it will make affiliate approval much simpler.
Another big bonus is that you can connect your affiliate forms to your email marketing and CRM software to make affiliate management even easier.
4. Set Up Affiliate Fraud Prevention
Affiliate Fraud is going to make affiliate management much more challenging. It's also going to cut into your profits, which sucks!
If you want to make your affiliate program more low maintenance, then you need tools that put your mind at rest. With AffiliateWP's Fraud Prevention addon, that's exactly what you get.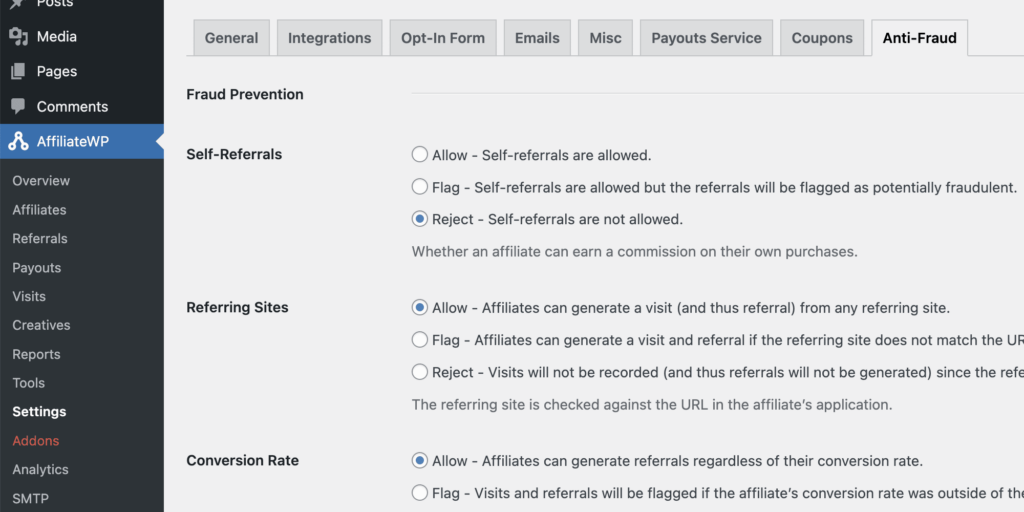 The Fraud Prevention Addon will flag all kinds of suspicious activity and make it easy to deactivate offending affiliates. All you have to do is activate the addon, and it's going to work away in the background to protect your program from fraud.
5. Create a Comprehensive Affiliate Onboarding
This is another area where a little extra effort up front will save you lots of time down the road.
If you can create a comprehensive onboarding that tells affiliates everything they need to know, then it's going to have a tremendous impact. Here are some details you can cover:
How to use your affiliate program
Information about your brand
Product information
Sales tips
Advanced affiliate marketing features and how to use them
And more…
The important thing is that you're getting affiliates to engage with this document. You might send it out in an email, but AffiliateWP gives you an even better option.
Affiliate Area Tabs allows you to create your own tabs in the Affiliate Dashboard – the perfect place for your onboarding. Your onboarding can be the first thing affiliates see when they log in to their dashboards.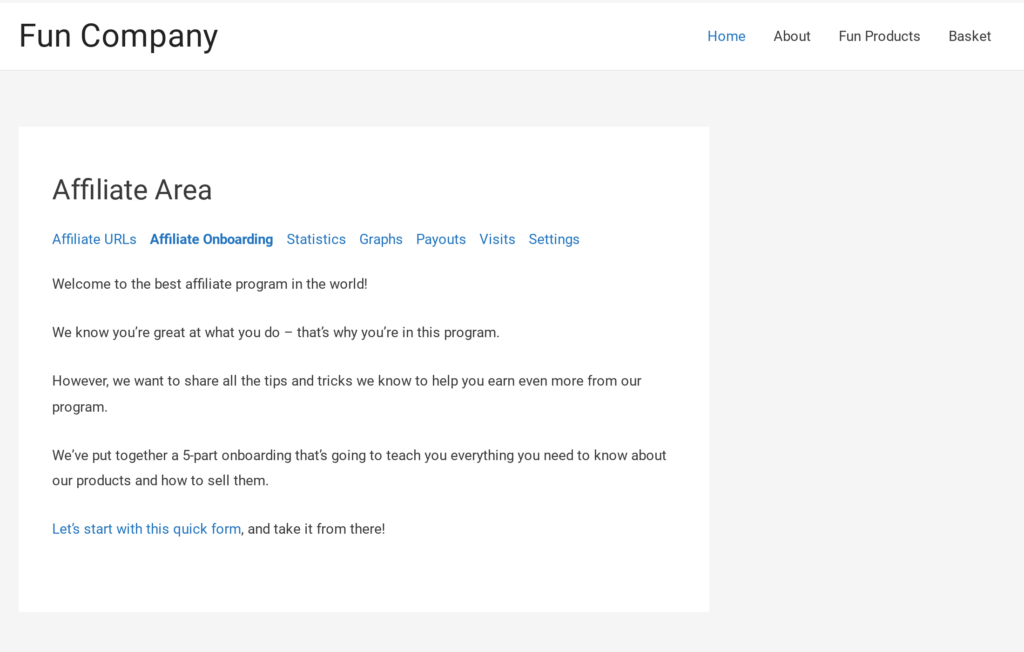 A good onboarding is going to cut the learning-curve for your affiliates. Ultimately, this ensures they stay in your program for longer and make more sales.
You may update your onboarding from time to time, but, mostly, it's something you do once, and will benefit from for years to come.
6. Make Communication Easy
Communication is an important part of running an affiliate program, but you can't afford to spend all your time responding to affiliate enquiries. Instead, you've got to build in some automation to help you maintain the relationship.
To get ahead of things, one of the best things you can do is create an FAQs page. This will allow you to answer affiliates' most common questions before they even ask them. Again, this is something you can update as you go, but it's an excellent way to get ahead of the game.
You'll also want to set up some email automations to welcome affiliates and guide them through your program. Those first few weeks when an affiliate joins your program are probably the most important, so focus on building the relationship and helping them to make their first sale.
A good email series should help affiliates start earning money more quickly, which is a great way to keep them excited about your program.
7. Set Up Direct Link Tracking
When you make things simple for your affiliates, you'll often find it makes your life easier too.
One way you can do this is by activating AffiliateWP's Direct Link Tracking addon. Once activated, AffiliateWP will track referrals directly from your affiliates' websites. There's no need for messy affiliate links at all!
Affiliates love this feature, and many highly successful affiliate programs use it to keep things simple and easy to maintain.
8. Invest in Affiliate Creatives
You know the power of high-quality images and videos. Without them, you'd find your conversion rates drop significantly.
So, why should it be any different for your affiliates?
They also need access to excellent creatives; otherwise their job is going to be much more difficult.
Your job is to give affiliates the tools they need to succeed for you, and if you invest in these upfront, then you'll find your affiliate program is much easier to maintain. Luckily, with AffiliateWP, you can upload unlimited creatives, and they're easily accessible from the affiliate dashboard.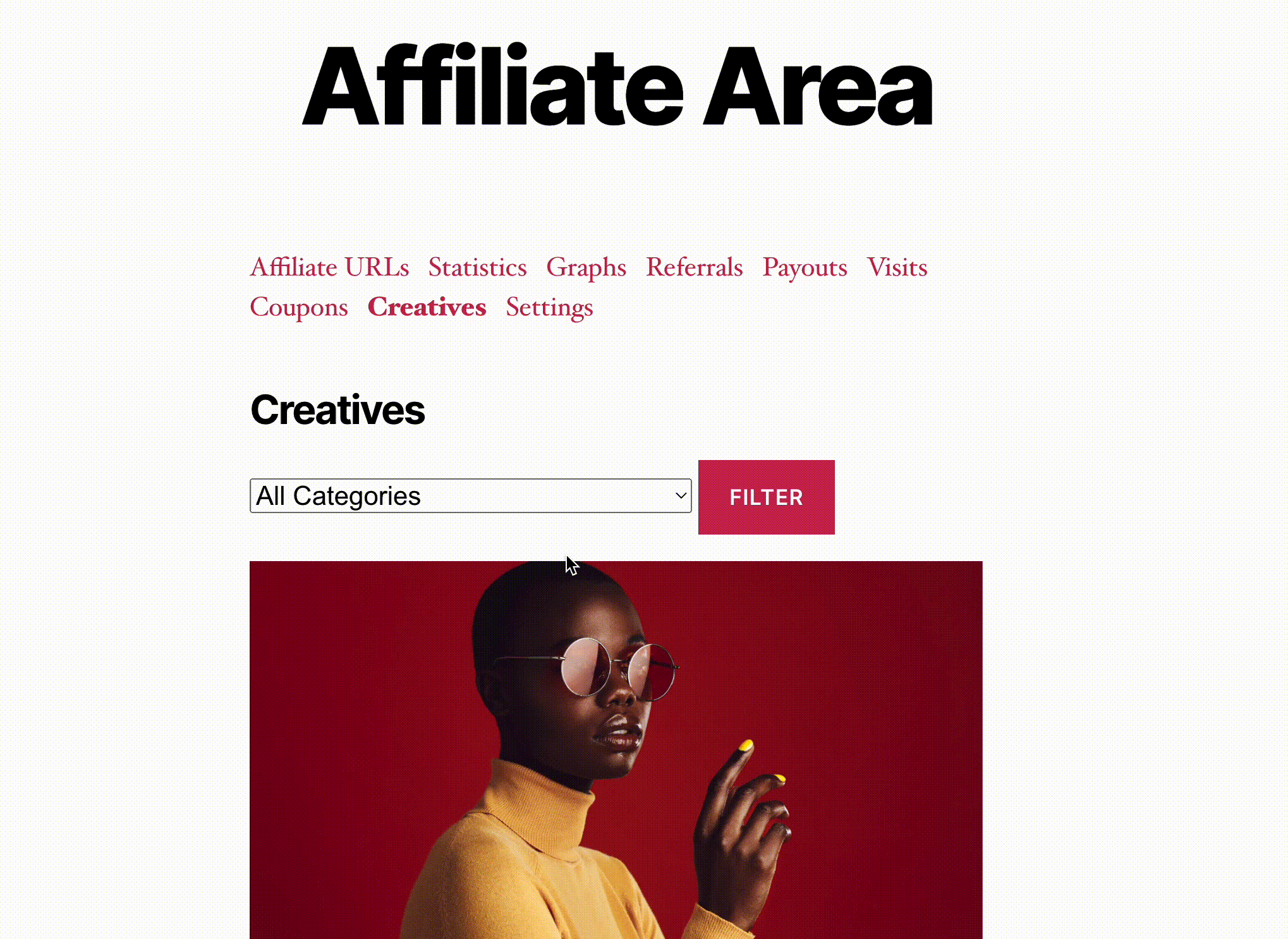 Good affiliate creatives boost click-through rates and get you conversions, so make them a priority.
9. Automatically Assign Affiliate Coupon Codes
Coupon codes are a hugely important tool for merchants. People love to think they're getting a deal, so running regular sales is always a good idea.
If your affiliates are going to maximize their performance, then you want them to benefit from coupon codes. The trouble is, with most affiliate software, you've got to assign coupons individually.
AffiliateWP is different though, as it allows you to assign coupon codes automatically when affiliates sign up. Now you can let your affiliates use these eye-catching marketing tools without having to do extra manual work.
Coupon codes will be ready and waiting in your affiliates' dashboards; all they've got to do is promote them to their audiences.
10. Auto-Enroll Customers
Customers can often be your best affiliates. These guys love your products, and their recommendations carry real weight. How can you encourage your customers to promote your products, though?
One way is to enroll customers as affiliates automatically.
With AffiliateWP, you can automatically enroll any WordPress user into your program, and from there, they have access to all your referral-generating tools.

Communication is going to be important here, so make sure you're explaining the process and giving customers a great incentive to promote your products.
If you can do this well, then you'll have a steady stream of new affiliates come in, while putting no additional work in.
11. Enable Performance Summaries
You might not want to search through your analytics every week, but you want to get a clear picture of your program's performance.
The same might be true for your affiliates. They won't necessarily check in to their dashboard every day, but they do want to know how they're performing.
AffiliateWP allows you to set up monthly email performance summaries that go out to both you and your affiliates.
Your performance summary will show you how many sales you've made, who your top affiliates are, and more useful information. Meanwhile, your affiliates will get detailed summaries of their individual performance, keeping them engaged with your program and helping them to spot new opportunities.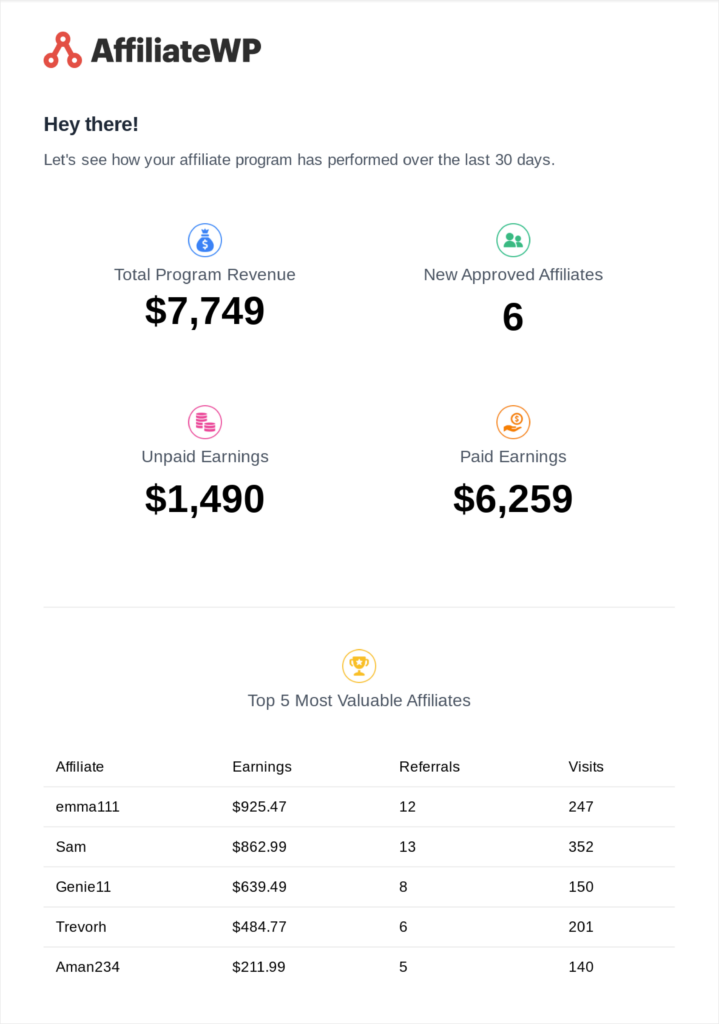 It seems simple, but this makes a tremendous difference when you're trying to run a low maintenance affiliate program.
12. Create Additional Payment Incentives
You always want to encourage affiliates to achieve more, but you can't send motivational emails every day!
Instead, set up affiliate incentives that reward improved performance. AffiliateWP has a few different options to choose from.
If you've got the right incentives set up, then they're going to continue to keep your top affiliates engaged.
13. Set Up a Simple Payment Process
You need an affiliate payouts system that works for you and your affiliates.
Most program managers choose to pay affiliates monthly, but set a minimum earnings threshold. This means you're not constantly processing small payments, and instead waiting until affiliates have built up their earnings.
With AffiliateWP, you have two principal ways to pay affiliates and they're both super easy for you.
The first is PayPal Payouts, which allows you to pay affiliates to their PayPal accounts without leaving your WordPress admin. You can pay out for individual referrals, pay individual affiliates, or send mass payments to all your affiliates in just a few clicks.
Alternatively, you can use the Payouts Service, which functions similarly, but means you can pay affiliates directly to their bank accounts.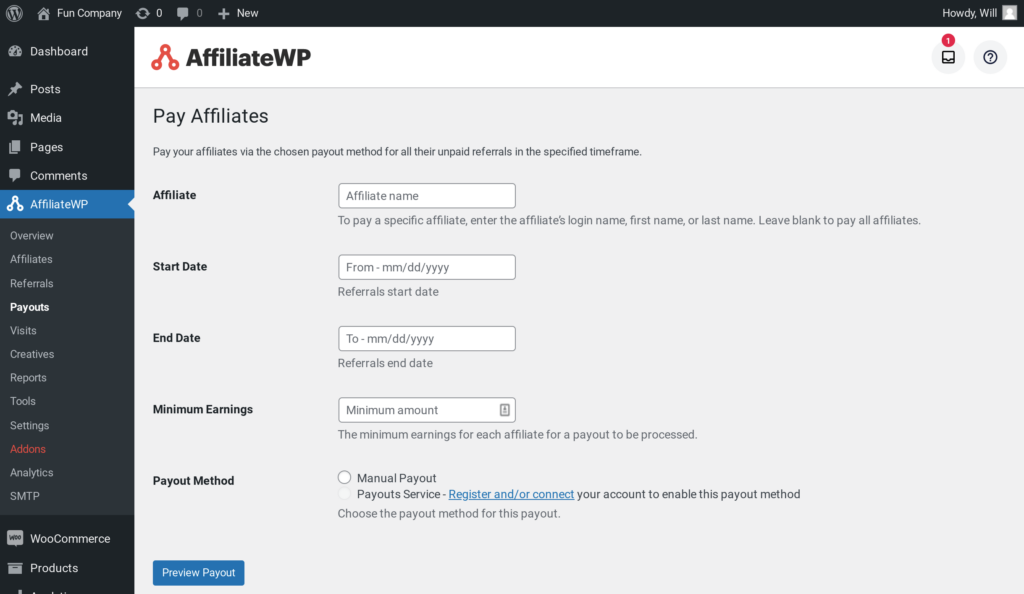 What you need here is something that's simple and reliable, so you don't have to think about it. Just check in once a month, double check the details, and make payments to your affiliates.
Now Find Top Affiliates in Your Niche
We've shown you some excellent ways to make your affiliate program run with minimal input from you. Now what you really need is affiliates who can make your program profitable.
Now that you've got your affiliate program running smoothly, it pays to take a little extra time to find the perfect affiliates.
They are out there, and they're not that difficult to find!
You can wait for them to come to you, or you can go out and get them – you know which one is going to be more effective. To help you with this, we've put together a great guide on How to Reach Out to Affiliates. It's going to take a bit more effort, but it's well worth it to find affiliates who know how to reach your target audience.
Make Your Life Easy with a Low Maintenance Affiliate Program
Affiliate marketing should supercharge your revenues without tying up all your time and resources. When done well, this is completely possible, but it's often not the reality.
It all starts with having the right affiliate marketing software, and from there, you can build in the customization and automation that will set you up for success.
But what else do you need to know about running an affiliate program?
We've got more great resources to help you out.
Now there's only one thing left to do.
Get AffiliateWP and build a low maintenance affiliate program today!