How to Generate Referrals from Your Customers (9 Top Tips)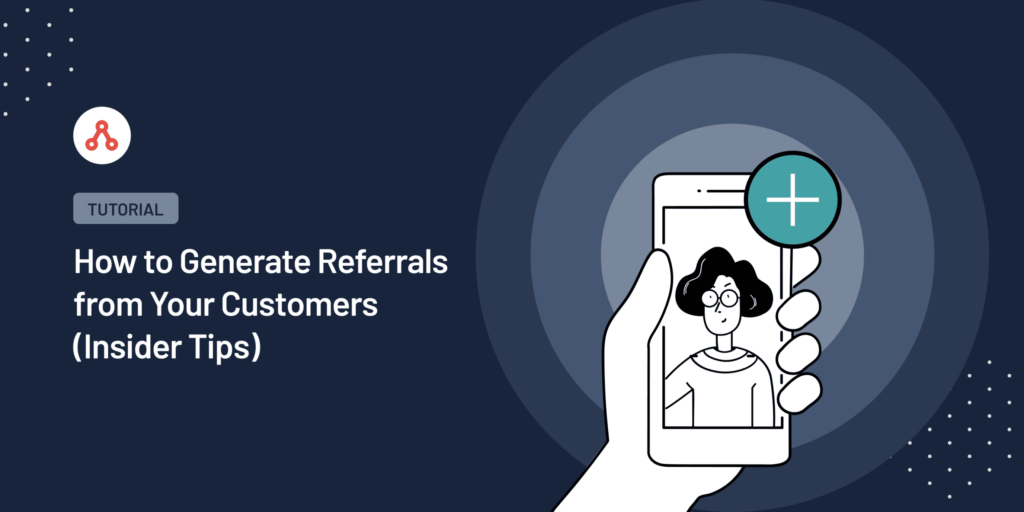 Want to know how to generate referrals from your customers?
We've put together an expert guide with some powerful strategies to help ensure your customers are spreading the word about how great you are.
Here's what we're going to look at:
Let's take a look at how you can boost customer referrals.
The Power of Customer Referrals
Customer referrals (also known as word-of-mouth marketing) are incredible.
They're not just a sign that you're doing a great job (why else would people recommend you), but they're also some of the most promising leads you'll generate.
The stats around customer referrals are pretty impressive:
92% of consumers trust referrals from people they know
Customer referrals have a 37% higher retention rate
Referred customers' lifetime value is 16% higher
So, customer referrals convert better and the new customers stay for longer and spend more money with your business? Exactly!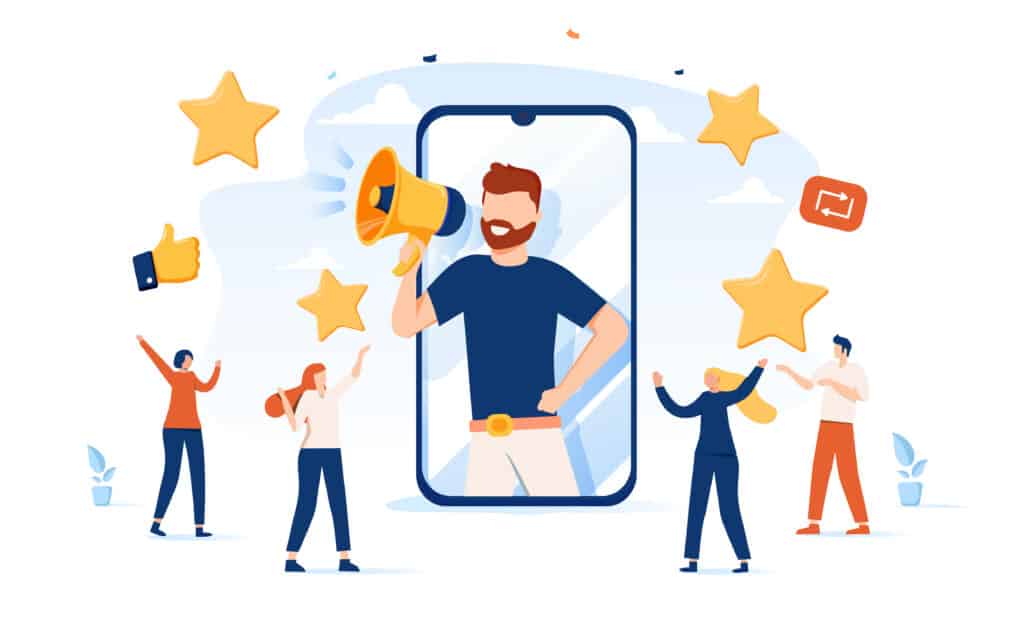 If you're providing an excellent service then you're probably already getting client referrals, but since they're so valuable, we want you to know how you can get even more.
Luckily, there are lots of strategies you can use, and we're going to show you exactly how to generate referrals from your existing customers.
9 Strategies to Generate Referrals from Customers
Customer referrals might seem like a golden ticket, but you've got to generate them first.
Naturally, being great at what you do is going to help, but sometimes you need a little more than that, so we're going to talk you through some techniques you can use to generate more referrals.
1. Install AffiliateWP to Create a Customer Referral Program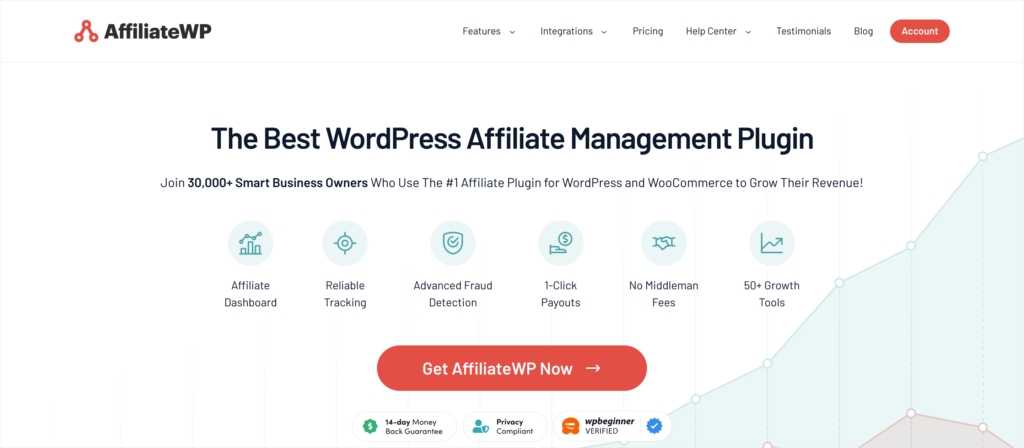 Nothing gets people to take action like an incentive and that's exactly what you provide with a customer referral program.
If your website runs on WordPress, then AffiliateWP enables you to quickly set up referral tracking and reward customers when they send you new leads. You can automatically enroll website users in your program, and AffiliateWP will take care of all the tracking and payouts for you.
This is a proven way to generate referrals because it gives people an added incentive.
People may love your products but they need that extra reminder to recommend it to friends, colleagues, family members, and anyone else. A small commission gives your customers that extra reminder and it will make a big difference to your client referrals.
Check out AffiliateWP's pricing to set up your customer referral tracking!
2. Get Creative with Your Incentives
When we think of incentives in terms of a customer referral program we tend to think of money.
Yes, money is an awesome incentive and it's going to get your customers excited, but it's not the only one!
With software like AffiliateWP, you can also reward affiliates in other ways like store credit or even a fun points system. This allows you to come up with all kinds of different rewards that customers can trade their points in for.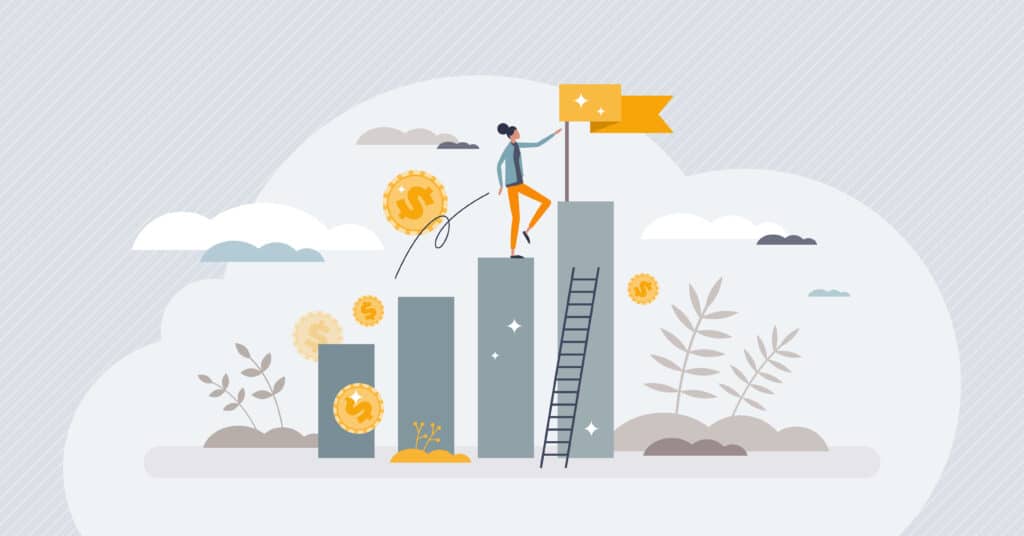 You might consider offering free branded merchandise, gift cards, opportunities to collaborate with your brand, promotion on your social media channels; essentially, it's up to you!
You can really get creative here and offer incentives that get your customers excited.
3. Make Sure to Ask
In a perfect world, client referrals work like this:
You offer an awesome product/service
Your customers love it
They recommend it to everyone they know
This will happen sometimes, but certainly not every time. There will be people who love your product, and it wouldn't occur to them to go out of their way to recommend your product.
It's not until you make the referral request that people think "well actually, my friend Sam would love this product."
As the old saying goes, "if you don't ask, you don't get" and this happens quite a lot in referral marketing, so don't be scared to pose the question.
4. Get the Timing Right
Getting the timing right is a huge part of generating referrals.
For instance, if I reach out to you for a referral and the product is yet to be shipped, it's probably not going to be very effective.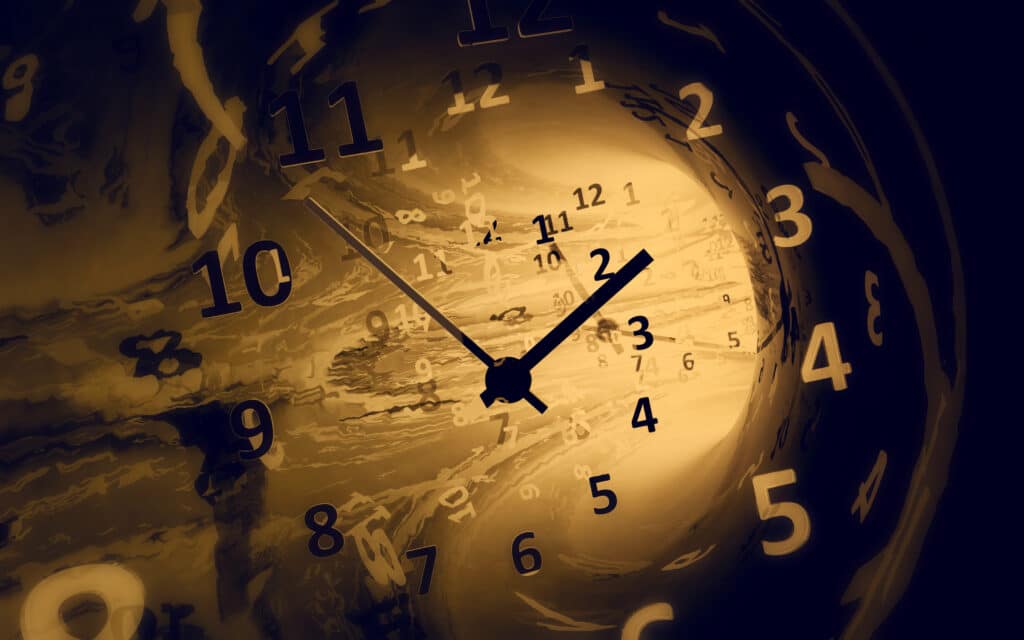 Here's where it's important to understand the interactions you have with your customers and the points where they have maximum appreciation for your brand. If you can ask for the referral when you've just done something to completely blow their minds (in a positive way), then it's likely going to be more impactful.
At what point do your customers have maximum excitement and maximum appreciation for what you offer?
Pinpoint that moment and then ask for a referral.
5. Boost Post-Sale Engagement
It's easy to make the sale and think "great, that's job done!"
In reality, you haven't completed the customer journey yet, and if you stop engaging at this point, you're missing out on a lot of benefits. Great post-sale engagement is going to help you create more repeat customers, and it's also going to generate referrals.
It's often not about your products, it's about you and your brand. If your customers love you and your brand, then they're going to keep coming back to you and keep recommending you.
Customer loyalty is earned through excellent engagement, so make sure you're providing the high-level support your customers need, invest in helpful content, and create a fun, relatable brand.
The better your follow-up engagement is, the more opportunities you're going to have to ask for referrals, and the easier it will be to get the timing right!
6. Keep Creating Great Content
We went into this a little bit in the engagement section, but let's expand on this idea of great content.
How does high-quality content relate to getting customer referrals?
Well, it's this idea of reciprocity – you're giving me something valuable, so I'm going to give you something valuable.
If you're constantly providing your customers with content that solves their pain points, keeps them entertained, or simply makes them feel good, then they're going to feel like you offer something even more valuable than just products or services.
This is how you create brand ambassadors, and these guys are referral-generating machines.
7. Offer Sharable Experiences
This one is a little bit more tricky, but it's a great way to get customer referrals flowing.
How can you get people sharing the following?
Testimonials (experiences with your brand)
Online reviews (of your products)
Your content
Feedback
Product ideas
An unbelievably effective way to do this is by creating giveaways that reward people when they share.
It's actually incredibly easy to set up thanks to RafflePress, the best WordPress giveaway and contest plugin. In just a few minutes, you can create a giveaway, showcase a prize, and set conditions for people to enter.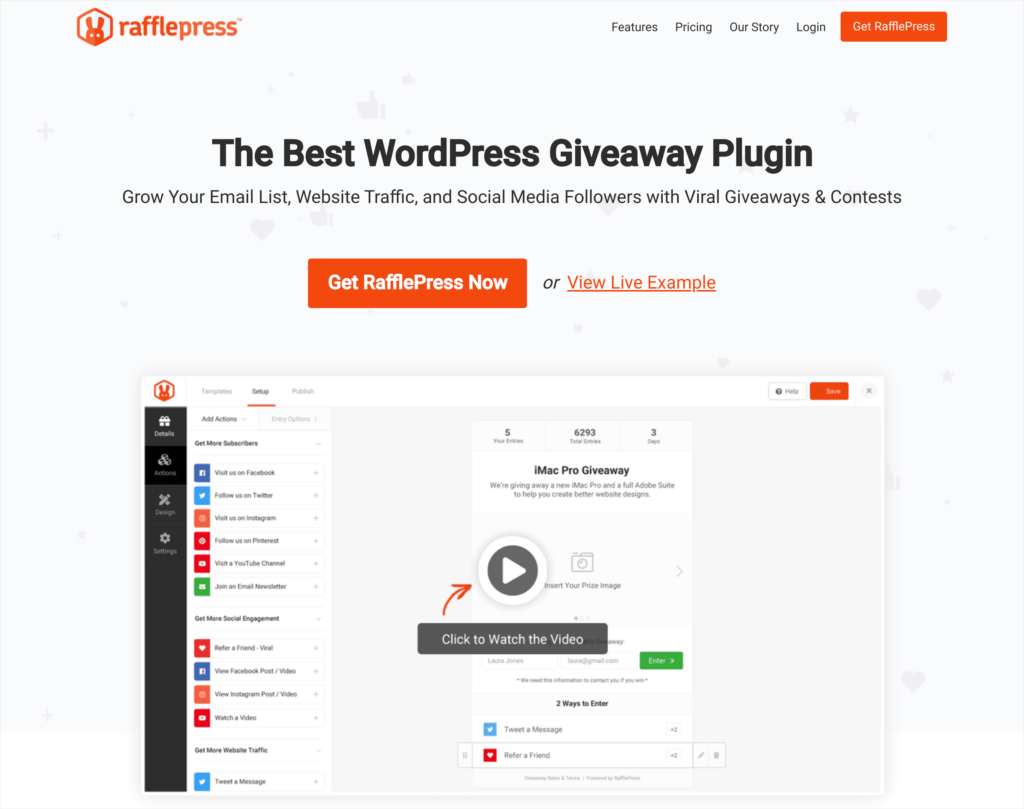 One of the reasons it's so handy is because it has a "Refer a Friend" entry option built in. This rewards people with an entry whenever they refer a friend via Facebook, Twitter, Pinterest, LinkedIn, or email.
RafflePress gives you tons of ways to encourage sharing and it's a sure-fire way to generate referrals.
Check out RafflePress's pricing!
8. Up Your Customer Service + Support Game
As we mentioned earlier, it's not always about how good your products or services are, it's about how people identify with you and your brand.
You can overcome a lot of hurdles if you offer an amazing customer experience, and a big part of that is customer service and support.
People accept that sometimes they might need help setting up a product, or extra support installing a piece of software, or whatever it might be. The key thing is that you're there to help them when they need it and you do it in a first-class way.
If you can do this, then you're not only helping the customer, but you're giving yourself an awesome opportunity to generate a referral.
9. Exceed Expectations
Exceeding expectations is a great idea whatever you're trying to achieve, but it works particularly well for getting customer referrals.
Why?
Because when people pay money for something they expect good – they expect a good product, good service, and good support. What blows people away is when you go a level beyond good with everything you do for your existing clients.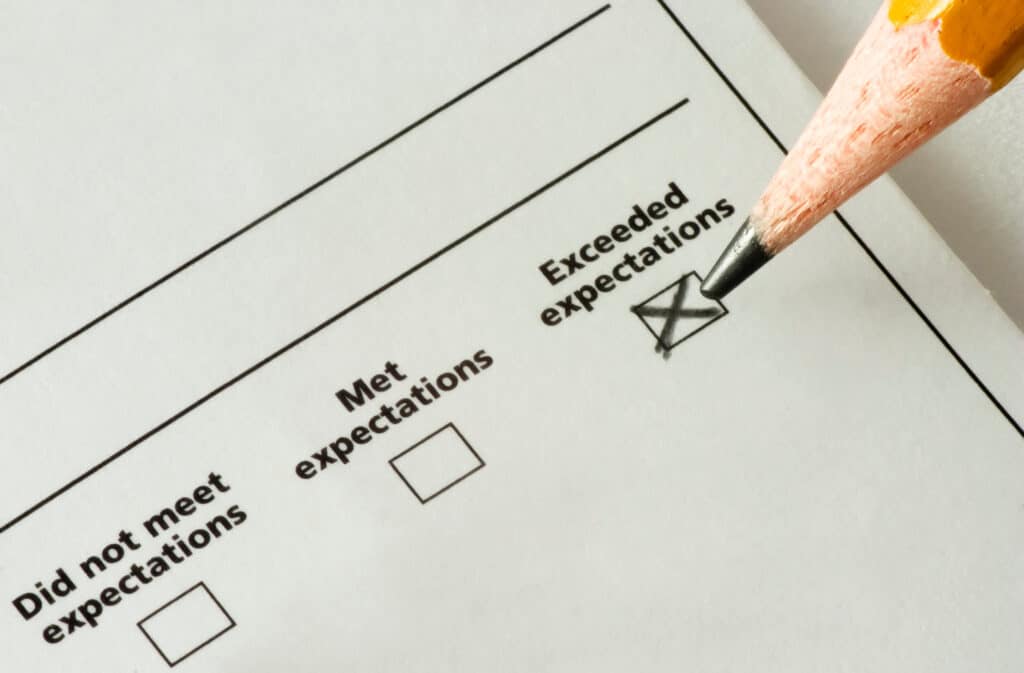 It's the little details that help your brand stand out from the crowd and make people want to recommend you to their friends, families, and colleagues.
If you always have a focus on exceeding expectations, then the chances are, the customer referrals will start to flow.
Now Start Your Customer Referral Program
There's no better time to start your customer referral program than now.
In just 10 minutes, you can get tracking software set up so that customers are rewarded any time they recommend your product and it results in a new client. Just check out AffiliateWP's pricing and choose the plan that best fits your needs.
You'll be able to auto-enroll new WordPress users in your program and can quickly set up email automation to make customers aware of your new program.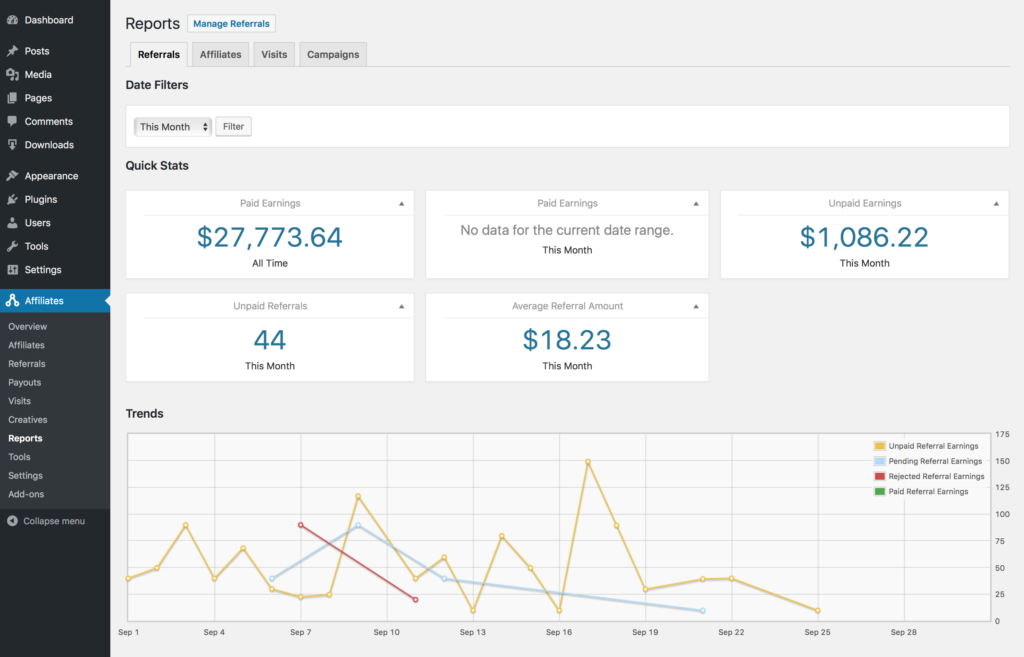 Once customers enroll, they'll be able to create their own unique affiliate links and track when their recommendations lead to sales. You'll be able to track everything from your WordPress admin and see detailed metrics on how your lead generation is performing.
A small commission can be a big incentive and a top way to get more customer referrals.
FAQs: Generate Referrals from Customers
How do I increase my referrals?
You can increase referrals by incentivizing existing customers to recommend you to potential clients. Happy customers are one of the best referral sources so it pays to reach out to them to ask them if they would recommend your business. These word-of-mouth referrals are incredibly powerful!
What are 4 types of referrals?
There are 4 types of referrals: word-of-mouth referrals, online reviews, social recommendations, and email referrals. All of these strategies rely on your loyal customers recommending your business to acquaintances to create a successful referral.
How can I create a B2B referral?
One of the best ways to create a B2B referral is to ask for it. Your best customers obviously love what you're offering, so why not see if they will refer you to other business owners? These business referrals are hugely effective for your lead generation and are a great way to leverage the relationship you have with your current clients.
What is the best way to ask for referrals?
Asking for referrals is all about timing. You want to ask at a time when you're most likely to get a highly positive review as this is going to maximize your appeal to potential customers. Get to know your customer journey well and pinpoint when they're most excited about the service you offer. Once you know when to ask, you can put some basic templates together to help automate the process.
Generate Referrals and Grow Your Business
If you're looking for the perfect place to find new business then take a look at your current customers.
Their word is golden – friends, family, and colleagues place great trust in their recommendations, which means when you generate new referrals regularly, you give yourself an excellent chance of making more sales.
So, what else should you know about growing your business?
We've got some great resources to help:
Now there's only one thing left to do to start taking advantage of this marketing strategy.
Get AffiliateWP and start your customer referral program today!