How to Boost Online Membership Programs with Affiliate Marketing (2023)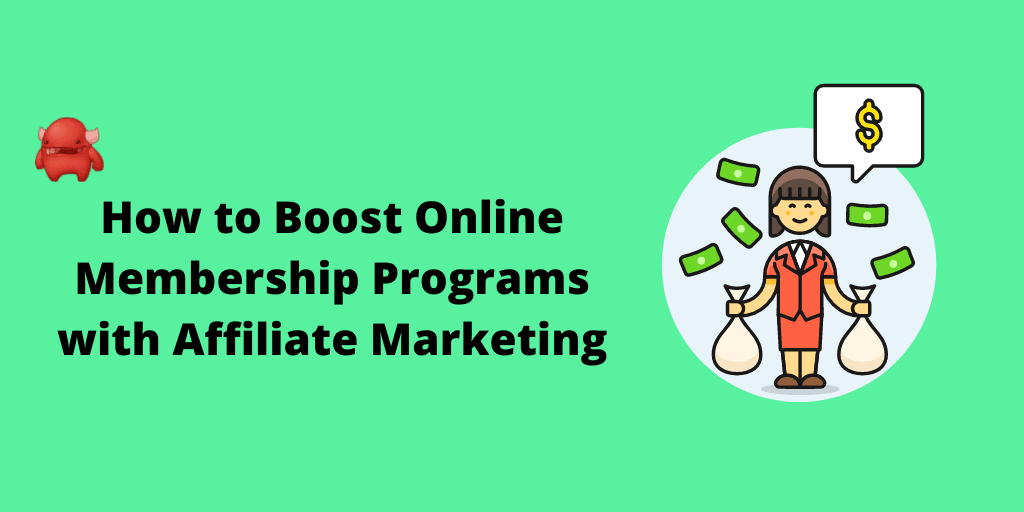 Have you got an online membership program that's not bringing in the sales you imagined it would?
Websites are always looking for new ways to boost revenues, and in 2023, membership programs are a popular option. You've got a great membership program, but are you leaving sales on the table by not using affiliate marketing?
We'll show you how you can boost your online membership program in just a few clicks.
What is an Online Membership Program?
Online membership programs can be very varied. Essentially, people pay a membership fee (generally monthly or yearly), and in return, they get "insider" status.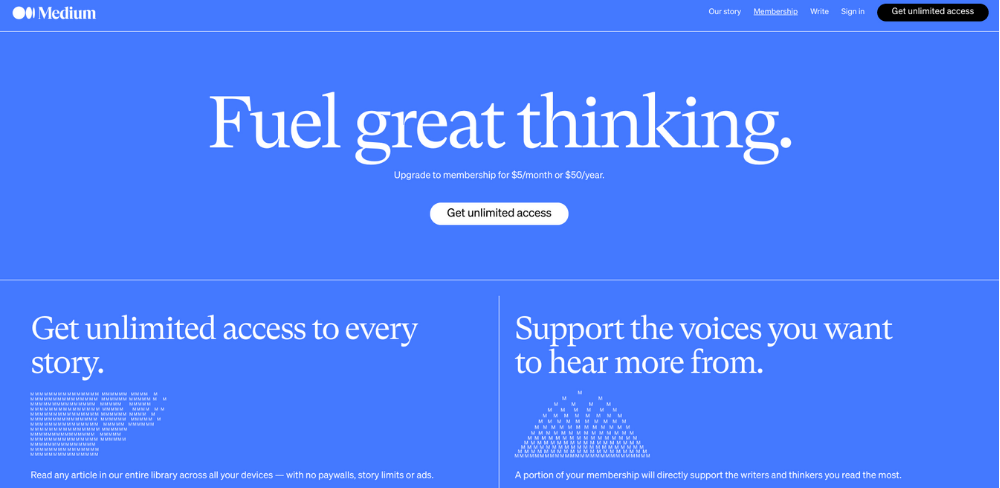 The rewards of this "insider" status are virtually limitless. They could be:
Connections (a networking group)
Money-saving deals (membership of a retail store)
Personal access to someone (a celebrity fan group)
Extended support (a tech subscription)
Priority seating (a sports membership program)
First refusal (a business membership program)
The list goes on and on because it's all about perceived value. If you can offer something that's perceived to be valuable, then it's possible to create an online membership program.
The basis of the membership program will be your website, which is why the programs are often referred to as membership websites. With the help of external software, you can take an existing website or e-commerce store and add a membership area with very little hassle at all.
Why Create a Membership Website?
We've looked at some rewards you can offer as part of an online membership program, but the question still remains, why would you start a membership website?
The answer is fairly simple: it can be a great source of revenue.
One of the things we assume about the internet is that if a website has great traffic it's probably making good money. This isn't necessarily the case for many publishers on the web. They might have a large, engaged audience, but they're looking for ways to monetize their hard work.
An online membership program allows you to package together your own product to meet your target audience's needs.
The benefits of a membership program don't end with creating a new revenue stream though. They're also a great way to grow existing revenue streams because they give you the perfect platform to nurture your most engaged followers.
Let's take the example of a big online retailer like Adidas. They offer a free membership to customers (they don't have to pay to join but they do have to make a purchase) that's tiered. The more the customer spends, the higher tier they reach, and the more benefits they unlock.
This membership program isn't about creating a new revenue stream, it's about growing existing ones through engagement and incentivizing new purchases.
With a good online membership program, your members are checking in on your site regularly and building a relationship with your brand; this can be extremely valuable.
How Do You Create an Online Membership Program?
A membership program can bring a lot of capabilities to your website. We mentioned earlier that they're simple to set up, but just how do you start an online membership program?
Step 1: It All Starts with Your Website
Before you can even think about signing up new members, you've got to think about how you can attract and engage website visitors. Growing a membership program is just like selling anything else: you've got to constantly optimize your processes.
Think about where your membership program fits in with your website, and factor your new offerings into your customer journey.
Once you're ready to start your membership program, then it's time to look at the different software options you have available to you.
Step 2: Choose a Membership Website Platform
Each website builder will have slightly different membership platforms, but we're going to look at the ones that work well with WordPress websites.
Look through the different options and consider your needs in detail. Don't just plan to start a membership program, ask yourself what tools you need to really make it take off.
Step 3: Market Your Online Membership Program
The thing you always hear us saying at AffiliateWP is that there's no point just building something. Whether that's an affiliate program, online store, or membership program, what matters is how you grow it.
People won't just stumble upon your membership program on some hidden corner of your website and think "oh that sounds amazing, I must join." You've got to work to get your message in front of people and convince them of the value of joining.
As always, your marketing is key, and the more innovative you can be, the greater chance your online membership program has of success.
How to Set Up Affiliate Marketing for Your Membership Program
Sticking with the theme of marketing, one of the best ways to grow your membership program is through affiliate marketing.
Whatever niche your membership website is in, there are bound to be lots of great publishers out there. These publishers are already reaching the audience you want to reach, so why not tap into this with an affiliate program?
Here's how you can add an affiliate marketing program to your membership website.
Step 1: Choose the Right AffiliateWP Pricing Plan
Check out our integrations and find out if your member platform syncs with AffiliateWP. If your platform is listed in the integrations it means all three of our plans will connect with your online membership program in just a few clicks.
Then, head over to our pricing page, and compare the different packages to your business needs. The main differences are the number of websites the plugin can be run on, and access to pro-add-ons.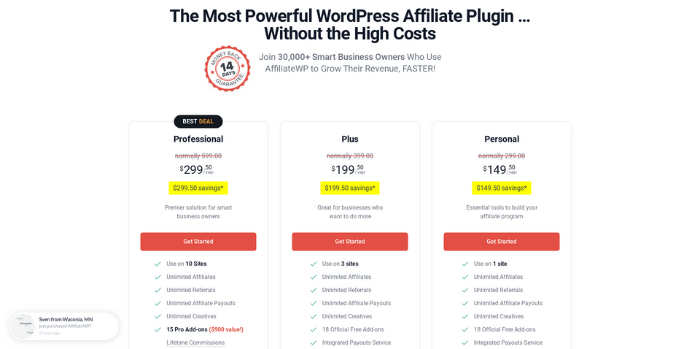 If you're looking for those little extras like lifetime commissions and recurring referrals for subscription payments, then the Professional plan is the perfect fit for you.
Step 2: Download and Activate the AffiliateWP Plugin
Once you've completed your purchase, you'll receive an email confirmation with some important information: keep this handy.
Open your WordPress dashboard, and hover over Plugins in the left-hand sidebar before clicking Add New. At the top of the page, you'll see three tabs, choose Upload Plugin on the far right.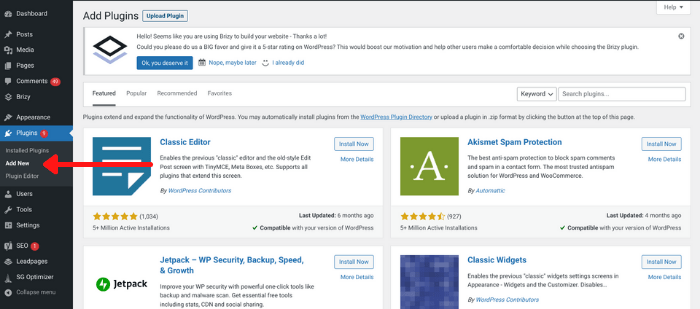 Go back to your confirmation email and click the download link to download the AffiliateWP.zip file. Now go back to WordPress and click Choose File before selecting the AffiliateWP plugin you downloaded, and then click Install Now.
Once the file has been downloaded, click Activate.
Hover over the left-hand sidebar again, and you'll see an Affiliates tab, click the Settings button.
Head back to your email and copy the license key. In your AffiliateWP settings, you'll see a box titled License Key, paste the key here and click Activate License.
That's the technical bit done, and now you're ready to start editing your affiliate program.
Step 3: Adjust Your Settings
Now that you've got your AffiliateWP plugin installed, take a little time to check out the settings.
We want to make your affiliate program customizable to your needs, so you'll find there are lots of different elements you can change. Two of the most important are your commission structure and cookie policies.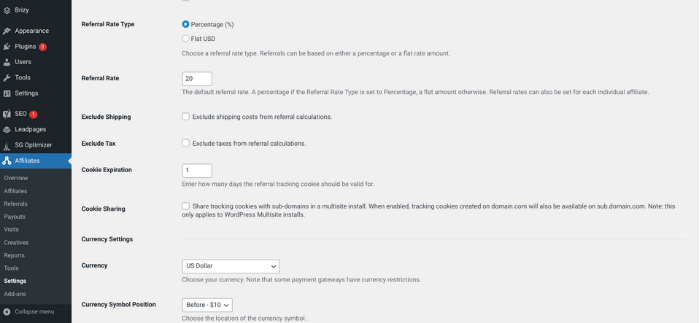 You'll find these in the General tab in your AffiliateWP settings, just scroll down until you see the Referral Rate Type box, and take a look at the different options.
Step 4: Connect Your Affiliate Program to Your Online Membership Program
In the AffiliateWP settings, you'll see a tab titled Integrations. Click this button and you'll see a list of integrations with checkboxes next to them.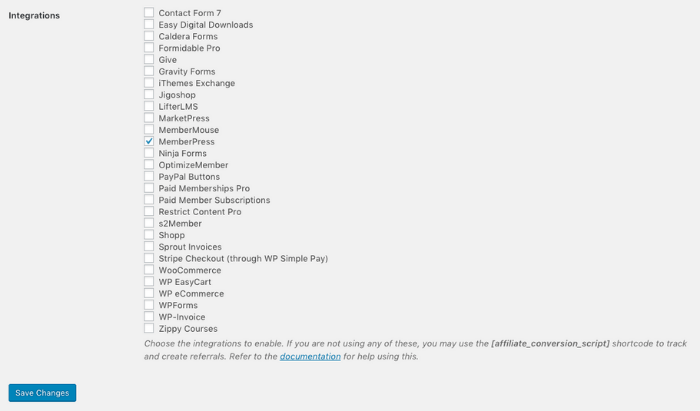 Look for your membership platform in the list, and mark the check box next to the correct one before clicking Save Changes.
Just like that, your affiliate program will be linked with your membership platform.
If you need more specific setup information, then head to our documentation page and type your membership platform into the search bar.
Step 5: Explore the Add-Ons
If you've gone with the Professional plan, then you have access to all our add-ons. Many of these link well with online membership programs, so they're well worth exploring.
If your members pay a monthly subscription, then the recurring referrals will be a vital part of your affiliate program, but there are many other little extras that can help your program stand out from the crowd.
Once you've got everything set up, then you're ready to start finding motivated affiliates.
Examples of Great Membership Websites with Affiliate Programs
If you want to see some amazing membership websites in action then check out WPBeginners' list of 18 of the best membership site examples. We've picked out just a few for you to show you how an affiliate program can be integrated with a top membership site.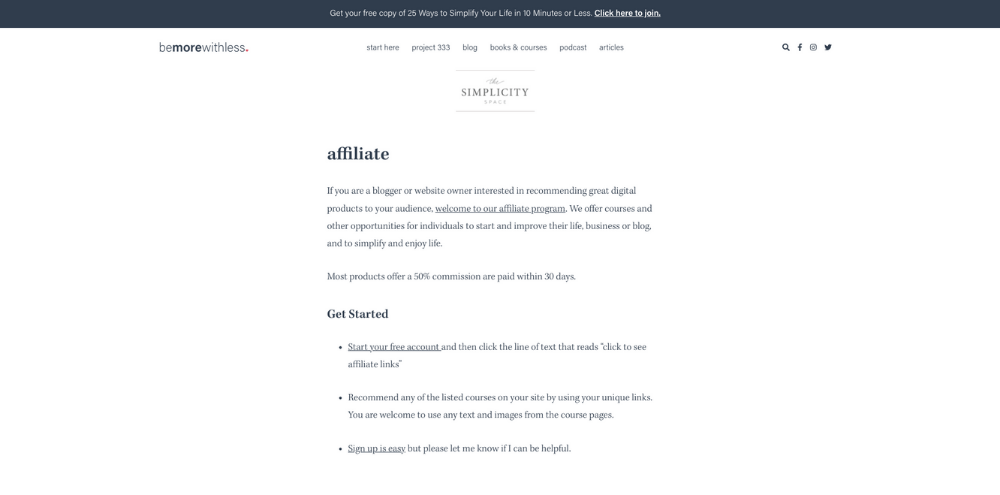 Be More with Less is all about minimalism. It offers blogs, courses, podcasts, and much more to help people simplify their lives.
The site is partly monetized through a membership program that offers members access to courses, exclusive content, helpful tools, and community chat. It's a great website, and it's got more than enough helpful content to attract members on its own, but it also uses an affiliate program to help generate sales.
It just goes to show that even a celebrated, established membership website can benefit from an affiliate marketing program.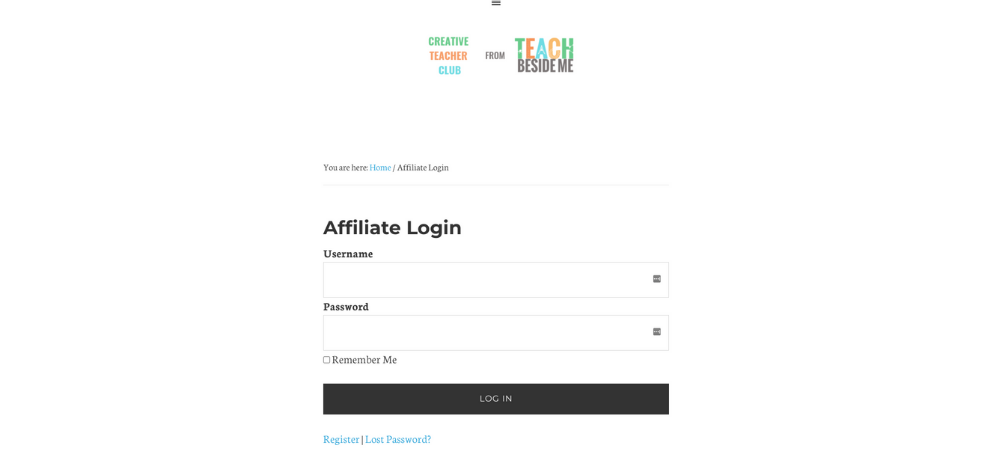 Teach Beside Me is an online resource that offers teaching ideas for homeschoolers. With blogs, books, and podcasts dedicated to creative teaching ideas, it's an extremely useful place for parents and educators to get new ideas.
Members get access to "done for you" teaching and the premium content library. This premium content idea is popular with online membership programs and can be a great way to draw new members.
Teach Beside Me also grows its business with an affiliate marketing program that publishers can sign up to.
Boosting Your Online Membership Program
One of the key elements of growing any business is getting it in front of the right people. When you have an affiliate program for your membership website, you have an instant way to expand your reach and grow your audience.
If you've got a great online membership program, then affiliates around the world are going to be eager to help you promote it. All you need is the right affiliate marketing program, and with AffiliateWP you can add one to your membership website in just a few clicks.