How to Set Up a Membership Site Affiliate Program (Guide)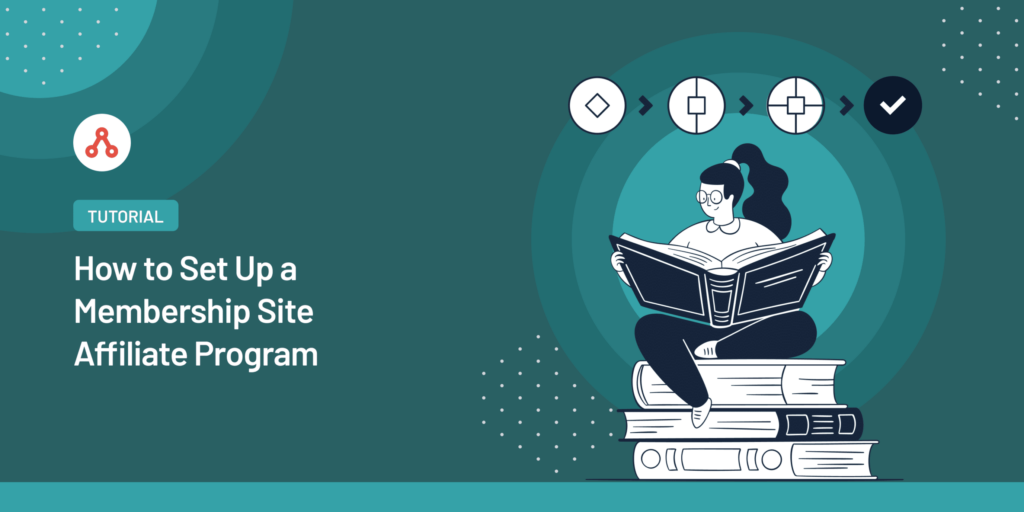 Want to set up a membership site affiliate program?
It's an amazing way to grow your membership website sales and it's actually easier than you might think.
Here's how you can set up a membership site affiliate program.
Why is An Affiliate Program Perfect for Membership Sites?
Affiliate programs are ideal for membership sites because they're a low-risk way to reach your target audience.
While you're focusing on great content for your members, affiliates (bloggers, social media influencers, search engine optimization (SEO) experts, webinar creators, podcasters, and more…) can boost your digital marketing, bringing your products to huge audiences. The great thing about this is that you don't pay until the affiliate makes a sale.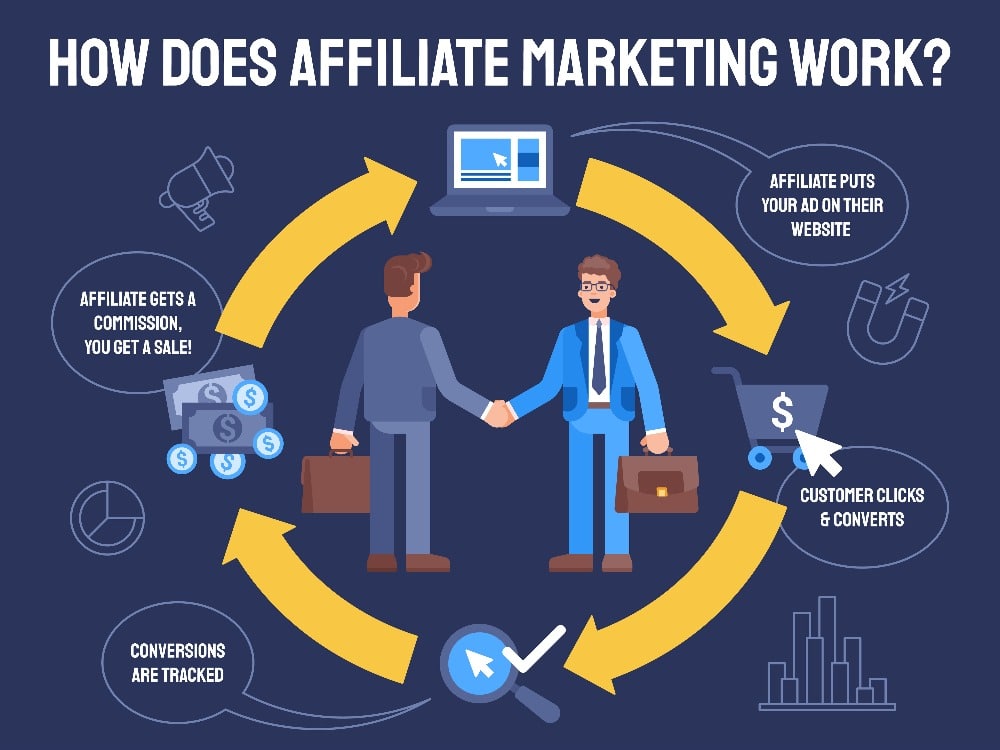 Another key reason why membership site affiliate programs are so useful is because they tend to have flexible pricing. Because you're selling the same product over and over again (there's no manufacturing or warehousing), there tends to be a great margin. This means you can afford to play around with your pricing and offer a tantalizing affiliate commission.
So, what's stopping you from setting up your own affiliate program?
Well, some people get drawn to the big affiliate networks for the promise of easy e-commerce sales. Many find that while there are tons of affiliates on there, there's also tons of competition to attract them and it doesn't work out. Throw in the fact that you pay a large fee to the networks, and it's not a recipe for success.
That leaves you with the option of setting up your own membership site affiliate program, but many people think it will be difficult and overly technical. We're here to tell you it's not, and show you how you can easily set up your own affiliate program.
8 Steps to Set Up a Membership Site Affiliate Program
Setting up a membership site affiliate program in WordPress is very easy. You can actually start tracking referrals in just 2 steps, but we've included some important tips to make sure you're perfectly set up for success.
Install AffiliateWP
Complete the Setup Wizard
Enable Subscription-Specific Tracking
Customize Your Affiliate Area + Registration Form
Accept or Reject Affiliate Applications
Affiliates Promote Your Memberships
Track Visits and Referrals in Reports
Pay Affiliates in Your WordPress Dashboard
You won't need any advanced technical skills or coding knowledge to complete these steps! Anybody can complete them and set up a membership site affiliate program.
Step 1: Install AffiliateWP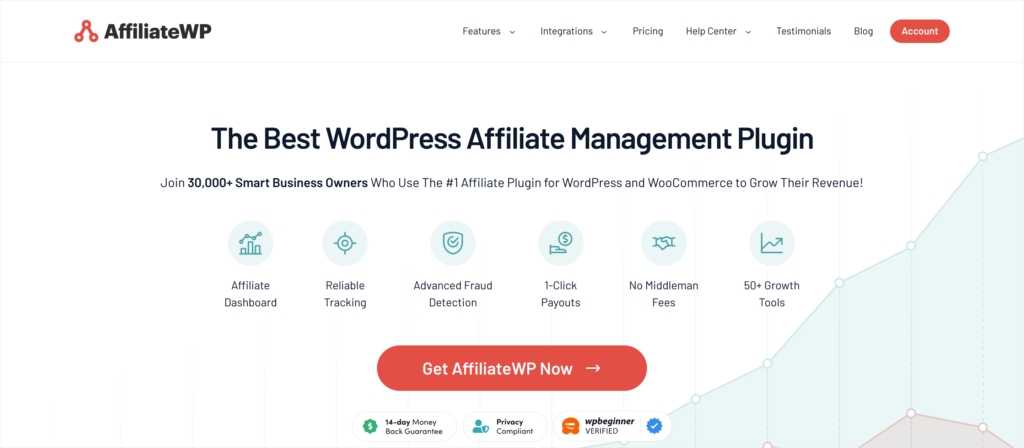 AffiliateWP is the best affiliate management plugin for WordPress.
It integrates with a whole host of Membership and LMS plugins to help you set up a WordPress affiliate program in under 10 minutes.
MemberPress
Restrict Content Pro
MemberMouse
LearnDash
OptimizeMember
Paid Memberships Pro
And more…
The easy setup wizard will walk you through every step and before you know it, you'll be able to track affiliate links on your course sales.
The best thing about this is that everything is user-friendly. Whether it's the setup, affiliate management, or affiliate payouts, AffiliateWP is designed to run like clockwork.
Throw in some advanced growth tools that are built with online stores and membership sites in mind, and you've got a perfect recipe to grow your WordPress site's sales.
Just go to the pricing page and choose the plan that best fits your needs.
Once you've completed your purchase, you'll be able to quickly install the plugin using this handy tutorial, and then you're ready to get set up!
Step 2: Complete the Setup Wizard
AffiliateWP's setup wizard is going to walk you through the steps to set up your membership site affiliate program.
To get started, go to your AffiliateWP Settings and click the Launch Setup Wizard button at the bottom.
The first step is to enter your license key which can be found in your AffiliateWP Account. Just copy and paste the key into the box and then click Continue.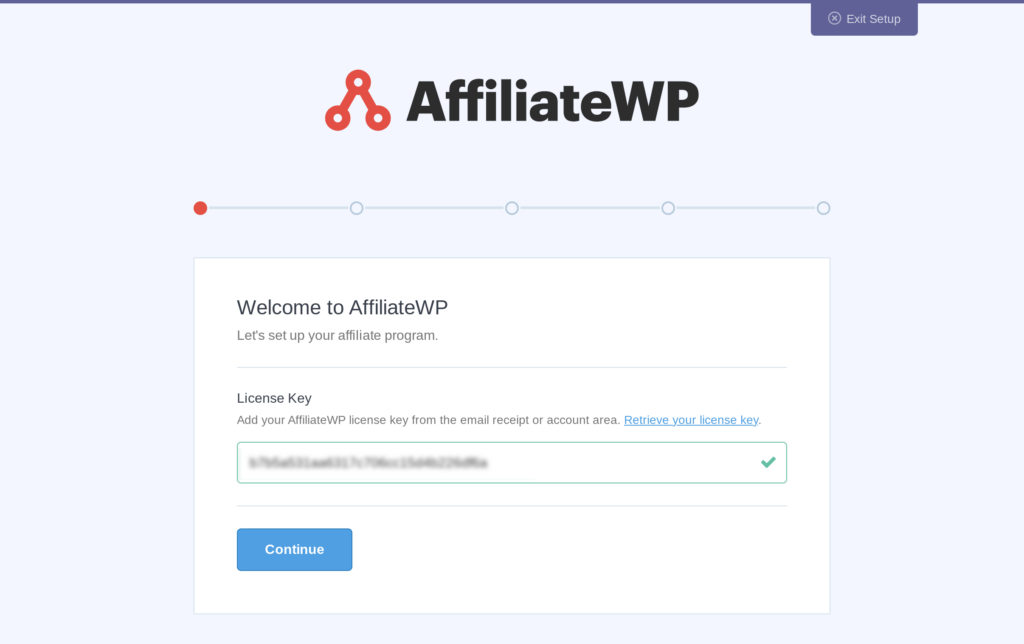 Now we get to the clever part – you can integrate your membership or course plugin with just a click. Click on Membership Integrations or Course Integrations to expand the list and find your WordPress plugin. Check the checkbox next to your software and then click Continue.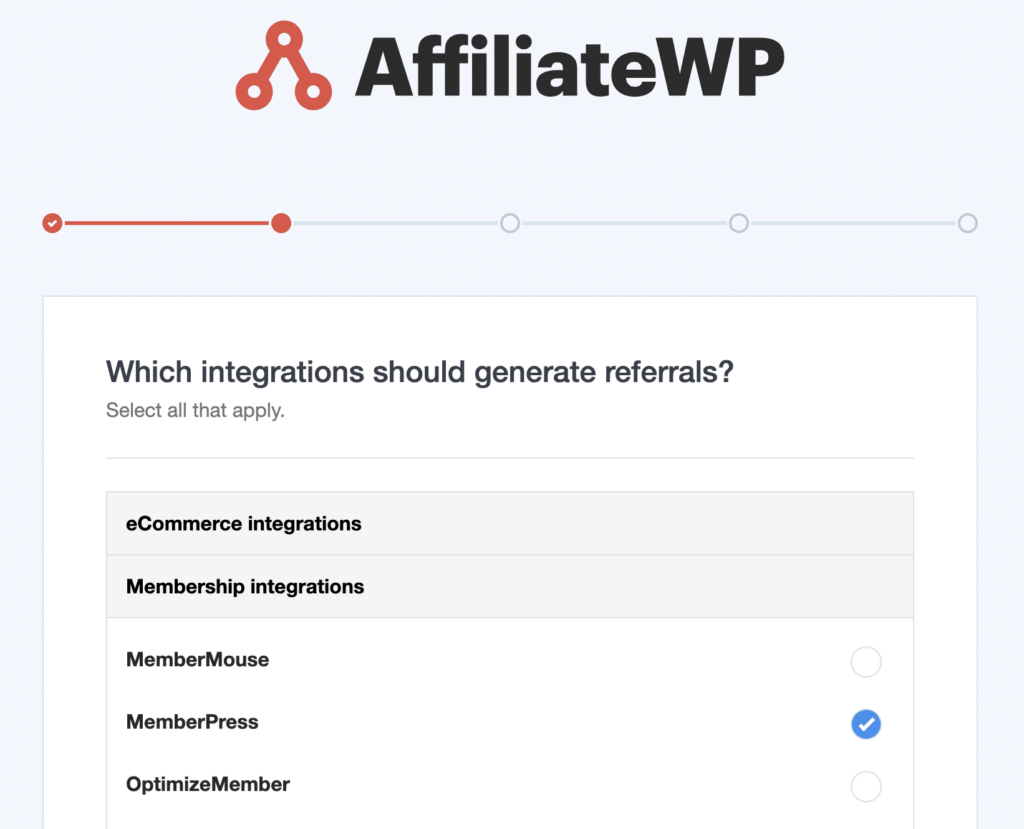 Next, it's time to choose your currency and commission structure. Select your currency from the dropdown menu and then think about what commission rate you want to offer. You can choose between a flat rate or percentage commission, and it's completely up to you how much you want to offer.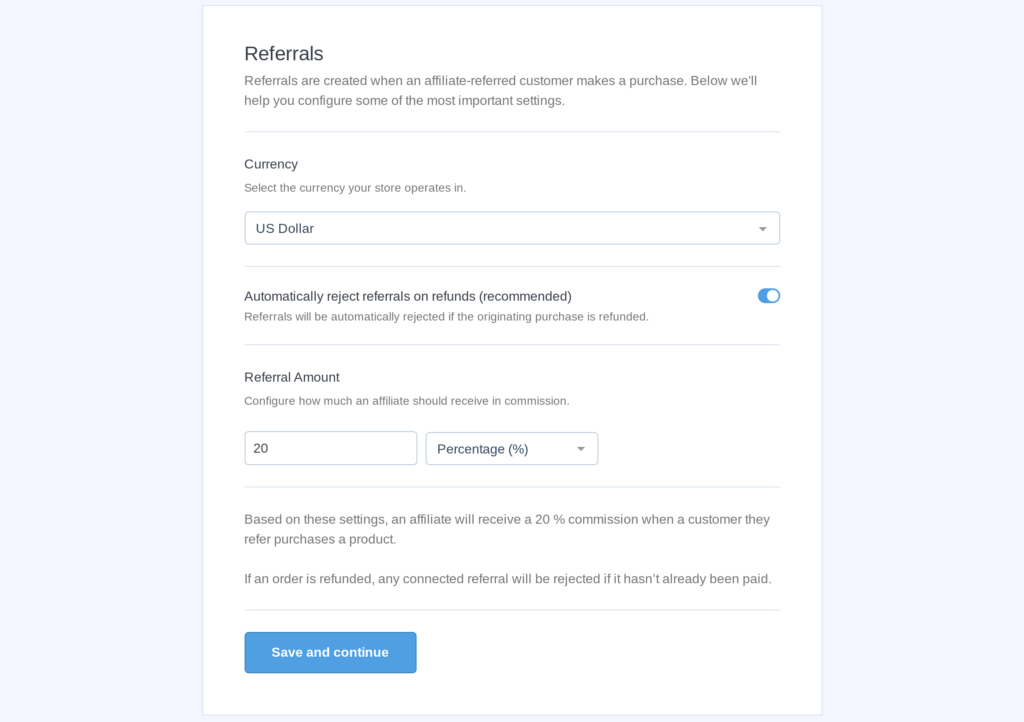 If you're not 100% sure, then choose a standard rate like 20%, and then you can always change this from your Settings.
Click Save and Continue and then you'll be asked to choose your cookie expiration. This decides how long the affiliate cookie stays in the user's browser – for the affiliate to be eligible for a commission, the user must complete their purchase within your chosen cookie expiration.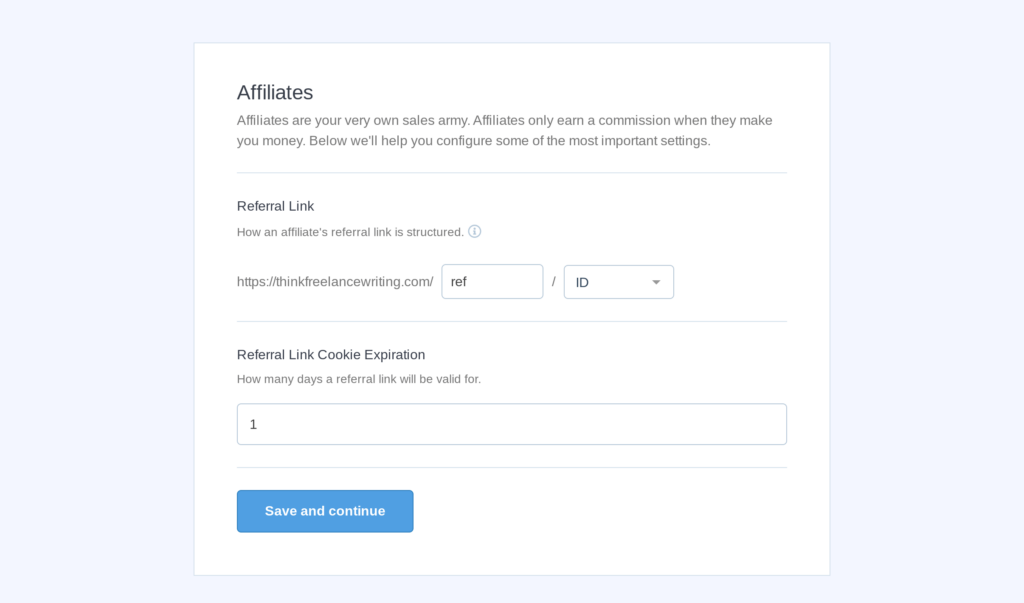 Again, you can always edit this at a later date, so if you're not sure, choose a standard duration like 30 days and then click Save and Continue.
You'll now be brought to a confirmation page where you can click Finish the Setup and Exit the Wizard.
That's it, you now have a membership site affiliate program!
Professional plan holders can also pay out recurring commissions by activating the Recurring Referrals addon.
Step 3: Enable Subscription-Specific Tracking
Depending on your integration, you might have to enable affiliate tracking on a subscription-specific basis.
You can do this by editing individual memberships within your membership plugins. For more information on this, check out the documentation page and search for your plugin.
With many of the integrations, this means you can offer membership-specific commissions, which is extremely handy. For instance, you might offer a bigger commission on your most expensive membership plan and a lower commission on your least expensive plan.
AffiliateWP integrates deeply with these plugins, so it's worth taking the time to explore the tracking settings within the plugins themselves.
Step 4: Customize Your Affiliate Signup Page + Registration Form
When you install AffiliateWP it will automatically create an Affiliate Area page where potential affiliates can sign up for your program. This page will sync with your WordPress theme, but it's worth taking a little bit of time to add some customization.
You can edit the Affiliate Area just like any other WordPress page by clicking Pages in your WP admin.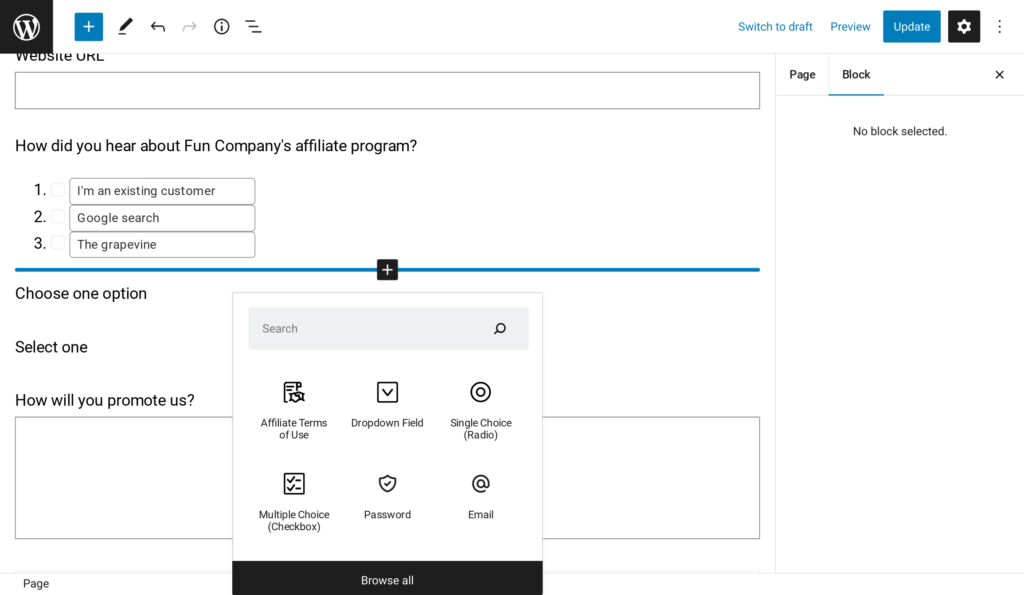 The most important part is your affiliate registration form because this is going to help you attract the very best affiliates to your program. To help you maximize signups, AffiliateWP gives you 4 different ways to customize the affiliate registration form.
WordPress blocks
WPForms
Gravity Forms (Plus and Professional plans)
Ninja Forms (Plus and Professional plans)
This unleashes all the power of your form builder into your referral marketing program, helping you to convert more affiliates and incorporate more automation.
Step 5: Accept or Reject Affiliate Applications
When someone fills out your affiliate registration form you will automatically receive an email notification (you can edit all notification settings in the Emails tab of your AffiliateWP settings).
To approve or reject the application, go to the Affiliates page and click the Pending tab. You'll now see a list of all your open applications. To see more details on the affiliate application, simply click on the affiliate's name, and then use the Accept or Reject buttons to make your final decision.
An email will be sent to the affiliate notifying them of your decision, and if accepted, they'll be able to log in to their affiliate dashboard from the same Affiliate Area page they signed up on.
Step 6: Affiliates Promote Your Memberships
Everything your affiliates need can be found on their affiliate dashboard.
AffiliateWP will automatically create an Affiliate URL Generator as well as statistics, graphs, coupons, and settings tabs, but all of this is completely customizable.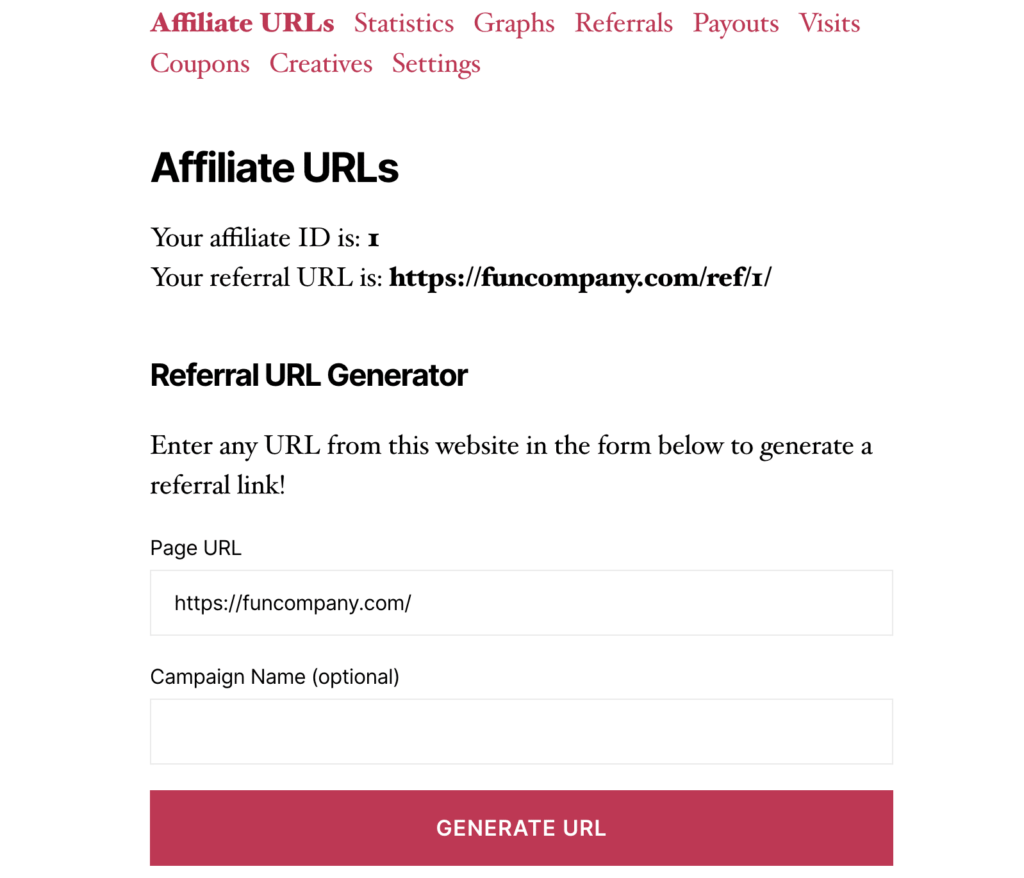 You can use the Affiliate Area Tabs addon to add extra elements like an affiliate onboarding or product summaries. Essentially, you want to give your affiliates all the information they need to sell your membership subscriptions, and then they'll be able to promote your digital products more efficiently.
Affiliates will then be able to use affiliate links and coupon codes to promote your memberships in their blogs, social media posts, email marketing, podcasts, and much more.
Step 7: Track Visits and Referrals on the Reports Page
AffiliateWP makes it incredibly easy to track the visits and referrals affiliates send to your site. You can access all this data and more from the Reports page.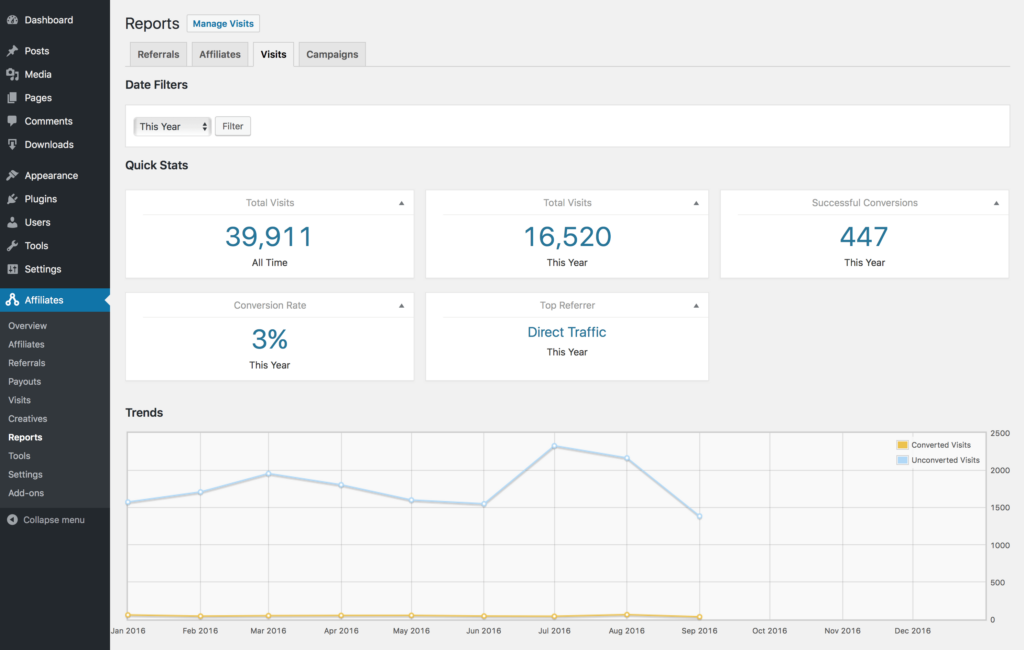 Here, you'll be able to see quick stats and trends for your affiliate program as well as dig deeper into referrals, affiliates, sales, payouts, visits, and campaigns. This gives you a huge amount of data to get the insights you need into how your affiliate program is running.
Step 8: Pay Affiliates from Your WordPress Admin
AffiliateWP's integrated payouts service allows you to pay affiliates directly to their bank accounts without ever leaving WordPress. The payouts service syncs all your data and makes it simple to pay affiliates in just a few clicks.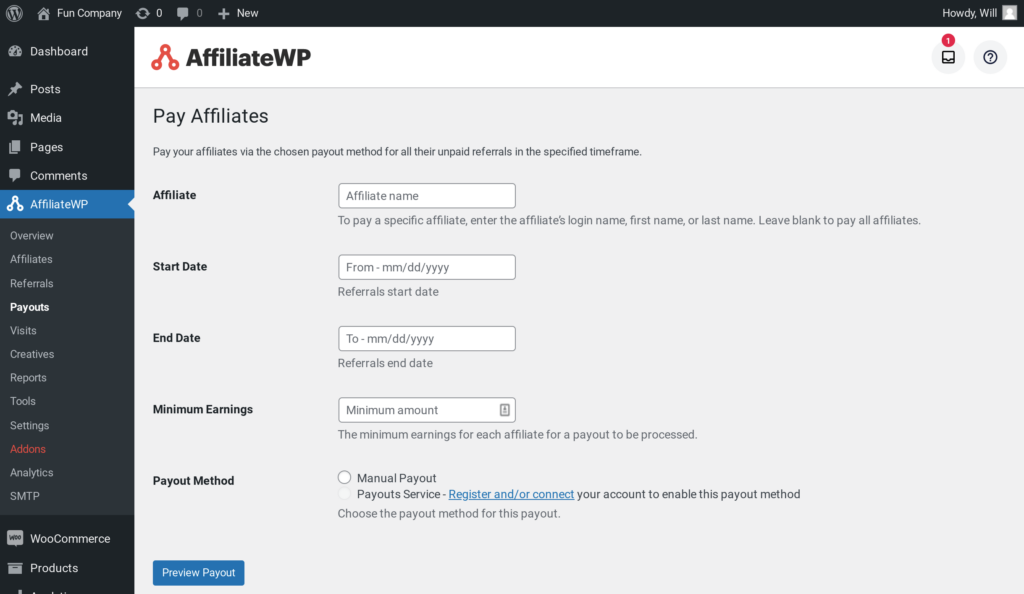 Alternatively, we also offer a PayPal Payouts addon which gives you the added option of paying affiliates through PayPal.
Affiliate payouts are one area where it pays to have manual authorization, so AffiliateWP has made this process as simple as possible for you.
Now Sign Up Top Affiliates
AffiliateWP gives you an amazing platform to attract great affiliates, and they are out there!
We find that 80% of your revenue comes from 20% of your affiliates, so it pays to invest in finding the very best ones. To help you achieve this, we've put together a complete guide on how to get more affiliates – check it out.
Here's a quick summary of some of the key points:
Get the best affiliate software (you've come to the right place)
Customize your affiliate signup page
Optimize your affiliate signup form
Offer creative commissions
Leverage email marketing
Showcase affiliate success stories
And much more…
Your affiliates are the lifeblood of your program, so it pays to go the extra mile with this step.
There are affiliates out there who can make a big difference to your membership sales, bringing in new customers with a focus on retention, you've just got to find them!
FAQs: Membership Site Affiliate Program
How does affiliate membership work?
An affiliate membership program works by incentivizing affiliates to send you new members. Using affiliate tracking software, you can build high-quality affiliate partnerships and pay a commission whenever someone refers a user who signs up for one of your memberships.
How do affiliates get paid?
Affiliates get paid through the affiliate payouts functionality that's built into affiliate software. This allows small businesses to keep track of affiliate sales and make sure affiliates get paid the correct amounts.
What's the best affiliate plugin for membership sites?
If your website runs on WordPress then AffiliateWP is the best affiliate plugin for membership sites. It helps you to quickly set up an affiliate marketing program to boost your conversion rates and grow your sales. With lots of tools to help you attract high-quality affiliates, it's the perfect option for membership websites.
How do affiliates promote membership sites?
Affiliates can promote membership sites on their social media pages, blog articles, webinars, and more using text links, affiliate coupon codes, or even through direct link tracking.
You're Ready to Start Your Membership Site Affiliate Program
We've shown you that it's straightforward to set up a high-performing membership site affiliate program, now, you just need to take the first step.
Before you start, we've got a few more resources for you though:
Now there's only one thing left to do.
Get AffiliateWP and set up your membership site affiliate program today!