How to Set Up Affiliate Terms and Conditions (The Right Way)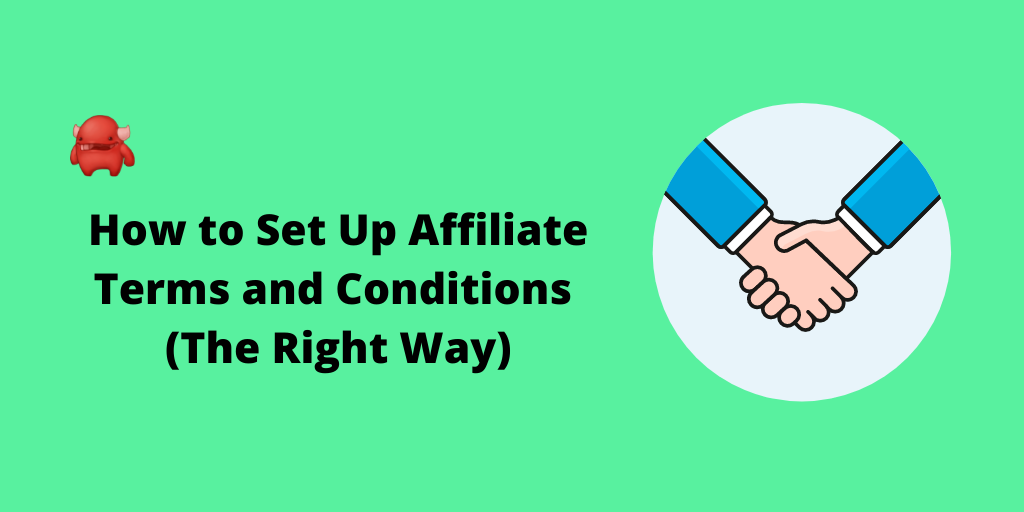 Need to set up affiliate terms and conditions for your program?
We're going to show you the quickest way to draft and publish an affiliate partnership agreement that protects your business.
Here's what we're going to discuss:
Read on to find out the best way to set up your affiliate terms and conditions.
Why Does Your Program Need Affiliate Terms and Conditions?
Every transaction we make, whether it's buying groceries at the store, or paying a plumber to fix the sink is governed by a contract. The basic premise of that contract is that you pay an agreed-upon amount in return for a certain service, but it goes much deeper than this.
Affiliate marketing is transactional: you're paying a commission for a referral, and so, it too needs to be covered by a contract. Again, the basic premise is that your affiliates receive a certain reward for a specific action, but the details of the relationship are much more intricate than that.
Your affiliate terms and conditions are the way in which you govern your affiliate relationships and the transactions you have with your program members.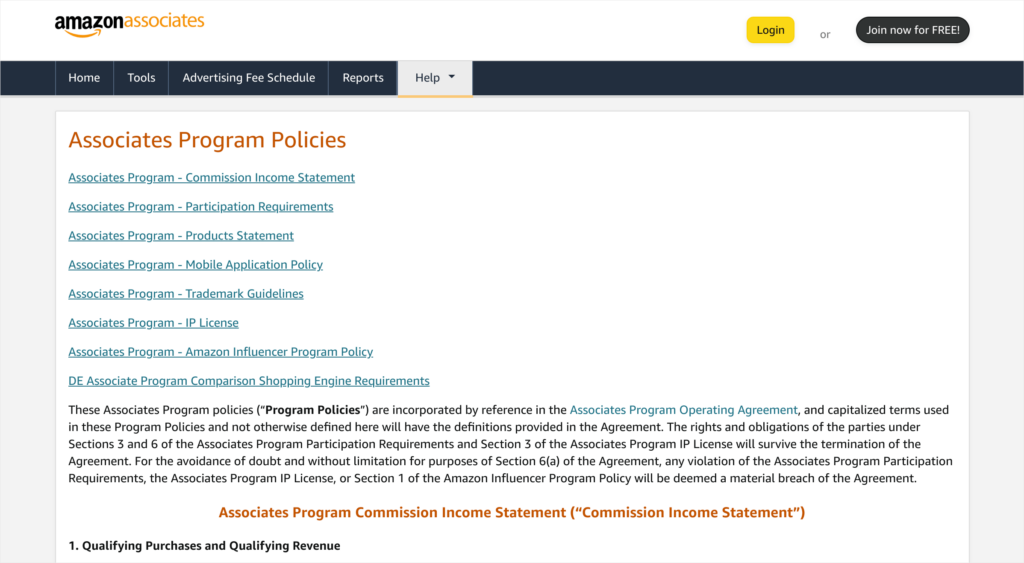 Without clear guidelines, it's impossible to build trust and ensure an affiliate program that's fair to both parties. This means your affiliate terms and conditions should be one of your first priorities when you start your affiliate marketing program.
How to Set Up Affiliate Terms and Conditions in WordPress
It couldn't be easier to set up your affiliate terms and conditions in WordPress.
Just follow these four simple steps.
If you're looking to start a new affiliate program, then you can jump straight in with these steps.
However, if you've already got an affiliate plugin on your site, it's not too late to migrate over to AffiliateWP. We'll make the transition simple, and as you'll see we also make it incredibly easy to get an affiliate program set up (complete with a robust affiliate terms and conditions).
Step 1: Install AffiliateWP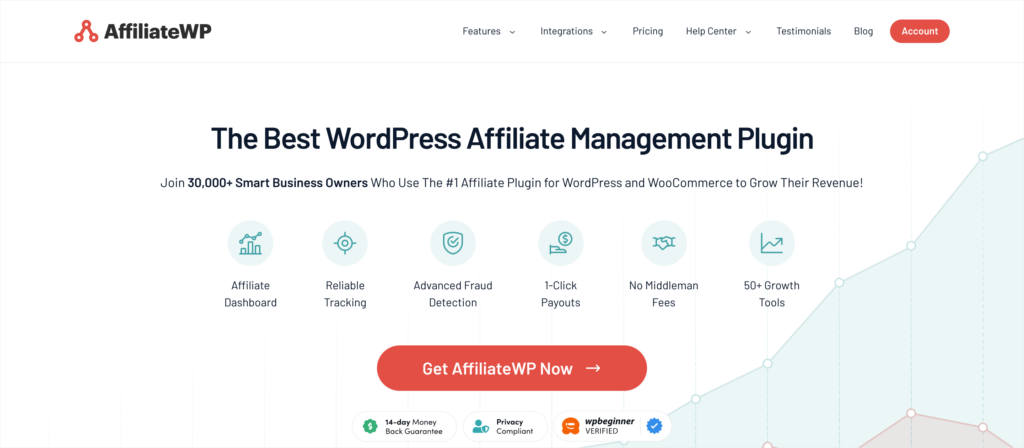 AffiliateWP is the best affiliate management plugin for WordPress, and it's got all the tools you need to draft a comprehensive affiliate terms and conditions page.
Head to the pricing page and select the plan that best fits your needs, and you're ready to get started.
Follow this easy guide to download and install the plugin, and then open the setup wizard in your AffiliateWP settings to integrate your products in just a few clicks.
Once everything is synced, you're ready to create your affiliate terms and conditions (affiliate partnership agreement) page.
Step 2: Open the Terms of Use Generator and Enter Your Company Name
This easest way to create your terms and conditions page is with AffiliateWP's free Terms of Use Generator.
Just click Tools underneath AffiliateWP in your WordPress dashboard and then choose the Terms of Use Generator tab at the top of the screen.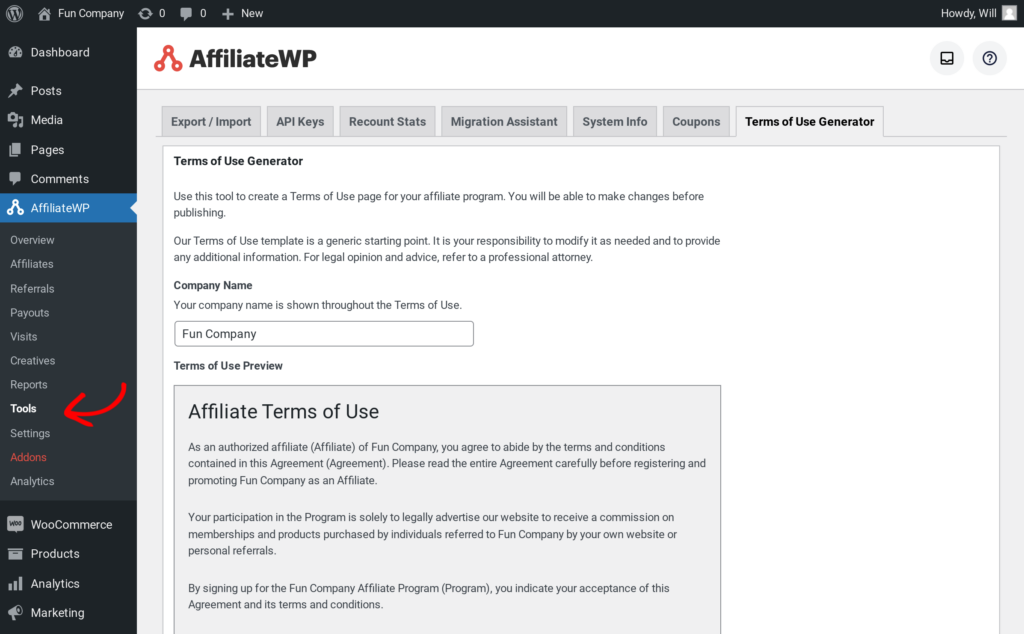 All you need to do now is enter your company name into the box and your entire agreement will automatically update with the new information.
Just click Create Terms of Use Page and you're ready to publish the new page.
Step 3: Edit and Publish Your Affiliate Terms and Conditions
When you click the Create Terms of Use Page button a new WordPress draft will be opened.
On this screen, you can edit your affiliate terms and conditions and add any extra details you might want to include.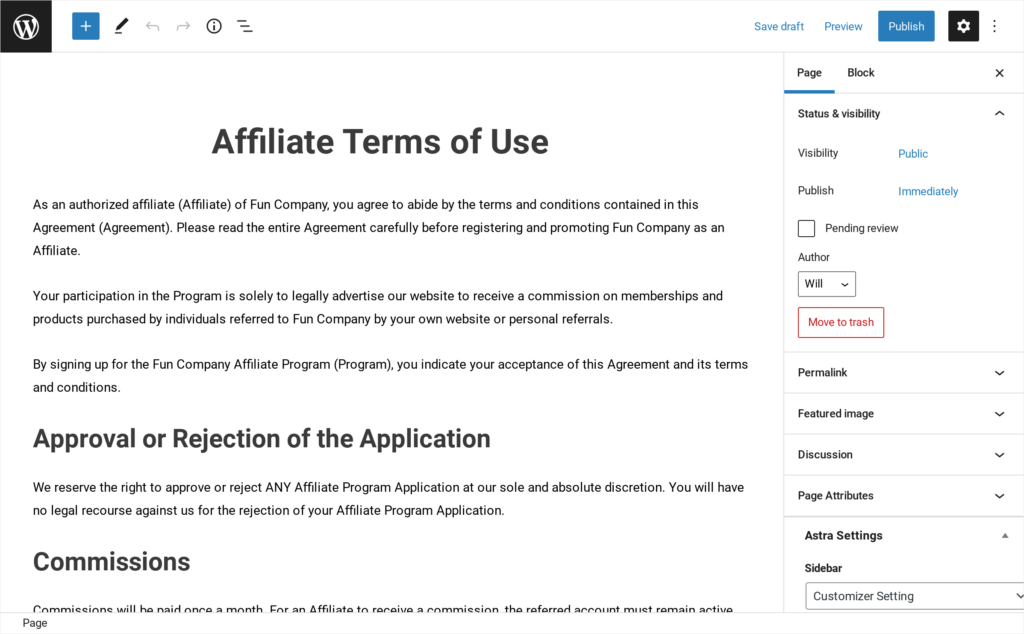 As soon as you're happy with your work, simply hit Publish and your affiliate partnership agreement will be live.
You can now add it to your footer, sidebar, affiliate registration forms, affiliate dashboard, social media pages, or whevever you like.
That's it, it's that simple with AffiliateWP's terms and conditions generator!
Step 4: Show Your Affiliate Terms and Conditions in Your Registration Form
One of the best places to highlight your terms and conditions is in the affiliate registration form. This is when affiliates are eagerly seeking information and are most likely to pay attention to the rules that govern your program.
You can easily add your affiliate terms and conditions to your registration form in a neat scroll block with AffiliateWP's blocks.
Just go to Pages and search for your Affiliate Area page. Open the page up and click on the registration form, and you will see a little + button. Click the + button and it will bring up a list of blocks you can add to the form. Search for the Affiliate Terms of Use Block and click to add it to your form.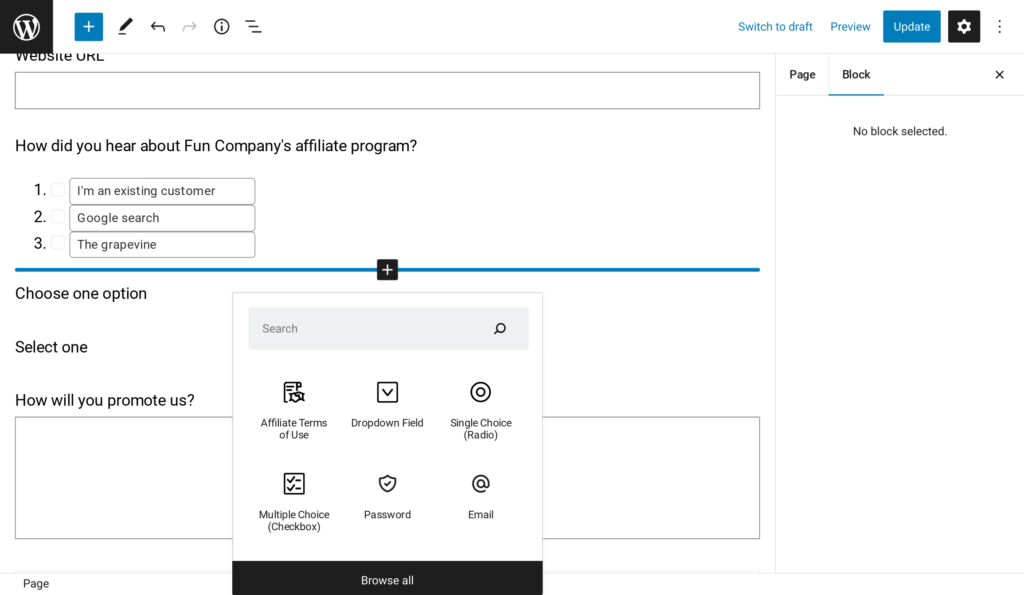 Use the search function to select your affiliate terms and conditions page, and then, in the display style options in the right-hand sidebar, check Show Above Checkbox. This will insert a box that allows your affiliates to scroll through your terms and conditions before agreeing to them.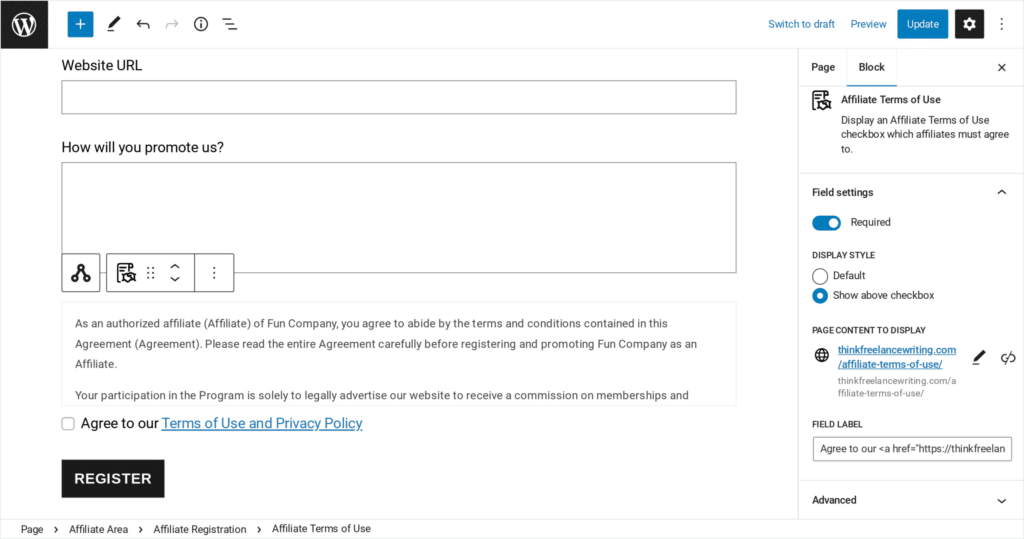 You can make this step a requirement by toggling the Required button in the block settings.
Other Ways to Create an Affiliate Partnership Agreement
People refer to the contract you enter into with your affiliates in many different ways. You'll hear it called an affiliate agreement, affiliate terms, affiliate terms and conditions, terms of service, operational agreement, and more.
Essentially, they're all talking about the same thing though: a contract that protects both parties.
So, how else (other than AffiliateWP's affiliate terms and conditions generator) can you go about creating this document? There are two other options:
Have a lawyer draft your agreement
Draft the agreement yourself
There's nothing stopping you from drafting your affiliate terms and conditions yourself, but when you go to a professional (although attorney's fees can be expensive), it can give you that extra peace of mind. Whichever route you choose, there are some basic elements your affiliate terms and conditions are likely to include.
A Basic Affiliate Terms and Conditions Template
Your affiliate terms and conditions should serve as a funnel, helping to discourage the bad affiliates and assure good affiliates of the value of your program. To do this, it's got to be visible and easily understood.
Of course, you want to be thorough, but it's also important to use clear language and keep it short enough that people are likely to read it.
Here are some elements your affiliate terms and conditions are likely to include.
1. Foreword
The foreword is your introduction. Take this opportunity to welcome affiliates to the program, explain why the agreement is important to them, and encourage them to reach out if they have questions.

2. Definitions
Affiliate marketing tends to use quite a bit of technical language, so a definitions section can be helpful to avoid any confusion. You don't need to explain every word, but if you think there are some ambiguous terms used, then clarify them in this section.

3. Summary
How often do you read the entirety of a legal document? If the answer is every time, then you're probably in the minority.

Unfortunately, not everyone will read your terms and conditions, but at least if you offer a summary near the top, then people can get a good feel for what you're looking for in an affiliate.
Whether the affiliate reads the document or not, they'll still be bound by the rules, but you want them to understand your wants and needs as much as possible.
Focus on the most important elements of your terms and conditions like:
The type of affiliates you will and won't accept in your program
The type of content you do and don't want your brand to be associated with
FTC (Federal Trade Commission) affiliate disclosures
Banned behaviors
This will give readers a quick impression of what your affiliate program is all about.
4. Enrollment
The enrollment section should explain the enrollment process and requirements to be considered for your program.

With AffiliateWP, you can make it so affiliate signups need to be manually approved, giving you an opportunity to check the affiliate's website, socials, and other information to make sure they comply with your requirements.
Make sure you clearly set out these requirements, and highlight all the behaviors that will exclude affiliates from registration.
5. Affiliate Disclosure
Affiliate disclosures are a legal requirement. They're there to protect consumers, but they also help protect the reputation of your brand, and your affiliates.

Your affiliate terms and conditions should state that affiliates must disclose that they receive compensation from affiliate links, in line with the FTC guidelines.
This is very important for the image of your program, so make sure it's clearly stated that failure to comply will result in affiliates being removed from the program.
6. Trademark Policy
Part of creating a great affiliate marketing program is giving affiliates access to the tools they need to make sales. Generally, this will include a wide range of creatives that might use your trademark.

It's important that you have guidelines over how affiliates use your trademarks and intellectual property rights because when used in the wrong way, they can seriously harm your brand. For instance, you wouldn't want an affiliate replicating your website (colors, branding, navigation, everything) and then running PPC ads for your brand name to trick people into thinking they're on your official website.
7. Promotional Methods
This is another extremely important section in your affiliate terms and conditions. This will govern how affiliates promote your content, and the promises they make in your name.

Going back to the PPC example, if all your affiliates start bidding on your brand name, then that's just going to push your costs up. Affiliate marketing should do the opposite, so it's important to have well-thought-out rules on the promotional methods your affiliates can use.
Think about:
Paid search
Content guidelines
Video guidelines
Coupons and discounts
Incentivized traffic
Mobile apps
You might choose to ban certain (at your sole discretion) practices altogether, but it depends on the nature of your business.
8. Rights and Obligations
A large part of any contract is defining what rights and obligations two parties have to each other. In this case, when your affiliates sign up to your program, they have certain rights, but those rights come with responsibilities.

Your affiliates' rights and obligations might look like this:
The right to compensation within x days of a verified qualifying action
Access to creatives, an affiliate account, analytics, and other affiliate functionality
Affiliates are obligated to abide by your affiliate terms and conditions and all other applicable laws and regulations

In return, you, the merchant have your own rights and obligations:
Adjust your program's terms and conditions as you see fit
Monitor your affiliates to ensure they're following your guidelines
Terminate an affiliate's participation in your program if they're found to have violated the terms and conditions
9. Warranties and Representations
This section dictates that upon accepting the terms of your affiliate agreement, affiliates have met certain conditions.

These will be simple things like having read and understood the agreement, being of legal age to enter the agreement, and accepting that they're not in violation of any of the rules previously stated.
10. Payment Policy
Now we get to the bit your affiliates will be frantically looking for, your payment policy!

This section should set out all details about how you track referrals, what qualifies as a referral, your affiliate commission structure, cookie policy, refund policy, and payment methods. Again, you want to keep it in simple terms, but make sure there's no room for misinterpretation.
When your affiliates know exactly what to expect, that's when they're most likely to be motivated and engaged, so be open about this information.
Other Considerations for Your Affiliate Terms and Conditions
There are some extra technical details you might want to include at the end of your affiliate terms and conditions:
Terms
Disclaimer
Limitations of liability
Indemnification
Remedies
Limited license
If you've got doubts, then the best thing to do is look at a successful affiliate program's terms and conditions to see what they're doing. Think about how this matches with your needs, and make changes where needed.
Now It's Time to Set Your Affiliate Commissions
Now that you've got your affiliate program set up with a comprehensive affiliate terms and conditions it's time to start growing your sales!
The first step in this is choosing an affiliate commission structure that promotes growth.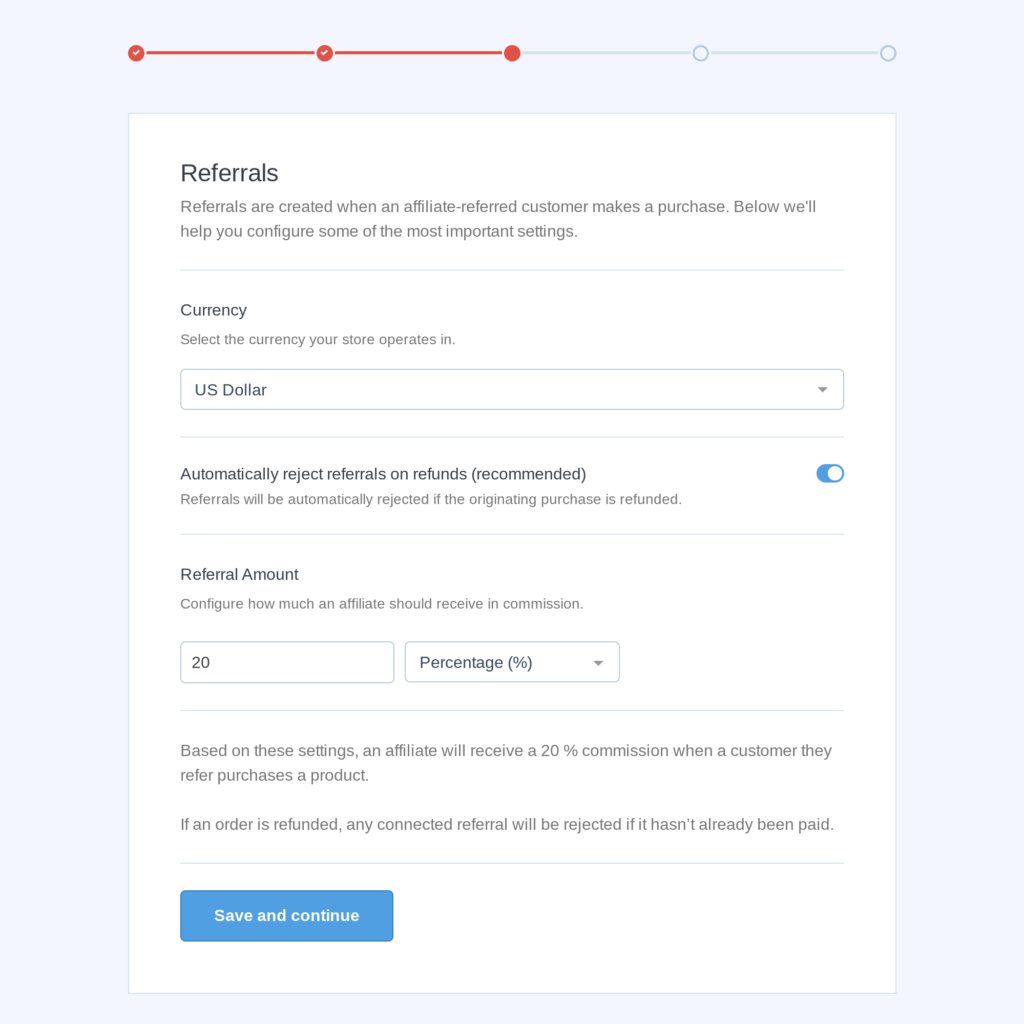 AffiliateWP offers you complete control over how you manage your commissions, but how should you use this flexiblity?
Check out this complete guide to setting commissions to give yourself the best chance of signing top affiliates.
Affiliate Terms and Conditions Provide a Great Base
A good affiliate terms and conditions page provides a great base for your affiliate partnerships.
It sets out expectations and governs the relationship, but what else should you be aware of as you navigate affiliate management?
Here are some great resources to help you out.
There's only one thing left to do.