How to Promote Your Products with Affiliate Coupon Codes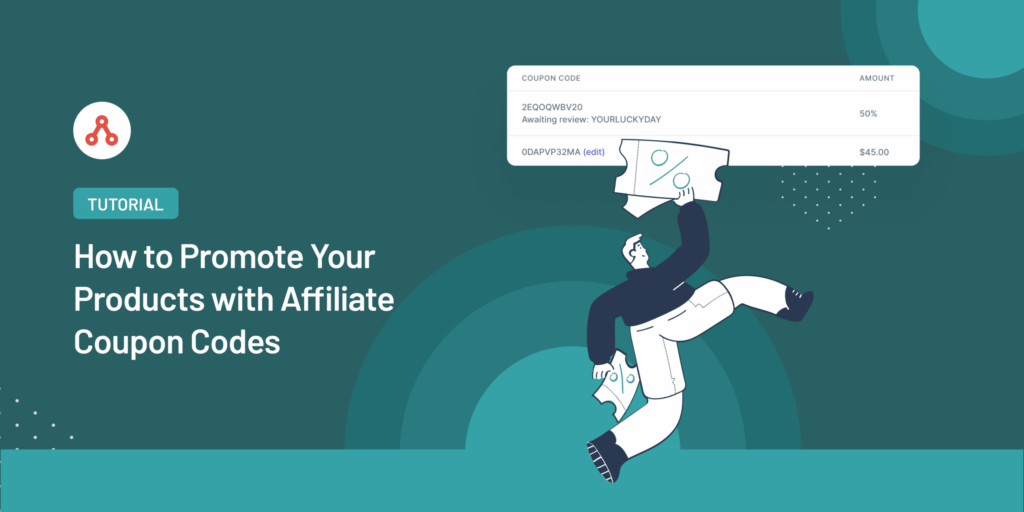 Want affiliates to promote your products using affiliate coupon codes?
It's a great way to get more clicks and boost sales, so we're going to show you how to set them up.
Here's how you can leverage affiliate coupon codes to grow your sales.
Why Use Affiliate Coupon Codes?
Affiliate coupon codes work because people are always looking for a bargain.
When we're getting a discount on something, we're much more likely to make a purchase, and it does wonders for conversion rates. In fact, it's one of the best ways to get more e-commerce sales.
So what about affiliate coupon codes?
Well, the exact same principles apply – people are much more likely to click a link and make a purchase if they think they're getting a great deal. They allow affiliates to stand out on the crowded platforms where they're marketing and get people's attention.
Affiliate marketing isn't easy but sometimes the right discount is all it takes to earn a sale.
Remember, your affiliates are reaching an audience you wouldn't ordinarily reach, so even a discounted sale is highly valuable.
So, how can you promote products with affiliate coupon codes?
7 Steps to Promote Products with Affiliate Coupon Codes
Setting up affiliate tracking and creating coupon codes might seem a little bit daunting, but it's actually quite straightforward. You can get everything set up in under 10 minutes, and crucially, there's no need for any coding or technical knowledge.
Just follow these steps to start promoting products with affiliate coupon codes.
Step 1: Set Up Affiliate Tracking with AffiliateWP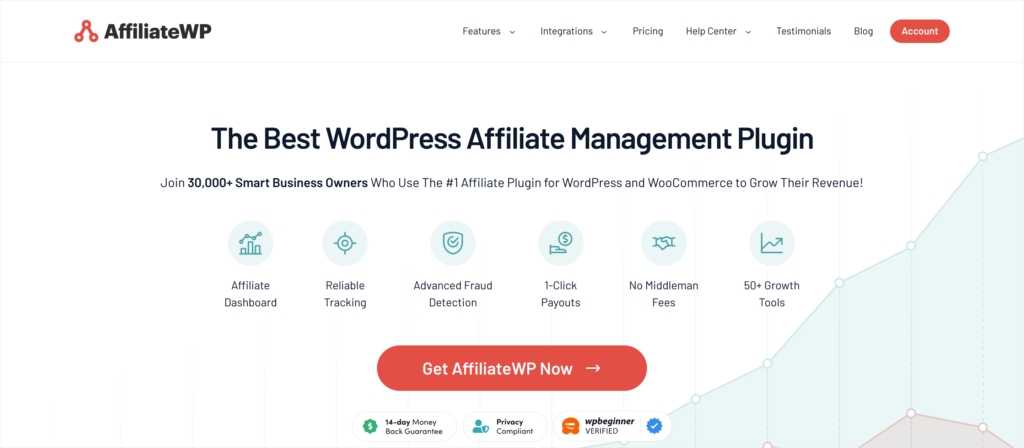 Before you start creating affiliate coupon codes, you need to have a tracking system in place.
If your website runs on WordPress, then AffiliateWP is the best affiliate management plugin. It will let you set up affiliate tracking in just a few clicks, and it's got some awesome features to help you manage your program.
With a host of 1-click integrations with your favorite WordPress plugins, it's going to help you get set up quickly so you can start leveraging affiliate coupon codes. Throw in some powerful growth tools, and you've got the perfect solution.
Just go to the pricing page and choose the plan that best fits your needs.
You can quickly download the plugin following this handy guide, and then you'll be ready to create affiliate coupon codes.
Step 2: Complete the Setup Wizard
We told you it's possible to have everything ready in under 10 minutes, and this is the reason why! The setup wizard breaks the process down into simple steps so you can create your own WordPress affiliate program.
Just go to the AffiliateWP Settings screen and click the Launch Setup Wizard button.
The first step is to enter your license key, which can be found in your AffiliateWP Account. Copy and paste the key into the box and then click Continue.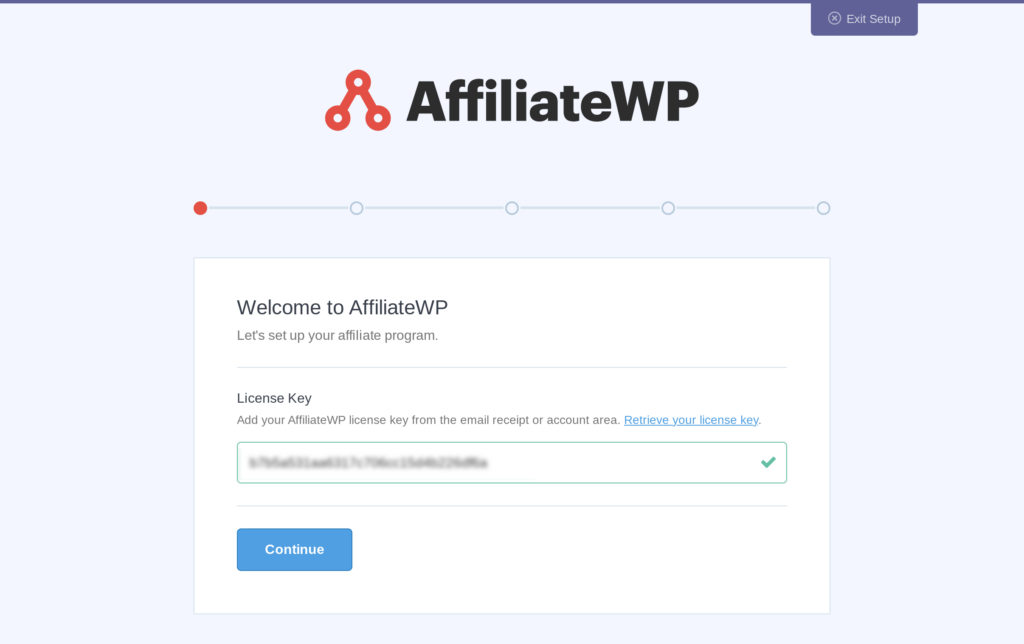 Now it's time to integrate your plugin. Find your chosen integration on the list and check the corresponding checkbox before clicking Continue.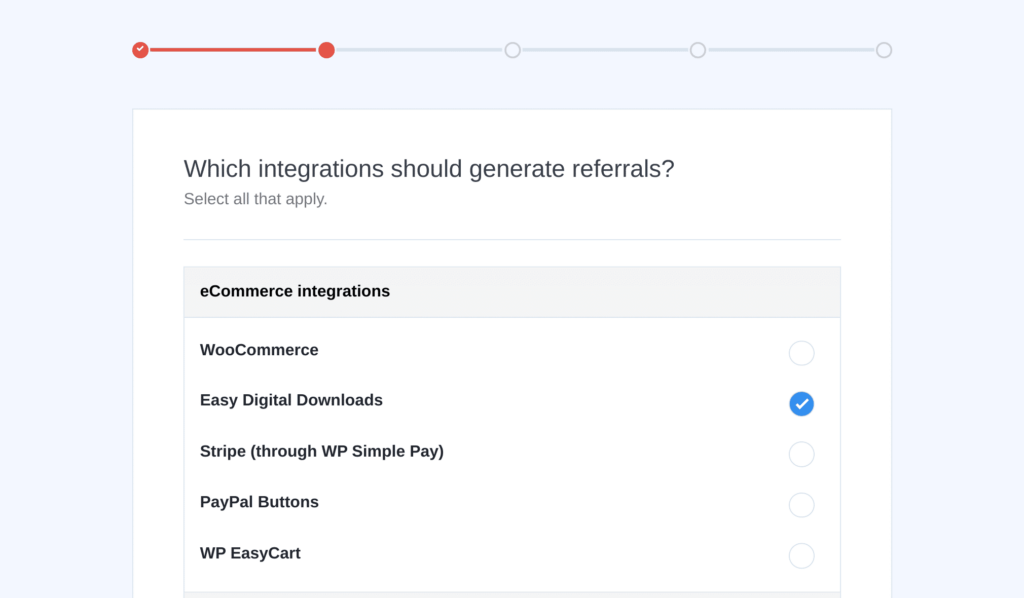 There are just a few more details you need to decide on, and the first is your commission structure. Choose your currency, and then decide whether you want to offer a flat fee or percentage-based commission. Then it's just a question of entering how much you want to pay affiliates for each referral. Don't worry, you can always change this at a later date, and we've got a handy guide to commissions to help you.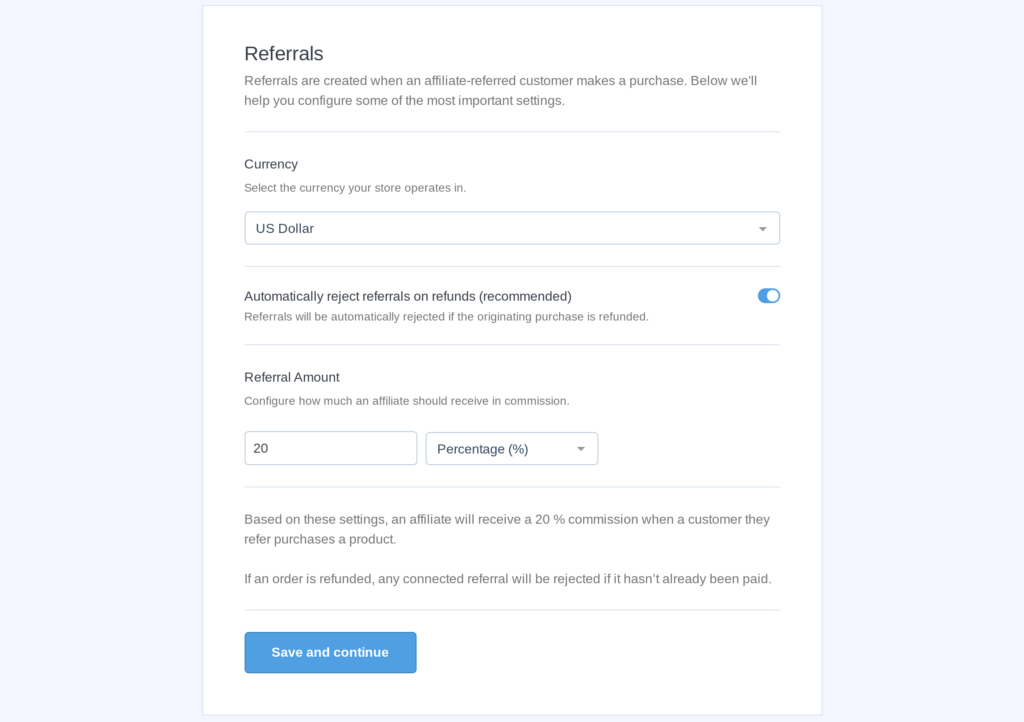 The last step in the setup wizard is choosing your cookie expiration. Although this doesn't apply to affiliate coupon codes, it will dictate how long affiliate cookies stay in a user's browser when they click a regular affiliate link. If you're not sure, choose a standard number like 30 days, or check out our guide to affiliate cookies.
Once you've clicked Save and Continue, you'll be brought to a final confirmation page where you can click Finish the Setup and Exit the Wizard.
Step 3: Signup Affiliates
When you install AffiliateWP, it will automatically create an affiliate registration page called the Affiliate Area.
This page is highly customizable, and it pays to take a few moments to edit it and make sure it reflects your brand.
You can do this by going to Pages and searching for "Affiliate Area." You can edit this page just like any other WordPress page, and you can customize the registration form using WordPress blocks, WPForms, Gravity Forms (Plus and Pro plans), and Ninja Forms (Plus and Pro plans).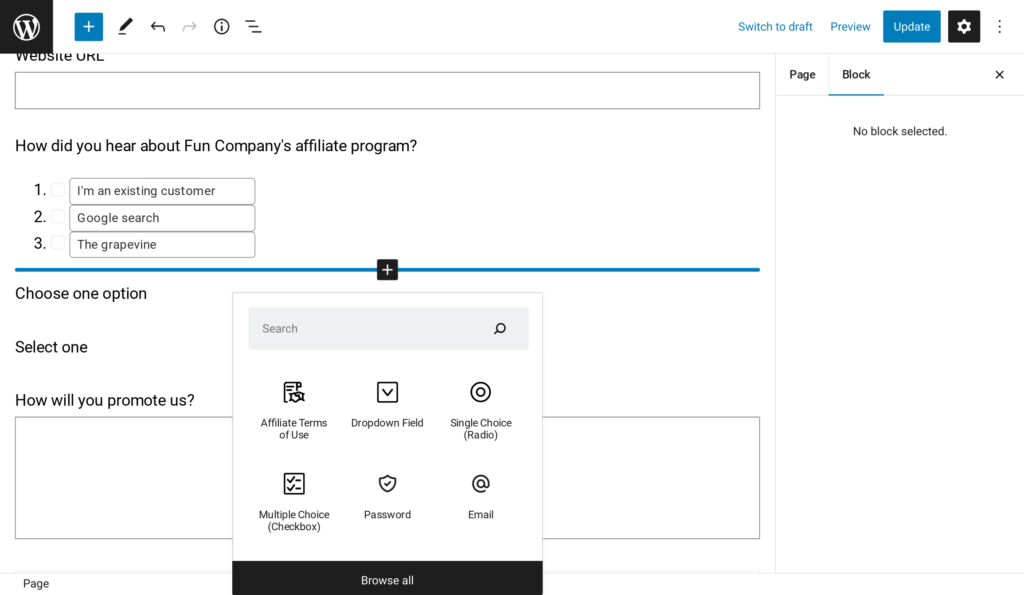 When an affiliate signs up for your program, you'll receive an email notification, and you'll be prompted to accept or reject the application.
Just go to the Affiliates screen and click the Pending tab to see all your open applications. You can click the affiliate's name to see more details and then use the accept and reject buttons to make your decision.
The affiliate will receive an email with your decision, and successful applicants will be able to sign in to their affiliate dashboards from the same Affiliate Area page they signed up on.
Step 4: Create Your Affiliate Coupon Codes
Affiliate coupon codes work slightly differently depending on the integration you're using. No matter what plugin you're using though, the first step is to create a coupon code as you normally would.
Let's use WooCommerce as an example.
Hover over Marketing in the left-hand sidebar, and click Coupons.

Now click the Add Coupon button to create your first coupon code. Create the code, and then use the Coupon Data box to decide on the value of the coupon. You can also add usage restrictions and usage limits to set rules for what the coupon can be used for.
Lastly, you want to assign the coupon to a specific affiliate.
Go to the General tab in the Coupon Data box, and at the bottom, you'll see an Affiliate Discount field. Start typing the username of your affiliate and select it from the dropdown menu.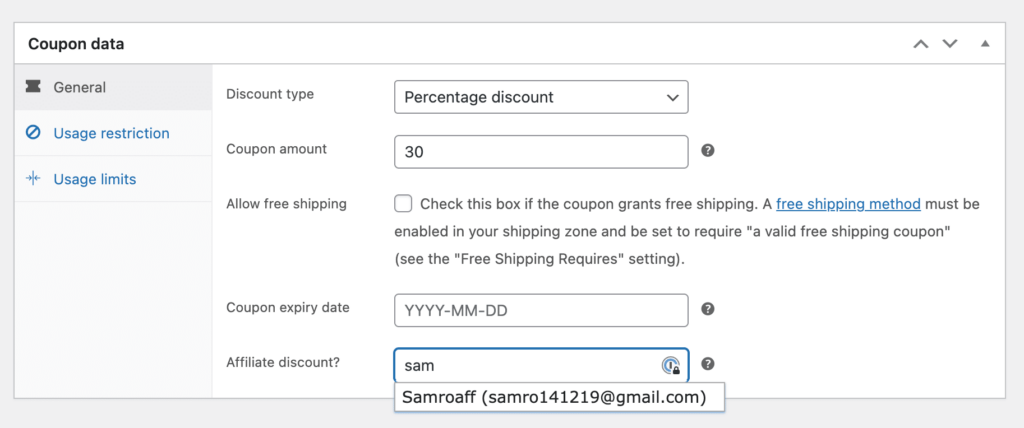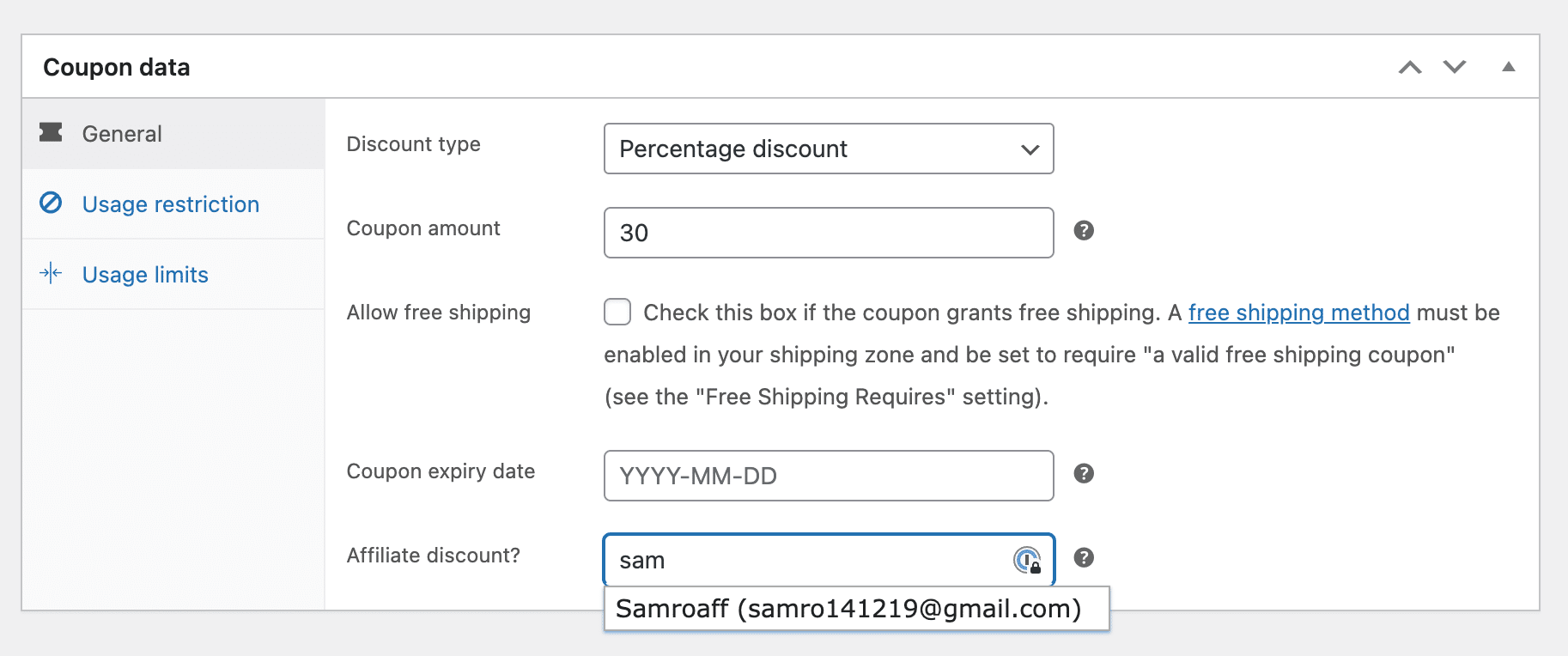 Your affiliate will be assigned that coupon code, and it will appear in their affiliate dashboard.
Step 5: Add Vanity Coupon Codes to Your Program
If you hold a Professional AffiliateWP license, then you can benefit from one of our best features, Vanity Coupon Codes.
Vanity Coupon Codes allows affiliates to choose their own codes. You're still in control of the value of the discount and you get final approval over the code, but it allows affiliates to get creative.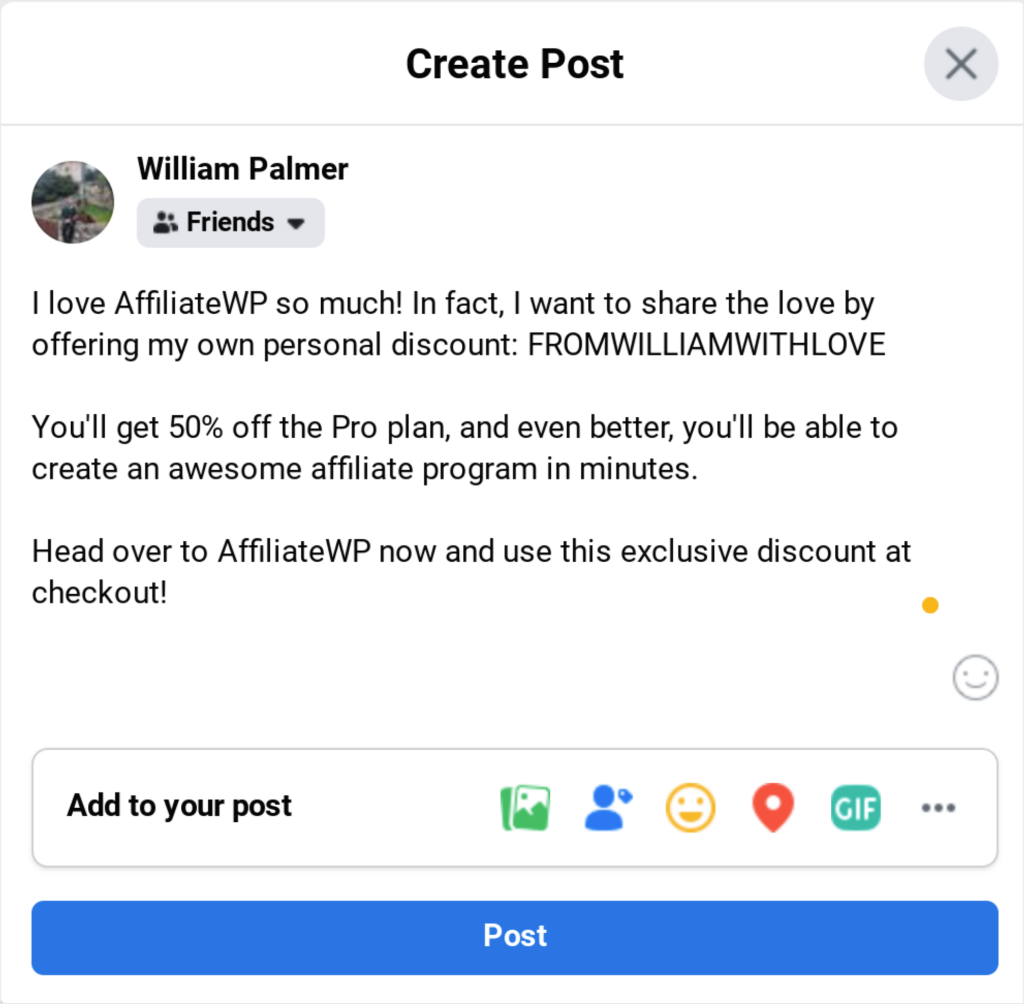 Affiliate coupon codes need to stand out if they're going to be effective, and one way to achieve this is by leveraging your affiliates' awesome marketing skills. They know their audience, and they know how to get clicks, so let them use that knowledge to personalize their coupon codes.
Go to the AffiliateWP Addons screen and scroll until you find Vanity Coupon Codes. All you need to do is click the toggle button and the addon will automatically install and activate.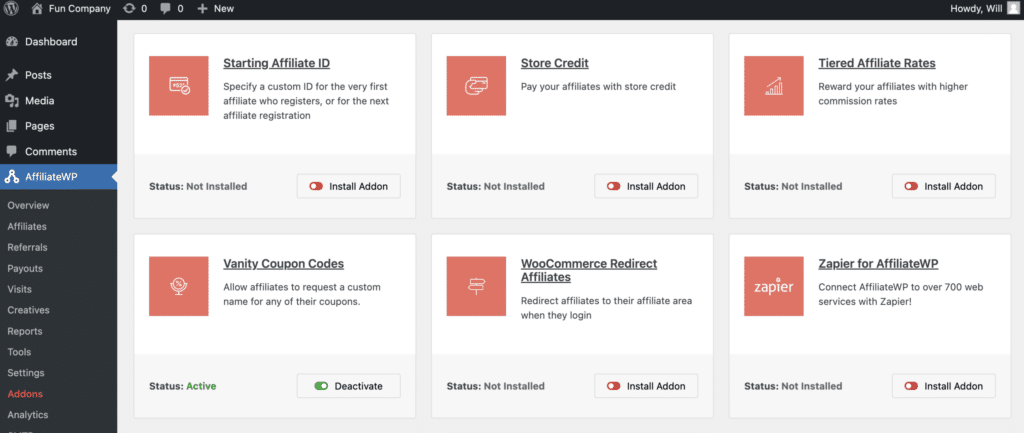 Now when affiliates go to the Coupons tab in their affiliate dashboards, they'll see an Edit button they can use to request their own code.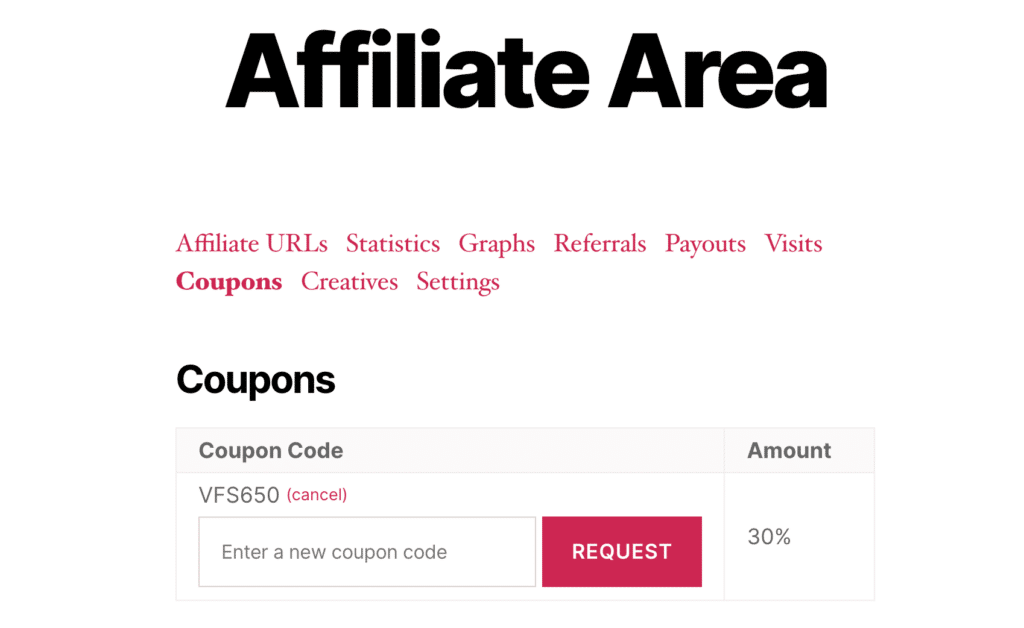 You'll receive notifications when a vanity coupon code is requested and you can quickly approve it from the Vanity Coupon Codes screen. As soon as the code has been approved, your affiliate can start using it to promote your products.
Step 6: Encourage Affiliates to Use Affiliate Coupon Codes
If you want affiliates to promote your products using affiliate coupon codes, then you've got to let them know about it.
The easiest way to do this is by creating an affiliate onboarding within the affiliate dashboard. This is an opportunity for you to give affiliates all the information they need about your products, sales, coupons, and much more.
To add an onboarding to the affiliate dashboard, just activate the Affiliate Area Tabs free addon from the addons screen. Now go to your AffiliateWP Settings and click on Affiliate Area Tabs.
You'll now be able to rearrange the existing dashboard tabs and add new ones. Just click the Add New Tab button, give it a name, and choose the WordPress page you want to display in the tab.


Create your affiliate onboarding as a normal WordPress page and then it will show up in your affiliates' dashboards.
Now Set Up Your Affiliate Payouts
Now you've set up your affiliate coupon codes, AffiliateWP will automatically track when a customer uses the code and assign a commission to the correct affiliate.
You'll be able to see in-depth stats on affiliates, visits, campaigns, and referrals from the Reports screen, but what about affiliate payouts?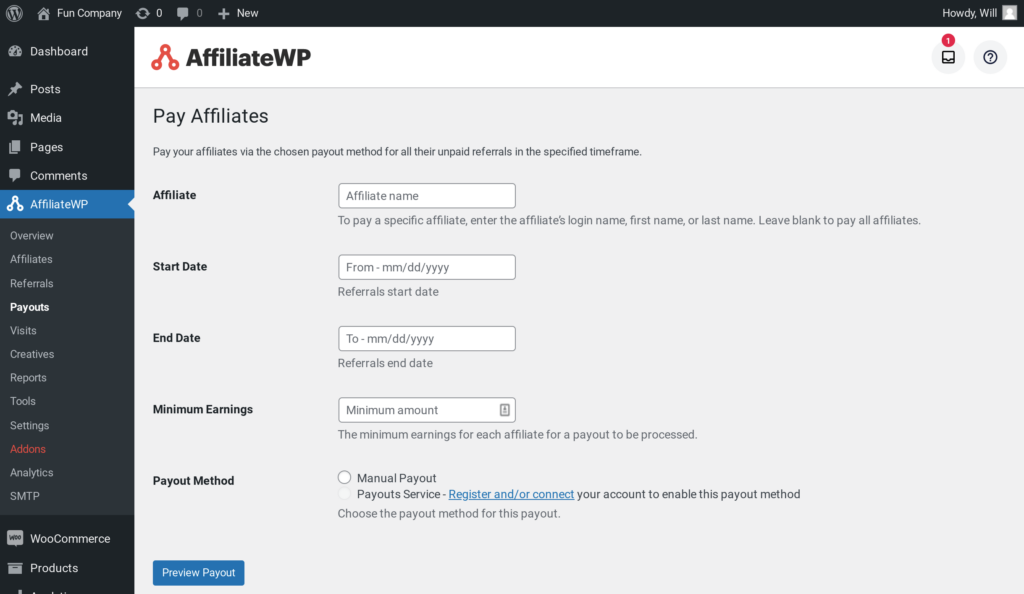 Well, AffiliateWP gives you multiple ways to effortlessly pay affiliates.
You can signup for the Integrated Payouts Service to pay affiliates directly to their bank accounts, or use our PayPal payouts. Both options sync seamlessly with your affiliate tracking and ensure affiliates get paid the correct amounts.
It's just another element that makes AffiliateWP incredibly easy to work with.
Start Leveraging Affiliate Coupon Codes Today
You're just a few steps away from promoting your products with affiliate coupon codes.
With AffiliateWP you can quickly set up an affiliate marketing program and start using coupon codes, but what else do you need to know?
We've got some great free resources for you to look at:
Now there's only one thing left to do.
Get AffiliateWP and start leveraging affiliate coupon codes today!