11 Quick Ways to Increase E-Commerce Sales Now (A Guide for 2023)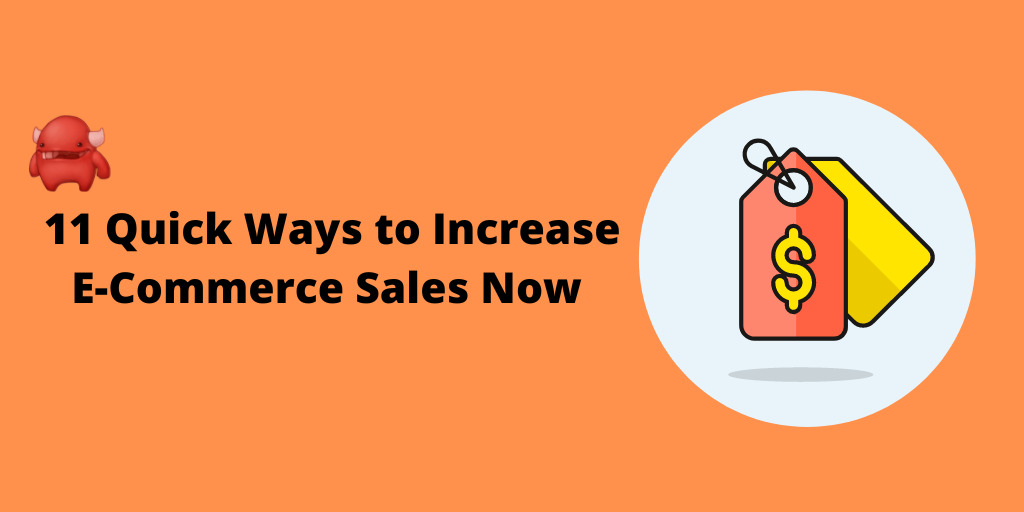 Everybody wants to increase e-commerce sales.
Why wouldn't they?
The question is, how do you achieve this, and how do you do it quickly?
Well, here's your answer with these 11 strategies to increase e-commerce sales.
11 Strategies to Increase E-Commerce Sales
Let's get straight into this: how can you increase e-commerce sales quickly?
We've left out some of the long-term strategies and focused on the marketing strategies you can implement right now. None of them are a silver bullet, but together, they can make a big difference to your conversion rate.
1. Strive to Understand Your Target Audience
You can't make consistent sales if you don't understand your target audience.
The difficulty is we all think we understand our target audience, but sometimes the reality turns out to be very different.
Go through all the normal exercises like creating detailed buyer personas and learning from your analytics, but don't forget: the best way to find out about people is to ask them. A simple way to do this is to create a feedback form with WPForms and feature it in strategic places on your site. It doesn't have to be anything complicated; just make it easy for your website users to answer your questions.
When you combine the qualitative data from your analytics, the quantitative data from your surveys, and your natural intuition, that's when you come up with the best insights.
Learn from your website visitors and loyal customers so you can improve your service for them.
2. Create a Unique Selling Proposition
Your unique selling proposition (USP) is what sets your business apart from the competition.
So, what is your USP?
For example, I'd like to think AffiliateWP's USP is the fact that my amazing humor shines through in our email marketing. More likely, it's probably the fact that we make it incredibly easy for merchants to set up an affiliate program while still offering premium features.
If you're going to increase e-commerce sales, then you've simply got to find a way of distinguishing yourself from everyone else. One thing is for certain; there will be competition, so what makes you different?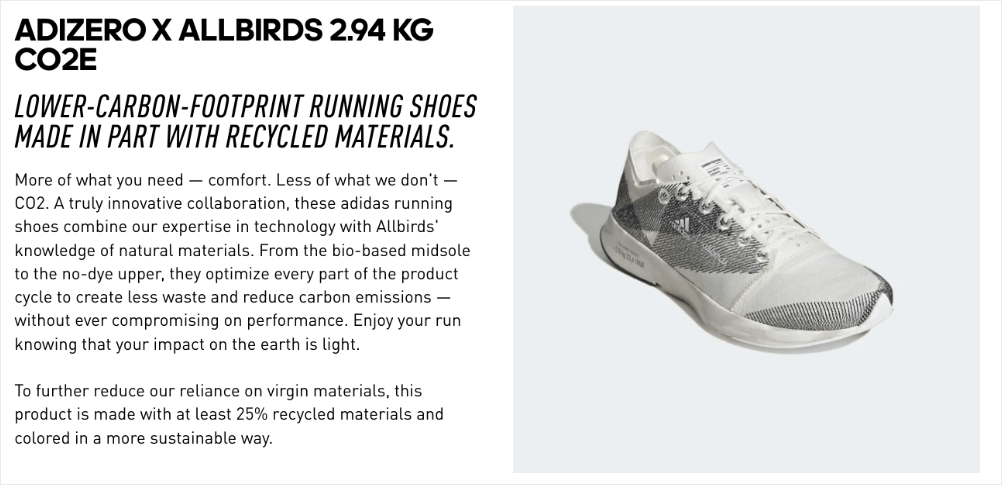 When you discover it, then it's got to become a prominent feature of your marketing.
3. Focus on the Customer Experience
It's easy to get caught up in marketing and sales strategies and forget one of the most important things: user experience is essential for an e-commerce business.
You can do all the SEO, social media marketing, and email marketing you like, but if you offer a poor user experience, you're going to find sales hard to come by.
This is where you've got to look at your e-commerce site with a critical eye and put yourself in the customer's shoes. Explore the site, go through the checkout process, and find what needs to be improved.
User experience is a fundamental part of digital marketing, but sometimes it gets forgotten in the pursuit of quick sales. Make sure you're providing the best possible online shopping experience on both desktop and mobile devices.
4. Keep Doing Your Landing Page Optimization
Your customers are busy people.
They're constantly sifting through information and quickly assigning importance to it. When they land on your website, this process goes into overdrive.
People don't want to waste their time on a website that doesn't answer their questions or help them solve a problem. This is illustrated by the fact that the average bounce rate (when someone leaves your website without interacting with the page) is 47% for e-commerce sites.
To overcome this, you've got to keep working on optimizing your landing pages.
When you bring your bounce rate down, it can expand your reach by a huge amount.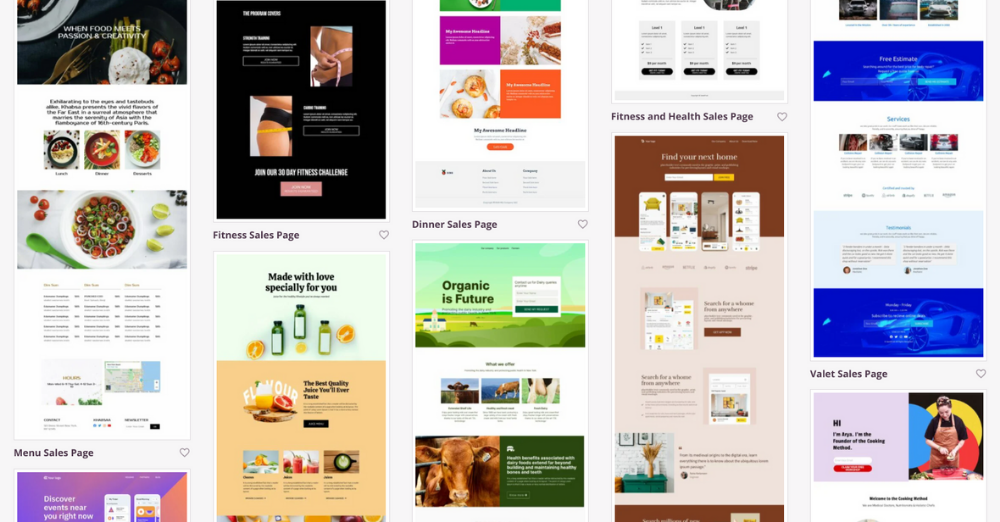 If you're looking for a quick way to make an immediate difference to your landing page, then SeedProd is the best option. It's incredibly easy to use and offers optimized landing pages that are designed to engage and convert your customers.
5. Utilize Social Proof
It's human nature to want something other people have (we call it the fear of missing out (FOMO) in marketing, and it's a great way to create a sense of urgency). The best way to give people FOMO is by giving them proof that other people are buying your products and loving them.
With TurstPulse's live sales notifications, you can start leveraging social proof in a matter of minutes, and it can increase your conversion rate by up to 15%.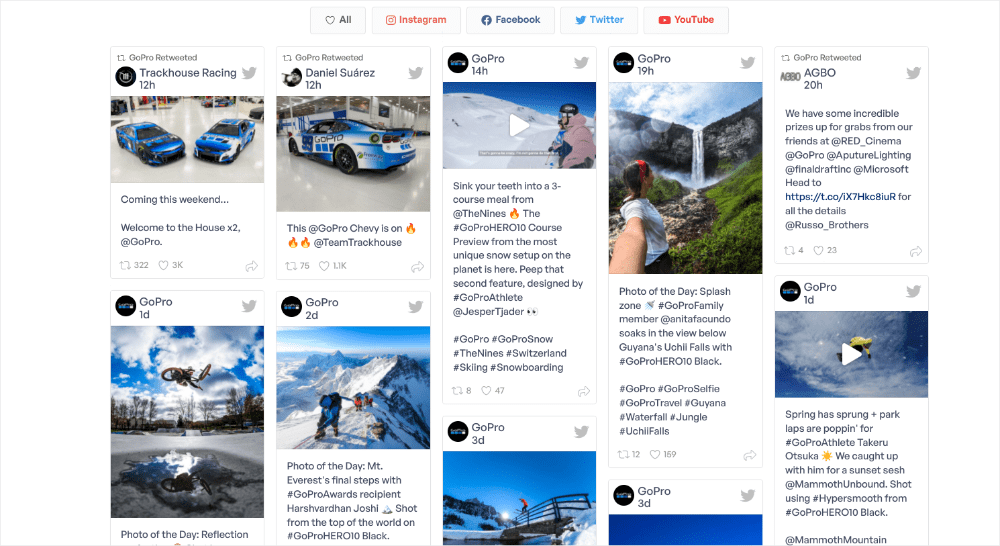 Add in some beautiful social feeds from SmashBalloon to showcase customer testimonials and online reviews, and you give people a powerful reason to join the club and become your customer.
6. Giveaways and Competitions
If you're looking to increase e-commerce sales quickly, then it's hard to beat the viral nature of giveaways and competitions.
The key to this is reach, exposure, and brand image.
You might be giving away free products, but the buzz it creates can be incredible; if you're doing it the right way.
So, what's the best way to run a giveaway?
Well, if your website runs on WordPress, then RafflePress is the perfect option. It's incredibly easy to set up and allows you to incentivize a wide range of actions. With built-in marketing and CRM integrations, it can bring in a huge number of leads for your e-commerce store.
Combine your giveaways with other marketing strategies like coupon codes to build excitement around your promotions.
7. Double Down on Your Email Marketing
The average return on investment for emails is 4,200%. They generate an incredible $42 for every $1 spent.
With those kinds of numbers, you simply can't afford to neglect your email marketing.
Not only is it great for attracting new customers, but it's also a brilliant way of engaging existing customers. When done well, it can turbocharge your upselling and cross-selling, opening up and expanding your revenue streams.
Just as important as the emails themselves is building your email list.
You need to be able to turn website visitors into email subscribers, and the best way to do this is with OptinMonster's exit-intent pop-ups. This is one of the first steps in your sales funnel, so you need a dedicated solution to optimize this process.
The more you build out your list, the more you'll be able to track your metrics and use a/b testing to understand what works and what doesn't.
8. Make Use of Retargeting
Just because someone has left your website doesn't mean they're not a potential customer. It just means they need a little time or a little more convincing.
Using an abandon cart email series is an easy way for retailers to answer the questions people need answering before they make a purchase, but you can go further than this.
Retargeting people through Google Ads (normally display ads) and social media ads (Facebook ads are a popular option) is an incredibly effective e-commerce marketing tactic. Essentially it gives you another chance, and you can be extremely targeted with it.
The important thing to remember is that people aren't always ready to make a purchase the first time they land on your site. It takes time to come to a purchasing decision, but you don't want the customer to forget about you during this period.
Remarketing is a great way to keep your products in your customer's minds and ensure that when they're ready, they come back to your store.
9. Remove Barriers to a Sale
It's never your intention to make it difficult for people to buy your products, but sometimes, it just happens. You add more and more elements to your product pages, try to collect a little more information in your forms, and before you know it, making a purchase becomes a time suck for your customers.
One of the reasons Amazon is so successful (among many) is that they make it so easy to make a purchase. Once you've decided to buy a product you're on the checkout page before you know it.
The more clicks people need to take to complete checkout, the more you're going to suffer from cart abandonment.
So, what's the answer?
Keep it simple and keep streamlining.
One of the best ways to do this is with WP Simple Pay's simple plugin integration. It makes it quick and easy for your customers to check out using their credit card (or through Apple and Google Pay) and that's exactly what you need.
Give people convenient payment options (you may even want to look at buy now, pay later), and it's going to help your conversion rate.
10. Gain Insights from Your Analytics
It's easy to guess when it comes to understanding how people use your website.
We often oversimplify the customer journey and like to picture the sales funnel as this tidy progression. However, it tends not to work this way.
It takes a lot of touch points to create an e-commerce sale.
The good news is, a lot of this information is in your analytics, and understanding how to use it can allow you to increase e-commerce sales very quickly.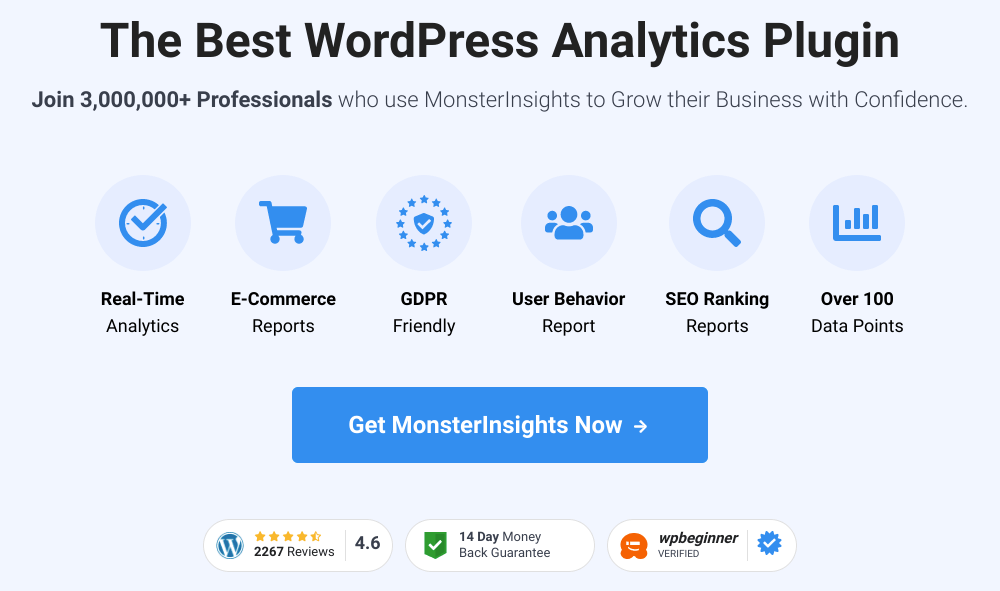 MonsterInsights is the perfect plugin to help you do this.
It makes it easy to track data, and most importantly, turn it into useful insights. It has dedicated e-commerce reports that are ideal for online stores, allowing you to track your progress and hone your marketing tactics.
11. Start an Affiliate Marketing Program
What if you could have marketing experts promote your products without having to pay anything upfront?
That's exactly what you can get when you start an affiliate marketing program, and it's an amazing way to quickly increase e-commerce sales.
If your site runs on WordPress, then you can start an affiliate program in a matter of minutes with AffiliateWP. In just a few clicks, you can start signing up top affiliates, tracking links, and bringing in new sales.
It's not just for sales either. Affiliates can greatly increase brand awareness and build the profile of your online business.
When you create an army of innovative, engaged affiliates, it's going to have a big impact on your online sales without cutting into your bottom line too much.
FAQs: Increase E-Commerce Sales
How much can e-commerce increase sales? E-commerce sales are worth over $4.9 trillion worldwide. This goes to show that no matter what niche you're in, there's a high chance your customers are shopping online. Setting up an e-commerce website takes time and effort, but it can result in a big increase in sales.
How can I boost e-commerce sales quickly? Optimization is the key to increasing e-commerce sales quickly. If you can make your landing pages, product pages, and checkout process more efficient, then you're going to see a quick increase in e-commerce sales.
What are the benefits of e-commerce? A major benefit of e-commerce is that it gives your customers what they are looking for. People expect to be able to buy products online these days, and you need to be able to offer them that. It's also an excellent way to tie together your marketing campaigns and boost brand awareness.
What are some strategies to increase e-commerce sales? Some strategies that can increase e-commerce sales include: landing page optimization, email marketing, streamlining the user experience, affiliate marketing, and more.
Increase E-Commerce Sales with AffiliateWP
Starting your own affiliate marketing program might be a lot more attainable than you think. Setup is remarkably easy, and whatever niche you're in, there are bound to be eager, skilled affiliates.
By expanding your audience through affiliate marketing, you make these sales tactics even more rewarding. Overnight, you can open your online business up to new opportunities and increase e-commerce sales.
It all starts with setting up your affiliate software, so get started with AffiliateWP today!