How Can Vanity Affiliate Coupon Codes Help Grow Your Affiliate Program?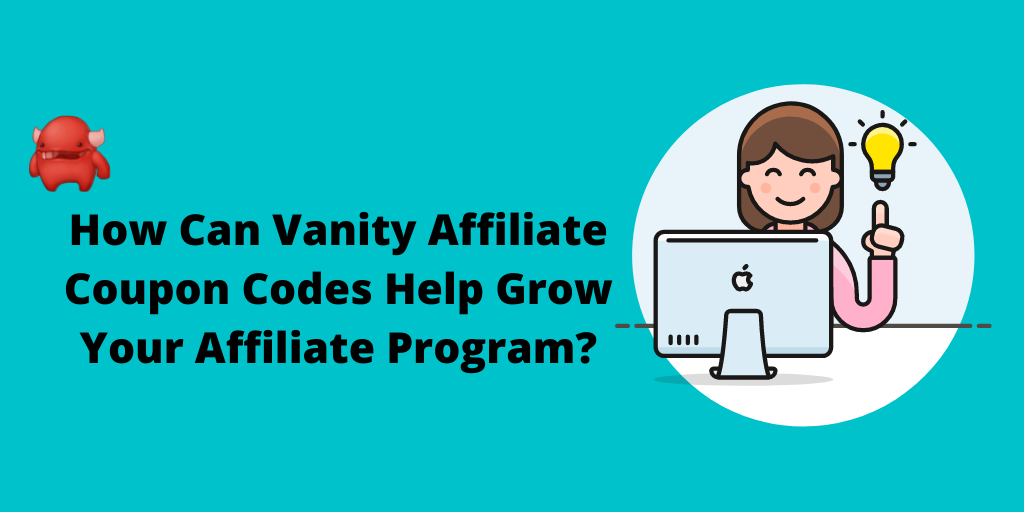 Your affiliates are always going to be happy when you give them new tools to make affiliate sales. Vanity affiliate coupon codes will do more than just make them happy though, they'll help them earn more money!
And guess what happens when your affiliates make more money? You do too!
Here's how vanity coupon codes can help grow your affiliate program.
What are Vanity Affiliate Coupon Codes?
Vanity affiliate coupon codes are discount codes your affiliates can personalize.
You choose the value of the discount ($20, 20%, $50, 50%, whatever you want)
Your affiliates request their personal code (SHOWMETHEMONEY, SMILE, whatever they want)
You approve or reject the request (some oversight is necessary!)
Your affiliates can then use their personalized vanity affiliate coupon codes to showcase your business to their audience.
Think about it, what stands out better?
JD464ADP or BEHAPPY101?
With vanity coupon codes, your affiliates can create unique discount codes that add personality and show off their brands.
How can Vanity Affiliate Coupon Codes Grow Your Program?
Vanity coupon codes are a fairly simple concept but they can make a big difference. Here's how vanity coupon codes can benefit your affiliate program.
1. An Extra Benefit to Advertise
There's a lot of competition for affiliates, and there's only so much you can do with commission.
You've got to find other ways to appeal to high-quality affiliates and one of the ways you can do this is by demonstrating the features of your program. Vanity affiliate coupon codes are ideal for this as they're easy to understand, and the benefits quickly become obvious.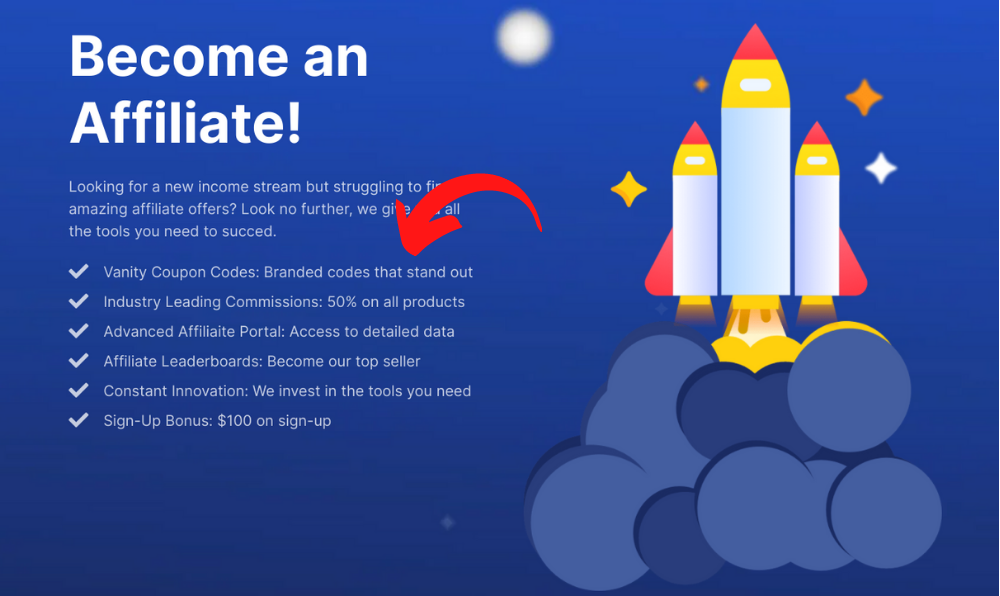 Your affiliate program sign-up (landing) page is one of the keys to your success, and it's got to be adept at showing your value proposition. The more great benefits you have, the easier this is.
2. Show Commitment to Your Affiliate Program
Affiliate marketing changes very quickly, which means what your affiliates need from you changes too.
It's no secret that more and more people are doing affiliate marketing. To combat this, merchants and affiliates need to be able to innovate and optimize their processes.
If you're not investing in progressing your affiliate marketing program, it risks being left behind. When this is the case, it becomes more and more difficult to attract engaged affiliates and reward them through commission on sales.
New features are a marketable moment for you, and vanity coupon codes are a great one.
3. Vanity Coupon Codes Are More Eye-Catching
Here's a stat: 90% of consumers use coupons.
Clearly, that makes them a useful marketing tool, but it also means the internet is full of them. When your affiliates are putting coupon codes in their social media posts and blogs, they're hardly unique.
The first thing coupon codes need to do is grab attention so that people then click through to your website.
Have you ever seen those mind games where you read a paragraph that at first seems to be jumbled words? When you look closely though, you can actually read what they say.

As long as the first and last letters of the word are in the right place, the middle letters can be jumbled.
What does this tell us? Our brains are trained to recognize words, they grab our attention even when they're not written correctly.
That's before your affiliates even look at things like power words that are proven to boost conversions.
Long story short, the ability to personalize coupon codes grabs people's attention and increases conversions.
4. Reinforce Social Proof and Create an Exclusive Element
We could search the internet right now and find discount codes to give our followers. We wouldn't benefit financially as there wouldn't be any tracking, but we would be able to imply a relationship with the brands the coupons were for.
The point is, regular coupon codes aren't exclusive.
One of the powerful parts of affiliate marketing is it draws on social proof. When your affiliates say "this product is amazing, you've got to try it," it has weight. However, when the customer uses a randomly-generated code, some of that social proof rubs off.
Vanity affiliate coupon codes stress that it's an exclusive discount based on your affiliate's relationship with your business. They're not just out to earn a quick buck, they actually know and love your products, hence the exclusive code.
When the customer types in a branded coupon code at checkout, they think "oh yes, Will bought this and he loved it, it's got to be good." This is a huge bonus when people are making that final decision of whether to put their card details in.
5. Help Affiliates Build Their Brand
It's difficult to build your brand when you're constantly sending people to someone else's website. That's the challenge affiliates face.
When they're using randomly generated coupon codes or affiliate links, they become a bit faceless. However, vanity affiliate coupon codes give affiliates an opportunity to remind customers where they heard about a product.
The most exciting part of any purchase is that moment when you click buy and can look forward to receiving your product. By inserting their brand into that process (the customer puts the coupon code in on the checkout page), it becomes a much more memorable moment.
6, Customizability in Seconds
Affiliates want customizability and the ability to personalize their offerings, but only if it's convenient. One of the great things about vanity coupon codes is that affiliates can request their personalized discounts in just a few seconds.
This gives them immediate access to a powerful feature.
AffiliateWP offers some amazing ways to help affiliates personalize their landing pages, but for ease of use and immediate impact, vanity coupon codes are hard to beat.
7. More Sales Equals More Happy Affiliates
The most important thing for growing your affiliate program is keeping your best affiliates happy and engaged. There's no better way to do that than by bringing in sales.
It's pretty demoralizing for affiliates if they're sending you customers and you're just not converting. This is when they lose motivation and start to drop off. 
Vanity coupon codes may be a small detail, but they're a small detail that can boost your conversion rate. This means more sales for you and more commission for your affiliates; a win-win (exactly what affiliate relationships are about).
How to Set Up Vanity Coupon Codes
Here's what you'll need to enable vanity coupon codes:
A Professional AffiliateWP license
The Show Affiliate Coupons free add-on
Then just follow these 4 steps.
Step 1: Download and Activate the Vanity Coupon Codes Add-On
Go to our vanity coupon code page and click download now.
Head over to your WordPress admin and select Add New from the Plugins tab, and click Upload Plugin.

Select Choose File and choose the vanity coupon codes file from your downloads, then click Install Now.
Note: If you haven't installed the Show Affiliate Coupons add-on yet, it's the same process.
Step 2: Assign Discounts to Your Affiliates
Once you've installed the Vanity Coupon Codes plug-in, you'll see an option to assign your WooCommerce, Easy Digital Downloads, and MemberPress codes to affiliates.
In WooCommerce, you'll find Coupons in your Marketing tab. Simply add a new coupon code (you can name it however you like), and at the bottom, you'll see a box saying Affiliate Discount. Enter your affiliate's ID here and it will show up in the Coupons tab of their affiliate area.
Step 3: Your Affiliates Request their Vanity Code
Once the coupon code has been assigned to your affiliate it will show up in their affiliate area under the Coupons tab.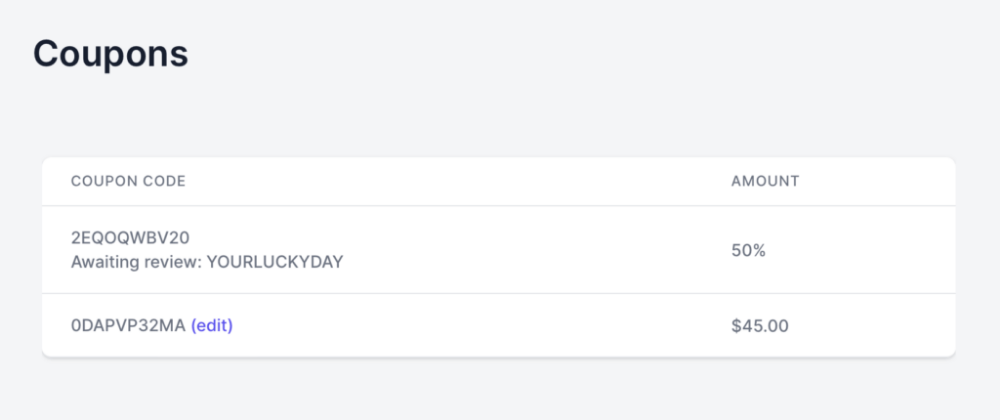 All they have to do is click the Edit button next to the coupon code and request a personalized code. It's that simple!
Step 4: Approve the Vanity Coupon Code
Creativity is great, but you want to maintain some control over the coupon codes your affiliates are choosing! This is why all vanity coupon codes will appear in the Vanity Coupon Codes section of your Affiliates tab.

Once you approve the code, then your affiliates are free to use it.
Engage Affiliates and Boost Revenues
If coupon codes are a part of your marketing plan (and for many businesses they are), then vanity affiliate coupon codes are an ideal way to grow your affiliate program.
Not only are they a great sales point for your affiliate sign-up page, but they also boost affiliate sales. Ultimately, more money in your affiliates' pockets is the perfect way to keep your affiliate program healthy and vanity coupon codes can contribute directly to this.
Upgrade to a Professional plan today and unleash the power of vanity coupon codes.