9 Steps for Writing an Awesome Affiliate Newsletter (+Template for 2023)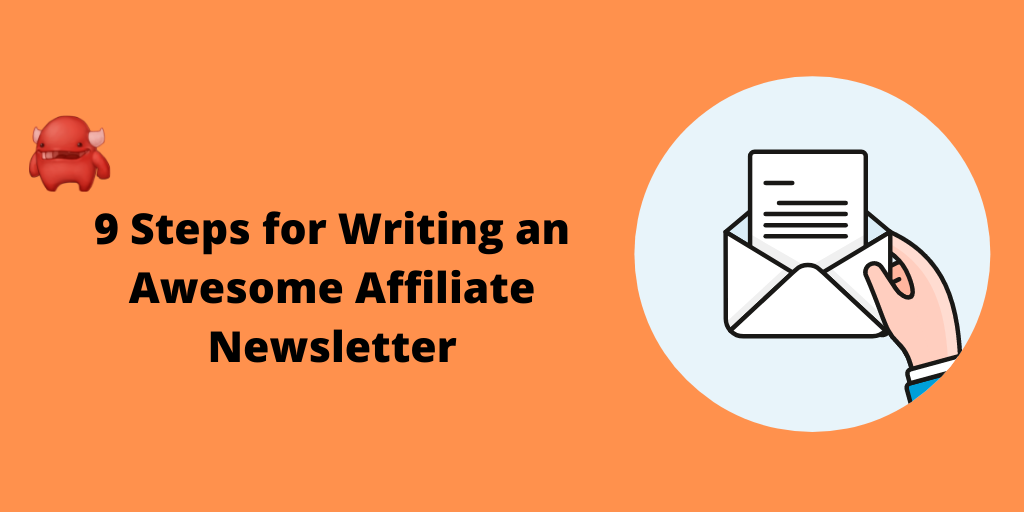 You spend your time signing up new affiliates only for them to drop out after a couple of sales.
Sounds familiar right?
Well, it might be a small step, but an awesome affiliate newsletter can help keep your affiliates engaged with your program for longer and make a big impact on your revenue.
Here's your 9 step guide to writing the perfect affiliate marketing newsletter.
1. Treat Your Affiliate Newsletter as a Marketing Exercise
You need to see your affiliate newsletter as part of your marketing strategy.
Your aim is to increase engagement, boost conversion rates, and ultimately, grow your e-commerce business. These are complicated aims, so you need to approach your email newsletters in a methodical way.
The best way to do this is by employing the techniques you would use in your newsletters to customers.
Make sure you're segmenting your audience, making use of high-performing templates, and planning ahead. Your affiliates are busy people, and they deserve the same care and attention you would put into a customer newsletter.
2. Have a Clear Goal for Each Email You Send
You're writing an affiliate newsletter because you want to achieve something.
You want your affiliates to take a certain action, and you've got to keep this goal in mind at all times.
Email marketing is a tricky art to master:
You need to grab people's attention
You want to keep it entertaining
You need to convince people to take action
Achieving all 3 goals is very difficult, and too often, people lose track of the action part. This is the last thing you want, so make sure you set a clear goal for each email and ask yourself if your copy is convincing enough that people will take your desired action.
The other thing to remember is that the action you want affiliates to take might be obvious to you, but it's not always obvious to your reader! Make sure you're using a strong call-to-action (CTA) and different techniques to make sure they grab attention.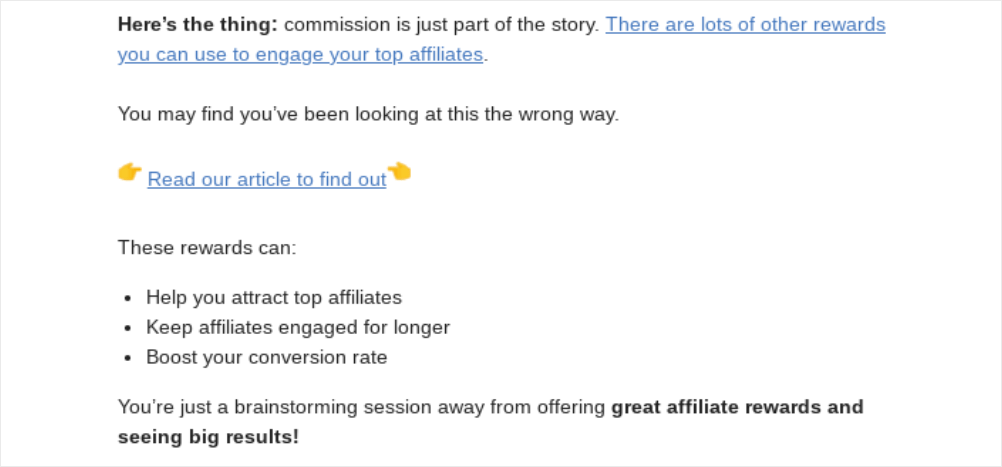 For example, we love to use pointing emojis to draw people's attention to the link we want them to click.
3. Be Innovative with Your Subject Lines
Your affiliates probably receive hundreds of emails in their inbox each day.
Why should they open yours?
There's a ton of competition to win the click in people's inboxes, and all you've got to work with is a subject line and a short preview. Every word counts!
Yes, you and your affiliate are in a business relationship, but you've still got to be innovative and grab their attention.
A great tool to help you perfect your subject lines is IsItWP's email subject line analyzer. Just plug your ideas into the box and it will give you lots of sugestions to help you win more clicks.
This is also an area where your a/b testing comes in as increasing your open rate can make a big difference to the performance of your affiliate program.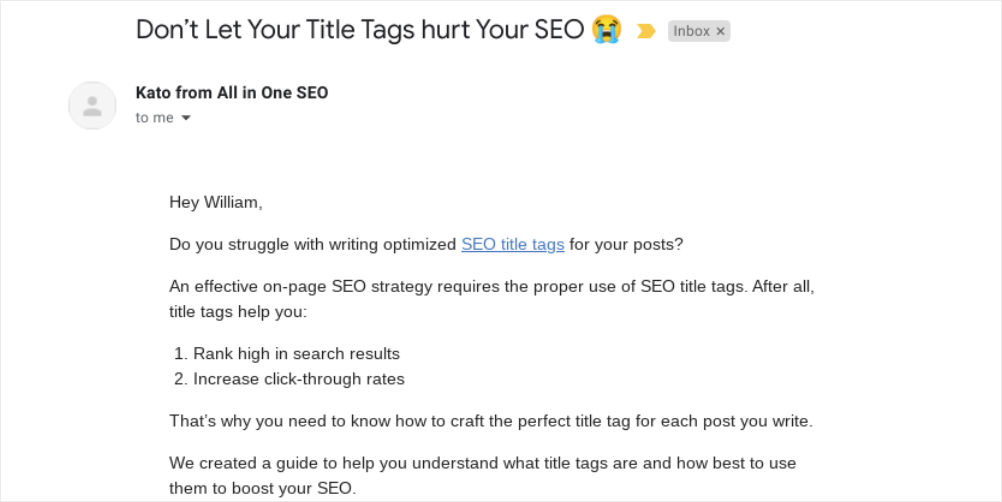 Also, make sure you are clearly identifiable by adjusting your sender settings. Your affiliates might not know you by your first name, but if you put Jim at Cool Company, then they're much more likely to engage.
33% of email recipients open emails because of catchy subject lines, so don't neglect this step!
4. Make Your Affiliate Newsletters Relevant
Your affiliates don't want to read uninteresting emails any more than you do, so at the very minimum, you want your newsletter to be relevant. While it may be tempting to stay in constant contact (which certainly can be good), bombarding your affiliates with nonstop emails can be a bit…overwhelming, to say the least.
Think about it from the affiliate's perspective:
What kind of email would get your attention?
What would get you to open the email – and actually read it?
What do you need to see in the opening lines to make you continue reading?
Well-timed and appropriate newsletters can make all the difference, from giving your affiliates notice of seasonal promotions and sales, to announcing new product releases, contests, or other incentives.
Do you have different affiliates for different product lines, campaigns, or industry niches?
Email marketing services like MailChimp allow you to create different mailing lists, which means that you can segment your audience in order to send the most appropriate newsletters to relevant affiliates – and keep your affiliate program well-organized, too!
It's worth noting that some newsletters are better when they're not segmented; a regular monthly newsletter can create a sense of camaraderie when all affiliates are included.
5. Everyone Wants Personalized Emails
Nobody wants to get an email that feels like it could have been sent to anyone.
You've got plenty of information on your affiliates, so make sure you're using this to personalize your emails. We're not talking about individually writing to each affiliate, but make sure to use the personalization tools your email provider offers.
The perfect place to start with this is the greeting and most email marketing services have built-in methods for adding subscriber-specific content to your campaigns. For example, MailChimp has a feature that allows you to personalize greetings (and other elements) via text-based labels ("merge tags") that correspond with specific data, such as a first or last name.
Don't stop at just the greeting though! Explore the personalization options your email provider offers and find out which ones can boost affiliate engagement.
6. Start Your Email with a Hook
If you've got to the point where someone is reading the body of your email, then you've done a great job at grabbing their attention.
However, keeping people's attention is another thing altogether.
Your first few sentences have to be well thought out and draw people in so they simply have to keep reading. This is commonly referred to as a hook, and there are some tried and tested methods you can use to make sure you're engaging the reader from word 1:
Build a Bridge
The bridge is a writing technique you will see all the time.
You start off by highlighting the reader's ultimate goal.
Wouldn't it be amazing to earn $2,000 a day in affiliate income?
Then you point out that it's not that easy to achieve this goal and elaborate on some of the problems they face.
The problem is, your affiliate partners aren't reliable, and commissions keep getting lower and lower.
Finally, you create a bridge. This is going to help the reader overcome their challenges and attain their goals.
Well, things are about to change. We're making a long-term commitment to all our affiliates and promise never to drop our commission.
This format is used in content all the time because it works.
The Four Questions
This one can work in conjunction with the bridge format, and it helps you to understand exactly what you should focus on in your opening lines.
Ask yourself these four questions:
Why now?
Who cares?
Why care?
What's your proof?
For our previous example, your answers might look like this:
Why now: Because a new affiliate has just signed up for your program
Who cares: Your new affiliates
Why care: Because the advice you give them can help them start earning money more quickly
What's your proof: Affiliates that engage with your affiliate marketing newsletter start making sales in half the time
Answering these questions is going to give you a great insight into how your email progresses and maintains your affiliate's attention.
7. Keep Your Affiliate Newsletters Concise
The body of your email should convey all the main points as concisely as possible, keeping in mind that your goal is to effectively and efficiently communicate to your affiliates while respecting their time as well.
Remember, you're building a relationship with each affiliate, and the more positive (and less salesy) your presence, the better!
As you send more affiliate newsletters, you'll gradually get a feel for how long they should be, but the great thing is, that you can learn from the data you have. We'd recommend keeping most emails under 200 words, but there's nothing stopping you from experimenting with a long-form email and seeing what happens.
The important thing is that you're constantly learning and adjusting your processes.
Whatever you're trying to achieve, it's possible to do it in a relatively short email, so make sure you're not adding too much fluff. Here are some ideas you might use in your affiliate newsletters:
Notifying affiliates of an upcoming promotion
Providing helpful marketing tips
Talking about cool new program features
Highlighting automation opportunities
Discussing the latest marketing trends
Showcasing sales stats to help affiliates achieve higher conversions
Don't forget: your affiliates are not necessarily your customers, and because email is a 1-to-1 communication method, personal touches really make a difference. Therefore, while images and HTML may make a newsletter look nice, plain text appears more personal, and is beneficial when it comes to click-through rates!
8. Encourage Responses
Your goal doesn't have to be limited to getting someone to click a link or log in to their affiliate account; it can be as simple as starting a conversation.
A big part of your affiliate marketing newsletter is showing your affiliates that you're there to help, so make sure this is obvious. Don't just assume that people will write back if they have problems or thoughts; tell them to.

One of the big things with email campaigns is that you've got to make it abundantly obvious what you want, so always highlight that you want to continue the conversation.
When you get affiliate communication right, it's amazing what you can learn. It allows you to predict when affiliates might drop out of your program, think of new promotions, and even learn new digital marketing strategies.
You're working with these people because they've got something you need, and they're working with you for the same reason. When you collaborate more closely, it only increases the benefits of running an affiliate program.
Make sure your contact information is clearly visible, including your phone number, and really show that you're reachable.
9. Consistency is Key
This is a golden rule in digital marketing: consistency is key.
It might take a little time to see the results you want from your affiliate newsletters, but you've got to trust the process. Use the data to keep improving what you're doing, and focus on adding value, and you will start to see success.
Building strong relationships with your affiliates can make all the difference to your program, and your newsletter is the perfect way to do this.
Affiliate Newsletter Template
Ok, so let's take all that information and turn it into an affiliate newsletter template you can use to get started.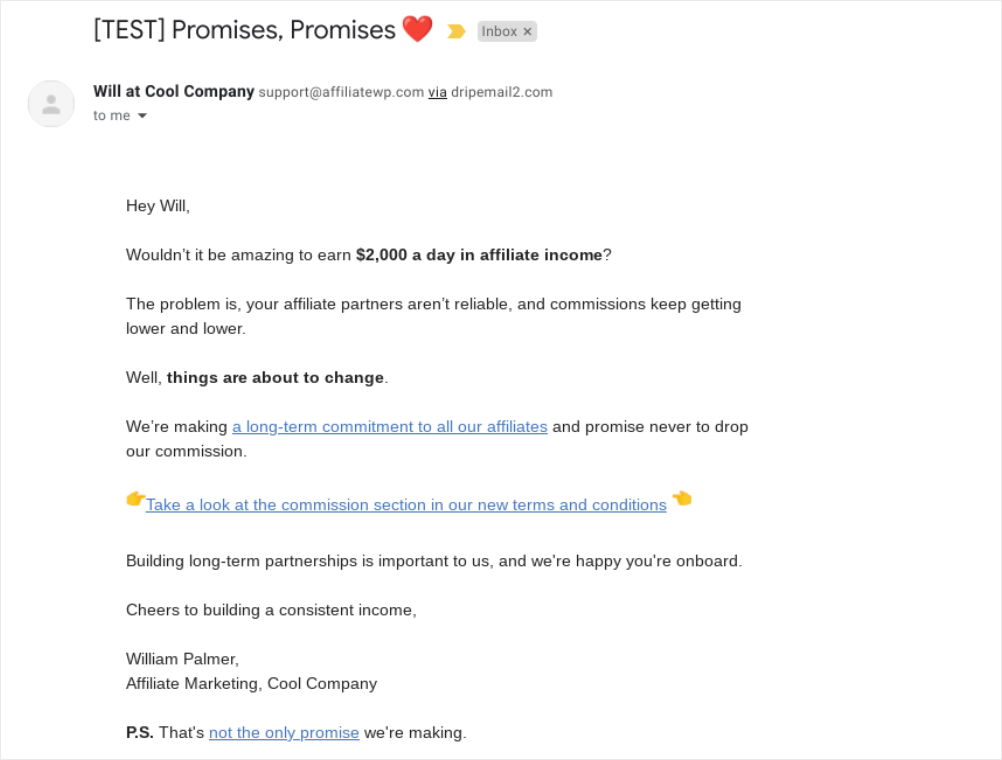 Ultimately, this is just a rough guide because you're going to experiment and find things that work for your business.
Sender Name: Make sure it's obvious who you are.
Subject Line: Be creative and grab people's attention.
Preview Text: Expand a little bit on your headline and increase the intrigue levels.
Hi [Personalized Greeting],
Hook: Experiment with the bridge and use the four questions to understand exactly what you want to focus on.
Body: Use this to share valuable information. People don't get bored when they feel like you're offering value and making their lives better. (Don't be afraid to use emojis or gifs to lighten the mood).
CTA: Your hook and body should have convinced the affiliate they need to take action. Your CTA will drive the message home and demand the click. Don't overcomplicate this, keep it clear, and tell people what action you want them to take.
Salutation: Sign off in a friendly way.
P.S. People scan for important information, and a P.S. is a great way to draw people's eyes. Use it to add another CTA and some convincing reasons why they should take action.
First You Need the Software
If you're going to maximize the value of your affiliate newsletter, then you've got to have the right affiliate platform in place.
An affiliate newsletter might help you keep affiliates engaged, but you need the right features to talk about. There aren't many ways you can help affiliates improve their performance if you don't have access to the right add-ons and integrations.
There are three parts to affiliate marketing: signing-up affiliates, keeping them engaged, and converting traffic into referrals.
Your affiliate marketing newsletter can help with one part of this, but to maximize all three areas, you've got to have the right affiliate marketing software.
The great news for you is that you're in the perfect place, so, check out AffiliateWP.