How to Create an Affiliate Area in WordPress (Step-by-Step)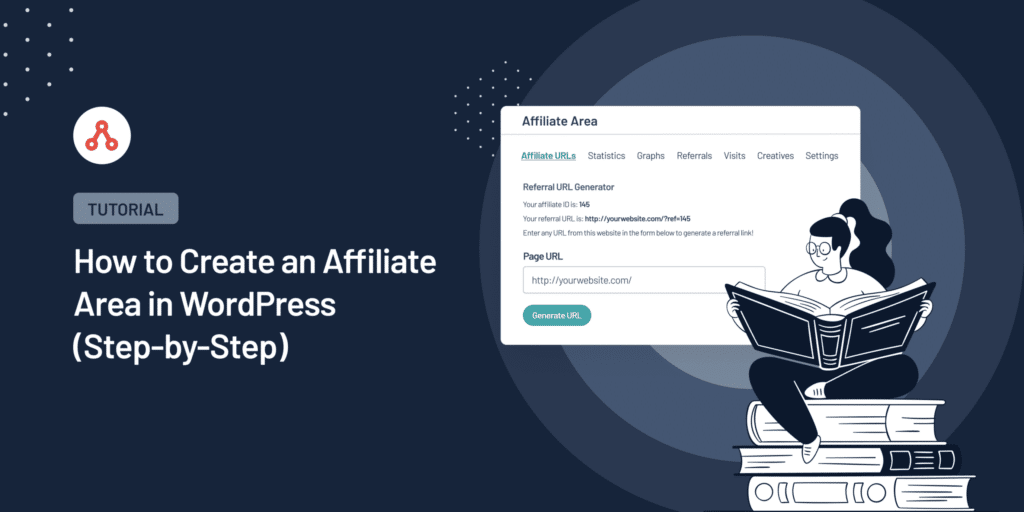 Want to create an affiliate area on your WordPress website to manage your affiliates efficiently?
A well-organized affiliate area can help maintain affiliate engagement and streamline your marketing program.
In this article, we will walk you through the process of setting up a user-friendly affiliate area for your WordPress website to improve your online business's growth and success.
Why Do You Need an Affiliate Area in WordPress?
An affiliate area is a crucial component of any successful affiliate program.
It serves as a centralized hub for your affiliates, providing them with the tools and resources to effectively promote your products or services.
Below, we outline several reasons why an affiliate area is essential for your affiliate program in WordPress.
Ease of Access and Navigation for Affiliates: A well-designed affiliate area simplifies navigating and accessing essential resources for your affiliates. This ease of use encourages affiliates to remain engaged and committed to your program.
Centralized Resource Management: Centralization ensures that your affiliates have quick access to the most up-to-date resources, helping them maintain a consistent branding and messaging strategy when promoting your products or services.
Performance Tracking and Analytics: An affiliate area equipped with performance tracking and analytics tools enables your affiliates to monitor their progress and optimize their marketing strategies.
Clear Communication: It is a central communication hub between you and your affiliates. It lets you share important updates, announcements, or incentives, ensuring your partners stay informed and motivated.
Improved Credibility and Trust: A professional and well-designed affiliate area demonstrates your commitment to your affiliates and the success of your program.
By creating an affiliate area for your online business, you can create a supportive environment that fosters long-lasting relationships with your affiliates and drives growth for your online business.
Let's take a look at how you can easily create an affiliate area.
How to Create an Affiliate Area in WordPress
Creating an Affiliate Area in WordPress is very easy and simple. Using AffiliateWP, you can create your affiliate area and start running your affiliate program in just a few minutes.
Follow these simple steps, and you'll be able to create and customize an affiliate area for your business with all the customizations you want.
Here's what the affiliate area would look like: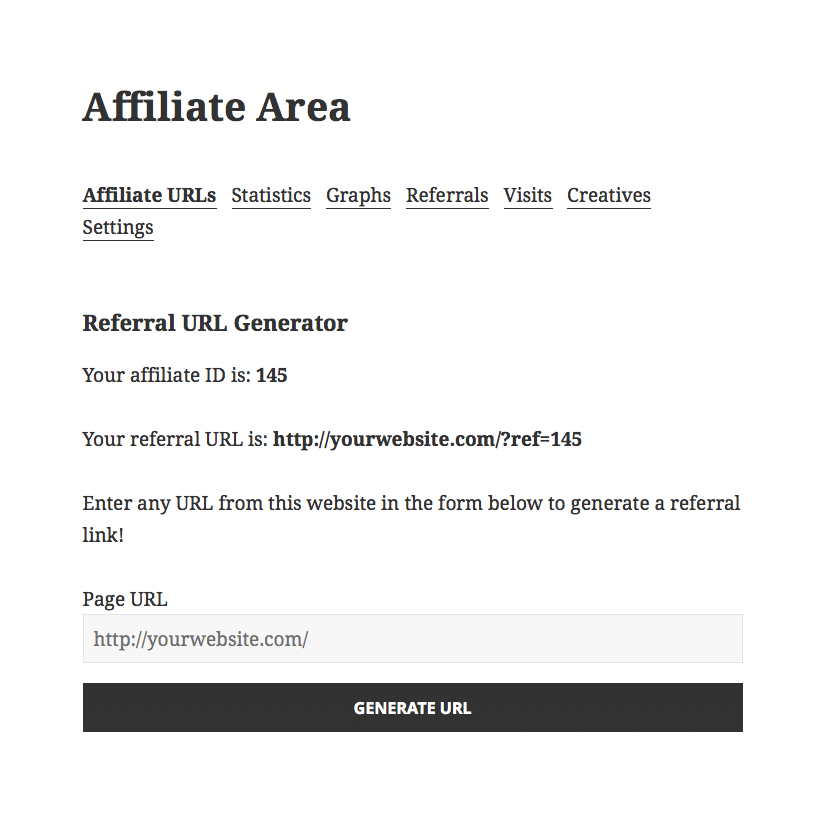 Step 1: Install AffiliateWP
To create an affiliate area on your WordPress website, you need a reliable and robust affiliate management plugin like AffiliateWP.
AffiliateWP is an excellent choice that seamlessly integrates with various WordPress plugins, making synchronizing products, memberships, forms, and more hassle-free.
The user-friendly setup wizard will guide you through setting up your affiliate program in a matter of minutes, allowing you to manage everything from your WordPress admin panel.
Additionally, AffiliateWP offers advanced features like Affiliate Landing Pages, Vanity Coupon Codes, and Direct Link Tracking to help your business thrive.
To get started, visit the AffiliateWP pricing page and select the plan that best suits your needs. After purchasing, you can install the plugin by navigating to the Plugins tab in your WordPress dashboard.
If you need assistance during the installation process, refer to our comprehensive step-by-step guide.
Step 2: Configure the Plugin with the Setup Wizard
The AffiliateWP setup wizard makes the configuration process incredibly straightforward.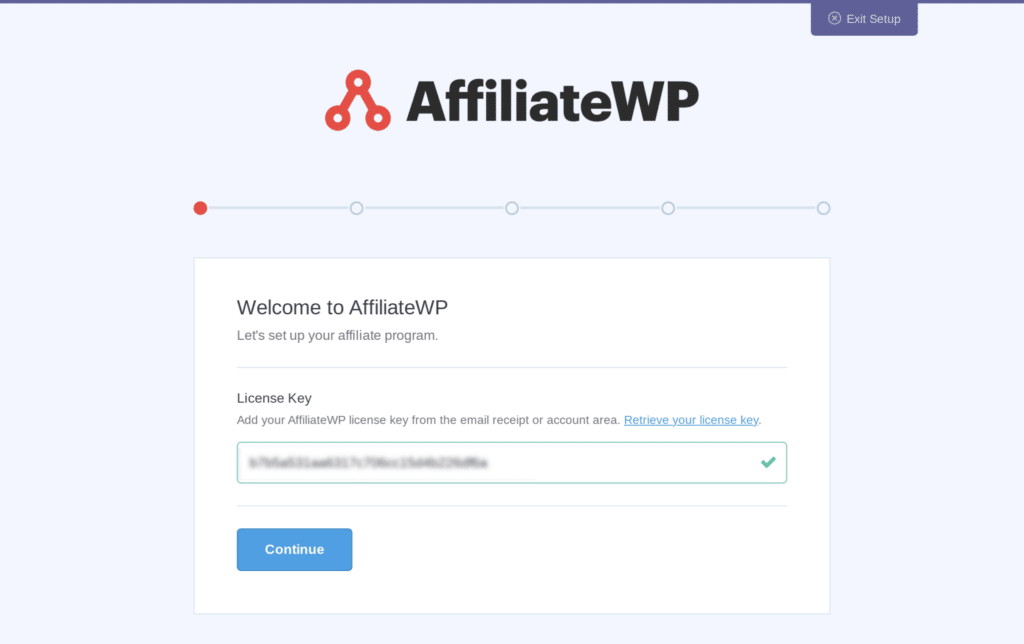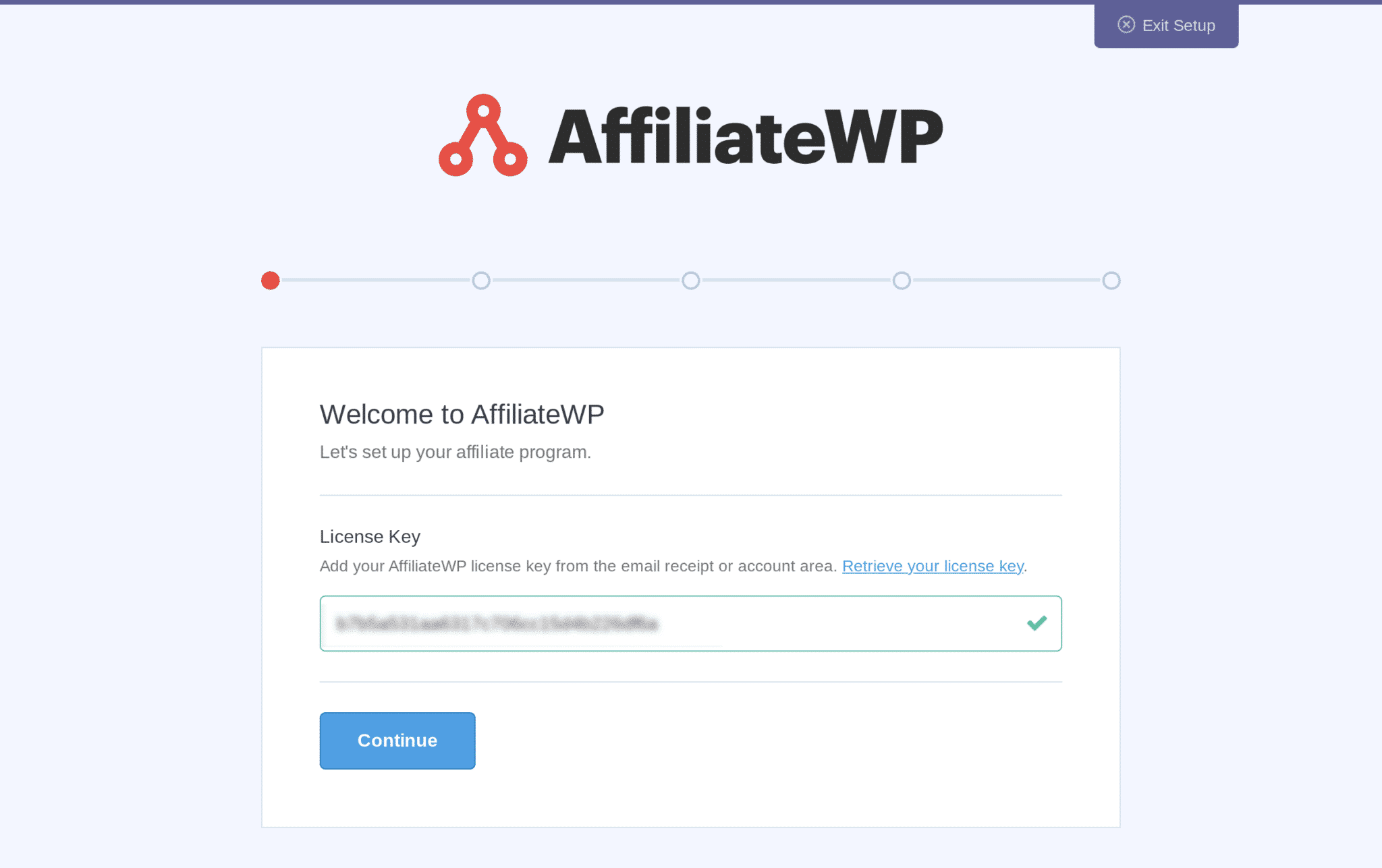 Access the setup wizard by hovering over AffiliateWP in the left-hand sidebar of your WordPress dashboard and clicking on Settings.
Scroll to the bottom of the page and select Launch Setup Wizard. You will be prompted to enter your license key, which you can find in your confirmation email or AffiliateWP account.
Copy the key, paste it into the designated box, and click Continue.
The setup wizard will now guide you through integrating AffiliateWP with your preferred e-commerce or membership plugin.
With over 15+ integrations available, including popular choices like WooCommerce, Easy Digital Downloads, and MemberPress, you can select the one that works best for your website.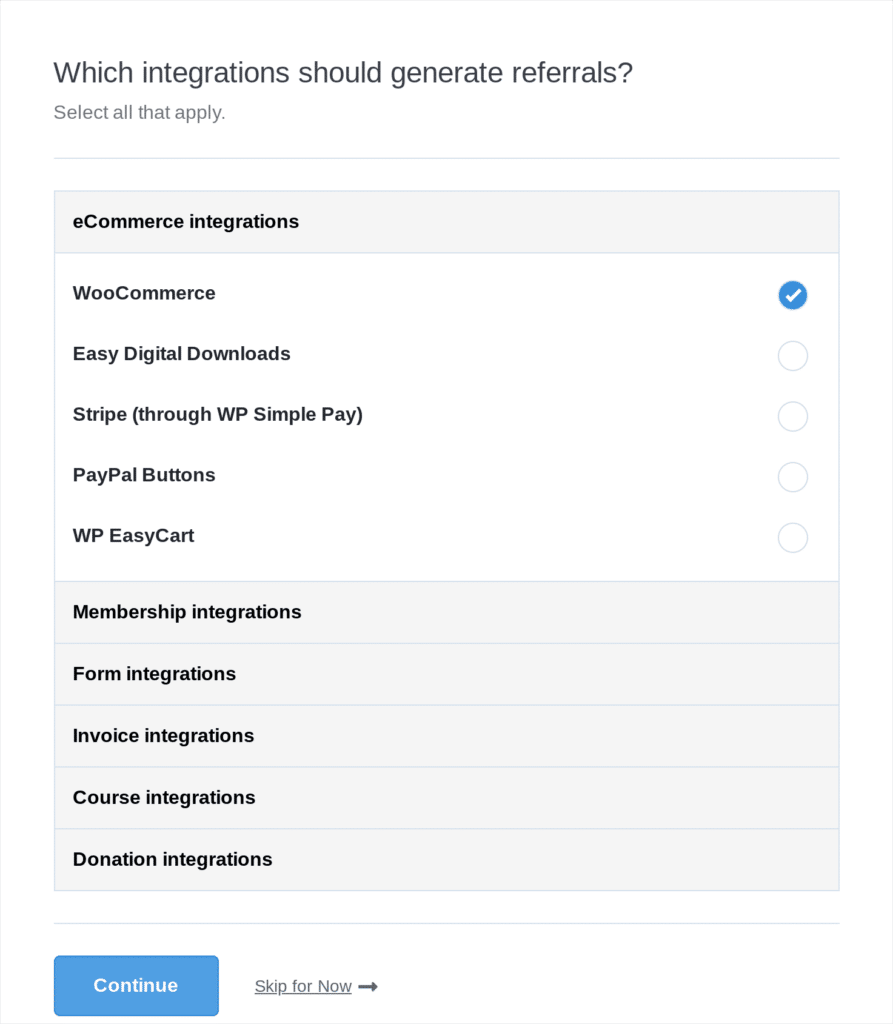 Check the box next to your desired integration and click Continue.
Next, you must configure some basic settings, such as currency, referral type (fixed rate or percentage of total value of sale), and referral amount.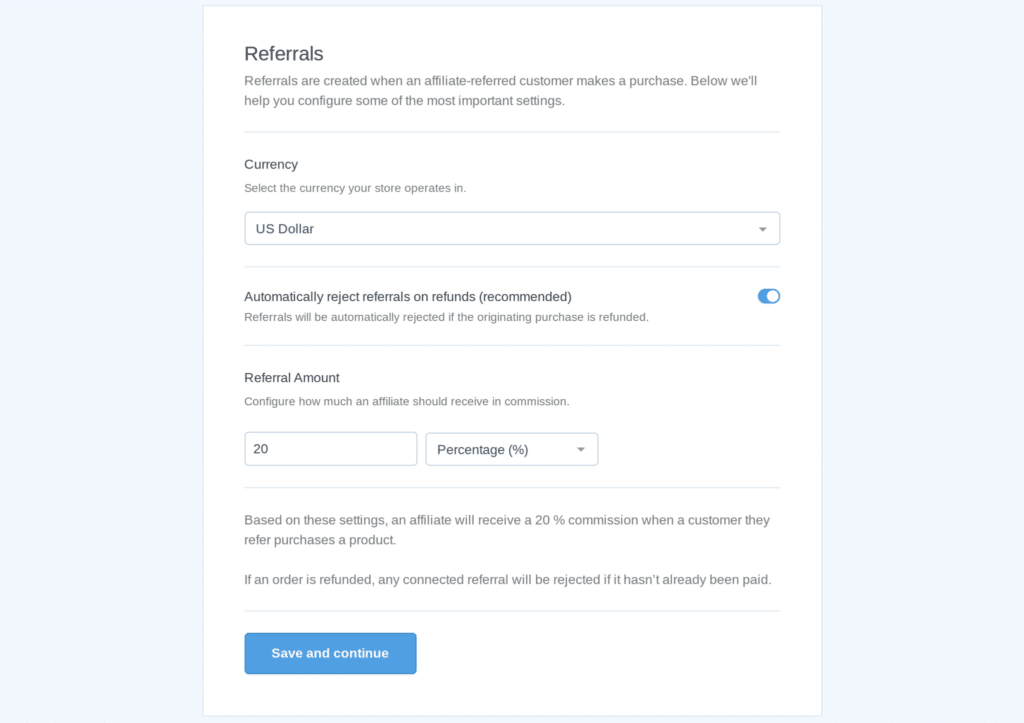 Input the necessary information and click Continue. While these settings establish your global affiliate commission rate, you can always adjust them later in the AffiliateWP Settings tab.
Finally, set your link structure and cookie expiration, review your settings, and click Continue and Save before hitting Finish Setup and Launch Wizard.
Step 3: Customize Your Affiliate Area
Upon completing the setup wizard, AffiliateWP will automatically generate an Affiliate Area page on your website.
This page will sync with your website theme, ensuring consistent branding across your site.
However, you can easily customize this page to your liking. You can either use the provided template or create your own affiliate signup page by crafting a new page in WordPress and selecting it as your main affiliate area page in AffiliateWP > Settings.
This Affiliate Area page will serve as the gateway where affiliates register for your program and access their account dashboard.
To make the registration process seamless, you may want to customize the registration form. If you want to that check out this AffiliateWP's in-depth guide.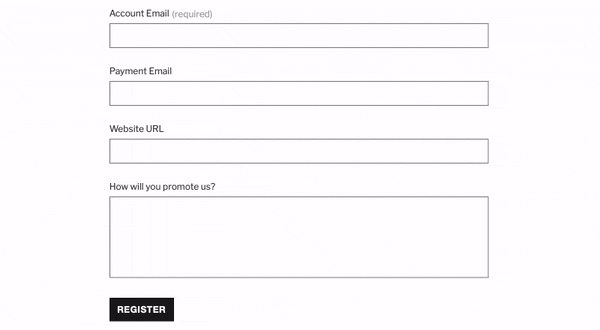 But remember that basic changes can be made by selecting Pages in the left-hand sidebar of your WordPress dashboard and editing the Affiliate Area page.
Once an affiliate has signed up, they can make affiliate links, get access to creatives, and track clicks, sales, and payouts all from the same place.
Step 4: Add the AffiliateWP Registration Block to Your Signup Page
If you've opted to use the AffiliateWP Affiliate Area template page, an affiliate registration form will already be included as we mentioned above.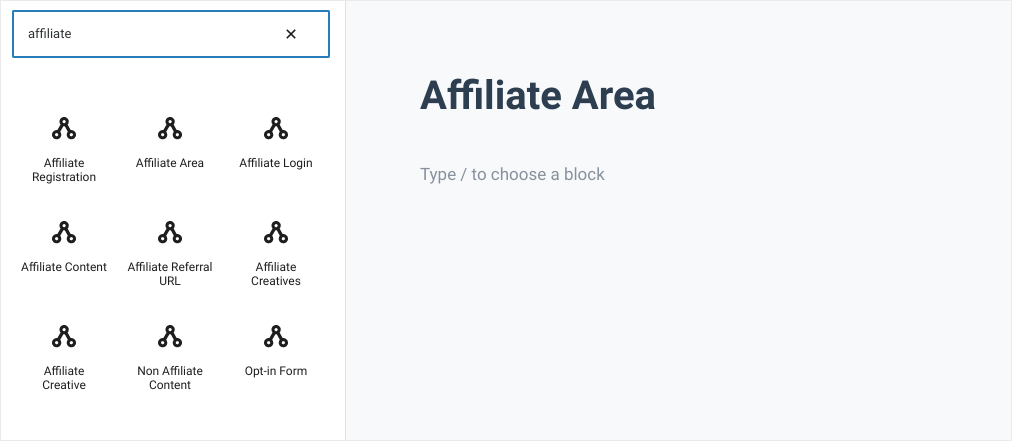 However, if you create your signup page, you can easily add an affiliate registration form by typing Affiliate in the blocks search bar and selecting Affiliate Registration.
This action will insert the AffiliateWP registration form template onto your page, allowing you to customize it.
For a seamless user experience, we recommend using the same page for both registration and login. The easiest way to accomplish this is by adding the Affiliate Area block.
This way, your affiliates can register and log in to their dashboard from the same page, streamlining their experience with your affiliate program.
Voila! You've just created your affiliate area for your affiliate program. See? It's that easy with AffiliateWP.
FAQ: Creating an Affiliate Area in WordPress
Can I Integrate AffiliateWP with My Preferred E-Commerce or Membership Plugin?
Yes, AffiliateWP supports various integrations with popular e-commerce and membership plugins, including WooCommerce, Easy Digital Downloads, and MemberPress.
How Can I Customize the Affiliate Registration Form?
You can easily customize the affiliate registration form by editing the Affiliate Area page from the Pages section in the left-hand sidebar of your WordPress dashboard. For more detailed instructions, follow AffiliateWP's in-depth guide.
Is It Possible to Track My Affiliates' Performance?
Absolutely! AffiliateWP includes performance tracking and analytics tools, allowing your affiliates to monitor their progress, optimize their marketing strategies, and make data-driven decisions.
Now You Know How to Create An Affiliate Area Effortlessly
One key factor that makes AffiliateWP a top choice among WordPress affiliate plugins is its seamless blend of flexibility and user-friendliness, which, combined with its outstanding features, fosters sales growth.
The best part is that setting up AffiliateWP is a breeze. While offering you full control over every aspect of your program (unrestricted numbers of affiliates, creatives, or sales), it also simplifies management, allowing you to focus on other critical tasks.
Ready to move forward with building a successful affiliate program? Here are some additional resources to help you along:
Now is the time to create an affiliate area and grow your program. Get AffiliateWP today!