The Essential Affiliate Marketing Business Plan for Program Managers (2023)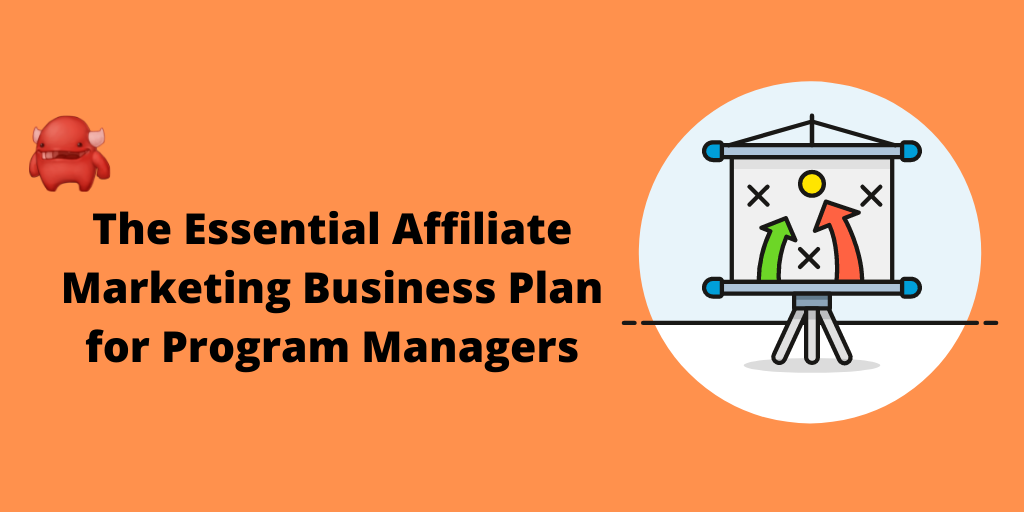 Don't start an affiliate marketing program without an affiliate marketing business plan.
It seems easy, right? Affiliates sign up and do your marketing for you; you make sales while you sleep, and everyone's happy.
Unfortunately, it's not that easy, and, to use an old cliche, if you're not planning, then you're planning to fail.
Instead, follow these 15 steps to create a business plan for your affiliate program.
Why is an Affiliate Marketing Business Plan Important?
Affiliate marketing is commonly referred to as a passive income. This is a little bit deceiving and can take away from the effort and skill that's required to create a successful affiliate program.
The stats tell us that there's plenty of money to be made from affiliate marketing, but to unlock this "bounty," you need to be strategic and you need to have an affiliate marketing business plan.
Over 80% of brands run affiliate marketing programs
16% of online orders are attributed to affiliate marketing
Affiliate marketing is the top customer acquisition channel for 40% of US merchants
More than 85% of marketers expect affiliate marketing revenue to grow
It's a competitive field you're looking to get into; you're up against big affiliate networks and programs offering affiliates great rewards. To be successful, your program has to stand out from the crowd and motivate affiliates to create referrals for you.
The nice thing about an affiliate marketing strategy is that it draws on many of the skills you already use in your digital marketing, so you've got a good starting point. With the right software, even beginners can get an affiliate program set up in a few minutes, the bigger question is, how do you turn it into a success?
15 Steps to Creating a Business Plan for your Affiliate Program
Whether you're an established e-commerce store, or you're considering setting up a new online business, there are a number of points you should consider before you start your affiliate marketing program.
Affiliate marketing is fairly low risk for merchants because there are low upfront costs, but if you get basic decisions wrong, then you're not going to see the results you crave.
Here are 15 questions you should answer as part of your affiliate marketing business plan broken down into 6 categories.
Product
Your products are going to be one of the primary elements that should drive your decision-making.
Q. What types of products do you sell?
The type of products you sell is going to dictate the features you need from your affiliate program. If you're selling physical products, then you need affiliate marketing software that plugs into your e-commerce platform (WooCommerce, Shopify, Big Commerce), if you sell products or services, then your software will need to integrate with other platforms like Easy Digital Downloads.
Q. What does your customer journey look like?
What has to happen for you to make a sale? Affiliates can give you all the traffic in the world, but ultimately, you've got to make the sale.
For example, the B2B customer journey is generally longer and more complicated than the B2C one. If this is the case, then you might have a dedicated sales team that just needs leads. For these businesses, affiliate lead generation is a much better option than using affiliate marketing simply for sales.
Different business models will require different things from affiliate programs.
Q. What commission can you afford?
People aren't going to market your products for free (unless you've got some amazing brand ambassadors). They need an incentive to showcase your products on social media, leverage their SEO, and hit up their email lists.
In an ideal world, you'd be able to offer a huge reward and still make plenty of profit but that's not how it works. You've got to have a clear picture of your profit margins and understand how much you can afford to offer in commission.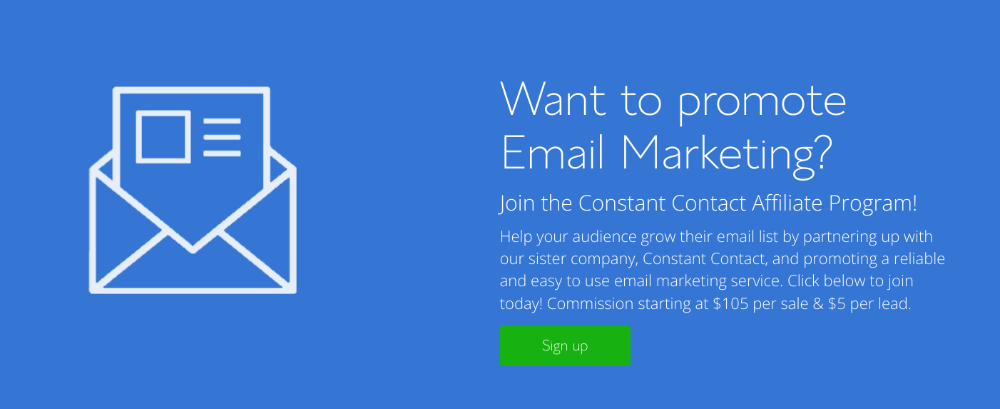 It's a balancing act where you've got to offer enough reward to attract engaged affiliates while still ensuring you make a good profit.
Software
Your affiliate marketing software is what ties everything together. If you can't accurately track referrals, then your program isn't going to work for you or your affiliates.
Getting set up is actually the easy part; successful affiliate marketing is more about program features and how you leverage them.
Q. How can you make your affiliate program easy to use?
The chances are your program won't be the only one your affiliates are signed up to. These guys are entrepreneurs looking to make a good income, so they're working with lots of different businesses.
They don't have time to waste on a poor affiliate experience.
This is why your software has to be simple to operate and offer the detailed analytics affiliates need to optimize their performance.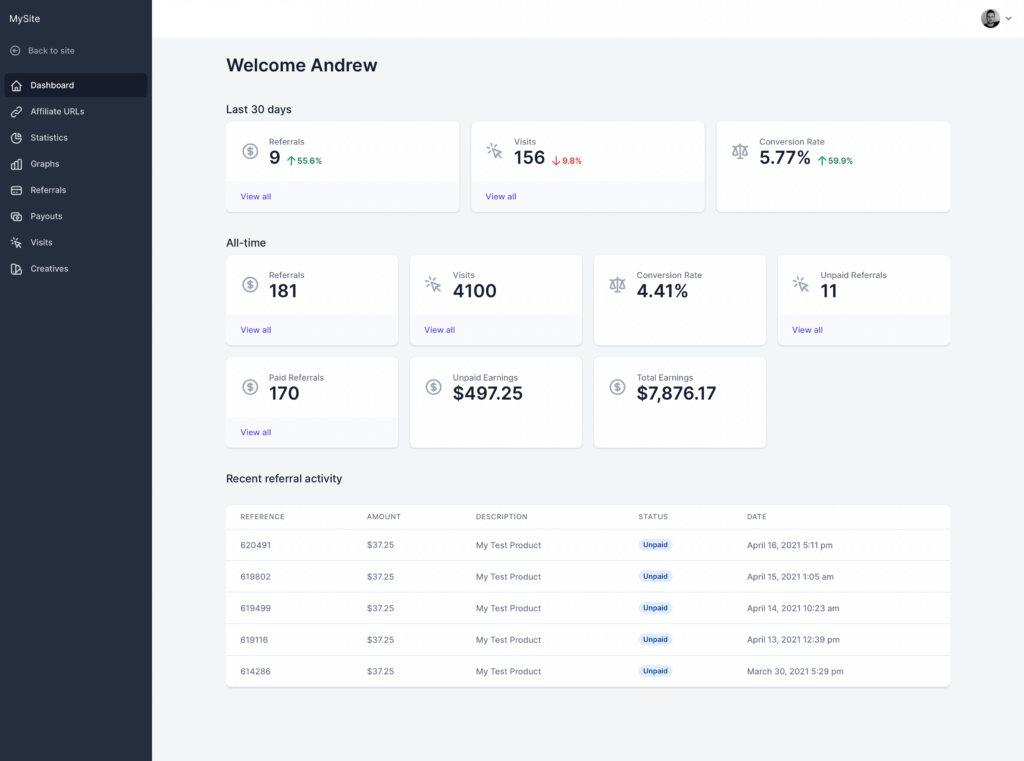 It's also essential for you that you have easy access to all the information you need. You want to be spending your time maximizing sales, not managing payouts and other little details, which is why AffiliateWP offers an integrated payouts service.
You can get your affiliate program set up in just a few simple steps, but the important thing is choosing software that streamlines processes for both you and your affiliates.
Q. How much should you pay for your affiliate software?
How much you should pay for your affiliate software comes down to the features you need.
One way is to focus on the passive income aspect of affiliate marketing, go for the cheapest option, and hope you attract great affiliates with minimal features. If you're hoping to earn tens of thousands of dollars through affiliate marketing, then it's quite safe to say this isn't the best option.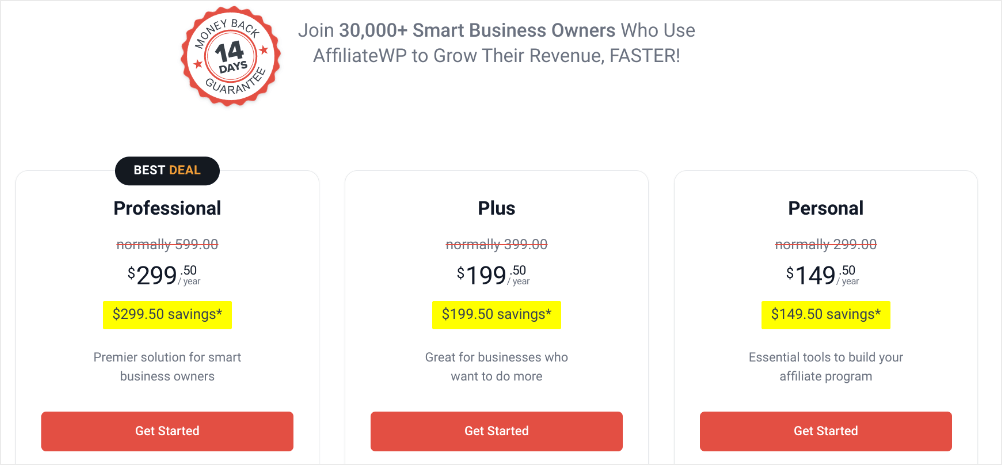 Instead, you've got to go back to the questions you answered about your products and ask yourself what features are going to help you sell them.
Q. How can you govern affiliate behavior?
The actions your affiliates take will reflect on your brand, so it's important to create strong terms and conditions. Your affiliate marketing software should make this easy to set up, and give you the tools to protect yourself from affiliate fraud.
Promotion
People often underestimate how challenging it can be to find good affiliates. It's not all about commission rates; instead, it's about understanding what good affiliates want, where to find them, and how to showcase your value proposition.
Q. What does your ideal affiliate look like?
Affiliate marketing is a form of partnership marketing, which means you're looking for someone who has something you need. Generally, this is reach, but it's important you don't sacrifice a targeted approach simply in the pursuit of a larger audience.
Take the time to understand your ideal affiliate's audience and how they reach those people. Are they a blogger, influencer, retailer, email marketer, or something else? Once you have a profile of your perfect affiliate, then you'll have a better idea of how you can reach them.

Remember as well that if you hide your affiliate sign-up page on a forgotten corner of your website, then few people are going to see it. Treat this as a sale and optimize your sign-up page to appeal to your ideal affiliate.
Bonus Tip: Affiliates will be judging your sign-up page to see how good you are at converting. For maximum results on your affiliate sign-up page, we always recommend SeedProd's optimized landing page templates.
Q. What are your competitors doing?
It's difficult to sign up an affiliate if you have a direct competitor with a much more attractive affiliate program. Perform market research and find out what your competitors are doing, and incorporate the elements you like into your program.
Another great option here is to check out brands you admire and sign up for their affiliate programs. It will give you a chance to look around and see what they do well.
Q. What non-monetary rewards can you offer?
When you're creating your affiliate marketing business plan it's easy to get carried away with commission. Yes, affiliate commissions are important, but they're only part of the equation.
Not everyone can offer huge commission rates, so instead, you've got to think about what non-monetary rewards you can offer:
Free products
Company swag
Professional creatives
Tiered affiliate rates
Personalized landing pages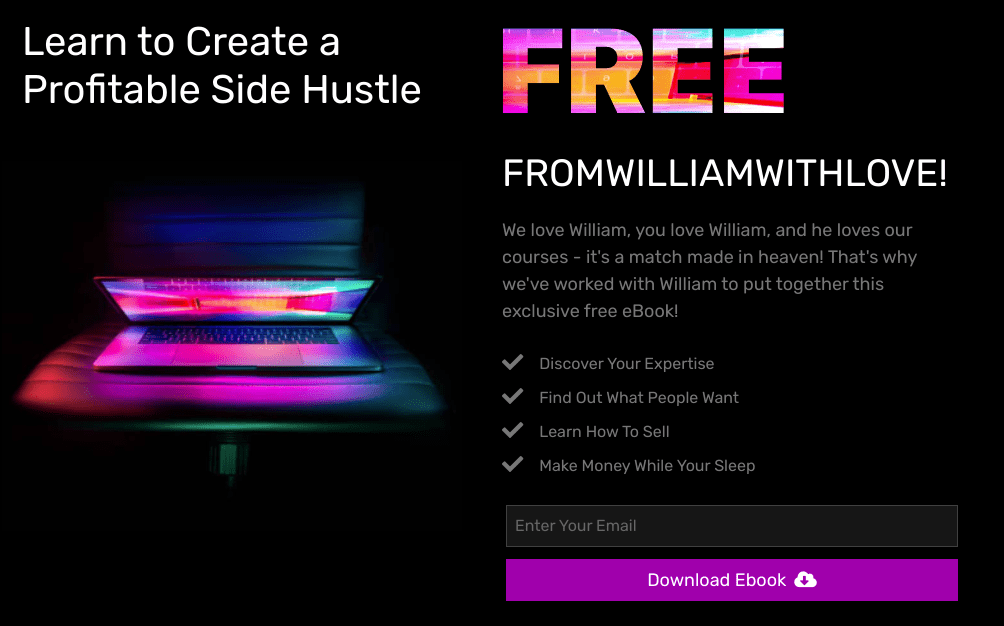 Any features that can improve conversion rates are highly popular, which is why one of our favorite tactics is to create personalized landing pages for your best affiliates. These landing pages highlight the exclusive nature of your relationship and can result in a big boost in your conversion rates.
Engagement
Signing up affiliates is only part of the job; you've also got to keep them engaged and selling. There are lots of affiliate programs out there and if you're not able to engage your affiliates, then you can find their marketing campaigns start to focus on other products.
Q. How do you ensure your affiliates get off to the best possible start?
Affiliates don't want to be waiting months for their first sale. They want to hit the ground running, creating great content (product reviews, social media posts, email marketing), and making their first sales.
When it comes to selling your products, you have more know-how than anyone in the world, so share it. Create an affiliate onboarding that contains everything needed to cut your affiliates' learning curve.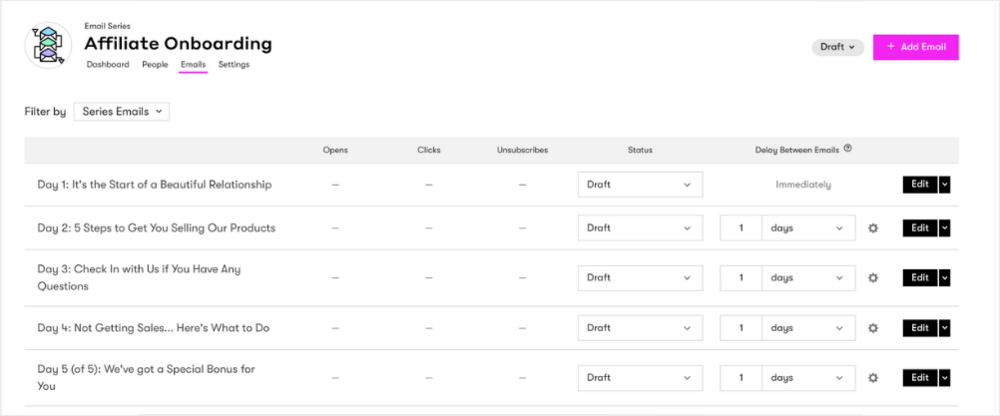 Nothing is a better incentive than watching commissions come in and the quicker this happens for your affiliates, the better it will be for you.
Q. How do you maintain your affiliate relationships?
Humans like doing business with people they like. Sure, they like making money too, but if you create a personal connection it's going to count for something.
Your affiliate onboarding gives you a great chance to open the dialogue, but it's important to maintain communication.
Ask for feedback
Notify affiliates of new program features
Share new creatives
Offer insider knowledge on your affiliate products
Continue to innovate with your non-monetary rewards
Create clear guidelines to highlight your expectations
Conversions
Everything we've outlined so far in your affiliate marketing business plan is great, but if you can't convert, then it's not going to bring in the results. No matter how great your affiliates' marketing efforts are, it's up to you to sell your products, so this is where everything comes together.
Q. How can you optimize your user experience?
The whole reason you're working with affiliates and influencers is that they have a great connection to their audience. Whether they use content marketing, social media platforms like Linkedin, email marketing, or something else, they create an amazing, personalized user experience (UX).
To maximize sales, you're going to have to create a similar level of UX. It's no use if potential customers are blown away by your affiliates only to be left disappointed by your landing pages.
This is why we created our Affiliate Landing Pages feature because it enables you to create a seamless user experience. As these pages are personalized, they can focus on the relationship between you (the retailer), and your affiliate and ensure continuity when customers move from your affiliate's site to yours.
Q. How can you optimize your conversion rate?
Small improvements in your conversion rate can make a big difference to both you and your affiliates. For small businesses, that don't have the resources to reach their target audience in quite the same way as big brands, conversion rates are all important.
By maximizing the user experience on your landing page you should be able to convert more affiliate traffic, but there's still more you can do.
One thing to remember is that most people don't convert on their first visit to your website. Once they leave your site, you have no way to reach them though, unless you're collecting leads. A great way to immediately get more out of your affiliate traffic is to start leveraging OptinMonster to create more leads.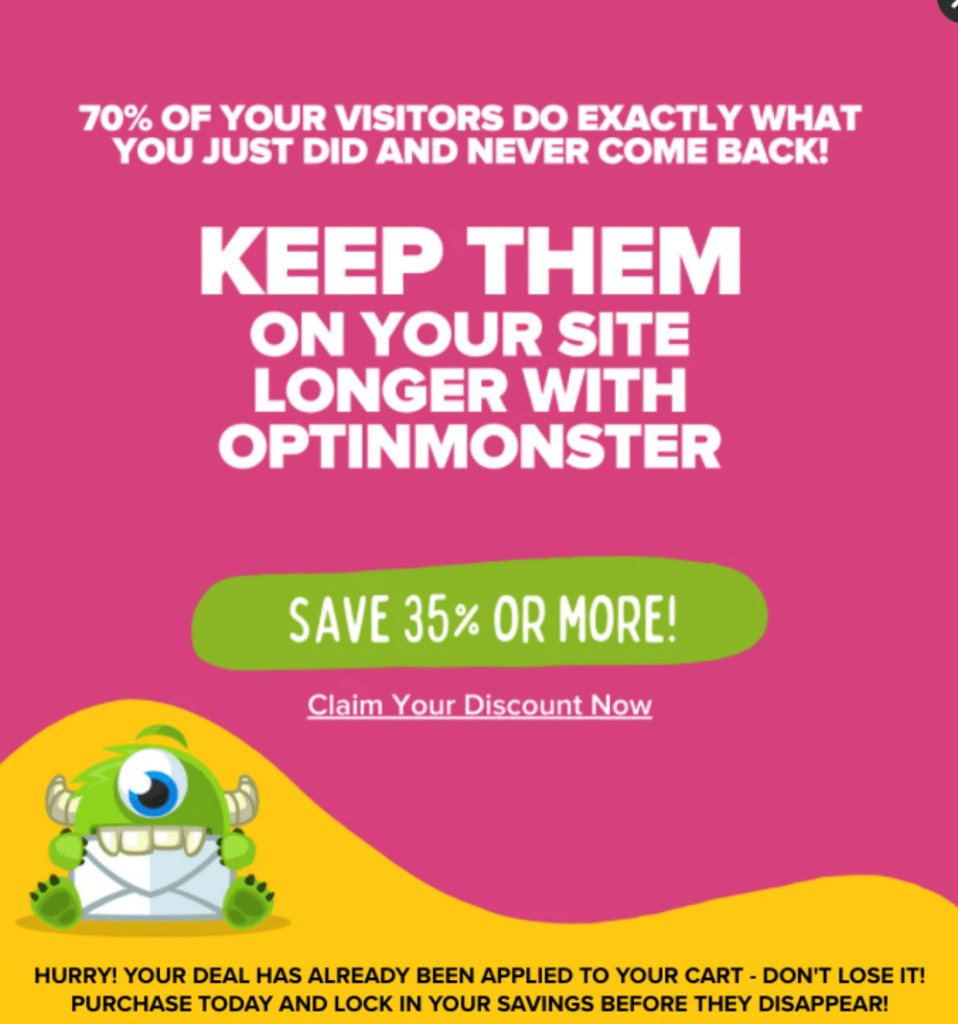 You've also got to make sure you capitalize on the moment when a customer decides they are ready to make a purchase. Your checkout process should be quick, simple, and able to take credit card payments in the most convenient way (WP Simple Pay is an ideal option for this).
Post Sale
Whether you're a startup or an established business, an affiliate program is a great way to reach a wider audience and boost revenues. However, one thing that tends to be overlooked is that affiliate marketing is excellent at creating repeat customers.
When you make an affiliate sale it's the culmination of an effective affiliate marketing business plan, so you want to make sure you maximize the lifetime value of that investment.
Q. How will you create repeat customers?
You've worked hard to get new customers from affiliate marketing, now, how can you turn them into repeat customers? This is where you want to focus on your post-sale care and put your email marketing into action.
A great way to do this is to give your affiliates an incentive to keep your customer coming back to you with Lifetime Commissions and Recurring Referrals.
Q. How can you continue to optimize your affiliate program?
It's important to set goals for your affiliate program and choose KPIs that will show you how it's performing. The right affiliate marketing software will give you access to lots of different data, so it's important to use this to improve your processes.
Creating a thriving affiliate marketing program isn't easy, and it will take consistent work on your part. Some aspects of your affiliate marketing business plan might not work straight away, but that just means there's an opportunity to make improvements.
Your Affiliate Marketing Business Plan Starts with AffiliateWP
As you can see, an affiliate marketing plan has plenty of different moving parts. To bring those moving parts together, you need the right affiliate marketing software, and that's exactly what AffiliateWP offers for online businesses that run on WordPress.
Not only do we have high-level features, but we're also known for our world-class support, which means if you have a question, we're here to help. We're always updating our site with the latest tips and strategies to make sure that your affiliate marketing program doesn't sit idle, and these are the small details that make a big difference.
We're here to make your affiliate marketing program a success and that means AffiliateWP should feature in your affiliate marketing business plan.