How to Set Up a Lead Generation Affiliate Program in WordPress (2023)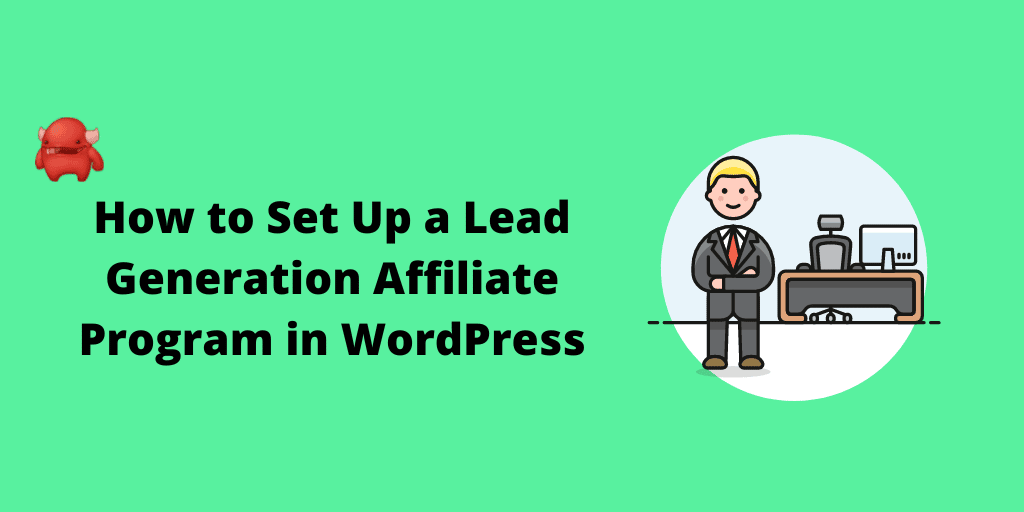 Interested in starting a lead generation affiliate program?
It's a great idea!
Affiliate marketing lead generation can be an amazing way to grow your business, and we're going to show you exactly how to do it.
Here's how to set up a lead generation affiliate program in WordPress.
Benefits of a Lead Generation Affiliate Program
One question you might find yourself asking is why incentivize leads over sales?
Surely it's more beneficial to have sales than leads?
The answer generally boils down to the fact that it's hard to make sales.
There are many cases where you want to maintain control over the sales process:
You're selling big-ticket items
You have a long customer journey
You're selling something that's very technical
Your products and services have a big impact on people's lives (think legal services, medical equipment)
Returns aren't possible
You might simply have an amazing sales team and know that they have the best chance of turning website visitors into new customers. Or, you might be seeking high-quality links to help SEO and boost your presence in the search engines.
Whatever the reason, pay-per lead, or affiliate lead generation can be exactly what you need.
In these cases, you want to focus on the part you're good at – selling your products.
Still, you need a healthy sales funnel that's stacked with quality leads, and the best way to ensure this is with a lead generation affiliate program.
How to Set Up a Lead Generation Affiliate Program in WordPress
Affiliate lead generation often gets overlooked in favor of quick e-commerce sales. For lots of small businesses (and big), this is a mistake though, because it doesn't maximize the skills they have.
When you set up a thriving lead generation affiliate program, it's going to maximize your return on investment in affiliate marketing. And the best part is it's incredibly easy to do.
Here are the steps you'll need to follow:
Install AffiliateWP
Download a form builder and create your forms
Complete the AffiliateWP setup wizard
Enable referral tracking on your form builder
We're going to walk you through every step in this guide, but if you find you get stuck at any point, then check out our handy documentation.
Here's how to set up a lead generation affiliate program in WordPress
Step 1: Install AffiliateWP
AffiliateWP is the best WordPress affiliate management plugin, and it's perfect for a lead generation affiliate program. In fact, it's going to allow you to create a WordPress affiliate program in under 10 minutes!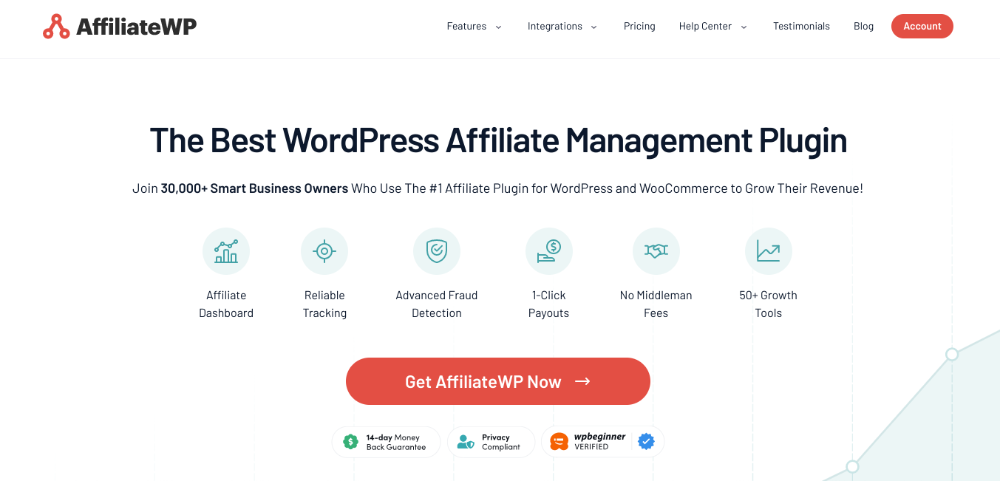 Not only does it have 1-click integrations with a host of form builders, but it's also got some powerful marketing tools to boost your affiliate lead generation (more on that later).
Check out the pricing page and choose the plan that best fits your needs.
Once you've completed your payment, you can install the file by going to the Plugins tab in your WordPress dashboard. If you have any problems with this, then refer to this simple step-by-step guide.
Step 2: Download a Form Builder and Create Your Affiliate Marketing Lead Generation Forms
There are lots of form builders to choose from on WordPress, but we find WPForms is hard to beat.
It's also great for lead referral tracking, so although AffiliateWP also integrates with a host of other form builders we recommend taking a look at WPForms.
Head to the Plugins section in your WordPress platform and search for WPForms. It's a free plugin, so it won't cost you anything to download and take a look at.
You'll automatically have everything you need to build highly optimized forms (including lots of templates), but it is worth looking at the paid plans for those little extras you need to take your lead program to the next level.
Really think about what you're trying to achieve from your affiliate marketing lead generation form and keep the affiliate aspect in mind.
While you don't want to put people off becoming a lead, you want to make sure there's some level of qualification, because you're going to be paying a small fee for each sign-up (the ones that are referred by affiliates). Make sure you're asking the right questions and getting the right contact information, but at the same time, don't bombard people with too many requests.
WPForms, allows you to use conditional logic and conversational forms, which are great ways to collect the information you need without scaring people off.
Note: Although AffiliateWP plugs into a variety of form builders, it doesn't support Shopify or other e-commerce platforms.
Step 3: Complete the AffiliateWP Setup Wizard
Once you've installed AffiliateWP and your form builder, you can open the setup wizard from the Settings tab.
Just hover over AffiliateWP in the left-hand sidebar of your WordPress dashboard and click Settings.
Scroll to the bottom of the page and click Launch Setup Wizard.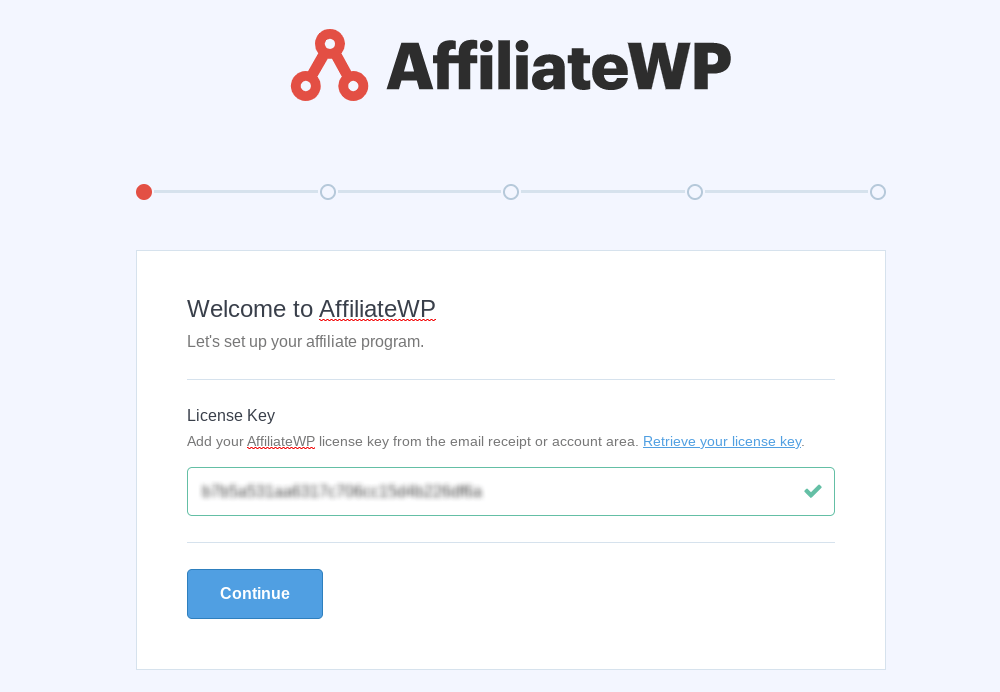 The first thing you will need to do is enter your license key which can be found in your confirmation email or on your AffiliateWP account.
Copy the key and paste it into the box before clicking Continue.
On the next page, you can integrate your form builder by clicking Form Integrations and ticking the check box next to your plugin.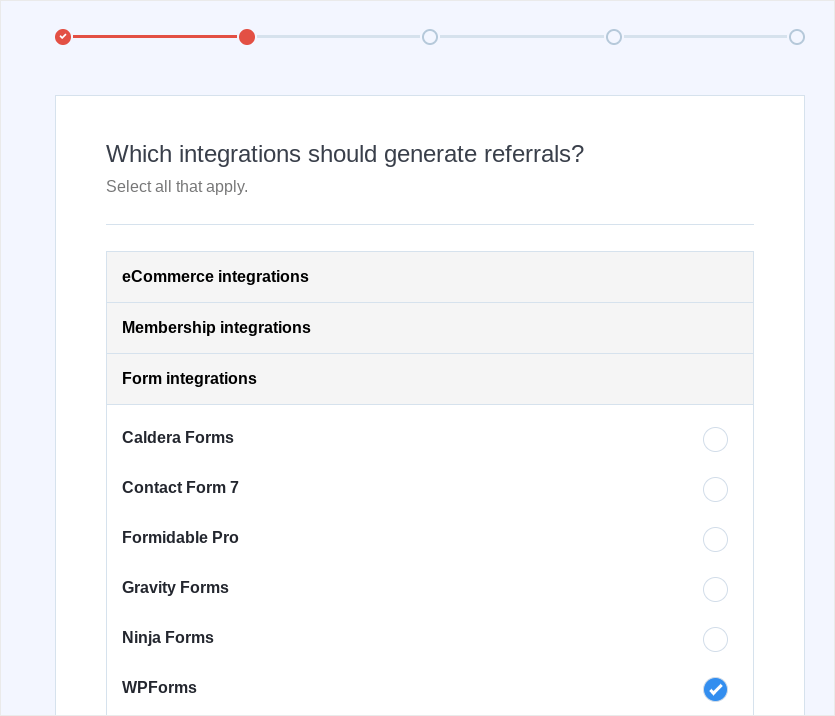 Then click Continue to complete the integration.
You'll then be asked to choose your currency, referral type (for affiliate lead generation you want to choose flat rate), and commission value. All of these details can be edited later in your AffiliateWP settings, so don't worry too much about this step for now.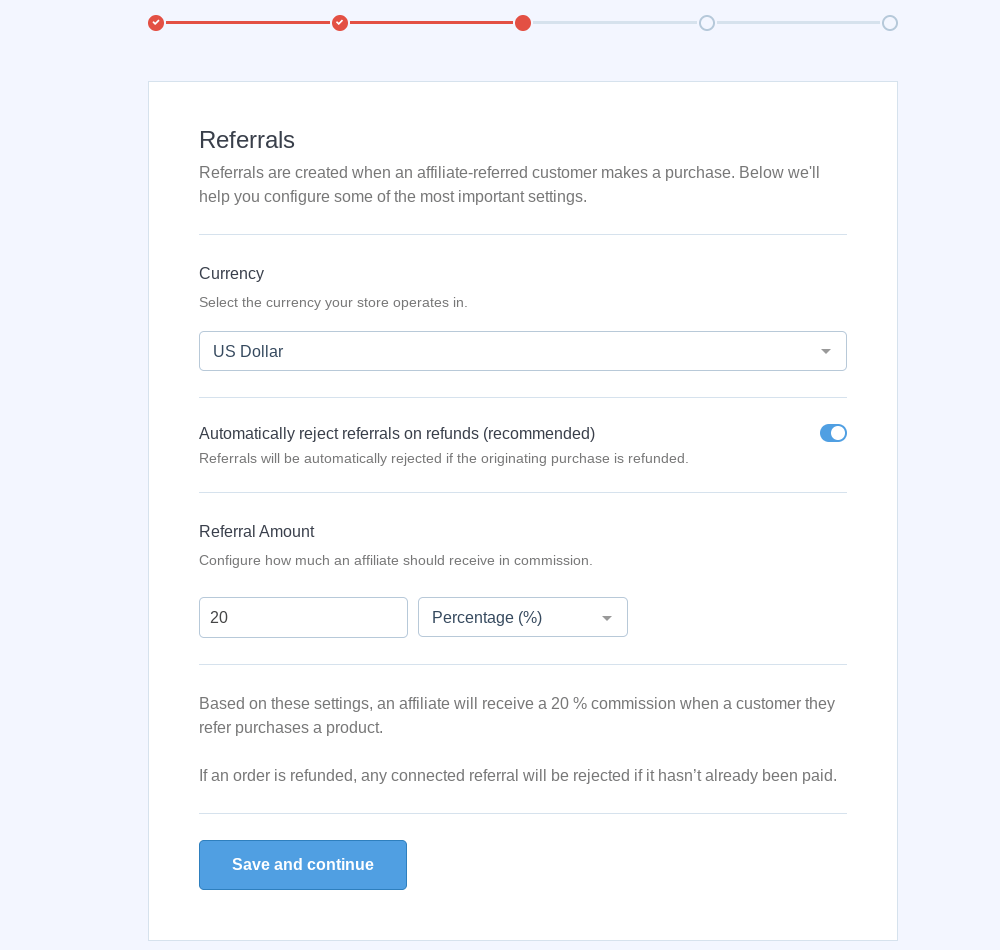 Next, you'll be able to edit your affiliate link structure and set your cookie expiration. Once you've done this, click Save and Continue, and the wizard will be ready to create your affiliate program.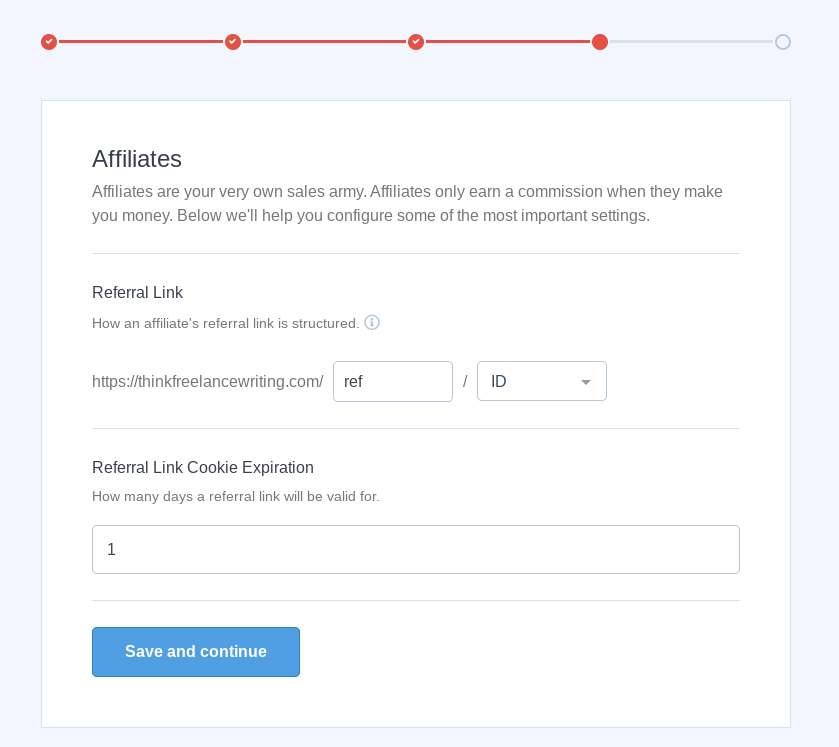 Finally, click Finish setup and exit the wizard to activate your program.
Step 4: Allow Referral Tracking on WPForms
Head back to WPForms and select the form you want to use to sign up new affiliate leads.
In the left-hand menu, select Settings, and in the next tab click General. Under Advanced Settings, you'll see a check box titled Allow Referrals, check this box, and in the next box, select Lead.
(If you're using another plugin for your forms, then search our documentation for plugin-specific information)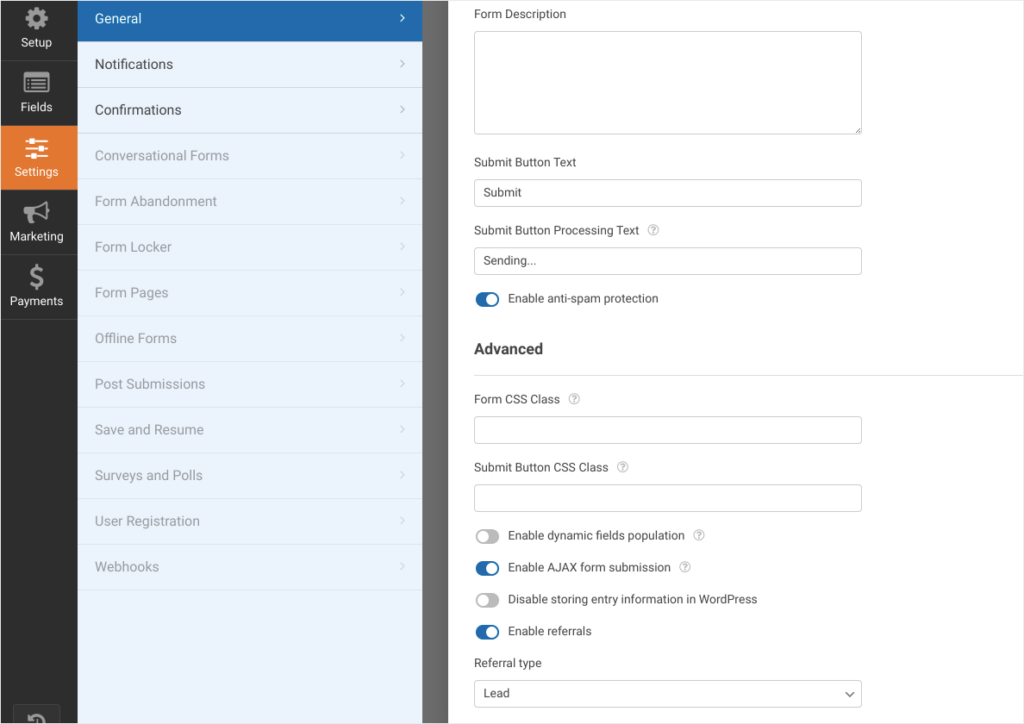 Your form will now automatically track referrals in your AffiliateWP dashboard, allowing you to effortlessly make payouts to affiliates when they sign up a qualified lead.
That's it!
Just four simple steps and you've set up a lead generation affiliate program in WordPress.
Next, Grow Your Affiliate Marketing Lead Generation
One of the great things about owning your own affiliate marketing program is there's no limit to what you can achieve, and no fees (unlike with some of the affiliate networks).
There's no point investing in a lead generation affiliate marketing strategy and hoping it works. You want to take advantage of every tool you have available to you and make sure you're optimizing your lead generation.
AffiliateWP offers some amazing features that help you achieve this:
Personalized Affiliate Landing Pages: Create landing pages that are specific to each affiliate to leverage their relationship with potential customers.
Direct Link Tracking: Track referrals without the need for affiliate links.
Zapier Integration: Connect your lead generation affiliate program to an endless number of apps (CRMs, email marketing providers, and more) to add automation and make sure you're following up on affiliate leads in the most efficient way.
With these features and many more, you'll be able to maximize your return on investment and boost your digital marketing campaigns more quickly.
FAQs: Lead Generation Affiliate Program
What is an affiliate lead? An affiliate lead is a lead that has been referred to you by an affiliate. Bloggers, influencers, and any other kind of affiliate can promote your business in return for a commission on any lead they help sign up.
How do you generate affiliate leads? To generate affiliate leads you need affiliate marketing software. If you have a WordPress website, then the easiest way to do this is by integrating AffiliateWP with your form builder. This will allow you to track affiliate leads and pay affiliates when they generate leads.
Is affiliate marketing the same as lead generation? Affiliate marketing is not the same as lead generation. Affiliate marketing is a transaction in which you pay affiliates for a referral (a sale, lead, opt-in, or any agreed-upon action), whereas lead gen is the process of creating leads for a business. The two can be combined in a lead generation affiliate program where affiliates get paid a commission for creating leads.
Why use affiliate marketing lead generation? Affiliate marketing lead generation is a great tool for entrepreneurs and business owners. It can quickly create leads without investing too much money and supercharge growth. It's also an ideal option for start-ups. It gives them instant exposure across a range of marketing channels (social media, webinars, blogs, email marketing, etc) and if you've got a good sales team, then they can focus on ensuring conversion rates remain high. This helps you to make money from day 1.
It's Time to Get Started with Affiliate Lead Generation
Setting up a lead generation affiliate program is a win-win.
Not only does it open you up to huge growth opportunities, but it's also very low risk. You only pay when you get a solid lead, which makes it a great way to reach new verticals and target audiences to boost sales.
Looking for more resources to help you start your affiliate program?
We've got you covered:
Now you're ready to set up your lead generation affiliate program.