Is AffiliateWP worth it? Is affiliate marketing worth it? Can you really make good money from an affiliate program?
If you're looking to add something extra to your WordPress store and grow your revenue, then we think the answer to these questions is a resounding yes.
What is AffiliateWP?
AffiliateWP is a WordPress plugin that can quickly add affiliate marketing capabilities to your business. This allows you to collaborate with marketers around the world to help sell your products.
Every time your affiliate refers someone who makes a purchase, they get a commission (say, 10% of the total sale price), so everyone wins. Your affiliate gets an extra source of income without having to buy stock and build a store, and you greatly expand your reach without having to make a big upfront investment in your marketing.
In essence, it's risk-free. The only upfront cost you have is your affiliate marketing software, which is where the question arises, "is AffiliateWP worth it?"
To get to this answer, we've got to start by looking at your goals, and the chances are, they look something like this:
Set up an affiliate program that syncs with your store (with minimal effort)
Attract top affiliates to your program
Give affiliates the tools they need to make sales
Accurately track referrals
Automate as many processes as possible so your affiliate program runs like clockwork
If your goals look something like the above and you run your e-commerce store on WordPress (most probably on WooCommerce), then the AffiliateWP plugin is the ideal option.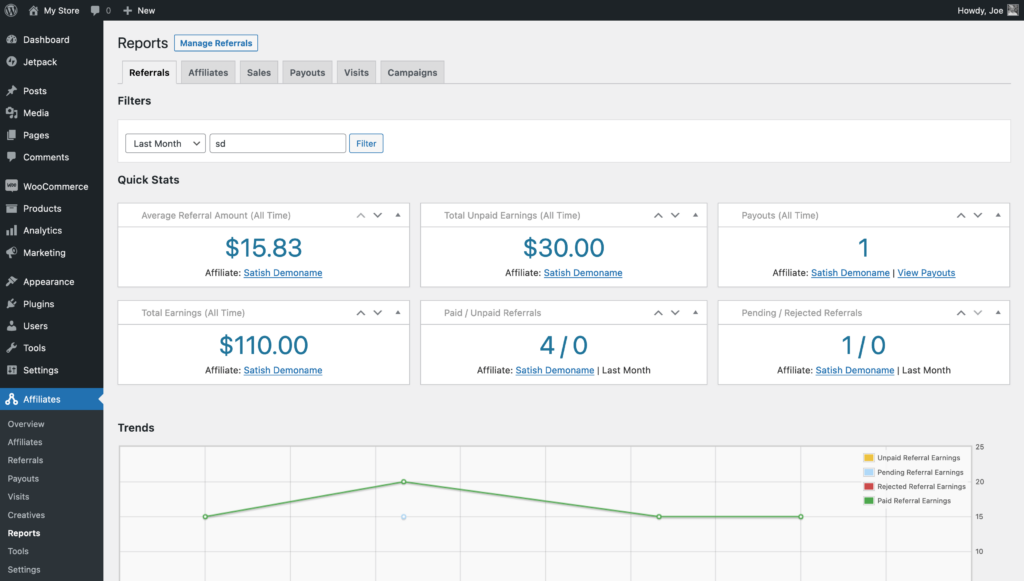 Here's how it compares to your goals:
AffiliateWP is designed specifically for WordPress, it plugs into your store in seconds.
It's not just designed to help you set up an affiliate program, it's designed to help you make an irresistible program.
It's incredibly feature-rich, so you can attract, engage, and empower affiliates to make sales.
It offers powerful link tracking that's focused on security and fairness.
We know that when you're handling everything manually, affiliate programs can be more hassle than they're worth, that's why AffiliateWP is perfectly optimized with WordPress to automate as many processes as possible.
AffiliateWP isn't there for you to set up an affiliate program and hope it makes sales; it's there to give you everything you need to make a successful affiliate program.
The Top 5 Benefits of AffiliateWP
People find AffiliateWP when they need an affiliate plugin for WooCommerce (here's how to set up an affiliate program for WooCommerce), but that's the very start of the journey.
We know that setting up your affiliate program is the easy part, what's difficult is creating an affiliate program that makes sales and meets targets. To do this, you and your affiliates need the right tools and the right support.
It's a competitive world out there, and if you build your program and hope that affiliates are going to magically come, then it's likely you'll fail. We know the power of affiliate marketing, and we know that given the right tools, you can make it work for you. These five key features can help you do exactly that.
Custom-Built for WordPress Websites
If your store runs on Shopify, Magento, BigCommerce, or any other number of platforms, then AffiliateWP won't work for you!
That's because AffiliateWP is built solely for WordPress websites because it takes that level of focus to create the perfect solution for store owners.
You'll find lots of affiliate marketing software that's built with "a handy WooCommerce integration" (among many others), and most of them do a good job. However, they don't have the same depth of integration as AffiliateWP, which means the experience isn't as seamless.
When you use AffiliateWP it blends perfectly into the rest of your site, making it effortlessly simple to use.
The other benefit of this focus on WordPress is that AffiliateWP's integrations are there to help you get the most out of your WordPress site. One of the reasons WordPress is so popular is because of the great plugins it offers, and AffiliateWP links with many of the most used plugins to help you get more out of your program: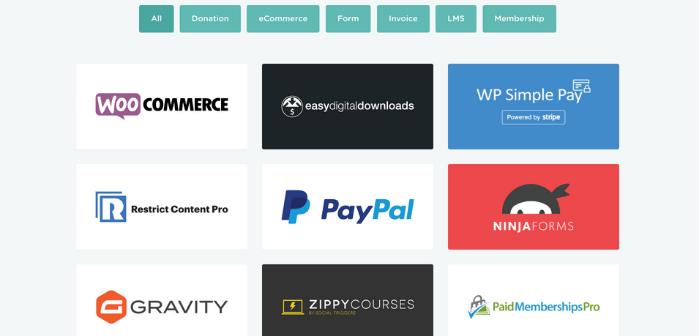 Conversion-Focused Affiliate Dashboard
Your ultimate aim isn't to build an affiliate program or attract affiliates. Your goal is to build a profitable program that makes sales.
But you know firsthand what it takes to make sales online; it's not easy. You put lots of work into market research, streamlining your user experience, crafting the perfect copy, and much more. To do this, you rely on lots of data, eye-catching creatives, and hard-earned experience.
How can you expect affiliates to perform well if they don't have access to the same things?
You want to empower your affiliates, and the only way you can do this is by giving them access to everything they need. This is why your affiliate portal is so essential.
When you go with very basic affiliate software, you get basic features. You can track affiliate links and sales, and that's about it. Your affiliates need more than this, they need a platform where they can share in your knowledge, access your creatives, and crucially, see their performance in detail.
AffiliateWP's portal gives your affiliates access to everything they need in a user-friendly, clean interface.
Secure Link and Coupon Tracking
Affiliate marketing uses link tracking to track when a visitor to your website has been referred by an affiliate. If that visitor makes a purchase, then the affiliate receives a commission.
One reservation people have about starting an affiliate marketing program is that this system is open to misuse, in other words, fraud.
It's true, a lot of shady stuff can happen on the internet, but ultimately, it's about what you do to protect yourself that matters. If your passwords are all 123, then it's less surprising that someone hacks your computer, and the same thing applies to affiliate marketing.
If you're working with software that has a strong focus on security and fraud, then you're going to be well protected.
Take a look at the opening paragraph of our About Us page: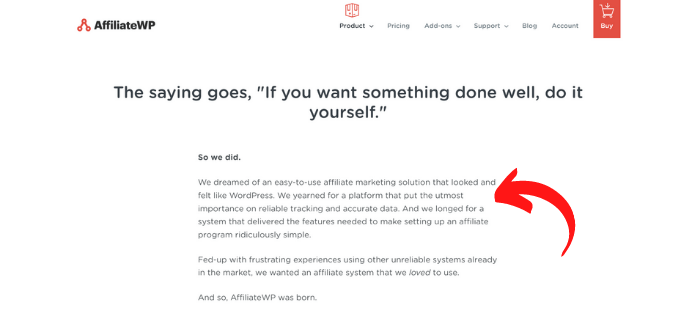 Reliable tracking and accurate data are at the heart of what we do. We want to protect you and we want to protect your affiliates, so we're constantly releasing software updates to make sure our security is the very best it can be.
Easy Affiliate Management
Going to bed at night and waking up in the morning with a host of pending affiliate sales is a great feeling. You're mobilizing people around the world to help you make sales.
What's not so fun is when you realize you've got to do a whole lot of manual work to make sure those sales go through properly.
AffiliateWP takes care of every detail for you, from sign-ups to onboarding, link tracking to payouts, you can be as hands-off as you want to be. The ultimate answer to whether AffiliateWP is worth it is in the sales, but at the same time, it's got to be convenient.
You have a store to run, so you don't want to be spending all your time managing the affiliate program. AffiliateWP makes this as simple as possible, giving you control over decisions but still allowing for maximum automation.
World-Class Support
What we want to dispel is this idea that affiliate marketing is a shortcut to tons of sales; it's not. Like anything in digital marketing, it takes commitment and consistency.
This starts with choosing the right platform, but that's only part of the process. Building an irresistible affiliate program takes effort and it takes time.
It's easy for affiliate marketing software to set you up with a basic program and let you take over from there. What's more difficult, and much more valuable, is being there for you to help you take your affiliate program to where you ultimately want it to be.
When you have a question or a problem, you don't want to be banging your head against the computer screen, going round in circles. You want quick access to expert knowledge so you can focus on reaching the right affiliates and growing your sales.
Take a look at our testimonials, and there's one thing you'll see come up again and again: support.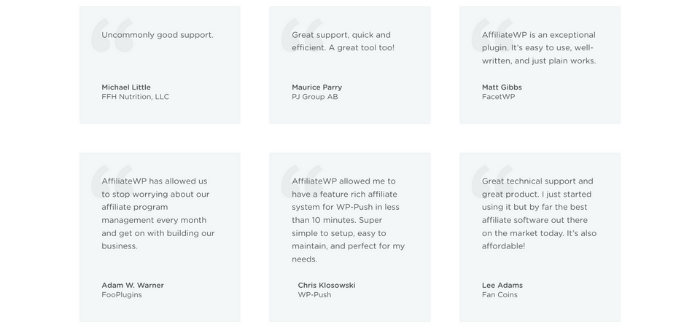 We're not just here for you to set up an affiliate program, we're here to help you make it a success, and our world-class support is proof of this.
How Much Does AffiliateWP Cost?
Whether something is worth it is closely related to the cost. Something can be great for $20, but severely lacking if you've paid $2,000 for it!
So, is AffiliateWP worth it when we take into account the cost?
Personal Plan offers the essential tools to build an affiliate program on one website: $149.50 for the first year, $299 a year there after
Plus Plan for use on up to three websites for businesses who want to do more with their program: $199.50 for the first year, $399 a year there after
Professional Plan for use on up to 10 sites, a premier solution for smart business owners: $299.50 for the first year, $599 a year there after
The nice thing about AffiliateWP is there are no monthly costs, no restrictions, and no extra fees.
You simply make your payment, and everything you earn from your program is yours to keep. If you choose the Plus package, then your $199.50 cost means that with a 10% commission to your affiliates, you need to make $220 worth of affiliate sales in your first year to make a profit.
When you think that a very basic PPC campaign is easily going to cost you $220 a month, let alone a year, those figures represent extremely good value.
Again though, we're not here to help you make a basic affiliate marketing program that covers your expenses. We're here to help you create a thriving program and reach your goals, and that's where the true value is.
Is AffiliateWP Worth It?
Is AffiliateWP worth it? Well, you've landed on the AffiliateWP website, so obviously, we're going to say yes.
The main thing we want to get across is that we're not just here to help you set up an affiliate marketing program. We're here to prove you can make good money through affiliate marketing and to do that, we offer the setup, platform, tools, and support you need.
Not to sound cliche, but don't take our word for it, see what our customers have to say, and check out our AffiliateWP reviews!
The benefits of an irresistible affiliate program are limitless, and with AffiliateWP, you can unlock those benefits with very limited startup costs.
Build your affiliate marketing program with AffiliateWP today!