Solid Affiliate vs AffiliateWP (2023 Comparison)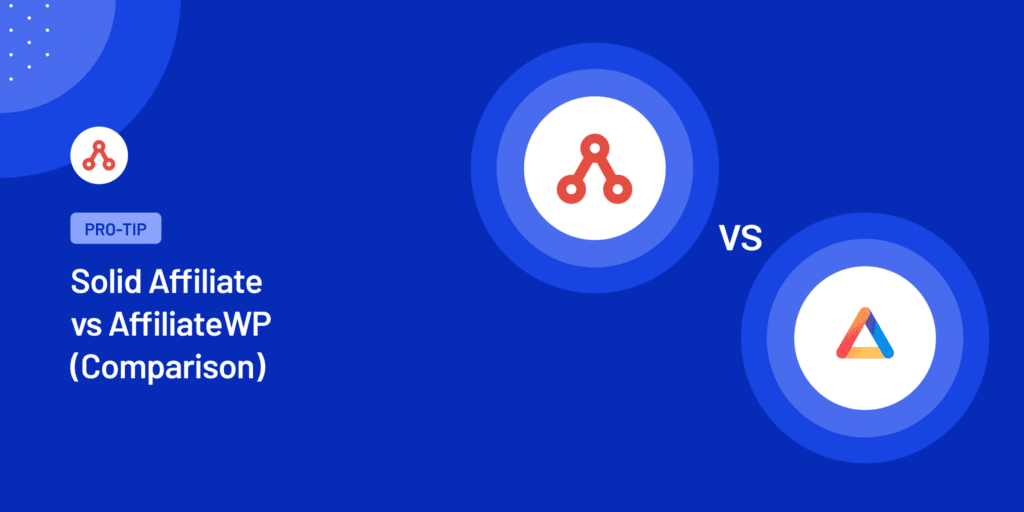 Looking for a Solid Affiliate vs AffiliateWP comparison?
Solid Affiliate and AffiliateWP are both prevalent affiliate management WordPress plugins. However, finding the right affiliate software for your business becomes challenging sometimes. But don't worry, we've got you covered!
Let's dive into a detailed comparison to help you make an informed decision.
What to Look For in Your Affiliate Plugin?
When deciding on the right affiliate plugin for your WordPress website, several essential aspects must be considered.
The ideal plugin should integrate seamlessly with your existing site and its features. It should be straightforward, adaptable to your needs, and robust enough to handle a comprehensive affiliate marketing program.
Here are key factors to consider:
Ease of Use: The best affiliate plugins are intuitive and user-friendly, providing a clean interface that makes navigating easy for you and your affiliates. They should have straightforward setup processes and possibly even a setup wizard to guide you through the installations.
Flexibility: Your affiliate plugin should be flexible enough to accommodate your specific requirements as they evolve. It should offer multiple commission types (such as percentage-based or flat rate), tiered affiliate levels, different payout structures, and more. It should also support various promotional materials, like banners, links, and codes.
Monetization Options: An effective affiliate plugin will offer numerous ways to monetize your platform. Look for options like recurring referrals for subscription-based products, performance bonuses for top-performing affiliates, and integrations with eCommerce platforms for seamless transactions.
Support: Good support is critical when dealing with a feature-rich platform like an affiliate plugin. Ensure that the plugin provider offers comprehensive and prompt support. This could be through live chat, email support, community forums, or in-depth documentation and tutorials.
Price: Pricing is significant, especially for startups and small businesses. Some plugins offer a free basic version with optional paid upgrades, while others require a one-time or recurring fee. Consider what each pricing plan includes and whether the features and support justify the cost.
Customization Options: Look for a plugin to customize the affiliate experience, such as customizable affiliate dashboards, personalized referral URLs, and branded banners and creatives. These customizations can help your affiliate program stand out and resonate more with your affiliates.
Automation Features: The right affiliate plugin will automate various tasks associated with running an affiliate program. This could include automatic generation and tracking of referral links, automatic affiliate approval processes, automated email notifications, and scheduled payout runs.
Reporting and Analytics: Detailed reporting and analytics are crucial for monitoring the performance of your affiliate program. The plugin should provide real-time tracking of clicks, referrals, and sales.
Integrations: The plugin should seamlessly integrate with other tools and platforms you're using, like your eCommerce platform (WooCommerce, Easy Digital Downloads, etc.), your email marketing service, and your payment gateway. This ensures a smooth workflow and less manual intervention.
Let's compare Solid Affiliate and AffiliateWP to see how they measure against these requirements. Though both plugins are great options, we want you to choose the best affiliate plugin for your WordPress site.
So, to help you out, here's what we've covered in this detailed guide:
Integration options
Simple setup
Advanced features
Ease of affiliate management
Payouts
Pricing
Support
Overall comparison
Let's get started!
Is Solid Affiliate the Best WordPress Affiliate Plugin?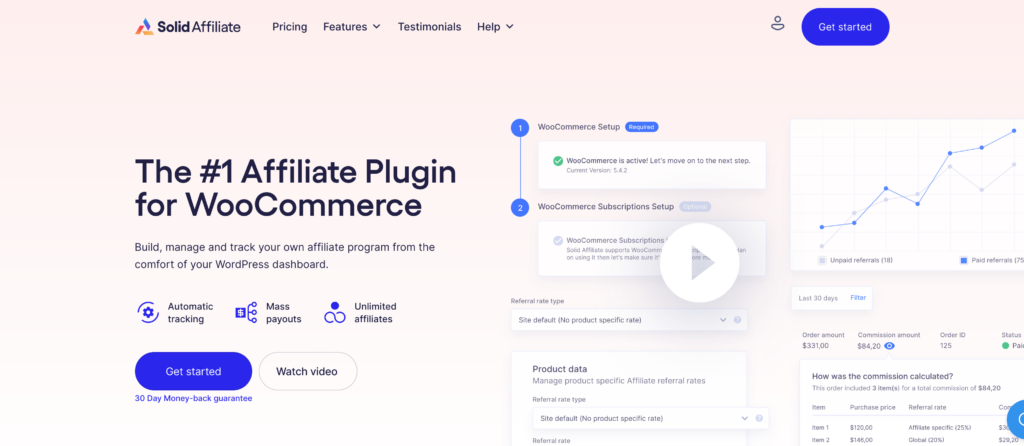 Solid Affiliate is an excellent choice in the WordPress affiliate plugin market, offering several key features like affiliate link tracking, affiliate coupon tracking, and more.
But how does it hold up against AffiliateWP, a plugin renowned for its comprehensive feature set and ease of use?
Let's compare the two plugins based on integration options, ease of setup, advanced features, affiliate management, payouts, pricing, and support.
Solid Affiliate Integration Options
Solid Affiliate integrates seamlessly with your WordPress website and offers many features, including WooCommerce Subscriptions support, granular commission rate settings, and refund logging.
However, it mainly focuses on WooCommerce, which may be limiting for some businesses.
On the other hand, AffiliateWP offers extensive integration with more than 20 WordPress plugins.
This gives businesses more flexibility to manage and track their affiliate program, making it a more comprehensive solution regarding integration options.
Solid Affiliate Setup
Both Solid Affiliate and AffiliateWP pride themselves on their ease of setup.
Solid Affiliate offers a setup wizard that takes less than five minutes to complete.
But it requires WooCommerce and WooCommerce Subscriptions to be installed prior, which might not be ideal for every business model.
AffiliateWP, however, promises a smooth and straightforward setup regardless of your website's structure. This easy setup makes AffiliateWP a more convenient choice for a broader range of businesses.
Solid Affiliate Features
Solid Affiliate provides robust features, including unlimited everything (affiliates, referrals, creatives), commission insights, PayPal payouts integration, bulk payouts, auto-reject refunded referrals, and an admin notifications system.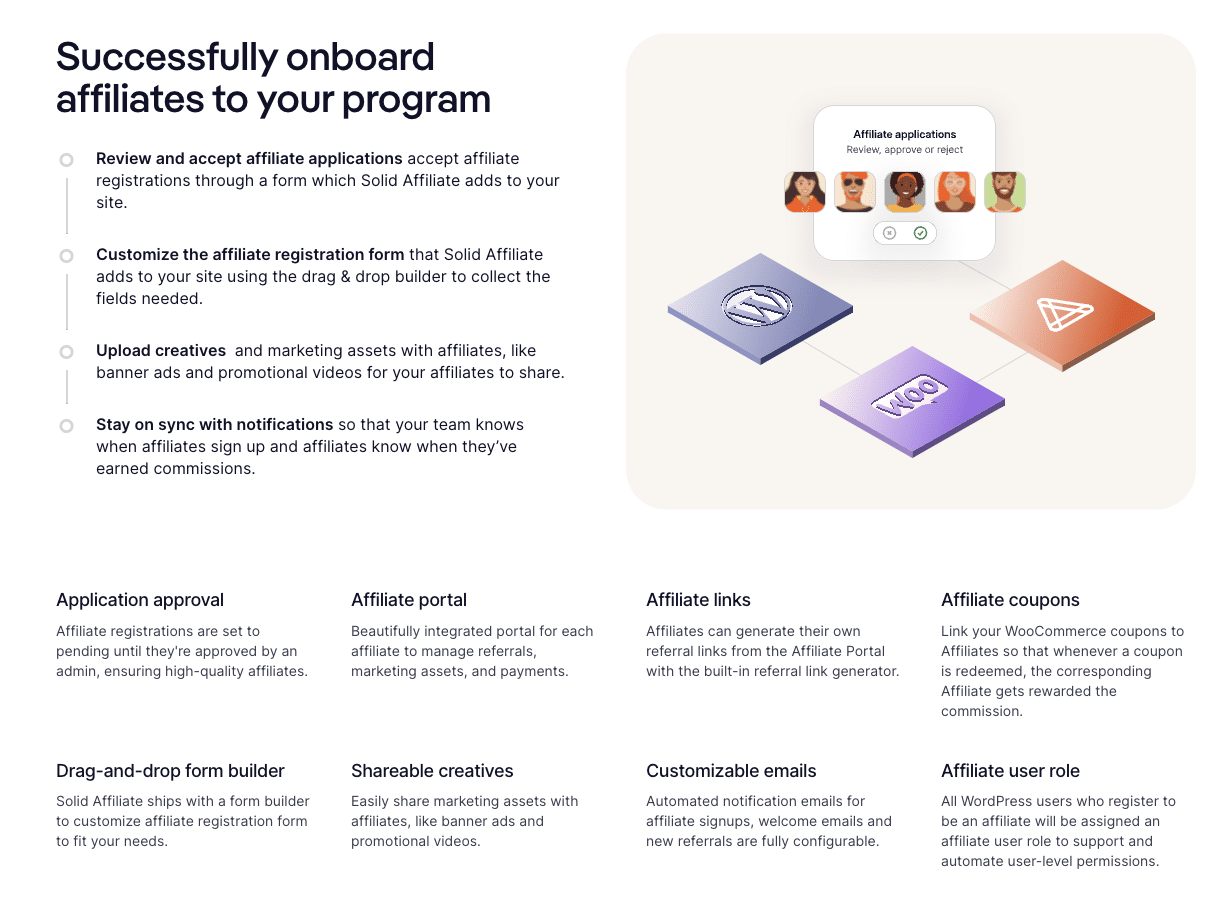 These features offer depth to the overall affiliate management experience.
AffiliateWP, though, does not lag behind. It has its own advanced features, including real-time reporting, affiliate coupon tracking, unlimited affiliates and creatives, and more.
It also provides extensive shortcodes that allow you to add a variety of affiliate content to your site, which Solid Affiliate doesn't offer.
Solid Affiliate Affiliate Management
Both Solid Affiliate and AffiliateWP provide an easy-to-use affiliate management system.
They offer an interface to approve or reject affiliates, view all affiliates in one place, and manage individual affiliate accounts.
However, AffiliateWP goes the extra mile by providing more comprehensive tracking, extensive data visualization, and better customization options, making it a more robust solution for affiliate management.
Solid Affiliate Payout Options
Both Solid Affiliate and AffiliateWP offer PayPal payouts integration for seamless affiliate payments.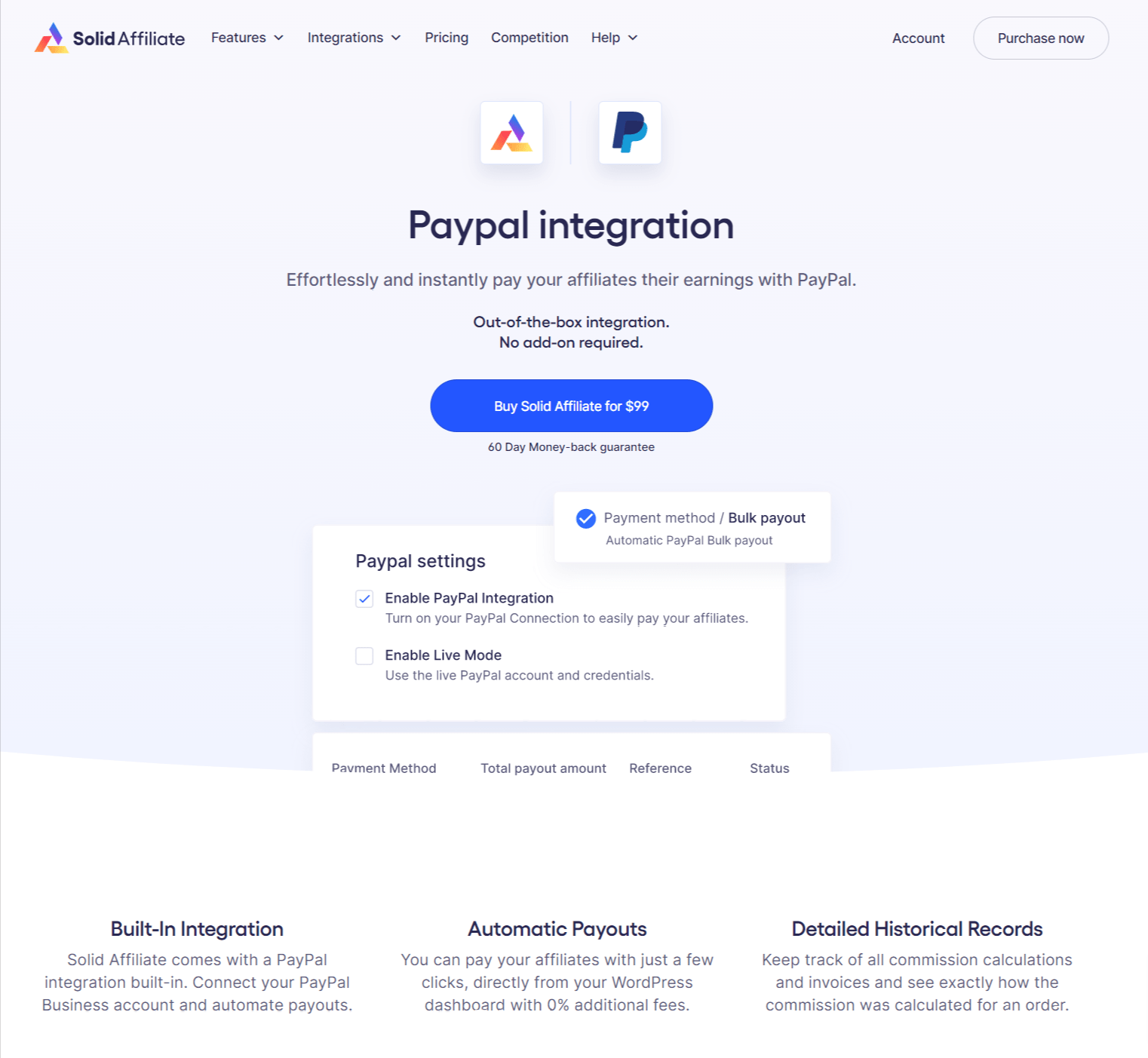 Solid Affiliate has an edge with its ability to automate payouts and track invoices.
Yet, AffiliateWP offers more payout options, including the ability to export payment data and process payouts manually or through other services, providing more flexibility to businesses.
Solid Affiliate Pricing
Solid Affiliate follows a straightforward pricing model with all features included for one price, which is great for businesses that dislike addon costs.
Solid Affiliate has three pricing models. You can choose the one that suits you the best and have the option to choose if you want the lifetime version or a monthly subscription-based version of the plugin.
Here is the pricing model:
Store owner: $49/month for a single site or a one-time cost of $299.
Expert: $99/month for 3 WooCommerce stores or a one-time cost of $349.
Agency: $149/month for 10 WooCommerce stores or a one-time cost of $799.
However, AffiliateWP also offers a competitive pricing model, with different plans catering to businesses of varying sizes. Its plans include everything from the basic features to advanced addons.
This allows businesses to choose a plan based on their needs and budget.
Solid Affiliate Support
Solid Affiliate provides robust support with a comprehensive knowledge base and responsive support.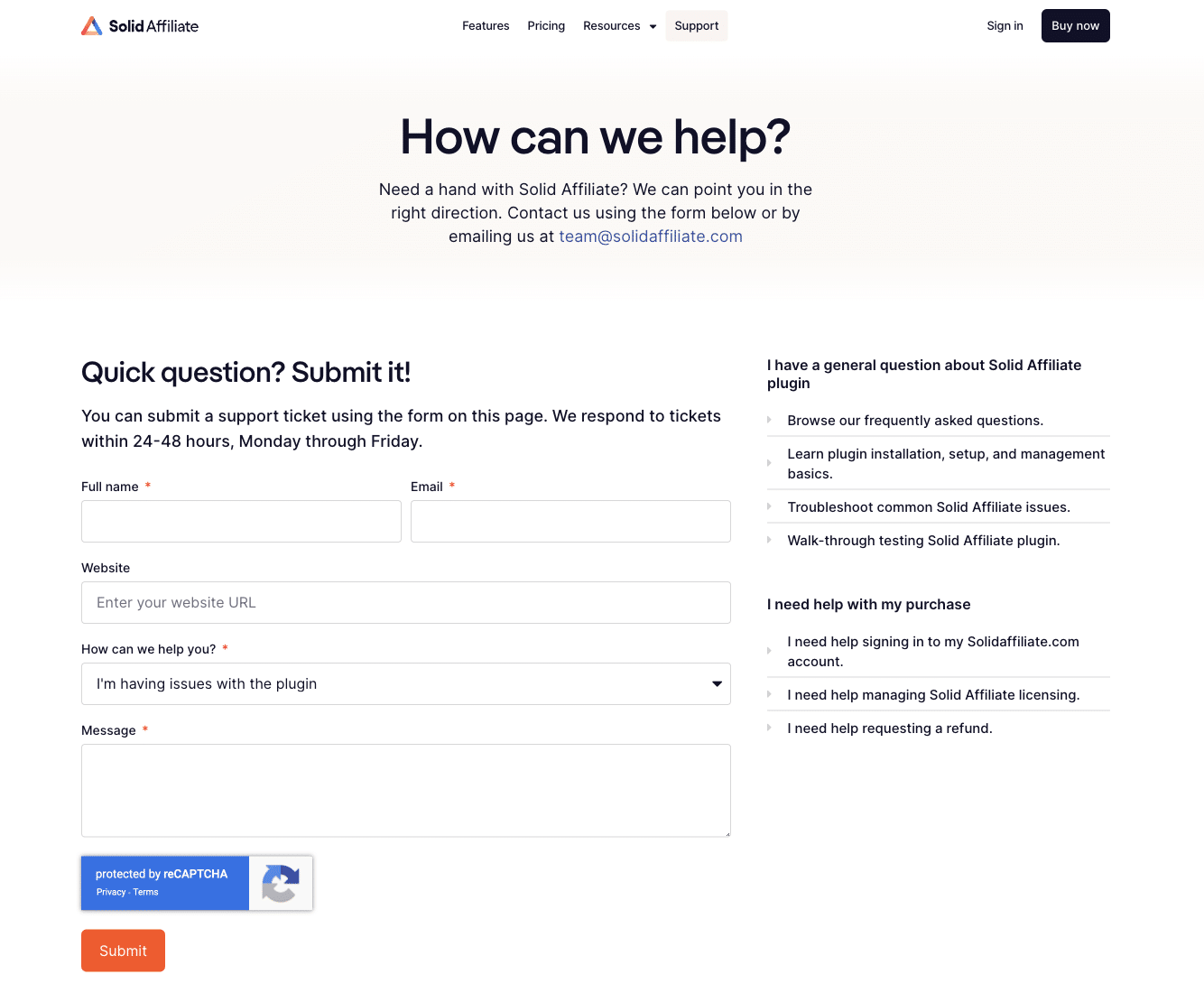 AffiliateWP, in contrast, offers top-notch support with a vast knowledge base, detailed tutorials, and prompt customer service.
The fact that a reputable WordPress development team backs it adds another layer of trust and reliability to AffiliateWP's support.
Is AffiliateWP the Best WordPress Affiliate Plugin?
Like Solid Affiliate, AffiliateWP is a feature-rich WordPress affiliate plugin with a proven track record.
But the primary question is: Is AffiliateWP better than Solid Affiliate for your business?
AffiliateWP Integrations
First and foremost, let's dive into the impressive scope of AffiliateWP's integrations.
Like Solid Affiliate, AffiliateWP also provides core functionality around tracking referrals and managing affiliates.
However, when it comes to compatibility with a broader range of WordPress plugins, AffiliateWP truly shines.
Not only does it connect seamlessly with popular plugins such as WooCommerce, Easy Digital Downloads, and MemberPress, AffiliateWP goes a step further.
It boasts a striking range of over 20+ integrations. This exhaustive list offers you more flexibility and scalability, making it an ideal choice whether you're running a small local business or an expansive e-commerce enterprise.
Additionally, AffiliateWP features easy-to-configure integrations, enabling you to adapt and expand your affiliate program to suit your evolving business needs.
AffiliateWP Setup Process
The ease of setting up your affiliate program is another significant advantage of AffiliateWP.
Built with a user-friendly interface, AffiliateWP provides a quick and straightforward setup process, even for those with minimal technical knowledge.
The simplicity of installation and configuration allows you to kick-start your affiliate program without delay.
Similar to Solid Affiliate, AffiliateWP features a comprehensive setup wizard that guides you through every step of the setup process.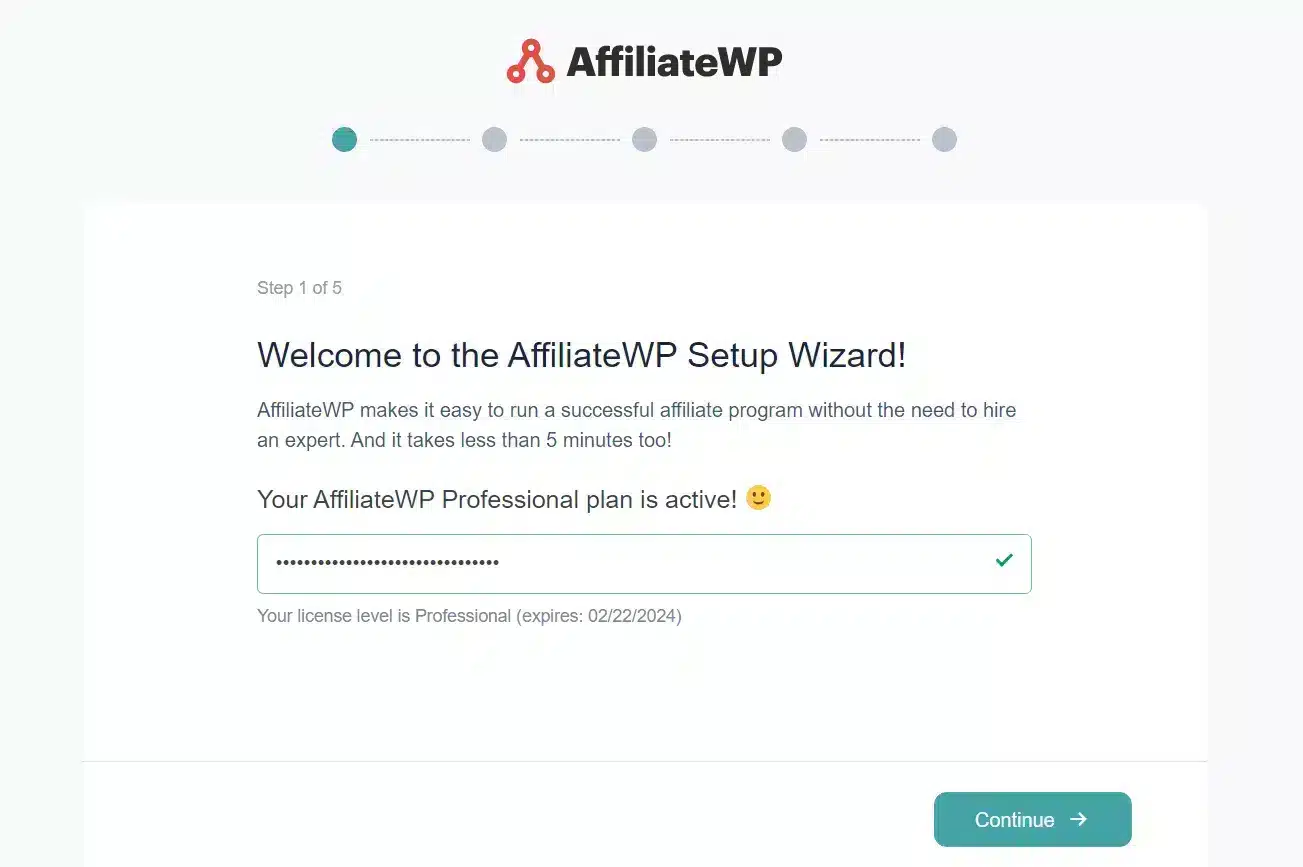 From choosing your outgoing email address and entering your license key to creating your affiliate portal, AffiliateWP ensures a hassle-free setup experience.
It helps you navigate complex tasks, reducing the chances of missing a setup step or encountering incompatible plugin dependencies.
AffiliateWP Advanced Features
Beyond just the basics, AffiliateWP boasts advanced features that set it apart from other affiliate solutions.
All of the features you would expect from a top-tier affiliate management solution, like affiliate link tracking, creatives management, scheduled creatives, advanced reports, and more, are offered by AffiliateWP, but the platform doesn't stop there.
It provides a dedicated affiliate area, giving your affiliates a professional-looking platform to track their performance, generate affiliate links, and manage their accounts.
This increases their chances of success and saves you valuable time. It also offers detailed reporting tools, providing you with deep insights into your affiliate program's performance.
With AffiliateWP, you also get advanced features such as affiliate coupon tracking, automated affiliate registration, real-time reporting, and the ability to set up unlimited affiliates and creatives.
It even allows for tiered affiliate rates and custom referral rates per product, offering unparalleled customization options that can fit any business model.
AffiliateWP Affiliate Management
AffiliateWP provides an intuitive, easy-to-use dashboard that allows you to manage your affiliates with minimal effort.
The dashboard lets you view all your affiliates in one place, approve or reject affiliates as they sign up, and search or filter affiliates based on various parameters.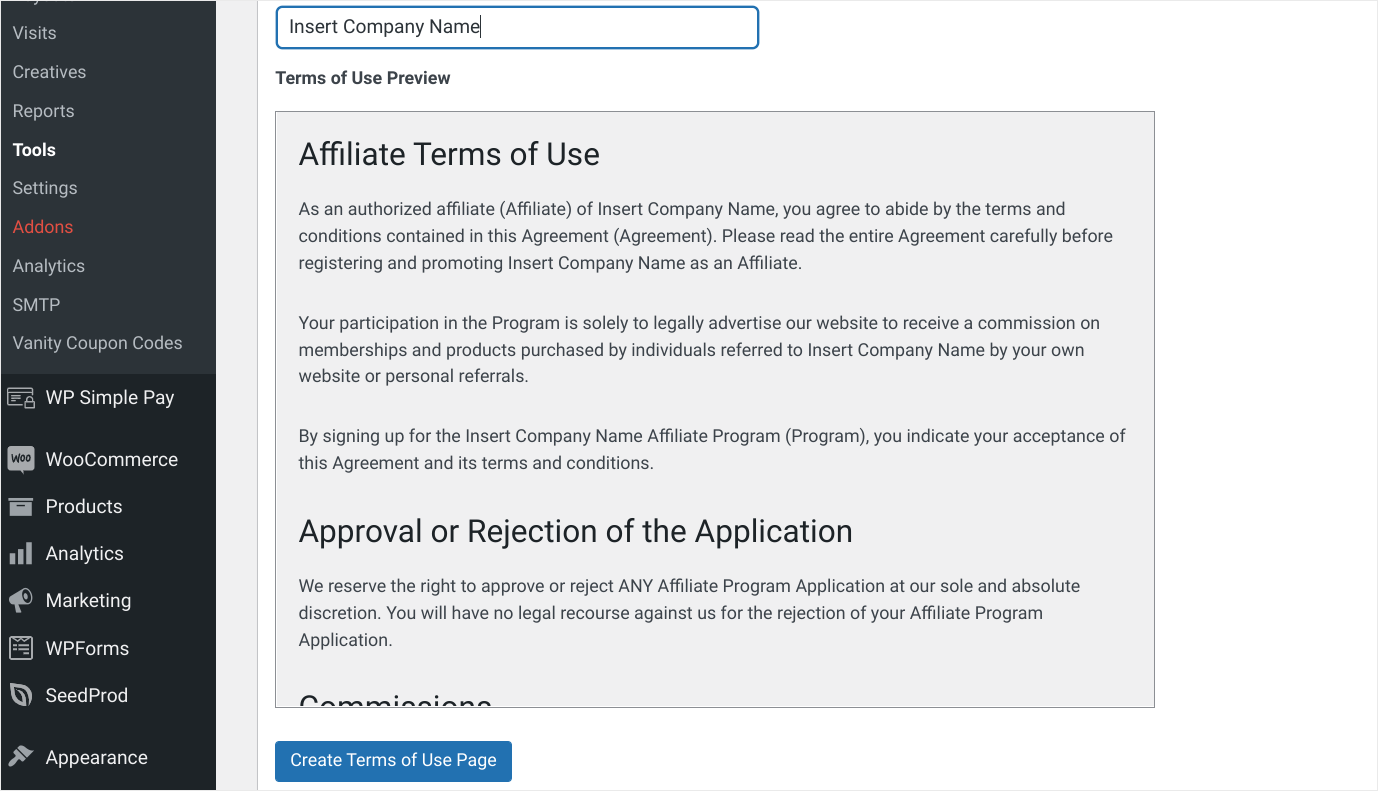 Moreover, AffiliateWP provides advanced tools for managing individual affiliates. You can view an affiliate's referral history, generate reports, edit their account details, and even manually add referrals.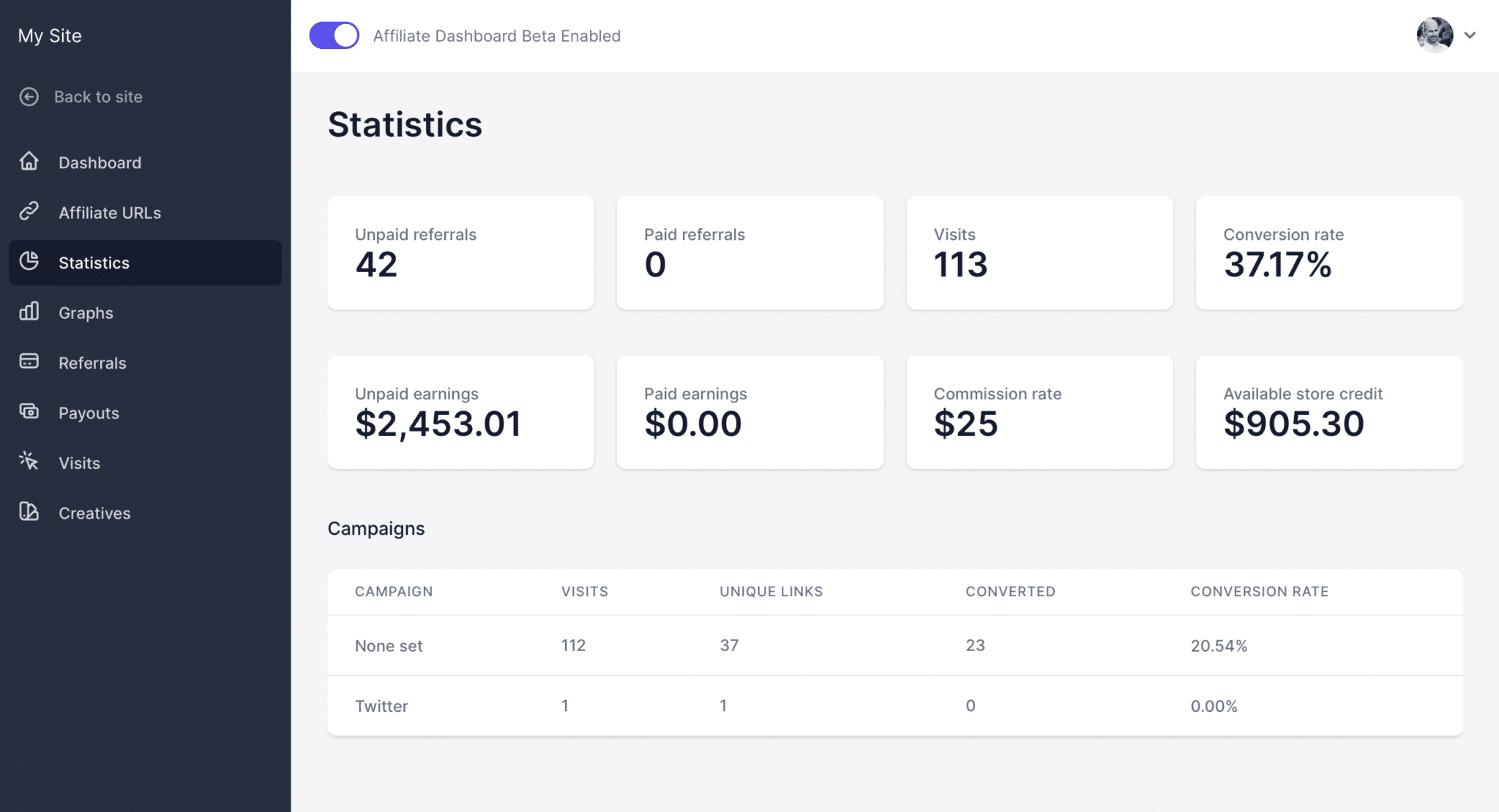 This high level of control and management options ensures you can efficiently run your affiliate program.
AffiliateWP Payouts
Paying your affiliates should be a seamless process, and AffiliateWP understands this.
The platform offers a complete payouts service integrated with PayPal, allowing you to pay all your affiliates directly from your dashboard quickly.
Additionally, AffiliateWP allows you to pay your affiliates in bulk, saving you precious time.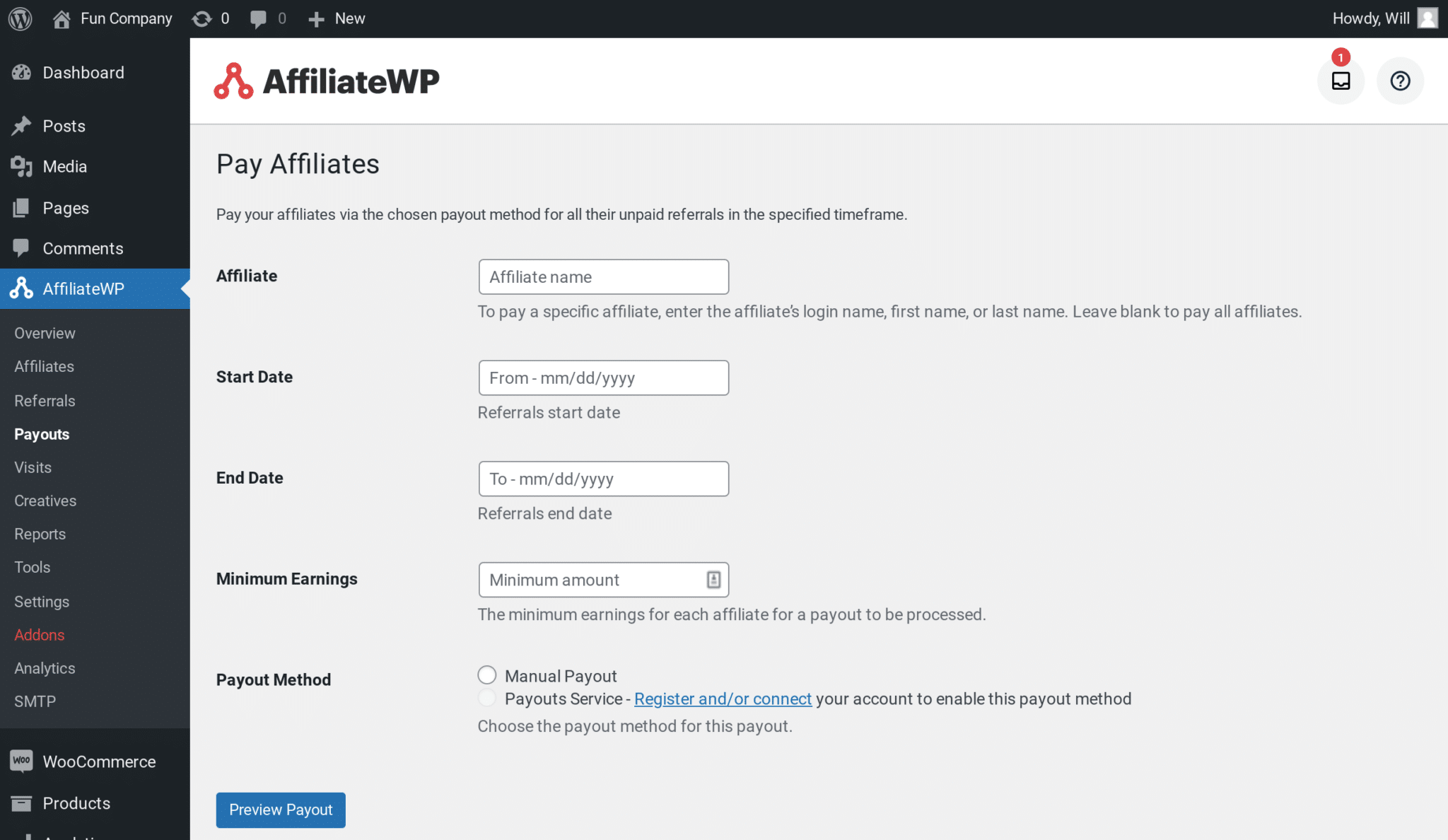 The platform automatically keeps track of all payouts and invoices, offering transparency and easy accounting.
This combination of features means that AffiliateWP doesn't just help you run an affiliate program – it makes the whole process smoother and more efficient.
AffiliateWP Pricing
AffiliateWP offers a highly competitive pricing model that makes it an excellent choice for businesses of all sizes.
There's something for everyone, from the basic plan that covers all the essential features, to the higher-tier plans that include premium add-ons and integrations.
Here's the pricing for AffiliateWP:
Personal: $149.50/year for the first year, $299.00/year thereafter (1 site, essential features)
Plus: $199.50/year for the first year, $399.00/year thereafter (3 sites, growth, and essential tools)
Professional: $299.50/year for the first year, $599.00/year thereafter (10 sites, advanced features)
There are no hidden costs or unexpected add-ons to worry about – what you see is what you get. AffiliateWP's transparent pricing policy ensures you get the most value for your money.
And the best part? You can try AffiliateWP risk-free. That's right, there's a 14-day money-back guarantee. So, you've got nothing to lose.
AffiliateWP Support
Customer support is a crucial factor when choosing an affiliate program solution.
AffiliateWP offers an impressive support system with extensive documentation, video tutorials, and a dedicated support team ready to help you.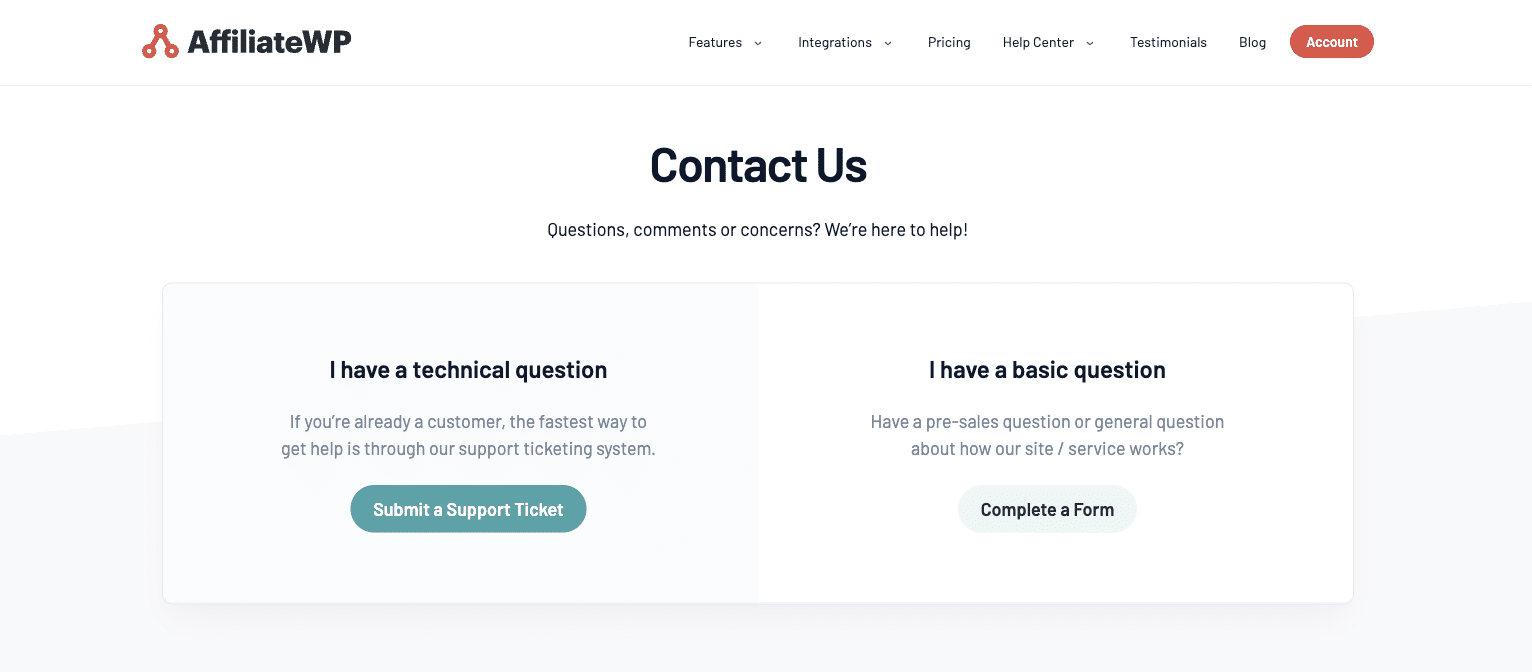 Whether you're just starting with AffiliateWP or you're a seasoned user looking to troubleshoot an issue, you can be assured of timely, effective assistance. You can even check out AffiliateWP's testimonial page to determine how efficient our support is.

Their support team is composed of knowledgeable, friendly staff eager to help you make the most of your affiliate program.
Which is The Overall Best Affiliate Plugin: Solid Affiliate vs AffiliateWP
Choosing the right affiliate program solution is about finding the balance between functionality, ease of use, affordability, and excellent customer support.
In these regards, AffiliateWP stands out as a strong contender. It integrates well with a wide range of WordPress plugins, is easy to set up, offers advanced features and management options, provides an efficient payout system, and supports a friendly pricing model.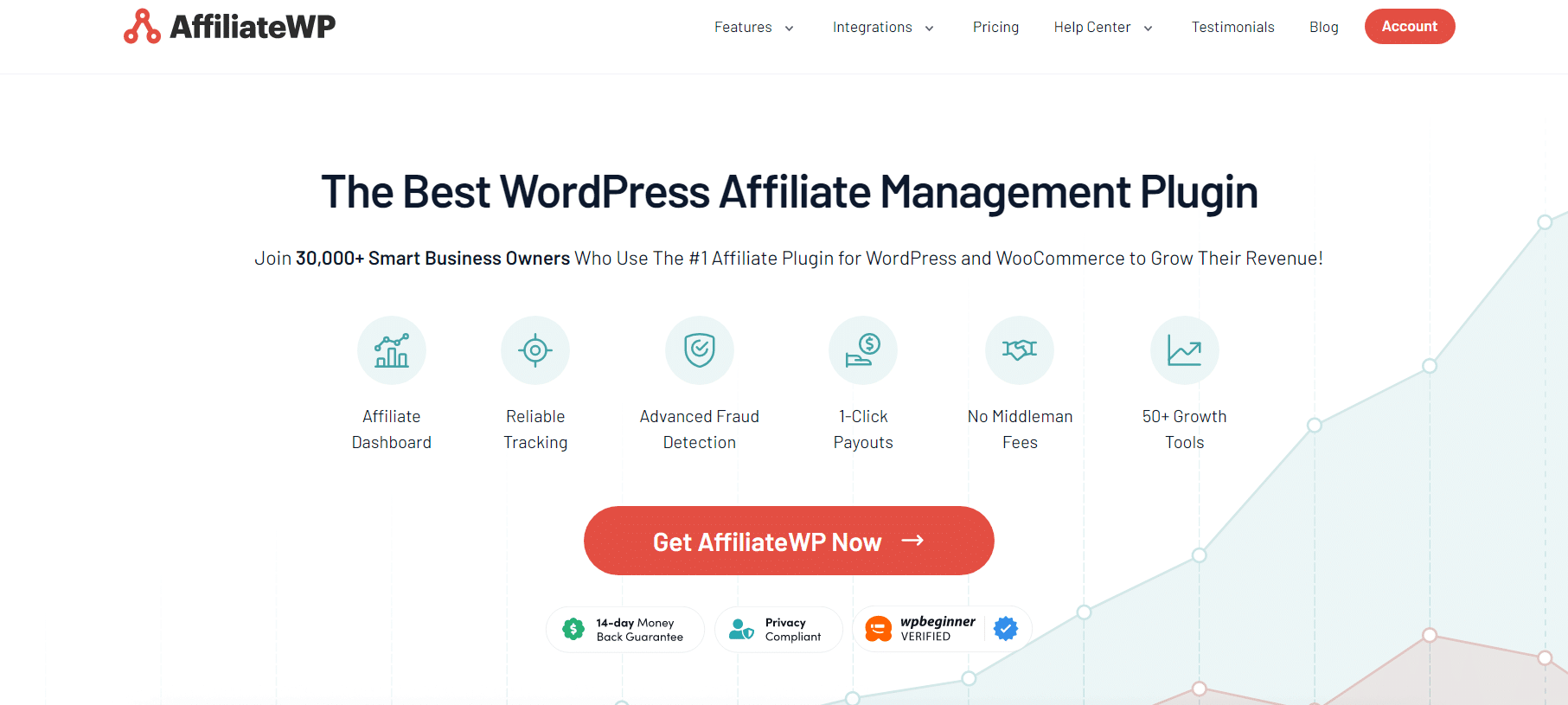 \
While Solid Affiliate is undeniably an excellent affiliate solution, AffiliateWP, with its broader integration options, powerful features, and stellar support, emerges as a more versatile, user-friendly option that can cater to a wider variety of business needs.
It's worth considering AffiliateWP if you want a comprehensive, yet straightforward affiliate program solution that can scale with your business.
So why wait? Want to grow your online WordPress business with a reliable and efficient affiliate management plugin?
Now, Unleash the Potential of AffiliateWP
We've delved into the nitty-gritty of both Solid Affiliate and AffiliateWP, highlighting their core competencies and areas of strength.
Now, it's time for you to make the most out of these powerful affiliate management tools.
Here are some valuable resources to guide you through the setup process, attract top-notch affiliates, and boost your sales:
The ball is now in your court. Choose between Solid Affiliate's ease of use and tailored experience or AffiliateWP's expansive integration options and versatile functionality.