17 Best WordPress Plugins for Small Businesses (Compared)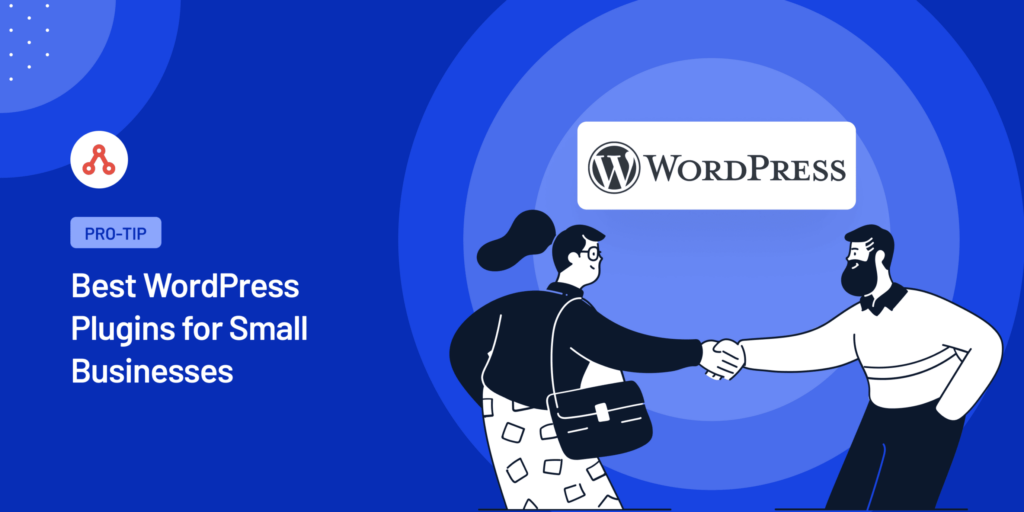 Looking for the very best WordPress plugins for small businesses?
We've done some thorough research, putting a host of WordPress plugins to the test, and building on our own experiences to bring you this ultimate guide to WordPress plugins.
So, let's find out which are the best WordPress plugins for small businesses.
Best WordPress Plugins to Grow Your Small Business
Since over 40% of the internet runs on WordPress, its plugins are a pretty big deal. In fact, they're what make WordPress so great, allowing anyone (even complete beginners with no technical skills) to create a thriving online business.
So, what are the best WordPress plugins for small businesses that you should be on the lookout for?
Here's a quick look:
WPForms
MonsterInsights
OptinMonster
AIOSEO
AffiliateWP
ThirstyAffiliates
Smash Balloon
Easy Digital Downloads
Updraft
WPCode
Sucuri
RafflePress
SeedProd
Uncanny Automator
WP Simple Pay
WooCommerce
MemberPress
Let's have a look at each one in more detail!
1. WPForms
WPForms is the best drag-and-drop WordPress form builder.
A key element of any online business is being able to collect information and to do this, you need the right contact form plugin. WPForms is so popular because it makes this process so simple while still giving you powerful tools.
It offers elite-level features, but presents them in such an easy-to-use interface that anyone can use them to get more form submissions:
Drag & drop form builder
Form templates
Responsive mobile friendly
Smart conditional logic
Instant notifications
Entry management
Payments made easy
Marketing and subscriptions
Integrations with all the major CRMs like Salesforce and HubSpot
Easy to embed with shortcodes
Spam protection
This really is the best all-in-one tool to drive leads and initiate contact with your website visitors.
Alternatives: Formidable Forms, Ninja Forms.
2. MonsterInsights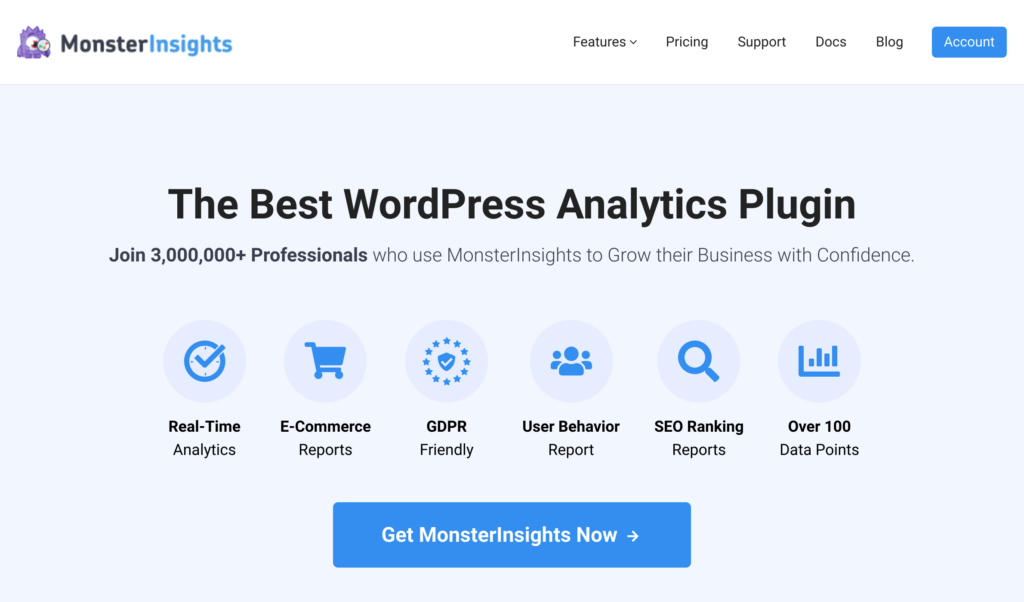 Now let's look at the best WordPress analytics plugin – MonsterInsights.
One of the great things about an online business and e-commerce in particular is that you have access to an incredible amount of data. The difficulty is, it's not easy to turn that data into actionable insights.
You find you spend your time learning to be a Google Analytics pro rather than working on your website. That doesn't have to be the case with MonsterInsights though.
It's one of the best WordPress plugins for small businesses because it brings simple real-time analytics reporting straight to your WordPress dashboard. This helps turn data into insights you can use to grow your business.
The enhanced e-commerce tracking and e-commerce user journey add-on are absolute must-haves! They allow you to see the exact journeys your users take before making a purchase, and this is like gold dust when you're selling products online.
3. OptinMonster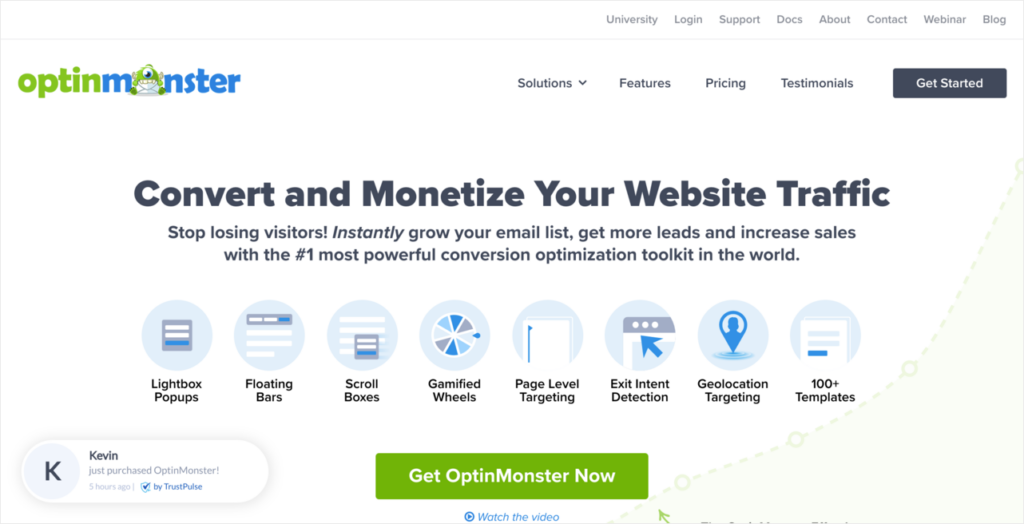 Getting traffic to your business website is great, but it's what you do with it that really matters. You want to turn visitors into leads and leads into customers, and an essential tool in this process is OptinMonster.
OptinMonster is the most powerful conversion optimization toolkit in the world.
It gives you a whole library of tried and tested pop-up templates, as well as playbooks that are proven to help boost your conversion rate without ruining the user experience. With an incredibly user-friendly drag & drop builder and advanced targeting, it allows you to reach the right people at the right time with the right message and get more opt-ins.
OptinMonster is a super established WordPress.org plugin, and it offers endless valuable features to aid your lead generation, but here are some of the most useful:
Beautiful lead capture forms
Multiple form types
A/B testing made easy
Exit intent technology
Page level targeting
Advanced traffic redirection
Analytics and insights
OnSite retargeting and personalization
Integrations with all the major email marketing providers
These tools put unbelievably sophisticated targeting in reach for your average business owner, no coding skills needed whatsoever.
4. AIOSEO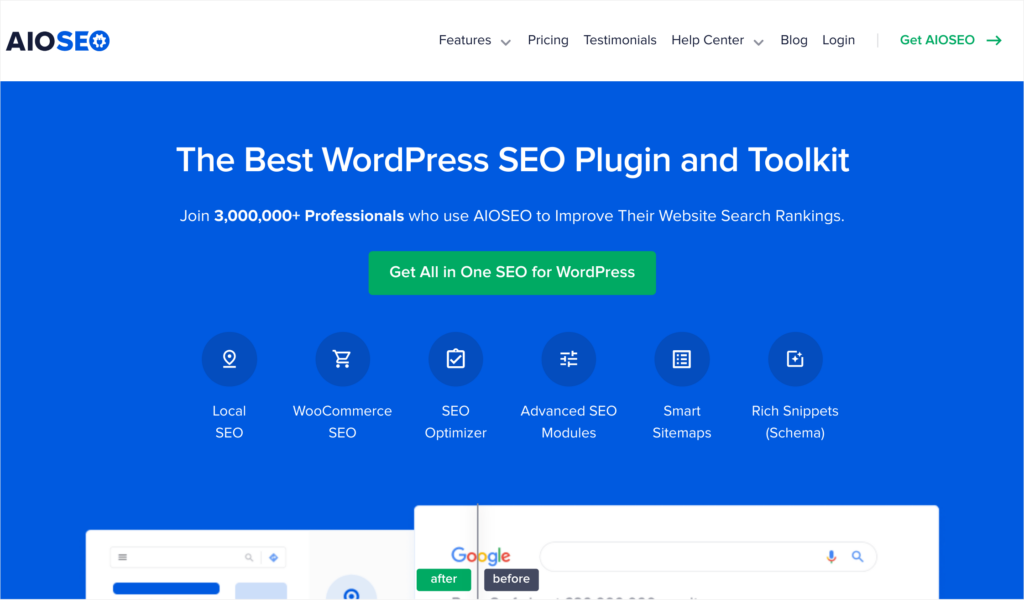 Search engine optimization (SEO) can be a website owner's best friend.
Do it well, and your site can bring in tons of targeted organic traffic, however, it's not always straightforward. SEO can be complicated, which is why it's always nice to have a helping hand.
That helping hand is All in One SEO (AIOSEO).
AIOSEO is the best WordPress SEO plugin and toolkit bar none. As soon as you install it, it becomes your SEO guru and most trusted assistant. It's going to help you with:
Local SEO
WooCommerce SEO
SEO optimization
Smart sitemaps
Schema markup
Internal and external links
Affiliate links
Meta descriptions
XML Sitemaps
Redirection manager
Ultimately, AIOSEO makes your life easy and saves you a ton of time. It also turns a highly technical subject into something anybody can understand, and for this, it deserves its place on the list of best WordPress plugins for small businesses.
Alternatives: Yoast SEO
5. AffiliateWP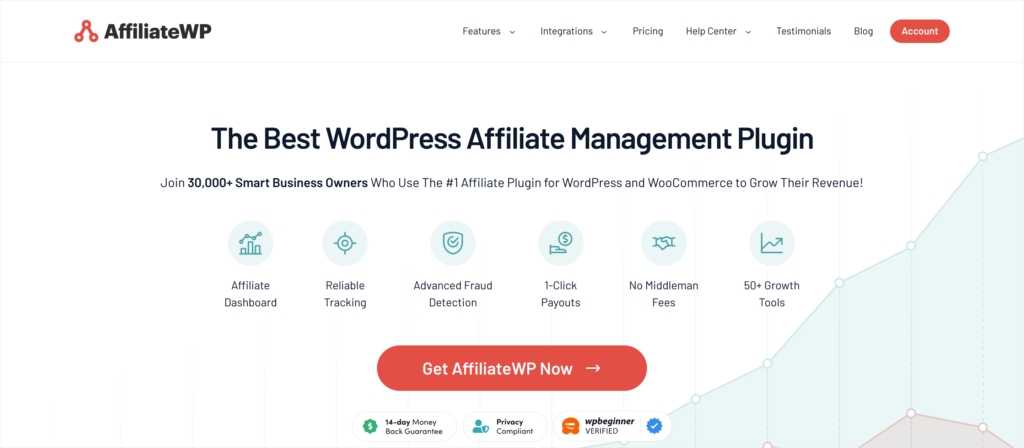 We may have a vested interest here, but we couldn't make a list of the best WordPress plugins for small businesses and leave ourselves off the list.
Affiliate marketing isn't the first thing your website needs, but it is something that can have a huge impact on your success.
The difficulty is, when people think about creating an affiliate program it seems overly complex and technical. With AffiliateWP this isn't the case, and you can actually set up an affiliate program in under 10 minutes.
AffiliateWP is the best affiliate management plugin for WordPress and it does exactly what it promises. It makes it incredibly easy for you to manage affiliates (bloggers, influencers, Amazon sellers, and more) and empower them to create leads and sell products for your business.
It opens up a whole new revenue stream for your online business, and we think that's pretty cool.
6. ThirstyAffiliates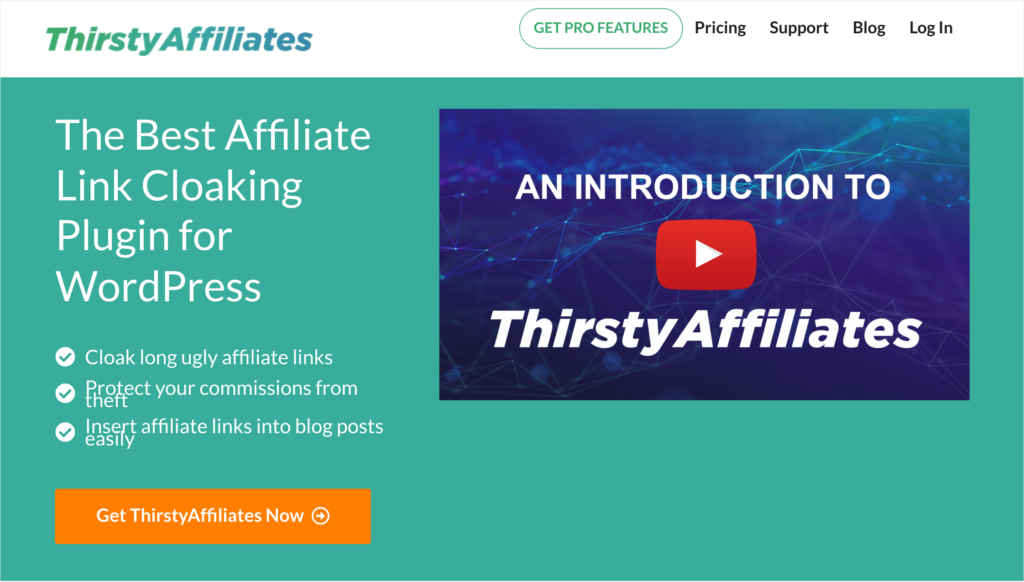 Sticking with the theme of affiliate marketing, our next top WordPress plugin is ThirstyAffiliates.
If you're an affiliate marketer, then this is a must-have tool because it supercharges your link management. It's going to save you so much time with link creation, updating links, tracking link performance, and much more.
One of the trickiest parts of being an affiliate is managing all the different links you have, but with ThirstyAffiliates, that's a thing of the past.
Alternatives: Pretty Links
7. Smash Balloon
Smash Balloon is the easy, fast, and reliable way to create social media feeds for WordPress sites and encourage social sharing.
We love this plugin because it makes it so simple to incorporate your social media presence on your WordPress website. In just a few clicks, you can create a beautiful social wall with all your Facebook, Instagram, Twitter, and YouTube feeds.
This creates powerful social proof that helps build your brand image and drive conversions. Smash Balloon is used by over 1.75 million users, and it's clear to see why with the beautiful social feeds it helps you create.
8. Easy Digital Downloads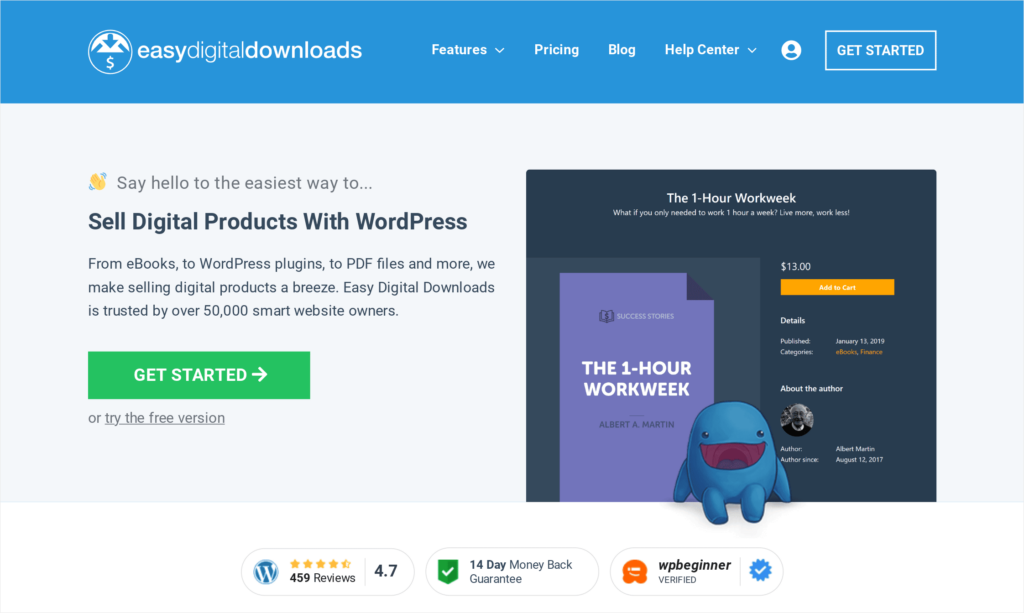 When people create a WordPress website, one of the first things they want to know is how they can sell products.
If you're looking to sell digital products, then the answer is Easy Digital Downloads.
Whether you're selling eBooks, WordPress plugins, PDF files, or anything in between, EDD makes selling digital products a breeze. It's super easy to use, and you'll also get powerful growth features:
Payment flexibility
Discount codes
Full shopping cart
Unlimited file downloads
Customer account page
Download activity tracking
Full data reporting
With Easy Digital Downloads, you can quickly build an online store and start delivering digital products to customers.
Check out Easy Digital Downloads!
9. Updraft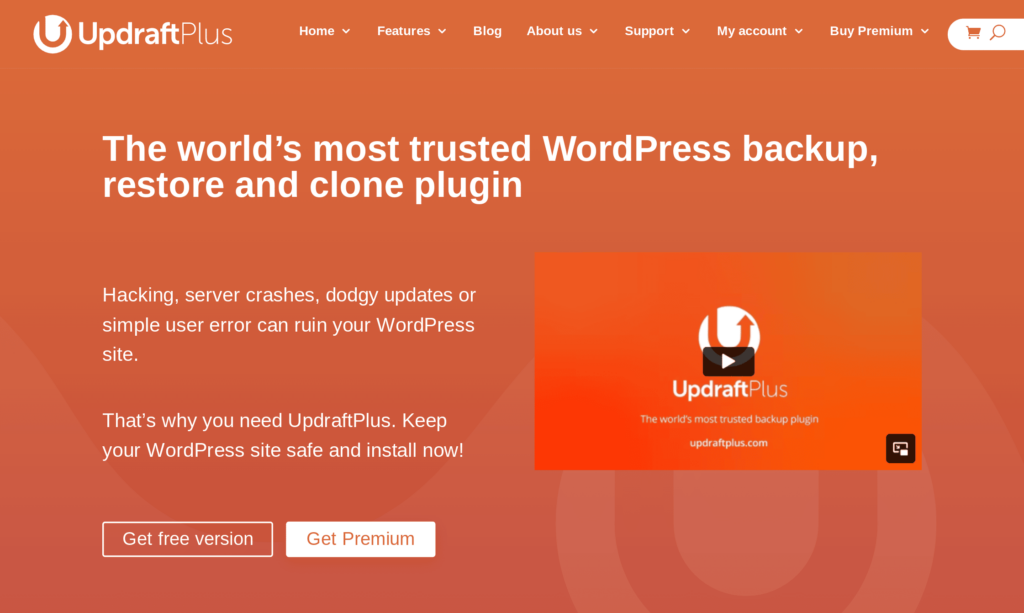 WordPress offers an incredible platform to build a secure website, however, sometimes things do go wrong. If the worst were to happen, you want to know your website is properly backed up and ready to restore.
The best way to ensure this is the case is with Updraft.
The free version of this WordPress plugin makes scheduled backups simple, giving you peace of mind that if something bad were to happen to your website it can be easily restored.
For even greater peace of mind, you can check out the paid premium version of this backup plugin which offers even more comprehensive protection.
Alternatives: Jetpack
10. WPCode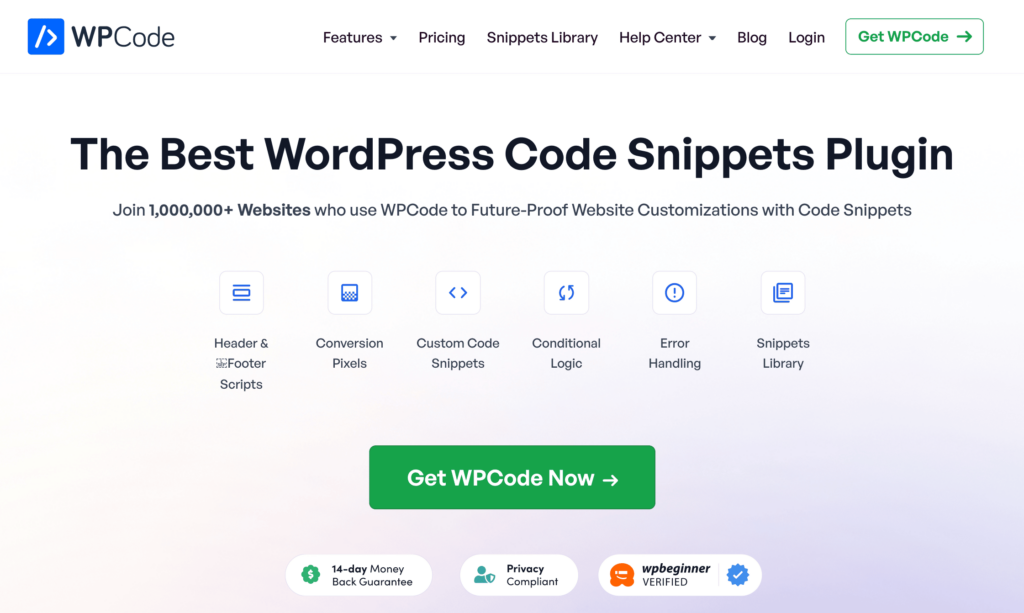 The thought of coding has put many a person off creating their own website.
One of the reasons WordPress is so popular is because its plugins give you huge functionality without ever having to worry about code (HTML, CSS, or any coding language). However, there may still be some times when you have to consider adding little snippets of code here or there.
This is enough to bring most non-techy people out in a cold sweat, however, WPCode is the cheat code you need. It allows you to easily add sitewide header and footer scripts, meta tags, and other conversion pixels on your site (something you'll commonly be asked to do when working with 3rd party applications).
So, WPCode can be a bit of a lifesaver for beginners, and if you're more technically minded, it has some incredible tools you really should explore.
11. Sucuri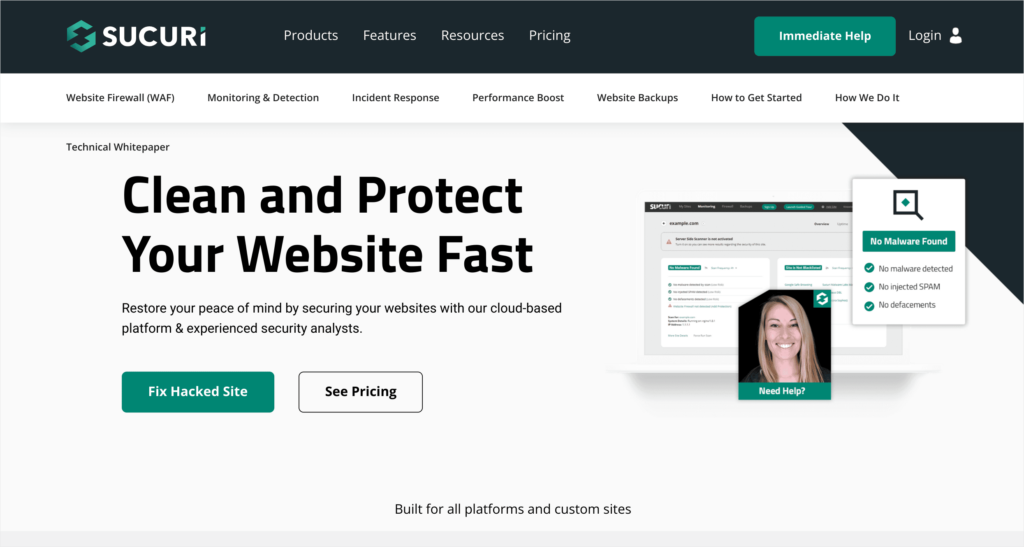 As we mentioned, earlier, WordPress is a secure platform to build your website on, however, it's not infallible.
Online security is something every website needs to consider, and one of the best WordPress security plugins to help you with this is Sucuri. Its team of security experts help:
Protect your site
Fix security issues
Scan for malware and vulnerabilities
Add a website application firewall
Boost site performance
Security breaches regularly cost small and medium businesses a ton of money, so it's well worth planning ahead and protecting yourself with Sucuri.
12. RafflePress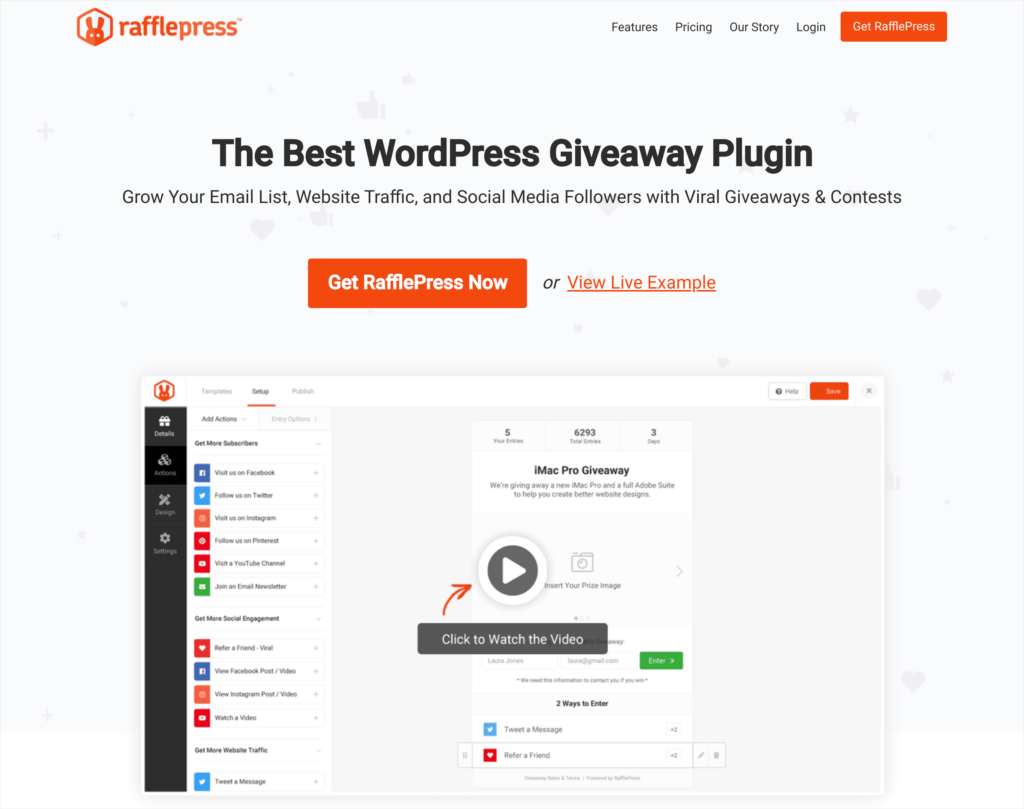 We've mentioned throughout this article the importance of getting people to take action, and we're continuing on that theme with RafflePress.
RafflePress is the best WordPress giveaway plugin and it can drive an incredible amount of engagement. The key aspect of RafflePress is how easy it is to set up giveaways that get your audience to take action.
The pre-built templates and drag & drop builder make it incredibly easy to edit the layout, and the custom actions make it easy to set specific requirements for people to enter your giveaway.
It's a wonderful way to grow your social media presence, get people commenting on blog articles, add subscribers to your email lists, and much more.
13. SeedProd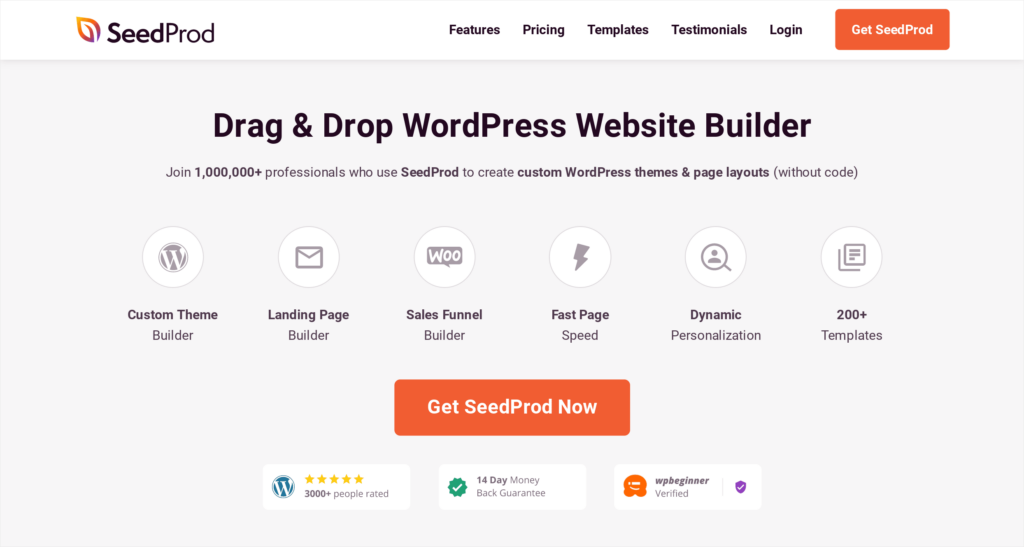 The enemy of most people wanting to set up a website is code. It's a scary prospect, and one many people associate with building a website.
In modern times that's not the case though because there are drag & drop WordPress website builders like SeedProd. These plugins make it incredibly easy to carry out your vision and build a professional-looking website.
Whether you're building a single landing page, or a whole site, SeedProd has the tools you need.
Not a great designer? No problem, the pre-built WordPress themes and 80+ pro blocks will help guide you toward a perfectly optimized website.
It really is simple to build a great website today, thanks in large part to WordPress page builder plugins like SeedProd.
Alternatives: Elementor
14. Uncanny Automator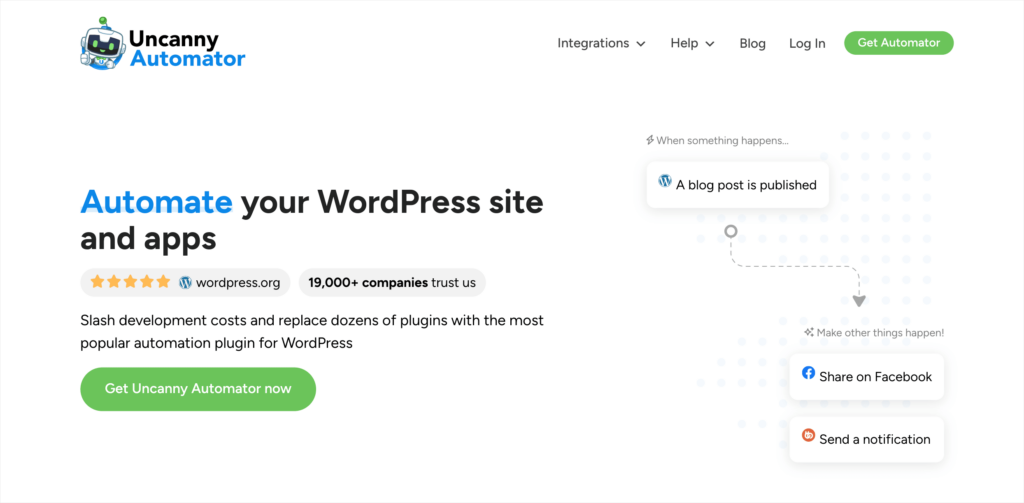 One of the great things about WordPress can also be a drawback – there are so many great plugins that it's difficult to get them all working in harmony.
This plugin is going to bring next-generation no-code automation to your WordPress site. It has 111 integrations that are designed to link the plugins you use to run your business together.
When one thing happens, you can make other things happen… automatically! It's as simple as that, and it can be a huge time saver for your business.
15. WP Simple Pay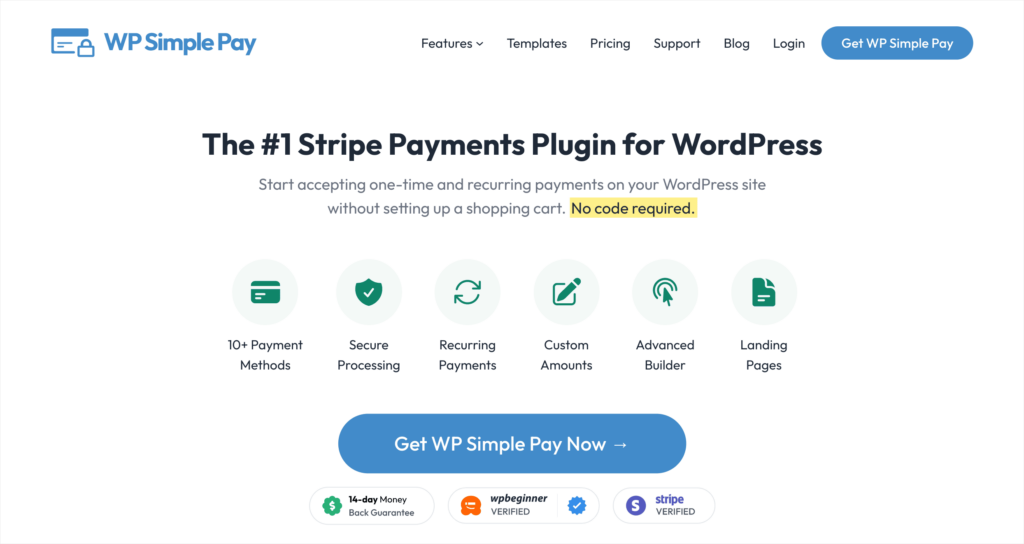 WP Simple Pay is the number 1 Stripe payments plugin for WordPress.
With WP Simple Pay, there's no need to set up a shopping cart to accept one-time and recurring payments through Stripe, and you also get some powerful features.
Secure payment processing
10+ payment methods
Buy now, pay later
Advanced form builder
Create recurring payments
Collect custom data
Your checkout process has a huge impact on conversion rates and it needs to be optimized. One of the best ways to make sure you're offering a streamlined checkout is with WP Simple Pay.
16. WooCommerce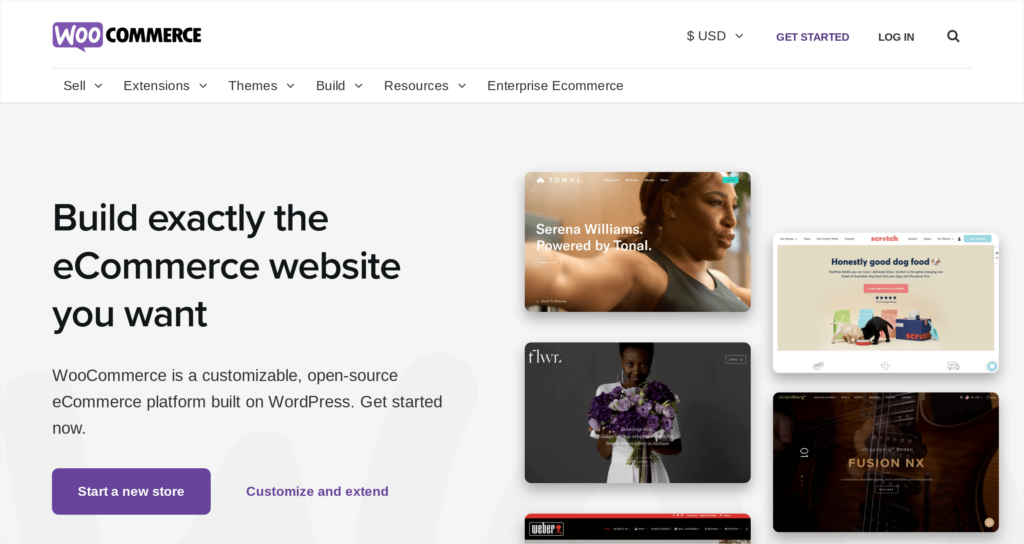 So what if you want to sell physical products on an e-commerce store?
Well, look no further than the WooCommerce e-commerce plugin.
This free plugin helps you build exactly the eCommerce website you want, making it easy to sell your products online. The WooCommerce plugin is a trusted WordPress staple that's easy to set up and connects seamlessly to payment gateways like PayPal and Stripe.
17. MemberPress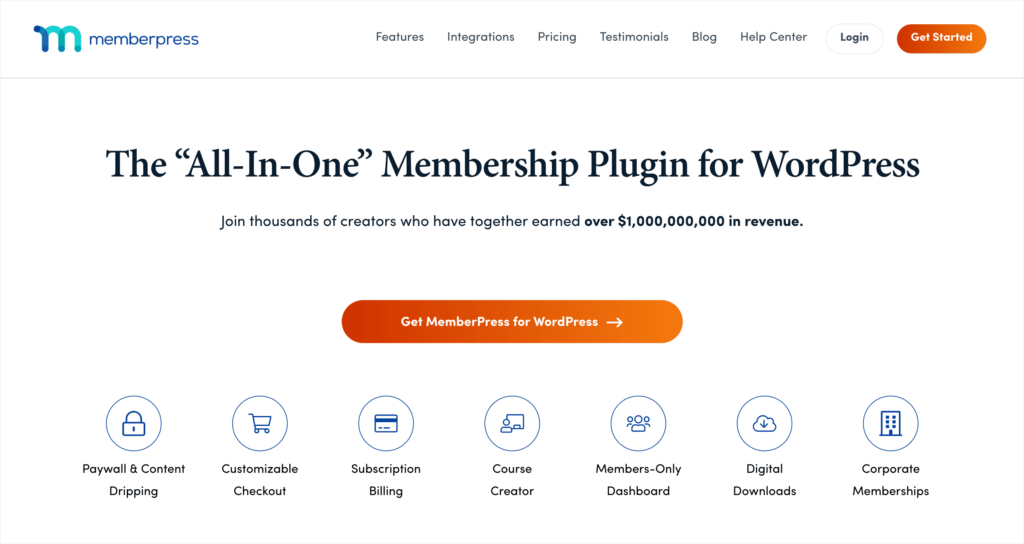 MemberPress is the best "all-in-one" membership plugin for WordPress.
It's going to allow you to turn your website into a membership-generating machine thanks to built-in features that sync perfectly with WordPress.
Paywall and content dripping
Customizable checkout
Subscription billing
Course creator
Members-only dashboard
Digital downloads
Corporate memberships
MemberPress allows you to create an efficient membership program within your WordPress dashboard, and it's an excellent way to create a new revenue stream for a great price.
Looking for some bonus WordPress plugins and widgets? Why not check out a WordPress caching plugin like WP Rocket or W3 Total Cache to improve load times or an anti-spam plugin like Akismet? Or even a forum plugin like BuddyPress.
And remember, for the best WordPress tutorials, always consult WPBeginner!
Now Expand Your Marketing with the Help of Affiliates
There are some awesome tools on this list and together they can help you build and grow an amazing WordPress website.
Building and maintaining that website takes time and commitment though, and can sometimes distract from your marketing efforts. If you're running a small team (perhaps just yourself), then it's natural that you have to prioritize.
Marketing should never get squeezed out though, which is why affiliate marketing is such a great option.
It allows you to tap into the audiences of innovative affiliates and give your marketing a hassle-free boost. Of course, this only works if you've got a platform that makes affiliate management easy, but with AffiliateWP, that's exactly what you get.
Affiliate marketing can be a huge difference maker to your business, and it's very low risk, so it's well worth trying out.
The Best WordPress Plugins for Small Businesses
It's a daunting prospect setting up a website as a beginner, but luckily, there are lots of WordPress plugins to help.
Must-have WordPress plugins bring awesome functionality to your site, but the best thing is you don't have to be an expert to get the most out of them. Together, many of these plugins can help you build a super powerful website, even if it's your very first time building a site, and we think that's pretty awesome.
Want more help turning your website into a conversion-generating machine? We've got some resources to help you:
Now there's only one thing left to do.