How to Build an Optimized Affiliate Dashboard for Your Program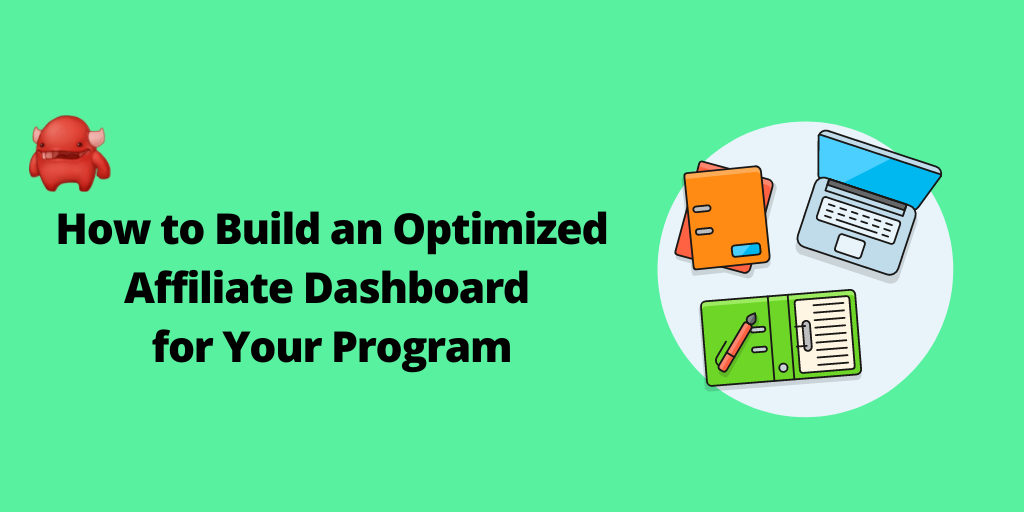 Are you looking to build an optimized affiliate dashboard for your program?
The affiliate dashboard is the main touchpoint you have with affiliates so it needs to look the part!
We're going to show you exactly how to optimize your affiliate dashboard in WordPress and wow your affiliates.
Why Your Affiliate Dashboard Matters
It's tempting to think of affiliate marketing as just tracking links.
After all, your affiliates place links in their content and send you customers.
This doesn't do justice to the difficulty of making a sale. To get someone to buy a product, or even become a lead, a whole lot of skillful marketing has to take place. This is why it's known as affiliate marketing and not just affiliate link tracking.
So, where does the affiliate dashboard come in?
Well, the affiliate dashboard is a huge part of an affiliate program. It's an affiliate's number 1 point of contact with your affiliate program, and it's the hub from which they operate.
It's where they go to generate affiliate URLs, request coupon codes, check their affiliate data, view payouts, and hone their affiliate marketing efforts.
Needless to say, you need your affiliate dashboard to be optimized if you're going to maximize your program's success.
A good affiliate dashboard can:
Help attract top affiliates
Make your affiliate program easy to use
Improve the affiliate onboarding experience
Offer in-depth affiliate data to improve performance (along with other programs like Google Analytics, Google Ads, and social media analytics)
Boost your affiliate conversion rate (affiliates can use detailed metrics to improve performance and make more affiliate sales)
If you're going to create a thriving affiliate program, then you need more than affiliate link tracker software. You need an affiliate management software provider that allows you to build an optimized affiliate dashboard.
How to Build an Optimized Affiliate Dashboard in WordPress
Affiliate marketing software might seem daunting, but it's actually very straightforward to set up.
With the right WordPress plugin, you can start tracking referrals and build an optimized affiliate dashboard in just a few minutes.
Here's a quick overview of the steps we're going to discuss:
Install AffiliateWP
Complete the setup wizard
Set your affiliate area
Add affiliate area tabs
Once we've got you set up with an optimized affiliate dashboard, we'll then show you how you can take things to the next level to grow your affiliate program!
Step 1: Install AffiliateWP
The first step in building an optimized affiliate dashboard is installing AffiliateWP.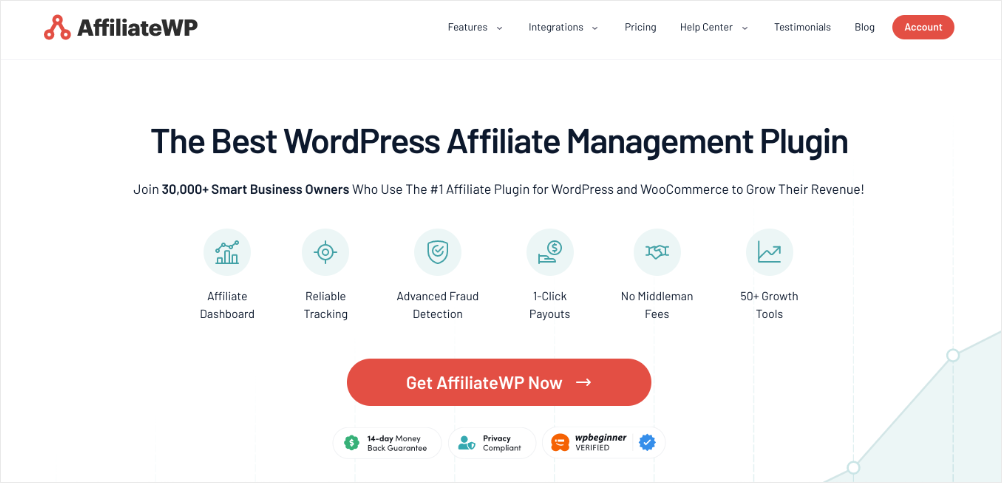 AffiliateWP is the best WordPress affiliate management plugin, and it's got some amazing affiliate growth tools for you. One of these tools is an easy-to-use, customizable affiliate dashboard.
Just head to our pricing page and choose the plan that best fits your needs.
Once you've completed your purchase, you'll be able to install AffiliateWP from the Plugin tab of your WordPress dashboard, but if you get stuck at any point, then just follow this handy tutorial.
Now you're ready to set up your affiliate tracking and optimize your affiliate dashboard.
Step 2: Complete the Setup Wizard
One of the great things about AffiliateWP is it makes it incredibly easy to integrate your store.
Simply open the setup wizard by hovering over AffiliateWP in the left-hand sidebar of your WP dashboard and click Settings. Scroll to the bottom of the page and click on Launch Setup Wizard.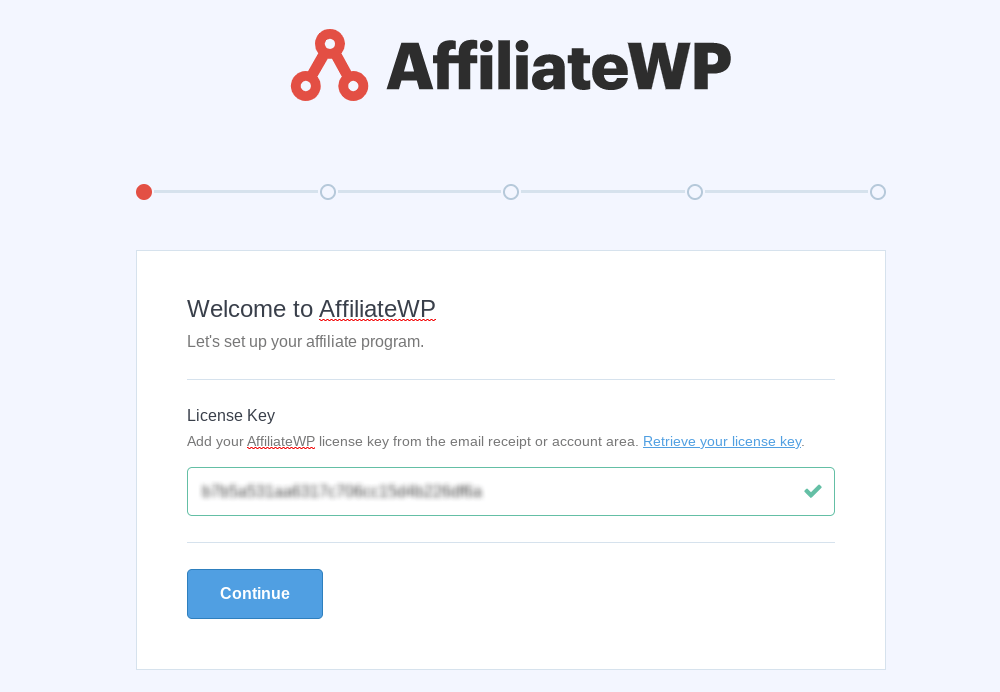 A new page will open and you'll be asked to enter your license key. Simply copy this from your confirmation email or AffiliateWP account and paste it into the box before clicking Continue.
Next, you'll see an integrations page to connect your site to AffiliateWP.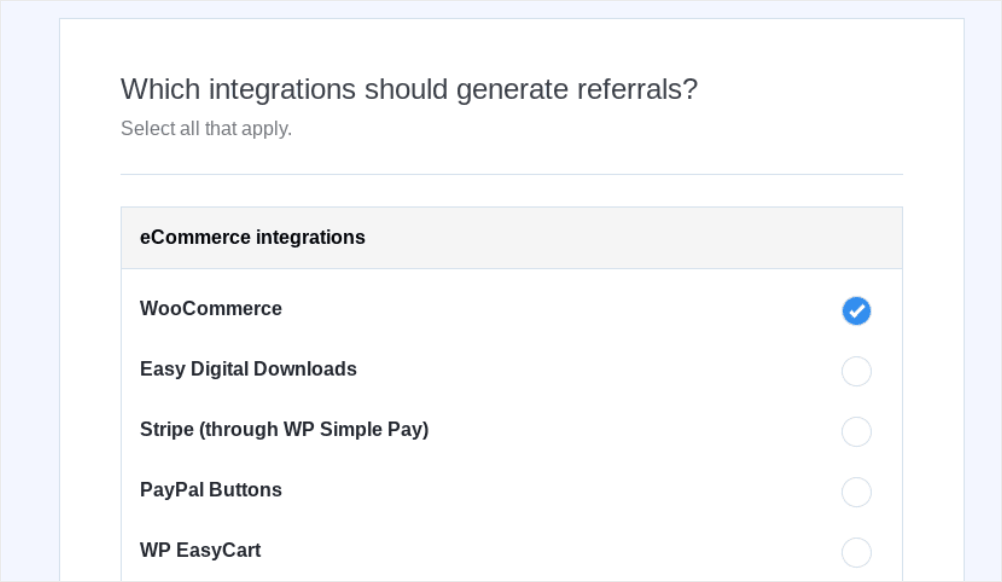 Simply choose the plugin you want to connect from the dropdown menu and click Continue.
We've got a wide range of WordPress integrations, so check that your's is on the list!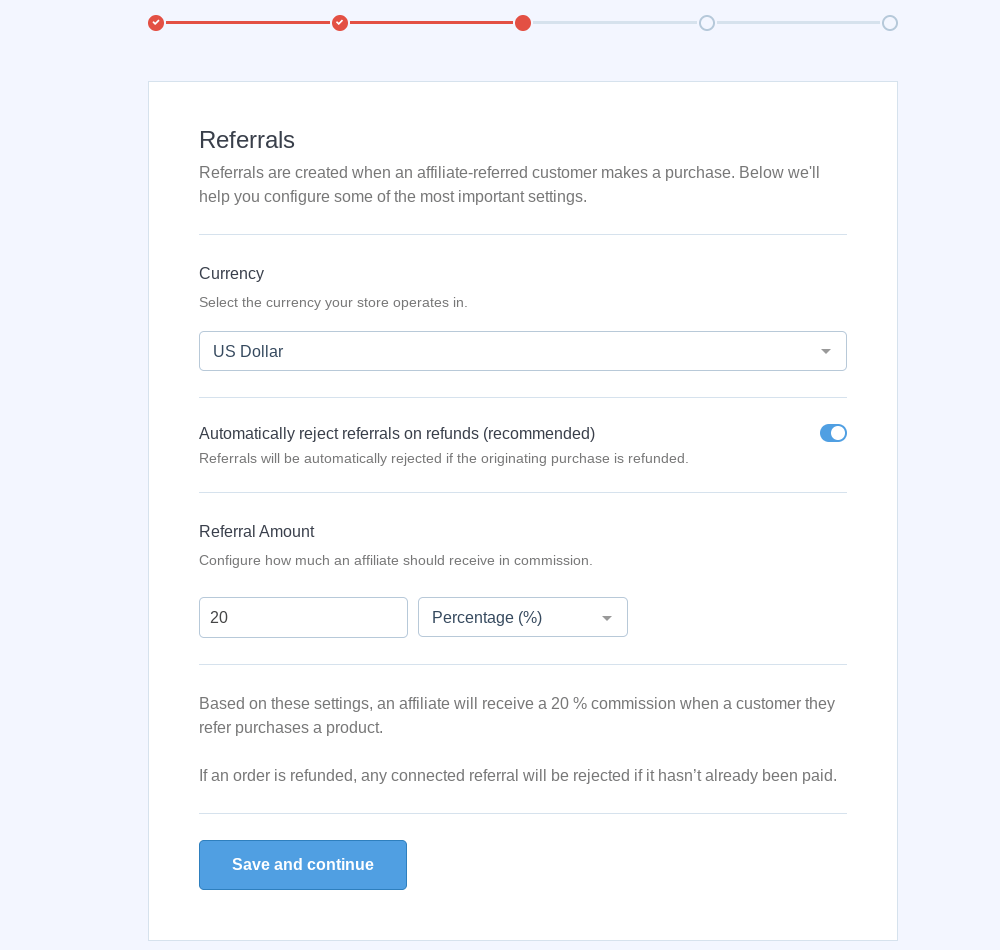 The next step is to choose your commission structure. Decide on a currency, referral type (flat fee or percentage of total order), and set your global commission rate. Don't worry, you can change this in your AffiliateWP settings at a later date and even set affiliate commissions on a per-affiliate or specific product basis.
The last step is to choose your link structure and set your cookie expiration.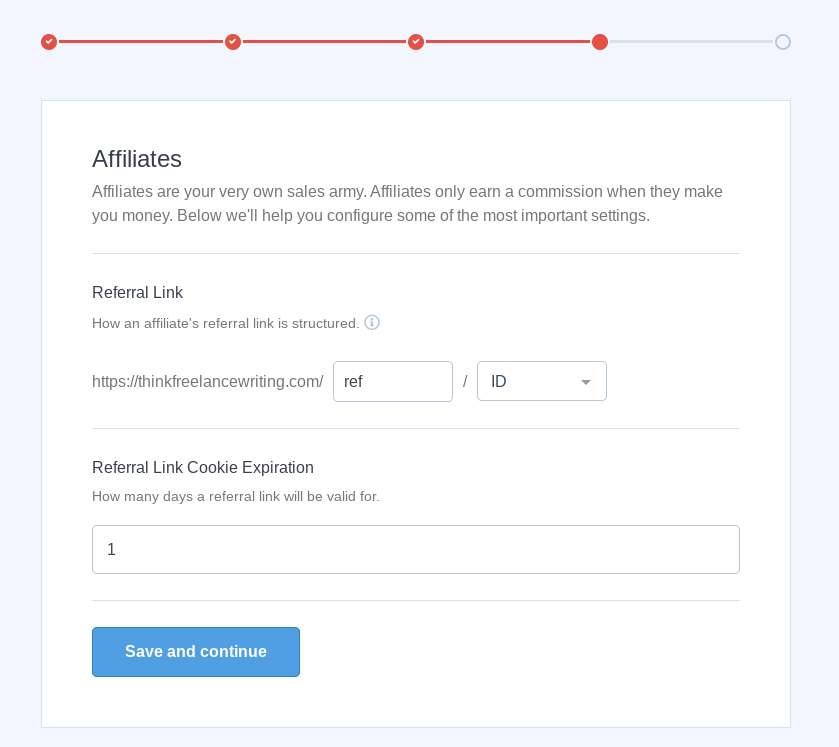 Once you've completed all the steps, click Finish the setup and exit the wizard.
Congratulations!
Your affiliate tracking is now live, all that's left to do is customize your program.
Step 3: Set Your Affiliate Area
Another reason AffiliateWP is so popular is that it gives you out-of-the-box affiliate tracking, but it's also extremely customizable (you can even take things a step further with hooks, templates, and APIs).
As soon as you complete the setup wizard, an affiliate area landing page will be created on your site, where affiliates can sign up for your program and log in to their affiliate dashboards. AffiliateWP will create a template page for you, but you can also select any WordPress page to serve as your affiliate area.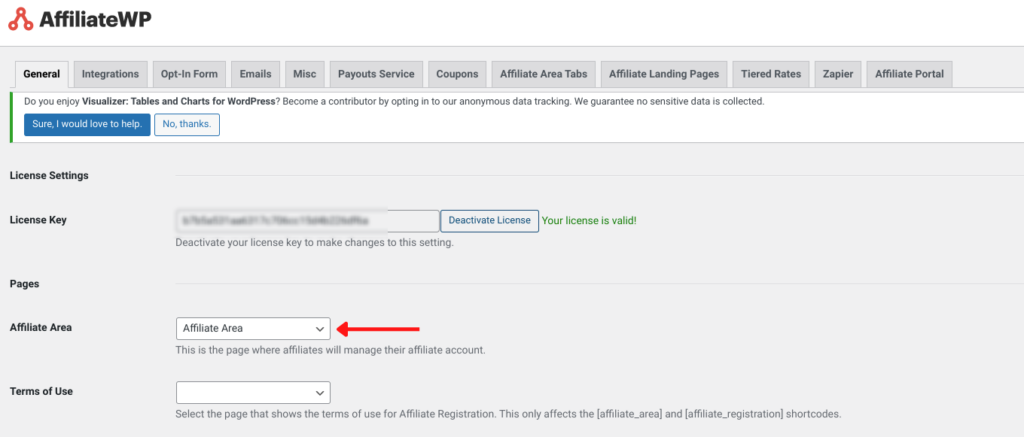 Just go to AffiliateWP > Settings and choose your page from the Affiliate Area drop-down menu.
This will allow you to customize your registration form and optimize the signup process.
Note: Notifications will automatically be sent out whenever a new affiliate signs up for your program, but you can edit this by going to the Emails tab.
Step 4: Add Affiliate Area Tabs
Your affiliate dashboard is hosted on your website, which means it automatically syncs with your website theme and branding.
However, there's another tool you can use to optimize your affiliate dashboard: affiliate area tabs.
This allows you to add any WordPress page as a tab in your affiliate dashboard. For example, you might want to add a welcome tab, or an affiliate onboarding guide.
To add tabs to your affiliate dashboard, simply download the Affiliate Area Tabs add-on, and install it in the same way you installed the AffiliateWP plugin.
Once you install the add-on, a new Affiliate Tabs tab will be added to your AffiliateWP settings.
From here, you can reorder, hide and add new tabs to the affiliate dashboard.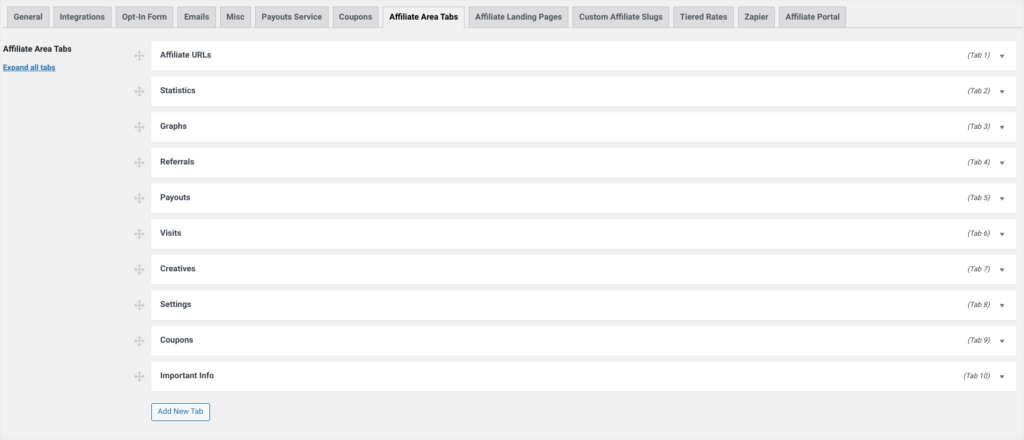 To add a new tab, just click the Add New Tab button, give your tab a title and select the tab content from the dropdown menu.
Your affiliate dashboard will automatically come with an affiliate link generator, real-time analytics, graphs, and other important tabs, but this way, you can optimize your affiliate dashboard as you see fit.
Now to Take Things to the Next Level
If you want to provide the ultimate affiliate experience, then you should use AffiliateWP's Affiliate Portal add-on.
This pro-add-on is available for people on a Professional license, and it's a marketing tool that can help take your affiliate program to the next level.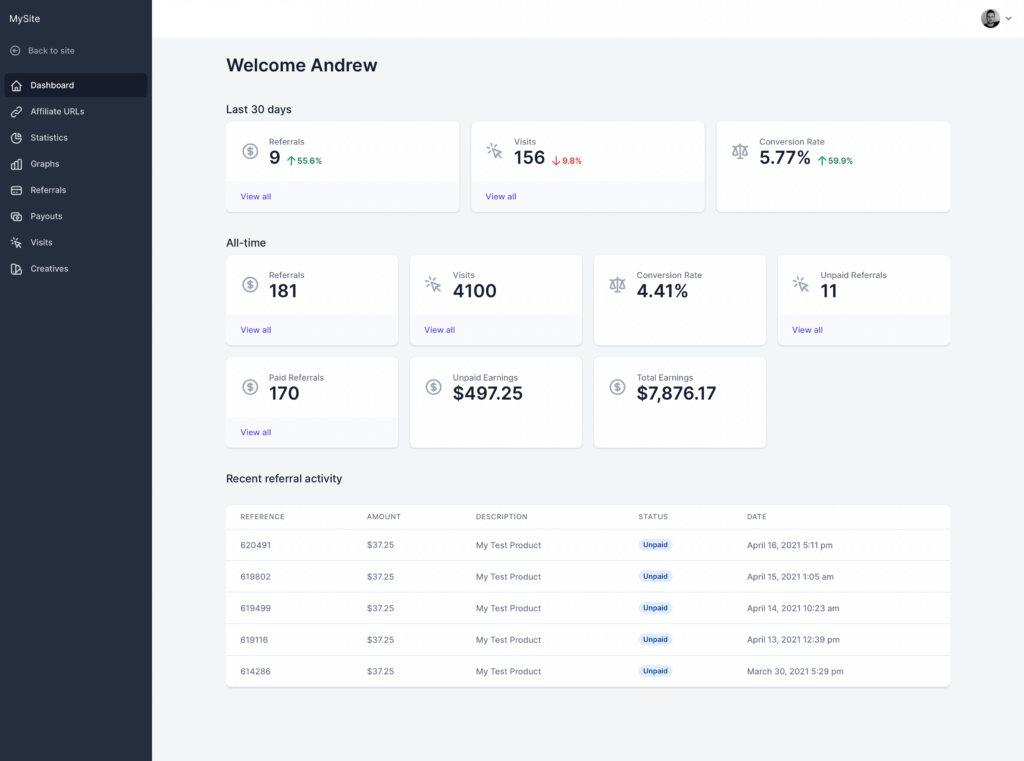 The Affiliate Portal is just as customizable as our regular affiliate area, but it adds a superior dashboard interface to make life even easier for your affiliates. It's perfect for affiliates to check in with your program on the go, get a quick snapshot of their performance, and find new products to promote.
Affiliate marketing is all about building relationships, and as the affiliate dashboard is a primary touchpoint, it's a perfect way to invest in your program's success. The best way to do this is with AffiliateWP's Affiliate Portal.
Note: To make your affiliate dashboard even more powerful you can sign up for our integrated payouts service. This allows you to pay all affiliates directly to their credit card or bank account rather than having to go through PayPal.
Start Building Your Optimized Affiliate Dashboard
Now is the perfect time to optimize your affiliate dashboard and build a thriving affiliate program.
Still got questions?
We've got the resources to help:
So, you know how to build an optimized affiliate dashboard in WordPress, now it's time to get started!