5 Best Affiliate Software with Third-Party Integrations 2023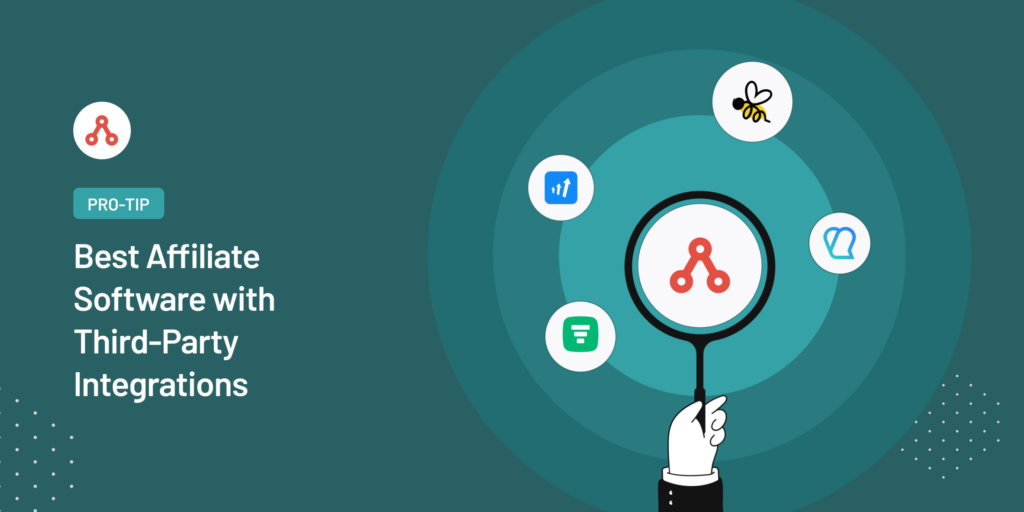 Looking for the best affiliate software with third-party integrations to grow your online business?
Making a killer affiliate marketing program needs a plan, and using affiliate marketing software is an essential part of that plan.
In this article, we will share the best affiliate software with third-party integrations that make setting up your program much more manageable.
Why Having Third Party Integrations Important in an Affiliate Software?
Integrations with third-party services are essential for affiliate software for several reasons.
First and foremost, it speeds up the process of making things. You save time using third-party integrations instead of building every feature from scratch.
Say you want to integrate subscription-based products into your affiliate program. Still, if your affiliate software is incompatible with popular third-party plugins, it will be a nightmare for you and your business.
Additionally, adding third-party integrations lets you add better features to your affiliate software.
Numerous excellent plugins that have been tried and tested to improve program performance are available. You can improve the user experience of your platform by adding these tools.
The best affiliates can be kept on board for the long run if you equip them with convenient tools made possible by integrations.
This will benefit your business and your ability to manage your affiliate program.
Best Affiliate Software with Third-Party Integrations
Now that we've discussed why you need affiliate software that supports third-party integrations, it's time to find out which affiliate software lets you integrate plugins to help you easily manage your affiliate program.
Let's begin!
1. AffiliateWP
If you are looking for affiliate software that seamlessly integrates with almost every popular plugin, AffiliateWP is the best choice.
A top-notch solution for managing your affiliate program, AffiliateWP is the ideal software for those who want to establish an affiliate marketing program on their WordPress website.
The best part is, AffiliateWP comes with a long list of integrations that will help you create any affiliate program for your business. With seamless integration capabilities, you can effortlessly use WooCommerce, PayPal, Stripe, WPForms, and many other outstanding tools with your affiliate program.
Integrations: AffiliateWP boasts an impressive list of integrations, including:
WooCommerce
Easy Digital Downloads
Gravity Forms
WP Simple Pay
Stripe
ActiveCampaign
MemberPress
MemberMouse
WP Forms
PayPal
Formidable Forms
SendOwl
GamiPress
Key Features:
Personalized Affiliate Dashboard
Easy integration with popular tools
Terms of Use Generator
Highly customizable dashboard
Unlimited affiliates, sales, and earnings
Pricing:
Professional: $299.50/ year for the first year and $599.00/ year for subsequent years.
Plus: $199.50/ year for the first year and $399.00/ year for subsequent years.
Personal: $149.50/ year for the first year and $299.00/ year for subsequent years.
2. Easy Affiliate
Easy Affiliate is a powerful WordPress affiliate program plugin developed by the same team behind MemberPress and Pretty Links.
It allows users to use an affiliate application process to recruit the right affiliates.
With the tool's real-time reporting and built-in fraud detection alerts, you'll always know what's happening with your business.
Easy Affiliate also has 1-Click Payouts, making paying affiliates through PayPal easy. It also has built-in support for the email marketing platforms MailChimp, ActiveCampaign, and ConvertKit, so you can easily keep your affiliates up to date.
Integrations: Easy Affiliate integrates with various platforms, including:
ActiveCampaign
Advanced Ads
Airtable
Amelia
Automator Core
BadgeOS
bbPress
BuddyBoss
BuddyPress
Key Features:
Personalized Affiliate Dashboard
Customizable Application Process
Marketing and Link Management Tools
Seamless Integration with MemberPress, WooCommerce, and Easy Digital Download
Pricing:
Basic: $99/ year for the first year and $199/ year for subsequent years.
Plus: $149/ year for the first year and $299/ year for subsequent years.
Pro: $199/ year for the first year and $399/ year for subsequent years.
3. Trackdesk
Trackdesk is a comprehensive affiliate marketing software offering easy integration, real-time reporting, and more.
It integrates seamlessly with popular WordPress plugins like Easy Digital Downloads, WPForms, and Gravity Forms.
However, it lacks key features such as Fraud Detection, Social Promotion, Banner Management, and a Points system.
Integrations: Trackdesk integrates with several platforms, including:
WooCommerce
Shopify
PayPal
Stripe
Magento
Zapier
Key Features:
Private Campaigns
Affiliate Newsletters
Access to Error Logs
Offer Setup Support
Drag & Drop Dashboard
Pricing:
Starter: $127/ month
Professional: $207/ month
Enterprise: Custom pricing
4. Post Affiliate Pro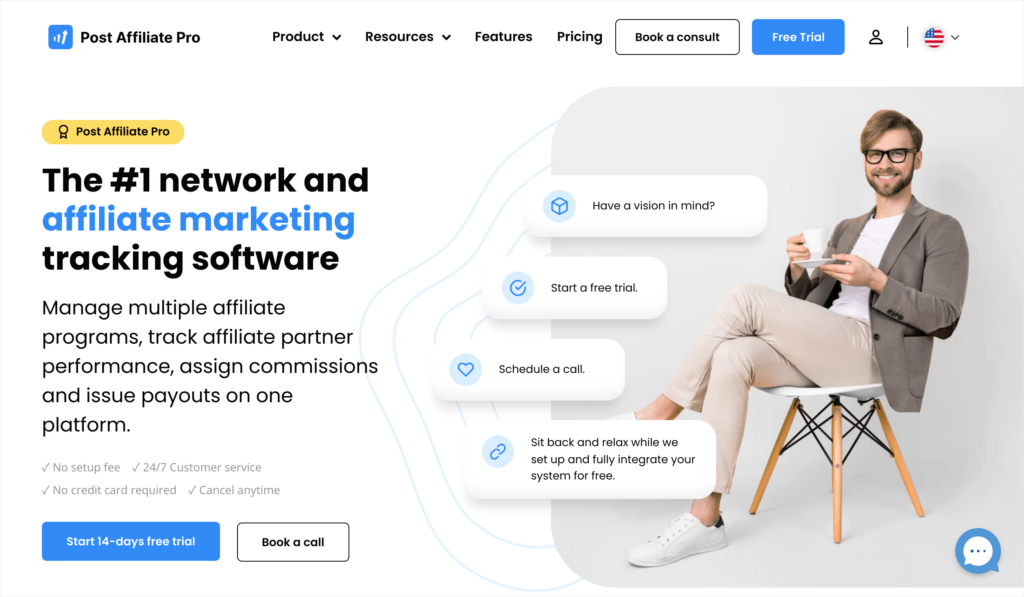 Post Affiliate Pro offers a comprehensive solution for businesses to run affiliate programs and networks, focusing on improving their digital marketing strategy.
Known for its extensive range of integrations and robust features, Post Affiliate Pro assists in setting up and managing your affiliate program effectively.

Integrations: Post Affiliate Pro integrates smoothly with various platforms and tools like:
1ShoppingCart
2Checkout
AspDotNetStorefront
Authorize.net
Avactis
AWeber
Bambora (Beanstream)
BigCommerce
Key Features:
Comprehensive affiliate program management
Real-time reporting and analytics
Customizable tracking options
Multilingual support
Pricing:
Pro: $129 /month billed annually or $139 monthly billing
Ultimate: $249 /month billed annually or $269 monthly billing
Network: $599 /month billed annually or $649 monthly billing
5. Tapfiliate
Tapfiliate is more than just an affiliate marketing software; it's a platform that educates users on affiliate, referral, and influencer marketing while providing a robust toolset.
The platform offers a quick start guide for seamless onboarding and various resources to help users better understand marketing techniques.
Integrations: Tapfiliate integrates with more than 30 platforms, including:
Stripe
Shopify
Squarespace
PayPal
WooCommerce
WIX Stores
Moonclerk
Chargebee
Hikashop
Miva Merchant
Campwire
Key Features:
Step-by-step onboarding
Sales tracking links and coupons
White-labeled affiliate pages
Commission flexibility
Real-time program reporting
Integrations with over 30 platforms
Pricing:
Essential: From $89/ month
Pro: From $149/ month
Enterprise: Custom pricing
Which is The Best Affiliate Software with Third-Party Integrations
After thoroughly analyzing various affiliate software options, we have determined that AffiliateWP is the top choice for businesses seeking seamless third-party integrations.
AffiliateWP's ease of use, comprehensive features, and robust security measures make it the ideal solution for managing affiliate programs on a WordPress website.
Integration with numerous platforms, such as WooCommerce, PayPal, Stripe, and WPForms, is effortless, thanks to AffiliateWP's user-friendly setup wizard. It walks you through each step, allowing you to track referrals and manage your program efficiently.
AffiliateWP's unlimited capacity for affiliates, sales, and earnings and its white-label affiliate dashboard that aligns with your brand make it a versatile and powerful tool.
Additionally, the platform equips affiliates with innovative marketing tools to enhance their sales and earnings, such as:
Affiliate Portals
Personalized Affiliate Landing Pages
Vanity Affiliate Coupon Codes
Direct Link Tracking
Custom Affiliate Slugs
Real-time analytics
Referrals Programs
The user interface is designed for simplicity, streamlining the management of your affiliate program, customization of registration forms and templates, and facilitating swift approval or rejection of affiliates.
Thus, after using AffiliateWP, you will appreciate its straightforward interface, advanced and advantageous features, and the ability to integrate with a long list of plugins; it is the first choice for any business planning to launch an affiliate program.
Ready to Start Your Affiliate Program?
Now that you've explored the best affiliate software with third-party integrations, it's time to kickstart your affiliate program and grow your business.
Using AffiliateWP, you can create a successful affiliate program that boosts your revenue and enhances your brand's online presence.
Don't forget to explore these valuable resources:
By leveraging the right tools and strategies, you'll be well on your way to expanding your customer base and improving your overall digital marketing efforts.