5 Best Affiliate Link Tracking Plugins for WordPress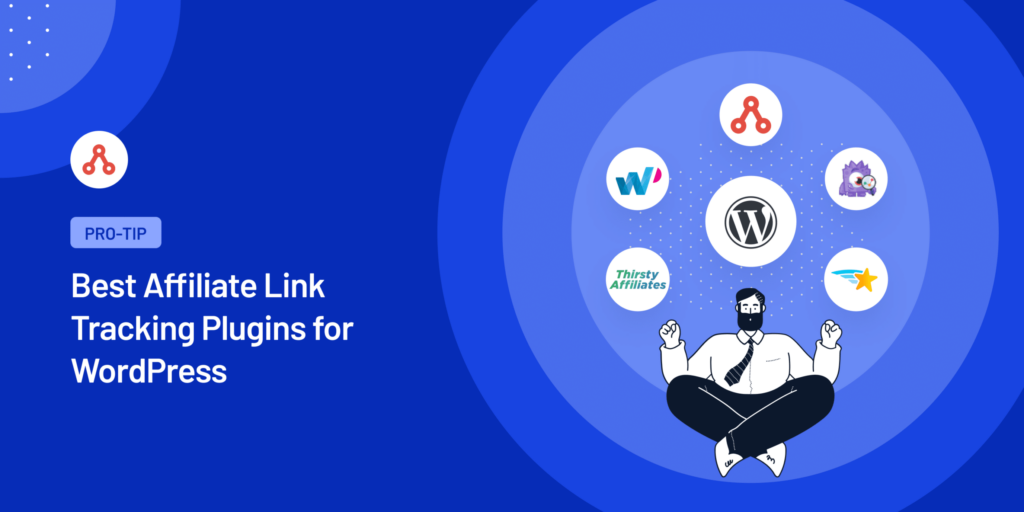 Are you searching for the best link-tracking plugins for WordPress?
Understanding how your links are performing, where your traffic is coming from, and which strategies are paying off if you want your business to grow is essential. You can do all this directly from your WordPress dashboard with the right plugin.
In this post, we've compiled a list of the best affiliate link-tracking plugins for WordPress that will optimize your affiliate marketing strategies and increase your revenue.
Why Having an Affiliate Link Tracking Plugin is Important
Understanding the performance of your affiliate links is a critical part of any successful affiliate program strategy, making affiliate link-tracking plugins an essential tool for your online business.
These plugins provide invaluable insights, highlighting which links drive conversions and which strategies maximize your return on investment. Without this knowledge, you could be wasting time and resources promoting links that aren't delivering results.
It also enables you to reward your best-performing affiliates accurately, fostering a reliable affiliate network that helps you grow your business.
However, the many choices available can be overwhelming, which is why we've done the groundwork for you.
Let's explore some of the best affiliate link-tracking plugins for WordPress.
Best Affiliate Link Tracking Plugins for WordPress
The right tools can make all the difference when starting an affiliate program.
A good tool for tracking affiliate links will help you keep track of your links and tell you how well they are doing.
When making this list of the best affiliate link-tracking plugins, we took into account the following factors to help you make an informed choice:
Ease of installation
Robust integration with WordPress
Comprehensive link management tools
Detailed analytics and reporting
Prompt and reliable support
Let's dive in and look at the best affiliate link-tracking plugins for WordPress.
AffiliateWP tops our list as the best WordPress affiliate link-tracking plugin that simplifies setting up an affiliate program for your business.
It integrates with multiple WordPress plugins, including PayPal, Stripe, MemberPress, and WooCommerce, making the entire process hassle-free.
AffiliateWP provides advanced tools such as Affiliate Portals, Personalized Affiliate Landing Pages, Vanity Affiliate Coupon Codes, and Real-time analytics, enabling your affiliates to increase their conversions and earnings.
Its detailed analytics also helps you understand which affiliates and which links are performing best, allowing you to optimize your affiliate program further.
Key Features:
Seamless Affiliate & Link Tracking
Recurring Referrals
Direct Link Tracking
Detailed analytics for maximizing sales
Advanced affiliate growth tools
Top-notch support
Pricing:
Personal: $149.50/year for the first year, $299.00/year after that (1 site, essential features)
Plus: $199.50/year for the first year, $399.00/year thereafter (3 sites, growth, and essential tools)
Professional: $299.50/year for the first year, $599.00/year thereafter (10 sites, advanced features)
BetterLinks is an advanced solution for link click tracking and link shortening. With its drag-and-drop interface, managing links becomes much easier.
It offers advanced built-in link analytics that presents detailed data on your link clicks and provides an overall idea of your campaign's success.
The plugin also allows you to define a click limit for link redirection to expire, giving you more control over your campaigns.
Key Features:
Customized short links
Built-in links analytics
One-click migration
More link options
Custom Tags & categories
Drag & Drop interface
Multiple redirect types
Set links expiration date & number of click limits (Pro)
UTM code generator
Pricing:
Individual: $79 (use on single site)
Business: $187 (use on unlimited sites)
Agency (Lifetime): $279 (lifetime update & support)
WPDeveloper Agency Bundle Lifetime: $599 (no renewal required)
ThirstyAffiliates is a popular link-click-tracking plugin that helps monetize your website with affiliate marketing.
It enables you to cloak and uncloak your affiliate links and provides an auto-link feature that adds keywords and automatically links affiliate links in your content.
Additionally, the plugin has an auto-link feature that allows you to add keywords automatically.
ThirstyAffiliates also provides a robust link management system with the automatic categorization of links and built-in tracking of click events.
Key Features:
Link cloak and uncloaking
Affiliate link redirection options
Basic stats tracking and reports
Link categorization
Pricing:
Basic: $79.50 / year for the first year, $159/ year thereafter
Plus: $129.50 / year for the first year, $259/ year thereafter
Advanced: 199.50 / year for the first year, $399/ year thereafter
MonsterInsights is not merely a link-tracking plugin; it's a comprehensive analytics solution that provides detailed insights into various user events on your website.
It offers customizable reports, enabling you to understand your audience better and tweak your content accordingly.
A standout feature of MonsterInsights is its ability to track affiliate links via Google Analytics.
It uses event tracking, allowing you to see how your affiliate links perform and where your traffic comes from.
Key Features:
Google Analytics dashboards
eCommerce tracking
Ads tracking
Affiliate link tracking
Events tracking
Form conversion tracking
Pricing:
Plus: $99.50/ year for the first year, $199.00/ year thereafter (for small businesses and publishers)
Pro: $199.50/ year for the first year, $399.00/ year thereafter (for eCommerce sites and businesses)
Agency: $399.50/ year for the first year, $799.00/ year thereafter (for marketing and web development agencies)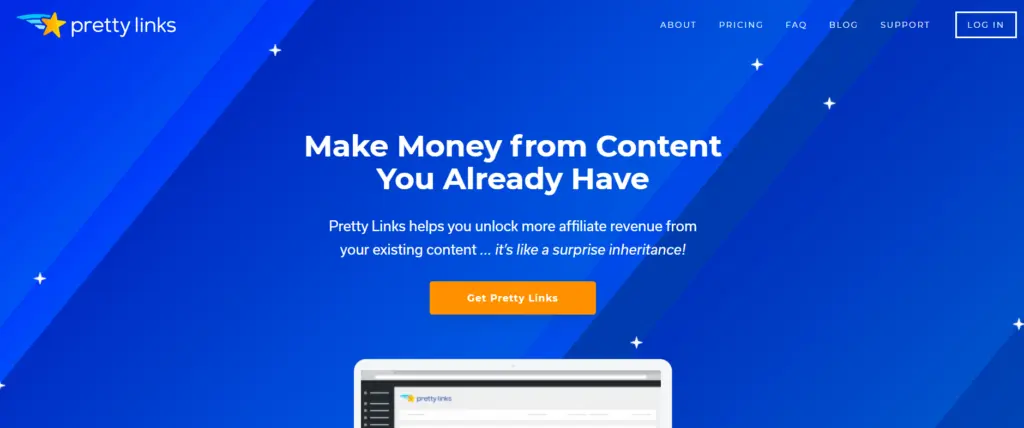 Pretty Links Lite is a simple plugin that helps you shorten and track links with basic stats. It also allows you to group and set links at "nofollow."
With Pretty Links, you can monitor your links' success with integrated metrics and promote them using the Pretty Bar tool.
The auto-linking function will streamline your advertising campaigns by instantly connecting targeted keywords with relevant affiliate links.
Key Features:
Shorten and track links
Fix broken links
Auto-link keywords
Basic stats
Group links
Nofollow links
Pricing:
Beginner: $ 99.50 / year for the first year, $199/ year thereafter
Marketer: $ 149.50/ year for the first year, $299/ year thereafter
Super Affiliate: $ 199.50/ year for the first year, $399/ year thereafter
FAQ: Best Affiliate Link Tracking Software
What Is Affiliate Link Tracking?
Affiliate link tracking is tracking the performance of your affiliate links. This includes monitoring clicks, conversions, and the source of traffic. It helps you understand which strategies are working and where improvements can be made.
Why Is Affiliate Link Tracking Essential?
Tracking your affiliate links gives you insights into your audience's behavior and preferences, helping you optimize your marketing strategies, improve conversions, and, ultimately, boost revenue.
Can AffiliateWP Track Affiliate Links?
AffiliateWP is a powerful affiliate management tool with robust affiliate link tracking features. It offers detailed analytics that help you understand the performance of your affiliate links.
Ready to Track Your Affiliates And Grow Your Business
Affiliate marketing is more than just picking the right products or writing content people want to read. It's about using robust tools that make tracking and controlling your affiliate program easier.
Based on our comprehensive research of the available options, we can confidently recommend AffiliateWP as the best way to turbocharge your affiliate marketing and unlock your website's full revenue potential.
With its seamless integrations, detailed analytics, and advanced affiliate growth tools, AffiliateWP simplifies the entire process, making it a breeze for you and your affiliates.
Don't miss out on these additional resources for deeper insights and expert guidance:
Now, just one more thing is left.
Get AffiliateWP today and see what a great affiliate plugin for WordPress can do for your business.