How to Set Up an Affiliate Program for Small Business (8 Steps)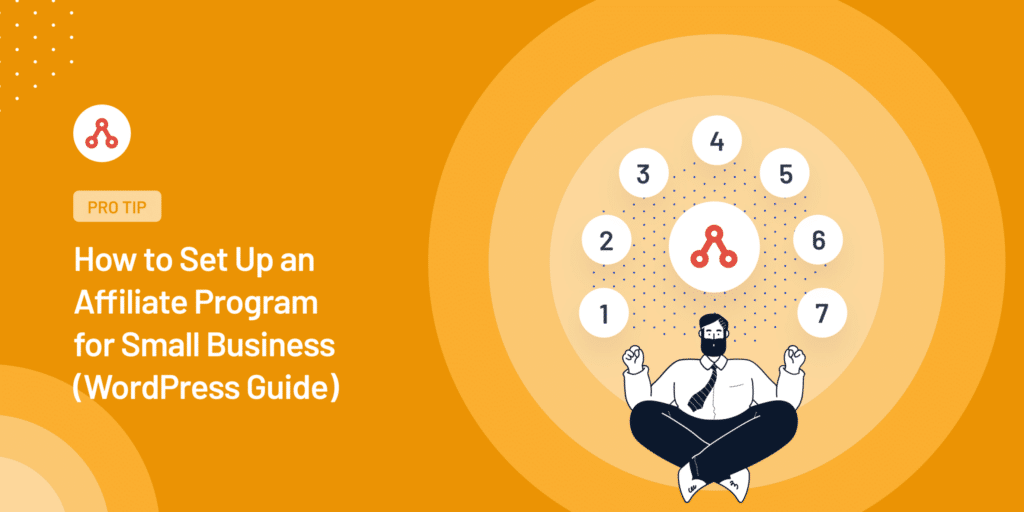 Are you a small business aiming to grow your customer base and revenue?
Implementing an affiliate program might be the step forward you've been looking for.
This guide will help you set up your affiliate program on WordPress in a few steps without any hassle.
Let's get started!
Why do Small Businesses Need an Affiliate Program
It's undeniable that small businesses face an uphill battle in today's competitive marketplace. With limited budgets and resources, these businesses often struggle to gain visibility and reach their target audiences effectively.
But what if there was a cost-effective, efficient way to tackle these challenges? Well, there is one, and that's an affiliate program.
Affiliate programs can be game-changers for small businesses.
They provide an opportunity to leverage the networks and influence of affiliate partners, significantly broadening your brand's reach without the need for a hefty marketing budget.
It's a win-win situation where affiliates promote your products or services and receive a commission for every successful referral they bring in.
This means you only pay when you see results, a sale, a lead, or a click, depending on your agreement with the affiliate.
Let's find out how to set up an affiliate program on WordPress for your small business.
8 Steps to Start an Affiliate Program for Small Business
Small businesses often face the challenge of limited reach and stagnant growth.
One way to address these issues is by leveraging affiliate marketing.
An affiliate program can dramatically extend your brand's visibility and drive incremental sales by harnessing the influence of passionate promoters.
However, setting up an affiliate program can feel daunting.
Luckily, with AffiliateWP, it's simpler than you might think.
Follow the steps below and start an affiliate program for your small business to generate more revenue.
Step 1: Install AffiliateWP
The first thing you need to do is install AffiliateWP.
This highly-rated WordPress management plugin provides the features and tools you need to manage your affiliate program.
It has advanced tracking, provides an affiliate signup page, and contains management tools, analytics, fraud protection, and conversion-focused marketing features.
If your site runs on WordPress, you can set up an affiliate program using AffiliateWP in just a few minutes. AffiliateWP also offers 1-click integrations with popular plugins like WooCommerce, Easy Digital Downloads, MemberPress, and Stripe.
After purchasing your AffiliateWP license, you can quickly install the plugin. It's a straightforward process that requires no technical knowledge.
Step 2: Run the Setup Wizard
With AffiliateWP installed, it's time to set up your affiliate program.
The setup wizard in the AffiliateWP Settings page will guide you through each step.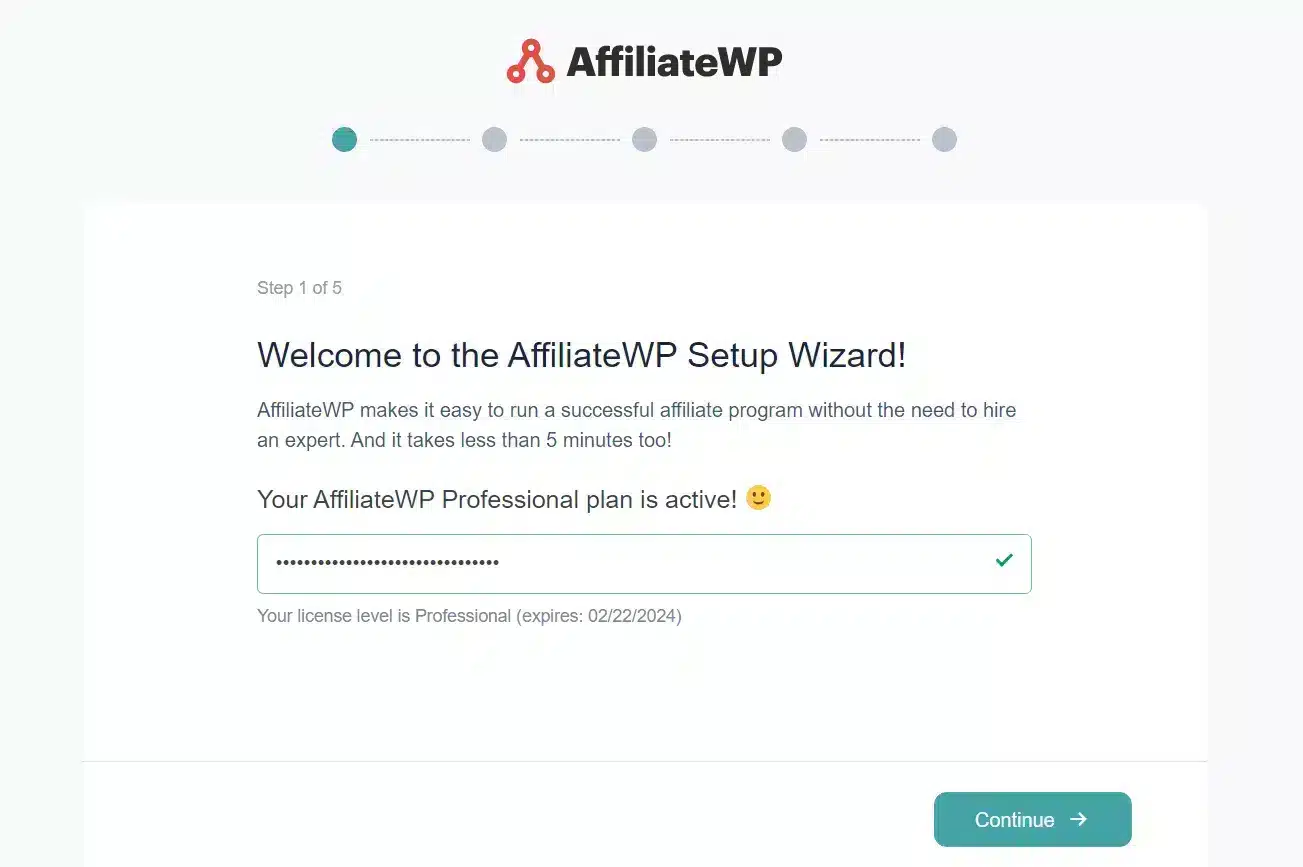 The setup wizard will first ask for your license key, which you can find in the confirmation email you received when purchasing AffiliateWP.
Simply copy and paste the license key into the designated field and click Continue.
Next, you will be prompted to choose the integrations corresponding to the plugins or software your website utilizes to sell products or services, such as WooCommerce, Easy Digital Downloads, or MemberPress.
Select the relevant integrations and click Continue.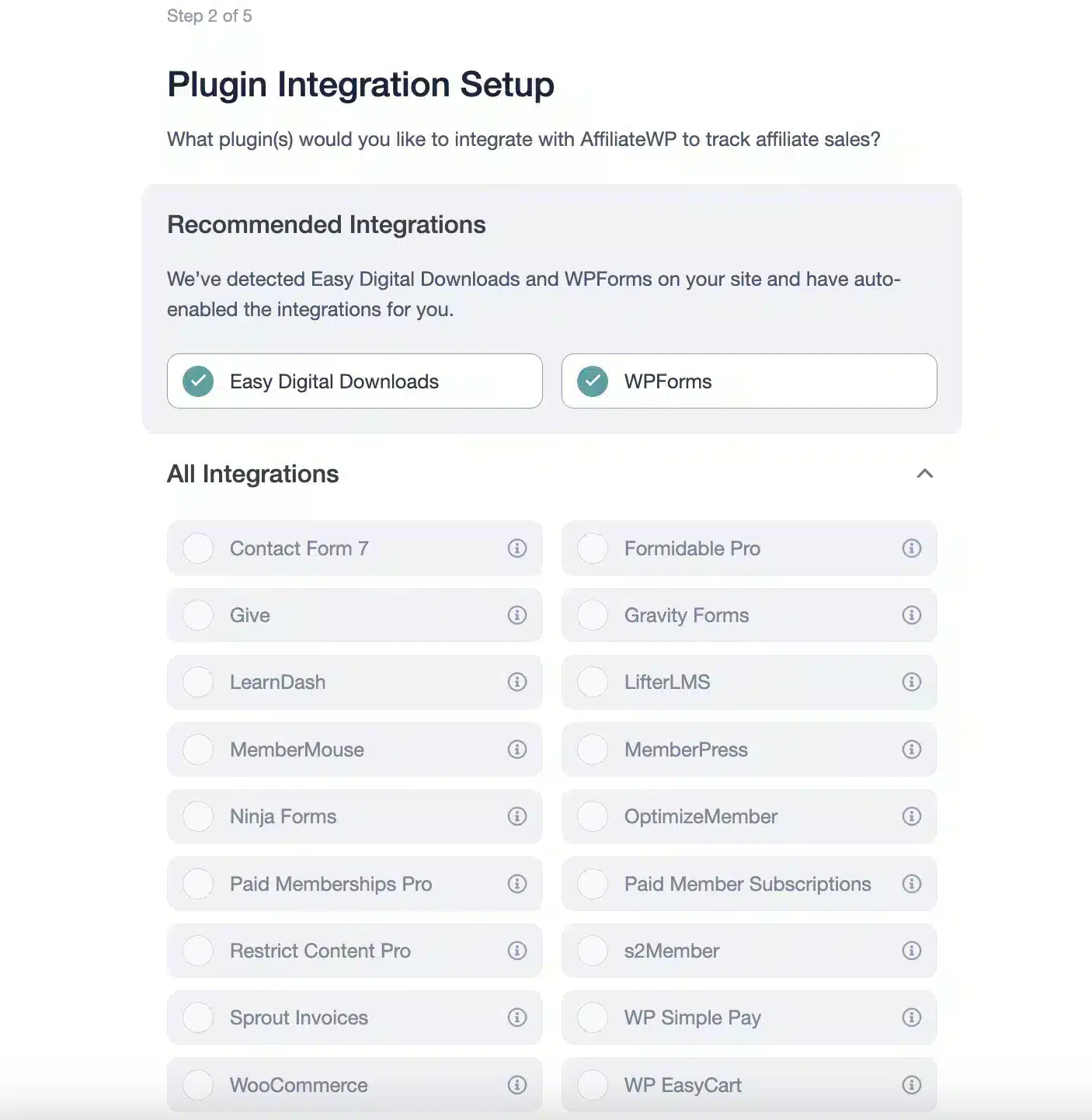 The setup wizard will then prompt you to determine your preferred payout settings.
You can pay your affiliates directly through the AffiliateWP payout service, utilize PayPal, or manage payments manually.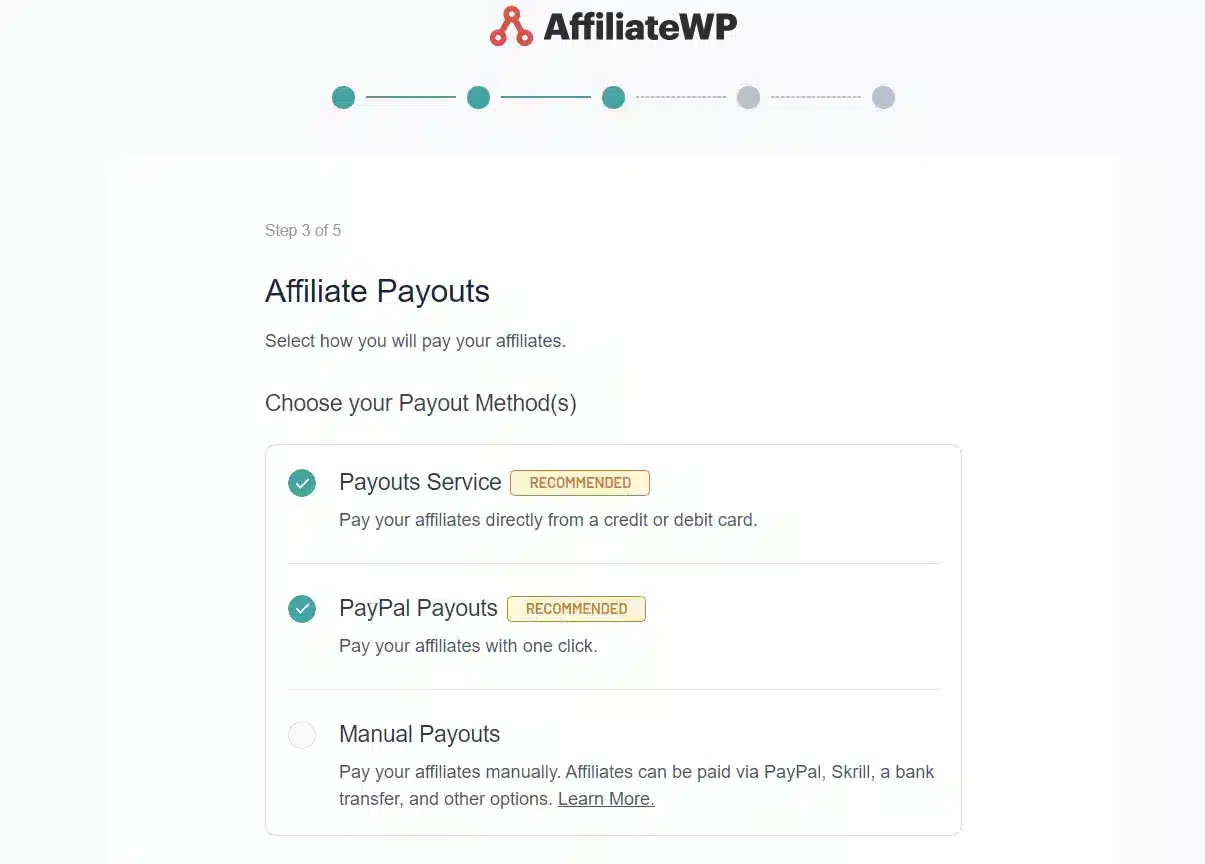 Select the option that aligns with your requirements.
Finally, you will be asked to set your referral rate and type, allowing you to choose between a fixed rate or a percentage-based referral amount.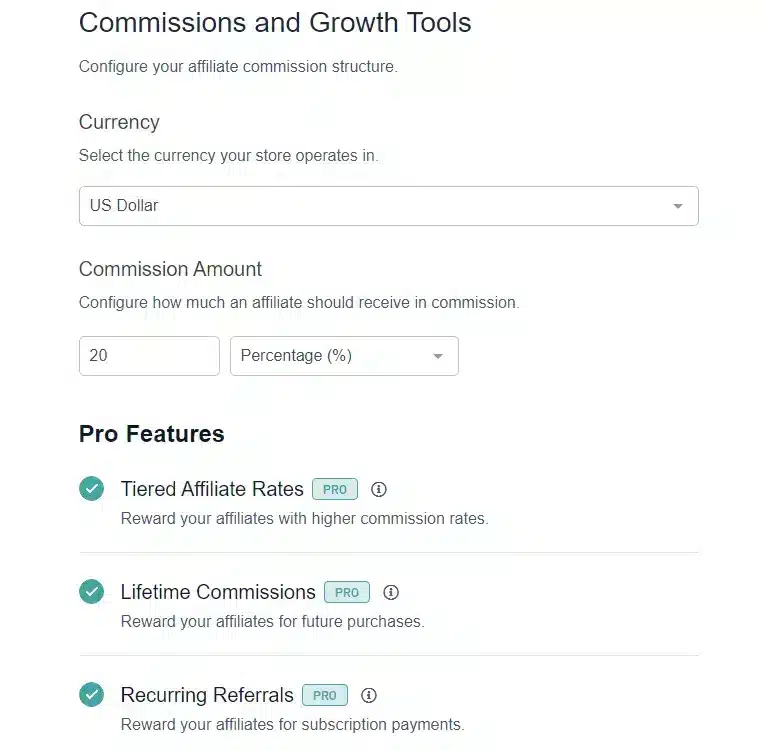 Remember, these settings can always be adjusted later, so feel free to make changes as needed.
Once you have provided all the necessary information, click Finish and Exit Wizard.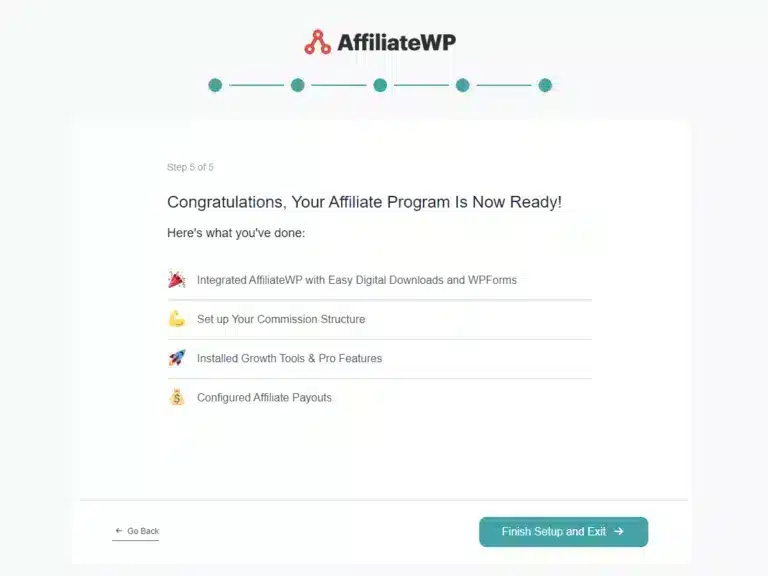 The setup wizard will display a confirmation page indicating the setup process is complete.
With AffiliateWP installed and configured, you can now proceed to the next step: signing up affiliates and assisting them in generating custom affiliate links.
Step 3: Customize Your Signup Page and Affiliate Registration Form
AffiliateWP automatically creates an Affiliate Area page that serves as your signup page.
You can edit this page to match your branding and theme and customize your registration form to collect all relevant information about potential affiliates.
This customization process is crucial because it helps attract the right affiliates who can contribute meaningfully to your program.
With AffiliateWP, you have several ways to modify your registration forms, including WordPress blocks and integrations with WPForms, Gravity Forms, and Ninja Forms.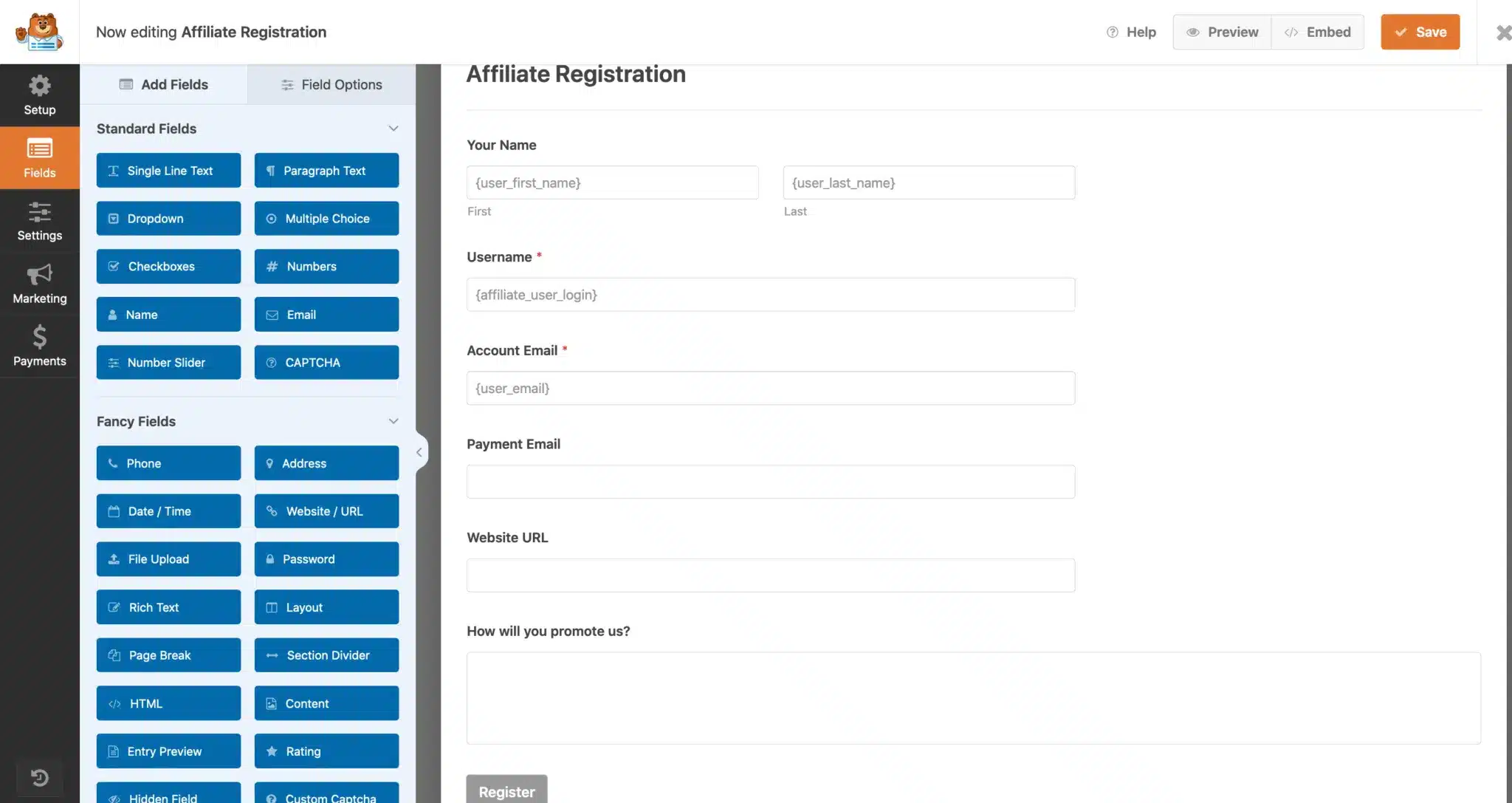 Although it may require additional time, taking this step is highly beneficial.
It will enable you to attract and engage top affiliates who can significantly impact your program.
Step 4: Manage Affiliate Applications
You'll receive affiliate applications once you set up your signup and registration page.
AffiliateWP provides a platform where you can quickly approve or reject these applications.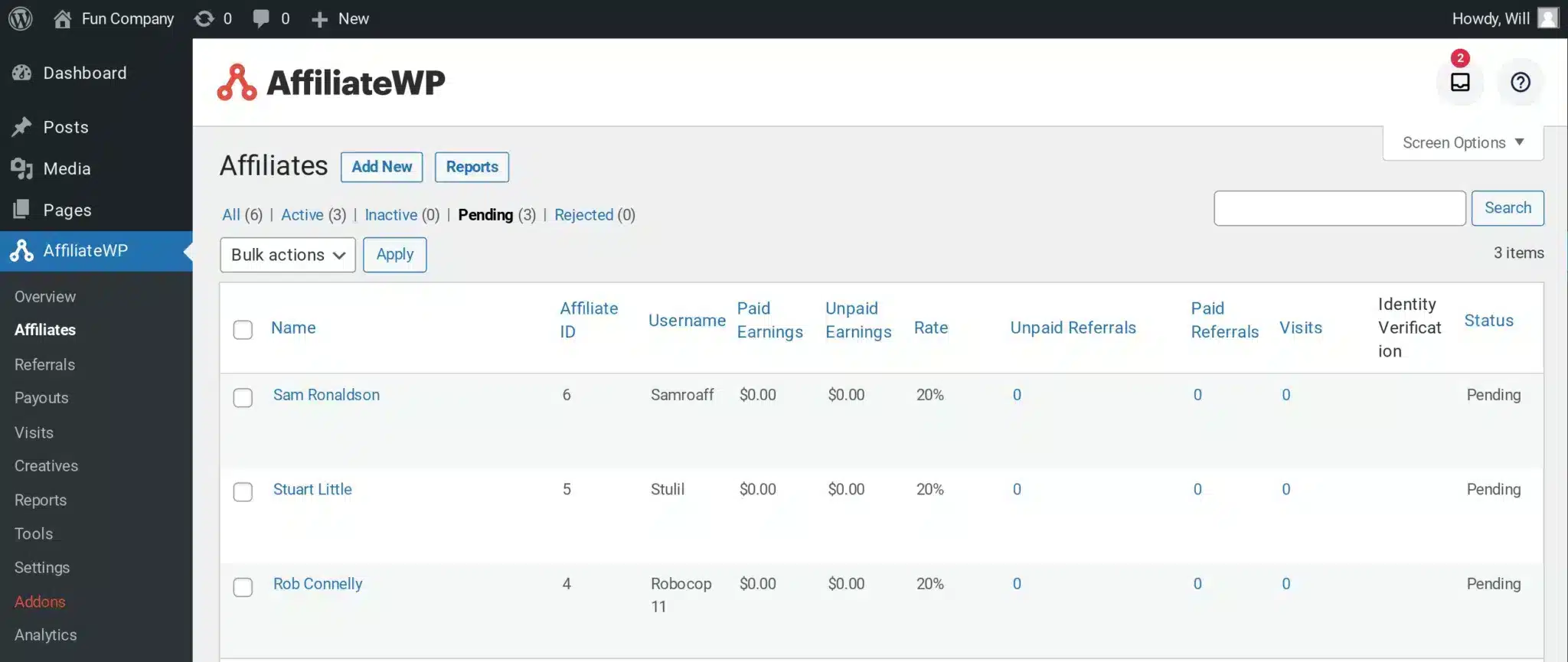 You can review the details of each application, make decisions, and notify affiliates of your decisions via email.
Just visit your AffiliateWP Affiliates screen and click the Pending tab at the top to show all your pending applications.
This process helps ensure only eligible affiliates join your program.
Step 5: Enable Affiliates to Create Links
Approved affiliates can access their dashboards to generate URLs, access coupon codes, view analytics, and more.
The affiliate dashboard is the hub of your affiliate program.
You can add new tabs and include any information you think would benefit your affiliates.
Once affiliates generate their URLs, they can promote your business on their platforms, blogs, social media, email marketing, and more.
Step 6: Monitor Performance with Affiliate Reports
It's essential to track the performance of your affiliate program to ensure its success.
AffiliateWP provides detailed reports displaying key metrics on affiliates, referrals, campaigns, and payouts.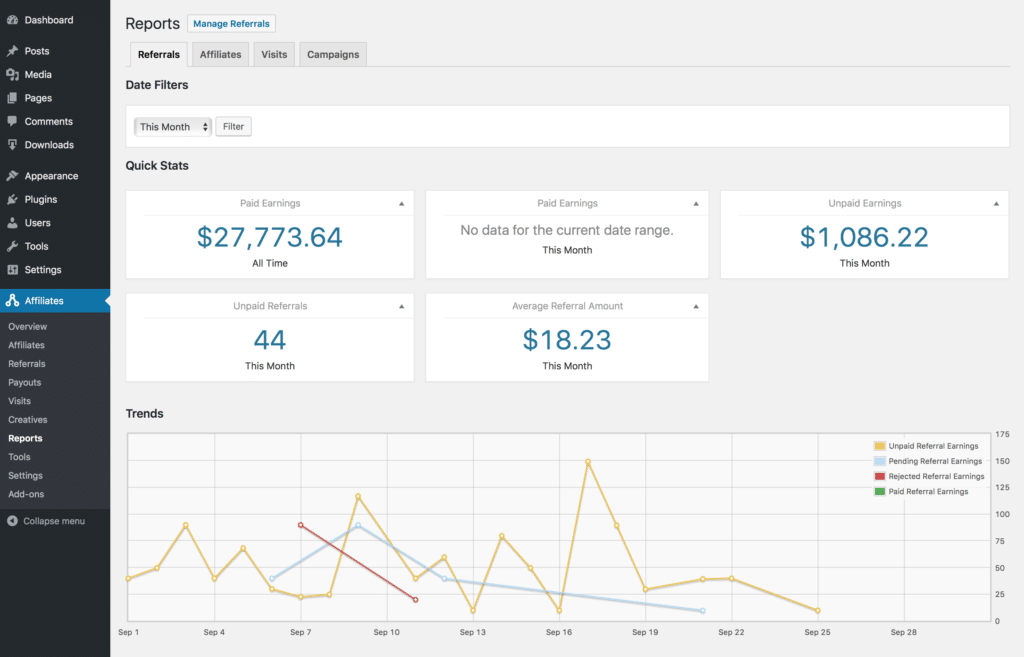 These reports offer immediate performance snapshots and allow for more in-depth analyses.
AffiliateWP also allows you to set up automatic performance reports to keep your affiliates updated about their performance.
Step 7: Implement Affiliate Payouts
The last step is setting up how you pay your affiliates. AffiliateWP tracks all your affiliates and their referrals; you only need to initiate the payments.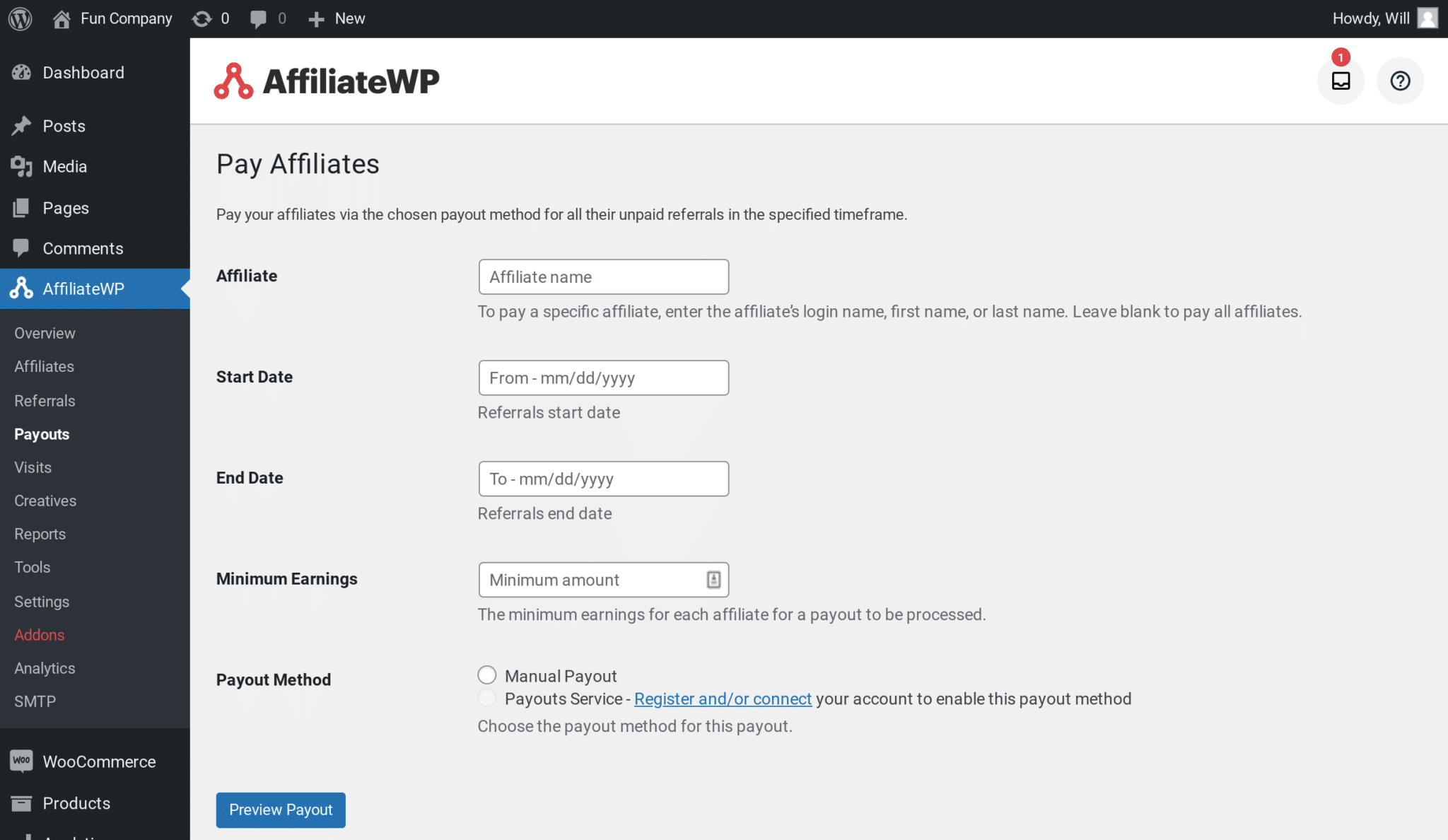 You have several options for this.
For instance, you can activate the PayPal Payouts addon to connect AffiliateWP to your account and pay affiliates with a click.
Alternatively, with AffiliateWP's Integrated Payouts service, you can send payments directly to your affiliates' bank accounts.
Kickstart Your Small Business Growth Like Never Before with an AffiliateWP
Starting an affiliate program for your small business is not as complex as it might seem. You could have a robust, efficient program up and running in just minutes with AffiliateWP.
Are you eager for more insights?
We have more resources to assist you on this journey:
With all these resources at your disposal, there's only one thing left to do.
Don't delay any longer!
Get AffiliateWP today and unlock a new growth channel for your small business with an affiliate program!