How to Create Custom Affiliate Links in WordPress (5 Steps)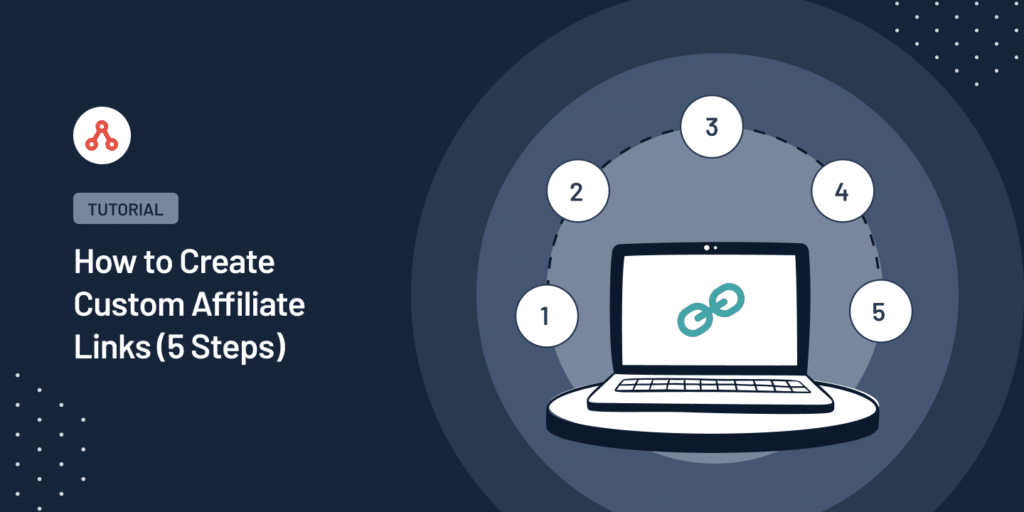 Want to know how your affiliates can create custom affiliate links?
To make your affiliate program successful, your affiliates often need an easy way of generating custom referral URLs to promote your products.
This step-by-step guide will show you how your affiliates can generate custom affiliate links and help you grow your business without hassle.
Why Creating Custom Affiliate Links is Important for Your Program
Creating custom affiliate links is essential for your program. With custom links, your affiliates can make links that fit each campaign. This can help them see which campaigns are doing the best.
Think of a situation where an affiliate promotes your product on Facebook and through emails.
If they use a custom link for each, they can see where their success is coming from.
Are more people clicking the link in emails or on Facebook? Knowing this, they can put more effort into what's working best.
Also, custom links look better to customers. They are cleaner and less confusing than random letters and numbers.
People are likelier to click on a link that looks good. And more clicks can mean more sales for your business.
Custom links also make it easy for you to keep track of your program. You can see which affiliates and campaigns are bringing in the most people.
This information lets you make smart choices to help your program grow.
So, as you know that having custom links in your program is a big plus. Let's find out how you or your affiliates can create them in WordPress.
Steps to Create Custom Affiliate Links on WordPress
To create affiliate links in WordPress, you must integrate your store with reliable affiliate software.
This will help you generate custom links for your affiliates and safeguard your affiliate program, help you manage your affiliates, and track data to make better decisions.
Just follow these simple steps to create affiliate links in WordPress:
Step 1: Install AffiliateWP
The first step in creating custom affiliate links in WordPress is installing AffiliateWP, a powerful WordPress plugin designed specifically for running an affiliate marketing program.
To start, visit the AffiliateWP website and choose a pricing plan that fits your needs. You can check out this detailed guide on installing and activating AffiliateWP.
After successfully installing AffiliateWP on your WordPress website, it's time to integrate it with your WordPress store!
Step 2: Run the Setup Wizard
Now that AffiliateWP is installed, you need to set it up properly.
AffiliateWP comes with a handy setup wizard to guide you through the process.
Return to your WordPress dashboard and find AffiliateWP in the left-hand sidebar.
Hover over it and click on Settings.
Scroll down and click Launch Setup Wizard.
The setup wizard will first prompt you to enter your license key; you can find it in your confirmation email after purchasing AffiliateWP.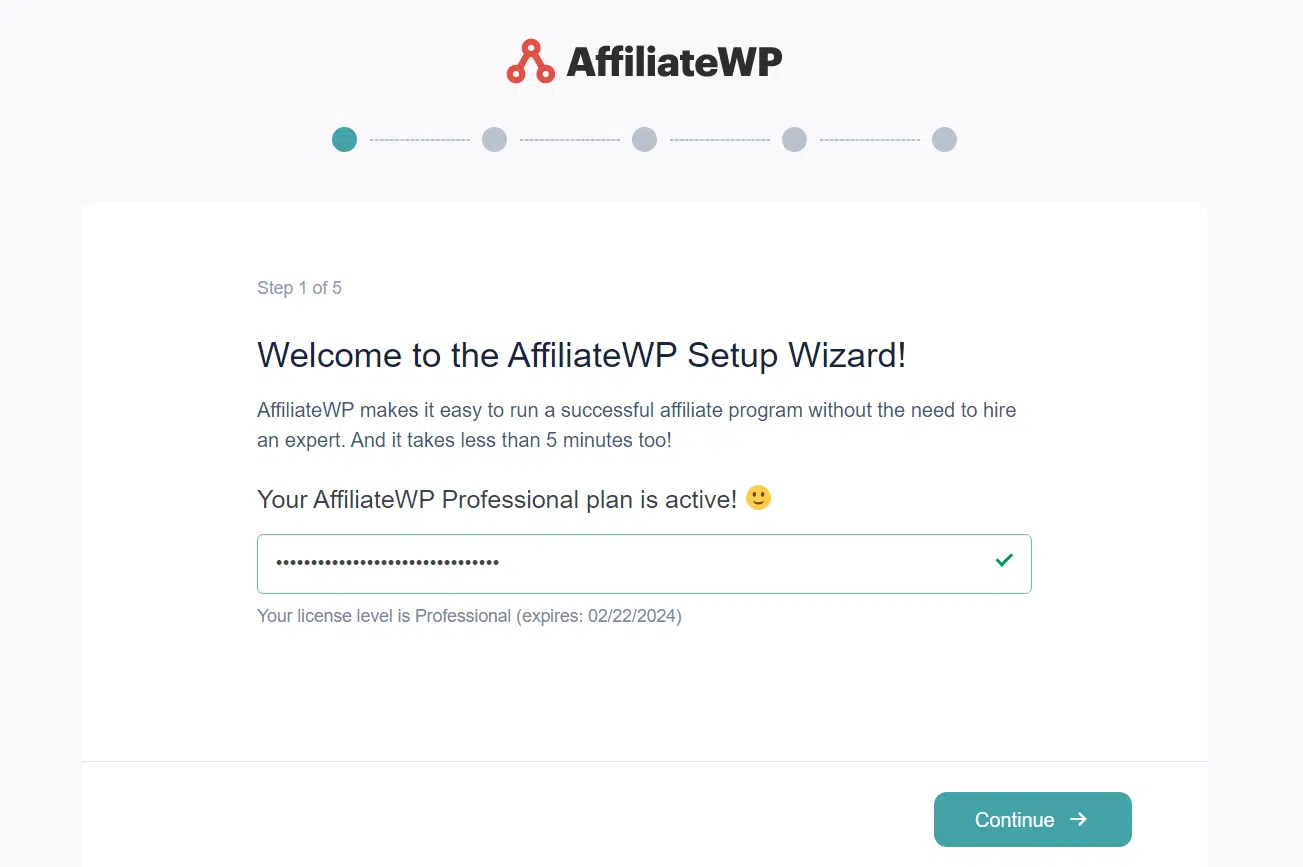 Simply copy and paste the license key into the provided field and hit Continue.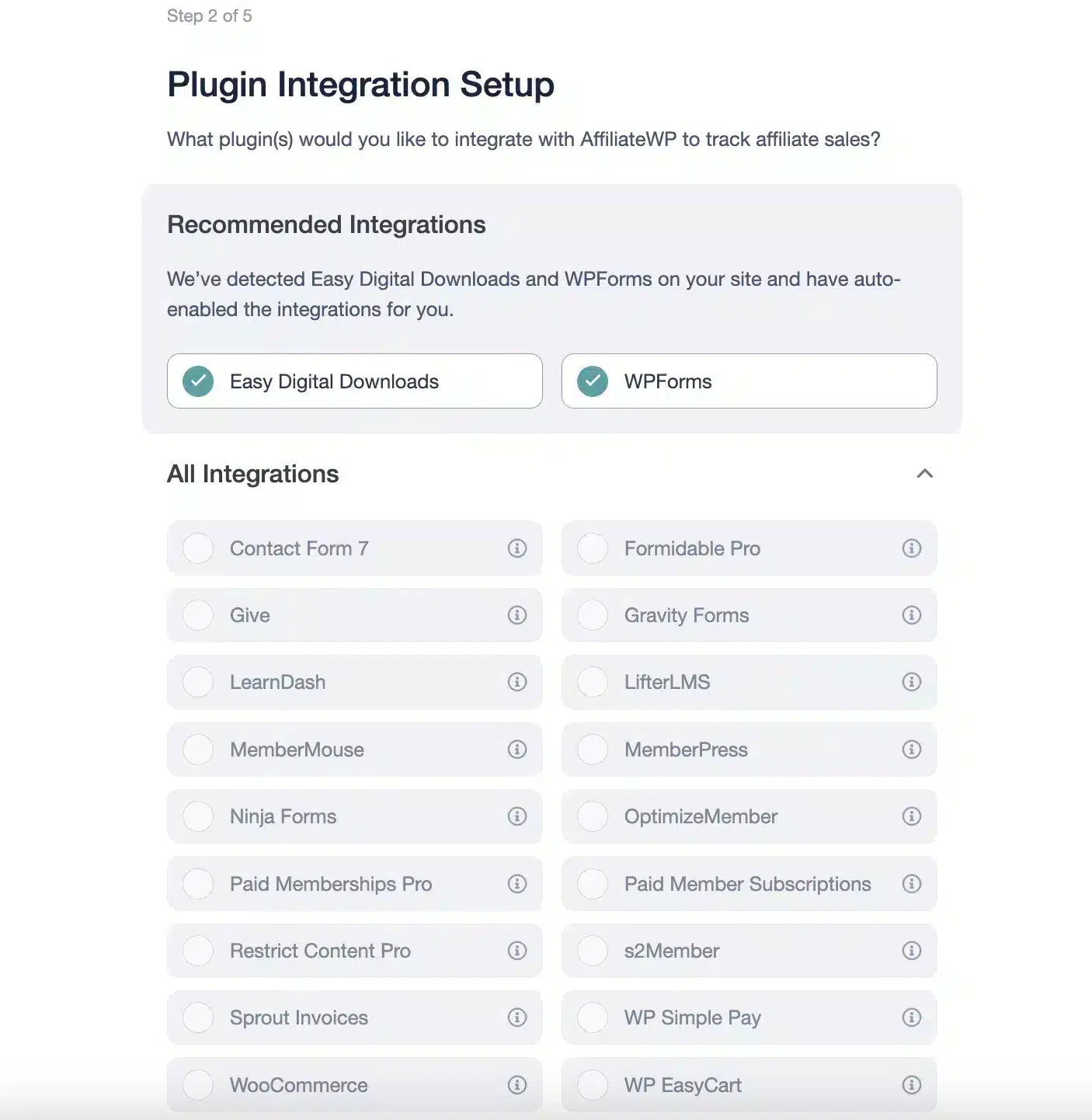 Next, you'll be asked to choose your integrations. These are plugins or software your website uses to sell products or services, such as WooCommerce, Easy Digital Downloads, or MemberPress. Select the ones applicable to your site and click Continue.
The setup wizard will then ask you to decide on your payout settings.
You can pay your affiliates directly through the AffiliateWP payout service, use PayPal, or manage the payments manually. Pick the method that best suits your needs.
Finally, you'll be asked to set your referral rate and type. You can choose a fixed rate or a percentage and set the referral amount.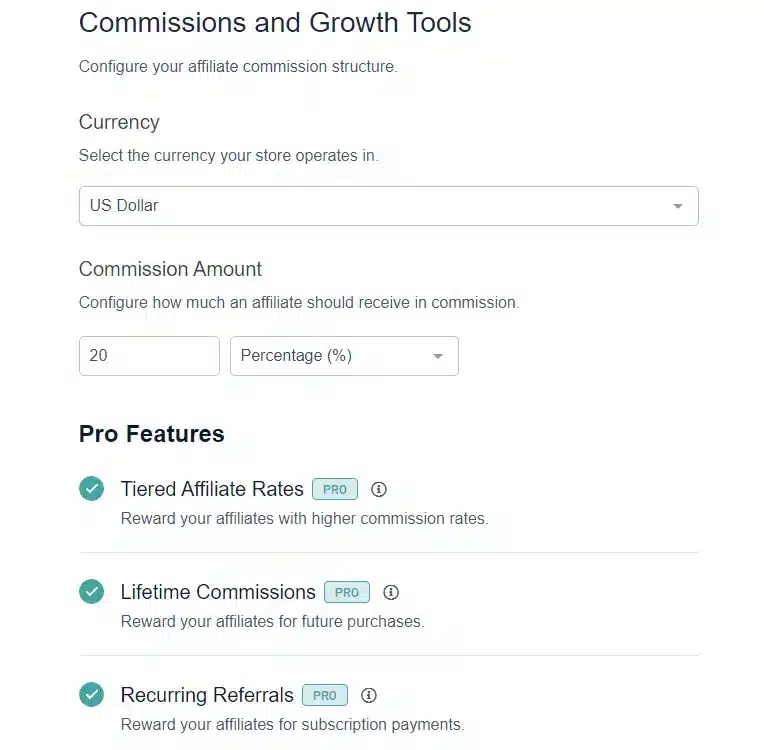 These can always be adjusted later, so don't worry if you're not 100% sure.
After completing all the necessary details, click Continue. The setup wizard will display a confirmation page, and you're all set!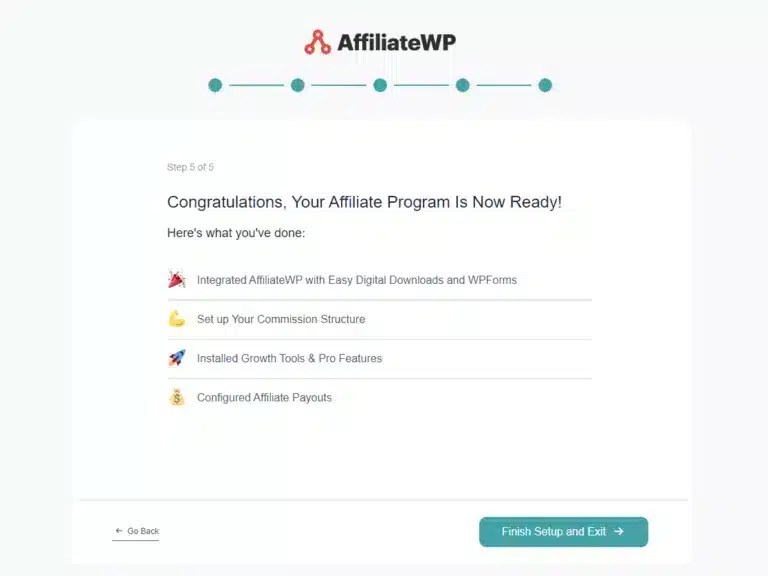 AffiliateWP is now successfully integrated into your website.
Now that you've installed and configured AffiliateWP, it's time to move on to signing up affiliates and helping them generate custom affiliate links.
Step 3: Sign Up Affiliates
Now that AffiliateWP is installed and set up, you must start adding affiliates to your program.
AffiliateWP automatically generates an Affiliate Area page on your website.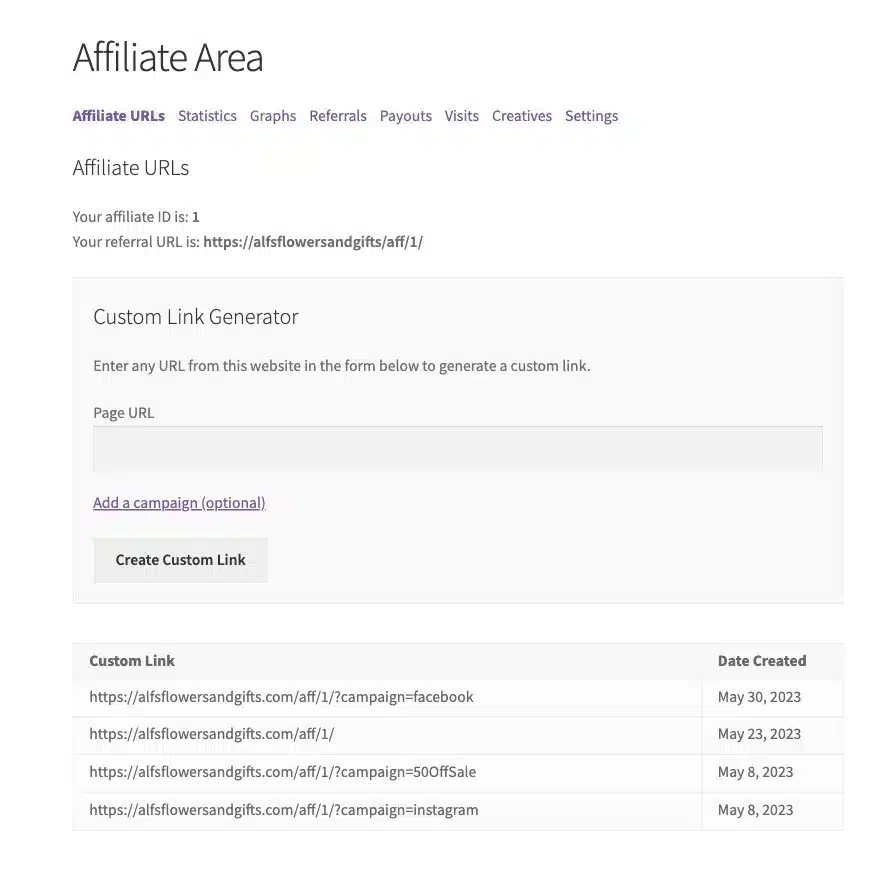 This is where potential affiliates can sign up for your program.
You can customize the Affiliate Area page to match your website's style or use the pre-made templates provided by AffiliateWP.
Once you're satisfied with your registration page, send potential affiliates the link so they can register and create an account.
Once an affiliate has registered and you've approved their application, they can create affiliate links and promote your products or services.
AffiliateWP also gives you the option to add affiliates manually.
To do this, navigate to the Affiliates tab in AffiliateWP and click Add New.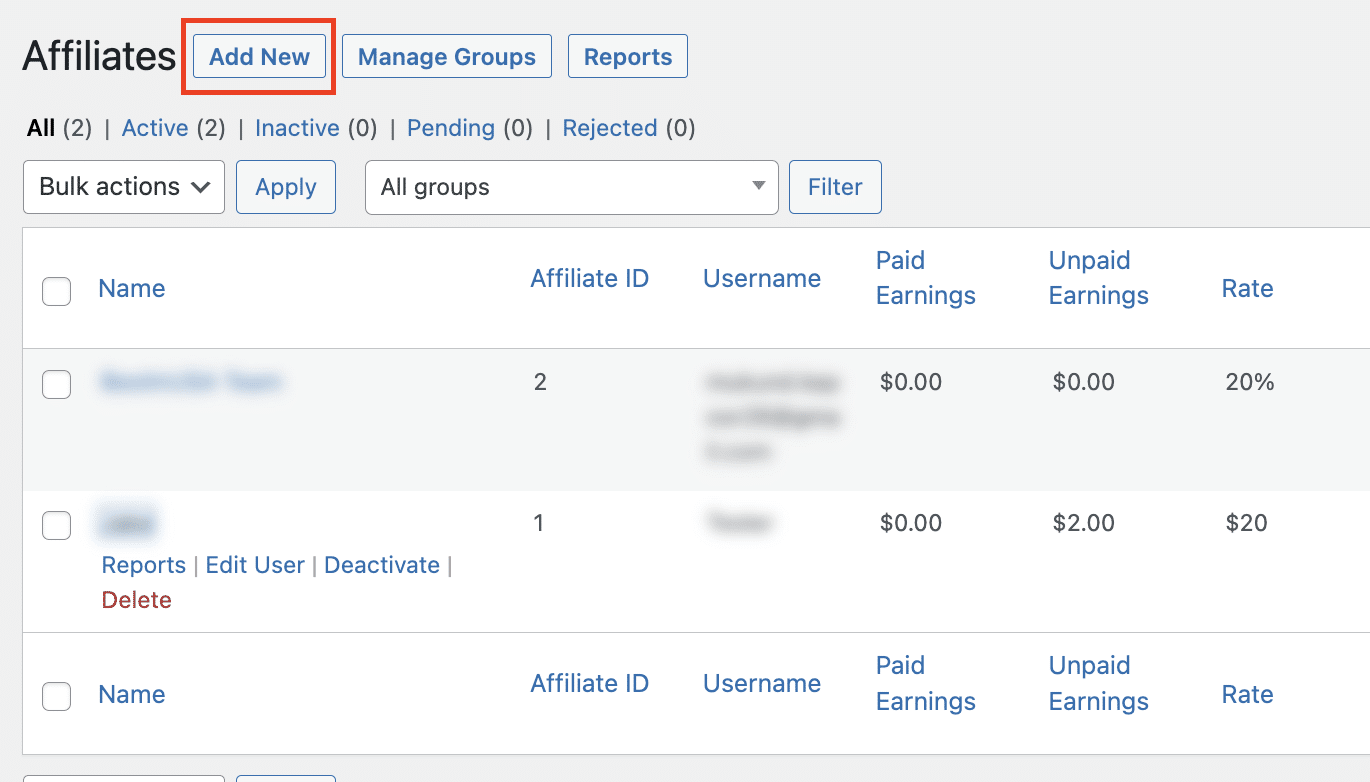 Here, you can input an affiliate's information and add them to your program.
Step 4: Empower Affiliates with Custom Link Generator
One of the standout features of AffiliateWP is the Custom Link Generator. It allows affiliates to create unique, custom affiliate links quickly and efficiently.
The process is simple.
Visit the affiliate area and find the custom link generator tool. Add the page URL they want to promote, add a campaign name (optional), and then click Create Custom Link.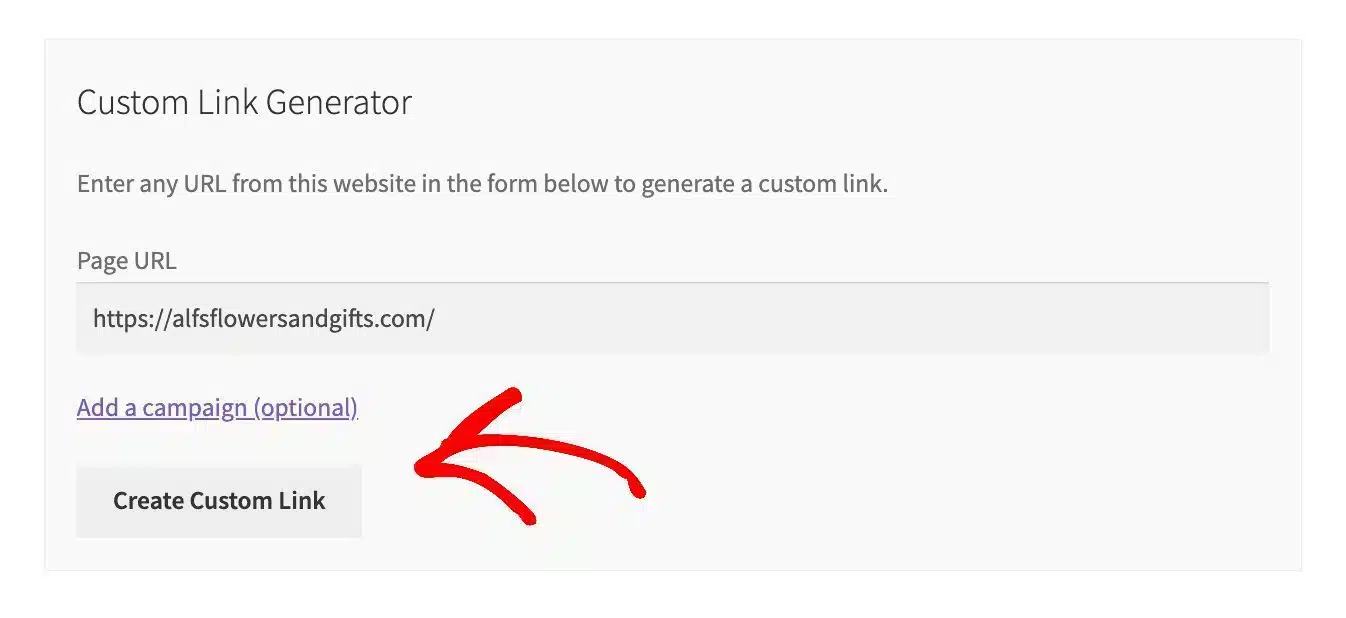 The custom affiliate link is then automatically copied to the clipboard, ready to be shared with your audience.

By assigning a campaign name to a link, your affiliates can track the success of individual promotional activities, helping them optimize their marketing strategies for better results.
Furthermore, the Custom Link Generator includes a table that stores all created links and their creation dates.

This means your affiliates can quickly find old affiliate links without wasting valuable time searching.
Additionally, affiliates can also edit their custom links at any time. They simply need to hover over the link they wish to edit in the Custom Link table and click the Edit icon.

They can then change the URL and click the Update Custom Link button to save their changes.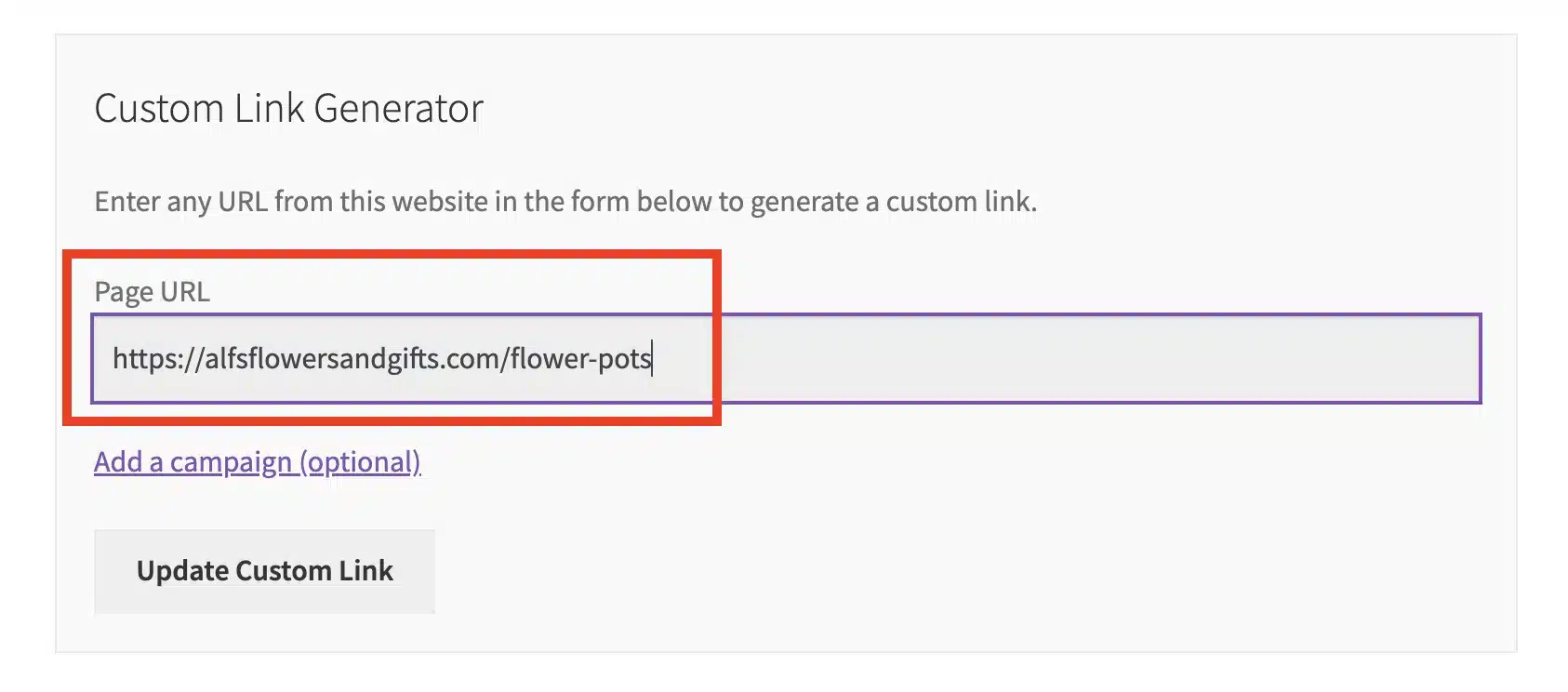 Step 5: Update Referral Variable Settings
If at any point you decide to change the referral variable in your affiliate links, this can be done in the Referral Variable setting in AffiliateWP.

This setting automatically updates all custom links, ensuring affiliates have the most current and accurate links.
For instance, you might want to change the default referral variable "ref" to something more custom, like "aff."

This change would update all existing custom links from https://yourwebsite.com/ref/1/ to https://yourwebsite.com/aff/1/.
With AffiliateWP, your affiliates can focus on what truly matters – promoting products and driving conversions, boosting your business's growth.
Now Make Your Affiliate Forms Customizable Too
As you've learned how to generate custom affiliate links in WordPress using AffiliateWP, it's time to customize your affiliate registration too.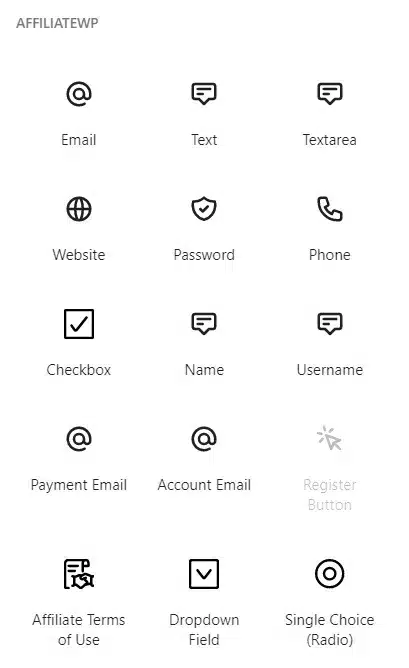 An affiliate registration form serves as the first interaction point with potential affiliates, making it crucial for setting the right expectations and tone for the relationship.
In large affiliate networks, customization of these forms can be limited. However, owning your affiliate program provides flexibility and control.
If WordPress powers your website, as it is for over 40% of the web, creating a customized affiliate registration form becomes simple.
The right software can help you start tracking referrals within minutes and offer a high degree of customization for your sign-up page and registration form.
Check out this guide to see how you can create a custom affiliate registration form in WordPress. Also, if you want to make your affiliate registration form more valuable, check out our guide on what to include in your affiliate registration form.
Preparing Your Affiliate Program for Success
Affiliates need to be able to create custom affiliate links for your program, so it should not be hard for them to generate custom referral URLs.
That's why having reliable affiliate software like AffiliateWP is a must for anyone looking to grow their business.
Interested in learning more about scaling your affiliate program?
Our comprehensive guides provide deep insights:
Don't wait! You're just a step away from taking your business to the next level.
Get AffiliateWP today and grow your affiliate program like never before.