How to Use WPForms Lead Forms in Affiliate Marketing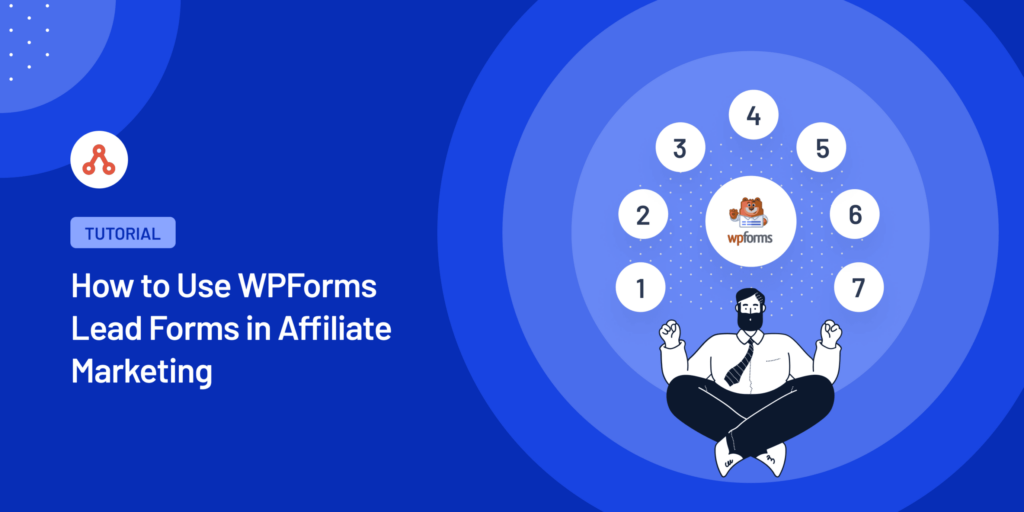 Want to use WPForms lead forms to supercharge your lead generation?
We've got some awesome tips to help you take your lead generation to the next level with affiliate marketing.
Here's our guide on how to use lead forms and affiliate marketing to get more leads.
Why are WPForms Lead Forms so Effective?
WPForms Lead Forms are the most effective way to maximize form submissions.
Why?
Because they're perfectly set up to boost conversions. Instead of seeing a long, drawn-out form, the user sees one question field at a time to help them effortlessly fill in their details.
This is vitally important for lead generation.
When someone decides to fill out your form, you need to capitalize on that moment. You can't afford to put them off with a messy-looking form. This is where WPForms Lead Forms outperform other forms – because they leverage simplicity. They keep the user focused on one question at a time, gently guiding them through the process until they've become a lead.
It means you get more form submissions and generate more leads. And if you're good at converting leads into sales, it means more profit for your business.
So, where does affiliate marketing fit into the picture?
Well, Lead Forms work perfectly with affiliate marketing in two ways:
They turn the visitors affiliates send you into leads
They make a perfect affiliate registration form
We're going to show you how to use WPForms Lead Forms in affiliate marketing for both of these scenarios.
How to Leverage Lead Forms in Affiliate Marketing
Affiliate marketing is a great strategy for lead generation and it's even more effective with Lead Forms.
Here are the steps you'll need to take to start using WPForms Lead Forms with affiliate marketing.
Install AffiliateWP
Complete the Setup Wizard
Optimize Your Affiliate Registration Form
Enable Referrals on Your Lead Form
Affiliates Promote Your Lead Forms
Make Affiliate Payouts
You can take care of all of these steps from your WordPress admin, and it takes no time at all to get set up.
Step 1: Install AffiliateWP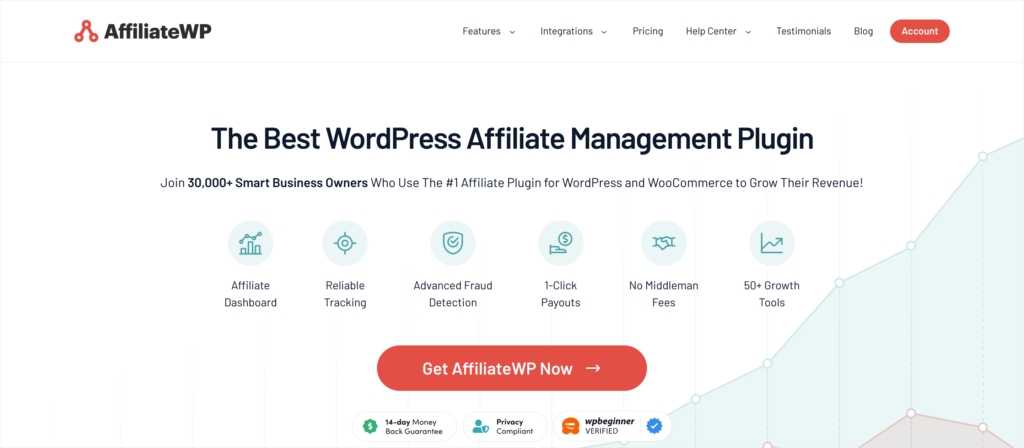 AffiliateWP is the best affiliate management plugin for WPForms.
The two are sister companies, so they're perfectly compatible, allowing you to leverage the best features of each product.
A setup wizard will guide you through the setup process, and with just a couple of clicks, you can integrate AffiliateWP with WPForms. This will allow you to build your affiliate registration form in WPForms, and track referrals on all your forms.
With AffiliateWP and WPForms, you'll be perfectly placed to attract top affiliates, and boost your lead generation.
Just go to the AffiliateWP pricing page and choose the plan that best fits your needs.
Then, install the plugin using this simple guide to get started. Once you've uploaded the plugin you're just a few short steps away from growing your lead generation with the help of affiliate marketing.
Step 2: Complete the Setup Wizard
The easiest way to get started with AffiliateWP is with the setup wizard. It's going to walk you through all the steps like integrating your forms, choosing your affiliate commission, and setting your affiliate cookies.
Just go to your AffiliateWP Settings and click Launch Setup Wizard.
On the next page, you'll be asked to enter your license key which can be found in your AffiliateWP Account. Just paste the key into the box and click Continue.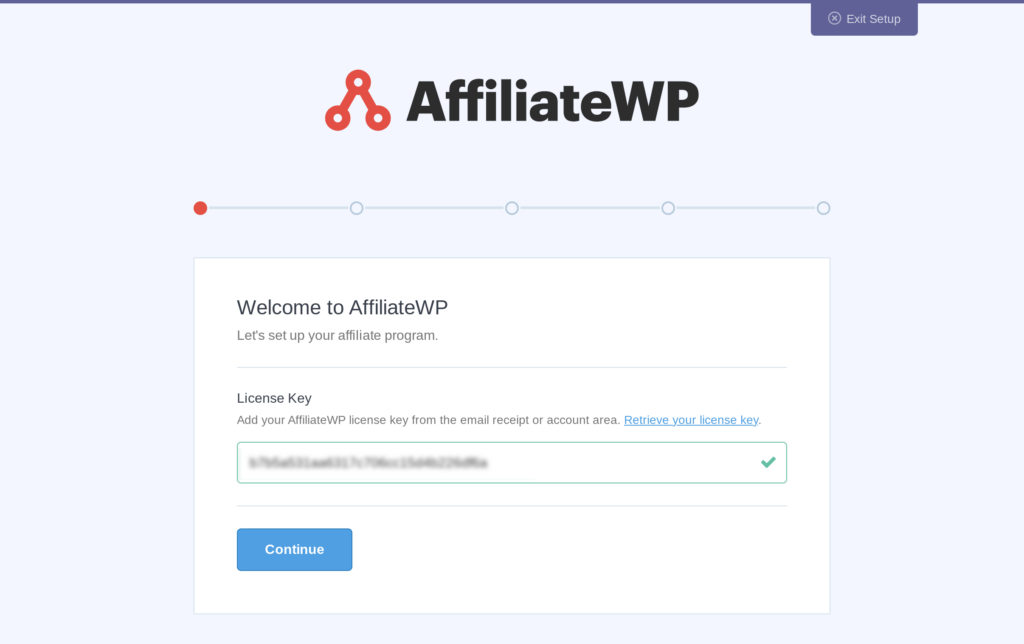 Next, you'll be asked to select your integration. Click on Form Integrations and check the box next to WPForms before clicking Continue. This will automatically integrate AffiliateWP with WPForms.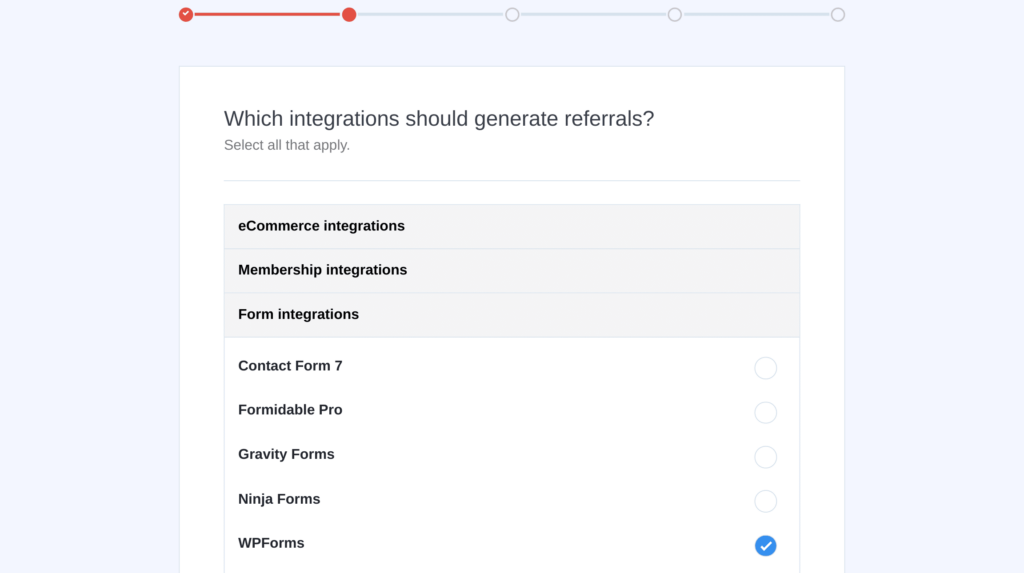 Once you've integrated the two plugins, it's time to choose your commission structure. Select your currency, set your Referral Type as fixed rate, then choose the amount you want to pay for each lead. You can always change this at a later date from your AffiliateWP Settings.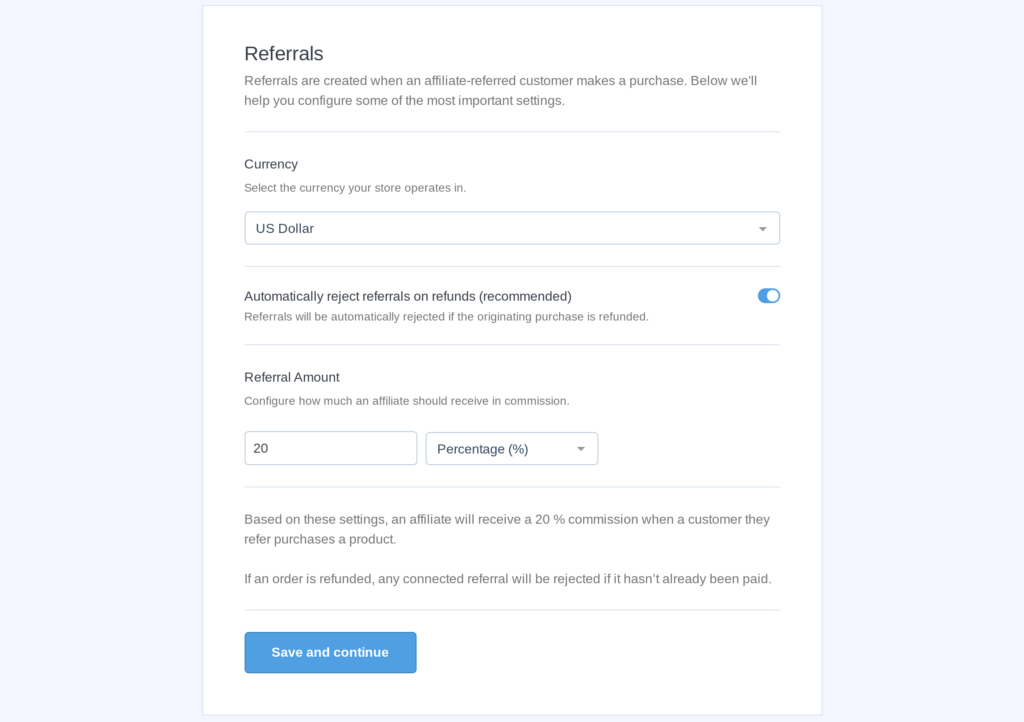 Click Save and Continue.
The next step is to choose how long you want your affiliate cookies to last. Affiliate cookies dictate the length of time someone has to submit a form after clicking an affiliate link for the affiliate to be entitled to a commission. 30 days is a fairly standard length of time, but it's completely up to you.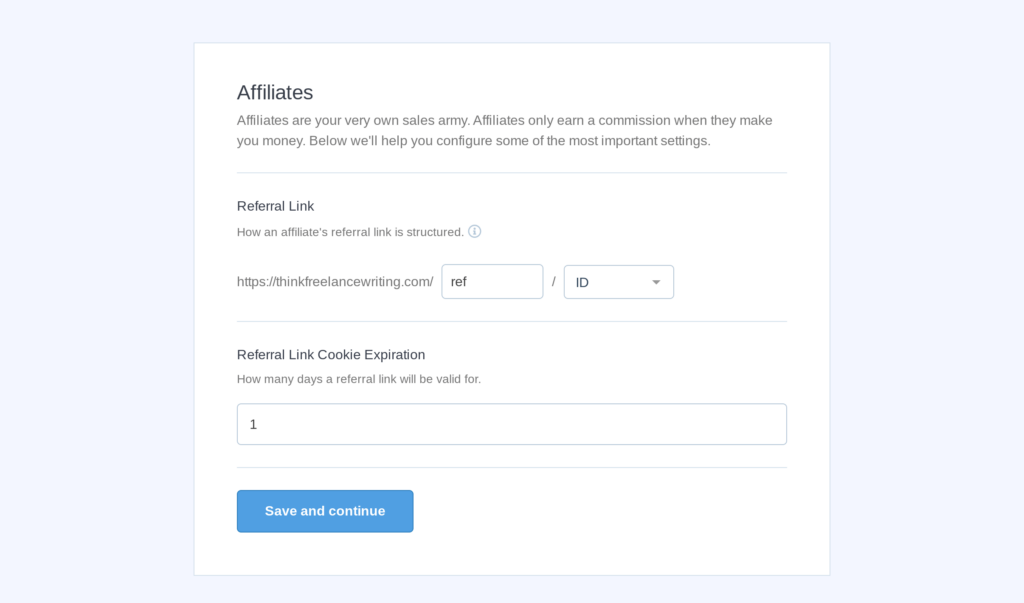 Once you're happy with all your settings, click Save and Continue, then Finish the Setup and Exit the Wizard.
AffiliateWP will now be ready to track referrals on your WPForms forms and assign commissions to the correct affiliates.
Step 3: Optimize Your Affiliate Registration Form
One of the greatest benefits of integrating AffiliateWP and WPForms is that it's an amazing way to boost affiliate signups. Your affiliate registration form is an essential tool to help you get affiliates, and Lead Forms are the perfect way to maximize conversion rates.
AffiliateWP has made life even easier by providing you with an Affiliate Registration Form template so you can quickly create a high-performing affiliate form.

First, let's make sure you have the WPForms Lead Forms addon activated. This is a pro feature, so first, you'll need a Pro license. Once you have the right license type, you can head to the WPForms Addons page in your WordPress admin and scroll until you reach Lead Forms. Simply click the Install Addon button, and Lead Forms will be ready to enable on all your forms.
Now start a new form by clicking Add New. You should see a Custom Templates section on the left, and when you open this, you can access the Affiliate Registration Form template. This will give you all the basics you need for your affiliate registration form, but feel free to look at the other templates or create your own from scratch.
WPForms makes it incredibly easy to customize your registration form, and then there are just two more steps to complete.
Click on the Settings button and then open the Lead Forms tab. Toggle the Enable Lead Form Mode button, and WPForms will automatically add page breaks to your form so it shows 1 question at a time.
Now click on the AffiliateWP button and toggle the Enable Affiliate Registration button. This will sync your form with AffiliateWP so new affiliates can sign up for your program.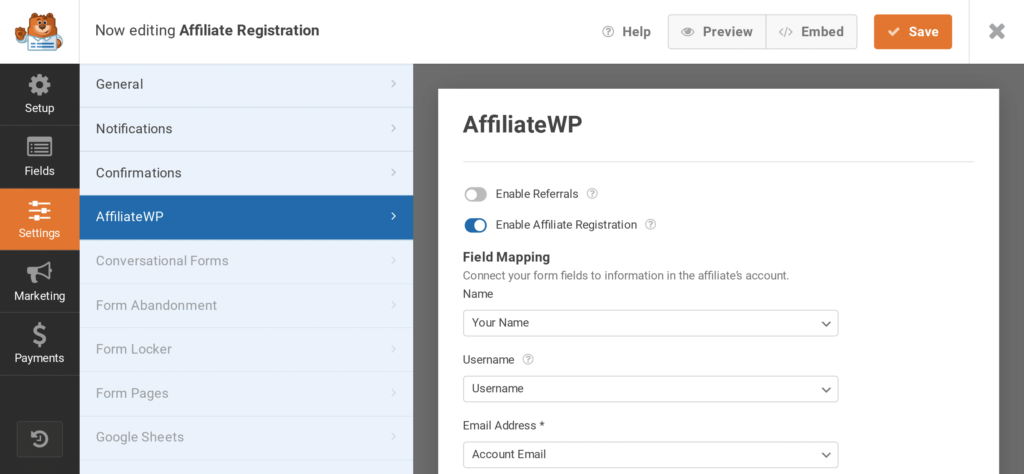 Your form is ready to go – all you have to do is embed it on the correct page (this could be your affiliate area or any page of your choosing) using the Embed button in the top-right corner.
Affiliates will be able to sign up for your program using the form and you can then approve or reject affiliate applications from the Affiliates tab.
Step 4: Enable Referrals on Your Lead Forms
Once you've sorted your affiliate registration form, it's time to start tracking referrals on your lead forms.
Just click Add New to create a new form or go to All Forms to edit an existing form. Set up the form exactly how you want it using WPForms' awesome tools, and then enable Lead Forms in exactly the same way you did in the last step.
Check out the preview to make sure your lead form is working as you expect, and then go to Settings in the form builder before clicking on the AffiliateWP button. Click the toggle button titled Enable Referrals and then choose Lead as your referral type.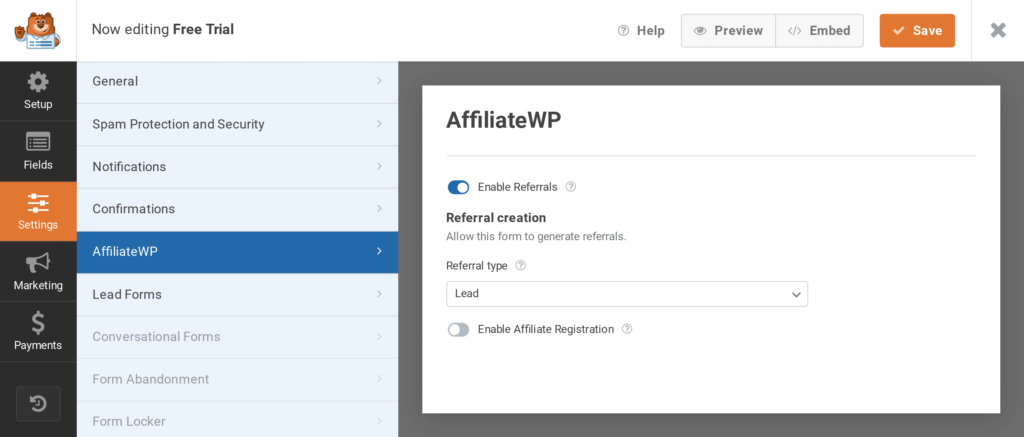 As soon as you click the Save button, AffiliateWP will start tracking form referrals on this form. Now AffiliateWP will be able to track when affiliates send visitors to this lead form and log which visits resulted in a lead.
Step 5: Affiliates Promote Your Lead Forms
When you install AffiliateWP it will automatically create an Affiliate Area page. This is where affiliates can sign up for your program, and once approved, log in to their accounts.
As soon as you approve an affiliate, they will receive an email notification and they'll be able to log in to their Affiliate Area. Here they'll find an affiliate URL generator, analytics, creatives, and anything you choose to add.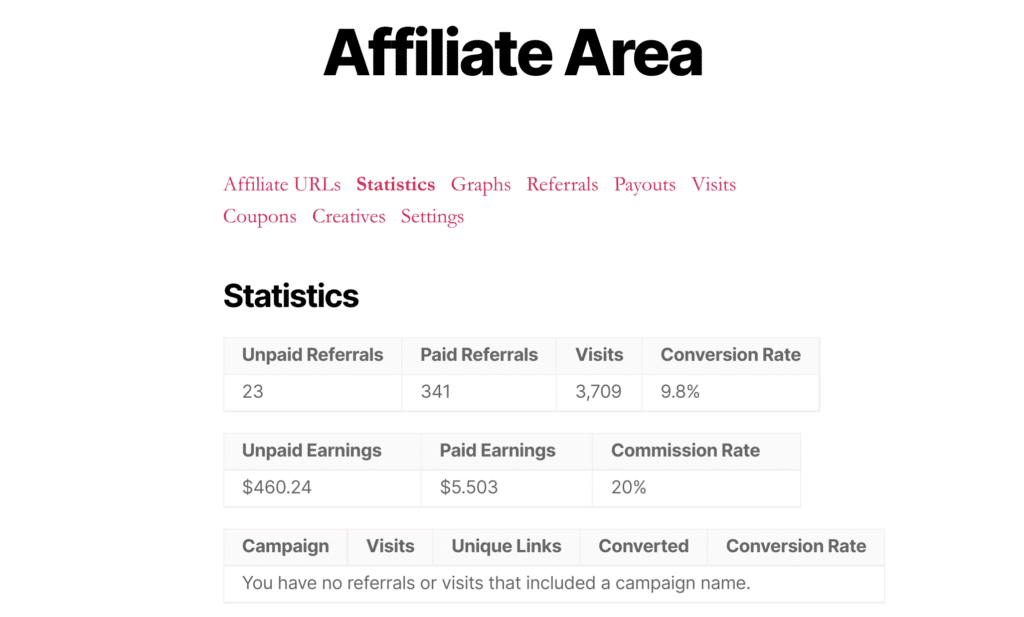 To promote your lead forms, affiliates simply have to copy the URL for the page your form is embedded on and paste it into the URL generator. This will add their unique referral ID to the URL so that AffiliateWP can identify which affiliate sent the referral.
Affiliates put their affiliate links in their blog content, email marketing, social media posts, and more, and when a user clicks the link, AffiliateWP will be able to track when someone completes your lead form.
You'll be able to keep track of visits and referrals from your AffiliateWP Reports page, and affiliates will also be able to see advanced analytics in their Affiliate Area.
Step 6: Make Affiliate Payouts
The last part of the equation is making sure your affiliates get paid for their hard work.
AffiliateWP makes this incredibly easy with its Integrated Payouts Service (PayPal Payouts and Stripe mass payments are also available). This allows you to pay affiliates directly to their bank accounts without ever leaving your WordPress admin.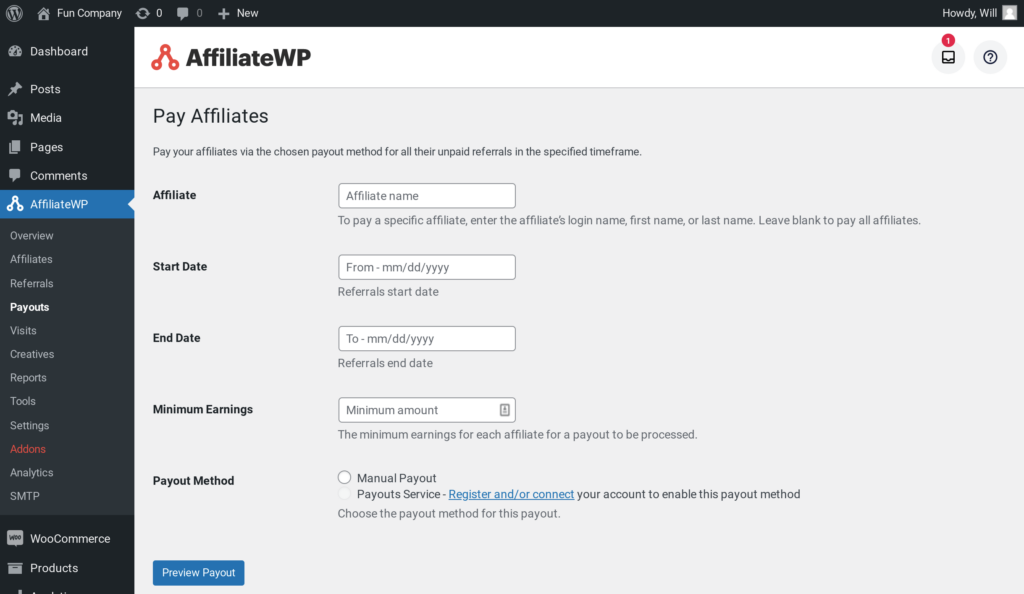 You can easily see which affiliates have unpaid affiliate earnings and use the filters to handle all your payments in just a few clicks. AffiliateWP will take care of all the tracking for you, all you've got to do is approve the payouts.
Now Set Up a Lead Approval Process
Getting new leads is one thing, but you also need to ensure they're high-quality leads. To do this, you might want to set up a lead approval process.
You can do this by enabling AffiliateWP's Force Pending Referrals free addon. This will mean any referral an affiliate makes is logged as pending, giving you time to approve the lead before the affiliate is entitled to a commission.
This is an excellent way to ensure you're rewarding affiliates who send you high-quality leads and with WPForms and AffiliateWP, it's extremely easy to set up.
Once you've approved a lead, simply go to the AffiliateWP Referrals page, use the Pending filter, and click accept on the correct lead.
Start Using Lead Forms in Your Affiliate Marketing
Combining WPForm's Lead Forms with affiliate marketing has the potential to drastically improve your lead generation. And as you can see from this tutorial, it's extremely easy to set up!
So, what more should you know about affiliate marketing for lead generation?
Well, we've got some awesome resources to help you out.
Now there's only one thing left to do.
Get AffiliateWP today and start using affiliate marketing and lead forms to grow your business.